Unravelling the ontogeny of a Devonian early gnathostome, the "acanthodian" Triazeugacanthus affinis (eastern Canada)
1
Laboratoire de Paléontologie et Biologie évolutive, Université du Québec à Rimouski

,

Rimouski

,

Canada
2
CNRS—UMR 7138-Evolution Paris-Seine IBPS, Université Pierre et Marie Curie

,

Paris

,

France
Published

Accepted

Received
Academic Editor
Subject Areas

Keywords

Gnathostomata

,

Acanthodii

,

Mineralization

,

Developmental trajectory

,

Ossification sequence
Copyright

©

2017

Chevrinais et al.

Licence

This is an open access article distributed under the terms of the Creative Commons Attribution License, which permits unrestricted use, distribution, reproduction and adaptation in any medium and for any purpose provided that it is properly attributed. For attribution, the original author(s), title, publication source (PeerJ) and either DOI or URL of the article must be cited.
Cite this article

2017

. Unravelling the ontogeny of a Devonian early gnathostome, the "acanthodian" Triazeugacanthus affinis (eastern Canada)

PeerJ

5

:

e3969

https://doi.org/10.7717/peerj.3969
Abstract
The study of vertebrate ontogenies has the potential to inform us of shared developmental patterns and processes among organisms. However, fossilised ontogenies of early vertebrates are extremely rare during the Palaeozoic Era. A growth series of the Late Devonian "acanthodian" Triazeugacanthus affinis, from the Miguasha Fossil-Fish Lagerstätte, is identified as one of the best known early vertebrate fossilised ontogenies given the exceptional preservation, the large size range, and the abundance of specimens. Morphological, morphometric, histological and chemical data are gathered on a growth series of Triazeugacanthus ranging from 4 to 52 mm in total length. The developmental trajectory of this Devonian "acanthodian" is characteristic of fishes showing a direct development with alternating steps and thresholds. Larvae show no squamation but a progressive appearance of cartilaginous neurocranial and vertebral elements, and appendicular elements, whereas juveniles progress in terms of ossification and squamation. The presence of cartilaginous and bony tissues, discriminated on histological and chemical signatures, shows a progressive mineralisation of neurocranial and vertebral elements. Comparison among different body proportions for larvae, juveniles and adults suggest allometric growth in juveniles. Because of the phylogenetic position of "acanthodians", Triazeugacanthus ontogeny informs us about deep time developmental conditions in gnathostomes.
Introduction
Historically, the identification of vertebrate fossilised ontogenies has often been overlooked because distinct morphologies have been frequently assigned to different species rather than different ontogenetic stages of the same species (Cloutier et al., 2009; Donoghue & Purnell, 2009; Horner & Goodwin, 2009; Cloutier, 2010; Delfino & Sánchez-Villagra, 2010; Sánchez-Villagra, 2010). Although the recognition of developmental stages (i.e., embryonic, larval, juvenile, adult and senescent) is difficult, Palaeozoic fossilised ontogenies have been recorded in most major clades of early vertebrates from basal jawless fish to advanced pre-tetrapod sarcopterygians (Cloutier, 2010) (Fig. 1A). Descriptions of fossilised ontogenies necessitate the recognition of key patterns and processes, even when organisms are weakly mineralised during early stages of life; this requires exceptional preservation.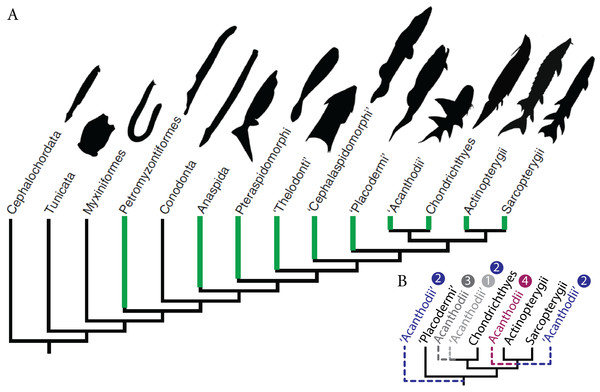 Palaeozoic early gnathostomes are represented by four major groups, namely the "placoderms" (Early Silurian to Late Devonian), "acanthodians" (Late Ordovician to Middle-Late Permian), chondrichthyans (Late Ordovician to Recent) and osteichthyans (Late Silurian to Recent). The phylogenetic position and status of both "placoderms" and "acanthodians" is still a matter of debate (Brazeau, 2009; Davis, Finarelli & Coates, 2012; Zhu et al., 2013; Brazeau & Friedman, 2015; Burrow et al., 2016; Qu et al., 2016; Chevrinais, Sire & Cloutier, 2017). The "placoderms" are either considered as a paraphyletic group at the base of other gnathostomes (Young, 2010; Zhu et al., 2013; Dupret et al., 2014; Long et al., 2015) or a monophyletic sister-group of either chondrichthyans or osteichthyans (Young, 2010). "Acanthodians" are either considered (1) stem chondrichthyans (Zhu et al., 2013; Long et al., 2015; Burrow et al., 2016; King et al., 2017; Chevrinais, Sire & Cloutier, 2017) or (2) stem gnathostomes, stem chondrichthyans, and stem osteichthyans (Brazeau, 2009; Davis, Finarelli & Coates, 2012), (3) the monophyletic sister-group to chondrichthyans (Dupret et al., 2014) or (4) osteichthyans (Schultze, 1990; Hanke & Davis, 2012) (Fig. 1B). Ontogenetic data on "placoderms" and "acanthodians", provided by the description and understanding of their early stages of development, are of paramount importance for resolving the early vertebrate phylogeny because developmental data represent an underused source of phylogenetic data.
For more than 30 years, "acanthodian" growth series have been recognised but frequently based on limited size series including already large individuals (Chevrinais, Sire & Cloutier, 2017, see review). Nevertheless, more than 15 ontogenies have been documented: one possible Ischnacanthiformes (Nerepisacanthus denisoni (Burrow & Rudkin, 2014)), two Diplacanthiformes (Diplacanthus horridus (Cloutier et al., 2009), Uraniacanthus curtus (Newman et al., 2012)), one Climatiiformes (Tetanopsyrus breviacanthias (Hanke, Davis & Wilson, 2001)), two species of uncertain order (Machaeracanthus goujeti (Botella, Martinez-Perez & Soler-Gijon, 2012), Lupopsyrus pygmaeus (Hanke & Davis, 2012)), and nine Acanthodiformes (Lodeacanthus gaujicus (Upeniece, 1996; Upeniece, 2001; Upeniece & Beznosov, 2002), Triazeugacanthus affinis (Chevrinais, Cloutier & Sire, 2015; Chevrinais, Balan & Cloutier, 2015; Chevrinais, Sire & Cloutier, 2017), Homalacanthus concinnus (Cloutier et al., 2009), Acanthodes bridgei (Zidek, 1985), A. bronni (Heidtke, 1990), A. gracilis (Zajic, 2005), A. lopatini (Beznosov, 2009), A. ovensi (Forey & Young, 1985), and an acanthodiform indet. (Coates, 1993)).
Three "acanthodian" growth series (i.e., Diplacanthus horridus, Triazeugacanthus affinis, and Homalacanthus concinnus) have been described from the middle Frasnian (ca. 380 Ma) Escuminac Formation (Miguasha, Quebec, Canada) which yielded fossilised ontogenies for 14 out of the 20 Escuminac vertebrate species (Cloutier et al., 2009). Recently, the ontogeny of Triazeugacanthus has been reinvestigated (Chevrinais, Balan & Cloutier, 2015; Chevrinais, Cloutier & Sire, 2015; Chevrinais, Sire & Cloutier, 2017) showing significant increases with total length in (1) the size of individual anatomical elements, (2) the number of skeletal elements, and (3) the squamation extent, as well as (4) the progressive mineralisation of skeletal elements with growth.
Our aims are (1) to describe the ontogeny of Triazeugacanthus in terms of sequence of ossification and morphometric changes and (2) to compare the developmental sequence and trajectory of Triazeugacanthus to that reported in other "acanthodians", chondrichthyans, and osteichthyans. Because of the hypothesized stem chondrichthyan phylogenetic position of "acanthodians" (Chevrinais, Sire & Cloutier, 2017), we expect Triazeugacanthus to be informative on patterns of development shared by a large array of gnathostomes.
Results
The sequence of cumulative appearances of skeletal elements (based on 178 specimens of Triazeugacanthus) shows a developmental trajectory with periods of gradual or rapid change (i.e., thresholds) intercalated with periods of slow anatomical change (i.e., steps) (Fig. 2B). Endoskeletal elements are poorly represented in the sequence, especially because the scale coverage starts in early juveniles, hiding internal elements (Fig. 3A). Early in the larval period, a threshold occurs at 7 mm TL (i.e., development of neurocranial and vertebral elements, and pectoral, anal and dorsal fin spines). This threshold is followed by a step of slower development between 8 and 13 mm TL (Fig. 2B). The transition between the larval and juvenile periods is characterized by another threshold at 13 mm TL synchronously with the initiation of squamation. The juvenile period is characterised by extensive gradual addition of elements (more than 10 events developed over a period of 18 mm of growth) followed by a threshold at 29 mm TL. This threshold, coupled with the completion of the squamation, determines the transition between juveniles and adults. The adult stage shows a long step from 30 mm TL onward.
Discussion
Based on 178 specimens, morphological, histological, and chemical changes during the ontogeny of Triazeugacanthus affinis were extensively analysed for the first time in a Palaeozoic vertebrate species showing that: (1) the sequence of appearance of endoskeletal and exoskeletal elements follows a developmental trajectory with an alternation of thresholds and steps, (2) skeletal systems have specific directions of formation, (3) skeletal elements mineralize progressively during the larval and juvenile stages to be completed during the adult stage, (4) positive allometry is recorded during the juvenile stage, (5) the elongation ratio decreases during ontogeny, and (6) the variation in body shape decreases from larvae to adults during ontogeny. Besides body size, we used four ((1) the degree and timing of ossification, (2) the degree of squamation, (3) the allometric growth of individual skeletal elements, and (4) body proportions) out of the six criteria proposed by Cloutier (2010) to characterize immature specimens.
Conclusion
The exhaustive description of the ontogeny of Triazeugacanthus affinis from 178 specimens ranging from 4.5 to 52 mm TL gives the opportunity to describe development of individual skeletal structures (mainly dermal ones), of fin spines and squamation. Developmental trajectory shows the alternation of steps and thresholds comparable with other gnathostomes and showing that Triazeugacanthus ontogeny represents the oldest model for the study of development in gnathostomes, thus potentially representing plesiomorphic characters for gnathostomes (Table 1, see common characters of the three groups). Despite a hypothesized phylogenetic position of "acanthodians", placing them as stem chondrichthyans in phylogenetic analyses that do not include developmental characters (Burrow et al., 2016; Chevrinais, Sire & Cloutier, 2017), some developmental characteristics of Triazeugacanthus are shared with osteichthyans rather than chondrichthyans (e.g., development of cranial elements such as otoliths) (Table 1). Thus, developmental data (e.g., appearance and development of skeletal elements through growth) represent understudied source of data, and have potential to be included in further phylogenetic analyses, notably for a better resolution of early vertebrate relationships.
Supplemental Information
Supplementary figures, tables, and materials