Microbial community diversity patterns are related to physical and chemical differences among temperate lakes near Beaver Island, MI
Institute for Great Lakes Research and Department of Biology, Central Michigan University

,

Mount Pleasant

,

MI

,

United States of America
Published

Accepted

Received
Academic Editor
Subject Areas

Keywords

Freshwater lakes

,

16S rRNA

,

Microbial communities

,

Stratification
Copyright

©

2017

Hengy et al.

Licence

This is an open access article distributed under the terms of the Creative Commons Attribution License, which permits unrestricted use, distribution, reproduction and adaptation in any medium and for any purpose provided that it is properly attributed. For attribution, the original author(s), title, publication source (PeerJ) and either DOI or URL of the article must be cited.
Cite this article

2017

.

Microbial community diversity patterns are related to physical and chemical differences among temperate lakes near Beaver Island, MI

.

PeerJ

5

:

e3937

https://doi.org/10.7717/peerj.3937
Abstract
Lakes are dynamic and complex ecosystems that can be influenced by physical, chemical, and biological processes. Additionally, individual lakes are often chemically and physically distinct, even within the same geographic region. Here we show that differences in physicochemical conditions among freshwater lakes located on (and around) the same island, as well as within the water column of each lake, are significantly related to aquatic microbial community diversity. Water samples were collected over time from the surface and bottom-water within four freshwater lakes located around Beaver Island, MI within the Laurentian Great Lakes region. Three of the sampled lakes experienced seasonal lake mixing events, impacting either O2, pH, temperature, or a combination of the three. Microbial community alpha and beta diversity were assessed and individual microbial taxa were identified via high-throughput sequencing of the 16S rRNA gene. Results demonstrated that physical and chemical variability (temperature, dissolved oxygen, and pH) were significantly related to divergence in the beta diversity of surface and bottom-water microbial communities. Despite its correlation to microbial community structure in unconstrained analyses, constrained analyses demonstrated that dissolved organic carbon (DOC) concentration was not strongly related to microbial community structure among or within lakes. Additionally, several taxa were correlated (either positively or negatively) to environmental variables, which could be related to aerobic and anaerobic metabolisms. This study highlights the measurable relationships between environmental conditions and microbial communities within freshwater temperate lakes around the same island.
Introduction
Lakes are complex ecosystems that span a range of physical and chemical properties, which are driven by differences in formation, hydrology, weather patterns, and geology (Wetzel, 2001). Further, even lakes within the same geographic region can vary widely in physicochemical conditions, both spatially and temporally based on formation, age, and trophic status (Clement, Murry & Uzarski, 2015). The physical and chemical attributes of a lake can impact microbial communities and the biogeochemical processes they mediate, since microbial communities are governed by local environmental conditions. The essential processes regulated by microbial communities include, but are not limited to, nutrient cycling (e.g., carbon, nitrogen, and sulfur), which supports biologically suitable environmental conditions within lakes (Essington & Carpenter, 2000), as well as chemical export, such as respiration of CO2, and other redox-sensitive elements (Paerl & Pinckney, 1996; Pilcher et al., 2015). As microbial community function is related to microbial community composition (Bier et al., 2015), and community composition is constrained by local environmental conditions, it is important to explore microbial communities within individual lakes.
While environmental conditions are unique to each lake, environmental gradients can also occur within some lakes that physicochemically stratify. Water column mixing, or turnover, followed by a return to stratified conditions is a natural ecosystem disturbance that occurs seasonally in many lakes. This phenomenon is known to influence microbial communities, as a consequence of shifting environmental conditions, and even impacts microbial community assembly mechanisms (Tammert, Kisand & Nõges, 2005; Shade, Jones & McMahon, 2008; Shade, Chiu & McMahon, 2010a; Shade, Chiu & McMahon, 2010b; Shade et al., 2011; Shade et al., 2012b; Garcia et al., 2013; Meuser et al., 2013; Andrei et al., 2015). The stratification of water masses at different temperatures and densities results in a hypolimnion that is not only colder, but tends to have lower dissolved oxygen and pH relative to the epilimnion as the rate of decomposition tends to exceed photosynthesis (Fenchel & Finlay, 2008). Furthermore, inorganic nutrients (e.g., C, N, and P) may accumulate in the hypolimnion (Tõnno, Ott & Nõges, 2005; Zadereev, Tolomeev & Drobotov, 2014). Lake mixing events can transport dissolved organic carbon (DOC; described as the amount of C within a system) throughout lakes (Mostofa et al., 2005; Kim, Nishimura & Nagata, 2006; Li et al., 2008), and dissolved organic matter (DOM; quality of organic matter as described in Chappaz & Curtis, 2013) has previously been shown to vary between upper and lower layers of lakes (Mostofa et al., 2005). This suggests that structurally different organic compounds may not only differ among lakes, but also characterize each layer in some lakes. In addition, both DOC and DOM have been found to shape microbial community composition depending upon carbon source and concentration (Cotner & Biddanda, 2002; Burkert et al., 2003; Crump et al., 2003; Eiler et al., 2003; Grossart et al., 2008; Amaral, Graeber & Calliari, 2016; Lucas et al., 2016). As previously stated, chemical and physical components are major drivers of bacterial community structure and population shifts, therefore, lake stratification can present a major disturbance for bacterial communities and may impact microbial communities structure as lakes gradually stratify post-mixing.
Research to date demonstrates that microbial communities respond to disturbance with various degrees of resistance and resilience, depending upon the existing community and qualities of the disturbance (Allison & Martiny, 2008; Shade et al., 2011). For example, microbial communities may show resistance to lake mixing and physicochemical stratification, remaining unaffected in the face of disturbance (Shade et al., 2012a). However, depending upon the physicochemical attributes disturbed (e.g., O2, nutrients, pH, specific conductance etc.), disturbance influences microbial communities differentially in extent of community change, resistance, and resilience (Shade et al., 2011). Additionally, different subsets of microbes within a community (e.g., generalist vs. rare taxa) can experience different patterns of resistance and resilience. Illustrating this, Shade, Chiu & McMahon (2010b) found that many generalist taxa are resistant to mixing and subsequent changes of temperature and dissolved oxygen levels. Nevertheless, individual taxa (often specialist or rare) can be positively or negatively influenced as a result of physicochemical shifts and show fundamentally different reactions to mixing than dominant community members (Shade, Chiu & McMahon, 2010a; Shade, Chiu & McMahon, 2010b). As such, microbial communities can vary between lakes due to differences in lake chemistry, as well as within lakes at finer scales for the same reason.
In this study, three freshwater inland lakes of Beaver Island, Michigan, USA, as well as an adjacent location within Lake Michigan, were sampled to evaluate the relationship between microbial communities and local physicochemistry within surface-water and bottom-water habitats (epilimnion and hypolimnion during stratification). These lakes were selected as they each hosted unique and contrasting physicochemical properties (Clement, Murry & Uzarski 2015). Two of the lakes were holomictic and experienced oxygen stratification, while another holomictic lake (Lake Michigan) did not experience stratification at the point of sampling, but did experience a thermocline. The final lake (Barney's Lake) is a shallow lake which did not experience a mixing event and lacked physicochemically stratified layers. Specifically, we sought to explore the relationships between microbial community diversity and environmental variables known to stratify within lakes. We also explored microbial community diversity change over time within each lake with respect to post-mixing stratification of environmental variables or a lack thereof. Physical and chemical parameters were collected in conjunction with high resolution microbial community data (via 16S rRNA gene sequencing) to explore relationships between microbial taxa and natural physicochemical gradients among and within sampled lake systems.
Methods
Sampling locations
Three inland lakes on Beaver Island, MI (Fox Lake [FL], Barney's Lake [BL], and Lake Geneserath [LG], located on Beaver Island, MI) and Lake Michigan (St. James Harbor [LM]; Fig. 1) were sampled during three collection periods in the summer of 2014: period 1 (June 10–11), period 2 (July 28–30), and period 3 (Aug. 30–31). Sampling sites for the three inland lakes were located at the region of greatest depth (at 3.6 m for Barney's Lake, 15.2 m for Lake Geneserath, and 6.1 m for Fox Lake). Lake Michigan bottom sampling depth ranged from 14.5–18.3 m, depending upon small-scale spatial bathymetric differences. While Lake Michigan was not sampled at the point of greatest depth (as were other lakes in this study), we attempted to sample Lake Michigan to a similar depth as inland lakes within this study.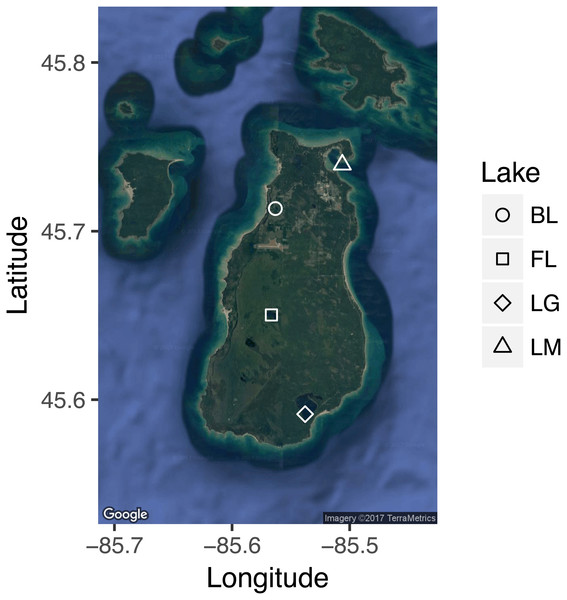 Surface and bottom-water samples were collected using a Kemmerer (Wildco®, Yulee, FL, USA) water sampler. During each collection period, samples were retrieved from surface (one meter below the surface) and bottom-water (one meter above the lake sediment) locations for each site. For each sample, water was collected in an acid washed sterile bottle. From this bottle, 90 ml of water was filtered through a 0.45 µm filter (Whatman, GE Healthcare, Little Chalfont, Buckinghamshire, UK) into acidified vials (resulting pH of 3) and stored on ice for DOC analysis. For collection of microbial samples, 120 ml of water was syringe filtered through a combination of two filters (2.2 µm first, followed by 0.22 µm filters). The filters were flash frozen (dry-ice and ethanol bath) in the field, and then stored at −80 °C. Once per sampling period, 120 ml of sterilized Nanopure water was filtered and frozen in the field as a control for microbial samples. The remaining water was stored on ice and then filtered (0.45 µm) in the lab for nutrient analyses.
A calibrated Hydrolab® DS5 (OTT Hydromet, Kempten, Bavaria, Germany) was used to generate a physicochemical profile of each lake prior to sample collection. Measured parameters included dissolved oxygen (percent and mg/L), temperature (°C), and pH (raw data can be found in Table S1).
Water chemistry analyses
For nutrient analysis, 250 ml of water from each sampling location and depth was filtered in the lab through a 0.45 µm filter (Whatman) and frozen at −20 °C. A Quaatro Bran+Luebbe Auto Analyzer with an XY-2 Sampler (Seal Analytical, Mequon, WI, USA) was used to determine soluble reactive phosphorus (SRP), ammonium (NH4), nitrate (NO), total nitrogen (TN), and total phosphorus (TP) concentrations in the water. An additional 10 ml of water was filtered (0.45 µm) and acidified for dissolved organic matter (DOM) analysis. Proxies of DOM were characterized by their specific absorption coefficient (SAC340) (Chappaz & Curtis, 2013; Curtis & Adams, 1995) and specific UV absorbance (SUVA254) (Mcknight et al., 2001; Weishaar et al., 2003). Triplicates of each sample were placed into quartz cuvettes (1 cm width) and UV absorbance readings were taken at two different wavelengths: 254 nm and 340 nm. Samples collected for DOC analysis (described above) were quantified using a Shimadzu TOC-V analyzer (Kyoto, Japan). Raw water chemistry data can be found in Table S2.
Microbial taxonomic analysis
DNA was extracted from frozen filters using the MoBio PowerWater® DNA isolation kit (following the manufacturer's protocol). DNA was extracted from both .22 and 2.2 µm filters from the same sample simultaneously. All samples were concentrated in a Zymo DNA Clean & Concentrator™ kit before being quantified by a Qubit® 2.0 Fluorometer (Life Technologies, Carlsbad, CA, USA). Control samples yielded DNA that was below detection limits (<0.5 ng/mL). In order to obtain a sufficient amount of DNA for downstream sequencing, PCRs were completed for each sample to amplify the 16S rRNA gene using high-fidelity Taq polymerase (New England BioLabs Inc., Ipswich, MA, USA) and 27F and 1492R primers (Weisburg et al., 1991). PCR conditions implemented were as follows: initial denaturation at 95 °C for 5 min, followed by 36–40 cycles (denaturation at 95 °C for 30 s, annealing at 56 °C for 30 s, and extension at 72 °C), and final extension at 72 °C for 10 min. The number of cycles for each sample varied due to differences in amplification (Table S3), which was visualized through gel electrophoresis. Replicate PCRs for each sample were pooled. PCR samples were purified using the QIAquick® Gel Extraction Kit (Qiagen, Hilden, North Rhine-Westphalia, Germany). Three sampling points were excluded from microbial community data analysis, which included bottom-water time point "1" for Lake Michigan and both surface and bottom-water community profiles for Fox Lake time point "3". These samples were excluded, as they either did not contain sufficient concentration or quality of DNA for sequencing or analysis. V4 16S rRNA amplicons were generated using previously described methods and primers 16Sf-V4 (515f) and 16Sr-V4 (806r) (Kozich et al., 2013) and sequenced on an Illumina MiSeq platform using a paired end 2 × 250 bp format (accomplished by Michigan State University's Research Technology Support Facility).
Sequence data were processed using MOTHUR v.1.35.1 (Schloss et al., 2009). Quality control and clustering steps were implemented following the publicly available MiSeq SOP (found at http://www.mothur.org/) with modifications. Briefly, sequences which were less than 251 bp or greater than 254 bp in length were removed from further analyses, as were sequences which contained >8 homopolymers. Sequences were aligned using the SILVA (v. 119) reference database (Quast et al., 2012). Sequences which were not aligned within the V4 region were also removed. UCHIME (Edgar et al., 2011) was used to check for chimeric DNA, which was subsequently removed. Sequences were classified using the RDP database (training set v9; Cole et al., 2013). Classifications corresponding to chloroplast, eukaryotic, or mitochondrial DNA, as well as sequences that classified as unknown, were removed. The remaining data were clustered into operational taxonomic units (OTUs) using a 0.03 dissimilarity threshold. The Mothur workflow associated with this study can be found within an online repository located on GitHub (https://github.com/horto2dj/CMUBS_microb). Sequences obtained for this study have been deposited in the MG-RAST database (Meyer et al., 2008) under accession numbers mgm4732740.3–mgm4732751.3, mgm4732757.3, mgm4732760.3, mgm4733677.3–mgm4733686.3, mgm4733688.3, mgm4733690.3–mgm4733704.3, and mgm4733784.3–mgm4733785.3. Additional metadata associated with submitted environmental sequences can be found within Table S3.
Statistical analyses
Statistical analyses (both chemical and biological) were completed using the R statistical software v.3.2.1 (R Core Team, 2015). Protocols and files associated with quality control and statistical tests can be found on GitHub (https://github.com/horto2dj/CMUBS_microb). Differences in lake chemistry among lakes and time points within lakes were analyzed through principal component analysis (PCA).
Prior to alpha and beta diversity analyses, singletons and doubletons were removed and samples were normalized using the DeSeq2 package (Love, Huber & Anders, 2014) in R, followed by a variance stabilizing transformation (McMurdie & Holmes, 2014).
Using the PhyloSeq package (McMurdie & Holmes, 2013), Shannon's diversity was calculated for microbial communities of each sample. Linear mixed-effect models (with 'Lake' as random effect) and ANOVA were used to test significance of habitat (i.e., surface vs bottom-water) on levels of alpha diversity. Linear models and ANOVA were used to test for differences in alpha diversity between lakes. Alpha diversity values were correlated with measured environmental variables using Spearman's rank correlation to explore relationships between environmental variables and alpha diversity.
Non-metric multidimensional scaling (NMDS) based on Bray–Curtis distance was performed to compare dissimilarity between the samples, also employing the PhyloSeq package. A total of 20 iterations were accomplished to reach the lowest stress during NMDS and two dimensions (k = 2) were used for visualization. Analysis of Similarity (ANOSIM) was used to test for significant differences in community composition between microbial communities of different lakes. Correlation of environmental variables with microbial communities was determined using envfit of the Vegan package (Oksanen et al., 2017). Canonical Correspondence Analysis (CCA) was implemented to explore relationships between environmental variables significantly correlated to beta diversity in NMDS and microbial community beta diversity. Permutation tests were implemented to test significance of axes and environmental variables within CCA in explaining microbial community beta diversity patterns using 999 permutations in all tests. Partial Canonical Correspondence Analysis (pCCA) was implemented to specifically examine potential effects of oxygen gradients on microbial communities in the same way as described above.
Spearman's Rank correlations were used to identify OTUs significantly correlated to environmental variables (i.e., dissolved oxygen, pH, and temperature). Only OTUs which appeared within a minimum of five samples with at least two sequences were considered for correlation analyses. Variance stabilizing transformation was used to normalize sequence abundances across samples for these OTUs to account for uneven sequencing depth between samples. Correlations with p > 0.001 and r < 0.65 were excluded as an attempt to reduce spurious correlations. OTUs which could not be identified as belonging to a phylum were removed from analyses.
Conclusion
This study has found that microbial communities within actively physicochemically stratifying lakes, particularly stratification of dissolved oxygen, pH, and temperature, diverge to a larger degree over time relative to communities within lakes (or points within lakes) that do not chemically stratify. Additionally, despite their relatively close geographic proximity, each lake harbored a distinct microbial community, suggesting that lake physicochemistry is a stronger constraint on microbial communities than geographic region. Correlations of individual microbial OTUs to physical and chemical variables, such as dissolved oxygen, pH, and temperature, could be related to metabolic capabilities of microbial taxonomic groups or individual OTUs. This suggests that lake stratification and environmental conditions unique to each lake may influence the prevalence of some microbial taxa more strongly than others, thereby potentially influencing ecosystem processes carried out by these taxa. This research highlights the importance of sampling lakes in the same geographic area but distinct in physical and chemical attributes, as well as the potential impact of lake mixing and stratification as a disturbance to microbial communities within temperate freshwater lake systems, which could ultimately influence microbial community functional diversity and biogeochemical processes.