The role of polycarbonate monomer bisphenol-A in insulin resistance
Department of Medicine, Division of Cardiovascular Medicine, Cardiovascular Institute, Stanford University School of Medicine

,

Stanford

,

CA

,

United States of America
Published

Accepted

Received
Academic Editor
Subject Areas

Keywords

Bisphenol-A

,

Polycarbonate polymers

,

Diabetes

,

Insulin resistance

,

Epigenetic modifications

,

Non-monotonic dose response

,

BPA

,

Endocrine disrupting chemicals
Copyright

©

2017

Pjanic

Licence

This is an open access article distributed under the terms of the Creative Commons Attribution License, which permits unrestricted use, distribution, reproduction and adaptation in any medium and for any purpose provided that it is properly attributed. For attribution, the original author(s), title, publication source (PeerJ) and either DOI or URL of the article must be cited.
Cite this article

2017

.

The role of polycarbonate monomer bisphenol-A in insulin resistance

.

PeerJ

5

:

e3809

https://doi.org/10.7717/peerj.3809
Abstract
Bisphenol A (BPA) is a synthetic unit of polycarbonate polymers and epoxy resins, the types of plastics that could be found in essentially every human population and incorporated into almost every aspect of the modern human society. BPA polymers appear in a wide range of products, from liquid storages (plastic bottles, can and glass linings, water pipes and tanks) and food storages (plastics wraps and containers), to medical and dental devices. BPA polymers could be hydrolyzed spontaneously or in a photo- or temperature-catalyzed process, providing widespread environmental distribution and chronic exposure to the BPA monomer in contemporary human populations. Bisphenol A is also a xenoestrogen, an endocrine-disrupting chemical (EDC) that interferes with the endocrine system mimicking the effects of an estrogen and could potentially keep our endocrine system in a constant perturbation that parallels endocrine disruption arising during pregnancy, such as insulin resistance (IR). Gestational insulin resistance represents a natural biological phenomenon of higher insulin resistance in peripheral tissues of the pregnant females, when nutrients are increasingly being directed to the embryo instead of being stored in peripheral tissues. Gestational diabetes mellitus may appear in healthy non-diabetic females, due to gestational insulin resistance that leads to increased blood sugar levels and hyperinsulinemia (increased insulin production from the pancreatic beta cells). The hypothesis states that unnoticed and constant exposure to this environmental chemical might potentially lead to the formation of chronic low-level endocrine disruptive state that resembles gestational insulin resistance, which might contribute to the development of diabetes. The increasing body of evidence supports the major premises of this hypothesis, as exemplified by the numerous publications examining the association of BPA and insulin resistance, both epidemiological and mechanistic. However, to what extent BPA might contribute to the development of diabetes in the modern societies still remains unknown. In this review, I discuss the chemical properties of BPA and the sources of BPA contamination found in the environment and in human tissues. I provide an overview of mechanisms for the proposed role of bisphenol A in insulin resistance and diabetes, as well as other related diseases, such as cardiovascular diseases. I describe the transmission of BPA effects to the offspring and postulate that gender related differences might originate from differences in liver enzyme levels, such as UDP-glucuronosyltransferase, which is involved in BPA processing and its elimination from the organism. I discuss the molecular mechanisms of BPA action through nuclear and membrane-bound ER receptors, non-monotonic dose response, epigenetic modifications of the DNA and propose that chronic exposure to weak binders, such as BPA, may mimic the effects of strong binders, such as estrogens.
Introduction
Bisphenol A (BPA, IUPAC ID: 4,4′-(propane-2,2-diyl)diphenol) is one of the most extensively used synthetic monomers that in a polymerized state constitutes polycarbonate plastics and epoxy resins and makes up the significant part of the plastic environment that surrounds modern human species. Bisphenol A is also a molecule that behaves as an endocrine-disrupting chemical (EDC) that is mimicking the effects of an estrogen (i.e., a xenoestrogen molecule). BPA could interfere with the endocrine system and promote a chronic imbalance that parallels endocrine disruption that arises during pregnancy under the influence of estrogens, such as insulin resistance (IR).
Human populations are being continuously exposed to bisphenol A to the extent that it could be considered a common environmental factor present since 1957, when the first production of BPA started. With over six billion pounds (2.7 million tonnes) of BPA produced in 2003 and incorporated into polycarbonate polymers, and estimated 4.5 million tonnes in 2015, BPA represents one of the most abundant chemicals that come in direct contact with human populations world-wide (Welshons, Nagel & Vom Saal, 2006). The volume of BPA production in the world is predicted to increase continuously, and it is presently estimated to surpass 5.4 million tonnes (Merchant Research & Consulting Ltd, 2017). BPA is found in plastic bottles, plastic food containers, baby and water bottles, can and glass linings, various medical and dental devices, sealants for dental fillings, compact disks and electronics, eyeglass lenses, and even in the lining of water pipes and tanks (Talsness et al., 2009; Huang et al., 2012). BPA is the main monomer of epoxy resins which are being used as coating agents on the interior of many water storage tanks. Hence, BPA leaching from such widely used polymers may influence human health inadvertently through consuming water or food. In addition, canned food might represent one of the significant global sources of BPA, as it has been shown that the canned food is significantly more contaminated with BPA compared to the non-canned one and that the BPA levels from canned food did not differ between continents (Repossi et al., 2016). In addition to dietary ingestion, a significant source of BPA exposure in modern human populations represents thermal paper used for supermarket and ATM receipts, that could efficiently transfer BPA to skin when holding the source for as long as 5 s, and it remains largely extractable after 2 h, indicating perfusion into the skin to such depths that it could no longer be removed or washed off easily (Biedermann, Tschudin & Grob, 2010; Ehrlich et al., 2014). Furthermore, one of the sources that could provide constant exposure to BPA is orthodontic material, as it has been shown that the eluents from orthodontic adhesives immersed in saline for one month at 37 °C exhibit estrogenic action through the induction of MCF-7 cell proliferation, an estrogen-responsive cell line (Gioka et al., 2009).
In addition, BPA is found as an additive to various polyvinyl chloride (PVC) products, including food packaging stretch films (López-Cervantes & Paseiro-Losada, 2003). Food and drink products are estimated to be the major source of BPA contamination, with detected concentrations reaching microgram (μg) levels. BPA and several bisphenol A analogues, including bisphenol-F (BPF) and bisphenol-S (BPS), have been found in various categories of food and drink products including fruits, vegetables, dairy products, cereals, beverages, fats and oils, fish and seafood, meat and meat products and "other products" category using high-performance liquid chromatography-tandem mass spectrometry (HPLC-MS/MS) (Liao & Kannan, 2013). BPA was detected in 75% of the tested samples, and the detected concentration was ranging from the very limit of quantification (LOQ) to 1.13 µg/g weight (mean value, 4.38 ng/g). BPA and its analogues have been shown to appear in the indoor dust, and dust ingestion may be another significant source of contamination with BPA (Liao et al., 2012). The potential to use BPA analogues, BPS and BPF, as substitutes in the production of plastics has been debated, as BPA analogues have shown similar effects to BPA on the cellular level (Verbanck et al., 2017).
The global industrial trend of polycarbonate consumption is increasing from 1.6 million tonnes in 2000 up to 3.4 million tonnes in 2010, and 4.5 million tonnes estimated in 2015 (Sevak Publications, 2008). Significant demand of BPA originates from East Asia (predominantly China), that accounted for 59% of the polycarbonate consumption in 2010 and 68% estimated in 2015. On the other side, Europe contributed with 32% of polycarbonate consumption in 2000, 30% in 2010, and estimated 25% in 2015. Similar decreasing trend was observed for the United States (28% in 2000, 22% in 2010, and 18% in 2015). Particularly, the production of BPA in China has grown extensively and this continuous trend will lead to the increasing BPA contamination in the global environment (Huang et al., 2012). The Environmental Protection Agency (EPA) in the US has established the tolerable daily intake (TDI) for BPA at 50 µg per kg (body weight) per day in 1988 (Rubin, 2011). In January 2015, European Food Safety Authority has reduced TDI for BPA from 50 to 4 µg per kg (body weight) per day. In addition, EPA has established the oral reference dose (RfD) for BPA at 100 µg/L as a standard for the total allowable concentration (TAC) in drinking water. Whether the extent of such exposure is significant has been debated (Nohynek et al., 2013), and various evidence have been presented supporting that the tight regulation of BPA is necessary. This is especially important considering the new knowledge about BPA action, including the numerous instances of experimental non-monotonic dose response to the BPA treatment, indicating narrow effective range of concentrations and the absence of effects on higher doses.
In this review, I present a global overview of the chemical properties of BPA and its polymers, their hydrolytic reaction and leaching BPA concentrations present in the environment and the corresponding concentrations in human tissues. Next, I define the physiological gestational insulin resistance (GIR), its pathophysiological progression to gestational diabetes and the role of estrogens in promoting these disorders. I elaborate on the proposed mechanism of BPA endocrine disruption, including non-monotonic dose response, and its transgenerational effects on male and female offspring, including epigenetic modifications transmitted to the next generation. Finally, I review the literature on biological effects of BPA in mice and humans including insulin resistance and diabetes, as well as in cardiovascular diseases, such as coronary artery disease and other physiological disorders that BPA might contribute to.
Survey Methodology
In order to survey the effects of BPA on insulin resistance I searched for studies analyzing BPA and insulin resistance on PubMed or PubMed Central (PMC) from their inception through May 2, 2017 using the following search algorithm: (bpa[Title/Abstract] OR bisphenol-A[Title/Abstract]) AND ("insulin resistance"[MeSH Terms] OR ("insulin"[Title/Abstract] AND "resistance"[Title/Abstract]) OR "insulin resistance"[Title/Abstract]). This search yielded the list of 19 publications on PubMed Central and 86 publications on PubMed. The survey of papers describing the influence of BPA on cardiovascular diseases was performed by applying the search algorithm: (bpa[Title/Abstract] OR bisphenol-A[Title/Abstract]) AND "cardiovascular disease*"[Title/Abstract], which yielded 33 publications on PubMed and no publications on PMC. The search with algorithm: (bpa[Title/Abstract] OR bisphenol-A[Title/Abstract]) AND "cardiovascular"[Title/Abstract] yielded 97 publications on PubMed and five publications on PMC. The survey of papers describing chemical properties of BPA molecule was performed with the algorithm: (bpa[Title/Abstract] OR bisphenol-A[Title/Abstract]) AND "chemical properties"[Title/Abstract], which yielded 27 publications on PubMed and no items on PMC. The survey of BPA concentration levels in both environment and human tissues was performed with the algorithm: (bpa[Title/Abstract] OR bisphenol-A[Title/Abstract]) AND "concentration*"[Title], yielding 89 publications on PubMed and 12 on PMC. Papers with subject relevant to the search term and not present in the initial search were obtained through Similar Article PubMed function. Initial papers that describe the structural and functional properties of BPA as an estrogen-like molecule from 1936 and 1938 were not present in the PubMed or PMC databases and were found on Wikipedia and obtained from the JStore database. In addition, the search was performed using the '*' symbol that denotes the truncated search terms to increase the number of publications obtained. After reviewing, articles were excluded from the study in case they were published in languages other than English or if they described subjects that were not related to the main search topic. Papers that did not contributed to the scientific understanding of the search topic were excluded, as well as papers that were addressing the same or similar subjects in order to eliminate the redundant studies. After filtering for each search term the number of papers retained were: BPA chemical properties—6, BPA and insulin resistance relationship—11, BPA and cardiovascular and other diseases—4, and BPA and environmental and human tissue concentrations—18. Additional papers were introduced after the revision process.
Discussion
In the last two decades, bisphenol A has been a target of strong public and scientific scrutiny. The number of papers on BPA available on PubMed reaches 10,668, with several hundred papers published each year. An overwhelming body of knowledge has accumulated since, both mechanistic, in animal models, and epidemiological, that has contributed to our better understanding of the implications that the widespread and chronic exposure of human populations to BPA carries. Even though BPA properties as an estrogen mimicking molecule have been discovered in 1936 (Dodds & Lawson, 1936; Dodds & Lawson, 1938; Dodds & Lawson, 1938), its widespread use as a synthetic polymer unit, starting from the late 1950s, hasn't been influenced by the fact that it might behave as an endocrine-disrupting chemical. Driven by the industrial tendencies and novel emerging markets, BPA-based polycarbonate polymers have infiltrated almost every aspect of the human life, including food containers, baby and water bottles, can and glass linings, various medical and dental devices, eyeglass lenses, and finally the epoxy lining of water pipes and tanks, making the large majority of human populations chronically exposed to the low levels of this synthetic chemical.
Whether the widespread use of BPA in the contemporary human environment is related to the expansion of insulin resistance, diabetes and obesity-related diseases is unclear. One can contemplate that this is most probably not a direct or unique cause of the elevated fasting plasma glucose levels, insulin resistance and diabetes expansion in the human populations, however the time frames of the diabetes expansion and the use of plastic bottles coincide, hence, given the experimental findings, the question becomes more quantitative than qualitative. The prevalence of hyperglycemia and diabetes are rising globally since 1980 with a mean fasting plasma glucose level increasing 0.09 mmol/L per decade, while the number of people with diabetes increased from 153 million in 1980 to 347 million in 2008, more than doubling in size during three decades (Danaei et al., 2011). The level of BPA exposure in human populations depends primarily on how chemically effective the hydrolysis and photo-degradation of polycarbonate polymers are in their natural environment and that depends on the content, stability and storage conditions of plastic polymers and coating materials. On higher temperatures, increased hydrolysis leads to the excess of leached BPA in the neighboring environment. Certain polycarbonate plastics and coatings may represent common sources of leaching BPA levels, e.g., food containers that will be exposed to higher temperatures in microwave ovens. Therefore, unknowingly humans may further increase the hydrolysis of polycarbonates and subsequently their exposure to BPA by, e.g., microwaving food in plastic containers, refilling plastic water bottles or leaving plastic water bottles in the sun exposed to light, with BPA polymers undergoing photo-oxidative degradation.
BPA traces have been detected leaching from the polycarbonate plastic products, as well as present in various human tissues. BPA environmental levels correspond to the tissue levels, appearing in the concentrations of the same order of magnitude (ng ml−1), indicating effective transfer from the environment to the human internal organs and tissues. BPA has been detected in human serum with concentrations up to 4.4 ng ml−1 (Vandenberg et al., 2007) and urine with detection rates up to 97.5% (Yang et al., 2006). As tissues that exhibited the highest BPA concentrations up to the levels of 11.2 ng ml−1 were related to the embryo development, such as placenta, umbilical cord, and amniotic fluid, as well as to the maternal influence of postnatal development of infants, like breast milk and colostrum, it may not be surprising that experimental studies in mice, as well as epidemiological studies in humans, showed pronounced transgenerational effects of BPA. The question of mechanism for gender-related differences of the BPA effects in offspring still remains open, as to why predominantly male offspring exhibit increased insulin resistance, while female offspring show negative BMI correlation. The explanation may come from a gender-related differences in BPA-processing liver enzyme levels and subsequent BPA clearance from the organism. For instance, it has been shown that female rats harbor higher UDP-glucuronosyltransferase liver levels, as well more effective BPA glucuronidation reaction that eliminates BPA from the organism (Takeuchi et al., 2004).
Skepticism could emerge due to the fact that BPA has much lower affinity for estrogen receptors, therefore questioning whether its effects are indeed negligible. However, it may be possible that effects of prolonged exposure to low affinity binders mimic the short term effect of high affinity binders, providing mechanistic explanation for direct BPA action. Indeed, low affinity binders may have profound effects on the pathogenesis of obesity and insulin resistance, as shown in the case of insulin-like growth factor binding proteins (IGFBPs) comprising both insulin-like growth factor (IGF) high- and low-affinity binders (Kim et al., 1997; Ruan & Lai, 2010).
As it has been shown that in various in vivo and in vitro experiments BPA effects follow the non-monotonic dose response (i.e., the inverted U-shape curve), a narrow concentration range might exist that is critical for the BPA action. Similarly, the narrow window of developmental stages exists during which BPA will exert its maximal effect (e.g., P6–PND0). Combined with the gender related differences, there might exist a specific set of conditions under which BPA exerts its maximal biological and physiological effect (Fig. 5). Therefore, the complete elucidation of the maximal BPA effects on offspring may be limited to the very specific set of experimental conditions. In addition, the discovery of BPA mechanism that involves epigenetic modifications (i.e., DNA methylation) reveals the complexity of the mechanism responsible for the appearance of BPA phenotype in subsequent generations.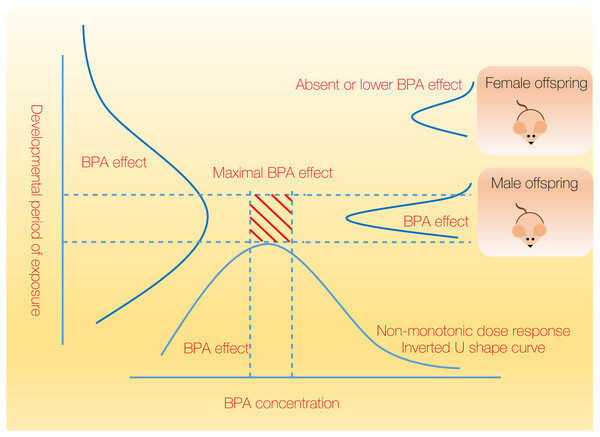 Even though at present day BPA-free plastic products are getting more available, e.g., BPA-free water bottles, the use of BPA-free polymers has not reached widespread levels and in many cases BPA is simply substituted with one of its analogues, BPS or BPF, that may exhibit similar behavior to BPA. In addition, the level of public education on this subject remains relatively poor and the amount of BPA present in the environment still remains at the levels of a substantial health threat. Consistently, it will take years of regulation of environmental and industrial BPA levels to achieve reduced BPA concentrations to the pre-industrial levels or its complete elimination.
BPA may have an effect that needs to be deciphered from the existing data to prevent its long-term negative impact. As once, unaware of the health risks, Roman populations had been poisoned gradually by an increased lead content in the water, through utilization of leaded pipes in their water distribution network (Delile et al., 2014), which subsequently contributed to the decline of Roman empire, the environmental and health toll of BPA plastics in the human environment needs to be addressed thoughtfully in the modern world. Further experimental and epidemiological efforts are necessary to fully establish a magnitude of potentially hazardous effects of BPA in humans, and its association to insulin resistance and diabetes, as well as other human diseases.