Greater reproductive investment, but shorter lifespan, in agrosystem than in natural-habitat toads
1
Department of Biological Sciences, Dartmouth College

,

Hanover

,

NH

,

United States of America
2
Department of Biogeography and Global Change, Museo Nacional de Ciencias Naturales (MNCN), Spanish National Research Council (CSIC)

,

Madrid

,

Spain
3
Estación Biológica de Doñana (EBD), Spanish National Research Council (CSIC)

,

Sevilla

,

Spain
Published

Accepted

Received
Academic Editor
Subject Areas

Keywords

Amphibian declines

,

Conservation

,

Habitat anthropization

,

Life-history theory
Copyright

©

2017

Zamora-Camacho and Comas

Licence

This is an open access article distributed under the terms of the Creative Commons Attribution License, which permits unrestricted use, distribution, reproduction and adaptation in any medium and for any purpose provided that it is properly attributed. For attribution, the original author(s), title, publication source (PeerJ) and either DOI or URL of the article must be cited.
Cite this article

2017

.

Greater reproductive investment, but shorter lifespan, in agrosystem than in natural-habitat toads

.

PeerJ

5

:

e3791

https://doi.org/10.7717/peerj.3791
Abstract
Global amphibian decline is due to several factors: habitat loss, anthropization, pollution, emerging diseases, and global warming. Amphibians, with complex life cycles, are particularly susceptible to habitat alterations, and their survival may be impaired in anthropized habitats. Increased mortality is a well-known consequence of anthropization. Life-history theory predicts higher reproductive investment when mortality is increased. In this work, we compared age, body size, and different indicators of reproductive investment, as well as prey availability, in natterjack toads (Epidalea calamita) from agrosystems and adjacent natural pine groves in Southwestern Spain. Mean age was lower in agrosystems than in pine groves, possibly as a consequence of increased mortality due to agrosystem environmental stressors. Remarkably, agrosystem toads were larger despite being younger, suggesting accelerated growth rate. Although we detected no differences in prey availability between habitats, artificial irrigation could shorten aestivation in agrosystems, thus increasing energy trade. Moreover, agrosystem toads exhibited increased indicators of reproductive investment. In the light of life-history theory, agrosystem toads might compensate for lesser reproductive events—due to shorter lives—with a higher reproductive investment in each attempt. Our results show that agrosystems may alter demography, which may have complex consequences on both individual fitness and population stability.
Introduction
Anthropic alterations of the environment are triggering a global change in our planet, affecting ecological interactions in complex ways (Vitousek, 1994). Along with climate warming (IPCC, 2007), land use change is one of the capital drivers of this global change (Watson et al., 2000). The main causes of land use change are the massive shift from extensive to intensive agriculture (Nonhebel, 2002), and the escalation in global agriculture land surface (Veldkamp & Lambin, 2001). These changes in agriculture land use may have a major impact on wildlife (Hamilton et al., 2015).
Agrosystems can support a considerable plant (Valencia et al., 2014) and animal biodiversity (Durán, Duffy & Gaston, 2014). Nevertheless, agrosystems pose several threat factors for the biota (Green et al., 2005). Firstly, landscape alterations may make habitat inappropriate for extant species, or favor incoming ones, giving rise to complex, artificial ecological relationships (Gulinck, 1986). The plant species raised are artificially favored, impeding the system to reach a sustainable balance (Kareiva et al., 2007). To this end, fertilizers are added to agrosystem soils, provoking eutrophication of surrounding waters (Addiscott & Thomas, 2000). Plus, most pesticides have a negative impact on target-species populations as well as on other species, decreasing diversity (Teodorescu & Cogălniceanu, 2005), which may alter ecosystem functions (McMahon et al., 2012). Human presence, which can be viewed as predation risk by many animals (Frid & Dill, 2002), is a constant in agrosystems.
Amphibians may be particularly sensitive to such habitat alterations. Most amphibians undergo complex life cycles, including an aquatic larval stage, which can be jeopardized as a result of water quality loss (Lajmanovich et al., 2010; Liu et al., 2011). Moreover, the permeable skin of amphibians may facilitate absorption of pollutants (Marco et al., 2001), which they may also ingest through invertebrates they feed on (Attademo, Peltzer & Lajmanovich, 2005). Pesticides could diminish prey availability for amphibians, which, along with the aforementioned ecological and physiological stressors in agrosystems, could restrict matter and energy transmission, and ultimately, growth rates (Madsen & Shine, 2000). Agrosystems exert negative effects on both tadpole and adult development and growth (Wood & Welch, 2015). Morphology and functioning of gonads may appear altered in agrosystem amphibians (McCoy et al., 2008). In fact, morphological abnormalities are more frequent in agrosystems than in pristine habitats (Agostini et al., 2013). Agrosystem conditions have also proven to deteriorate amphibian health (Hegde & Krishnamurthy, 2014), and increase parasite prevalence (Attademo et al., 2011; Attademo et al., 2012). Overall, agrosystems pose one of the main causes of amphibian global decline (Blaustein, Wake & Sousa, 1994; Houlahan et al., 2000; Alford, Dixon & Pechmann, 2001; Allentoft & O'Brien, 2010). Along with competition by alien species, pollution, road-kill, direct predation by humans, and emerging diseases (Hels & Buchwald, 2001; Beebee & Griffiths, 2005; Corn, 2005), the major threats for amphibians are habitat loss, destruction, and fragmentation (Cushman, 2006; Dixo et al., 2009). All of them are forecasted to increase due to an expansion of intensive agriculture land use (Godfray et al., 2010).
Human-modified environments can trigger fast and intricate adaptive changes in organism traits and fitness (Carroll et al., 2007; Carroll et al., 2014; Alberti et al., 2017; Rivas-Torres et al., 2017). Amphibians can thus adapt to anthropic habitats (Hua et al., 2015), although environmental deterioration often increases mortality (Schaub & Pradel, 2004; Collins & Kays, 2011). Life-history theory predicts higher reproductive investment as an adaptive response to increased mortality (Partridge & Harvey, 1988; Stearns, 1992). Indeed, other natural life-threatening conditions, such as elevated parasite prevalence (Blair & Webster, 2007) or predation pressure (Gordon et al., 2009; Walsh & Reznick, 2009), have proven to increase reproductive effort in several animal species.
Despite the described effects of agrosystem conditions on some aspects of amphibian ecology, little is known about their role in shaping life-history traits of amphibians. In this work, our goal is to assess whether agrosystem conditions affect life history of an amphibian—natterjack toad (Epidalea calamita)—by comparing body size, age, and several indicators of reproductive investment—plus prey availability—between natural habitats and agrosystems. We expect that age will be lower in agrosystem toads, while, in the light of life-history theory, their reproductive investment should be greater.
Results
Age, SVL, body mass, and forearm thickness were correlated (Table 1). Matching with our predictions, toads showed a lower mean age in agrosystems than in pine grove (Tables 2 and 3, Figs. 1A and 2). However, SVL (Tables 2 and 3, Figs. 1B and 3) and body mass (Tables 2 and 3, Figs. 1C and 4) were greater in agrosystems toads. As for male reproductive investment indicators, both forearm thickness (Tables 2 and 3, Fig. 1D) and nuptial pad extension (Tables 2 and 3, Fig. 1E) were greater in agrosystem toads. Body mass, SVL, forearm thickness, and nuptial pad extension still differed between habitats after controlling for age, and were greater in older individuals, with the exception of nuptial pad extension, which showed no significant relationship with age (Tables 4A and 5A). However, after controlling for SVL, habitat differences disappeared for forearm thickness (Tables 4B and 5B), suggesting that thicker forearms in agrosystem might be an allometric consequence of larger body size. Nevertheless, habitat differences remained marginally non-significant for body mass, and significant for age and nuptial pad extension (Tables 4A and 5A). Except for nuptial pad extension, which showed no relationship with SVL, all variables analyzed were greater in individuals with larger SVL (Tables 4B and 5B). In all models, only forearm thickness differed between sexes, being larger in males than in females (Tables 2–5; Fig. 1D). No interaction was significant in any models. When models were rerun without non-significant interactions, results did not change qualitatively (results not shown). As for pitfall content, we found no differences in prey availability (χ2 = 2.444; d.f. = 2; P = 0.295) or dry weight (χ2 = 0.017; d.f. = 2; P = 0.898) between habitats.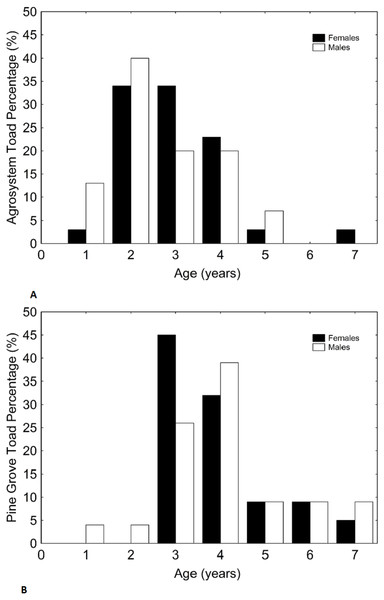 Discussion
Amphibians have complex life cycles, which make them particularly susceptible to altered ecological conditions in both aquatic and terrestrial environments (Kittusamy et al., 2014; Van Meter et al., 2014). Therefore, although agrosystems can be important refuges for amphibian populations (Kolozsvary & Swihart, 1999), they pose several threats to those populations. Our result that agrosystem E. calamita were younger than conspecifics in natural pine grove is aligned with these findings. A lower mean age in a given population might be a consequence of a higher mortality rate (Dempster, 1975). Thus, shorter lifespan in agrosystem toads suggests that environmental stressors in agrosystems are related to higher mortality.
Strikingly, agrosystem toads reached larger body size. Larger body size in younger individuals suggests faster growth rates, matching a trade-off between lifespan and growth, as has also been found in other vertebrates (for fish see: Lee, Monaghan & Metcalfe, 2013; for lizards: Olsson & Shine, 2002; and for mammals: Rollo, 2002). Several non-mutually-exclusive physiological pathways may underlie trade-offs between lifespan and growth rate (Metcalfe & Monaghan, 2003). Increased metabolism by a faster growth rate could lead to imbalance between pro-oxidant chemical species and anti-oxidant defenses, resulting in oxidative stress, with negative consequences on animal health (Rollo, 2002). Moreover, faster growth rates may accelerate telomere abrasion, shortening lifespans (Jennings, Ozanne & Hales, 2000). Increased growth hormone secretion can also diminish survival by diverting energy from somatic maintenance to growth (Bartke, 2005). In this sense, some agrochemicals have actually proven to alter vertebrate endocrine regulation (Nichols et al., 2010).
According to life-history theory (Cox et al., 2010), habitat differences in body size could be driven by an energy trade-off between survival and reproduction. Greater mortality, and concomitant reduced reproductive events, may favor energy diversion from somatic maintenance to reproduction in agrosystem toads, in which environmental stressors compromise survival (Reznick, Bryga & Endler, 1990). Larger body size, a consequence of faster growth rate, is indeed a costly trait that suggests greater reproductive success in both males (Wilbur, Rubenstein & Fairchild, 1978) and females (Castellano et al., 2004; Prado & Haddad, 2005) of several toad species. Specifically, a positive relationship between body size and reproductive success has been found in both male (Tejedo, 1992a) and female (Tejedo, 1992b) E. calamita toads. Therefore, larger body mass -even after controlling for SVL and for age- indicates greater reproductive investment in both female and male E. calamita agrosystem toads. Moreover, agrosystem males had thicker forearms due to their larger body size, which adds a reproductive advantage during amplexus (Greene & Funk, 2009). Likewise, male nuptial pad extension was greater in agrosystem toads. Remarkably, nuptial pad extension was the only morphological variable to show no relationship with age or SVL. This finding suggests that reproductive investment of agrosystem males was higher during their whole lifetime, which highlights the relevance of both early and sustained reproduction. Environmental pollutants may alter amphibian hormone regulation (Nichols et al., 2010), with an effect on nuptial pad morphology (Van Wyk, Pool & Leslie, 2003). Anuran nuptial pads are testosterone-induced (Epstein & Blackburn, 1997; Emerson et al., 1999) and high testosterone levels increase male reproductive success (Moore & Hopwins, 2009). Accordingly, Bufo terrestris males from contaminated habitats had higher testosterone levels (Hopkins, Mendonça & Congdon, 1997), suggesting that reproduction is prioritized in these human-altered conditions. Our findings match with life-history theory, which predicts that higher reproductive investment may compensate fewer reproductive events due to shorter lifespan (Stearns, 2000).
On the other hand, but not mutually-exclusive, the trade-off between lifespan and growth rate in this system may have an energetic basis, since animals with high energy intake may accelerate metabolism and growth, while those with a restricted energy budget may allocate greater proportions of resources to somatic preservation to the detriment of growth (Hou, 2013). In such energy-limiting situations, fast growth rates may be prohibitive, whereas longer lives may increase the chances of reproductive success (Holliday, 1989). In fact, longer lives are a well-documented consequence of calorie restriction in several taxa (review in Giusi & Mirisola, 2015). Hence, lower food intake could explain reduced growth and older average age in pine grove (Fontana, Partridge & Longo, 2010). However, prey availability did not differ between habitats in this study system, so we found no evidence of a dietary cause of size divergence. Nevertheless, artificial irrigation during the summer (rather dry and prolonged in the study area) could shorten aestivation in agrosystems, increasing activity time available for feeding and growing. In fact, amphibians show a global trend to live longer at high elevations, probably because colder climates shrink activity periods, reducing energy intake (Zhang & Lu, 2012). Therefore, shorter activity periods in pine grove toads could limit energy budget, increasing individual age, which adds reproduction chances, to the detriment of energy-consuming growth.
Broad sense habitat alterations in agrosystems are one of the main causes of amphibian global decline (Kiesecker, Blaustein & Belden, 2001). In the global change scenario, agricultural land use extension and intensity are expected to increase in the short term (Tilman et al., 2001). Therefore, a rising number of amphibian populations are bound to face stressing agrosystem environments in the near future (Murrieta-Galindo et al., 2013). The capability of amphibians to thrive in agrosystems will strongly depend on their sensitivity to concomitant stressful conditions (Wang & Murphy, 1982). However, our study suggests that insalubrious agrosystem environments may actually reduce amphibian average age and longevity, even though amphibians might be able to survive and reproduce. In the case we report here, E. calamita seemed to respond with increased reproductive investment, which may compensate for lesser reproductive events, preserving populations from extinction. Therefore, in spite of the detrimental effects of human alterations on amphibian populations, our study shows that some species might thrive in agrosystems by altering life-history traits. Nevertheless, physiological consequences of energy displacement from somatic maintenance to growth and reproductive investment, along with metabolic alterations caused by agrochemicals, are rather complex. Furthermore, other amphibian species may not be able to respond to ecological alterations by agrosystems, particularly if these occur suddenly, as predicted in many areas (Zabel, Putzenlechner & Mauser, 2014). Legal limitations in the use of agrochemicals that affect amphibians (Brodeur et al., 2014), or the preventive application of buffer land strips between their application zone and wetlands where amphibians reproduce (Wagner et al., 2015) could improve amphibian populations viability in agrosystems.
Conclusions
In conclusion, agrosystem E. calamita toads show a younger mean age than adjacent natural pine grove conspecifics. Strikingly, agrosystem toads had larger body sizes despite being younger, suggesting a trade-off between somatic maintenance and growth. On the other hand, agrosystem toads showed increased indicators of reproductive investment with respect to pine grove toads. In the light of life-history theory, this finding suggests that agrosystem toads might compensate for less reproductive events with a higher reproductive investment in each attempt. Our findings point out that some amphibians can withstand agrosystem conditions, but life-history and physiology are altered as a result, with complex consequences for both individual fitness and population stability.