The landscape of fear conceptual framework: definition and review of current applications and misuses
Ecology and Evolutionary Biology, University of Arizona

,

Tucson

,

AZ

,

United States of America
Tumamoc People and Habitat, Tumamoc Desert Research Laboratory, University of Arizona

,

United States of America
Published

Accepted

Received
Academic Editor
Subject Areas

Keywords

Animal behavior

,

Habitat selection

,

Yellowstone

,

Giving-up density (GUD)

,

Spatial ecology

,

Evolutionary dynamics

,

Food-webs

,

Mechanisms of coexistence

,

Conservation

,

Wildlife management
Copyright

©

2017

Bleicher

Licence

This is an open access article distributed under the terms of the Creative Commons Attribution License, which permits unrestricted use, distribution, reproduction and adaptation in any medium and for any purpose provided that it is properly attributed. For attribution, the original author(s), title, publication source (PeerJ) and either DOI or URL of the article must be cited.
Cite this article

2017

.

The landscape of fear conceptual framework: definition and review of current applications and misuses

.

PeerJ

5

:

e3772

https://doi.org/10.7717/peerj.3772
Abstract
Landscapes of Fear (LOF), the spatially explicit distribution of perceived predation risk as seen by a population, is increasingly cited in ecological literature and has become a frequently used "buzz-word". With the increase in popularity, it became necessary to clarify the definition for the term, suggest boundaries and propose a common framework for its use. The LOF, as a progeny of the "ecology of fear" conceptual framework, defines fear as the strategic manifestation of the cost-benefit analysis of food and safety tradeoffs. In addition to direct predation risk, the LOF is affected by individuals' energetic-state, inter- and intra-specific competition and is constrained by the evolutionary history of each species. Herein, based on current applications of the LOF conceptual framework, I suggest the future research in this framework will be directed towards: (1) finding applied management uses as a trait defining a population's habitat-use and habitat-suitability; (2) studying multi-dimensional distribution of risk-assessment through time and space; (3) studying variability between individuals within a population; (4) measuring eco-neurological implications of risk as a feature of environmental heterogeneity and (5) expanding temporal and spatial scales of empirical studies.
Introduction
The study of community ecology has developed from a study of how species affect each other in terms of resource competition to the study of how that competition affected community structure over evolutionary time (Morris & Lundberg, 2011). In other words, how species' resource-use efficiency impacts interspecific interactions on an evolutionary scale—resulting in present day community structures shaped by extinction and speciation events (Vincent & Brown, 2005). This historical shift can be traced back to the model that first tested top-down trophic cascades (e.g., Paine, 1963), and large collaborative and conceptual efforts to explain the dynamics driven by predator–prey interactions (e.g., Hassell, 1978; Murdoch & Oaten, 1975; Rosenzweig & MacArthur, 1963). These efforts continue today, and predominantly focus on the study of non-consumptive effects of predators on entire communities (Appendix S1) (e.g., Kotler, 1984; Sih, Englund & Wooster, 1998). Joel Brown colloquially referred to these non-consumptive effects as the "ecology of fear" (Brown, Laundré & Gurung, 1999).
While the ecology of fear continued to focus on the means by which community structure impacts specific behaviors, some choose to broaden the study to the ecosystem level (e.g., Madin, Madin & Booth, 2011). Such theses assess ecosystem health using the trophic cascades as the basis for a new theory of behavioral cascades reverberating down the food chain and affecting habitat selection of species along the chain.
John Laundré (2001) called the effect, behavioral-pattern, resulting from these trophic cascades the "Landscape of Fear" (LOF). The use of the LOF, as a concept, is gaining favor as more studies investigate spatial dynamics in the distribution of populations using a community centric lens. This review has two main objectives: (1) clearly define the LOF, while dispelling common misuses of the term, and (2) discuss how the current literature uses LOFs, suggesting future trajectories possible for this growing research program.
Review Method
For the purpose of this review, I conducted a literature search for manuscripts that use the term "landscape(s) of fear" as part of their title, or within their keywords and abstracts. The search was conducted on Google Scholar©, Wiley Interscience Online Library©, JSTOR© and Thompson Reuters' Web of Science©. Every manuscript found in the search was examined and if it studied spatial distribution of predation risk it was included in the database. Every manuscript was mined for the following information: definition of the LOF(s), article type (review, opinion, or empirical), publication aim (based on journal guidelines), method used and study system (in studies providing data), and the theoretical contributions each brings to the field (if any). Three manuscripts were added to the database (despite not mentioning LOF per-se in their abstracts, or being peer reviewed): my own PhD thesis (Bleicher, 2014) and two manuscripts that were cited regularly in other manuscripts (Zanette & Jenkins, 2000; Ripple & Beschta, 2003).
Defining the LOF
Among growing interpretation of the LOF concept it is critically important to provide a concise and clear definition. The LOF is a behavioral trait of an individual animal, and more commonly used on the population level. The LOF provides a spatially dependent, yet geographically independent, measure of the way an animal "sees" its world—its umwelt (cf. Uexküll, 1909). In other words, it is a short term measure of the way the animal perceives its environment based on the cost-benefit analysis of the trade-off of food and safety associated with foraging in specific areas of the habitat available to it (cf. Brown, Laundré & Gurung, 1999). As such, LOFs are affected by a large variety of biological, evolutionary and yes—sometimes geographic variables.
Misinterpretation—avoiding misuse
There are three major misuses commonly published in the LOF literature. It is important to state them and discuss how these could be easily avoided for the benefit of this research program.
(1) Using the LOF concept interchangeably with habitat use. Animals will avoid habitat they perceive as risky, therefore the LOF plays a critical role in habitat use and habitat selection. However, it is important to re-emphasize that it is the habitat quality that is responsible in shaping the LOF. Thus, using the LOF to explain habitat use needs to be approached with caution. While activity data can reveal habitat use, they do not necessarily reveal the LOF. As an example, a rich food source can attract foragers and enhance activity to a given area without reduced risk necessarily being involved. This confusion is perpetuated by the fact the 81% (63) of manuscripts apply the LOF as a descriptor for habitat-selection. This problem is exacerbated by the fact the majority of manuscripts that misinterpret the term are able to draw sound conclusions about habitat selection (e.g., Creel et al., 2005; Madin, Madin & Booth, 2011). I suggest here, that when using the LOF as a descriptor for habitat-selection, one should also cross reference other critical factors, such as availability of food, shelter (nest sites, borrows, cavities), water etc.
(2) Suggesting predators impose a LOF. It is very metaphorically colorful to suggest that the presence of a predator imposes a LOF (e.g., Massey, Cubaynes & Coulson, 2013), however, every population interprets risk cues even in the absence of predators. This misinterpretation is most commonly published in applied journals, with 47% (9) of the applied-ecology manuscripts making this type of statement. The appropriate expression of these ideas, must refer to changes in the perceived risk associated with features in the landscape. This distinction was best shown in a study of vervet monkeys responding to playback of alarm calls corresponding to different predator types. This experiment generated three dimensional LOFs based on elevation in trees and spatial-distribution of safe zones within the troop's home-range (Willems & Hill, 2009). Each call-type changed the monkeys' preferred habitat.
(3) Using the LOF as jargon without defining the term. Though not common, 4% (3) of the manuscripts used the term, LOF, without defining it.
General Review Results
Since the year 2000, 77 manuscripts (Appendix S2) were published using the term LOF (in title, keywords or abstract). The publication rate has been increasing steadily since 2001, with a mean of 5.1 ± 0.7 SE manuscripts per year (Fig. 1).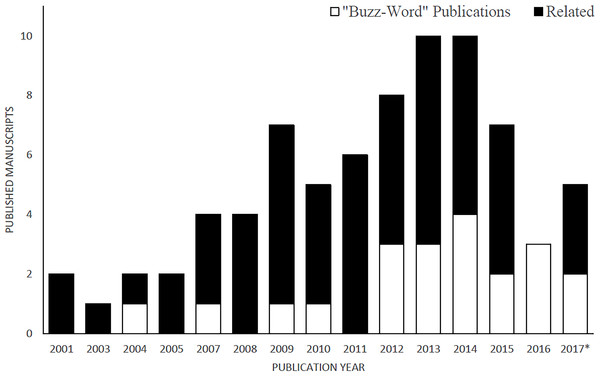 Of these 77 manuscripts 75% are empirical tests that employ the concept, while the rest of the manuscripts discuss implications in form of review and opinion papers. The majority of papers (76%) were published in journals dedicated to general ecology and zoology (e.g., Ecology©, Oikos© and the Canadian Journal of Zoology©) (Table 1).
Total manuscripts
% Buzz-Word (# of publications)
A. Manuscripts using the LOF concept:
78
26.9% (21)
B. Published in a journal covering:
General Ecology
44a
14% (6)
Zoology
15a
7% (1)
Animal Behavior
9a
22% (2)
Applied Ecology/Wildlife Management
9
45% (4)
General Biology
8
75% (6)
Evolution
3
67% (2)
C. Manuscript type:
Opinion
8
25% (2)
Review
12
25% (3)
Empirical
58
28% (16)
D. Manuscript defines the LOF as a:
Landscape trait
23b
31% (7)
Individuals' trait
15b
33% (5)
Populations' trait
49b
12% (6)
a
Some manuscripts are counted more than one time if journals cover a variety of fields (e.g., Journal of Animal Ecology is categorized both as general ecology and zoology.
b
Some manuscripts have conflicting definitions or apply the LOF to describe a characteristic of multiple levels and are thus counted more than one time.
With the rise in popularity of the term, the rate of misuse has also increased significantly. Between 2001–2009 a mean of 11% of the publications (per annum) used a definition different than the one intended by Laundré and Brown based in the "ecology of fear" (Brown, Laundré & Gurung, 1999). Between 2009–2016 the rate of misuse of the term increased to a mean of 35% (Fig. 1). For the purpose of the discussion ensuing, I categorized manuscripts that use a definition other than "a variation on a behavioral descriptor of the perception of risk a population sense in the environment" as "buzzword" papers. A number of manuscripts used the LOF to describe features of the environment as belonging to an animal's LOF or define LOFs as traits of an individual (Table 1). If the manuscripts referred to the LOF as an intrinsic perception of the way an organism balances risk and energetic gains they were classified as relevant (Table 1).
38% (31) of the manuscripts discuss theoretical implications of LOFs. Of these, about half make suggestions that are of particular mention (Table 2). These contributions included ways to describe LOFs' features, novel applications for which the LOF framework, novel methods to measure the LOF, or discussions on the merit of LOF as a research group (see 'Applications' section).
| Year | Manuscript | Major theoretical contribution |
| --- | --- | --- |
| 2000a | (Jacob & Brown, 2000) | • The LOF combines both spatial and temporal assessments of risk |
| | (Zanette & Jenkins, 2000) | • The LOF is a measure of distribution of stress within a physical landscape based on habitat quality |
| 2001 | (Laundré, Hernández & Altendorf, 2001) | • Defining the LOF framework as the impact of relative danger in shaping prey behavior and habitat selection. |
| 2004 | (Brown & Kotler, 2004) | • LOF changed based on levels of risk: predator community or predator activity levels. |
| | (Ripple & Beschta, 2004) | • Linking food webs to the ecology of fear through examples where fear of wolves trickled down to increase in vegetation diversity (and where it did not). |
| 2007 | (Kauffman et al., 2007) | • Predators tap into prey LOF in hunting site selection. |
| | (Rypstra et al., 2007) | • The individual effect: intra-species completion and cannibalism affect the populations LOF. |
| | (Heithaus et al., 2007) | • Behavioral state: health of individual affects its LOF. |
| 2008 | (Van Der Merwe & Brown, 2008) | • The LOF as a cost benefit analysis of energy; measuring a LOF in kJ. |
| 2009 | (Druce et al., 2009) | • Defining spatial and temporal scales as drivers of change in LOFs |
| | (Ritchie & Johnson, 2009) | • Studying inter-guild competition using the LOF framework (apex-mesopredators) |
| | (Willems & Hill, 2009) | • Information based LOF's signals for specific predators. |
| 2011 | (Matassa & Trussell, 2011) | • Using survivorship as a measure of non-consumptive predator effects on both spatial and temporal scales. |
| 2013 | (Dupuch, Morris & Halliday, 2013) | • Using the LOF as a tools to compare competition pressures and predation risk. |
| 2014 | (Bleicher, 2014) | • Defining LOF shape and plasticity; The LOF as a tool for macroevolutionary comparison. |
| 2015 | (Hammerschlag et al., 2015) | • Linking activity patterns of predators the LOF of prey on a temporal scale. |
| 2017 | (Laundré et al., 2017) | • Comparing bottom-up and top-down models of population dynamics using the LOF framework. |
| | (Gallagher et al., 2017) | • Combining LOF and energy landscapes as one unit. |
a
These references to the LOF were published prior to the seminal paper Laundré, Hernández & Altendorf (2001), however are regularly cited as influential papers in the field, or had referenced the seminal paper as unpublished work.
Measuring the LOF
From this point in the manuscript I will only refer to a subset of the manuscripts that used my definition of a LOF (57 in total). The majority of these manuscripts focused on ungulates in North American alpine scrubland systems (Tables 3A and 3B). It was the wolf-elk-willow system that brought the LOF into common ecological jargon through the study of successful reintroduction of wolves to Yellowstone National Park. Despite the base of the LOF in ungulate research, many studies preferred the variability provided by small-mammal model species (gerbils, heteromyids, lemmings and voles). Researchers have manipulation capabilities in small mammals resulting in 40% (6) of these studies being performed in controlled captive environments (vivaria). These vivaria allow for the manipulation of predation risk and environmental conditions: e.g., homogenous landscapes, illumination, resource availability, energetic state of the population etc. The rise in small-mammal experiments also secured the giving-up density (GUD; cf. Brown, 1988) as the preferred measure of LOFs (Table 3B).
Given species-specific constraints, each class of organisms has a specialized-tool kit used to measure its LOF (Table 3B). GUDs remain the most versatile measure for the studies using habitat assessment (59% of the manuscripts) and historically were successfully used to measure environmental stress in birds, ungulates, small mammals and experimentally—fish (Bedoya-Perez et al., 2013). Larger mammals and finicky foragers pose a challenge to the GUD method. As a result, the LOFs for larger species were commonly measured applying occupancy models using variables such as scat abundance, hoof mark density and trail camera arrays (19% of manuscripts). Measuring predator (and marine) LOF provides even further challenge due to low density of populations. Thus, the major tool used was radio and GPS tracking. Despite being a very small proportion of the current literature base, some efforts have been made to quantify environmental risk using stress hormones. So far, this method has been limited to birds (Chalfoun & Martin, 2009; Roper, Sullivan & Ricklefs, 2010; Clinchy et al., 2011).
Thus far, 38% (17) manuscripts provided a map for the study organism's LOF. These maps help readers relate with associated distribution of risk the studied population experiences. The majority of these have used the GUD as the measure of risk and graphed the LOF map as a three dimensional scatter plot, using a distance-weighted-least-squares (DWLS) smoothing function to generate the contour lines (or raster) for the maps (Fig. 2).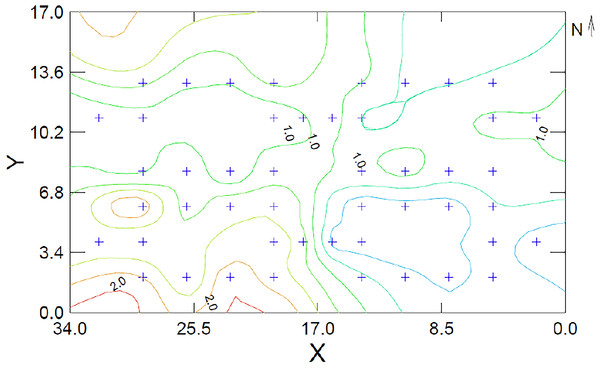 The current literature linguistically borrows attributes from other ecological, evolutionary and geographic theories to describe the zones of different risk characteristics. For example, in a study of striped mice, the features of risky habitat was described as "islands" of fear, a reference to the island-biogeography theory and the SLOSS debate (cf. Diamond, 1975). This study emphasized the impacts of both borders and edges in altering the distribution of safety zones the mice perceive in the environment (Abu Baker & Brown, 2010).
In a previous review, Laundré, Hernandez & Ripple (2010) prefer to describe the landscape features as valleys and peaks (re: safe to risky) in an aim to show that risk assessment is a quantitative attribute and not a binomial characteristic (two distinct outcomes risk or safety). Lastly, my own work evaluated the role played by gradients of change (in perceived risk) describe the attributes of the decision making process made within the LOFs.
This measure can be described as the rugosity of the landscape (Bleicher, Kotler & Brown, 2012; Bleicher, 2014). A highly rugose landscape (highly variable with steep changes between points) implies that the population perceives the risk as localized. In comparison, flat landscapes can be interpreted as the result of one of two distinct behavioral strategies. (1) A flat LOF may be the result of a very "fearful" population whereas the majority of the environment "plateaus" on a high risk contour. In such a LOF, the major focus of the behavior remains in contact with the locations of refuge in the landscape and the risk lessens gradually as one moves near the refuge. Alternately, (2) a population that is "secure" in its management ability of predation risk from the predators in the environment will have a very flat (low) landscape. In this scenario, the zones of risk are less focused and tangible and thus the change between "riskier" and "safer" zones is gradual and not very distinct.
Current applications
Of the manuscripts defining a LOF as a trait of population behavior, 42 were empirical. Within those it is possible to divide the aims of the manuscripts into four focal aims: (1) to characterize the role of perceived predation risk on habitat use by wild and captive populations, (2) to project top-down trophic effects, (3) to understand how habitat complexity affects demographic and behavioral dynamics within populations and (4) to deconstruct community interactions within an evolutionary framework.
Prospectus—developing the LOF for future applications
I would like to "throw the gauntlet" to my colleagues and offer the following five directions in which the LOF concept can be applied.
Supplemental Information
APPENDIX I: the historical base leading to the LOFs
APPENDIX II: bibliography of manuscripts reviewed for analysis