Remote sensing and spatial statistical techniques for modelling Ommatissus lybicus (Hemiptera: Tropiduchidae) habitat and population densities
1
School of Science and Technology, University of New England

,

Armidale, NSW

,

Australia
2
Centre for Excellence for Behavioural and Physiological Ecology, University of New England

,

Armidale, NSW

,

Australia
Published

Accepted

Received
Academic Editor
Subject Areas

Agricultural Science, Entomology, Environmental Sciences, Plant Science, Coupled Natural and Human Systems

Keywords

Remote sensing

,

Dubas bug

, Ommatissus lybicus,

Spatial statistics
Copyright

©

2017

Al-Kindi et al.

Licence

This is an open access article distributed under the terms of the Creative Commons Attribution License, which permits unrestricted use, distribution, reproduction and adaptation in any medium and for any purpose provided that it is properly attributed. For attribution, the original author(s), title, publication source (PeerJ) and either DOI or URL of the article must be cited.
Cite this article

2017

. Remote sensing and spatial statistical techniques for modelling Ommatissus lybicus (Hemiptera: Tropiduchidae) habitat and population densities.

PeerJ

5

:

e3752

https://doi.org/10.7717/peerj.3752
Abstract
In order to understand the distribution and prevalence of Ommatissus lybicus (Hemiptera: Tropiduchidae) as well as analyse their current biographical patterns and predict their future spread, comprehensive and detailed information on the environmental, climatic, and agricultural practices are essential. The spatial analytical techniques such as Remote Sensing and Spatial Statistics Tools, can help detect and model spatial links and correlations between the presence, absence and density of O. lybicus in response to climatic, environmental, and human factors. The main objective of this paper is to review remote sensing and relevant analytical techniques that can be applied in mapping and modelling the habitat and population density of O. lybicus. An exhaustive search of related literature revealed that there are very limited studies linking location-based infestation levels of pests like the O. lybicus with climatic, environmental, and human practice related variables. This review also highlights the accumulated knowledge and addresses the gaps in this area of research. Furthermore, it makes recommendations for future studies, and gives suggestions on monitoring and surveillance methods in designing both local and regional level integrated pest management strategies of palm tree and other affected cultivated crops.
Introduction
Remote sensing (RS) is a powerful technology that has been applied in precision agriculture applications (Shah et al., 2013). Remotely sensed data can be used in mapping tools to classify crops and examine their health and viability. They can also be used for monitoring farming practices and to measure soil moisture across a wide area instead of at discrete point locations that are inherent to ground measurement (Atzberger, 2013). Based on these spatial differences, variable rate application of chemicals such as fertilisers or pesticides can be made. Remote sensing information can further be used to establish sub-field management zones, providing a less expensive yet finer resolution option than grid sampling.
Although RS technologies are more widely used in other industries, their potential for profitable use by farmers is less frequently studied. As examples in agriculture, RS technologies have been used successfully for monitoring and mapping water stress, crop quality and growth, wetland, water quality, phosphorus and nitrogen deficiencies in vegetation, as well as detecting and predicting insect infestations (e.g., O. lybicus) (Al-Kindi et al., 2017a; Gooshbor et al., 2016; Lamb & Brown, 2001; Riley, 1989) and plant diseases (Neteler et al., 2011).
Vegetation
Image processing for vegetation
In order to detect changes, important information must be provided including spatial distributions of change, change rates, change trajectories for different vegetation types, and assessment of the accuracy of the change detection results. The three main steps in implementing change detection are (1) image pre-processing, e.g., geometrical rectification (GR), image registration (IR), minimum noise fraction (MNF) analysis, radiometric, automorphic, and topographic correction (the latter is needed if the study area is close to mountains) (Bagheri et al., 2016; Bishop & Colby, 2002; Civco, 1989; Teillet, Guindon & Goodenough, 1982); (2) selection of optimal techniques to conduct the change detection analysis; and (3) accuracy assessments (Datt et al., 2003; Lu et al., 2004; Lunetta et al., 2006; Lyon et al., 1998; Song et al., 2001) (see Fig. 3).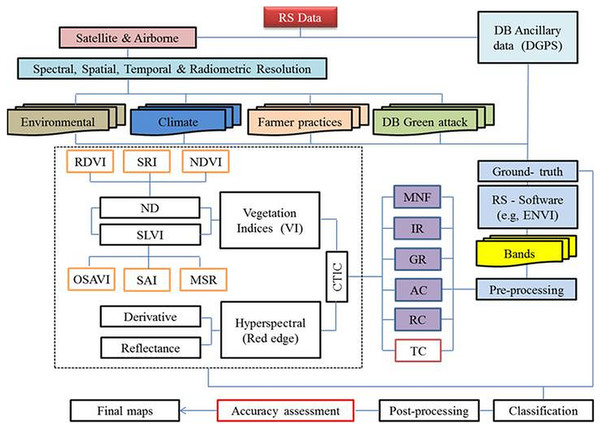 Although the selection of appropriate change detection techniques is important for the accuracy of change results, in practice, it might not be easy to select a suitable algorithm for a specific change detection application. Some simple techniques can be used to provide change and non-change information (e.g., image differencing). Other techniques may be used to provide a complex matrix of change direction data such as that used for post-classification comparisons (Lu et al., 2004). This review provides examples of change detection methods that can be used to address DB infestations and their impacts on date palm trees.
Accuracy Assessment
Accuracy assessment is an important part of any classification algorithm process, and it should be undertaken for every project because it is difficult to know how accurate a classification is without an accuracy assessment. The accuracy of a classification is usually assessed by comparing the classification with some reference data that is believed to accurately reflect the true land-cover. Reference data may include ground truth data, higher resolution satellite images and maps derived from aerial photographic interpretations. However, in the case for all reference data, even ground truth data, these data sets may also contain some inaccuracies. More information about accuracy assessments can be found in Al-Kindi et al. (2017b), Congalton (2001), Foody (2002), Gibbs et al. (2010), Hirano, Welch & Lang (2003), Huang et al. (2007), and Hughes, McDowell & Marcus (2006).
Positional accuracy methods can be used to provide an assessment of the differences in distance among a sample of locations on the map and those same locations on a reference data set. This same basic process can be used in assessing the thematic accuracy of a map, and it involves a number of initial considerations such as taking into account the sources of errors and the proper selection of classification systems (Congalton & Green, 2008). Determination of the thematic accuracy is more complicated than that of the positional accuracy.
This is due to the size requirements for sampling thematic accuracy assessments, which are larger than those for positional accuracy assessments. An error matrix technique can be used to compute the thematic accuracy, and the error matrix can be generated by using reference data and correct or incorrect designations; one can also use qualifiers such as good, acceptable and poor to produce a fuzzy error matrix. Additionally, there are a number of analysis techniques that can be performed using the error matrix, such as the Kappa analysis. The Kappa analysis can be used to test statistically whether or not one error matrix is significantly different than another (Goodchild, 1994).
Modelling the Spatial Relationships Between Insect Infestations and the Environmental and Climate Factors
While RS techniques focus on visual and pre-visual detection and mapping, spatial analytical techniques can be used to evaluate correlations, identify important variables, and develop predictive models. Spatial statistics functions and tools have made it possible to implement state-of-the-art spatial autoregressive techniques to investigate many research problems (e.g., insect pest) (Carrière et al., 2006; Carruthers, 2003; Wulder et al., 2006). Advances in spatial analytical techniques software, such as ArcInfo®, have greatly reduced the time for estimating spatial parameters. For example, regression analysis allows users to examine, model, and explore spatial relationships in order to better understand the factors behind the observed spatial patterns. It also allows users to predict hypotheses based on understanding of these factors. There are three main types of regressions, namely, linear regression, local regression, and logistic regression (Liebhold, Rossi & Kemp, 1993; Wichmann & Ravn, 2001). Linear regression can be used to predict the values of y from values of xi as follows: (1) where y is the dependent variable, xi represents the independent variables i, and bi, …, bn are the regression coefficients. However, this requires several assumptions about the error, or residuals, between the predicted values and the actual values (Miles & Shevlin, 2001). Some errors are related to a normal distribution for a set of independent variables, while others are related to the expected mean value of zero. Linear regression has been used to model wildlife home ranges (Anderson et al., 2005) and soil moisture (Lookingbill & Urban, 2004; Lema, Mendez & Blazquez, 1988). According to Harris et al. (2010), local regression or geographically weighted regression (GWR) analysis can be used to predict information for every known point in order to derive a local model. Moreover, parameters for this method can include variations in space, thereby providing a basis for exploring non-stationary spatial relationships. The logistic regression method can be applied to model spatial relationships between features, such as when the dependent variable is categorical (e.g., presence or absence data) and when the independent variables are categorical, numeric, or both (Menard, 2002). The advantage of using the logistic regression is that it does not require the same set of rigid assumptions as required by linear regression.
Various studies have involved the use of autoregressive models to investigate the relationships between insect infestations and factors that are based on environmental information. Munar-Vivas, Morales-Osorio & Castañeda-Sánchez (2010) combined environmental information, spatial data, and attribute data in GIS-based maps to assess the impact of Moko disease on banana yields in Colombia. Specifically, they used a regression model to investigate the relationship between infested areas and distances from the Moko foci to cable-ways and drainage channels. Coops et al. (2006) studied the associations among the likelihood of occurrence, forest structure and forest predisposition variables using regression tree models. They found through modelling that location and slope were the major factors driving variations in the probability of red tree outbreaks. The GWR model has been used to detect high-risk infestations caused by mountain pine beetle invasions of lodge-pole pine forests over large areas (Robertson et al., 2008).
It is important to start by using single variables to develop correlations before moving to more complicated predictive models and regression analyses, where all factors are incorporated to investigate which combination of factors is most conducive to the survival and spread of insects or diseases. In our study, for instance, GWR could be used to model the correlation between DB infestation and meteorological variables such as humidity, rainfall, temperature, wind direction, and wind speed; GWR could also be applied to model the correlations between DB infestations and environmental variables including soil type, slope, aspect ratio, ecology, soil salinity, and solar radiation. Additionally, autoregressive models could be used to investigate the relationships between DB infestations and human practices such as irrigation, plantation systems, insecticide use, and methods of spraying (Al-Kindi et al., 2017a).
Suitability model for detecting and investigating insect infestations
All of the methods used to study the relationships between dependent and independent variables discussed previously are traditional statistical methods, which sometimes might not reflect the complicated relationships between infestations and environmental factors. In particular, ecological and geographical environments represent complex systems in which individual elements interact to create complex behaviour, and consequently, complex methods such as ANN, Cellular Automata (CA), and multi-agent systems (MAS) may be better suited to study the relationships and conduct factor analyses in insect infestation or disease detection research and to perform spread simulations (De Smith, Goodchild & Longley, 2007).
Numerous suitability models have been proposed to identify locations that have a particular set of characteristics.
In Hernandez et al. (2006), the authors compared four different models (BIOCLIM, GAPP, DOMIN, and MAXENT) and found that MAXENT was most capable for producing useful results with small sample sizes and minimum species occurrences. These models can also be used to identify areas that are susceptible to risks such as insect infestations, based on conditions favoured by the species. For example, a relevant study (Drees et al., 2010) used the habitat suitability selection method to model potential conservation areas for a rare ground beetle species (using barcode index number or BIN). Specifically, they used five different data sets to identify several key habitat factors for Carabus variolosus stress levels. A model was developed in Bone, Dragicevic & Roberts (2005) by using fuzzy theory to identify areas of susceptibility to Dendroctonus ponderosae Hopkins in Canada. However, spatial data have unique characteristics that can impact the results of the model (Crooks & Castle, 2012).
Raster data models are often used for finding and rating suitable locations. The raster overlay results are formatted in a single layer of suitable versus unsuitable cells, rather than in a vector layer with many polygons and an attribute table, which contains the attribute values for each of the polygons. There are two ways to create raster suitability layers. The first approach is to query the individual sources to create the suitability layer. The query can be used to create a suitability layer with two values, '1' for cells meeting all criteria of a suitable habitat, and '0' for the others. Because the layer consists of only two values, one indicating suitable and the other unsuitable cells, they are called binary suitability layers. Binary processing however is not always necessary. Combined with other evaluation models, suitability mapping can be achieved by overlaying directly or by post processing the overlay results. Figure 4 shows a process that could be used to find suitable location conditions (habitat) for insects such as DB by using a raster method overlay.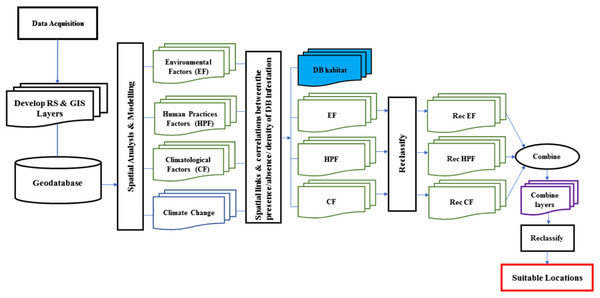 The uncertainty that results from geo-processing operations, demonstrates that sophisticated spatial analysis cannot be achieved using traditional, deterministic geoprocessing methods alone (Goodchild & Glennon, 2010; Zhang & Goodchild, 2002). Fuzzy logic is a superset of Boolean logic and has the ability to handle uncertainty in data that arises from vagueness instead of randomness alone (Li et al., 2010).
Fuzzy logic can be utilised to extract information from high resolution RS data and combined with a raster-based spatial data to produce maps representing the spatial variation of vulnerability to pests across a landscape (Zhang & Foody, 2001). This method also allows for partial association with one or more classes, meaning that objects may be represented by a value based on a membership function between '0' and '1' (Li & Zhao, 2007). The membership function of an element x belonging to a fuzzy set A is computed by: (2) where U is the universal set of x. The concept of fuzzy sets has also been employed for defining the spatial and attributes characteristics of geographic objects (Burrough & Frank, 1996; Wang & Hall, 1996). The results of such analysis can be rendered directly into a decision framework via maps, tables, and charts. The results can also be used in further analyses or to provide additional understanding of the problem.
The challenge in any particular area of study is the geographical extent and the resolution of analysis, which is determined by the phenomenon being modelled. To achieve validity, researchers must ensure that they are using accurate and current data whenever possible. If the data are from one's own organisation, one can rely on data quality controls that are in place. Data quality should be checked against alternate sources if possible in order to ensure it meets the requirements of the analysis. Assessing the quality of data will provide guidance to predicting what level of confidence can be attributed to the result of the modelling work.
Proof-of-Concept Cases
The first proof-of-concept case is published in Al-Kindi et al. (2017a). In this paper, we analysed a set of IKONOS satellite images collected in 2015 on our study area (5 m spatial resolution) by processing them using chosen image segmentation functions and extracted density information of the palm canopies. The techniques used can be found in 'Image Segmentation Techniques.'
Next, sample locations (i.e., GPS points) were identified in the satellite images by examining their normalised different vegetation index (NDVI) values. NDVI served as a surrogate measure of palm plantation density and homogeneity in the neighbourhood surrounding an image pixel. The relevant techniques can be found in 'Normalised Difference Vegetation Index.'
In addition, spatial statistical techniques including GWR, Ordinary Least Squares and Exploratory Regression (corresponding implementations included in ArcGIS™) were applied to study the correlations between various human factors related to date palm farming and the distribution density of the DB. These techniques have been reviewed in 'Modelling the Spatial Relationships between Insect Infestations and the Environmental and Climate Factors.'
The second proof-of-concept case is published in Al-Kindi et al. (2017b). In that paper, we applied spatial statistical techniques to model spatiotemporal patterns of DB on date palm in north of Oman. Data on the DB infestations and their impact were collected through observations of palm trees from 2006 to 2015 by the Ministry of Agriculture and Fisheries of the Sultanate of Oman. The techniques used can be found in 'Modelling the Spatial Relationships between Insect Infestations and the Environmental and Climate Factors' and 'Data Requirements for Crop Management.'
Conclusion
In this review, a variety of spatial information technologies, including remote sensing and spatial statistical methods, have been shown to be useful in areas of research involving insect infestations worldwide. Environmental and climatic conditions are very important in determining the distribution and survival of any species, including the DB, which is a problematic pest in date palm plantations. We argue that most of the current research on DB has focused on its ecology, biology, or control mechanisms only. There has been very limited research linking the presence/absence, density, spatial, and temporal distributions of DB with environmental, meteorological, and human practices that promote its development, prevalence, and spread. Understanding the distribution and affinity of the DB in terms of these variables and mapping of the data can play a key role in its control and management, as well as resource allocation.