The contribution of Nintendo Wii Fit series in the field of health: a systematic review and meta-analysis
1
Ochanomizu University

,

Bunkyo, Tokyo

,

Japan
2
Department of Physical Activity Research, National Institutes of Biomedical innovation, Health and Nutrition

,

Shinjuku, Tokyo

,

Japan
Published

Accepted

Received
Academic Editor
Subject Areas

Keywords

Wii Fit,

Balance training

,

Health and fitness

,

Health promotion

,

Active video games

,

Rehabilitation

,

Prevention of chronic diseases
Copyright

©

2017

Tripette et al.

Licence

This is an open access article distributed under the terms of the Creative Commons Attribution License, which permits unrestricted use, distribution, reproduction and adaptation in any medium and for any purpose provided that it is properly attributed. For attribution, the original author(s), title, publication source (PeerJ) and either DOI or URL of the article must be cited.
Cite this article

2017

. The contribution of Nintendo Wii Fit series in the field of health: a systematic review and meta-analysis.

PeerJ

5

:

e3600

https://doi.org/10.7717/peerj.3600
Abstract
Background
Wii Fit was originally designed as a health and fitness interactive training experience for the general public. There are, however, many examples of Wii Fit being utilized in clinical settings. This article aims to identify the contribution of Wii Fit in the field of health promotion and rehabilitation by: (1) identifying the health-related domains for which the Wii Fit series has been tested, (2) clarifying the effect of Wii Fit in those identified health-related domains and (3) quantifying this effect.
Method
A systematic literature review was undertaken. The MEDLINE database and Games for Health Journal published content were explored using the search term "Wii-Fit." Occurrences resulting from manual searches on Google and material suggested by experts in the field were also considered. Included articles were required to have measurements from Wii Fit activities for at least one relevant health indicator. The effect of Wii Fit interventions was assessed using meta-analyses for the following outcomes: activity-specific balance confidence score, Berg balance score (BBC) and time-up-and-go test (TUG).
Findings
A total of 115 articles highlighted that the Wii Fit has been tested in numerous healthy and pathological populations. Out of these, only a few intervention studies have focused on the prevention of chronic diseases. A large proportion of the studies focus on balance training (N = 55). This systematic review highlights several potential benefits of Wii Fit interventions and these positive observations are supported by meta-analyses data (N = 25). For example, the BBC and the TUG respond to a similar extend to Wii Fit interventions compared with traditional training.
Conclusion
Wii Fit has the potential to be used as a rehabilitation tool in different clinical situations. However, the current literature includes relatively few randomized controlled trials in each population. Further research is therefore required.
Introduction
The past decade saw the emergence of home-based active video games (AVG), with the Wii (Nintendo Co. Ltd., Kyoto, Japan) being released in 2006, followed by the PlayStation Move (Sony Corp, Tokyo, Japan) and the Kinect (Microsoft, Redmond, WA, USA) in 2010. These systems take advantage of accelerometry and video camera-mediated motion detection technologies to track the player's movements and convert them into gaming commands. The Wii offers an original game modality with the Wii Balance Board accessory, which can be used as a weighing scale or as a gamepad sensitive to body sway (Clark et al., 2010).
Among the home-based AVG, the well-known Wii Fit series (Nintendo, Japan) runs on the Wii console and consists of a combination of both serious and entertaining activities requiring body movement to fulfill gaming commands. The software displays various kinds of health metrics (body mass index, number of kilocalories burned over a given period) encouraging the players to improve their physical fitness. Whilst the Wii Fit was primarily designed to be used in homes by healthy individuals for health and fitness purposes, an overview of the literature indicates that physical therapists and physicians from different medical fields include the use of Wii Fit in their clinical practice. For instance, the National Stroke Audit: Rehabilitation Services Report recently indicated that 76% of Australian hospitals have a Wii console available to aid with the rehabilitation of stroke patients (the National Stroke Foundation, 2012 in Levac et al., 2010).
Many reviews have focused on AVG and their effects on health and describe mitigated outcomes (LeBlanc et al., 2013; Peng, Crouse & Lin, 2013). However, the distinction between Wii Fit and other AVG was not always clear, resulting in the inability to ascertain an objective picture of the contribution from the Wii Fit. The goals for this systematic review are as follows:
Goal 1: Identifying the health-related domains (i.e., populations and clinical situations) in which the Wii Fit series has already been tested or used. A scientific database search with reasoned exclusion criteria was undertaken.

Goal 2: Understanding the effect of Wii Fit in the identified populations (cf. Goal 1). A qualitative systematic review of studies including Wii Fit interventions was performed, with particular attention given to health and physical activity outcomes.

Goal 3: When possible, quantification of the effect Wii Fit has on selected health-related domains was achieved by conducting meta-analyses.
Results
The literature search provided a total of 279 references of interest (Fig. 1). Following the title and abstract screening process 138 studies were discarded, as they did not meet the selection criteria. One article was not accessible so was also discarded at this stage. An additional 25 references were removed after reading the full-text. Finally, 115 studies were included in the qualitative analysis, covering an approximately six-year period from July 2009 to June 2015.
Goal 1: health domains and populations of interest
The 115 selected studies focused on Wii Fit as a novel tool to improve physical function, fitness or health status. The content of the 115 articles was used to determine the different health domains in which Wii Fit may have potential benefits (Table 2).
Goal 2: systematic review of Wii-Fit interventions
Goal 3: outcomes of meta-analyses
For the pre- and post-intervention meta-analyses, seven groups out of six studies were included for ABC, 13 groups out of 12 studies for BBS, and 12 groups out of 12 studies for TUG. For the Wii Fit vs. traditional therapy meta-analyses, 14 groups out of seven studies for BBS, and 12 groups out of six studies for TUG. Studies included in the different meta-analyses involved 595 participants from both sexes (females: 332, males: 242, not specified: 21), with a wide age range (12 ± 3 to 86 ± 5 years (Tarakci et al., 2013; Chao et al., 2013)) and various medical conditions. Whilst these papers all included a measure of ABC, BBS or TUG, the interventions content and duration vary from study to study. The assessment of individual studies revealed a low risk of bias (Fig. 2). Detailed results for ABC, BBS and TUG are presented in Figs. 3–5, and data included in the meta-analyses appears in Tables 3 and 4. Wii Fit interventions did not induce any change in ABC (2.02, 95% CI: −4.01–8.04). For BBS, significant improvements were noted in both healthy subjects and patients (2.00, 95% CI: 0.41–3.60 and 2.99, 95% CI: 0.08–5.90, respectively; 2.23, 95% CI: 0.84–3.63, overall). In addition, there was no significant difference in changes induced by traditional training and those induced by Wii Fit, suggesting that Wii Fit was as valid as traditional training. Regarding TUG, no significant reduction was noted after the Wii Fit intervention in either healthy subjects or patients (−0.34 s, 95% CI: −1.38 to 0.70 and −2.24 s, 95% CI: −5.17 to 0.69, respectively; −0.55 s, 95% CI: −1.53 to 0.43, overall). However, compared to traditional training programs, the Wii Fit did induced a more significant reduction in TUG, especially in patients (−1.76, 95% CI [−2.13 to −1.39], in patients; −1.31, 95% CI [−1.62 to −1.01], overall). The sets of studies included in both BBS and TUG pre- and post-intervention meta-analyses were statistically homogenous (I2 = 0.0%, p = 0.961 and I2 = 0.0%, p = 0.969, respectively for the overall analysis). Various levels of heterogeneity were observed in the Wii Fit vs. traditional therapy meta-analyses (I2 = 60.0%, p = 0.040 for BBS in patients and I2 = 74.3%, p = 0.002 for TUG overall (Figs. 4 and 5), indicating some inconsistencies in the literature. This was expected, however, since different populations were included in the analyses.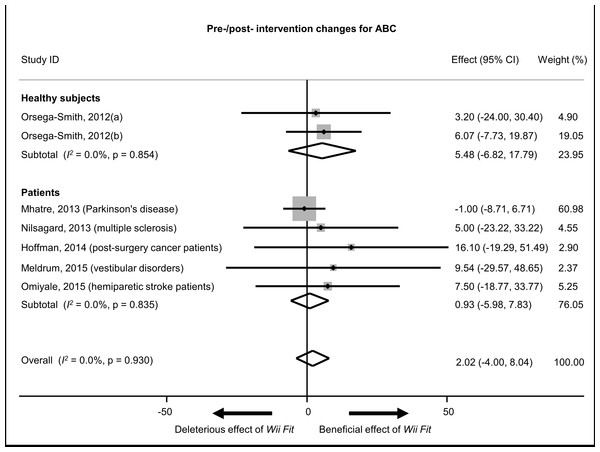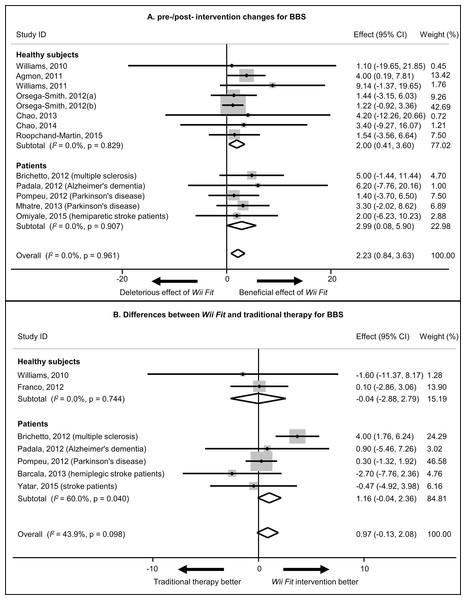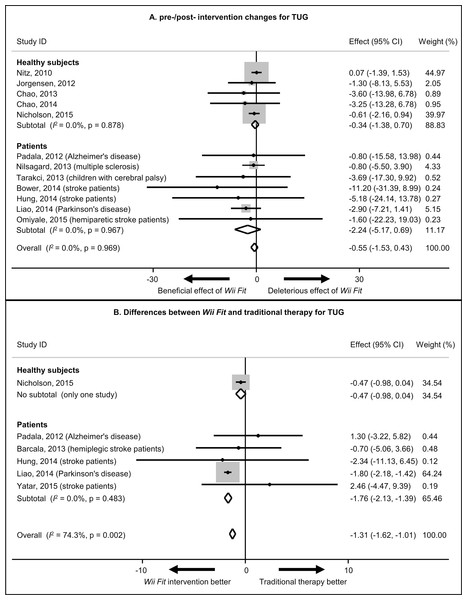 Meta-regression analyses revealed no significant results (not shown), suggesting no relationships between improvements in balance outcomes and intervention duration or volume.
Discussion
The three main goals set for this review were as follows:
Goal 1: Identify the health-related domains in which the Wii Fit series has been tested or used. A scientific database search was undertaken with reasoned exclusion criteria. We identified that the Wii Fit has been used for numerous health purposes and in various populations (Table 2). Balance training was identified as being the most recurrent topic in the literature and appears to be the field of predilection for the usage of the Wii Fit software. Another notable focus was the prevention of metabolic disorders as well as the improvement of health status in people with chronic disease.

Goal 2: Understand the effect of Wii Fit in the identified populations (cf. Goal 1). A qualitative systematic review of studies including Wii Fit interventions was performed, with particular attention given to health and physical activity outcomes. Wii Fit was employed to prevent falls, to induce functional improvements in seniors or in subjects presenting neurodegenerative diseases, to treat orthopedic populations, etc. (Table 4). Overall, the effects of using Wii Fit were mainly positive, with the software being recurrently described as being able to induce similar benefits to traditional therapies. In addition, Wii-Fit interventions were linked to an improvement of health status in several different patients types (diabetic subjects, cancer patients …), however its preventive effect remains to be demonstrated.

Goal 3: To conduct meta-analyses when possible to quantify the effect Wii Fit had on selected health-related domains. In regards to balance training, the results of meta-analyses revealed that Wii Fit interventions had a positive impact on BBS and TUG. Interestingly, Wii Fit interventions also appear very safe, with very low levels of injuries being reported.
Conclusion
Originally designed as a ludic health and fitness promotion software, the Wii Fit series grabbed the attention of physical therapists due to the panel of features favoring body movements. Initial promising observations encouraged physicians, from various medical fields, to test the Wii Fit software on numerous populations. The literature still remains contrasted on the preventive effects of Wii Fit on chronic diseases. However, Wii Fit interventions were shown to be effective for the improvement of health status in various types of patients (chronic obstructive pulmonary disease, hemodialysis, renal complications, diabetes, cancer, etc.). Our review identified that the most notable focus of Wii Fit interventions were balance training. The Wii Fit has indeed been successfully used to prevent falls or to induce functional improvements in a wide range of healthy or pathologic populations (e.g., seniors, subjects with neurodegenerative diseases, orthopedic patients, children with developmental delay, multiple sclerosis patients, etc.). Our meta-analysis supports the general positive impressions about Wii Fit, suggesting promising applications in a wide range of medical fields. The unexpected entry of a video game into the health device market could create innovative healthcare strategies, however, more research is required to validate these claims.
Supplemental Information
PRISMA flow diagram.
PRISMA checklist.