Methodological considerations in assessment of language lateralisation with fMRI: a systematic review
Department of Experimental Psychology, University of Oxford

,

Oxford

,

United Kingdom
Published

Accepted

Received
Academic Editor
Subject Areas

Keywords

Language

,

Lateralisation

,

fMRI

,

Systematic review
Copyright

©

2017

Bradshaw et al.

Licence

This is an open access article distributed under the terms of the Creative Commons Attribution License, which permits unrestricted use, distribution, reproduction and adaptation in any medium and for any purpose provided that it is properly attributed. For attribution, the original author(s), title, publication source (PeerJ) and either DOI or URL of the article must be cited.
Cite this article

2017

.

Methodological considerations in assessment of language lateralisation with fMRI: a systematic review

.

PeerJ

5

:

e3557

https://doi.org/10.7717/peerj.3557
Abstract
The involvement of the right and left hemispheres in mediating language functions has been measured in a variety of ways over the centuries since the relative dominance of the left hemisphere was first known. Functional magnetic resonance imaging (fMRI) presents a useful non-invasive method of assessing lateralisation that is being increasingly used in clinical practice and research. However, the methods used in the fMRI laterality literature currently are highly variable, making systematic comparisons across studies difficult. Here we consider the different methods of quantifying and classifying laterality that have been used in fMRI studies since 2000, with the aim of determining which give the most robust and reliable measurement. Recommendations are made with a view to informing future research to increase standardisation in fMRI laterality protocols. In particular, the findings reinforce the importance of threshold-independent methods for calculating laterality indices, and the benefits of assessing heterogeneity of language laterality across multiple regions of interest and tasks. This systematic review was registered as a protocol on Open Science Framework: https://osf.io/hyvc4/.
Introduction
A wealth of evidence has demonstrated that language is predominantly mediated by the left cerebral hemisphere in the majority of individuals, a phenomenon known as hemispheric specialisation. This has been recently defined by Tzourio-Mazoyer & Seghier (2016) as "the hosting by a given hemisphere of specialized networks that have specific functional properties and interact interhemispherically in a way that optimizes brain processing". However, our understanding of the nature and correlates of such lateralisation has been hampered by the high level of variability in methods of its measurement, making integration of findings from across different studies difficult.
Non-invasive techniques for assessment of language lateralisation make it possible to probe the characteristics of language lateralisation in neurologically intact populations. Functional magnetic resonance imaging (fMRI) is a prominent non-invasive method that has been used to assess laterality. A laterality index (LI) is calculated based on a comparison of activation measures from each hemisphere, according to the following formula:
This calculates laterality as the difference between activity in each hemisphere (L and R) divided by the total activity across the hemispheres. The LI gives a single value indicating the relative strength of left and right hemisphere activation for an individual. LI measurement may be required for clinical purposes in order to establish an individual's hemispheric dominance for language prior to surgery, as in patients with intractable epilepsy. Alternatively, a study may measure an LI to assess the strength or variability in lateralisation for a given language function in order to make inferences about the neural organisation of the language system. That is, studies may vary in whether the aim of LI measurement is to classify or to quantify lateralisation. This will have important implications for which methods of LI calculation are optimal for laterality measurement.
Interpretation of fMRI lateralisation research has been problematic due to a lack of standardisation of fMRI laterality protocols. Multiple arbitrary decisions must be made when calculating the L and R terms for use in the LI equation which might affect the LI value obtained (Jansen et al., 2006; Seghier, 2008). Such variability in methodology can preclude systematic study of language lateralisation.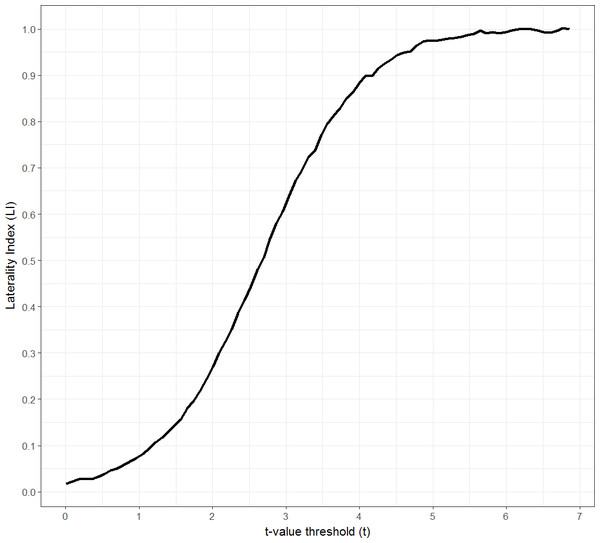 For example, when calculating an LI from active voxels in each hemisphere or region of interest (ROI), a decision must be made as to the threshold p value at which to view and analyse the images. Multiple studies have documented the dependence of the LI obtained on the threshold chosen (Rutten et al., 2002; Adcock et al., 2003; Seghier et al., 2004; Abbott et al., 2010; Nadkarni et al., 2015). As illustrated in Fig. 1, as the threshold value is increased, the number of voxels surviving thresholding decreases, typically leading to an increase in the LI. Ultimately, above a certain threshold, no active voxels will remain in the non-dominant hemisphere, resulting in an LI of 1; and below a certain threshold many voxels will survive across both hemispheres, resulting in an LI of 0. Indeed, there are even reports of individuals whose LI shows a switch in dominance with a change in threshold level (Jansen et al., 2006; Suarez et al., 2008; Wilke & Lidzba, 2007; Ruff et al., 2008).
This illustrates just one preliminary issue that must be addressed when considering how to quantify lateralisation from fMRI data. Further decisions have to be made as to tasks used in an activation paradigm, whether the analysis focuses on a specific region of interest (ROI) or the whole hemisphere, and whether the quantification of activation is based on magnitude or extent of activity. If the LI is used to categorise individuals as left-, bilateral or right-lateralised, a suitable cut-off for categorisation must also be determined.
The purpose of this review is to assess different protocols for fMRI measurement of language lateralisation used by studies published between 2000 and 2016. We aimed to (1) look at the methods used by different studies over this time period in order to consider whether the field is converging on common criteria for evaluating language lateralisation, and (2) consider evidence for the robustness and reliability of these different methods in order to make recommendations for future research in this field.
Materials and Methods
A protocol for this review has been registered on Open Science Framework and can be found at https://osf.io/hyvc4/. This paper addresses those objectives outlined in the protocol relating to assessment of the methods used to quantify lateralisation in fMRI studies of language lateralisation. Assessment of the impact of language task and baselining methods will be considered in a companion paper.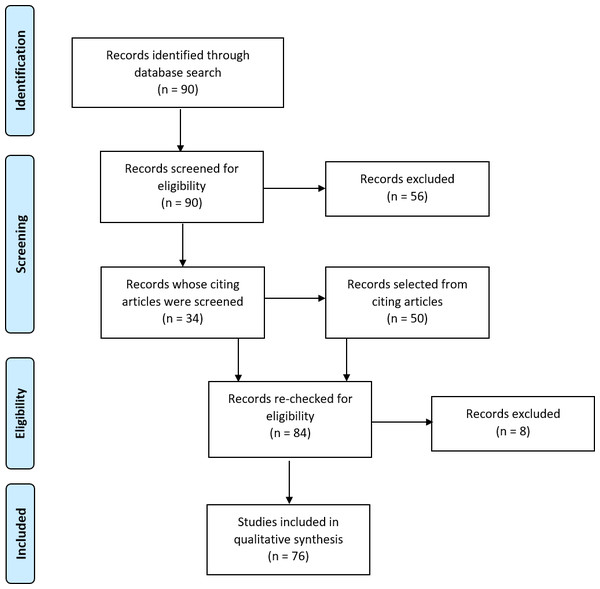 Eligibility criteria
We reviewed studies of fMRI language lateralisation published between 2000 and 2016. Papers were selected if they met the following inclusion criteria: (1) the paper calculated and reported LIs for language using fMRI; (2) participants were healthy monolingual adults; and (3) if participants included both patients and healthy control groups, the data for controls were reported separately. Papers were excluded if: (1) they exclusively studied structural asymmetries, children or bilingualism; or (2) they used language tasks with non-European languages. The rationale for restricting the search to studies on healthy, monolingual, adult participants was to reduce heterogeneity within our study sample.
Search strategy and selection process
The search and selection process is illustrated in Fig. 2. We searched Web of Science for studies published between 2000 and 2016 using the following search terms: laterali* OR asymmetr* OR dominance; AND language OR reading; AND fMRI OR functional MRI OR functional magnetic resonance imaging OR functional MR OR function MRI; NOT schizophrenia; NOT development*; NOT child*; NOT bilingual*. This was last searched on 05/12/16. Two of the study authors (Abigail Bradshaw and Zoe Woodhead) screened the titles and abstracts of the resulting 90 papers to assess their eligibility then conducted full-text scans to determine whether the inclusion criteria were met. Selected lists were compared between reviewers and any discrepancies discussed and a mutual decision made. This yielded a total of 34 papers selected from the original 90. To ensure thorough coverage of the literature, papers citing these 34 articles were searched to look for additional articles that met criteria. From this, 50 additional papers were selected, bringing the total to 84 papers. A final search to re-check all 84 papers against search criteria identified 7 ineligible papers. During the review, a further paper was judged to not meet criteria. A list of the final 76 selected papers can be found in Appendix S1.
Data collection and data summary
For each paper, we recorded the following parameters relating to the protocol used: the type of fMRI design used, the activity measures used for LI calculation, the threshold level chosen, the use of global or regional LI calculation, the specific regions considered, the language and baseline tasks used, the use of a single or a combined task analysis and the task difficulty. We also recorded sample size and sample handedness for each study. Information on these measures for each paper was collected and managed using REDCap electronic data capture tools (Harris et al., 2009) hosted at Oxford University. REDCap (Research Electronic Data Capture) is a secure, web-based application designed to support data capture for research studies, providing: (1) an intuitive interface for validated data entry; (2) audit trails for tracking data manipulation and export procedures; (3) automated export procedures for seamless data downloads to common statistical packages; and (4) procedures for importing data from external sources. The full database can be found in Appendix S2 . A summary table drawn from this database with the key outcomes of interest for this paper is provided in Appendix S3.
The variable nature of the methods used and measures reported by different fMRI studies of language lateralisation means the data are not suitable for a meta-analysis. Instead, this review will document the range of methods used, and provide a qualitative summary of information from these studies that is relevant for our understanding of the robustness and reliability of LI measurement.
Summary and Conclusions
This review has highlighted the many different ways in which calculation of an LI from fMRI data presents a methodological challenge, and how the use of different methods has changed over time. Of course, the decisions one makes when designing an fMRI laterality experiment will depend on the question being investigated; however, here we have highlighted some key principles that emerge from the literature that should be considered in order to generate increased standardisation in fMRI laterality protocols across future studies. Increased homogeny in the methods used by different studies will enable better integration of research findings in order to draw conclusions as to the nature and correlates of language lateralisation.
fMRI LI calculation must address the problem of threshold dependence. Bootstrapping represents a promising method for calculating a robust, threshold-independent LI, making it a widely used method in recent research. The general pattern of evidence suggests that signal magnitude may provide a more robust and reliable measure than signal extent, and that regional LIs calculated from pre-specified ROIs are stronger and more reliable than global LIs. However, such decisions need to be considered in light of other methodological parameters (e.g., the activity measure used) in order to optimise the fMRI analysis. A useful tool for implementing such analysis methods is LI-tool, a tool-box within MATLAB software (Mathworks, Natick, MA, USA), developed by Wilke & Lidzba (2007). This includes options for different thresholding techniques and activity measures, and can implement the bootstrapping method.
Data-driven methods can provide a less arbitrary means of classifying language dominance and support the validity of a three category model of language dominance within a mixed handedness sample, consisting of typical (left dominant), ambilateral, and atypical (strongly right dominant) groups; conversely in right handed samples a two-category model (typical versus ambilateral) may be sufficient (Mazoyer et al., 2014). No subsequent studies have implemented the thresholds for dominance classification suggested by Mazoyer et al.'s (2014) large scale study, except a paper reporting on the same sample of right and left handed individuals (Tzourio-Mazoyer et al., 2016). Further work is needed to implement and validate these cut-offs, to see if these generalise to other samples and thus could be used as standard practise.
The choice of which regions of interest to use for LI calculation again depends on the question being asked. If one wishes to classify laterality for a particular language function, one must consider which ROI yields the highest and most reliable LIs for that function. Frontal ROIs typically yield the strongest and most reliable laterality for expressive tasks, whereas a temporoparietal ROI may be more appropriate for receptive tasks. However, measurement of laterality from a single regional or global ROI can be misleading and does not capture potential regional heterogeneity. This was highlighted recently by Tailby, Abbott & Jackson (2017) in relation to the need to appreciate such regional variability in presurgical planning with epilepsy patients, and the consequent inadequacy of a single metric to quantify an individual's 'language dominance'. Therefore, in fMRI laterality protocols, lateralisation across frontal and temporoparietal ROIs for at least one expressive and one receptive task should be measured, to obtain a comprehensive picture of any individual's pattern of hemispheric dominance for language. This will enable further work to investigate the significance of such regional heterogeneity in dominance; for example, are there any functional consequences of having crossed frontal-temporal language laterality? In this way, fMRI as a method of laterality measurement can provide unique insights into lateralisation at a regional level; this should be fully exploited in future research.
Lastly, it should be noted that fMRI data provides opportunities for investigating the nature of lateralisation for a function that goes beyond simple calculation of laterality indices. For example, fMRI can be used to investigate more mechanistic questions such as potential relationships between inter- and intrahemispheric connectivity and lateralisation (e.g., Seghier et al., 2011a; Frässle et al., 2016). In order to pursue more advanced analyses, it will be important for the field to establish robust protocols for laterality measurement as standard across studies.