Chemical composition and the potential for proteomic transformation in cancer, hypoxia, and hyperosmotic stress
Wattanothaipayap School

,

Chiang Mai

,

Thailand
Published

Accepted

Received
Academic Editor
Subject Areas

Keywords

Compositional biology

,

Thermodynamic potential

,

Redox balance
Copyright

©

2017

Dick

Licence

This is an open access article distributed under the terms of the Creative Commons Attribution License, which permits unrestricted use, distribution, reproduction and adaptation in any medium and for any purpose provided that it is properly attributed. For attribution, the original author(s), title, publication source (PeerJ) and either DOI or URL of the article must be cited.
Cite this article

2017

.

Chemical composition and the potential for proteomic transformation in cancer, hypoxia, and hyperosmotic stress

.

PeerJ

5

:

e3421

https://doi.org/10.7717/peerj.3421
Abstract
The changes of protein expression that are monitored in proteomic experiments are a type of biological transformation that also involves changes in chemical composition. Accompanying the myriad molecular-level interactions that underlie any proteomic transformation, there is an overall thermodynamic potential that is sensitive to microenvironmental conditions, including local oxidation and hydration potential. Here, up- and down-expressed proteins identified in 71 comparative proteomics studies were analyzed using the average oxidation state of carbon (ZC) and water demand per residue (), calculated using elemental abundances and stoichiometric reactions to form proteins from basis species. Experimental lowering of oxygen availability (hypoxia) or water activity (hyperosmotic stress) generally results in decreased ZC or of up-expressed compared to down-expressed proteins. This correspondence of chemical composition with experimental conditions provides evidence for attraction of the proteomes to a low-energy state. An opposite compositional change, toward higher average oxidation or hydration state, is found for proteomic transformations in colorectal and pancreatic cancer, and in two experiments for adipose-derived stem cells. Calculations of chemical affinity were used to estimate the thermodynamic potentials for proteomic transformations as a function of fugacity of O2 and activity of H2O, which serve as scales of oxidation and hydration potential. Diagrams summarizing the relative potential for formation of up- and down-expressed proteins have predicted equipotential lines that cluster around particular values of oxygen fugacity and water activity for similar datasets. The changes in chemical composition of proteomes are likely linked with reactions among other cellular molecules. A redox balance calculation indicates that an increase in the lipid to protein ratio in cancer cells by 20% over hypoxic cells would generate a large enough electron sink for oxidation of the cancer proteomes. The datasets and computer code used here are made available in a new R package, canprot.
Introduction
The relationship between cells and tissue microenvironments is a topic of vital importance for cancer biology. Because of rapid cellular proliferation and irregular vascularization, tumors often develop regions of hypoxia (Höckel & Vaupel, 2001). Tumor microenvironments also exhibit abnormal ranges of other physical-chemical variables, including hydration state (McIntyre, 2006; Abramczyk et al., 2014).
Some aspects of the complex metazoan response to hypoxia are mediated by hypoxia-inducible factor 1 (HIF-1). HIF-1 is a transcription factor that is tagged for degradation in normoxic conditions. Under hypoxia, the degradation of HIF-1 is suppressed; HIF-1 can then enter the nucleus and activate the transcription of downstream targets (Semenza, 2003). Indeed, transcriptional targets of HIF-1 are found to be differentially expressed in proteomic datasets for laboratory hypoxia (Cifani et al., 2011; McMahon et al., 2012). However, proteomic studies of cells in hypoxic conditions provide many examples of proteins that are not directly regulated by HIF-1 (McMahon et al., 2012; Fuhrmann et al., 2013), and cancer proteomic datasets also include many proteins that are not known to be regulated by HIF-1.
The complexity of the underlying regulatory mechanisms (McMahon et al., 2012) and the large differences between levels of gene expression and protein abundance (van den Beucken et al., 2011; Cifani et al., 2011; Ho et al., 2016) present many difficulties for a bottom-up understanding of global proteomic trends. As a counterpart to molecular explanations, a systems perspective can incorporate higher-level constraints (Drack & Wolkenhauer, 2011). A commonly used metaphor in systems biology is attractor landscapes. The basins of attraction are defined by dynamical systems behavior, but in many cases are analogous to minimum-energy states in thermodynamics (Emmeche, Koppe & Stjernfelt, 2000; Enver et al., 2009). Nevertheless, little attention has been given to the thermodynamic potential that is inherent to the compositional difference between the up-expressed and down-expressed proteins in proteomic experiments. Such a high-level perspective may require concepts and language that differ from those applicable to molecular interactions (Ellis, 2015).
To better understand the microenvironmental context for compositional changes, this study uses proteomic data as input into a descriptive thermodynamic model. First, a compositional analysis of differentially (up- and down-) expressed proteins identifies consistent trends in the oxidation and hydration states of proteomes of colorectal cancer (CRC), pancreatic cancer, and cells exposed to hypoxia or hyperosmotic stress. These results lay the groundwork for using a thermodynamic model to quantify environmental constraints on the potential for proteomic transformation. Finally, the Discussion section explores some implications of the hypothesis that elevated synthesis of lipids provides an electron sink for the oxidation of proteomes. In this situation, some cancer systems may develop an abnormally large redox disproportionation between pools of cellular biomacromolecules.
Methods
Data sources
Tables 1–4 present the sources of data. Protein IDs and expression (up/down or abundance ratios) were found in the literature, often being reported in the supporting information (SI) or supplementary (suppl.) tables. In some cases, source tables were further processed, using fold-change and significance cutoffs that, where possible, are based on statements made in the primary publication. The data are stored as *.csv files in the R package canprot, which was developed during this study (see http://github.com/jedick/canprot) and is provided as Dataset S1.
Sequence IDs were converted to UniProt IDs using the UniProt mapping tool (http://www.uniprot.org/mapping/) or the gene ID conversion tool of DAVID 6.7 (https://david.ncifcrf.gov/conversion.jsp). For proteins where the automatic conversions produced no matches, manual searches in UniProt were performed using the gene names or protein descriptions. If specified (i.e., as UniProt IDs with suffixes), particular isoforms of the proteins were used. Obsolete or secondary IDs reported for some proteins were updated to reflect current, primary IDs (uniprot_updates.csv in Dataset S1). Any duplicated IDs listed as having opposite expression ratios were excluded from the comparisons here.
Amino acid sequences of human proteins were taken from the UniProt human reference proteome. Sequences of proteins in other organisms and of human proteins not contained in the reference proteome were downloaded from UniProt or the NCBI website (for one study reporting GI numbers; see Table 4). Amino acid compositions were computed using functions in the CHNOSZ package (Dick, 2008) or the ProtParam tool on the UniProt website. The amino acid compositions are stored in *.Rdata files in Dataset S1.
R (R Core Team, 2016) and R packages canprot (this study) and CHNOSZ (Dick, 2008) were used to process the data and generate the figures with code specifically written for this study, which is provided in Dataset S2.
Measures of compositional oxidation and hydration state
Two compositional metrics that afford a quantitative description of proteomic data, the average oxidation state of carbon (ZC) and the water demand per residue (), are briefly described here.
The oxidation state of atoms in molecules quantifies the degree of electron redistribution due to bonding; a higher oxidation state signifies a lower degree of reduction. Although calculations of oxidation state from molecular formulas necessarily make simplifying assumptions regarding the internal electronic structure of molecules, such calculations may be used to quantify the flow of electrons in chemical reactions, and the oxidation state concept is useful for studying the transformations of complex mixtures of organic molecules. For example, calculations of the average oxidation state of carbon provide insight on the processes affecting the decomposition of carbohydrate, protein and lipid fractions of natural organic matter (Baldock et al., 2004). Moreover, oxidation state can be regarded as an ensemble property of organic systems (Kroll et al., 2015). See Dick (2016) for additional references where organic and biochemical reactions have been characterized using the average oxidation state of carbon.
Despite the large size of proteins, their relatively simple primary structure means that ZC can be computed using the elemental abundances in any particular amino acid sequence (Dick, 2014): (1) In this equation, c, h, n, o, and s are the elemental abundances in the chemical formula for a specific protein with total charge z. Note, however, that ionization by gain or loss of protons alters charge and the number of H equally, so has no effect on the value of ZC; for ease of computation, ZC is calculated here for proteins in their completely non-ionized forms.
In contrast to the elemental stoichiometry in Eq. (1), a calculation of the hydration state must account for the gain or loss of H2O. In the biochemical literature, "protein hydration" or water of hydration refers to the effective (time-averaged) number of water molecules that interact with a protein (Timasheff, 2002). These dynamically interacting molecules form a hydration shell that has important implications for crystallography and enzymatic function, but hydration numbers have been measured for few proteins and are difficult to compute, especially for the many proteins with unknown tertiary structure. Thus, the structural hydration of proteins identified in proteomic datasets generally remains unquantified.
A different concept of hydration state arises by considering the chemical components that make up proteins. A componential analysis is a method of projecting the composition of a molecule using specified chemical formula units as the components, or basis species. The notion of components is central to chemical thermodynamics (Gibbs, 1875); the choice of components determines the thermodynamic variables (chemical potentials), and a careful choice leads to more convenient representations of the compositional and energetic constraints on reactions (e.g. Zhu & Anderson, 2002).
The components, or basis species, consist of a minimum number of species whose compositions can be linearly combined to represent the composition of any protein. The 20 proteinogenic amino acids are together composed of five elements (C, H, N, O, S), so five basis species are needed to represent the primary sequences of proteins. As noted previously (see references in Dick, 2016), all possible combinations of basis species lead to thermodynamically consistent models, but are differently suited to making interpretations. Dick (2016) proposed using C5H10N2O3, C5H9NO4, C3H7NO2S, O2, and H2O as a basis for assessing compositional differences in proteomes. The first three formulas correspond to glutamine (Q), glutamic acid (E), and cysteine (C).
To account for protein ionization, a proton can be included in the basis, which is now referred to as "QEC+". Using the QEC+ basis, the stoichiometric projection of a protein with formula , where z is the charge of the protein and h is the number of H in the fully nonionized protein, is represented by (R1) To compare the compositions of different-sized proteins, the stoichiometric coefficients in Reaction (R1) can be divided by the sequence length (number of amino acids) of the protein. The length-normalized coefficients, written with an overbar, include the per-residue water demand for formation of a protein (). This componential "hydration state" is used in this study, and should not be confused with the structural biochemical "protein hydration" mentioned above.
The primary reason for choosing the QEC+ basis instead of others lies in the relation of the compositional variables representing oxidation and hydration state ( and ) with each other and with ZC. It is important to note that ZC is a measure of oxidation state that is independent of the choice of basis species. Smoothed scatter plots of vs ZC and vs ZC are shown in Fig. S1 for the 21,006 human proteins in the UniProt reference proteome. The plots in the top row of this figure are made using the QEC basis (which is equivalent to the QEC+ basis for the plotted variables) while those in the bottom row are made using the basis species CO2, NH3, H2S, H2O, and O2; these inorganic species are often used to balance reactions in geochemical models. It is apparent from Fig. S1 that, using the QEC basis, is highly positively correlated with ZC, and shows a slight negative correlation with ZC. Accordingly, in the QEC basis, is a strong indicator of oxidation state, while represents a distinct compositional variable. In contrast, the plots in the bottom row of Fig. S1 show a moderate positive correlation between and ZC and a stronger negative correlation between and ZC. Using that basis would therefore weaken the interpretation of as an indicator of oxidation state and of as a distinct compositional variable. The relations among , , and ZC also vary between basis species consisting of different combinations of amino acids; those differences together with biological considerations support the choice of QEC instead of other amino acids (Dick, 2016).
In summary, Reaction (R1) is not a mechanism for protein synthesis, but is a projection of any protein's elemental composition into chemical components, i.e., the basis. Compared to a basis composed of simpler inorganic species, the QEC+ basis reduces the projected codependence of oxidation and hydration state in proteins, unfolding a compositional dimension that can enrich a thermodynamic model.
Discussion
Calculations of the average oxidation state of carbon and water demand per residue, derived from elemental stoichiometry, provide information on the microenvironmental factors affecting differential protein expression in cancer and laboratory experiments. Hypoxia or hyperosmotic stress generally induces the expression of proteins with lower overall oxidation state of carbon or lower water demand per residue, respectively, compared to down-expressed proteins. In contrast, proteomes of CRC and pancreatic cancer are often characterized by greater water demand per residue or oxidation state of carbon. The formation of more highly oxidized proteins despite the hypoxic conditions of many tumors hints at a complex set of microenvironmental–cellular interactions in cancer.
Plots of data from experiments with hypoxia and hyperosmotic stress illuminate two dimensions of possible compositional attraction to a low-energy state (Fig. 2). A thermodynamic model quantifies the altered potential for proteomic transformation in response to changing oxygen fugacity and water activity. The equipotential lines for cancer proteomes with high differential water demand lie between logaH2O =  − 1 to −3, while the potential threshold for transformation of proteomes in hyperosmotic stress is closer to unit activity of water (logaH2O =  − 0 to −2) (Figs. 3D–3F). Although there is considerable variability among the individual datasets (Fig. S3), the merged diagrams demonstrate a physiologically realistic range for the activity of water. Water activity in cells is close to one, but restricted diffusion of H2O in "osmotically inactive" regions of cells (Model, 2014) could result in locally lower water activities. The present findings provide evidence that the molecular processes regulating proteomic transformations operate within the chemical constraints of subcellular regions of depleted water activity.
The finding of a frequently positive water demand for the transformation between normal and cancer proteomes offers a new perspective on the biochemistry of hydration in cancer. The thermodynamic calculations predict that, in contrast to hyperosmotic stress, proteomes of cancer tissues are stabilized by increasing water activity. A higher than normal water activity would be consistent with the greater hydration of tissue that is apparent in spectroscopic analysis of breast cancer tissue (e.g., Abramczyk et al., 2014). Speculatively, the relatively high water content needed for embryonic development (Moulton, 1923) could be recreated in cancer cells if they revert to an embryonic mode of growth (McIntyre, 2006).
The equipotentials for transformation of proteomes in cancer cluster near an oxygen fugacity of ca. 10−68 to 10−66. The oxygen fugacity should be interpreted not as actual oxygen concentration, rather as a internal scale of oxidation potential. Oxygen fugacity and water activity can be converted to the Eh scale for redox potential, giving values that are comparable to other biochemical measurements (Dick, 2016).
Although cancer proteomes are obtained from tissues that are likely derived from hypoxic tumor environments, their differential expression is most often in favor of oxidized proteins (Figs. 1A and 1B). What are some explanations for this finding? Perhaps the relatively high logfO2 threshold for chemical transformation of hypoxia-responsive proteins could support a buffering action that potentiates the formation of relatively oxidized proteins in cancer (compare the median and quartiles in Fig. 3C with those in Figs. 3A and 3B). This speculative hypothesis requires a division of the cellular proteome into localized, chemically interacting subsystems. Alternatively, the development of a high oxidation potential in cancer cells may be associated with a higher concentration of mitochondrially produced reactive oxygen species (ROS). Neither of these possibilities addresses the magnitude of the chemical differences in the proteomes, and the question remains: where do the electrons go?
A plausible hypothesis comes from considering the different oxidation states of biomolecules. Fatty acids are reduced compared to amino acids, nucleotides, and saccharides (Amend et al., 2013). In parallel with the formation of more reduced proteins, hypoxia induces the accumulation of lipids in cell culture (Gordon, Barcza & Bush, 1977). Cancer cells are also known for increased lipid synthesis. Lipid droplets, which are derived from the endoplasmic reticulum (ER), form in great quantities in cancer cells (Koizume & Miyagi, 2016). Assuming that lipids are synthesized from relatively oxidized metabolic precursors, their formation requires a source of electrons. These considerations lead to the hypothesis that increased lipid synthesis is coupled to the oxidation of the proteome.
Calculations that combine proteomic and cellular data can be used to quantify a hypothetical redox balance between cellular lipids and proteins. The major assumptions in the calculations here are that the overall cellular oxidation state of carbon is the same in cancer and hypoxia, and that changes in this cellular oxidation state are brought about by altering only the numbers of lipid and protein molecules. The overall chemical composition of the lipids is assumed to be constant, but the proteins are assigned different values of ZC. These simplifying assumptions are meant to pose quantifiable "what if" questions, to serve as points of reference about the range of molecular composition of cells (Milo & Phillips, 2015).
The worked-out calculation is shown in Fig. 4. The lipid:protein ratio in hypoxia is taken from Gordon, Barcza & Bush (1977), and ballpark values for the differences in ZC of proteins in hypoxia and cancer are from the present study. Notably, the lipid:protein weight ratio in hypoxia (0.19) is higher than in normal cells (i.e., 0.15 using data from Gordon, Barcza & Bush, 1977 or 0.16 using data compiled by Milo & Phillips, 2015 for E. coli). The calculation indicates that an increase of the lipid:protein weight ratio in cancer cells by ca. 20% over that in hypoxic normal cells could provide an electron sink that is large enough to take up the electrons released by oxidation of the proteome in hypoxic normal cells to generate that in hypoxic cancer cells. That proteomic transformation is quantified here by an increase of ΔZC from ca. −0.03 to 0.03, both relative to non-hypoxic normal cells (Fig. 4).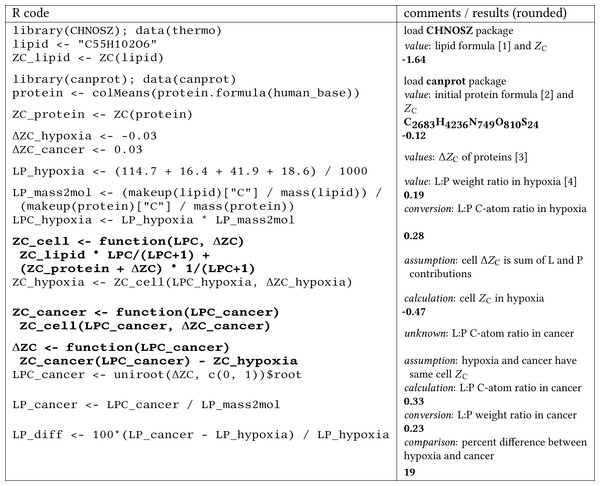 As found by Raman spectroscopy, levels of both lipids and proteins are elevated in colorectal cancer (Stone et al., 2004). Lipid droplets are formed extensively in CRC stem cells (Tirinato et al., 2015), suggestive of a higher lipid:protein ratio than either cancer or normal epithelial cells. In contrast to CRC, lipids are decreased in breast cancer compared to normal breast tissue (Frank, McCreery & Redd, 1995; Stone et al., 2004). Given a lower lipid content, and therefore smaller electron sink, one might expect that proteomes in breast cancer are oxidized to a lesser extent than those in CRC and pancreatic cancer. Other factors that affect the systemic redox balance, such as a more reduced gut microbiome in CRC (Dick, 2016) and metabolic coupling between epithelial and stromal cells, may be important for an accurate account of the compositional relationships among biomacromolecules.
These compositional and thermodynamic analyses support the notion that changes in bulk chemical composition of cells and the microenvironment have a significant role in shaping the differential expression of proteins. The analysis done here is primarily concerned with top-down causal factors (physical constraints on protein synthesis and degradation), but does not preclude a major role for bottom-up factors (e.g., regulation of gene expression). Speculatively, further applications of these methods could be used to predict the ability of chemotherapy or other treatments to reduce or reverse the potential for formation of the proteins required by cancer cells. Based on the current findings, a decreased proteomic oxidation and/or hydration state may emerge as one aspect of beneficial treatments.
This approach to the data differs from conventional interpretations of proteomic data that are based on the functions of proteins. Nevertheless, the scope of explanations dealing with functions and molecular interactions offers limited insight on the high-level organization of proteomes in a cellular and microenvironmental context. Although a variety of bioinformatics tools are available for functional interpretations (Laukens, Naulaerts & Berghe, 2015), none so far addresses the overall chemical requirements of proteomic transformations. The compositional and thermodynamic descriptions presented here encourage a fresh look at the question, "What is cancer made of?"
Conclusion
Although many hypoxia experiments induce the formation of proteins with lower oxidation state of carbon (ZC), the up-expressed proteins in colorectal and pancreatic cancer are often relatively oxidized compared to the down-expressed ones. Hyperosmotic stress in the laboratory leads to the formation of proteins with relatively low water demand per residue (), but cancer proteomes often show the opposite trend, with up-expressed proteins having higher average than down-expressed ones.
The global proteomic differences can be described as compositional changes in terms of chemical basis species and quantified in a thermodynamic framework. A positive thermodynamic potential for each proteomic transformation is predicted in a specific range of oxidation and hydration potential. However, the distribution of biomolecules other than proteins should also be considered to account for changes in cellular redox balance. An electron sink associated with a ca. 20% greater lipid to protein ratio in cancer compared to normal hypoxic cells would be sufficient to balance the electrons released by the formation of more oxidized proteins in CRC and pancreatic cancer. It thus appears possible that a redox disproportionation develops in some cancers, leading to pools of both more reduced and more oxidized macromolecules compared to normal conditions.