There and back again: putting the vectorial movement planning hypothesis to a critical test
1
Bernstein Center Freiburg, University of Freiburg

,

Germany
2
BrainLinks-BrainTools, Cluster of Excellence, University of Freiburg

,

Germany
3
Department of Bioengineering, Imperial College London

,

United Kingdom
Published

Accepted

Received
Academic Editor
Subject Areas

Keywords

Reaching movements

,

Motor learning

,

Visuomotor rotation

,

Motor adaptation

,

Generalization

,

Motor control

,

Movement planning

,

Transformation learning

,

Psychophysics

,

Human
Copyright

©

2014

Kobak and Cardoso de Oliveira

Licence

This is an open access article distributed under the terms of the Creative Commons Attribution License, which permits unrestricted use, distribution, and reproduction in any medium, provided the original author and source are credited.
Cite this article

2014

.

There and back again: putting the vectorial movement planning hypothesis to a critical test

.

PeerJ

2

:

e342

https://doi.org/10.7717/peerj.342
Abstract
Based on psychophysical evidence about how learning of visuomotor transformation generalizes, it has been suggested that movements are planned on the basis of movement direction and magnitude, i.e., the vector connecting movement origin and targets. This notion is also known under the term "vectorial planning hypothesis". Previous psychophysical studies, however, have included separate areas of the workspace for training movements and testing the learning. This study eliminates this confounding factor by investigating the transfer of learning from forward to backward movements in a center-out-and-back task, in which the workspace for both movements is completely identical. Visual feedback allowed for learning only during movements towards the target (forward movements) and not while moving back to the origin (backward movements). When subjects learned the visuomotor rotation in forward movements, initial directional errors in backward movements also decreased to some degree. This learning effect in backward movements occurred predominantly when backward movements featured the same movement directions as the ones trained in forward movements (i.e., when opposite targets were presented). This suggests that learning was transferred in a direction specific way, supporting the notion that movement direction is the most prominent parameter used for motor planning.
Introduction
An approach frequently used to investigate the functional organization of the motor system is to study learning of visuomotor transformations and the transfer of such learning to untrained conditions. For example, visuomotor rotations have frequently been applied while subjects perform simple reaching movements. Initially, the transformation leads to movement errors reflecting the magnitude of the rotation, but gradually, most subjects are able to adapt to the rotation. For this to happen, the internal representation of the movement has to be changed (Imamizu, Uno & Kawato, 1995). There are several ways how this may be achieved: remapping of the locations of origins and targets ("position remapping") is one possibility. Another is that subjects remember the posture assumed when successfully reaching the target, based on the idea that movements are planned by converging to a final end posture (Polit & Bizzi, 1978; Rosenbaum et al., 1995). A third possibility is that the alteration of movement direction to a given target is remembered, based on the idea that movements are planned on the basis of the vector connecting the starting location to the target ("vectorial planning", Gordon, Ghilardi & Ghez, 1994).
While some early studies provided evidence supporting the idea of final end posture being assumed by subjects (Polit & Bizzi, 1978; Rosenbaum, Meulenbroek & Vaughan, 1999), other evidence points more towards the vectorial planning hypothesis (Gordon, Ghilardi & Ghez, 1994; Vindras et al., 1998; Messier & Kalaska, 1999; Krakauer et al., 2000; Krakauer, 2009).
When visuomotor rotations were trained, learning was found to be transferred only to movements in the same direction as the trained one, and not to previously trained targets that were approached from other directions (Krakauer et al., 2000; Wang & Sainburg, 2005). These studies, however, used different areas of the workspace for learning and test trials, and therefore introduced space as a confounding variable to the experiments. In the Krakauer et al. (2000) study, test trials started at the same origin, but were aimed at targets that had not been visited during learning. In the Wang & Sainburg (2005) study, the starting positions for test trials were in completely different regions of the workspace, which were not visited during learning at all. The transfer of learning that both studies found for test targets might as well be due to a position remapping learning effect that remained restricted to the trained workspace as to a transfer of the learned direction.
To test this possibility, we applied a revised version of the center-out-and-back task, making use of the fact that backward movements occur in exactly the same location of the workspace as forward movements. Our task provided visual feedback about hand position only during forward movements. During backward movements, the cursor denoting hand position was not visible. Thus, learning could occur only in forward movements, and backward movements could be used for testing of learning transfer. This experiment constitutes an essential test of the vectorial planning hypothesis, the important factor being that position in workspace is not added as a confounding variable (see Fig. 1).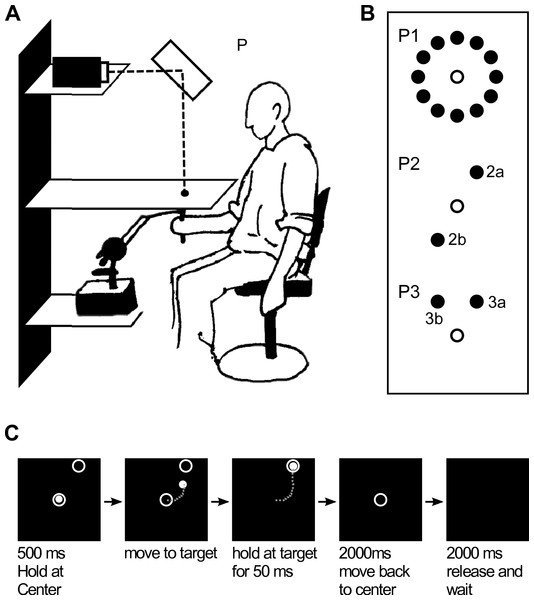 Forward and backward movements in our experiment were separated by a short break at the target, rendering forward and backward movements clearly distinguishable. Although Krakauer et al. (2000) also used a center-out-and-back paradigm in their experiments, they did not include any detailed analysis of backward movements. This may partly be due to the fact that their task did not require subjects to stop at the target, making backward movements not very well distinguishable from forward movements. Also, in their task, visual feedback was present throughout the task.
To put the hypothesis of vectorial planning to a crucial test, we designed three different variants of the center-out-and-back paradigm. In all variants, a 60 degrees visuomotor rotation was applied in the learning trials. In the first variant (paradigm one = P1), subjects moved to and from 12 targets distributed on a circle around the central starting position, such that learning during forward movements included movement directions from 0 to 360 degrees in 30 degree increments. In the second (paradigm two = P2) and third (paradigm three = P3) variant, movements were directed only to two targets, either 180 (P2) or 60 degrees (P3) apart from each other. This means that in P2, the directions of forward movements to one target were equal to backward movements from the other target, while in P3, backward and forward movement directions did not match.
If subjects would learn the shifted locations of the target and would make use of this knowledge when planning backward movements, transfer of learning from forward to backward movements would occur in all three variants of the paradigm, supporting the position remapping theory. If learning would be based on learning the rotated directions, however, backward movements should only be affected if they would occur in the directions that were trained during forward movements, i.e., in experiments one and two. This would be in accordance with the vectorial movement planning hypothesis (Fig. 2).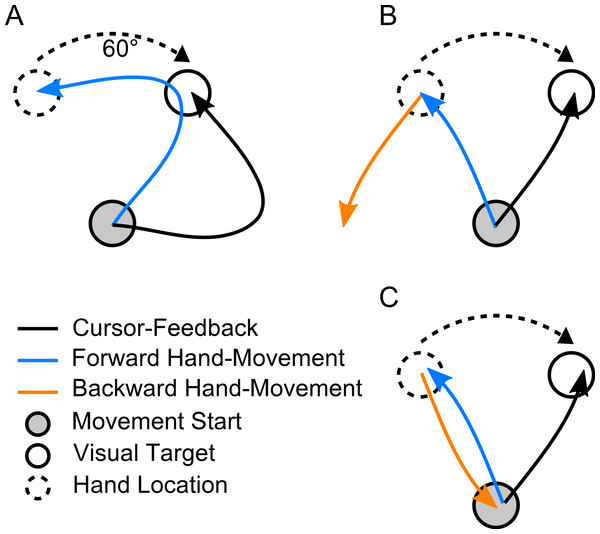 We found that transfer of learning from forward to backward movements preferentially occurred in paradigms one and two. Thus, our study further supports the vectorial planning hypothesis and strengthens the idea that movement direction rather than the locations of origin and target is the most prominent parameter used by the motor system for planning movements.