Phenotypic variation in dorsal fin morphology of coastal bottlenose dolphins (Tursiops truncatus) off Mexico
Published

Accepted

Received
Academic Editor
Subject Areas

Keywords

Adaptations

,

Stepping stone model

,

Population discrimination

,

Polymorphism
Copyright

©

2017

Morteo et al.

Licence

This is an open access article distributed under the terms of the Creative Commons Attribution License, which permits unrestricted use, distribution, reproduction and adaptation in any medium and for any purpose provided that it is properly attributed. For attribution, the original author(s), title, publication source (PeerJ) and either DOI or URL of the article must be cited.
Cite this article

2017

. Phenotypic variation in dorsal fin morphology of coastal bottlenose dolphins (Tursiops truncatus) off Mexico.

PeerJ

5

:

e3415

https://doi.org/10.7717/peerj.3415
Abstract
Geographic variation in external morphology is thought to reflect an interplay between genotype and the environment. Morphological variation has been well-described for a number of cetacean species, including the bottlenose dolphin (Tursiops truncatus). In this study we analyzed dorsal fin morphometric variation in coastal bottlenose dolphins to search for geographic patterns at different spatial scales. A total of 533 dorsal fin images from 19 available photo-identification catalogs across the three Mexican oceanic regions (Pacific Ocean n = 6, Gulf of California n = 6 and, Gulf of Mexico n = 7) were used in the analysis. Eleven fin shape measurements were analyzed to evaluate fin polymorphism through multivariate tests. Principal Component Analysis on log-transformed standardized ratios explained 94% of the variance. Canonical Discriminant Function Analysis on factor scores showed separation among most study areas (p < 0.05) with exception of the Gulf of Mexico where a strong morphometric cline was found. Possible explanations for the observed differences are related to environmental, biological and evolutionary processes. Shape distinction between dorsal fins from the Pacific and those from the Gulf of California were consistent with previously reported differences in skull morphometrics and genetics. Although the functional advantages of dorsal fin shape remains to be assessed, it is not unlikely that over a wide range of environments, fin shape may represent a trade-off among thermoregulatory capacity, hydrodynamic performance and the swimming/hunting behavior of the species.
Introduction
Fin shape in aquatic organisms has been suggested to reflect unique anatomical and physiological adaptations to different environmental conditions (Aleyev, 1977; Pauly & Palomares, 1989; Fish, 1998; Weller, 1998; Wright, 2000), and this is also widely accepted in cetaceans (Fish & Hui, 1991; Berta & Sumich, 1999; Fish & Rohr, 1999; Reynolds, Wells & Eide, 2000; Morteo, 2003). Morphological variation of the dorsal fin, to some extent, has been used for population and/or species identification (Lang & Pryor, 1966; Aleyev, 1977; Fish, 1998; Weller, 1998; Morteo, Morteo & Rocha-Olivares, 2005; Felix et al., 2017).
The dorsal fin of delphinids is important at two functional levels: thermoregulatory and hydrodynamic. Little empirical evidence exists, however, regarding the integrated performance of dorsal fins for most cetacean species (Lang, 1966; Weller, 1998; Fish & Rohr, 1999; Meagher et al., 2002; Westgate et al., 2007; Barbieri et al., 2010; Pavlov & Rashad, 2012; Van der Hoop et al., 2014). Estimating integrated performance is challenging since plasticity may be in part regulated by the energetic cost of different swimming behaviors related to locating, chasing, handling, and ingesting prey, thus maneuvering abilities may be important in feeding success, and the dorsal fin may play an important role for swimming stabilization (Weller, 1998; Fish & Rohr, 1999). Also, the dorsal fin is the only appendage that is constantly exposed to ambient air, and thus is subject to different thermoregulatory conditions from the rest of the body (Meagher et al., 2002; Westgate et al., 2007; Barbieri et al., 2010).
Bottlenose dolphins (Tursiops truncatus) have a worldwide distribution, occupying a variety of ecological conditions, and show substantial intraspecific phenotypic variation (Walker, 1981; Vidal, 1993; Gao, Zhou & Wang, 1995; Goodwin et al., 1996; Hoelzel, Potter & Best, 1998; Turner & Worthy, 2003; Weller, 1998). Polyphenisms in traits whose functions arose as adaptations to new life conditions (e.g., aquatic for terrestrial ancestors) may be directly linked to the environment, and morphometric variations should be studied as a function of ecological differences (Stearns, 1989; Gotthard & Nylin, 1995). Here we analyze phenotypic variation of bottlenose dolphin dorsal fins in relation to respective habitats, ecology and behavior over different spatial scales. We evaluated the degree of fin polymorphisms of 19 putative populations from Mexico, contrasting them by location and region, in the context of relevant biological, ecological and geological features. The goal of the study was to determine if observed morphometric variations follow the stepping stone model, where the degree of differentiation among neighboring populations is correlated with the migration distance travelled by individuals (Wright, 1943; Kimura, 1953).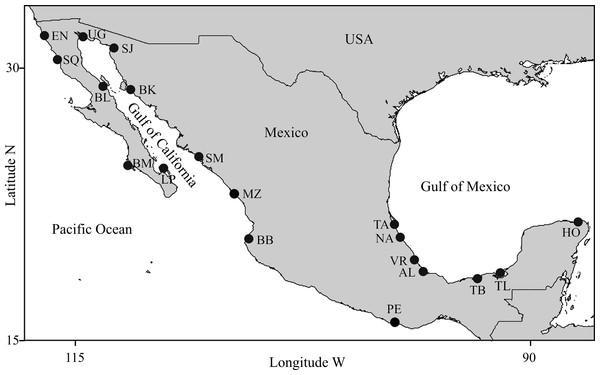 Discussion
Heredity and individual dispersal as mechanisms for phenotypic variability
Morphological variations in dorsal fin characteristics of bottlenose dolphins inhabiting Mexican coastal waters were observed, even among study areas in near proximity (Figs. 1 and 5); this variation was evident in the averaged fin contour reconstructions (Fig. 3), which showed significant differences among most localities (Table 3, Fig. 5). Such statistical discrimination may be largely due to the low phenotypic variability within putative populations, such that a small number of individuals (∼20) were needed to obtain at least 95% of the expected variability within any given locality (Fig. 4). Therefore, it is reasonable to assume that dorsal fin shape may be under strong selection acting over individuals with particular dorsal fin phenotypes. However, methodological and biological contexts must be considered in order to prevent misleading interpretations. For instance, the use of photographs may introduce some level of unaccounted bias in age/sex representation in the sample (Hersh & Duffield, 1990; Gao, Zhou & Wang, 1995; Weller, 1998; Perrin & Mesnick, 2003).
A similar line of reasoning can be applied to the regional clusters found in this study. For instance, the high migratory rates documented for bottlenose dolphins in the northern Mexican Pacific (Defran et al., 2015) may explain the inter-study area dorsal fin similarities (Fig. 3) and low dissimilarity values (Table 3) despite the large distances among sites (Figs. 1 and 5). Detailed body morphometrics provided by Walker (1981) already support phenotypic similarity of bottlenose dolphins along the west coast of Baja California.
Results from the Gulf of California stand in sharp contrast to those from the Pacific in that even when geographic separation among localities was relatively low, 73% of the comparisons within this region showed significant differences (Table 3, Fig. 5). There is currently no information on migration rates for dolphins among all of these areas; however, based on morphometric analyses of skulls from dead stranded bottlenose dolphins, Vidal (1993) suggested a geographic regionalization akin to the differentiation found in this study. This pattern has been reported in several other taxa including invertebrates (Correa & Carvacho, 1992; De la Rosa et al., 2000), fish (Riginos & Nachman, 2001), and other marine mammals like the California sea lion (Zalophus californianus californianus) (Schramm, 2002; Aurioles et al., 2004; Pedernera et al., 2004; Porras et al., 2004). Contrasting oceanographic patterns (Lavín, Palacios-Hernández & Cabrera, 2003) may contribute to this separation, causing habitat and resource partitioning. Moreover, Segura et al. (2006) also found genetic structures in bottlenose dolphins within the Gulf of California, which supports our findings. Overall, molecular and phenotyoic co-variation (i.e., skull and dorsal fin morphometrics) point to the possibility of the early steps of microevolutionary divergence in T. truncatus from the Gulf of California.
Conversely, no significant morphological differences were found within the Gulf of Mexico, but fin shapes were significantly correlated with distance among locations (Table 3, Fig. 5). Similar to the highly migratory movements of dolphins along the Pacific coast, bottlenose dolphins in the Gulf of Mexico also appear to have large home ranges. For instance, Delgado (2002) documented one individual that moved at least 800 km from Holbox Island to the western coast of the Gulf in less than a year; he also found four other individuals that moved 240–320 km in 274–1,404 days. Martínez-Serrano et al. (2011) and Morteo, Rocha-Olivares & Abarca-Arenas (2017) also found large home ranges (>100 km) and individual movements (100-300 km) for dolphins in the northwestern Gulf of Mexico. Since dolphins may potentially reproduce with individuals from other locations, genetic exchange occurs over a large scale (Islas, 2005); however, evidence also suggests a certain degree of genetic structure and restricted gene flow that is consistent with sex-specific dispersal patterns (Islas, 2005; Caballero et al., 2012), which may enhance homogeneity in character states by male dispersion, but also promote differentiation through female restricted home ranges (e.g., Morteo, Rocha-Olivares & Abarca-Arenas, 2014), potentially resulting in the observed clinal morphological trends.
Male dispersal patterns seem to be a dominant feature in the western Gulf of Mexico (Morteo, Rocha-Olivares & Abarca-Arenas, 2014), thus our morphological results seem concordant with genetic data; however, morphological similarities in this trait may be also be attributed to the homogeneity and stability of the environment (a possible mechanism is further discussed in 'Could dorsal fin phenotypic variability be an adaptive trait?'). For instance, compared to the Gulf of California, tides, wave regimes and SST variations in the Gulf of Mexico are much lower in magnitude and frequency due to the influence of the Loop Current (Davis et al., 1998); and because of its influence over a large area (Avise, 1992), selective pressures may be similar in spite of the larger distance among sites. This situation may explain not only the similarities in shape among neighboring locations, but also the smaller overall variability observed in these dorsal fins (Fig. 3).
Dorsal fin phenotypic variability as a function of geographic/geological scales
Similar studies have also pointed out the potential utility of using geographic variation in dorsal fin shape for bottlenose dolphin population discrimination over wide geographic ranges (i.e., Indian and Pacific oceans vs. the Gulf of Mexico), thus intrinsic differences are somewhat implied (Weller, 1998); however, due to the wide geographic scale of such comparisons, random fin phenotypes may occur due to vicariance. Therefore, there was no other study to provide further insight in the dorsal fin morphology of bottlenose dolphins by using a larger sample at a smaller scale.
Moreover, the major differences in dorsal fin shapes found between the Pacific, the Gulf of Mexico and the Gulf of California were consistent with the stepping-stone dispersal model (Table 3); however, there was no clear difference between the Pacific and the Gulf of California.
The geological history of the region may shed light on the matter; for instance, the divergence between the Gulf of Mexico and Pacific populations ensued after the emergence of the Isthmus of Panama, which closed the inter-oceanic canal (approx. 2.5 Mya) (Gore, 2003); therefore, morphological differences with the Gulf of Mexico may also be attributed to vicariance. Conversely, the Baja California peninsula began to separate from the mainland about 5.5 Mya; during this separation (5.5–1 Mya) the peninsula was fragmented on several occasions by trans-peninsular seaways, connecting the Pacific and the Gulf (Riddle et al., 2002). It is unclear how these hypothetical connections between the proto-Gulf of California and the Pacific may have affected coastal populations of bottlenose dolphins; however, this intermittent isolation may account for the lack of differentiation in dorsal fin shape between the Pacific (Ensenada and San Quintin) and the northern Gulf of California.
Could dorsal fin phenotypic variability be an adaptive trait?
Local phenotypic variability in dorsal fins may be the result of individual heredity and dispersal, but natural selection may also be at play. While empirical data on the possible functional advantages of dorsal fin characteristics are sparse, it has been argued that some features are adaptive (Fish & Hui, 1991; Weller, 1998; Berta & Sumich, 1999; Fish & Rohr, 1999; Reynolds, Wells & Eide, 2000). As a whole, dorsal fin shape may be a trade-off between thermoregulatory capacities and hydrodynamic performance. For instance, regardless of the study location, the central portion of the trailing edge (represented by points C10 and C20, Fig. 2) was the least variable section of the dorsal fin overall (Fig. 3). This finding may reflect a hydrodynamic constraint, since computer simulations for hypothetical dorsal fins have found that this region produces the least turbulence (Pavlov & Rashad, 2012). On the other hand, studies on thermoregulation efficiency in dorsal fins point out the importance of surface area and vascularization in temperature regulation (Meagher et al., 2002; Morteo, 2004; Westgate et al., 2007; Barbieri et al., 2010). For instance, veins and vessels in the dorsal fins of male dolphins are directly connected to the testicles (which are inside the body), helping in heat dissipation (Rommel et al., 1994; Rommel, Pabst & McLellan, 1999).
The functional significance of other morphometric characters (i.e., foil, rake, depth, base lenght) are less clear. Weller (1998) explained how the shape of surfboard fins and water craft keels confer different levels of maneuverability, speed and performance; he further suggested how variation in these parameters in the dorsal fins may relate to site specific hydrodynamic performance required for prey chase and capture by dolphins. For instance, contrasting fin shapes have been described for the two ecotypes of this species in the southeast Pacific which have different feeding habits, such that offshore individuals generally have wider and more falcate fins than their coastal counterparts (Felix et al., 2017).
Alternatively, dorsal fin shape characteristics may be influenced by habitat variables unrelated to prey capture. For instance, falcate and wider fins (which theoretically perform better at high speeds or in highly dynamic environments) were found mainly in the Pacific (Fig. 3), where the habitat of coastal bottlenose dolphins features swells as high as 5 m (Lizárraga et al., 2003), and also in the Gulf of California, where tidal currents may exceed 3 m s−1 (Álvarez, 2001). Comparatively, less falcate fins were found in the Gulf of Mexico, where tidal currents and wave heights are of lesser magnitude (Delgado, 2002).
Additionally, dorsal fins that were less falcate and with less foil were found in the western Gulf of Mexico, whereas taller and wider (i.e., larger depth and base length) dorsal fins were found in the northern Gulf of California; both of these features resulted in larger fin surface areas. These coastal locations are very shallow (<20 m) and have a high potential for rising sea surface temperatures (SST) due to high residency times resulting from reduced water circulation, especially during low tides (Bianchi, Pennock & Twilley, 1999; Lavín & Marinone, 2003). SST plays an important role in species distributions (Pianka, 1994; Valiela, 1995), and although it is not supposed to influence dolphins movements overall (due to their high thermoregulatory capacities), tagged bottlenose dolphins in the Atlantic have shown avoidance of oceanic fronts (Wells et al., 1999). Consequently, rapid changes in temperature may trigger behavioral and physiological responses possibly influencing home ranges, and also food habits and consumption rates. Thus a possible cause for the apparent relationship with proportional dorsal fin area may be that warmer habitats are more suitable for individuals that are better at handling heat excess.
In light of the above, there is a chance that unexpected morphological similarities between geographically isolated localities (e.g., Santa Maria in the Gulf of California vs. Gulf of Mexico sites, Fig. 5) are not an artifact of the classification functions (Table 2), and may have a biological/adaptive explanation. For instance, unlike the other study areas in the Gulf of California, Bahia Santa Maria is an enclosed estuarine system with two entrances, and the vegetal coverage along the shore is dense (Reza, 2001). Also, mean year-round SSTs are more similar to those in the Gulf of Mexico than to the open Pacific coast (Heckel, 1992; Schramm, 1993; Delgado, 1996; Delgado, 2002). Therefore, we speculate that similar dorsal fin shapes in the Gulf of California and the Gulf of Mexico may reflect adaptive convergence influenced by similar selective pressures.
We acknowledge that the relations described above may be coincidental and the former arguments are exploratory. Therefore, independent evidence is needed to understand if these polymorphisms reflect adaptive advantages and genetic mechanisms within and among populations, or are just the result of different norms of reaction. Although the patterns of morphological variation are somewhat consistent with biological and ecological features, suggesting adaptive explanations for such differences, hydrodynamic and thermoregulatory functions must be empirically assessed to determine if the character states found in this study are different enough to influence individual fitness, and thus subject to selection.
Conclusions
Dorsal fins of bottlenose dolphins show a high degree of polymorphism and restricted local variability. Dorsal fin polymorphisms were geographically structured at different spatial scales, supporting the model of isolation/differentiation by distance overall. Genetic analyses may help elucidate if the population structure is consistent with the morphological clinal variation described here. Our findings also suggest that this trait may be influenced by natural selection, but this hypothesis remains to be tested.
Supplemental Information
Dataset
Raw digital measurements of dorsal fin samples from each study area.
Summary of statistical tests and graphs
Sheet (1) The Variation Coefficients computed to generate the General Index of Variability (GIV) for Fig. 4 in the manuscript.
Sheet (2) The normality tests along with the box & whiskers plot for the log transformed measurement ratios.
Sheet (3) The summary of the Factor analysis for Table 2 in the manuscript.
Sheet (4) The summary of the Discriminant function analysis for Table 2 in the manuscript.
Sheet (5) The input data for the Mantel's tests for Table 3 in the manuscript.
Sheet (6) The result of the Cluster Analysis for Fig. 5 in the manuscript.
Sheet (7) The results of the Mantel's test for all the study areas.
Sheet (8) The results of the partial Mantel's test for site comparisons between the Pacific Ocean and the Gulf of California.
Sheet (9) The results of the partial Mantel's test for site comparisons within the Pacific Ocean.
Sheet (10) The results of the partial Mantel's test for site comparisons within the Gulf of California.
Sheet (11) The results of the partial Mantel's test for site comparisons within the Gulf of Mexico.
Mathematical relations among the morphometric indices of dorsal fin shapes
The procedure to reconstruct average dorsal fin contours from point measurements.