pathVar: a new method for pathway-based interpretation of gene expression variability
Published

Accepted

Received
Academic Editor
Subject Areas

Keywords

Transcriptional regulation

,

Gene expression variability

,

Single cell analysis

,

Bioinformatics

,

Functional genomics

,

Cellular heterogeneity
Copyright

©

2017

de Torrente et al.

Licence

This is an open access article distributed under the terms of the Creative Commons Attribution License, which permits unrestricted use, distribution, reproduction and adaptation in any medium and for any purpose provided that it is properly attributed. For attribution, the original author(s), title, publication source (PeerJ) and either DOI or URL of the article must be cited.
Cite this article

2017

. pathVar: a new method for pathway-based interpretation of gene expression variability.

PeerJ

5

:

e3334

https://doi.org/10.7717/peerj.3334
Abstract
Identifying the pathways that control a cellular phenotype is the first step to building a mechanistic model. Recent examples in developmental biology, cancer genomics, and neurological disease have demonstrated how changes in the variability of gene expression can highlight important genes that are under different degrees of regulatory control. Simple statistical tests exist to identify differentially-variable genes; however, methods for investigating how changes in gene expression variability in the context of pathways and gene sets are under-explored. Here we present pathVar, a new method that provides functional interpretation of gene expression variability changes at the level of pathways and gene sets. pathVar is based on a multinomial exact test, or an asymptotic Chi-squared test as a more computationally-efficient alternative. The method can be used for gene expression studies from any technology platform in all biological settings either with a single phenotypic group, or two-group comparisons. To demonstrate its utility, we applied the method to a diverse set of diseases, species and samples. Results from pathVar are benchmarked against analyses based on average expression and two methods of GSEA, and demonstrate that analyses using both statistics are useful for understanding transcriptional regulation. We also provide recommendations for the choice of variability statistic that have been informed through analyses on simulations and real data. Based on the datasets selected, we show how pathVar can be used to gain insight into expression variability of single cell versus bulk samples, different stem cell populations, and cancer versus normal tissue comparisons.
Introduction
Global studies of gene expression provide two quantitative parameters: a commonly-used metric is the relative abundance of a transcript (and group differences in transcript abundance), likewise the expression variability of that transcript provides insight into the heterogeneity of a sample group (Mason et al., 2014), and expression variability changes between groups have been shown to reflect underlying changes in transcriptional regulatory processes (Blake et al., 2003; Chalancon et al., 2012; Munsky, Neuert & Van Oudenaarden, 2012; Raser & O'Shea, 2004). Patterns of variability in gene expression have provided insight into how pathways are regulated in cells (Burga, Casanueva & Lehner, 2011; Raj et al., 2010); especially in the context of single cell profiling studies, where the average expression of a gene in a cell population carries limited information for understanding transcriptional regulation. Recent studies have identified pathways showing differential control or regulatory constraint that were discovered only by modeling changes in gene expression variability and were not apparent from standard analyses of average gene expression (Yu et al., 2008). While variability is becoming more prevalent as an informative metric, the current challenge lies in how to interpret these analyses to maximize functional information, such as with respect to pathways and curated gene sets. Due to the newness of this area, statistical methods for investigating expression variability are currently under-developed, and lacking for pathway-centric approaches. It is necessary, therefore, to develop such methods since information on expression variability can be used to complement analyses of average expression, and improve our understanding of the transcriptional state of the cell.
Intuitively, the distribution of gene expression variability in a pathway highlights the subset of genes with different degrees of regulatory control (Fig. 1). In the case of a one-group design, where multiple profiles represent replicates of the same phenotype, e.g., different embryonic stem cell (ESC) lines, identifying pathways that have an unexpected proportion of low variability genes may point to those that contribute integral roles for stem maintenance or regulation (Mason et al., 2014). To appreciate this, consider two previous studies that provided evidence linking criticality of genes and their decreased variability in expression. One study (Yu et al., 2008) identified genes with decreased expression variability in tumors relative to normal tissue; this gene set, termed the Posed Gene Cassette, included key genes whose expression impacted metastasis and patient survival as demonstrated through in vivo and in vitro experimental approaches. More recently, a second study (Hasegawa et al., 2015) showed that genes with decreased variability in expression for four stages of early embryonic development (4-cell, 8-cell, morula and blastocyst) were more likely to be associated with essentiality, haploinsufficiency or ubiquitous expression, suggesting that these stably-expressed genes contribute to cell survival.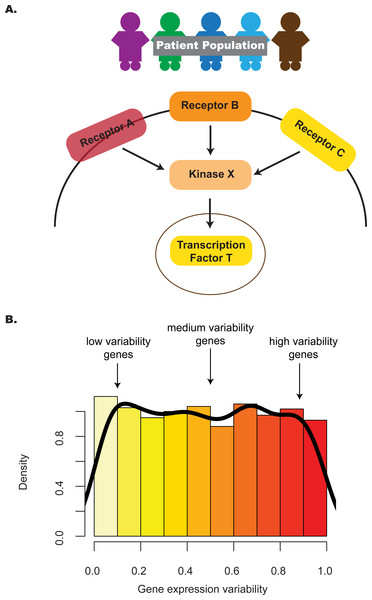 In the two-group design, where profiles are compared between two contrasting phenotypes, e.g., ESCs versus induced pluripotent stem cells (iPSCs), identifying pathways associated with different patterns of expression variability may highlight those pathways that contribute to group-specific differences. Previous studies have analyzed the enrichment of genes with different levels of expression variability for specific pathways (Hasegawa et al., 2015; Mar et al., 2011); however, these analyses are based on gene lists defined by an arbitrary cut-off and do not take into account the expression distribution of genes in the pathway. One would expect that more informative results could be obtained by focusing on the shape of the expression distribution in a statistically rigorous manner, much like a gene set enrichment analysis (GSEA) (Mootha et al., 2003) analogue for variability instead of relying only on average expression, or over-representation (OR) analyses (Falcon & Gentleman, 2007). Computational methods to implement these kinds of approaches are currently lacking for expression variability.
Our method, pathVar, addresses this gap by providing a pathway-based analysis of gene expression variability where pathways are assessed based on deviations of their gene expression variability distribution relative to a reference. In the one-group setting, the reference can be the global distribution constructed from all genes. In a two-group setting, one of the groups serves as the reference or control group. For each pathway, our method also identifies which genes in a pathway show aberrant levels of gene expression variability (Fig. 1). Additionally, we provide guidance on selecting an appropriate variability statistic based on analyses of simulated and real data. We also highlight how pathVar can be used to further understand transcriptional regulation based on gene expression variability for selected group comparisons, e.g., single cell versus bulk data, different stem cell lines, and cancer versus normal tissue.
Methods
The pathVar method can be summarized in three main steps (Fig. 2).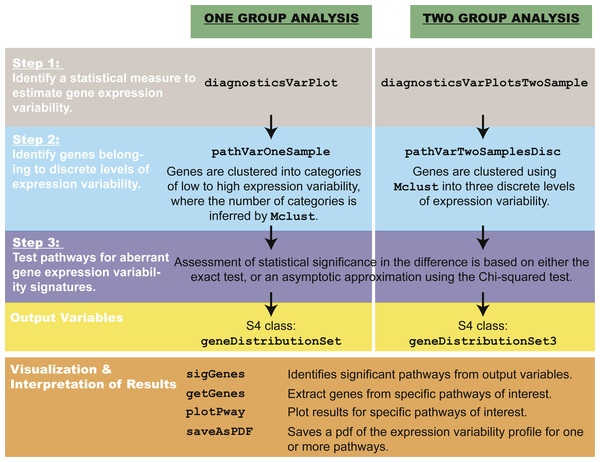 Discussion
With pathway-centric approaches like GSEA and OR now such ubiquitous features of transcriptomic analyses, pathVar represents a natural adjunct to this kind of analysis. Our results from analyses of ESCs and other datasets have demonstrated that it is not uncommon for phenotypes to be regulated by pathways that have altered levels in both average expression and expression variability, as well as pathways unique to either statistic. Therefore, to derive more accurate insights into transcriptional control, our results suggest that pathway-based analyses should include the detection of changes in both population statistics. pathVar may also be used to investigate the regulatory control associated with common targets of transcription factors (Lachmann et al., 2010; Matys et al., 2006), microRNA (Chou et al., 2016; Wong & Wang, 2015), or lncRNAs (Jiang et al., 2015; Quek et al., 2015), genes with common variants identified from genome-wide association studies (Welter et al., 2014), or other regulatory features (Guo et al., 2016) that may benefit from further study of gene expression variability patterns.
In the analysis of ESCs versus iPSCs, pathVar identified very few significant pathways relative to the other two-group comparisons conducted (Table S9). This result likely reflects the high degree of similarity that exists between iPSC and ESC transcriptional programs. While the two cell populations have identical developmental capabilities, in some instances, iPSCs retain a limited memory of the gene expression program of the cell of origin. Some of the significant pathways identified by pathVar may point to different usage of metabolic processes or the cell cycle by iPSCs and ESCs. Overall, we see more variability in the iPSCs than the ESCs and the increased heterogeneity for these pathways could reflect underlying differences due to donor variability, or experimental factors associated with their generation.
Of the six two-group comparisons performed, it is interesting to note that the ESC and iPSC comparison also had the least number of significant pathways (Table S9) and this may have been due to the fact that all other comparisons were between a disease and normal group, or in the case of the mouse data, between two distinct regions of the brain (Text S3). This result suggests that the degree of perturbation to a transcriptome in the presence of a tumor, or extra chromosome, or even a different anatomical region of the same organ, is greater globally, than how iPSCs differ from ESCs.
The observation that pathways were significant for changes in both average expression and gene expression variability, as well as those identified by GSEA, reflects the different modes in which cells are using pathways to regulate transcriptional signals. For the cancer-based comparisons, common themes were observed across cancer types where pathways involved in DNA replication and DNA damage response had significant changes in average and variability (AML versus 1000 Genomes, OVC versus 1000 Genomes, Tables S10 and S11). The reliance of DNA replication pathways may be to facilitate the proliferative nature of tumor cells, while the pathways that control DNA damage response are important for tumor cells to remain viable in the presence of increased rates of mutation. This result suggests that a critical factor to understanding how cancer subverts cellular pathways to promote growth and evade apoptosis more accurately may lie in focusing on how gene expression is being regulated based on average expression and expression variability from cell to cell, or from patient to patient.
For the different datasets that were analyzed, the degree of dependency observed between the variability statistic and the average expression varied. This was one criterion that we suggest be used to select the variability statistic in pathVar where a measure with the least dependence with average expression is preferred. Nevertheless, some kind of dependency is bound to occur, and this is likely to affect the overlap in the number of significant pathways detected by pathVar and also other approaches, such as GSEA. To investigate this effect further, we looked at the Pearson correlation coefficients between average expression and expression variability and the number of significant pathways identified between pathVar, and both GSEA implementations (Table S12). Although only six two-group comparisons were available to investigate this effect, we saw that four comparisons where the overall data had positive correlations between average and variability had higher numbers of overlapping pathways than the two comparisons with overall data that had negative correlations. More datasets are needed to confirm this observation though, as two of the positive correlations were also small.
Single cell heterogeneity, or inter-cellular variation is a common reality of all cell populations since even isogenic cells have some degree of stochastic gene expression. Across the transcriptome, gene expression variability is not distributed uniformly, and its functional contribution of transcriptional regulation at the single cell-level remains largely unknown. Genes with decreased variability may be useful as potential markers since they have a higher degree of generalizability, where it is easier to predict the expression state for such a gene in any cell in the population. Although the pathVar method is applicable for both single cell and bulk cell datasets, the interpretation of gene expression variability in the context of single cells would provide even more precise insights into how cells are controlled by the transcriptional regulation of certain pathways.
Our analyses on ESCs allowed the opportunity to investigate how expression variability differed between bulk and single cell populations (Text S4). The overall distributions of expression variability indicated that the transcriptome in the bulk ESC data was characterized by lower levels of expression variability compared to both sets of single cells where more genes had medium to higher expression variability. The dependency between variability and average expression appeared to be stronger in the single cell data, while for bulk data, the two variables were almost independently-distributed. It is worthwhile to highlight that the bulk data was profiled using a microarray platform, and the single cell data was from RNA-sequencing so the effect of technology could also be contributing to these observed differences. Nonetheless, these comparisons underscore the importance of investigating the biological significance of variability at single cell resolution.
Conclusion
The pathVar method identifies pathways with aberrant distributions in gene expression variability relative to either a reference distribution, or a contrasting control group. The method is based on an intuitive framework where either a multinomial exact test or Chi-squared test is employed to assess the differences in variability distributions for each pathway using definitions from any standard or custom annotation system. A Binomial test is then used to identify genes within a specific pathway that show differences in gene expression variability. Comparisons benchmarking results from pathVar applied to a variety of gene expression datasets against those obtained using GSEA identified significant pathways showing changes either in average expression, expression variability or both. These results indicate that both population statistics are useful for interpreting significant alterations of pathways and gene sets that underlie transcriptional regulation. The implications of these results suggest that future studies may benefit from analyses of gene expression variability to complement standard analyses of average expression.