Seasonal shifts in accumulation of glycerol biosynthetic gene transcripts in mountain pine beetle, Dendroctonus ponderosae Hopkins (Coleoptera: Curculionidae), larvae
1
Ecosystem Science and Management Program, University of Northern British Columbia

,

Prince George

,

British Columbia

,

Canada
2
Department of Biological Sciences, Simon Fraser University

,

Burnaby

,

British Columbia

,

Canada
3
Michael Smith Laboratories, University of British Columbia

,

Vancouver

,

British Columbia

,

Canada
Published

Accepted

Received
Academic Editor
Subject Areas

Keywords

Bark beetle

,

Mountain pine beetle

,

Overwintering

,

Glycerol

,

Seasonal

,

Cyroprotectant

,

Freeze intolerant

, Dendroctonus ponderosae,

Coleoptera

,

Curculionidae
Copyright

©

2017

Fraser et al.

Licence

This is an open access article distributed under the terms of the Creative Commons Attribution License, which permits unrestricted use, distribution, reproduction and adaptation in any medium and for any purpose provided that it is properly attributed. For attribution, the original author(s), title, publication source (PeerJ) and either DOI or URL of the article must be cited.
Cite this article

2017

. Seasonal shifts in accumulation of glycerol biosynthetic gene transcripts in mountain pine beetle, Dendroctonus ponderosae Hopkins (Coleoptera: Curculionidae), larvae.

PeerJ

5

:

e3284

https://doi.org/10.7717/peerj.3284
Abstract
Winter mortality is a major factor regulating population size of the mountain pine beetle, Dendroctonus ponderosae Hopkins (Coleoptera: Curculionidae). Glycerol is the major cryoprotectant in this freeze intolerant insect. We report findings from a gene expression study on an overwintering mountain pine beetle population over the course of 35 weeks. mRNA transcript levels suggest glycerol production in the mountain pine beetle occurs through glycogenolytic, gluconeogenic and potentially glyceroneogenic pathways, but not from metabolism of lipids. A two-week lag period between fall glycogen phosphorylase transcript and phosphoenolpyruvate carboxykinase transcript up-regulation suggests that gluconeogenesis serves as a secondary glycerol-production process, subsequent to exhaustion of the primary glycogenolytic source. These results provide a first look at the details of seasonal gene expression related to the production of glycerol in the mountain pine beetle.
Introduction
While native to British Columbian forests, the mountain pine beetle, Dendroctonus ponderosae Hopkins (Coleoptera: Curculionidae), population sizes have reached epidemic levels, resulting in the largest infestation on record (Westfall, 2007), causing significant economic and social impact in forestry dependent communities. Winter cold temperatures are often cited as the largest single source of mortality in D. ponderosae (Safranyik, 1978; Cole, 1981; Safranyik & Carroll, 2006; Stahl, Moore & McKendry, 2006; Aukema et al., 2008). While fall and winter temperatures regularly reach far below the equilibrium freezing point of mountain pine beetle bodily fluids, larvae are able to avoid the damaging effects of ice formation.  The phenomenon of quiescence (Powell & Logan, 2005) grants overwintering mountain pine beetle larvae the ability to reallocate limited energy reserves from developmental and basal metabolism toward biosynthesis of antifreeze compounds (Li, Ding & Goto, 2002; Joanisse & Storey, 1994b).
Freeze avoidant insects, like the mountain pine beetle, evade cold mortality by producing cryoprotectants, often polyols, that alter the freezing properties of their bodily fluids (Bale, 2002; Baust, 1983). Glycerol is the most common cryoprotectant used by insects to achieve states of freeze avoidance (Storey & Storey, 2004). While little work has been done to illuminate mechanisms by which the mountain pine beetle achieves a state of cold tolerance, Bentz & Mullins (1999) assessed the composition and seasonal quantity of polyols in mountain pine beetle hemolymph and showed that glycerol is the most abundant cryoprotectant accumulated by overwintering larvae. The metabolic pathways that lead to glycerol production in insects and other animals are well understood (Fig. 1).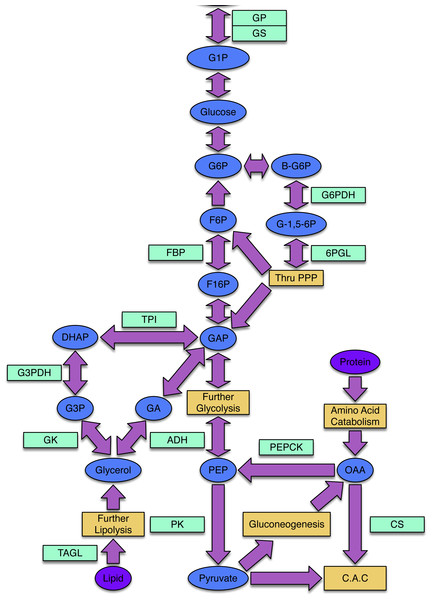 The precise mechanisms by which mountain pine beetle larvae produce glycerol and the timing of production are unknown. Because glycerol is important in cold tolerance physiology in the mountain pine beetle, a better understanding of the dynamics of gene expression related to glycerol biosynthesis is of significant ecological importance, particularly as the insect moves into a new, and colder, habitat (Cullingham et al., 2011; Janes et al., 2014).
The objective of this study was to document seasonal gene expression differences in the mountain pine beetle for genes associated with glycerol production by assessing changes in transcript levels for genes in that biosynthetic pathway.
Conclusion
Differential transcript accumulation of important glycerol biosynthetic pathway genes in overwintering mountain pine beetle larvae support the hypothesis of glycerol production through glycogenolytic, gluconeogenic, and potentially glyceroneogenic pathways, but not through lipolytic means. Aerobic metabolism, as indicated by activity within the citric acid cycle, seems to remain constant during periods of increased glycerol production. The PPP appears to be potentially uninvolved with glycerol production, and an alternative source for reducing equivalents may exist. Transcript accumulation results for TPI and G3PDH along constant expression results for ADH support the hypothesis that glycerol is produced from a DHAP, versus a GAP, intermediate. Glycogenesis does not appear to occur in the spring when glycerol is no longer needed as a cryoprotectant for larvae. Our gene transcript results closely mirror proteomic data produced from the same sample population (Bonnett et al., 2012). This study, and the recently sequenced mountain pine beetle genome (Keeling et al., 2013), provides a foundation for subsequent metabolite investigation, which can further elucidate thermal cues, and levels of regulation other than transcriptional, of seasonal production of glycerol in larval mountain pine beetles.