Contribution of insect pollinators to crop yield and quality varies with agricultural intensification
Published

Accepted

Received
Academic Editor
Subject Areas

Keywords

Biodiversity

,

Pollination

,

Honeybees

,

Wild bees

,

Agroecosystems

,

Ecosystem services
Copyright

©

2014

Bartomeus et al.

Licence

This is an open access article distributed under the terms of the Creative Commons Attribution License, which permits unrestricted use, distribution, and reproduction in any medium, provided the original author and source are credited.
Cite this article

2014

.

Contribution of insect pollinators to crop yield and quality varies with agricultural intensification

.

PeerJ

2

:

e328

https://doi.org/10.7717/peerj.328
Abstract
Background. Up to 75% of crop species benefit at least to some degree from animal pollination for fruit or seed set and yield. However, basic information on the level of pollinator dependence and pollinator contribution to yield is lacking for many crops. Even less is known about how insect pollination affects crop quality. Given that habitat loss and agricultural intensification are known to decrease pollinator richness and abundance, there is a need to assess the consequences for different components of crop production.
Methods. We used pollination exclusion on flowers or inflorescences on a whole plant basis to assess the contribution of insect pollination to crop yield and quality in four flowering crops (spring oilseed rape, field bean, strawberry, and buckwheat) located in four regions of Europe. For each crop, we recorded abundance and species richness of flower visiting insects in ten fields located along a gradient from simple to heterogeneous landscapes.
Results. Insect pollination enhanced average crop yield between 18 and 71% depending on the crop. Yield quality was also enhanced in most crops. For instance, oilseed rape had higher oil and lower chlorophyll contents when adequately pollinated, the proportion of empty seeds decreased in buckwheat, and strawberries' commercial grade improved; however, we did not find higher nitrogen content in open pollinated field beans. Complex landscapes had a higher overall species richness of wild pollinators across crops, but visitation rates were only higher in complex landscapes for some crops. On the contrary, the overall yield was consistently enhanced by higher visitation rates, but not by higher pollinator richness.
Discussion. For the four crops in this study, there is clear benefit delivered by pollinators on yield quantity and/or quality, but it is not maximized under current agricultural intensification. Honeybees, the most abundant pollinator, might partially compensate the loss of wild pollinators in some areas, but our results suggest the need of landscape-scale actions to enhance wild pollinator populations.
Introduction
There is growing evidence that ecosystem services, such as biological pest control and crop pollination, benefit food production (Bommarco, Kleijn & Potts, 2013). Indeed, 75% of the crop species used for food depend on insect pollination to some degree (Klein et al., 2007). More than a decade of active pollination research has led to a greatly improved general understanding on animal pollination benefits to crop yields worldwide (e.g., Klein et al., 2007; Garibaldi et al., 2011; Garibaldi et al., 2013). However, major knowledge gaps remain.
First, we have surprisingly little information on the actual degree of pollinator dependence for some major crops. While some crops depend entirely on insect pollinator visits to set fruit, many others are only partly dependent on animal pollination and can produce more than 90% of the maximum seed or fruit yield without pollinators (Klein et al., 2007). The role of pollinators for crop production has mainly been examined in observational studies, relying primarily on natural variation in visitation rates among observed sites. Experiments directly manipulating insect flower visitation (e.g., excluded pollinators vs. open access of pollinators) are less common for most crops (but see Klein, Steffan-Dewenter & Tscharntke, 2003; Höhn et al., 2008). Assessing pollination dependence with proper controls is needed to correctly estimate the contribution that insect pollinators can provide to crop yields.
Second, most available studies quantify the number of fruits per plant. Fruit number can be a good proxy for yield (Garibaldi et al., 2013), which is the amount of produce harvested per unit area. However, the correlation between the number of fruit produced and yield may be low in some crops. For example, interspecific plant competition can lead to high variability in plant size and thereby fruit production among plants. This is especially critical for crops with indeterminate flowering and a high compensation capacity such as soybean (Glycine max) and oilseed rape (Brassica napus). For these, fruit set measured on a limited number of isolated plants is unlikely to be representative of the real production in a crop stand (Stivers & Swearingin, 1980; Angadi et al., 2003). Moreover, plants can allocate resources for producing fruits of variable size based on the number of fruits per plant and the level of pollination received (e.g., Gonzalez, Coque & Herrero, 1998 in kiwifruit Actinidia deliciosa), such that similar levels of fruit set can differ in total crop yield because of difference in fruit size (Bos et al., 2007). Again, the use of proper control plants from which pollinators are excluded is a way to better estimate the actual contribution of pollinators to yield in such crops.
Quality is also important in crop production, especially from an economic standpoint. Fruit quality can be negatively correlated with quantity when the fruit load on a tree or a vine is too high (e.g., Ferguson & Watkins, 1992 in apple Malus x domestica), but it is not so otherwise, especially in crops with indeterminate flowering such as oilseed rape (Bommarco, Marini & Vaissière, 2012). Indeed, adequate pollination often leads to produce with enhanced quality in entomophilous crops such as orchard fruit production (e.g., in apple—Garratt et al., 2013), as well as in field crops (oilseed rape—Bommarco, Marini & Vaissière, 2012) and small fruits and vegetables (e.g., strawberry Fragaria x ananassa—Andersson, Rundlöf & Smith, 2012; Chagnon, Gingras & Deoliveira, 1993; Roselino et al., 2009; tomato Solanum lycopersicum—Hogendoorn, Bartholomaeus & Keller, 2010; bell peppers Capsicum annuum—Roldan Serrano & Guerra-Sanz, 2006; highbush blueberry Vaccinium corymbosum—Isaacs & Kirk, 2010).
Given the drastic shifts in community composition of insects that visit flowering crops (Winfree, Bartomeus & Cariveau, 2011; Bommarco et al., 2011; Bartomeus et al., 2013a), and declines in numbers of pollinator species observed in some regions (Potts et al., 2010; Carvalheiro et al., 2013), it is increasingly important to gather information on the extent to which different crops depend on insect pollination for yield, and if current pollinator communities fulfill the demand for pollination services such that both crop quality and yields are maximized (Breeze et al., 2011). Relationships between land use intensity, pollinator visitation, and fruit set have been well studied. While pollinator species richness consistently and drastically decays as agricultural landscapes are deprived of natural habitat and are more intensively cultivated (Kennedy et al., 2013), this relationship is much weaker for fruit set (Garibaldi et al., 2011; Chacoff, Aizen & Aschero, 2008; Ricketts et al., 2008). One explanation for this difference is that the remaining pollinators provide sufficient visitation even in homogenous, intensively cultivated landscapes, especially if the crop has a large degree of autonomous self-pollination. Moreover, intensive landscapes are characterized by harboring just a few generalist pollinator species (Bartomeus & Winfree, 2013), but these might be in sufficient numbers to deliver enough crop pollination services. In fact, not all pollinator species respond equally to land use change (Williams et al., 2010; Winfree, Bartomeus & Cariveau, 2011), and some even increase in abundance with agricultural intensification (Westphal, Steffan-Dewenter & Tscharntke, 2003; Carré et al., 2009). This diversity of pollinator responses can, in some cropping systems, buffer a loss of pollination functioning (Cariveau et al., 2013); especially so if the pollinators who are the main ecosystem service providers are adapted to the ephemeral and patchy resource distribution that is typical for agricultural landscapes. Moreover, although wild insects increase fruit set independently of honeybee visits (Garibaldi et al., 2013), honeybees are less dependent on landscape characteristics because they are mainly managed, particularly in North America and Europe, and can be moved around in the landscape. Hence, honeybees can also help mitigate against wild pollinator loss in more intensively used landscapes where pollination services are degraded. In any case, the composition of the landscape in which the flowering crop field is embedded emerges as an important driver for pollinator community composition, and the landscape context needs to be considered when linking land use to pollination provisioning and benefits in field crops.
Here we used pollinator exclusion on the flowers or inflorescence on a whole plant basis in a set of crops under standard field conditions, to quantify pollinator dependency for four economically important annual crops in Europe. We assessed pollinator contribution to both yield quantity and quality. By replicating this experiment along a landscape gradient for each crop, we were able to test the hypothesis that pollinator visitation rate decrease with agricultural intensification and its consequences for crop pollination services and production.
Results
Landscape effects on bee richness and visitation
Pollinator species richness ranged from 2 to 26 species per site (Table 1). The flower visitors of all crops were highly dominated by one or two species of pollinators, in most cases managed honeybees. In field beans, the dominant species were bumblebees; Bombus terrestris/lucorum complex, followed by B. hortorum and B. lapidarius (Fig. 2). Simple landscapes had consistently lower species richness in all crops (GLMM: F1,35 = 5.39, P = 0.02; Fig. 3A). All crops responded similarly (slope ± SE = −8.43 ± 3.63), but with different intercepts (field bean = −8.39; buckwheat = 1.90; oilseed rape = 3.14; strawberry = 3.35).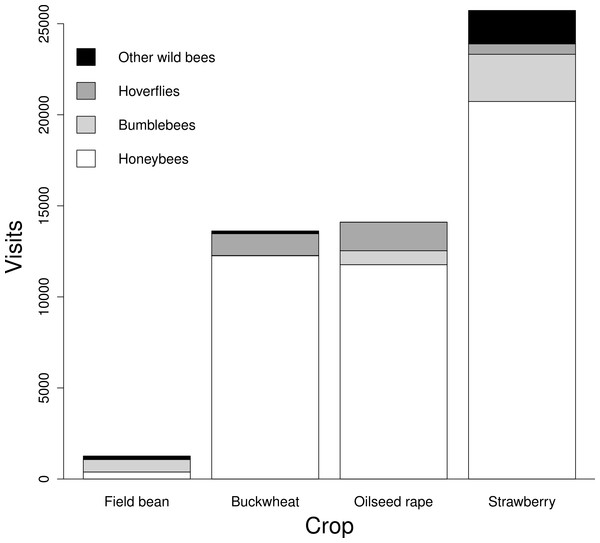 This trend is consistent when using rarefied species richness (GLMM: F1,35 = 3.66, P = 0.06). However, the pollinator abundance trend depended on the crop (Table 2; Fig. 3B). Visitation patterns were driven by the visitation of a single species, the managed honeybee, in all crops except for field beans (Table 2). While in most regions honeybee visits were also higher in complex landscapes, in buckwheat there were higher honeybee visits in simple landscapes. For field beans, this positive relationship between number of visits recorded and landscape was even more pronounced at larger scales when we analyze the primary pollinators, the bumblebees, alone (F1,8 = 6.44, P = 0.03 at 1.5 km radius). Honeybee visits is not strongly correlated with overall non-honeybee visits (field bean pearson r = 0.19; buckwheat = 0.47; oilseed rape = 0.51; strawberry = 0.32), and we do not detect an effect of landscape on overall non-honeybee visitation (Table 2).
| | F-value | D.f. | P-value |
| --- | --- | --- | --- |
| Total visitation | | | |
| Crop | 3.13 | 3 | 0.04 |
| Agriculture 1 km | 0.05 | 1 | 0.81 |
| Agriculture*crop | 3.08 | 3 | 0.04 |
| Residuals | | 32 | |
| Slopes | Estimate | SE | |
| Field bean | 0.52 | 2.19 | |
| Buckwheat | 1.78 | 4.86 | |
| Oilseed rape | −4.78 | 4.99 | |
| Strawberry | −2.83 | 5.57 | |
| Honeybee visitation | | | |
| Crop | 2.05 | 2 | 0.15 |
| Agriculture 1 km | 2.63 | 1 | 0.12 |
| Agriculture*crop | 3.87 | 2 | 0.03 |
| Residuals | | 32 | |
| Slopes | Estimate | SE | |
| Buckwheat | 1.72 | 1.41 | |
| Oilseed rape | −4.59 | 3.56 | |
| Strawberry | −3.38 | 4.21 | |
| Non-honeybee visitation | | | |
| Crop | 0.56 | 3 | 0.64 |
| Agriculture 1 km | 0.92 | 1 | 0.35 |
| Agriculture*crop | 3.34 | 3 | 0.03 |
| Residuals | | 32 | |
| Slopes | Estimate | SE | |
| Field bean | 2.50 | 0.72 | |
| Buckwheat | 0.06 | 1.59 | |
| Oilseed rape | −0.19 | 1.64 | |
| Strawberry | 0.55 | 1.81 | |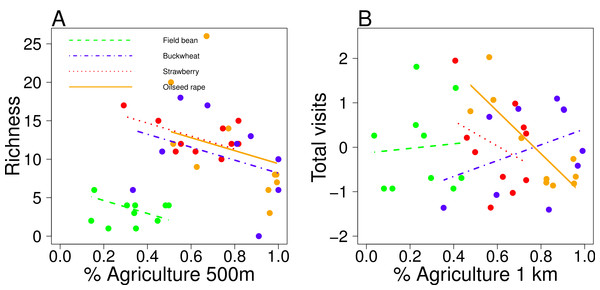 Yield quantity and quality
Fruit or seed number per plant were in all cases positively correlated with yield (measured as weight per plant). However, the correlation was stronger in some crops than others (oilseed rape: R2 = 0.95, P < 0.0001; field bean: R2 = 0.90, P < 0.0001; strawberry: R2 = 0.61, P < 0.0001; buckwheat: R2 = 0.67, P < 0.0001).
Open pollination increased yield for all crops (field bean estimate = 16.42 ± 3.30 g/plant, df = 67, t = 4.97, P = 0.03; buckwheat estimate = 42.44 ± 8.27 g/plant, df = 24, t = 5.12, P < 0.001; oilseed rape estimate = 0.87 ± 0.38 g/plant, df = 69, t = 2.22, P = 0.03; strawberry estimate = 2.16 ± 0.41 g/plant, df = 67, t = 5.30, P < 0.001; Fig. 4). When analyzing all crops in combination, we did not detect an interaction between treatment and species richness, which indicates that higher richness does not increase yield in any of the treatments. However, total visitation rate increased yield in both treatments (Fig. 5A) and the response was consistent among crops as indicated by the fact that allowing the variation in the slope of each crops do not improve the model (Δ AICc between competing models = 15). Interestingly, landscape complexity measured as % of agricultural land (both at 0.5 or at 1 km) also showed a significant interaction with treatment, indicating that simpler landscapes had lower yields in the open pollinated plants. However, the trend for net-bagged plants was reversed (Table 3; Fig. 5B).
| | F-value | Df | P-value |
| --- | --- | --- | --- |
| Pollination treatment | 51.51 | 226 | <0.001 |
| Pollinator richness | 0.37 | 27 | 0.547 |
| Total number of visits | 6.65 | 27 | 0.015 |
| Agriculture 1 km radius | 0.01 | 27 | 0.946 |
| Treatment*Pollinator richness | 0.01 | 226 | 0.973 |
| Treatment*Total number of visits | 0.15 | 226 | 0.701 |
| Treatment*Agriculture | 9.67 | 226 | 0.002 |
| | Estimate | SE | |
| Slope visits net | 0.33 | 0.13 | |
| Slope visits open | 0.28 | 0.21 | |
| Slope agriculture net | 0.65 | 0.54 | |
| Slope agriculture open | −0.53 | 0.91 | |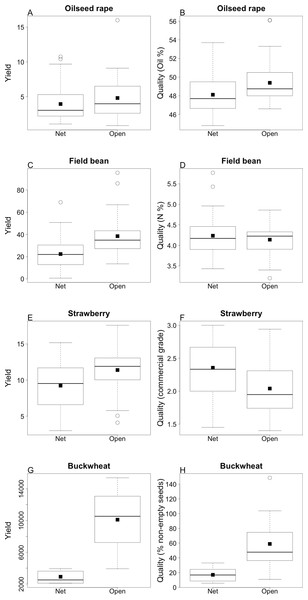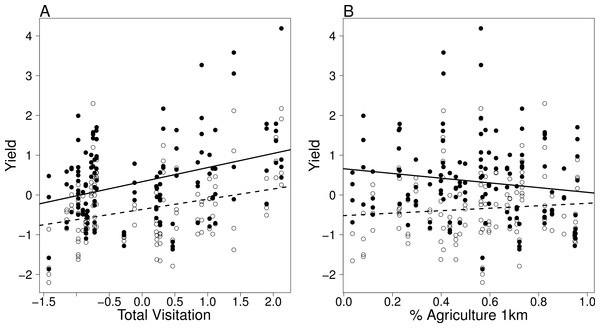 In addition to quantity, the quality of oilseed rape, buckwheat and strawberry increased in the open pollination treatments (oilseed rape: oil content estimate = 1.28 ± 0.31%, df = 39, t = 4.18, P < 0.001; chlorophyll content estimate = −4.15 ± 1.76 ppm, df = 39, t = −2.37, P = 0.02; buckwheat: percentage of filled seeds estimate = 0.08 ± 0.01%, df = 12, t = 6.35, p < 0.001; strawberry: commercial grade estimate = −0.32 ± 0.06, df = 67, t = −5.36, p < 0.001). On the other hand, the nitrogen content of field beans did not increase on open-pollinated plants (estimate = −0.10 ± 0.08%, df = 37, t = −1.16, p = 0.25; Fig. 4).
Discussion
Four economically important entomophilous annual crops in Europe demonstrated highly different degrees of insect pollination dependence. When open pollinated, mean yield increases ranged from 18 to 71% depending on the crop. Three of these crops are listed as having a "modest" positive impact by animal pollination in the comprehensive review by Klein et al. (2007). However, despite being in the same category, oilseed rape and strawberry increased around 20%, while field bean reached a 40% increase in yield from average levels of insect pollination. The fourth crop, buckwheat is listed as having a large positive impact by animal pollination, in line of our reported 71% increase. The review by Klein et al. (2007) is currently the best available, most up to date source of animal pollination dependence on crops, but our data highlight a disparity of results among crops listed under the same category. Our quantitative data on animal pollination dependence provides a first step to depart from the uncertainty embedded in a categorical approach. For example, dependence on animal pollination can change by variety and region. Recent reports show variability in pollinator dependence between 0 and 30% among varieties of oilseed rape (Stanley, Gunning & Stout, 2013; Garratt et al., 2013). While we were able to standardize variety for most studied crops, strawberry fields were planted with four different varieties and the presented data should be seen as an average across those varieties (but see Klatt et al., 2014).
As expected, we found that fruit or seed number per plant was positively correlated with yield measured as weight of the marketable product per plant. However, this correlation was rather weak (r2 ∼ 0.60) for both strawberry and buckwheat. This indicates that for these crops, the total fruit or seed weight was quite variable among plants with similar fruit or seed numbers. Indeed, for strawberry, the size of the receptacle is directly related to the number of fertilized achenes, while for buckwheat the proportion of filled seeds can vary considerably and is a major component of yield besides fruit set. While previous research has focused mainly on exploring the effects of pollinators on fruit or seed set (e.g., Garibaldi et al., 2011; Garibaldi et al., 2013), which is a more direct measure of plant reproduction, yield has the potential to better reflect economic value (Bommarco, Marini & Vaissière, 2012; Klatt et al., 2014), and hence, farmers' interest. For example, while less than 20% in mean yield increase may seem as a modest advantage from the plant perspective, for the farmers it can translate into a substantial difference in revenue.
Similarly, we report that the yield quality component is enhanced to different extents by open pollination in three out of four crops. For buckwheat, strawberry, and oilseed rape, quality is directly linked to the pollinating activity of insects. We find this despite the fact that the measure of quality and underlying mechanisms are specific for each crop, and largely unrelated among crops. Empty seeds in buckwheat accumulate little or no starch (Björkman, 1995). The shape of strawberries is directly related to a complete pollination of all ovules, resulting in a homogeneously pollinated fruit (Zebrowska, 1998). For oilseed rape, the plant allocate more oil resources to well pollinated seeds. In contrast, for field beans, the nitrogen content in the seeds was not affected by insect pollination. Other factors such as soil fertility and availability of the appropriate N-fixing bacteria (Rhizobium spp.) may play a more important role for field beans (Köpke & Nemecek, 2010). However, note that we detected no trade-off between yield and nitrogen content of the seeds, as plants with more seeds did not have lower nitrogen content. Hence, the overall protein yield (i.e., nitrogen content at the plant level) was increased with open pollination.
The treatment with netted flowers gives us estimates for the extreme cases where pollinators are completely absent, and we show that the current levels of pollination are insufficient to increase yield in the open pollinated treatment in all landscapes. As previously reported, we confirm that agricultural intensification has a drastic effect on bee species richness (Ricketts et al., 2008; Garibaldi et al., 2011). However, total visitation does not always follow the same pattern as richness. This is the case for buckwheat and field bean, where fields presenting higher total visits were located in simple landscapes. For buckwheat, most of the visits in complex landscapes were due to increased honeybee densities managed for pollination. Unfortunatelly, there is no detailed information on where hives were placed in the landscape by local beekeepers as the hives were primarily put out for honey production, rather than pollination services. In field beans we found that bumblebees responded positively to agricultural simplification, noting, however, that even the more simple field beans landscapes contain a fair amount of semi-natural habitats. Overall, we found a general positive relationship between total visitation rates and yield, but not with species richness. If the remaining species that thrive in intensively cultivated agricultural areas, including the managed honeybee, are effective pollinators, yield losses can be partly decoupled from losses of species (Bartomeus & Winfree, 2013). However, our approach does not allow us to test if current pollinator levels reach the maximum achievable yield under optimal pollination conditions.
A recent global meta-analysis highlights the role of wild species in crop systems (Garibaldi et al., 2013). The flower visitors of three out of four crops were clearly dominated by honeybees (Fig. 2) and hence, are likely to be key pollinators for those crops. Garibaldi et al. (2013) show that an increase in wild insect visitation enhanced fruit set by twice as much as an equivalent increase in honeybee visitation. While this is generally the case in our target crops (three of which were included as part of Garibaldi's synthesis), the numerical advantage of honeybees in European agricultural landscapes needs to be acknowledged when calculating their total contribution to pollinated plants (e.g., as done in Winfree et al., 2007; Rader et al., 2009). However, increasing or maintaining high pollinator diversity can enhance yield quantity and stability by improving the pollination efficiency of honeybees (Greenleaf & Kremen, 2006) and reduce the risk of pollination failure due to climate change (Rader et al., 2013; Bartomeus et al., 2013b), or environmental disturbances such as extreme weather events (Brittain, Kremen & Klein, 2012).
Overall, we also found a weak negative effect of land use intensity on yield (Garibaldi et al., 2011, but see Ricketts et al., 2008), but this was not directly mediated by increased pollinator visitation by itself, because the correlation between pollinator total visits and the proportion of agricultural land in the landscape was weak. The yield of experimental plots with net bagged flowers also increased in sites with more pollinators (Fig. 5A). This suggests that other environmental or biotic factors correlated with insect visitation may have been operating simultaneously. The release of airborne pollen by foraging bees could be such a factor (Pierre et al., 2010).
In order to make efficient management decisions and increase our power to predict the actual benefit from pollinators in a certain farming situation, we need to estimate the combined contribution of multiple ecosystem services and agricultural inputs (Boreux et al., 2013), as they may be influenced differently by landscape characteristics or have non-additive interactions among them (e.g., Lundin et al., 2013; Martin et al., 2013).
Information on the benefit delivered by pollinators to yield quantity and quality in relation to landscape context provides an important baseline for this work.
Supplemental Information
Data used for the analysis
Insect richness, visits per guild, mean yield and quality are reported for each site. See text for details. Data is in csv format, skip 2 first lines when importing in a data analysis program.