A transdisciplinary approach to the initial validation of a single cell protein as an alternative protein source for use in aquafeeds
Published

Accepted

Received
Academic Editor
Subject Areas

Agricultural Science, Aquaculture, Fisheries and Fish Science, Biotechnology, Food Science and Technology, Microbiology

Keywords

Biotechnology

,

Aquaculture

,

Single cell protein

,

Shrimp

,

Salmon

,

Methylotrophs

,

Alternate protein

,

Food security

,

Microbiome

,

Smallmouth grunt
Licence

This is an open access article, free of all copyright, made available under the Creative Commons Public Domain Dedication. This work may be freely reproduced, distributed, transmitted, modified, built upon, or otherwise used by anyone for any lawful purpose.
Cite this article

2017

.

A transdisciplinary approach to the initial validation of a single cell protein as an alternative protein source for use in aquafeeds

.

PeerJ

5

:

e3170

https://doi.org/10.7717/peerj.3170
Abstract
The human population is growing and, globally, we must meet the challenge of increased protein needs required to feed this population. Single cell proteins (SCP), when coupled to aquaculture production, offer a means to ensure future protein needs can be met without direct competition with food for people. To demonstrate a given type of SCP has potential as a protein source for use in aquaculture feed, a number of steps need to be validated including demonstrating that the SCP is accepted by the species in question, leads to equivalent survival and growth, does not result in illness or other maladies, is palatable to the consumer, is cost effective to produce and can easily be incorporated into diets using existing technology. Here we examine white shrimp (Litopenaeus vannamei) growth and consumer taste preference, smallmouth grunt (Haemulon chrysargyreum) growth, survival, health and gut microbiota, and Atlantic salmon (Salmo salar) digestibility when fed diets that substitute the bacterium Methylobacterium extorquens at a level of 30% (grunts), 100% (shrimp), or 55% (salmon) of the fishmeal in a compound feed. In each of these tests, animals performed equivalently when fed diets containing M. extorquens as when fed a standard aquaculture diet. This transdisciplinary approach is a first validation of this bacterium as a potential SCP protein substitute in aquafeeds. Given the ease to produce this SCP through an aerobic fermentation process, the broad applicability for use in aquaculture indicates the promise of M. extorquens in leading toward greater food security in the future.
Introduction
Aquaculture is the fastest growing source of animal protein for humans. However, as this industry continues to develop, several inherent challenges will arise. Foremost is the need for increased production of suitable and sustainable feeds. Aquaculture has long been criticized for "using fish protein to make fish protein" (Naylor et al., 2009). This "fishmeal trap" (New & Wijkström, 2002) caused the industry to prioritize improving feed conversion ratios and finding alternative protein sources (Naylor et al., 2009). While soy is the most common terrestrial plant protein used in fishmeal substitution to date, many environmental concerns surround the land-use and fertilizer run-off requirements associated with soy production. Additionally, palatability and anti-nutritional factors, as well as unintended biological consequences (e.g., gastroenteritis in salmon, Romarheim et al., 2011), limit the immediate and broad application of unmodified soy and other plant proteins.
Alternatively, single cell proteins (SCP), mainly yeast, algae, and bacteria, show much promise for aquaculture (Naylor et al., 2009). SCP has historical roots in Germany when, during the First World War, approximately 50% of imported protein was offset by yeast (Suman et al., 2015). Today, spent yeast cells from corn ethanol fermentation processes are commonly blended with dried distiller's grains and solubles in terrestrial animal feeds (Kim & Dale, 2004). However, the high fiber content of this blend limits its use in aquaculture (Gatlin et al., 2007). Similarly, algae are grown commercially in ponds or bioreactors for use in food, cosmetics, oil and nutritional supplements. To date, the large scale application of algae as an alternative protein source is limited by high production costs and technical challenges (Spolaore et al., 2006).
Bacterial biomass, while currently the least developed SCP, has potentially great applicability as a protein replacement for aquaculture. Here we test the applicability of Methylobacterium extorquens, an abundant leaf symbiont that can grow rapidly and to high densities on the non-food, single-carbon (C1) feedstock methanol (Schrader et al., 2008). Given the large production levels of natural gas-derived methanol, this has driven a new wave of research into C1 biotechnology, much of which has been with M. extorquens (Ochsner et al., 2015). M. extorquens has attracted this attention as the premier model organism for growth on C1 compounds because of its relative metabolic versatility, the large suite of genetic tools developed for it, and the availability of full genome sequences for multiple strains (Vuilleumier et al., 2009; Marx et al., 2012). Being produced through a fermentation process, this SCP is immune to seasonality or other undue climate influences (e.g., extreme temperatures, droughts, floods). One particular endogenous trait that provides advantage is that M. extorquens contains a suite of naturally occurring anti-oxidant carotenoid compounds that have been associated with both imparting color and enhancing immunity (Osawa et al., 2015; Van Dien et al., 2003). Carotenoid compounds, such as astaxanthin and canthaxanthin, are commonly added to aquaculture feeds to provide aquacultured product with the color of wild counterparts (Tlusty & Hyland, 2005). Carotenoid compounds often represent one of the most expensive ingredients in feed. Also, some carotenoids are precursors of vitamin A and many have antioxidant properties important to immune systems. The principal method for the manufacturing of pigments to serve the aquaculture industry is often by chemical synthesis, which is restricted for use in certain jurisdictions (e.g., European Union). These natural traits of M. extorquens offer a uniquely powerful opportunity to rapidly advance and tailor SCP for specific nutritional benefits.
Before the full potential of SCP for aquaculture can be realized, a number of interdisciplinary first principles must be established (Engle, 2016; Rhodes, Johnson & Myers, 2016). These include demonstrating that diets containing SCP (1) are accepted by the species in question, (2) result in equivalent survival and growth as individuals raised with traditional feeds, (3) do not cause illness or other maladies, (4) result in an organoleptically suitable product, and (5) are cost effective to manufacture and feed.
Here, we describe the production and use of KnipBio Meal (KBM), a novel high-yielding platform biocatalyst using Methylobacterium extorquens, as an effective protein source for aquafeeds. We tested this SCP as a potential feed item in two species of commercial aquaculture value (Pacific white shrimp, Litopenaeus vannamei, and, Atlantic salmon, Salmo salar) and one of ornamental aquaculture value (smallmouth grunt, Haemulon chrysargyreum, Tlusty et al., 2017). Specifically, we conducted feeding trials using Pacific white shrimp and smallmouth grunt to determine the effect of KBM (up to 30% or 100% fishmeal inclusion rates, depending on species) on animal growth, health, and survival. Additionally, we conducted a trial using Atlantic salmon to determine the digestibility of the KBM compared to a commercially available reference diet. Together, these data represent the initial trials for the feasibility of KBM as a suitable SCP for use in aquafeeds.
Results
Pacific white shrimp
Diet had no effect on shrimp survival (one-way ANOVA, F2,9 = 2.4, p > 0.1, combined average =84.7 ± 5.6%); however, diet did influence shrimp growth (one-way ANOVA, % weight gain, F2,9 = 5.4, p < 0.05; SGR, F2,9 = 8.6 g d−1, p < 0.01). Shrimp fed diet with 100% FM replacement (SHR-KH) grew less than those fed the control diet (SHR-C), and shrimp fed diet with 50% FM replacement (SHR-KL) showed growth intermediate to, and not statistically different from either SHR-C or SHR-KH (Table 4). Diet influenced shrimp feed efficiency (one-way ANOVA, F2,9 = 5.27, p < 0.05, Table 4). The food conversion ratio (FCR) of shrimp fed diets containing KBM (SHR-KL and SHR-KH) were not statistically different than those fed the control diet (SHR-C, 1.70 ± 0.12, orthogonal contrast, Q Test = − 0.99, p > 0.7). The shrimp fed the SHR-KH had a statistically greater FCR than those fed SHR-KL (orthogonal contrast, Q Test = − 4.48, p < 0.05).
| | % Weight gain | SGR g −1 | FCR |
| --- | --- | --- | --- |
| SHR-C | 150.9 ±4.9%a | 2.92 ±0.05a | 1.70 ±0.12a,b |
| SHR-KL | 140.8 ±10.9%a,b | 2.81 ±0.09a,b | 1.59 ±0.06a |
| SHR-KH | 128.6 ±11.8%b | 2.64 ±0.14b | 1.95 ±0.05b |
In the consumer taste trial, diet did influence shrimp preference (df = 4, χ2 = 9.8, p < 0.05). This was largely because shrimp fed diet SHR-C received more votes as "most preferred" (50% of all first place votes). The shrimp fed diets SHR-KL and SHR-KH each received 25% of the "most preferred" votes. However, there was no diet difference in the shrimp that was voted "least favorite"; each diet received 1/3 of the last place votes.
Smallmouth grunt
Diet had no effect on grunt mortality, length, weight, condition factor, or specific growth rate (SGR) (for all variables, one-way ANOVA F3,8 > 2.85). Only 12 of the 120 grunts died during the experiment, and no more than one fish was lost per tank. For all fish, the average weight increase was 353.2 ± 45.9%, length increase was 48.4 ± 6.2%, condition factor was 2.3 ± 0.2, and SGR was 3.8 ± 0.3 g d−1. Average feed conversion ratio (FCR) per treatment ranged from 1.09–1.24. Diet did affect fish proximate composition (one-way ANOVA F3,8 = 4.3, p < 0.05), where fish fed the control diet (GRU-C1) had the greatest protein content (dry matter, 56.3 ± 1.9%), while those fed diet with 50% FM replacement (GRU-KH) had the lowest (52.93 ± 1.2), while the control diet with pigment (GRU-C2) and the diet with 10% FM replacement (GRU-KL) were intermediate and not statistically different from the extremes (R30: 53.6 ± 1.0%; C+: 53.76 ± 1.1%. The percent fat on a dry matter basis, while not significant, exhibited the opposite trend to protein with the fish fed GRU-C having 22.9 ± 2.2% fat, while those fed diet GRU-KL had 27.3 ± 1.3% fat.
Diet did not significantly affect grunt gut microbial community (adonis, p > 0.05). Regardless of diet, ∼60% of the fish gut microbiome was composed of three types of bacteria: Halomonas, Oxalobacteracaea, and Shewanella. The composition of the remaining microbial community varied among individuals, but differences in the total number of operational taxonomic units among treatments was not statistically significant (Fig. 1), and there was no clear treatment grouping on the principal coordinates analysis.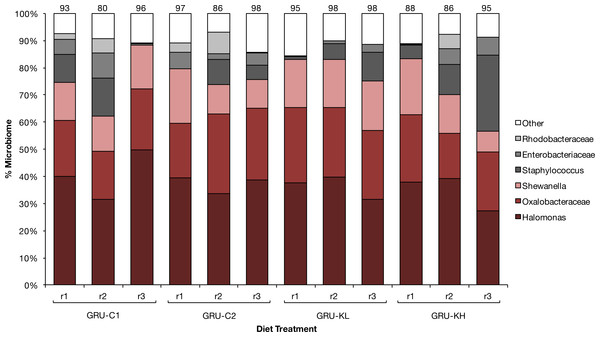 Atlantic salmon
For salmon, KBM inclusion had no measurable effect on the Apparent Digestibility Coefficient (ADC) value. The ADC for protein was slightly greater for the animals fed the control diet compared to the 30% inclusion KBM diet (67.8 ± 2.8 and 63.0 ± 3.1 (averages ±1 S.D.) respectively). Diet did have a positive although insignificant influence amino acid digestibility, as the KBM diet (SAL-K) resulted in better digestibility for seven of the eight essential amino acids and six of the 11 non-essential amino acids (Table 5) than the control (SAL-C) diet (for all amino acids, binomial probability, ∏ = 0.5p < 0.08).
Nutrient
Digestibility (%)
SAL-C
SAL-K
Crude Protein
72.32
69.12
Essential amino acids
Lysine
74.76
79.37
Methionine
75.46
82.01
Histidine
78.14
80.95
Isoleucine
70.72
77.72
Leucine
70.51
81.63
Phenylalanine
75.83
75.26
Tryptophan
77.46
77.71
Valine
74.65
78.82
Nonessential amino acids
Aspartic acid
69.13
70.24
Threonine
68.52
71.37
Serine
79.19
79.89
Glutamine
80.53
79.54
Proline
74.62
80.25
Glycine
70.26
69.73
Alanine
70.35
75.54
Cysteine
60.99
69.56
Tyrosine
77.94
75.80
Arginine
90.03
83.42
Discussion
Ultimately, innovative sources of protein are required to meet the feed needs of aquaculture (Naylor et al., 2009) if aquaculture will meet its projected doubling by 2030 (Kobayashi et al., 2015). The production of single cell proteins (SCP) is one potential high quality protein alternative to fishmeal, and has the potential to stabilize the rising aquafeed input costs and address the over-harvesting of pelagic fisheries for use in fishmeal. This will ultimately lead to a more resilient and sustainable global food supply.
Here we demonstrated the broad applicability of KnipBio Meal, made from Methylobacterium extorquens, as a viable protein source for use in aquafeeds. When fed to fishes it resulted in equivalent performance in growth for grunts, and ADC for salmon as trials using traditionally formulated diets containing fishmeal. The salmon demonstrated higher digestibility for amino acids in the KBM diets. The FCR of shrimp was best when there was 50% substitution with KBM, yet growth (weight gain and SGR) was greatest in the control diets. Overall, this suite of results is encouraging given that there was no engineering, selection, or tuning of the bacteria to be more suitable as an aquaculture feed or to achieve advanced feed formulation considerations. These results also suggest that KBM contains no anti-nutritional properties, a common hurdle to overcome in the adoption of plant-derived alternate feed ingredients (Francis, Makkar & Becker, 2001; Refstie et al., 2005). The anti-nutritional properties may be a reason that prior studies on plant-based feed substitution have reported changes in the intestinal microbiome, with associated decreased health outcomes (Desai et al., 2012; Green, Smullen & Barnes, 2013; Ingerslev et al., 2014; Rhodes, Johnson & Myers, 2016). This diet-based gut microbiome modulation (Estruch et al., 2015) can help indicate inadequate diets. Thus, our observed lack of treatment related difference in the gut microbiome of the smallmouth grunts in this study should be considered significant in that it suggests M. extorquens is of sufficient quality in this early stage testing to garner support as a SCP feed additive.
Diet apparent digestibility coefficient (ADC) values for protein were slightly lower for the KBM diet compared to fishmeal (73.2%–69.1%), a result consistent with prior findings (Skrede et al., 1998; Storebakken et al., 2004). Amino acids can drive ADC values, and the relative proportion of lysine, methionine and histidine could influence the greater ADC in the fishmeal.
While the initial tests with KBM in aquaculture feed are promising, further development is still required, particularly in two areas. First, a diet treatment difference was observed that resulted in a minor difference in shrimp taste. Often, studies involving protein substitution in aquaculture will result in a less palatable product (De Francesco et al., 2004). Within this study, while the shrimp fed the control diets were the most preferred, it is noted that all treatments were represented equally within the third-ranked (least-preferred) category. Thus, none of the treatments had an unpalatable flavor or texture, and, in the words of Tamar Haspel, writer for The Plate, the shrimp fed the KBM diets "tasted like shrimp" (Haspel, 2015). A second issue associated with sub-scale pellet manufacturing was the inclusion of air bubbles in the shrimp diet SHR-KH (100% KBM replacement) that did not sink as well as the other two diets (SHR-LK and SHR-C). While all pellets were consumed by shrimps, those fed SHR-HK did need to swim in the water column to retrieve some of the pellets, while those fed SHR-LK and SHR-C mostly fed off the tank floor. Additionally, diet SHR-KH seemed to be less palatable as the shrimps had a lower feed efficiency of this than the other diets. Whether this is an absence of an attractant not replaced in SHR-KH or the absence of a critical nutritional component like methionine (DA Davis, pers. comm., 2015) in the diet, the exact cause is unknown at this time. While minor adjustments to the diet formulation will be necessary, they likely will not be onerous, and this work gives promise for M. extorquens as a SCP in aquafeeds.
In early stage technology development, sub-optimal bioprocessing volumes, feed pellet manufacturing and other related operation scales can magnify negative results. As such, the cost effectiveness of KBM production has not yet been validated and was beyond the scope of this study. However, one immense potential efficiency advantage of SCP as a protein source is to small amount of space required for production. An estimated 40.5 ha SCP facility can match the protein production of a 4047 ha soy operation, dramatically reducing the environmental footprint of production. The ability to make a fishmeal alternative, combined with vital ingredients like anti-oxidant carotenoids, both simplifies and diversifies the raw ingredients available to feed manufacturers while avoiding the exploitation of marine resources. Continued work to scale up KBM and other SCP solutions is required to create a cost effective near-term solution for alternate protein sources for aquafeeds. Based on this research, we believe KBM can be used as a dietary component, and upon further investigation, could serve as a complete fishmeal substitution for aquafeeds without compromising feed performance. The use of this SCP will ensure future food security by creating novel resources to grow larger volumes of aquatic protein that does not complete with humans and terrestrial livestock for limited resources.
Supplemental Information
KBM raw data