Automated identification of insect vectors of Chagas disease in Brazil and Mexico: the Virtual Vector Lab
Published

Accepted

Received
Academic Editor
Subject Areas

Keywords

Identification

,

Chagas disease

,

Triatominae

,

Automation

,

Primary occurrence data
Copyright

©

2017

Gurgel-Gonçalves et al.

Licence

This is an open access article distributed under the terms of the Creative Commons Attribution License, which permits unrestricted use, distribution, reproduction and adaptation in any medium and for any purpose provided that it is properly attributed. For attribution, the original author(s), title, publication source (PeerJ) and either DOI or URL of the article must be cited.
Cite this article

2017

.

Automated identification of insect vectors of Chagas disease in Brazil and Mexico: the Virtual Vector Lab

.

PeerJ

5

:

e3040

https://doi.org/10.7717/peerj.3040
Abstract
Identification of arthropods important in disease transmission is a crucial, yet difficult, task that can demand considerable training and experience. An important case in point is that of the 150+ species of Triatominae, vectors of Trypanosoma cruzi, causative agent of Chagas disease across the Americas. We present a fully automated system that is able to identify triatomine bugs from Mexico and Brazil with an accuracy consistently above 80%, and with considerable potential for further improvement. The system processes digital photographs from a photo apparatus into landmarks, and uses ratios of measurements among those landmarks, as well as (in a preliminary exploration) two measurements that approximate aspects of coloration, as the basis for classification. This project has thus produced a working prototype that achieves reasonably robust correct identification rates, although many more developments can and will be added, and—more broadly—the project illustrates the value of multidisciplinary collaborations in resolving difficult and complex challenges.
Introduction
The challenge of identifying insects important in public health or agriculture is significant, since efficient surveillance and mitigation often depend on non-expert or community participation, and yet often must focus on particular species (e.g., Dias, Silveira & Schofield, 2002). Dichotomous keys have long been the primary tool for most taxonomic identifications, although their use is limited by the expertise required (Gaston, 1992; Drew, 2011). Alternatives, such as creation of cooperative extension programs, as at state and federal land-grant institutions across the United States (Allen & Rajotte, 1990), are expensive in terms of resources and personnel; recent approaches creating online field guides have made identification more efficient, but again are labor-intensive (Stevenson, Haber & Morris, 2003). DNA barcoding has also been explored as a substitute for morphology-based identification, but its cost and lack of efficacy preclude its use outside research or emergency efforts (Hebert & Gregory, 2005; Meier et al., 2006).
The possibility of automating the identification process has long been discussed and explored (Weeks et al., 1997; Gaston & O'Neill, 2004; MacLeod, 2007; MacLeod et al., 2010). Progress has been made in using acoustic or other waveforms to identify some taxa (e.g., birds, Orthoptera; Moore & Miller, 2002; Chesmore, 2004; Acevedo et al., 2009), and the Digital Automated Identification SYstem (DAISY) has been used with some success based on optical imagery in several insect groups (Weeks et al., 1997; Weeks et al., 1999; Watson, O'Neill & Kitching, 2003). Certain contributions have focused on improving the algorithms and approaches to identification (Schroder et al., 1995; Weeks et al., 1997; Kang, Jeon & Lee, 2012; Kang, Song & Lee, 2012; Wang et al., 2012a; Wang et al., 2012b), whereas others have made steps toward more full automation of the process (Arbuckle et al., 2001; Mayo & Watson, 2007; Yang et al., 2015).
Progress in automating identification of medically important vectors, however, has been slower. Although some advances have been made toward automated identification of mosquitoes (Culicidae) using wing venation (Zhou, Ling & Rohlf, 1985; Lorenz, Ferraudo & Suesdek, 2015), more effort has centered on DNA barcoding as a solution (Cywinska, Hunter & Hebert, 2006; MBI, 2009). For sand flies (Psychodidae), the only steps towards automating identification have been via mass-spectrophotometry of proteins (Mathis et al., 2015) and DNA barcoding (Pinto et al., 2015). Automated identification of ticks (Ixodidae and Argasidae) and kissing bugs (Triatominae) has not been attempted, although many morphometric studies have been developed (e.g., Voltsit & Pavlinov, 1995; Dujardin & Slice, 2007), and online identification keys have now been implemented to provide some level of identification support at least in Brazil (http://triatokey.cpqrr.fiocruz.br/).
Here, we present a fully-automated visual identification system for kissing bugs (Triatominae: Hemiptera: Reduviidae; full nomenclatural details for each species are provided in Tables 1 and 2), vectors of Trypanosoma cruzi, the etiologic agent of Chagas disease. Beginning with a high-quality photographic image, we have automated all steps from preparing and processing the image to identifying landmarks and running and interpreting identification routines. We implement this system for the triatomines of Brazil (39 species) and Mexico (12 species, including the three haplogroups of the Triatoma dimidiata complex), but are already broadening the scope of the project to all triatomines (https://vectorlab.org), and are exploring the transfer of the techniques employed to other medically important arthropod groups.
| Species | Sample size | Success rate |
| --- | --- | --- |
| Cavernicola lenti Barrett & Arias, 1985 | 15 | 93.3 |
| Eratyrus mucronatus Stål, 1859 | 10 | 80.0 |
| Panstrongylus diasi Pinto & Lent, 1946 | 30 | 96.7 |
| Panstrongylus geniculatus (Latreille, 1811) | 45 | 93.3 |
| Panstrongylus lignarius (Walker, 1873) | 28 | 85.7 |
| Panstrongylus lutzi Neiva & Pinto, 1923 | 34 | 88.2 |
| Panstrongylus megistus Burmeister, 1835 | 84 | 91.7 |
| Psammolestes tertius Lent & Jurberg, 1965 | 29 | 100.0 |
| Rhodnius brethesi Matta, 1919 | 28 | 96.4 |
| Rhodnius domesticus Neiva & Pinto, 1923 | 27 | 96.3 |
| Rhodnius milesi Carcavallo, Rocha, Galvão & Jurberg, 2001 | 37 | 89.2 |
| Rhodnius montenegrensis Rosa et al. 2012 | 39 | 84.6 |
| Rhodnius nasutus Stål, 1859 | 73 | 82.2 |
| Rhodnius neglectus Lent, 1954 | 60 | 83.3 |
| Rhodnius pictipes Stål, 1872 | 43 | 95.3 |
| Triatoma arthurneivai Lent & Martins, 1940 | 32 | 78.1 |
| Triatoma baratai Carcavallo & Jurberg, 2000 | 29 | 82.8 |
| Triatoma brasiliensis Neiva, 1911 | 64 | 76.6 |
| Triatoma carcavalloi Jurberg, Rocha & Lent, 1998 | 38 | 86.8 |
| Triatoma circummaculata (Stål, 1859) | 21 | 85.7 |
| Triatoma costalimai Verano & Galvão, 1958 | 63 | 85.7 |
| Triatoma delpontei Romana & Abalos, 1947 | 29 | 86.7 |
| Triatoma guazu Lent & Wygodzinsky, 1979 | 28 | 64.3 |
| Triatoma infestans (Klug, 1834) | 54 | 83.3 |
| Triatoma juazeirensis Costa & Felix, 2007 | 21 | 81.0 |
| Triatoma lenti Sherlock & Serafim, 1967 | 19 | 78.9 |
| Triatoma maculata (Erichson, 1848) | 39 | 89.7 |
| Triatoma matogrossensis Leite & Barbosa, 1953 | 32 | 75.0 |
| Triatoma melanica Neiva & Lent, 1941 | 29 | 79.3 |
| Triatoma pintodiasi Jurberg, Cunha & Rocha, 2013 | 25 | 88.0 |
| Triatoma platensis Neiva, 1913 | 27 | 74.1 |
| Triatoma pseudomaculata Correa & Espínola, 1964 | 55 | 70.9 |
| Triatoma rubrovaria (Blanchard, 1843) | 54 | 59.3 |
| Triatoma sherlocki Papa, Jurberg, Carcavallo, Cerqueira & Barata, 2002 | 31 | 93.5 |
| Triatoma sordida (Stål, 1859) | 96 | 81.2 |
| Triatoma tibiamaculata (Pinto, 1926) | 41 | 92.7 |
| Triatoma vandae Carcavallo, Jurberg, Rocha, Galvão, Noireau & Lent, 2002 | 29 | 69.0 |
| Triatoma vitticeps (Stål, 1859) | 47 | 85.1 |
| Triatoma williami Galvão, Souza & Lima, 1965 | 17 | 70.6 |
| Species | Sample size | Success rate |
| --- | --- | --- |
| Panstrongylus rufotuberculatus (Champion, 1899) | 7 | 100.0 |
| Triatoma barberi Usinger, 1939 | 29 | 72.4 |
| Triatoma dimidiata (Latreille, 1811) HG1 | 44 | 70.5 |
| Triatoma dimidiata (Latreille, 1811) HG2 | 30 | 76.7 |
| Triatoma dimidiata (Latreille, 1811) HG3 | 40 | 82.5 |
| Triatoma gerstaeckeri (Stål, 1859) | 12 | 83.3 |
| Triatoma longipennis Usinger, 1939 | 51 | 72.5 |
| Triatoma mazzottii Usinger 1941 | 22 | 77.3 |
| Triatoma mexicana (Herrich-Schaeffer, 1848) | 45 | 80.0 |
| Triatoma nitida Usinger, 1939 | 15 | 46.7 |
| Triatoma pallidipennis Stål, 1872 | 43 | 90.7 |
| Triatoma phyllosoma (Burmeister, 1835) | 58 | 46.6 |
The Automatization Workflow
Results
We had available to us a total of 1,903 images of 67 Brazilian species and 428 images of 19 Mexican triatomine species (Table 1; see http://hdl.handle.net/1808/21560). Since few images were available for 28 of the Brazilian species and 7 of the Mexican species, efforts were concentrated on 39 Brazilian and 12 Mexican species for which sufficient images were available (12 in all cases, except Panstrongylus rufoturberculatus in Mexico, for which only seven were available). Automated morphological measurements from these images (N = 1,502 for Brazil and N = 396 for Mexico) and the landmarks extracted therefrom showed considerable spread in each country, suggesting that different species present measurably different shapes that can serve as an effective base for identification exercises (Fig. 4).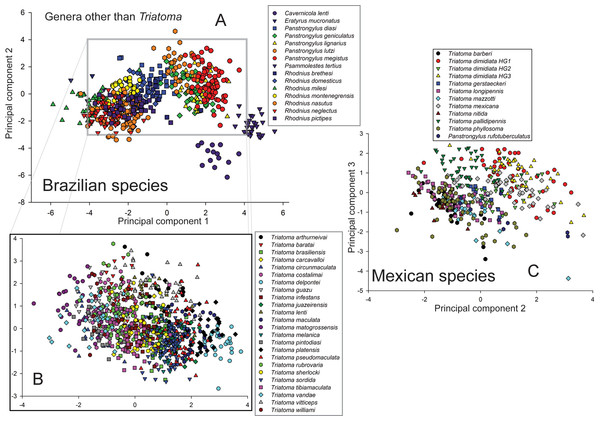 In general, our classification efforts resulted in successful identifications of triatomine specimens. Even in the extreme challenge of identifying an image of a bug from among all species for which we had sufficient numbers of images, our average identification success rate (i.e., average of species averages) was 87.8% for Brazilian and 80.3% for Mexican species. We note that inclusion of two color characteristics improved the correct identification rate for T. pallidipennis from 69.8% to 90.7%. Indeed, this color characteristic alone improved overall correct identification rates even among the 39 Brazilian triatomines from 78.4% to 84.0%. Addition of the absolute-size characteristic (total length) provided further improvement of overall correct identification rates, yielding the final rates of 80.3% (Mexico) and 87.8% (Brazil).
The basic result is encouraging, as it indicates that sufficient information exists in the variation among species in shape to support automated identification, and that color- and size-related features may allow significant improvements. The identification ability rose notably when we moved to our reduced-fauna identification process (described below). Confusion matrices for each country as data sets (http://hdl.handle.net/1808/21560), which show how each image was classified correctly or incorrectly, and, in the latter case, for which species was the image mistaken; overall success rates are presented in Tables 1 and 2.
Looking across the 39 Brazilian species, identification success rates ranged from 100.0% (Eratyrus mucronatus, Panstrongylus diasi, Psammolestes tertius) to as low as 58.8% (T. williami). For seven species, identification success was 95% or above; for 18 species, success was 90% or above; and for 31 species, identification success was 80% or above. The worst-classified species (T. williami) was confused in three cases with T. matogrossensis, in two cases with T. guazu, (and others with which single images are confused); the second-worst-classified species (T. guazu) was mistaken for five different species. For Mexican species, identification success rates were lower, ranging from 100.0% (Panstrongylus rufotuberculatus) to as low as 60.0% (T. nitida); for three species, identification success was 90% or above; for seven species, identification success was 80% or above.
Exploring the effect of number of reference species on the success of identification exercises, we rarefied the species from each country at random to produce smaller numbers of species among which to discriminate (Fig. 5). For Brazilian species, the correct identification rate rose from 88.0% for 37-species subsets to 99.4% for 2-species subsets, in an approximately linear manner. This relationship translated into an improvement of 0.335% in classification rate for every reduction of one species. For Mexican species, identification success was uniformly lower (80.7% for 11 species, rising to 97.6% for 2-species subsets); curiously, the rate of improvement of identification success with smaller faunas was higher, at 2.11% per reduction of one species (Fig. 5).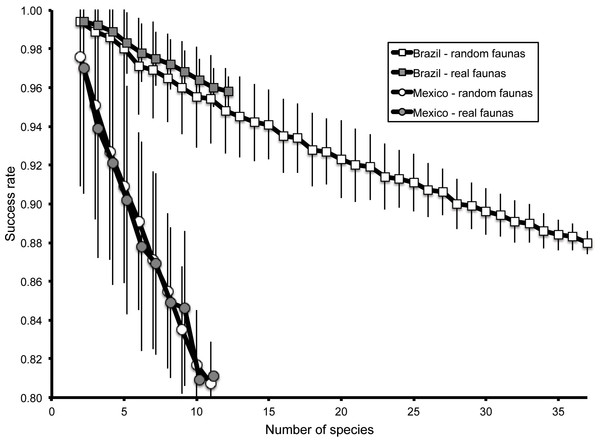 A further question centered on the relationship between real-world sets of co-occurring species versus the random subsets analyzed. We used our library of maps of distributional areas to identify combinations of species potentially present at localities, which ranged as high as 12 species in Brazil and 11 species in Mexico (Fig. 3). Correct identification rates among the real-world sets of species did not differ significantly from the random reductions (Fig. 5): that is, the same relationship characterized real-world and random combinations.
Given the clear advantage of classifying images among smaller pools of species, the biggest challenge for our methodology is when the species image submitted is not among the pool among which one is testing; that is, when the presence of the species is a surprise (e.g., poorly known species' distributions, human-mediated dispersal outside of the species' distribution). On this front, we have encountered challenges; that is, as a backup, we can simply identify images against the broader suite of all 39 species in Brazil, for which we have a correct identification rate of 87.8%, though numbers for Mexico are a more disappointing 80.3% among 12 species. We conducted large numbers of tests, seeking some relationship between classifier outputs and whether or not the 'true' species is included in the pool, but have not encountered any clear signal.
Discussion
This study presents "full" automation of the identification process for the Triatominae, a medically important insect group. That is, with our system described above, once an image is captured, all processing is automated and no human intervention is needed. This level of autonomy distinguishes the Virtual Vector Lab from other such efforts (Mayo & Watson, 2007), and exists thanks to the multidisciplinary team that worked on this project from diverse perspectives: visual art, computer science, insect taxonomy, biogeography, etc. Some limitations still exist, and are reviewed in the next section.
Caveats
Although our overall, country-wide success rates were above 80%, our key to success in getting relatively high correct identification rates is the creation of small pools of candidate species from which to choose the answer, which we achieve via reference to distribution maps for each of the triatomine species. That is, we have dedicated considerable time and effort to the challenge of understanding geographic distributions of each triatomine species in Brazil (Costa, Peterson & Beard, 2002; Almeida et al., 2009; Gurgel-Gonçalves et al., 2011; Costa & Peterson, 2012; Gurgel-Gonçalves et al., 2012; Costa et al., 2014) and Mexico (Ramsey et al., 2000; Beard et al., 2002; Peterson et al., 2002; López-Cárdenas et al., 2005; Ibarra-Cerdeña et al., 2009; Ibarra-Cerdeña et al., 2014; Ramsey et al., 2015). These mapping efforts, of course, are based on what information is available, and—as such—can improve through time, particularly if the Virtual Vector Lab is eventually tied to databases that archive the results of large numbers of identification exercises for triatomines from many sites.
The dimension of the identification challenge in which further effort and innovation are needed is when the specimen to be identified is collected outside its predicted distribution and therefore is not represented in the local-fauna pool of species. We experimented at great length to address this problem, but were not successful in arriving at a concrete solution. Two interesting features that were noted were as follows. Results from pairwise species identification exercises were remarkably stable with regard to which species were included in the identification challenge. Our majority-vote approach to reconciling many individual species-by-species comparisons was usually won by a single vote—i.e., often, two species 'tied' as the most likely identification, so the winning vote was the direct, head-to-head comparison of those two species. Hence, it appears that little information is available to guide the identification process other than the head-to-head comparisons. Certainly, a good indicator of probable problems is when the local-fauna identification and the global-fauna identification do not agree; we have experimented with what to do when this "red flag" is raised, and have a number of possible solutions (e.g., add the global-fauna choice to the local fauna list, and re-run the estimator), but the success of this approach depends on the success rate of the global identifier. This challenge will be a focus of our continuing efforts.
Where our identification routines tend to fail more frequently is—not at all surprisingly—in comparisons within the species complexes that are known within the Triatominae (Lent & Wygodzinsky, 1979; Schofield & Galvão, 2009). For example, within the protracta complex in Mexico, our routines had great difficulty in differentiating T. barberi from T. nitida. Within the phyllosoma complex, six species are included in this analysis, and T. phyllosoma was the most often confused with complex-specific sister species, The three dimidiata complex haplogroups were as differentiated among themselves, as with all other species, the closest being the species morphologically most similar outside the complex (T. mexicana).
Future steps
For the moment, a constraint on the Virtual Vector Lab system is the requirement for high-quality images of the bugs. That is, much of our initial processing is possible thanks to the uniform blue background, the even lighting provided by our photo apparatus, and the use of a macro lens. We expect that combining our ongoing algorithm advancements with the rapidly increasing capabilities of cell-phone cameras should first allow discontinuation of need for a macro lens and dedicated iPod, and eventually of need for the photo platform apparatus itself, in successful analysis of triatomine images. Such developments would empower fully non-expert and community participation in development and use of the Virtual Vector Laboratory via any common cell phone and a dedicated application. Development and testing of those functionalities is a priority in the next phase of the project.
Another constraint on our present implementation is that of the initial assumption that the photograph is indeed a triatomine as a starting point to identification exercises. Distinguishing a triatomine from, say, a mosquito or a tick should be simple, but comparisons with other reduviids will be much more challenging. The reason that we chose triatomines as a first focal group for the Virtual Vector Lab is their size and relatively flat, two-dimensional morphology. To distinguish triatomines from other reduviids may require other views of the insect (antennae, legs, proboscis), although we have not as-yet conducted the necessary tests. Similar concerns apply to juvenile life stages: our present implementation is restricted to adults, the most likely stage in contact with humans. We may best deal with these challenges via instructions to users that will allow them to eliminate non-triatomines a priori, but that will also be explored in future phases of the project (Valdez-Tah et al., 2015).
A major source of optimism is that we have achieved very satisfactory correct identification rates working almost exclusively with information on shape of the bugs, which compares well with results of previous such efforts: 84% among five species of papilionid butterflies by Wang et al. (2012a), 93% among few species at the ordinal level by Wang et al. (2012b), 85.7–100% among 17 species of mosquitoes based on wing-shape characters (Lorenz, Ferraudo & Suesdek, 2015), and 90–98% among seven species of Neuroptera (Yang et al., 2015). From the two-dimensional images available to us, we can, in theory, take advantage of information on shape, size, and coloration. Using one of these three realms of information (shape), with some additional information from coloration and size, we have managed quite-useful accuracy in identifications, even among the three cryptic haplogroups traditionally considered under the name T. dimidiata (HG1 75.0%, HG2 80.0%, HG3 82.5%).
As an indication of the promise of still-better identification success that can come from adding information on color to our classifiers, we explored the utility of a classifier focused on the white patch on the corium of T. pallidipennis. Not only did this classifier resolve most of the confusion that our previous classifier had encountered with distinguishing between T. pallidipennis and T. phyllosoma (sister species), but indeed the addition of one color-related metric in our data matrix improved our classification success even for Brazilian triatomines by 3.2%. We obtained similar improvements in identification success upon including an absolute size measure. As such, in future efforts, we will explore more complete variable sets characterizing shape, size, and coloration.
Recently evolved species within complexes are clearly providing the greatest challenges for the system, even though the system is also giving us insights into shape and sister clades. The three T. dimidiata haplogroups in Mexico, clearly very closely related species, had previously been recognized based on molecular evidence, yet our morphometric analyses resulted in identifications with accuracy similar to that among other North American complexes. As such, we see great promise in a next generation of classifiers that will integrate morphometrics with characteristics corresponding to the interior of the body of the triatomines (as with the scutellum), and particular to the relative coloration of different portions of the body. We are also optimistic that specific classifiers and metrics can be built for each species pair that presents challenges to the more generic classifier that we have described in this paper.
Finally, extension of these general approaches to other groups is eminently feasible. Certainly, two-dimensional imagery is easiest to obtain and manage, such that organisms with relatively flattened body forms will be most tractable (e.g., ticks), although wings of other groups (e.g., mosquitoes and sandflies) may also offer opportunities (Zhou, Ling & Rohlf, 1985; Godoy et al., 2014; Lorenz, Ferraudo & Suesdek, 2015). Small size may present some level of challenge, as we will have to manage the complexities of magnification and associated distortion, but our photo apparatus has been designed to allow addition of accessories to facilitate such challenges in imaging. Ticks are probably the most logical next priority, in light of their size and relatively low species diversity (on the order of 700 species; Guglielmone et al., 2010), and considering the growing appreciation of ticks as significant vectors of many human and livestock diseases (Burgdorfer, 1977; Friedhoff, 1997; Parola, Paddock & Raoult, 2005). Agricultural pests will likely offer additional fruitful, tractable, and interesting sets of challenges.
In the future, we anticipate deployment of such systems more broadly—e.g., to medical personnel—as well as the broader public, to provide identification services for medically or economically important arthropod groups. The suite of methods described here provides a low-cost avenue to capture of high-quality images of triatomines and is promising to permit specific identification of triatomines. Quite simply, the broader initiative has the potential to open the knowledge of a handful of experts to a much-broader public that may benefit from access to entomological identification services.