Transcriptomic analysis reveals metabolic switches and surface remodeling as key processes for stage transition in Trypanosoma cruzi
1
Unidad de Biología Molecular, Institut Pasteur de Montevideo

,

Montevideo

,

Uruguay
2
Departamento de Bioquímica, Facultad de Medicina, Universidad de la República

,

Montevideo

,

Uruguay
3
Sección Biomatemática, Unidad de Genómica Evolutiva, Facultad de Ciencias, Universidad de la República

,

Montevideo

,

Uruguay
Published

Accepted

Received
Academic Editor
Subject Areas

Keywords

Chagas disease

,

Metabolic regulation

, Trypanosoma cruzi,

Surface proteins

,

RNA-seq
Copyright

©

2017

Berná et al.

Licence

This is an open access article distributed under the terms of the Creative Commons Attribution License, which permits unrestricted use, distribution, reproduction and adaptation in any medium and for any purpose provided that it is properly attributed. For attribution, the original author(s), title, publication source (PeerJ) and either DOI or URL of the article must be cited.
Cite this article

2017

. Transcriptomic analysis reveals metabolic switches and surface remodeling as key processes for stage transition in Trypanosoma cruzi.

PeerJ

5

:

e3017

https://doi.org/10.7717/peerj.3017
Abstract
American trypanosomiasis is a chronic and endemic disease which affects millions of people. Trypanosoma cruzi, its causative agent, has a life cycle that involves complex morphological and functional transitions, as well as a variety of environmental conditions. This requires a tight regulation of gene expression, which is achieved mainly by post-transcriptional regulation. In this work we conducted an RNAseq analysis of the three major life cycle stages of T. cruzi: amastigotes, epimastigotes and trypomastigotes. This analysis allowed us to delineate specific transcriptomic profiling for each stage, and also to identify those biological processes of major relevance in each state. Stage specific expression profiling evidenced the plasticity of T. cruzi to adapt quickly to different conditions, with particular focus on membrane remodeling and metabolic shifts along the life cycle. Epimastigotes, which replicate in the gut of insect vectors, showed higher expression of genes related to energy metabolism, mainly Krebs cycle, respiratory chain and oxidative phosphorylation related genes, and anabolism related genes associated to nucleotide and steroid biosynthesis; also, a general down-regulation of surface glycoprotein coding genes was seen at this stage. Trypomastigotes, living extracellularly in the bloodstream of mammals, express a plethora of surface proteins and signaling genes involved in invasion and evasion of immune response. Amastigotes mostly express membrane transporters and genes involved in regulation of cell cycle, and also express a specific subset of surface glycoprotein coding genes. In addition, these results allowed us to improve the annotation of the Dm28c genome, identifying new ORFs and set the stage for construction of networks of co-expression, which can give clues about coded proteins of unknown functions.
Introduction
Trypanosoma cruzi is the causative agent of Chagas disease, a chronic and endemic disease affecting millions of people mainly in America (http://www.who.int/mediacentre/factsheets/fs340/en/). This protozoan parasite has a complex life cycle involving both vertebrate and invertebrate hosts, and extracellular and intracellular stages (Brener, 1973). These environmental switches involve dramatic changes in the physiology of these parasites. In fact, T. cruzi has three main stages during its life cycle: trypomastigotes (infective and non-replicative), amastigotes (replicative and intracellular in the vertebrate host), and epimastigotes (replicative and insect-specific) (Brener, 1973; Vickerman & Preston, 1976).
These stages have been defined initially by morphological characteristics (Chagas, 1909) and, as expected, they imply changes at the cellular level, including surface composition and energy metabolism. Specifically, while epimastigotes are highly active in catabolism and anabolism related pathways, and potentially use nutrients from different origins (lipids, proteins, sugars) (Cazzulo, 1984; Cazzulo, 1992), trypomastigotes have low levels of transcription and translation, being specialized in attachment and infection of cells. In turn, amastigotes, although metabolically more active than trypomastigotes, do not have the versatility of epimastigotes in responding to different nutritional situations (Engel et al., 1987), even though very little information is available about amastigote metabolism.
Regarding the cellular surface, T. cruzi has a dense glycocalix formed by a large number of GPI-anchored proteins that to a certain extent constitutes an identity hallmark of these parasites (Acosta-Serrano et al., 2001). These surface proteins belong to several multigene families, product of gene expansion phenomena, which represents a characteristic feature of T. cruzi. Their biological relevance relies on the interaction with the immune system, resistance to low pH, and antibody clearance among others (Buscaglia, Campo & Frasch, 2006). These parasites are potentially able to remodel their surface, although large-scale studies of all the surface genes at the transcriptomic level were not performed up to date.
The above mentioned changes obviously require a fine regulation of gene expression. However, unlike most eukaryotes, trypanosomes have peculiarities in the genome organization and transcription. The genome of trypanosomatids is organized in clusters of protein-coding genes located on the same DNA strand, separated by relatively short intergenic regions (Daniels, Gull & Wickstead, 2010). With a few exceptions, genes do not contain introns, and the clusters are transcribed as long nuclear polycistronic units. This particular organization probably explains why only a few promoters have been found in trypanosomes. mRNAs maturation in trypanosomes involves trans-splicing and polyadenylation. Trans splicing is responsible for the addition of a capped spliced leader sequence (SL RNA) in the 5′UTR of each gene. Its mechanism is similar to that of cis-splicing. This process is coupled to the polyadenylation of the 3′ end of the gene located upstream on the same polycistronic RNA molecule. As a consequence, a molecule of mature mRNA (capped, polyA+, transpliced) is released from the polycistron and exported to the cytoplasm, where it can be translated. Therefore, in trypanosomes the 5′UTR is the sequence segment located between the SL and the first translated codon, whereas the 3′UTR is defined in the same way as in other eukaryotes. In contrast to bacterial operons, trypanosomatid polycistronic units do not contain genes that are functionally related. Moreover, despite their contiguity in the primary transcript, individual genes from the same transcription unit can show markedly different expression patterns (Vanhamme & Pays, 1995). This observation indicates that in trypanosomes regulation of gene expression operates mainly at the post-transcriptional level. The final outcome of protein production of trypanosomatids is indeed regulated at different levels with complex mechanisms. Recently, it has been demonstrated by ribosome profiling the relevance of mRNA translation efficiency in the abundance of specific proteins in Trypanosoma cruzi (Smircich et al., 2015) and other trypanosomes (Jensen et al., 2014; Parsons et al., 2015; Vasquez et al., 2014). However, in trypanosomatids only about 10 percent of the reads obtained by this technique are mappable due to the shortness of the sequence covered by the ribosome and the high amount of repetitive sequences and multigene families in these species. Therefore, some precaution is needed with the interpretation of the overall results. Regulation of gene expression in trypanosomes operates mainly at the post-transcriptional level, and numerous studies have demonstrated that 3′UTR regions affect mRNA stability, and hence differential expression (Clayton, 2016; Kramer & Carrington, 2011). Although the exact mechanisms allowing specificity are still unknown, some evidence has indicated that different domains in the 3′UTRs could explain, at least in part, changes in expression (Da Silva, Bartholomeu & Teixeira, 2006; Di Noia et al., 2000; Jager, Muia & Campetella, 2008). In spite of the importance of post-transcriptional changes, standard RNAseq analysis has proved to be a very informative tool for assessing expression profiles in trypanosomatids (Dillon et al., 2015; Fernandes et al., 2016; Greif et al., 2013; Kolev et al., 2010; Li et al., 2016; Siegel et al., 2010).
In this work we aimed to know which were the main transcriptomic changes during the life cycle of T. cruzi, with special emphasis on surface and energy metabolism remodeling. RNAseq of the three main stages of the parasite was performed, and allowed us to identify genes with important variation in their expression patterns (statically significant and with large size effects) at the RNA level. A systemic view about the features of gene reprogramming along the life cycle of Trypanosoma cruzi can be significant for future identification of key molecules to be used in the control of Chagas disease.
Material & Methods
Parasites
Epimastigotes were grown in liver infusion tryptose medium (LIT) supplemented with 10% heat inactivated fetal bovine serum (FBS) at 28°C (Robello et al., 1997). Trypomastigotes were collected from supernatants of infected monolayers of Vero cells (ATCC®CCL-81) in DMEM medium at 37°C under 5% CO2. Extracellular amastigotes were obtained by incubating trypomastigotes recently released from the cells in DMEM medium at 37°C under 5% CO2 for 24 h as previously described (Chiribao et al., 2012).
RNA purification and quality control
Parasites were washed three times with PBS, and pellets directly lysed with Tri Reagent (Sigma-Aldrich, St. Louis, MO, USA). In order to obtain high quality samples the extracted RNA was further purified with IllustraRNAspin Mini Kit (GE Healthcare). Quantification was performed in a Qubit (Invitrogen), exhibiting a high content of total RNA, and quality was tested in a BioAnalyzer 2100 (Agilent Technologies), obtaining RNA integrity number (RIN) values above 8 in all the samples.
RNA-seq library construction, quality control and sequencing
Directional libraries were constructed for each T. cruzi stage, by using oligo dT primers and reverse transcription. Quality control of the length of the library was done with BioAnalyzer DNA 1000 kit (Agilent Technologies), and quantification was performed with KAPA Library Quantification Kit (Kapa Biosystems). 15 pM of the libraries (mean length  = 350 nt), were clustered on an Illumina Single Read Flow Cell in cBot (Illumina). Single read 72 and 36 cycles of sequencing was performed on GAIIx instrument with Illumina Sequencing kits (TruSeq SBS v5-GA kit; Illumina). Raw data were deposited in the NCBI database under SRA accession number SRP072022.
Bioinformatics and data analysis
For each stage, two libraries were generated of 36 and 72 bp each. Reads were filtered for ribosomal RNA, and a minimum of quality phred score of 20. After filtering a total of 43.98 × 106, 40.52 × 106 and 44.28 × 106 reads of amastigotes, trypomastigotes and epimastigotes were obtained, respectively. Reads were aligned to the reference genome of T. cruzi Dm28c (24, 30-Mar-2015) using Bowtie (allowing two/three base pair mismatches for 36/72bp reads respectively).
To estimate transcript levels, we used ERANGE software that considers the unique regions of the genes to re-normalize the assignment of multimatching reads. The CDS plus an extension of 200bp at both sides (to the normalization process) were processed. The raw counts are presented in Table S9.
Differential expression analyses were performed using the R/Bioconductor package DESeq2.
Normalized counts were obtained from DESeq2 with the function count (dds, normalized  = T), and are presented in Table S9. Genes were considered as deferentially expressed (DEGs) when the following conditions were met: they were statistically significant as indicated by a FDR value lower than 0.05 (FDR is the False Discovery Rate, a correction of the p-value to account for multiple simultaneous tests) and had a fold change in transcript abundance of at least two (in either direction).
Gene Ontology enrichment analyses were performed using Tritrypdb tools (http://tritrypdb.org) with Fisher exact test filtering for false discovery rate (FDR) lower than 0.05.
Visual inspection of the alignment was performed using The Integrative Genomics Viewer (IGV) (Robinson et al., 2011).
In order to find possible new transcripts, libraries were pooled and aligned to reference genome using Bowtie (seed length 15, maximum mismatches in seed 1). The de novo RNA-Seq transcript assembly was performed using Cufflinks including the bias correction, the 'rescue method' for multi-reads and the 3′ overhang-tolerance set to 200 (Trapnell et al., 2010). TransDecoder was used to identify candidate coding regions within transcript sequences and open reading features (ORFs) smaller than 300 pb were discarded. Functional annotation of the translated ORF was done by HMM search (HMMER 3.1 (Mistry et al., 2013) against pfam database (Finn et al., 2014) and by Blastp search against nr NCBI (all non-redundant GenBank CDS translations) filtering for e-value lower than 1 × 10−5. Further filter including minimum alignment identity of 60%, minimum query alignment length 60% and, minimum subject alignment length 60% were incorporated to select complete genes.
3′UTR sequences of Dm28c genes were obtained from http://tritrypdb.org/tritrypdb/, extracting 400 pb after the transcriptional stop codon.
Alignments were performed with Clustalw2 (Larkin, Blackshields et al. 2007) and phylogenetic analysis with PhyML3.1 (Guindon et al., 2010). Modelgenerator (Keane et al., 2006) was used to select adequate substitution models. JTT was used for protein sequences and HKY85 was selected for nucleotide sequences. Visualization of phylogenies was performed with Figtree 1.4.2 (http://tree.bio.ed.ac.uk/software/figtree/).
For GPI identification we used PredGPI predictor (Pierleoni, Martelli & Casadio, 2008). A total of 782 proteins were identified to present at least one potential GPI-modification site.
Results and Discussion
In the present work we have determined and compared the transcriptome profiling of the three main life cycle stages of the parasite Trypanosoma cruzi. PolyA+ RNA from parasites was purified, and libraries were constructed for amastigotes (A3 and A7), trypomastigotes (T3 and T7) and epimastigotes (E3 and E7), and sequenced by Illumina technology; after filtering for poor quality sequencing scores, we got around 4 × 107 reads for each stage (Table 1). Reads were aligned to the reference genome of T. cruzi Dm28c using Bowtie (Langmead et al., 2009), allowing two mismatches for 36 nt reads and three mismatches for 72 nt reads. The amounts of reads that were of good quality and also aligned to reference genome for each library are presented in Table 1. As shown in this table around 60% of the reads map into the reference genome, which represents a significant proportion taking into account the still incomplete state of the Dm28c genome assembly.
| Library | Read length | Total reads | Aligned reads | % Aligned reads | Read counts in CDS* | % read counts in CDS* |
| --- | --- | --- | --- | --- | --- | --- |
| A3 | 36 | 37.972.908 | 21.083.527 | 55,5 | 10.150.097 | 48,1 |
| A7 | 72 | 6.011.870 | 2.644.677 | 44,0 | 1.314.640 | 49,7 |
| T3 | 36 | 37.549.496 | 24.880.138 | 66,3 | 10.941.002 | 44,0 |
| T7 | 72 | 2.976.919 | 1.604.848 | 53,9 | 716.431 | 44,6 |
| E3 | 36 | 35.740.671 | 24.024.322 | 67,2 | 9.482.211 | 39,5 |
| E7 | 72 | 8.540.435 | 5.496.063 | 64,4 | 2.192.983 | 39,9 |
*
CDS extended 200bp at both sides.
A

amastigotes

T

tryomastigotes

E

epimastigotes
In order to determine and quantify the transcript levels of each gene in the different stages, reads were assigned to coding sequences (CDS) using Enhanced Read Analysis of Gene Expression ERANGE (Mortazavi et al., 2008). Basically ERANGE assigns reads that map uniquely in the genome. For those reads matching equally to two or more sites, this program uses the extended coding sequences (we have chosen 200 nt at both sides of the CDS, see Methods) assigning them to their most likely site. Total reads counts are presented in Table 1. It is noteworthy that 50% of the mapped reads do not map in CDS but in other regions of the genome (Table 1). Visual inspection of the density (sequencing depth) of mapped reads suggests that several reads mapped on UTRs regions, predominantly on 3′UTR. It should be mentioned that T. cruzi UTR lengths vary according to the gene size, and have been estimated from experimentally mapped genes to range from 10-400 bp for 5′UTR and 17-2800 bp for 3′UTR (Brandao & Jiang, 2009), being 3′UTR 2-3 times longer than its corresponding 5′UTR (Ziccardi & Brandao, 2011). This result reinforces previous findings showing the relevance of 3′UTRs in the regulation of gene expression (Coughlin et al., 2000; Da Silva, Bartholomeu & Teixeira, 2006; Di Noia et al., 2000; Nozaki & Cross, 1995; Weston, La Flamme & Van Voorhis, 1999).
A second point that needs to be considered here is that most of the sequenced T. cruzi genomes are still in a "draft-like" form, mainly due to the high number of repetitive sequences. Indeed, T. cruzi genome consists of more than 50% repeats that include surface molecule genes and several other gene families, as well as the poorly characterized retroelements (Arner et al., 2007; El-Sayed et al., 2005). Additionally, we cannot discard that many assembled regions are not completely annotated. In this regard the RNA-seq data can be used to help detect novel transcripts and new genes. In the following sections we will focus our analysis on surface genes, metabolic pathways and the annotation of potentially new genes.
Conclusions
In this work we conducted a RNA-seq analysis in Trypanosoma cruzi, a species of great medical importance since it is the causative agent of Chagas disease. We have sequenced RNA populations from the three stages of the life cycle of the parasite using Illumina technology. This technology in combination with computational tools was used to perform a comparative analysis of gene expression along the life cycle of T. cruzi.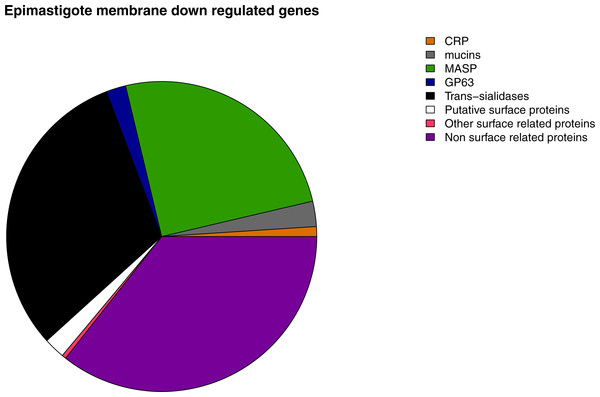 A correlation between patterns of gene expression and previously described metabolic features of each stage was found. Metabolic pathway analysis of highly expressed genes in epimastigotes revealed that they are related to ATP production pathways such as Krebs cycle, pyruvate metabolism, respiratory chain, oxidative phosphorylation and nitrogen metabolism. Biosynthetic pathways related genes are also up-regulated at this stage, being the most important steroid biosynthesis. Gene ontology analysis confirms the pathway enrichment analysis, since the biological processes related to ATP biosynthesis such as carbohydrate and amino acid metabolic catabolism are the most important in epimastigotes, whereas most of the surface genes are down-regulated at this stage (Fig. 7).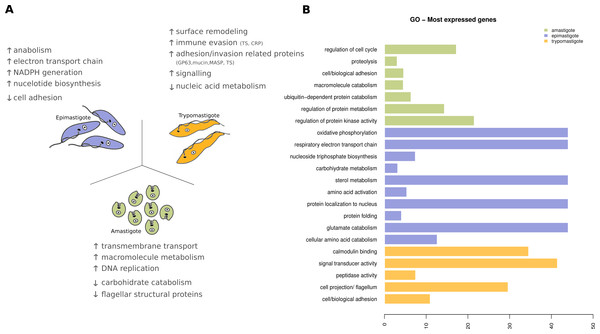 In amastigotes (intracellular replicative forms) the highest expressed genes are related to regulation of cell cycle, protein and amino acid catabolic processes, adhesion and signaling. Cell adhesion includes the expression of many surface proteins involved in invasion like stage specific trans-sialidases, GP63, and MASPs. The high expression level of transporters, particularly amino acid transporters, shows that the parasite uses host cytoplasmic metabolites at this stage (Fig. 8). Some of these characteristics were also recently reported for amastigotes in the Y strain (Li et al., 2016) suggesting that the metabolic hallmarks of this stage are independent of the T. cruzi lineage considered.
Trypomastigotes (non-replicative and infective form) exhibit a predominance of surface protein genes, those encoding trans-sialidases, MASPs, GP63, mucins and complement regulatory proteins represent more than 50% of the transcripts. Enrichment analysis (GO Biological processes) of these genes revealed that cell adhesion, microtubule-based flagellum, peptidase, signal transducer activity and calmodulin binding are the most relevant ones, in agreement with the specialization of trypomastigotes in movement, adhesion, invasion and signaling (Fig. 8).
A total of 1400 ORF regions with a minimum length of 300 pb were identified, that eventually correspond to 858 new coding sequences. By using stringent matching conditions, 247 proteins were identified as non-annotated in the Dm28c genome.
In summary, transcriptome profiling of the three main developmental stages of Trypanosoma cruzi has shown which genes and processes are related to each stage, and allows to conclude that surface remodeling and metabolic switches are at the basis of differentiation.