Exploring biomedical ontology mappings with graph theory methods
1
Database Center for Life Science, Research Organization of Information and Systems

,

Tokyo

,

Japan
2
Kinghorn Centre for Clinical Genomics, Garvan Institute of Medical Research

,

Sydney

,

NSW

,

Australia
3
Department of Computing and Information Systems, University of Melbourne

,

Melbourne

,

Victoria

,

Australia
Published

Accepted

Received
Academic Editor
Subject Areas

Keywords

Ontology evolution

,

Biomedical ontology

,

Ontology mappings

,

Semantic web

,

Graph theory
Copyright

©

2017

Kocbek and Kim

Licence

This is an open access article distributed under the terms of the Creative Commons Attribution License, which permits unrestricted use, distribution, reproduction and adaptation in any medium and for any purpose provided that it is properly attributed. For attribution, the original author(s), title, publication source (PeerJ) and either DOI or URL of the article must be cited.
Cite this article

2017

.

Exploring biomedical ontology mappings with graph theory methods

.

PeerJ

5

:

e2990

https://doi.org/10.7717/peerj.2990
Abstract
Background
In the era of semantic web, life science ontologies play an important role in tasks such as annotating biological objects, linking relevant data pieces, and verifying data consistency. Understanding ontology structures and overlapping ontologies is essential for tasks such as ontology reuse and development. We present an exploratory study where we examine structure and look for patterns in BioPortal, a comprehensive publicly available repository of live science ontologies.
Methods
We report an analysis of biomedical ontology mapping data over time. We apply graph theory methods such as Modularity Analysis and Betweenness Centrality to analyse data gathered at five different time points. We identify communities, i.e., sets of overlapping ontologies, and define similar and closest communities. We demonstrate evolution of identified communities over time and identify core ontologies of the closest communities. We use BioPortal project and category data to measure community coherence. We also validate identified communities with their mutual mentions in scientific literature.
Results
With comparing mapping data gathered at five different time points, we identified similar and closest communities of overlapping ontologies, and demonstrated evolution of communities over time. Results showed that anatomy and health ontologies tend to form more isolated communities compared to other categories. We also showed that communities contain all or the majority of ontologies being used in narrower projects. In addition, we identified major changes in mapping data after migration to BioPortal Version 4.
Introduction
Ontologies are used for tasks such as the standardization of terminology, the verification of data consistency, and the integration of heterogeneous databases. Ontologies have been actively applied to areas including, but not limited to Biology and Medicine (Whetzel et al., 2011), Crisis Management (Liu, Shaw & Brewster, 2013), Information Security (Vorobiev & Bekmamedova, 2010), and Software Engineering (Happel & Seedorf, 2006). In this work, we focus on the area of life sciences, where ontologies are commonly used in tasks such as annotation of gene products and proteins in different databases (Magrane & Consortium, 2011; Flicek et al., 2013; The Gene Ontology Consortium, 2015), or structuring and searching data sources (Doms & Schroeder, 2005).
Life science ontology mappings identify existing concepts with similar meaning. These ontology mappings are useful in tasks like finding new annotations, supporting other data integration methods, combining related ontologies, or ontology reuse. When ontologists build new ontologies they often search for existing ontologies to avoid redundancy of concepts as recommended, for example, by the OBO Foundry principles (Smith et al., 2007). Identifying ontology mappings and understanding how ontologies relate is a critical step in integrating data and applications that use different ontologies ( Ghazvinian, Noy & Musen, 2009).
In this paper we analyse and evaluate NCBO BioPortal (Whetzel et al., 2011) ontology mappings. BioPortal is a comprehensive publicly available repository of live science ontologies. It offers several functionalities, for example, browsing and searching for ontologies or defining ontology mappings. BioPortal ontologies are frequently being updated with newer versions. As a result, ontologies may contain new concepts, relations or ontology mappings, or contain other modifications. In scientific community, these changes are often referred to as the evolution of ontologies (Kirsten et al., 2011; Hartung, Groß & Rahm, 2013). To help ontology engineers in understanding how ontologies overlap and evolve, we use concepts from graph theory to identify clusters of BioPortal ontologies (i.e., communities) that tend to overlap more often than others. Please note that in this paper we use the word community for a set of ontologies that tend to overlap. In contrast, the OBO (Open Biomedical Ontologies) project defines a community as a set of ontologies that work together and reduce mutual overlap. We also recognize hub ontologies, i.e., ontologies that connect many other ontologies/communities. Since BioPortal data often changes (e.g., new ontologies or versions of ontologies are uploaded or new mappings are defined), we analyse the mapping data at different time points. We propose an alignment of similar communities, define stable communities and perform a time transition analysis. Our work aims to answer questions like "In my area of interest, what ontologies already exist and how are they related to each other?" or "In my area of interest, which sub-areas are stable and which are not in terms of ontology development?". Answering these questions can assist in tasks like ontology reuse and development. The results of the data gathered and analysed at five different time points are presented.
Related work
Related work can be categorized in the following (often overlapping) two groups: (1) analysis of ontology mappings and (2) evolution of ontologies. Below we introduce the most relevant papers from these groups.
Similar to our work, Ghazvinian et al. (2009) performed analysis of BioPortal mappings. The goal of their work was to learn more about the characteristics of the ontologies and the relationships between them. As a result, they produced graphs of subsets of biomedical ontologies. Although Ghazvinian's work addresses a similar problem, our work uses a different approach (i.e., modularity analysis as described in the Methods section) to cluster ontologies in communities and identify hub ontologies. In addition, we also analyse transition between different time points, and identify stable and similar communities. As a result, we offer our work as a supplement to Ghazvinian's findings about biomedical ontologies and their mappings.
Changes in ontologies have been previously studied and tools such as GOMMA (Kirsten et al., 2011) have been developed. The GOMMA framework provides a scalable and comprehensive infrastructure to analyse large life science ontologies and their evolution. Hartung, Groß & Rahm (2013) investigates evaluation of ontology mappings for different versions of the same ontology. However, as far as we know, no previous work analysed evolution of overlapping communities of ontologies as we do in this paper.
This work is partly a result of our BioHackathon activities (Katayama et al., 2014) and prior work (Kocbek, Perret & Kim, 2012), where we produced a graph representation of BioPortal ontologies. In our later work (Kocbek et al., 2013) we performed initial analysis of differences between two graphs. There are several new contributions in this paper compared to the previous work. First, in the previous work, a preliminary investigation with a basic analysis of mapping data at only two time points was performed. Limited data did not allow detailed trend analysis. On the other hand, data gathered at five time points offers a comprehensive analysis of identified communities (e.g., identifying stable and similar communities), which is the focus of this paper. We also perform analysis of project and category data and discuss alignment with identified communities. In addition, we try to validate generated clusters with information found in MEDLINE abstracts (Miller, Lacroix & Backus, 2000).
Data and Methods
Data
To investigate the state and evolutionary change of biomedical ontologies, we need a comprehensive collection of ontologies. We have chosen to investigate BioPortal data since it is widely recognized as a comprehensive repository of biomedical ontologies. Parts of this and the next section summarize our previous paper with added information.
The data (Supplemental Information 1) was gathered at the following five time points: October 2012, February 2013, August 2013, December 2013 and July 2014. Currently BioPortal contains more than 400 ontologies grouped into 41 categories (e.g., Health, Anatomy, Cell). To perform the analysis, the following data had to be collected through BioPortal RESTful web services for all time points: the ontology's full name (e.g., Gene Ontology), the ontology's name abbreviation (e.g., GO), and the number of mappings from/to the ontology. Since the BioPortal RESTful interface changed after August 2013, we gathered the following additional data only for the first three versions of our visualizations: ontology statuses (e.g., production) and ontology versions (e.g., alpha). To analyse identified communities, we also collected number of projects and categories that community members belong to.
Our analysis depends on mapping information in BioPortal. The BioPortal web page describes mappings as:
"Mappings are associations between two or more terms in different ontologies. This association typically, but not always, represents a degree of similarity between the terms. The author of the mapping defines the semantics of a particular mapping. It is also usual for a mapping to be bi-directional, but again, this is not required. The mapping author defines directionality."
We collected the number of all mappings between ontology pairs. The following three types of mappings are supported (please note that no information about mapping types was gathered for our current analysis):
NCBO mappings are periodically calculated with a computer algorithm. The algorithm finds mappings for terms with close lexical match or mappings for terms with the same URI from different ontologies. The majority of the mappings is from this group.

Unified Medical Language System (UMLS) mappings link terms with the same UMLS concept unique identifier (CUI) or terms from the UMLS MRMAP.RRF data.

Mappings between ontology terms related by an OBO (Open Biological and Biomedical Ontologies) xref property.
Detecting communities and hub ontologies
In the next step, pre-processing of the data was performed. For all ontology versions prior December 2013, we removed the following: (1) ontologies with the retired or alpha status, (2) ontologies that contain the keyword test in their full name, and (3) restricted or private ontologies. From data gathered in December 2013 and July 2014 we removed summary ontologies (i.e., they contain the summaryOnly  = true field). The filtered data was then processed with Gephi (Bastian, Heymann & Jacomy, 2009), an open source tool for graph analysis and visualization. Gephi was chosen because it's free, platform independent, and several graph and node properties can be calculated. The input file format contained the following three fields:
(1) fromOntology: the name of the source ontology,
(2) toOntology: the name of the target ontology
(3) numberOfMappings: number of directed mappings between source and target ontology.
To identify communities of densely overlapped ontologies, we applied Gephi's Modularity Analysis (also called Community Detection) to the data. Modularity Analysis (MA) is a measure of structure in graphs. Gephi implements Louvain method (Blondel et al., 2008) for MA, which is the fastest and most accurate method in terms of modularity score (Aynaud & Guillaume, 2010). Graphs with a high MA score have sophisticated internal structure with separate communities of densely connected nodes inside the communities and sparse connection across communities. To separate communities as much as possible, we ran MA with different resolution parameter values (ranging from 0.8 to 1.2) until the highest MA score for each graph was calculated. The resolution parameter controls number of communities but it results in different MA score. The numbers of mappings between ontologies were used as weights in computing MA scores.
Next, we used the Gephi's Betweenness Centrality (BC) metric (Freeman, 1977) to identify "hub" ontologies. BC is a measure of the frequency of occurrence of a particular node in all the shortest paths between any two nodes. A BC value is calculated for ach node where nodes with a higher BC value play an important role in connecting other ontologies and communities of ontologies.
Validating the communities with MEDLINE
We used information from MEDLINE abstracts (Miller, Lacroix & Backus, 2000), to analyse how often ontologies from same/different communities found in our latest time point appear together in scientific literature. The goal of this exercise was to validate the clusters with external information.
We downloaded the 2016 version of MEDLINE in XML format and developed an algorithm to find pairs of ontology names in all abstracts published before August 2014 (our latest version of the graph is July 2014). Ontology names and abstracts were transformed to lower case characters before the comparison. Simple exact string matching was used to look for ontology names mentions. For example, in the following text "… we introduce GoPubMed, a web server which allows users to explore PubMed search results with the Gene Ontology…", Gene Ontology would be identified.
Aligning communities
Running the community detection algorithm at five time points provides us with different number of communities for each time point. Our previous research (Kocbek et al., 2013) showed that most communities at the time point t contain at least some ontologies from the previous time point t − 1. The challenge is to align similar communities to compare graphs at multiple time points. With aligned communities we can identify communities that changed their size, new communities, or disappearing communities.
There are several ways to find similar communities in evolving graphs (Freeman, 1977; Hopcroft et al., 2004) and no method suits all problems. So, how do we decide when two identified communities are similar? For p'ractical reasons we wish to make this decision as simple as possible. Probably the simplest definition would be that two communities are more similar when they share the highest number of nodes compared to other pairs of communities. However, this simple method has a drawback. It has been proven that already small graph changes may affect MA score of Louvain algorithm (Aynaud & Guillaume, 2010). Since BioPortal represents a dynamic repository, it is likely that some identified communities represent unstable communities.
Therefore, we wish to use a more stable method for identifying similar communities. We expect that ontologies with the highest BC scores play an important role in BioPortal as they will likely stay in the repository in the future. We call these ontologies community core ontologies. In addition, we should consider ontologies that are not shared between two communities. Based on these issues, we first define several terms that are explained in the following paragraphs.
Let us imagine that we identified two groups of communities where group C1 contains communities identified at time point t1 and C2 contains communities identified at time point t2 (t2 > t1). First, we define the importance score of ontology o as: where BCo,t1 and BCo,t2 represent BC scores for ontology o at time points t1 and t2 respectively.
Next, we define a similarity score SCcx,cy between two communities cx ∈ C2 and cy ∈ C1. The similarity score is based on a weighted version of the Dice coefficient (Dice, 1945) and represents a value between 0 and 1. We calculate the similarity score as: where O represents a set of overlapping ontologies, and N represents a set of non-overlapping ontologies found in cx or cy.
We also define the closest community to cx  ∈C1 (i.e.,  CCcx as the community cy ∈ C2 with the highest similarity score when comparing to cy: Let us illustrate these definitions on an example where we identified five communities at two different time points. At the first time point we identified two communities and at the second time point we identified three communities. Ontologies in each community and their BC scores are presented in Table 1. Figure 1 illustrates the steps described below.
tp1 (2 communities)
tp2 (3 communities)
Com
Ont
BC
Com
Ont
BC
c1
A
2
c3
B
6
B
4
F
2
C
3
c4
A
1
c2
D
0
C
4
E
1
c5
D
2
F
4
E
4
G
2
H
5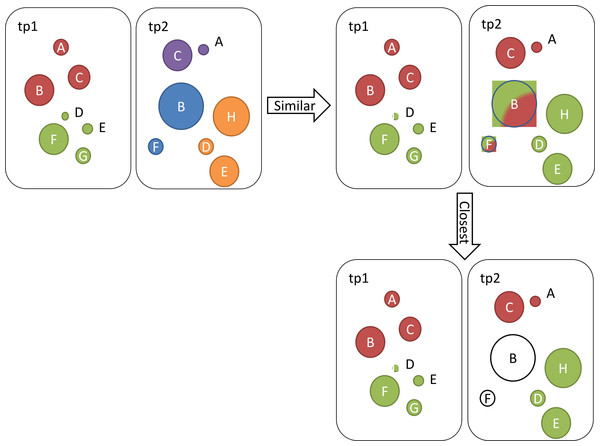 To calculate similarity scores between pairs of communities, we first calculate importance of ontologies: Next, we calculate the similarity score values for pairs of communities as follows: Based on these results, we summarize similar and same communities in Table 2. Similar communities are those whose similarity scores are higher than 0. Note that although c3 is similar to c1 and c2, c3 does not represent a closest community to any of the older communities c1 and c2, since c4 and c5 score higher similarity scores when compared to c2 and c3. Also note that our CC function is bi-directional, so we can also say that, for example, c1 is closest to c4.
| Community | Similar to | Closest to |
| --- | --- | --- |
| c3 | c1 and c2 | / |
| c4 | c1 | c1 |
| c5 | c2 | c2 |
Results and Analysis
In the following sections we present statistics for identified (closest) communities and their main hub ontologies, present results of validation with MEDLINE abstracts, analyse transition (evolution) between different time points, analyse the coherence of communities, and present results of measuring effects of ontology sizes on community detection.
Discussion and Conclusion
In this paper we focused on investigating a comprehensive repository of biomedical ontologies (BioPortal) using graph theory concepts. We performed the exploratory study of BioPortal's mapping data over different time points. As far as we know, this is the first attempt of this kind. With investigating mapping data gathered at five different time points using graph theory methods, we identified similar and closest communities of overlapping ontologies, and demonstrated evolution of communities over time. We also tried to validate communities through mentions of their ontology members in MEDLINE abstracts.
The five communities identified in the first version of the graph changed their size. We showed how communities appear, disappear, split or merge over time. Based on similarity scores we determined closest communities between pairs of different graph versions. We then analysed the stability of these closest communities. We discussed how identified communities align with BioPortal's category and project information. We also identified core ontologies of the closest communities.
When studying our conclusions, we should take into consideration some limitations of the work. First, the BioPortal repository can be publicly modified and no evaluation of the uploaded ontologies or mapping data is done. In addition, although we tried to identify them, there are probably some "test" ontologies left in our data. Therefore, we should expect some data noise. Our analysis also showed large differences in data between the Aug13 and Dec13 when BioPortal 4 was announced. Second, our method for identifying communities might favour larger ontologies since we do not consider ontology sizes when calculating edge weights. Although our analysis of data gathered in November 2015 implies that normalising edge numbers results in small changes in final graph, this remains an area for future investigation. Next, due to limitations of BioPortal's web service API, we were not able to distinguish between different types of ontology mappings in older versions. For example, the MESH and RH-MESH ontologies have same concepts and only differ in syntactic translation, which has not been picked up by our methods. Finally, our observations highly depend on the Louvain method for community detection. We accept this method as a "ground truth" quality metrics of our clusters. The Louvain method was the only available method in Gephi and it is considered as the fastest and most accurate method in terms of modularity score (Aynaud & Guillaume, 2010).
In the future, we plan to address the above issues, especially distinguishing between different types of mappings and considering ontology sizes. We also plan to consider other graph centrality measures and methods for community detections. Finally, we plan to perform a deeper analysis of changes in the underlying ontologies to investigate how these affect the broader graph clustering patterns.
Supplemental Information
Ontology mapping information
Mappings between pairs of ontologies for different versions of graphs.