Nest-site selection, reproductive ecology and shifts within core-use areas of Black-necked Cranes at the northern limit of the Tibetan Plateau
Published

Accepted

Received
Academic Editor
Subject Areas

Keywords

Black-necked Crane

,

Yanchiwan National Nature Reserve

,

Continent and arid climate

,

Nest-site selection

,

Tibetan Plateau

,

Climate change

,

Nest and nest site characteristics

,

Reproductive performance
Copyright

©

2017

Zhang et al.

Licence

This is an open access article distributed under the terms of the Creative Commons Attribution License, which permits unrestricted use, distribution, reproduction and adaptation in any medium and for any purpose provided that it is properly attributed. For attribution, the original author(s), title, publication source (PeerJ) and either DOI or URL of the article must be cited.
Cite this article

2017

.

Nest-site selection, reproductive ecology and shifts within core-use areas of Black-necked Cranes at the northern limit of the Tibetan Plateau

.

PeerJ

5

:

e2939

https://doi.org/10.7717/peerj.2939
Abstract
We investigated population dynamics, breeding pairs, breeding habitat selection, nest density, distance between neighboring nests, nest survival, reproductive success, and recruitment rate for Black-necked Cranes (BNC, Grus nigricollis) during 2013–2015 in Yanchiwan National Nature Reserve (YCW), Gansu, China. Numbers of BNC and breeding pairs remained relatively stable at around 140 individuals and 40 pairs. Recruitment rates ranged from 15.7% to 25.8%. The average nest distance was 718.66 ± 430.50 m (2013), 1064.51 ± 323.99 m (2014) and 534.99 ± 195.45 m (2015). Average nest survival rate, hatching success, and breeding success of all 29 nests were 65.56 ± 5.09%, 57.04 ± 6.12% and 32.78% ± 2.55. Water depth, water body area, and distance to land were positively related to nest survival, while disturbance level showed a negative relationship. However, nest site selection of BNC was determined by habitat type, disturbance and water depth. BNC often foraged in mudflats and freshwater marsh but seldom foraged in saline-alkali wet meadows due to food density and quantity in April, the month when BNC choose nest sites. Conservation strategies based on habitats should consider ecological factors that may not be well predicted by nest site selection. Shifts within core-use areas from satellite tracking of BNC demonstrated that maintaining populations demands that conservation areas are large enough to permit breeding BNC changes in space use. Our results are important for conservation management and provide quantitative reproductive data for this species.
Introduction
The Black-necked Crane (BNC, Grus nigricollis) is currently listed as a globally threatened species (IUCN: Vulnerable, BirdLife International, 2012) due to widespread wetland loss and agricultural development (Harris & Mirande, 2013). It is the only crane species that breeds completely on the high-altitude wetlands of Qinghai-Tibetan Plateau (Li & Bishop, 1999). Harsh and variable conditions of alpine habitats are particularly challenging for birds to breed in and impose additional constraints in terms of nest-site selection and nest survival (Macdonald et al., 2015). Several studies have documented BNC nest characteristics (including nest length, nest width and nest height; Wang et al., 1989; Dwyer et al., 1992; Wu et al., 2009) and nest site characteristics (Kuang et al., 2010; Wu et al., 2009). Only one study has reported BNC nest site selection in Ruoergai (Wu et al., 2009). Understanding habitat selection and reproductive success is crucial to protect and recover threatened species (Zhu et al., 2012). So far, Black-necked Crane chick survival rate has only been discussed in Longbao National Nature Reserve (Farrington & Zhang, 2013). No estimates of nest survival or reproductive success are available for the species. Duangchantrasiri et al. (2016) suggested that estimations of both abundance and demographic factors that drive threatened species responses are vital. Studies carried out in Zhigatse Prefecture (Bishop, Tsamchu & Li, 2012), in the Altun Mountain Reserve (Zhang et al., 2012) and Longbao National Nature Reserve (Farrington & Zhang, 2013) have provided valuable information on numbers and distribution of BNC during the breeding season or wintering season. Nevertheless, little information is available on BNC in Yanchiwan National Natural Reserve (Zhang et al., 2014). Knowledge of how animals choose habitat and foraging resources is a vital element of basic and applied ecology (Chudzińska et al., 2015). However, so far only Kuang et al. (2010) documented that BNC foraging habitat selection in northern Tibet.
To develop effective conservation measures, it is crucial to understand the spatial requirements of Black-necked Crane pairs. However, only one attempt to estimate the distance between neighboring Black-necked Crane nests has been made (Lu, Yao & Liao, 1980). Farrington & Zhang (2013) speculated that breeding cranes might remain on or near their nesting territories until just before leaving for autumn migration. To our best knowledge, there has been no estimate size of breeding BNC nesting territories. Further, no studies have used satellite tracking to determine shifts in core-use areas for breeding BNC pairs.
Here we investigated the northern most breeding population of Black-necked Cranes at YCW. Our concern was that peripheral populations such as the cranes at YCW might be essential as species adapt to directional changes in climate or decreased habitat quality. The objectives of our study were to: (1) provide data on population dynamics of BNC and breeding pairs, nest density, distance between neighboring nests, and recruitment rates of the BNC; (2) supply reproductive success data on this species; (3) provide data on shifts in core-use areas from satellite tracking of breeding BNC families; (4) investigate quantity and density of food resources in different foraging habitats when BNC choose their nest sites in April; and (5) document basic nest and nest site characteristics and determine whether BNC select nest sites based on specific habitat components.
Method
Study area
Our breeding ecology study was carried out from March 2013 to June 2015 in Yanchiwan National Nature Reserve (YCW, 38°26′∼39°52′N, 95°21∼97°10′E). The reserve covers an area of 13,600 km2 and is located on the northern edge of the Qinghai–Tibetan Plateau in the western Qilian Mountains. The YCW is situated in a valley and consists of 4.9% marsh, 2.4% permanent pond and riverine wetland, 2.4% seasonal riverine wetland, 0.1% glacier wetland, and 90.2% grassland, which is partially fenced and used collectively by groups of herdsmen families. Plants are short and small, many of which belong to alpine cushion vegetation. Elevations range from 2,600 to 5,483 m in a broad mountain valley flanked by ridges.
YCW is characterized by a continental arid and semi-arid climate. Precipitation in YCW ranges from 33.5–40.4 mm during the April–June period and average temperatures are 5.67–6.49 °C during three monitoring breeding seasons (April–June). Snowfall can be recorded any time. Water supplies are dependent on snowmelt from Qilian Mountains, meltwater from glaciers, precipitation, surface runoff and a few freshwater springs. Water drains into the Shule, Danghe, and Yulinhe Rivers.
Population survey
We established 3 routes (driving distance about 33.1 km, 22.6 km and 60.2 km; Fig. S1) and appropriate observation points on hills (19 set survey points), so observers could view all areas in the wetland. Using binoculars (8 × 42) and spotting scopes, 2–3 observers conducted censuses by road surveys and ground searches to locate and count cranes. We thoroughly scanned for cranes within valleys, including meadows, ponds, marsh, riverine and land areas. Observers and all methods stayed the same over the survey period. All territorial locations were determined by observations of territorial behavior including ritualized threats and pecking and chasing invaders (Yang et al., 2007) and by satellite tracking (for those birds with tracking devices). Territories were also identified by observing locations with active single or paired Black-necked Cranes using a telescope and ascertained by crane footprint tracks. GPS locations were taken to specify the location of all territorial pairs or single cranes. The distances between neighboring nests were measured by Google Earth Pro (Version 7.0, Google Inc. 2012) and presented as average level ± SD. Nest density estimates of Black-necked Cranes for YCW area were computed as the number of pairs per km2 using distance sampling methods (Buckland et al., 2001). The "adult" category included both mature breeding cranes and nonbreeding cranes that were always observed as a pair. The "subadult" category included returning nonbreeding, usually young individuals, which were always present in a flock. The "chick" category included chicks hatched in 2013, 2014 and 2015, which were easily distinguishable from adults and subadults in the hatching year by their size, head and neck plumage. Recruitment was defined as frequency of chicks/100 cranes (adults, subadults, and chicks; Bishop, Tsamchu & Li, 2012).
Two chicks were rescued because of illness, held for 10 medical days in a work station, and then released on their nest territories. In order to monitor the recovery of the chicks and evaluate the reliability of our territory observation method, we attached satellite transmitters (platform transmitter terminals, PTTs, ModelAnti–GT0325; Blue Oceanix Inc., China; weight: 30 g; GPS–orientation; GSM transmission 1 point/2 h). Transmitters were mounted on the backs with Teflon-treated ribbons as described by Higuchi et al. (2004). The harness and PTT weighed about 40g, which is approximately 2% of the body weight of a Black-necked Crane chick (mean = 3,390 g, n = 2 chicks). The two birds recovered and migrated on 8 and 14 November 2015. Home range was defined as total area occupied by an individual and was analyzed in Google Earth Pro (Version 7.0, Google Inc. 2012) using its polygon tool. Shift of roosting habitat was calculated by counting the times a BNC chick rested at different sites between 00:00:00–6:00:00, by this method also identifying their roosting sites, the longest distance from their nests, and their center of activity spots. We also calculated their daily home ranges.
Reproductive performance
We located 29 nests (an average of almost 10 nests per year) from April 2013 to June 2015 and checked nests periodically (median interval = 4 d) until the nest failed or chicks fledged. To control for resampling and possible seasonal shifts in nest site characteristics due to changing vegetation, we excluded renests. We visited nests around noon when parents left for foraging or other activities and we avoided visiting nests during the laying period. Nest location (from GPS) and nest status were recorded. Nest construction and incubation behaviors were recorded by infrared cameras (FC-5210 mm, MMS Trail Camera, Shenzhen Baird Share Co., Limited). During the nesting period, information was recorded on the number of young, nest construction, and nest materials. Fates of nests and all eggs in clutches were verified by record (Figs. S2D and S3). Nests were considered as "successful" if one chick or more chicks were confirmed to have been produced. Nest survival rate was calculated as the percentage of the number of successful nests from total number of nests initially found. Number of chicks fledging from total number of eggs laid provided an estimation of breeding success (Mukherjee, Borad & Parasharya, 2002). Hatching success was calculated as the probability that eggs present at hatching time actually produced young.
Foraging resource density and quantity
The diets of BNC consist primarily of roots and tubers, insects, snails, shrimp, fish, small birds and rodents (Bishop, 1996). For this study we investigated tubers (including Carex atrofusca, Carex orbicularis, Carex microglochin), which are the only available foods during April, the month when nest sites are selected. Foraging habitats of BNC in YCW were mainly mudflats, marshes and sometimes saline-alkali wet meadows (Fig. 1). We randomly placed a number of 1 m × 1 m quadrats within the three foraging habitats to investigate food diversity and quantity from 10 to 30 April in 2014. We investigated 116 food resource samples for estimating tuber density, and collected 88 samples for estimating tuber quantity (density of tubers and fresh individual weight).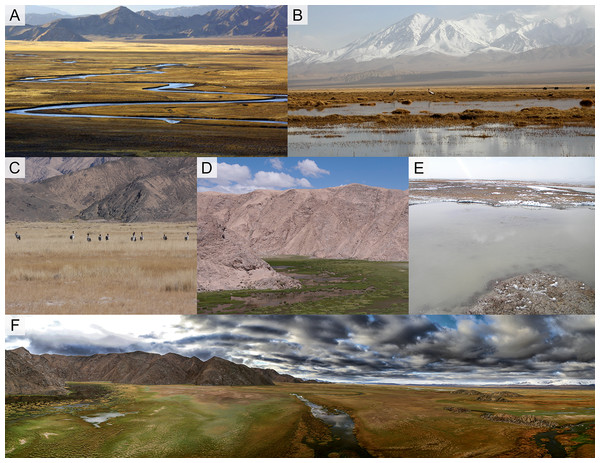 Nest and nest site characteristics
BNC nests were built on elevated grassy islands or aquatic vegetation within wetland habitats. Nest parameters were measured (in cm). Six site characteristics were recorded to determine their influence on nest-site selection: (1) disturbance—based on videos taken by infrared cameras, disturbance was rated as (a) strong: accessible as close as 10–20 m for humans, livestock or dogs, resulting in eggs preyed or nests destroyed (Fig. 2A and Figs. S2A–S2C), or (b) weak, inaccessible due to a water barrier for livestock or dogs, and BNC remained at the nest even when intruders attempted to approach (Fig. 2B); (2) water body area (measured in ArcGIS, Version 10.2, ESRI, Redlands, CA, USA), water body area categorized as a <500 m2 or b >500 m2. (3) water depth (in cm, averaged from four samples taken from four cardinal directions at 1 m distance from the nest edge (Dwyer et al., 1992); (4) distance to the nearest land (in m) measured by infrared distance meter; (5) distance to the nearest hill and rated as a = distance from nest to the nearest hill greater than 100 m) and b = distance from nest to the nearest hill less than 100 m; and (6) nest habitat type based on hydrological and topographical characteristics (riverine wetlands are permanent, slow-flowing waters having a well-developed flood plain, while marshes and ponds are water body areas larger than 500 m2, Fig. 1).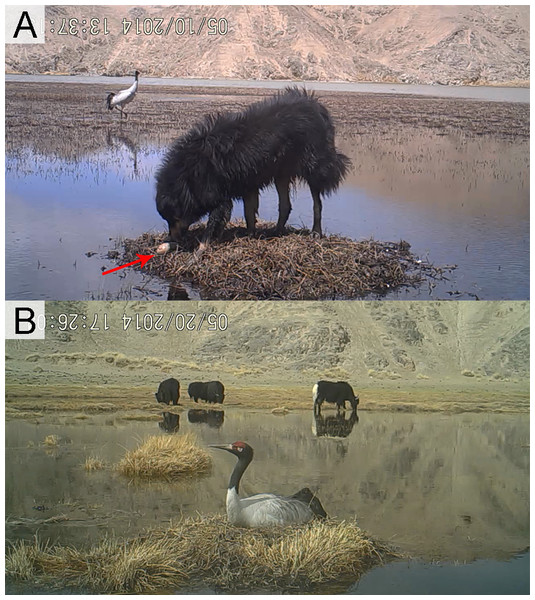 Data analysis
Differences of spacing between nests were examined using one-way ANOVA. For nest site selection, all six site factors were subjected to Factor Analysis (FA) to determine which variables were driving the trends of nest distribution. Before the comparison with t-tests or nonparametric tests, a one-sample Kolmogorove-Smirnov test was used to determine whether the data were normally distributed (if so, parametric t-tests were used; otherwise, nonparametric tests were used). Nest characteristics among three habitats, between two nest types, and nest sites among three habitats were examined using a one-way ANOVA test, Kruskal–Wallis test or Mann–Whitney U test. Nest characteristics and habitat characteristics were compared between successful nests and unsuccessful nests by one-way ANOVA test or Mann–Whitney U-test. Differences of nest success and nest survival between haystack nests and ground nets were analyzed using Mann–Whitney U test. Kruskal–Wallis test was used in the comparison of nest survival rate among the three nesting habitats. The density and quantity of tubers in different foraging habitats were compared with the Kruskal–Wallis test. All the statistical analyses were performed by the software SPSS (version 22.0, IBM 2013). Results were given as mean ± SD, and all significance values are at 0.05 based on two-tailed tests. All statistical graphs were made in software Origin (version 9.0, Origin Lab Corporation, USA) and pictures were processed in Adobe Photoshop CS6 (version 13.0, Adobe Systems 2012).
Ethical note
All data collected as part of this study were approved by the Lanzhou University Institutional Animal Care and Use Committee (approval numbers: SCXK-GAN-2013-0003). Field work was approved by authority of the Forestry Department of Gansu Province (approval number: 201009).