Neck biomechanics indicate that giant Transylvanian azhdarchid pterosaurs were short-necked arch predators
1
Ocean and Earth Science, University of Southampton

,

Southampton

,

UK
2
School of Earth & Environmental Sciences, University of Portsmouth

,

Portsmouth

,

United Kingdom
Published

Accepted

Received
Academic Editor
Subject Areas

Keywords

Pterosaurs

,

Azhdarchids

,

Cretaceous

,

Biomechanics

,

Maastrichtian
Copyright

©

2017

Naish and Witton

Licence

This is an open access article distributed under the terms of the Creative Commons Attribution License, which permits unrestricted use, distribution, reproduction and adaptation in any medium and for any purpose provided that it is properly attributed. For attribution, the original author(s), title, publication source (PeerJ) and either DOI or URL of the article must be cited.
Cite this article

2017

.

Neck biomechanics indicate that giant Transylvanian azhdarchid pterosaurs were short-necked arch predators

.

PeerJ

5

:

e2908

https://doi.org/10.7717/peerj.2908
Abstract
Azhdarchid pterosaurs include the largest animals to ever take to the skies with some species exceeding 10 metres in wingspan and 220 kg in mass. Associated skeletons show that azhdarchids were long-necked, long-jawed predators that combined a wing planform suited for soaring with limb adaptations indicative of quadrupedal terrestrial foraging. The postcranial proportions of the group have been regarded as uniform overall, irrespective of their overall size, notwithstanding suggestions that minor variation may have been present. Here, we discuss a recently discovered giant azhdarchid neck vertebra referable to Hatzegopteryx from the Maastrichtian Sebeş Formation of the Transylvanian Basin, Romania, which shows how some azhdarchids departed markedly from conventional views on their proportions. This vertebra, which we consider a cervical VII, is 240 mm long as preserved and almost as wide. Among azhdarchid cervicals, it is remarkable for the thickness of its cortex (4–6 mm along its ventral wall) and robust proportions. By comparing its dimensions to other giant azhdarchid cervicals and to the more completely known necks of smaller taxa, we argue that Hatzegopteryx had a proportionally short, stocky neck highly resistant to torsion and compression. This specimen is one of several hinting at greater disparity within Azhdarchidae than previously considered, but is the first to demonstrate such proportional differences within giant taxa. On the assumption that other aspects of Hatzegopteryx functional anatomy were similar to those of other azhdarchids, and with reference to the absence of large terrestrial predators in the Maastrichtian of Transylvania, we suggest that this pterosaur played a dominant predatory role among the unusual palaeofauna of ancient Haţeg.
Introduction
Substantial recent interest in the largest known azhdarchid pterosaurs—the Upper Cretaceous taxa Arambourgiania philadelphiae, Quetzalcoatlus northropi and Hatzegopteryx thambema—has shed much light on their morphology, palaeoecology, and flight capabilities (Witton & Naish, 2008; Witton & Naish, 2015; Witton & Habib, 2010; Habib, 2013). This advanced pterodactyloid clade, deeply nested with the morphologically diverse Azhdarchoidea (Nessov, 1984; Kellner, 2003; Unwin, 2003; Andres & Myers, 2013), is noted for the proportionally elongate, edentulous jaws, remarkably long, cylindrical neck vertebrae and often unusually large size of its constituent taxa (Witton & Naish, 2008; Witton & Naish, 2015). Although azhdarchids are comparably well represented in the fossil record compared to other pterosaur groups, frustratingly little is known of their skeletal anatomy. Partial and complete skeletons of azhdarchids are known and are adequately documented (e.g., Godfrey & Currie, 2005), but the best represented taxa—Zhejiangopterus linhaiensis and Quetzalcoatlus sp.—remain only preliminarily described (Cai & Wei, 1993; Lawson, 1975; Kellner & Langston Jr, 1996). Hypotheses about flight, body mass, functional morphology, ecology and lifestyle, all of which remain controversial, are based predominantly on knowledge of inadequately described taxa (Witton & Naish, 2008; Witton & Naish, 2015; Averianov, 2013). Despite these shortfalls of evidence, azhdarchids have been widely assumed as uniform in anatomy and ecology (Unwin, 2005; Witton & Naish, 2008; Witton, 2013).
Azhdarchids are primarily characterised by their elongate, often tubular neck vertebrae (Nessov, 1984; Kellner, 2003; Unwin, 2003; Andres & Myers, 2013), and it is a familiar fact of the pterosaur literature that these often isolated fossils make up a substantial portion of their fossil record. That the giant azhdarchids had the same long necks as their smaller relatives has been verified by the discovery of several gigantic vertebrae, including University of Jordan, Department of Geology (UJA) specimen VF1: the 620 mm long holotype cervical V of A. philadelphiae. This specimen is argued by some authors to pertain to an animal with a c. 3 m long neck (Frey & Martill, 1996; Martill et al., 1998), a dimension which would make large azhdarchids among the longest-necked animals outside of Sauropoda (Taylor & Wedel, 2013) and Plesiosauria, despite their necks being formed of only nine vertebrae (Bennett, 2014).
However, recent discoveries of two proportionally short, isolated azhdarchid cervical vertebrae from the Maastrichtian Sebeş Formation (Transylvanian Basin) of western Romania have prompted suggestions that some azhdarchids may have been proportionally short necked (Vremir, 2010; Vremir et al., 2015). The first of these specimens, LPV (FGGUB) R.2395, was interpreted as a cervical IV from a small azhdarchid with an estimated 3 m wingspan (Vremir et al., 2015). The second represents a gigantic azhdarchid: Transylvanian Museum Society (Cluj-Napoca, Romania) specimen EME 315 (Fig. 1). This latter bone is proportionally short and wide, of robust construction and bears—for a pterosaur—remarkably thick bone walls. Details of bone structure and provenance led Vremir (2010) to suggest it may represent a cervical III from Hatzegopteryx, a giant azhdarchid described from the middle member of the Densuş-Ciula Formation, Maastrichtian of Vãlioara, northern Haţeg basin, deposits contemporary and adjacent to the Sebeş Formation. We discuss the taxonomic identity of the specimen further below. Vremir (2010) concluded that the size and shape of EME 315 is so distinct relative to that of other azhdarchids that it must reflect a departure from expected azhdarchid anatomy and lifestyle.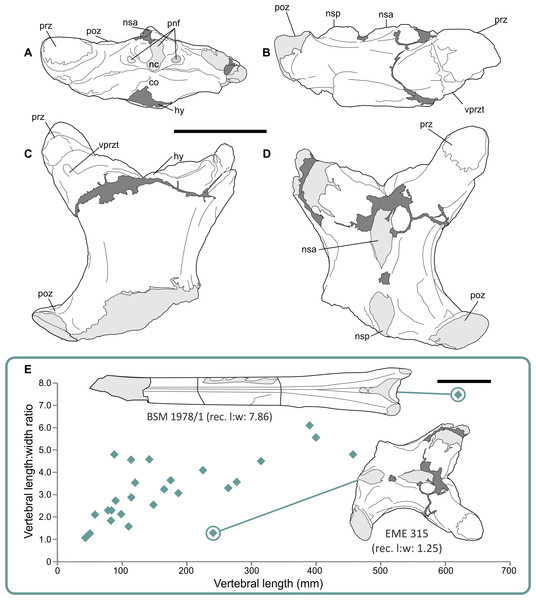 The concept of short necked azhdarchids is yet to be explored in detail, despite the significance it has for our understanding of azhdarchid palaeoecology and disparity. The functional anatomy of the long, stiffened azhdarchid neck has been the most controversial element in discussions of azhdarchid lifestyles (e.g., Witton & Naish, 2015; Averianov, 2013, and references therein), so understanding its variation and biomechanics is paramount to advancing palaeobiological appreciation of the group. Here, we investigate the radical morphological differences between EME 315 and other azhdarchid cervicals from two angles. Firstly, we attempt to estimate the probable neck length of EME 315 and other azhdarchids (both giant and smaller species) to assess possible variation in their proportions and form. Secondly, we assess the bending strength of two giant azhdarchid vertebrae (EME 315 and UJA VF1) to appreciate variation in structural properties and functionality, and relate these to contemporary ideas of azhdarchid behaviour and ecology. It is imperative to these studies that we also investigate the likely identity and vertebral position of EME 315, and this is also discussed below.