Detailed anatomy of the braincase of Macelognathus vagans Marsh, 1884 (Archosauria, Crocodylomorpha) using high resolution tomography and new insights on basal crocodylomorph phylogeny
1
CONICET, Instituto de Estudios Andinos "Don Pablo Groeber" (IDEAN), Facultad de Ciencias Exactas y Naturales, Departamento de Ciencias Geológicas, Universidad de Buenos Aires

,

Buenos Aires

,

Argentina
2
CONICET, Museo Paleontológico Egidio Feruglio

,

Trelew

,

Chubut

,

Argentina
3
Department of Biological Sciences, George Washington University

,

Washington, D.C.

,

United States of America
Published

Accepted

Received
Academic Editor
Subject Areas

Keywords

Braincase

,

Phylogeny

,

Late jurassic

,

Micro CT

,

Crocodylomorpha
Copyright

©

2017

Leardi et al.

Licence

This is an open access article distributed under the terms of the Creative Commons Attribution License, which permits unrestricted use, distribution, reproduction and adaptation in any medium and for any purpose provided that it is properly attributed. For attribution, the original author(s), title, publication source (PeerJ) and either DOI or URL of the article must be cited.
Cite this article

2017

. Detailed anatomy of the braincase of Macelognathus vagans Marsh, 1884 (Archosauria, Crocodylomorpha) using high resolution tomography and new insights on basal crocodylomorph phylogeny.

PeerJ

5

:

e2801

https://doi.org/10.7717/peerj.2801
Abstract
Background
Macelognathus vagans Marsh, 1884 from the Late Jurassic Morrison Fm. of Wyoming was originally described as a dinosaur by Marsh and in 1971 Ostrom suggested crocodilian affinities. In 2005, Göhlich and collaborators identified new material of this species from Colorado as a basal crocodylomorph. However, a partial skull found in association with mandibular and postcranial remains was not described.
Methods
Due to the small size and delicate structures within the braincase, micro CT studies were performed on this specimen. The new anatomical information was incorporated in a phylogenetic dataset, expanding both character and taxon sampling.
Results
This new material reinforces the non-crocodyliform crocodylomorph affinities of Macelognathusas it bears a large otic aperture, unfused frontals and lacks ornamentation on the dorsal cranial bones. The internal structures also support these affinities as this specimen bears traits (i.e., heavily pneumatized and expanded basisphenoid; the presence of additional pneumatic features on the braincase; and the otoccipital-quadrate contact) not present in most basal crocodylomorphs. Furthermore, the presence of a wide supraoccipital and a cranioquadrate passage are traits shared with Almadasuchus from the early Late Jurassic of Argentina. Macelognathus was recovered as one of the closest relatives of crocodyliforms, forming a clade (Hallopodidae) with two other Late Jurassic taxa (Almadasuchus and Hallopus).
Discussion
The clade formed by Almadasuchus + Hallopus + Macelognathus, the Hallopodidae, is characterized by a higher degree of suturing of the braincase, posteriorly closed otic aperture (paralleled in mesoeucrocodylians) and cursorial adaptations. Also, the phylogenetic position of this lineage of derived crocodylomorphs as the sister group of Crocodyliformes implies a large amount of unsampled record (ghost lineage), at least 50 million years.
Introduction
Macelognathus vagans Marsh, 1884 was originally described by Marsh (1884), and since then it has been surrounded by several controversies. The holotype specimen was recovered in 1880 at Como Bluff (Wyoming, USA), in levels belonging to the Morrison Formation. Based on the isolated mandibular symphysis that bears no teeth, Marsh (1884) assigned this taxon to a chelonian reptile. However, several authors questioned Marsh's assignment and referred the type specimen of Macelognathus vagans to Dinosauria, either as a coelurosaur (Theropoda; Baur, 1891) or even as an ornithischian (Simpson, 1926; Von Huenne, 1956). Later, Ostrom (1971) reexamined the holotype specimen (YPM 1415), and based on the anatomical evidence reidentified Macelognathus vagans as a crocodilian.
Exploration of other outcrops of the Morrison Formation in Colorado (Brushy Basin Member; Fruita Paleontological Area) during the late 70 s and early 80 s retrieved additional material of Macelognathus. Göhlich et al. (2005) established that this material belongs to Macelognathus based on the presence of mandibular remains with the same peculiar anatomy of the type specimen: a spatulate anterior end that lacks any teeth. In that contribution, Göhlich et al. (2005) described new cranial and postcranial materials of the taxon and concluded, based on that material, that Macelognathus has non-crocodyliform crocodylomorph affinities. However, given the incomplete nature of the remains, no clear relationship among basal crocodylomorphs was claimed. Later on, Pol et al. (2013) described a new taxon from the Late Jurassic of Argentina (Almadasuchus) and noted some similarities between the femur of this new taxon and Macelognathus, but the large amount of missing data precluded the finding of a stable phylogenetic placement for the latter.
Upon personal examination (J. Leardi and D. Pol, 2012) of the collections of the Los Angeles County Museum (LACM), we were able to find a partial braincase among the material of Macelognathus retrieved from the Fruita Paleontological Area (Figs. 1A–1D). The objective of the present contribution is to describe this new material and to evaluate its phylogenetic affinities. We use high-resolution computed tomography (CT) to study the internal anatomy of Macelognathus (Figs. 2A–2E). This contribution represents the first study of CT scans from a non-crocodyliform crocodylomorph, a group whose internal braincase anatomy is highly relevant to their evolution (Clark, 1986; Walker, 1990; Wu & Chatterjee, 1993; Pol et al., 2013).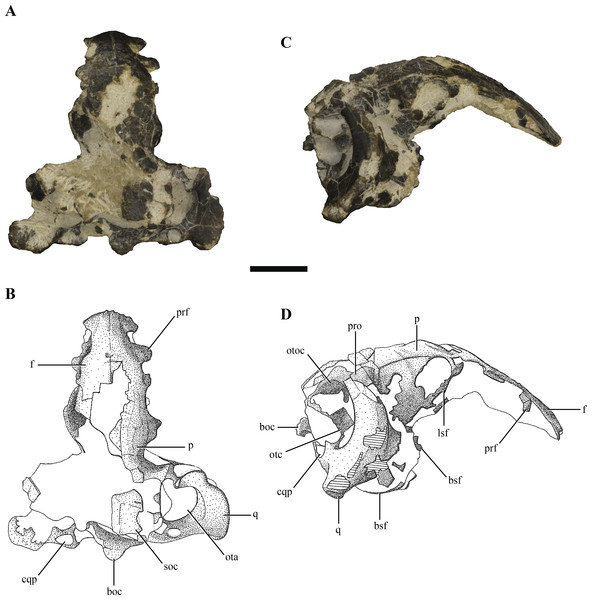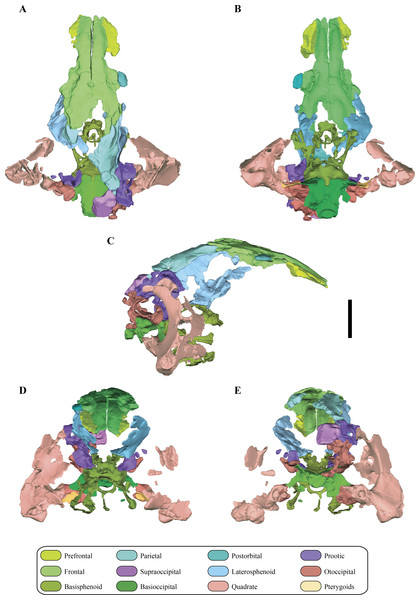 Materials and Methods
CT analysis
The skull of Macelognathus (LACM 5572/150148) was scanned at the Microscopy and Imaging Facility of the American Museum of Natural History, using a high resolution CT scanner (GE Phoenix v|tome| × s 240). The partial skull was scanned in the transverse plane, resulting in a total of 982 slices, each with a slice thickness of 0.038 mm, with interslice spacing of 0.038, and a pixel resolution of 782 ×722. The matrix was eliminated and the individual bones were segmented using the Mimics software (V 16; Materialise, Belgium). Slice archive data is available online (http://morphobank.org/permalink/?P2550).
Systematic paleontology
Discussion: This family has been little used since its initial erection, and then only as a monotypic taxon. Here we apply this taxon to the clade found by our phylogenetic analysis comprising Hallopus victor (Marsh, 1890), Macelognathus vagans, and Almadasuchus figarii figarii Pol et al., 2013. We redefine it here as all taxa more closely related to Hallopus victor (Marsh, 1890) than to Protosuchus richardsoni Brown, 1933 or to Dibothrosuchus elaphros Simons, 1965.
Diagnosis: Hallopodidae can be diagnosed by the following synapomorphies: the presence of a cranioquadrate passage that is not in the lateral border of the skull; femoral head and distal condyles of the femur having parallel long axes; a trochanteric crest on the femur; and, a pseudointernal trochanter in the posterolateral end of the proximal end of the femur (paralleled in Kayentasuchus + Dromicosuchus). Other traits that might diagnose the clade include: greatly elongated radiale (only preserved in Almadasuchus and Hallopus, paralleled in Junggarsuchus); dorsoventrally large otic appertures (present in Almadasuchus and Macelognathus, also paralleled in Junggarsuchus), and, a quadrate-laterosphenoid contact but leaving the prootic exposed within the supratemporal fossa (only known in Almadasuchus).
Macelognathus vagans Marsh, 1884
Holotype: YPM 1415, articulated anterior portions of both dentaries, which lack teeth on the anterior end.
Referred materials: LACM 5572/150148, left dentary, partial braincase, and postcranial remains including dorsal vertebrae, a partial left ilium, partial femora, and other elements of the hindlimbs; LACM 4684/128271, partial right and left hindlimbs; LACM 4684/128272, a left femur which may belong to LACM 4684/128271; LACM 5572/150211, both calcanea, and metatarsal III; LACM 4684/133772, a portion of the right maxilla, and both dentaries. For a more detailed explanation of the elements included the reader is encouraged to refer to Göhlich et al.'s (2005) paper.
Horizon and locality: The holotype specimen was recovered from Como Bluff, Albany County, Wyoming (USA); the referred specimens were found in the Fruita Paleontological Area, Mesa County, Colorado (USA). In both of these localities the fossils derive from the Brushy Basin Member in the upper part of the Morrison Formation (Upper Jurassic, Kimmeridgian-early Tithonian; Foster, 2003).
Emended diagnosis: A non-crocodyliform crocodylomorph with dorsoventrally flattened and anteriorly edentulous dentary*, heterodont dentition, and tooth crowns devoid of mesial and distal serrations; dentary lacking caniniform teeth; maxilla with laterally concave and ventrally sinuous alveolar margin; lateral longitudinal ridge above alveolar margin of maxilla; at least two enlarged anterior maxillary teeth; enlarged maxillary teeth serrated only distally; quadrate with five pneumatic cavities; laterally closed cranioquadrate passage; large otic aperture two-thirds of the height of the quadrate; quadrate contacts the otoccipital; wide supraoccipital in posterior view; posterior bony ring on the basisphenoid, allowing the precarotid recess to open posteriorly*; internal carotids exit anteroventrally from the hypophyseal fossa*; presacral vertebrae with large neural canals (almost as large as the centrum); ilium without supraacetabular crest; ventral margin of preacetabular process of ilium thickened and medially projecting; round femoral head oriented medially and separated from proximal end by a distinct neck; proximal facet of tibia distinctly slanted laterally; longitudinal groove on proximoanterior end of fibula; calcaneum with a completely flat distal surface; strong medioplantar crest on medial base of calcaneal tuber*; overlapping proximal ends of metatarsals. Autapomorphies are marked with an asterisk (*).
Discussion
Taxonomic status of Macelognathus vagans
The taxonomic status of Macelognathus vagans has been subject to debate among recent years. Most of these questions are based on two main topics: the similarities between Macelognathus vagans Marsh, 1884 and Hallopus victor Marsh, 1881; and, the provenance of the latter taxon. The similarities between Macelognathus and Hallopus were noted by Göhlich et al. (2005) when they described new postcranial elements assigned to Macelognathus. However most of the similarities noted (e.g., lack of supraacetabular crest) are widely present among non-crocodyliform crocodylomorphs. On the other hand, differences noted by these authors are based on proportions of certain elements that are very difficult to compare, such as the lateromedial development of the calcaneal tuber. The only trait that might shed some light on this matter (a dorsoventrally oriented crest on the medial surface of the calcaneal tuber) is not exposed in Hallopus, precluding any significant comparison.
The provenance of Hallopus has been a matter of dispute since it was originally published. As clearly shown by Schuchert (1939) and Walker (1970), neither Marsh nor his collector Baldwin retrieved the specimen themselves. Baldwin bought the specimen from a collector in Colorado Springs (Colorado, USA) and later checked the outcrops for additional material. Based on letters from Baldwin to Marsh, Shuchert (1939) concluded that the type specimen of Hallopus was retrieved from "The Nipple" area, which exposes a horizon assigned to the top of the Morrison Formation. However, subsequently Norell & Storrs (1989) challenged this view claiming that no beds such as the ones where Hallopus was found were known anywhere in the Morrison Formation. Thus, these authors suggested that it may come from levels of the underlying Ralston Formation (Callovian) from Oil Creek Canyon. Finally, Ague, Carpenter & Ostrom (1995) revisited "The Nipple" locality and recognized similar brownish/red levels in the top of the Morrison Formation. Furthermore, petrographic analyses showed that their samples and the ones from the matrix of the Hallopus specimen were almost identical (poorly sorted arkosic wackes). As a result they concluded that Hallopus was recovered from the upper levels of the Morrison Formation (Ague, Carpenter & Ostrom, 1995). Accepting these observations makes both taxa (Macelognathus and Hallopus) roughly coincident both in time and space (although the Fruita specimen is from lower in the upper part of the Morrison Formation and about 300 km away from The Nipple), facilitating the synonymy hypothesis.
Unfortunately, from our contribution little new information can be added to solve this problem as we describe the braincase of Macelognathus, a region unknown in Hallopus. Nevertheless, our results do find Macelognathus and Hallopus as sister taxa. Given the similarities and the occurrence of both taxa in the same formation, the potential synonymy (Macelognathus vagans Marsh, 1884 being a junior synonym of Hallopus, Marsh, 1881) has to be considered. Further preparation of the only known specimen of Hallopus (YPM 1914) or more material of this taxon, especially crania, would help to solve this uncertainty.
Phylogenetic position of Macelognathus and its implications
In spite of the low support in our analysis in some nodes of the consensus tree, some conclusions about the general pattern of the results can be extracted. Unlike some other modern crocodylomorph phylogenetic analyses (Clark et al., 2004; Pol et al., 2013) a well resolved phylogenetic hypothesis is here recovered, although with low support values. This is also valuable when it is considered that our dataset includes the largest number of non-crocodyliform crocodylomorphs than in any other analysis (e.g., Clark, Sues & Berman, 2000; Clark et al., 2004; Nesbitt, 2011; Pol et al., 2013; Zanno et al., 2015; Drymala & Zanno, 2016).
Among basal crocodylomorphs, especially near the base of the clade, a general pattern of small clades that soon go extinct can be recognized. Also these clades have a very important geographic influence, as basically Argentinean (Pseudhesperosuchus + Trialestes) and North American (Hesperosuchus + Dromicosuchus + Kayentasuchus) groups can be recognized. The former is positioned as the most basal clade among crocodylomorphs, while the latter is more closely related to derived crocodylomorphs such as Sphenosuchus and Dibothrosuchus. More basally a clade of mainly European forms is recognized (Terrestrisuchus and Saltoposuchus, which are sometimes synonymized), with the incorporation of the South African taxon Litargosuchus. All these clades represent several diversification pulses that took place in the Late Triassic among crocodylomorphs. While the basal clade formed by Trialestes and Pseudhesperosuchus is restricted to the Late Triassic, the other basal clades extend well into the Early Jurassic, in both cases represented by the most specialized members of the clade (Litargosuchus and Kayentasuchus).
Among the basal crocodylomorphs closest to Crocodyliformes we recovered a clade formed by the Late Jurassic Almadasuchus + Macelognathus + Hallopus, and its monophyly is not sensitive to the position of Thalattosuchia within Crocodylomorpha in the context of our dataset. Although their anatomy is very incompletely known, the Hallopodidae is characterized by a reduction of cranial kinesis (Pol et al., 2013) and several cursorial modifications (as highly elongated radiale, well projected femoral head, presence of additional trochanters on the femora). This clade of derived crocodylomorphs shares many derived traits also present in basal crocodyliforms (e.g., wide supraoccipitals, a quadrate laterosphenoid contact (see Phylogenetic analysis)) and some other traits present in more derived crocodyliforms (such as the presence of a cranioquadrate passage and the posterior closure of the otic notches). The phylogenetic position of this group as the sister group of Crocodyliformes implies a large amount of unsampled record (ghost lineage (Norell, 1992)) due to the presence of the crocodyliform Hemiprotosuchus in the Late Triassic (Kent et al., 2014). Thus, many traits recovered as synapomorphies of this group of Late Jurassic crocodylomorphs could be product of parallelisms with Crocodyliformes. More Jurassic crocodylomorphs remains, especially for the Middle and Late parts of this period, will be crucial to evaluate the evolution of these forms.
Conclusions
A partial braincase assigned to Macelognathus vagans Marsh, 1884 is described in this contribution. The use of computed tomography allowed us to study the internal morphology of this specimen and enabled us to identify structures that otherwise would not be visible. Furthermore, this study represents the first non-crocodyliform crocodylomorph that has been subjected to CT scanning. Scans of other crocodylomorph braincases will undoubtedly reveal similar complexity and should be attempted soon.
Although incomplete, the braincase of Macelognathus has many traits that allowed us to recognize its affinities among derived crocodylomorphs (e.g., an expanded and pneumatized basisphenoid; a pneumatized quadrate; a quadrate-otoccipital contact; a wide supraoccipital; a cranioquadrate passage). In particular, Macelognathus was recovered as a member of a highly derived group of Late Jurassic crocodylomorphs together with Almadasuchus from Argentina and Hallopus from the USA. These forms are highly cursorial, have large otic notches and a higher integration of the quadrate with their braincases when compared with more basal forms. Their position as the sister group of crocodyliforms is very interesting, as they allow a better understanding of the transformations from the typical kinetic skulls of reptiles (Holliday & Witmer, 2008) to the typical akinetic skulls of extant crocodylians and crocodyliforms (Langston, 1973; Pol et al., 2013).
Finally, we compiled a data set incorporating most non-crocodyliform crocodylomorphs known to date. Many historically important taxa were incorporated, whose phylogenetic position was not previously tested before (Trialestes, Hallopus, and Macelognathus). Although some groups have low support, we recovered a well-resolved phylogenetic hypothesis when compared to previous studies. In our analyses we found several small basal clades, following a recognizable geographic pattern, and a relatively stable group of crocodylomorphs closely related to crocodyliforms. Macelognathus was found grouped with two other Late Jurassic crocodylomorphs (Almadasuchus and Hallopus), and this group was found as the sister group of crocodyliforms.
Supplemental Information
Supplementary Information
Includes specimen list, character list, additional cladograms depicting the support measures and the synapomorphy list for each node.
TNT file of the data matrix used in this contribution