Towards quantitative viromics for both double-stranded and single-stranded DNA viruses
Published

Accepted

Received
Academic Editor
Subject Areas

Keywords

ssDNA viruses

,

Viral metagenomics

,

Environmental virology
Copyright

©

2016

Roux et al.

Licence

This is an open access article distributed under the terms of the Creative Commons Attribution License, which permits unrestricted use, distribution, reproduction and adaptation in any medium and for any purpose provided that it is properly attributed. For attribution, the original author(s), title, publication source (PeerJ) and either DOI or URL of the article must be cited.
Cite this article

2016

.

Towards quantitative viromics for both double-stranded and single-stranded DNA viruses

.

PeerJ

4

:

e2777

https://doi.org/10.7717/peerj.2777
Abstract
Background
Viruses strongly influence microbial population dynamics and ecosystem functions. However, our ability to quantitatively evaluate those viral impacts is limited to the few cultivated viruses and double-stranded DNA (dsDNA) viral genomes captured in quantitative viral metagenomes (viromes). This leaves the ecology of non-dsDNA viruses nearly unknown, including single-stranded DNA (ssDNA) viruses that have been frequently observed in viromes, but not quantified due to amplification biases in sequencing library preparations (Multiple Displacement Amplification, Linker Amplification or Tagmentation).
Methods
Here we designed mock viral communities including both ssDNA and dsDNA viruses to evaluate the capability of a sequencing library preparation approach including an Adaptase step prior to Linker Amplification for quantitative amplification of both dsDNA and ssDNA templates. We then surveyed aquatic samples to provide first estimates of the abundance of ssDNA viruses.
Results
Mock community experiments confirmed the biased nature of existing library preparation methods for ssDNA templates (either largely enriched or selected against) and showed that the protocol using Adaptase plus Linker Amplification yielded viromes that were ±1.8-fold quantitative for ssDNA and dsDNA viruses. Application of this protocol to community virus DNA from three freshwater and three marine samples revealed that ssDNA viruses as a whole represent only a minor fraction (<5%) of DNA virus communities, though individual ssDNA genomes, both eukaryote-infecting Circular Rep-Encoding Single-Stranded DNA (CRESS-DNA) viruses and bacteriophages from the Microviridae family, can be among the most abundant viral genomes in a sample.
Discussion
Together these findings provide empirical data for a new virome library preparation protocol, and a first estimate of ssDNA virus abundance in aquatic systems.
Introduction
It is now increasingly clear that microorganisms play a central role in all of Earth's ecosystems and processes. In every biome—from the human gut to the oceans, soils, and extreme environments that challenge life to succeed—microbes drive the nutrient and energy transformations that fuel these ecosystems (Falkowski, Fenchel & Delong, 2008; Sommer & Bäckhed, 2013). Microbial diversity was first revealed through universal marker genes studies (Pace, 1997), and has now advanced to genome-level characterizations helping revise our understanding of the microbial tree of life (Rinke et al., 2013; Hug et al., 2016), as well as elucidate the ecological and evolutionary roles of lesser-studied microbial lineages (Wrighton et al., 2012; Castelle et al., 2013; Brown et al., 2015).
Recent technical and theoretical advances are now also revealing that these microbial roles are modulated by co-occurring and co-evolving viruses (Weitz, 2015; O'Malley, 2016). Viruses are the most abundant biological entities on Earth, and have profound impacts on their microbial hosts through mortality, horizontal gene transfer and metabolic reprogramming (Fuhrman, 1999; Suttle, 2007; Rohwer & Thurber, 2009). Since most microbes and viruses remain uncultivated and viruses do not harbor a universal marker gene, community-level surveys of viruses typically rely on laboratory culture or reference-independent methods such as viral metagenomics (a.k.a. viromics). These studies have provided a view of viral diversity that complements knowledge obtained from isolate collections, and revealed new viral groups, evolutionary patterns, and virus-host interactions in multiple systems (Edwards & Rohwer, 2005; Mokili, Rohwer & Dutilh, 2012; Fancello, Raoult & Desnues, 2012; Brum & Sullivan, 2015).
Because natural community samples typically yield limiting input DNA, multiple displacement amplification (MDA) or whole genome amplification (WGA) are commonly used prior to sequencing library preparation in viromics studies (Edwards & Rohwer, 2005; Brum & Sullivan, 2015). While these MDA viromes routinely uncover new viruses (Angly et al., 2006; Angly et al., 2009; Wegley et al., 2007; Kim et al., 2008; Willner et al., 2009; Ng et al., 2009; Rosario et al., 2009; Rosario, Duffy & Breitbart, 2009; López-Bueno et al., 2009; Roux et al., 2012a; Roux et al., 2012b; Labonté & Suttle, 2013a; Labonté & Suttle, 2013b; Zawar-Reza et al., 2014; Quaiser et al., 2015; Dayaram et al., 2016; Male et al., 2016; Steel et al., 2016), the MDA step selects for small circular ssDNA templates, and unevenly amplifies linear genome fragments even when pooling independent reactions (Yilmaz, Allgaier & Hugenholtz, 2010; Kim & Bae, 2011; Marine et al., 2014). The alternative linker amplification (LA) or tagmentation (TAG) methods are quantitative (±1.5-fold) for dsDNA viruses, even from low input samples (100 femtograms, Duhaime et al., 2012) but strongly select against ssDNA templates (Kim & Bae, 2011). This leaves researchers to choose between quantitatively studying dsDNA viruses alone or pursuing questions constrained to discovery rather than ecology if interested in both ssDNA and dsDNA viruses.
The recently available Swift Biosciences 1S Plus kit for preparing sequencing libraries incorporates an adaptase step prior to linker ligation and amplification, which makes it efficient for both ssDNA and dsDNA templates (Kurihara et al., 2014; Aigrain, Gu & Quail, 2016). Here we use replicated metagenomic experiments to evaluate this protocol, hereafter named A-LA for Adaptase-Linker Amplification, alongside two existing protocols (MDA and TAG) for their ability to quantitatively amplify ssDNA and dsDNA viruses from two mock viral communities. Then, we apply the methods to aquatic samples known to harbor ssDNA viruses and estimate the relative abundance of ssDNA viruses.
Results & Discussion
Mock community benchmarking for ssDNA and dsDNA genomic amplification
Two mock communities containing a minority (MCA) or majority (MCB) of ssDNA viruses were established from 2 ssDNA and 10 dsDNA viruses (Supplemental Information, Table 1). DNA was extracted from each mock community, used as source material for constructing replicate sequencing libraries using MDA, TAG and A-LA methods, and sequenced to create viromes with approximately 1,000-fold coverage for abundant viruses (Table S2).
As qualitatively observed previously (Kim & Bae, 2011), and here quantified, MDA systematically favored ssDNA viruses (∼30- to 40-fold), whereas TAG systematically selected against them (∼30- to 100-fold, Fig. 1A, Table S2). In contrast, A-LA correctly recovered the proportion of ssDNA viruses when they were in the majority (MCB, 1.1-fold variation), and slightly underestimated ssDNA viruses when they were in the minority (MCA, 1.8-fold variation, Fig. 1A, Table S2). These observations for all treatments were repeatable across duplicate or triplicate viromes (Fig. 1A). For A-LA viromes, the relative abundance of individual ssDNA viruses (within the ssDNA pool) was consistent across replicates, although not across the two mock communities (Table S2). This consistency across replicates suggests that the quantitative amplification of ssDNA viral communities through A-LA viromes is reproducible.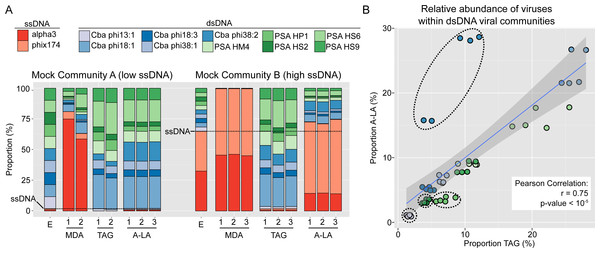 We next examined the variation in relative abundance estimates for the ten individual dsDNA viruses within the dsDNA pool in the mock communities, which revealed two main findings. First, the relative abundances of dsDNA viruses within the mock community were more variable than expected: each individual virus should represent 10% of the total dsDNA virus coverage, while observed relative abundances ranged from 0 to 30% (Fig. S2). Specifically, genome, and not sample or method, was the only significant factor explaining differences in relative abundance in a multi-factorial analysis (Kruskal–Wallis test, p-value <  2.2e–16, Fig. S2). The variation in relative abundances of each genome could be due to inaccurate viral particle counts and/or variable DNA extraction efficiencies for the input viruses. Notably, however, these relative abundance deviations are minimal (10% ± 7–10, average ± st. dev.) compared to the many-fold variation typically tolerable in viral ecological counts (Cunningham et al., 2015). Moreover, these per-genome relative abundance estimates were minimally impacted by the choice of library preparation method: for each individual genome, the relative abundances were not significantly different (Wilcoxon test, p-value >  0.01, effect size < 0.8) for six of the 10 genomes between TAG and A-LA (Fig. S2, Table S2). This suggests that the current method used for dsDNA viruses (TAG) and the method evaluated here (A-LA) provide a relatively similar view of dsDNA viral communities (Fig. 1B). A notable exception was Cellulophaga phage phi38:2, for which relative abundance was systematically higher (2- to 3-fold) in A-LA than TAG samples (Fig. 1B). This genome did not have unusual size or GC content compared to the others (Table 1), so the mechanism for this deviation remains unclear.
Second, coverage variation along each genome indicated that MDA coverage was significantly more variable than A-LA and TAG for all genomes but one, and TAG more variable than A-LA for 6 of 10 genomes (Wilcoxon test, p-value >  0.01, effect size <  0.8), with highly variable coverage in TAG datasets for low GC genomes (Fig. S3, Table S3). Thus, among the tested methods, the A-LA protocol produces the most even coverage across dsDNA viral genomes.
In summary, these mock community findings suggest that A-LA was uniquely able to quantitatively recover ssDNA virus relative abundances from both mock communities, and also more quantitatively represented the coverage within dsDNA genomes. This indicates that A-LA would be the library preparation method of choice when targeting both ssDNA and dsDNA viruses in surveys of natural communities.
Estimating the contribution of ssDNA viruses to aquatic viral communities
Given promising mock community benchmarking results, we next sought to apply these methods to establish their performances on natural communities, and to obtain first estimates of ssDNA virus sequence abundance in nature. To this end, we generated viromes for three freshwater and three seawater samples using the same library preparation protocols as above (MDA, TAG, A-LA; Supplemental Information). Overall, ssDNA viruses were detected in all samples, although these amounted only to 33–370 contigs in any given sample as compared to 14,000–99,000 dsDNA contigs (Table S4). However, because aquatic viruses are vastly under-represented in databases, a large proportion (35–71%) of the assembled contigs could not be confidently affiliated to either ssDNA or dsDNA viruses. Hence, we chose to generate a less stringent estimation of ssDNA contigs by adding all contigs not detected in TAG libraries (12,134–53,950 contigs, Table S4) to these BLAST-affiliated ssDNA sequences. Our reasoning is that unknown contigs detected in MDA or A-LA libraries (which will include ssDNA templates) and not in TAG libraries (strongly biased against ssDNA templates) likely originate from ssDNA genomes.
Based on A-LA viromes, which mock community experiments suggested were the most quantitative, the relative abundance (estimated through read coverage) of ssDNA contigs (conservatively identified by best BLAST hit to ssDNA virus genomes) was 0.03–4.68% and 0.005–0.03% in freshwater and seawater viral communities, respectively (Fig. 2A, Table S5). Meanwhile, the putative new ssDNA viruses (i.e., A-LA/MDA-only unknown contigs) could account for as much as 1.91–68.00% of freshwater and 12.15–15.98% of seawater DNA viral communities (Fig. 2A). Because this class of contigs might also include rare dsDNA viruses that would be haphazardly represented and not detected due to chance in the TAG libraries, these values of ssDNA abundance should be treated as lower and upper bounds. In addition, these upper bounds are likely over-estimations, especially in samples where few TAG reads are available, such as SU08M from Lake Superior (total ssDNA fraction estimated at 72.68%). Nevertheless, these still suggest that ssDNA viruses are less abundant than dsDNA viruses in four of six aquatic samples tested here (Fig. 2A, Table S5) although further work is required to address the recovery efficiency of ssDNA vs dsDNA viruses using various concentration and DNA extraction methods, as well as compare their decay rate and stability under different storage conditions, since both could influence the relative abundance of ssDNA vs dsDNA viruses in viromes.

Consistent with the mock community experiments, ssDNA viral genomes were systematically over-represented >10-fold in MDA viromes and under-represented >10-fold in TAG viromes, relative to A-LA (Table S5). This impacts rank-abundance distributions such that identifiable ssDNA viruses rank among the 10 most abundant contigs in MDA viromes, but are much lower ranked (∼1,000–35,000th most abundant viruses) in A-LA viromes, and near or below detection limits in TAG viromes (Table S5). The only exception is sample SU08M, where ssDNA viruses rank as high as the 19th most abundant contig and have 16 additional viruses in the 100 most abundant viral sequences in the A-LA virome. These abundant ssDNA viruses included bacteriophages (from the Microviridae family) and eukaryotic circular Rep-encoding ssDNA (CRESS-DNA) viruses (Rosario et al., 2012) (Table S6). Thus, even when ssDNA viruses as a whole do not represent a large part of the DNA viral community (affiliated ssDNA viruses account for only 3.68% of the reads in this sample), individual ssDNA viruses can be abundant.
The MDA bias towards enrichment for ssDNA viruses can be a positive attribute: MDA libraries captured 2–15 times more ssDNA viral genomes ("affiliated" ssDNA) than A-LA in four out of six samples (Fig. 2B). The two samples where MDA captured fewer ssDNA viruses represent unique situations: sample T102S had very few ssDNA viruses in any of its viromes, and the MDA library for sample SU08M was smaller by an order of magnitude relative to A-LA library due to multiplexing issues in the sequencing run (Table S5). Thus, when ssDNA viruses were available in the samples, and where sequencing depth was relatively consistent across library prep methods, MDA remains the clear method of choice to maximally enrich for ssDNA viruses if quantitative comparisons are not needed.
Conclusion
The description of a large unsuspected genetic diversity of ssDNA viruses across multiple ecosystems (Ge et al., 2011; Kim et al., 2011; Rosario, Duffy & Breitbart, 2012; Labonté & Suttle, 2013b; Eaglesham & Hewson, 2013; Quaiser et al., 2015; Dayaram et al., 2016), and unique evolutionary patterns including gene exchanges between RNA and DNA genomes (Krupovic, Ravantti & Bamford, 2009; Diemer & Stedman, 2012), have highlighted ssDNA viruses as one of the most intriguing viral groups in viral ecology. So far, two main types of ssDNA viruses have been frequently detected in viromes: eukaryote-infecting CRESS-DNA viruses and bacteriophages from the Microviridae family. Novel and unusual ssDNA viruses continue to be isolated, particularly from eukaryotic and archaeal hosts (Tomaru et al., 2012; Mochizuki et al., 2012; Kimura & Tomaru, 2015). However, the relative abundance of ssDNA viruses among DNA viral communities remains an open and challenging question to address. Here, the use of A-LA library preparation protocol enabled us to quantify (±1.8-fold) the fraction of ssDNA and dsDNA viruses in natural communities. This revealed that ssDNA viruses are consistently present, but outnumbered by dsDNA viruses in all six aquatic samples tested. Nevertheless, individual ssDNA viruses were occasionally abundant, even when dsDNA viruses dominated the community. Hence, combined with the fact that ssDNA viruses likely infect a broad host range distinct from those of dsDNA viruses, the former should not be overlooked when investigating whole environmental viral communities and their impact on ecosystems.