Optimizing the use of a sensor resource for opponent polarization coding
1
Department of Zoology, University of Cambridge

,

Cambridge

,

United Kingdom
2
Champalimaud Neuroscience Programme (CNP), Champalimaud Centre for the Unknown

,

Lisboa

,

Portugal
Published

Accepted

Received
Academic Editor
Subject Areas

Keywords

Dorsal rim

,

Photon noise

,

Fly

,

Jnd

,

Photoreceptor length

,

Vision

,

Polarized light

,

Efficient design

,

Discriminable polarization angles

,

Transduction units
Copyright

©

2017

Heras and Laughlin

Licence

This is an open access article distributed under the terms of the Creative Commons Attribution License, which permits unrestricted use, distribution, reproduction and adaptation in any medium and for any purpose provided that it is properly attributed. For attribution, the original author(s), title, publication source (PeerJ) and either DOI or URL of the article must be cited.
Cite this article

2017

.

Optimizing the use of a sensor resource for opponent polarization coding

.

PeerJ

5

:

e2772

https://doi.org/10.7717/peerj.2772
Abstract
Flies use specialized photoreceptors R7 and R8 in the dorsal rim area (DRA) to detect skylight polarization. R7 and R8 form a tiered waveguide (central rhabdomere pair, CRP) with R7 on top, filtering light delivered to R8. We examine how the division of a given resource, CRP length, between R7 and R8 affects their ability to code polarization angle. We model optical absorption to show how the length fractions allotted to R7 and R8 determine the rates at which they transduce photons, and correct these rates for transduction unit saturation. The rates give polarization signal and photon noise in R7, and in R8. Their signals are combined in an opponent unit, intrinsic noise added, and the unit's output analysed to extract two measures of coding ability, number of discriminable polarization angles and mutual information. A very long R7 maximizes opponent signal amplitude, but codes inefficiently due to photon noise in the very short R8. Discriminability and mutual information are optimized by maximizing signal to noise ratio, SNR. At lower light levels approximately equal lengths of R7 and R8 are optimal because photon noise dominates. At higher light levels intrinsic noise comes to dominate and a shorter R8 is optimum. The optimum R8 length fractions falls to one third. This intensity dependent range of optimal length fractions corresponds to the range observed in different fly species and is not affected by transduction unit saturation. We conclude that a limited resource, rhabdom length, can be divided between two polarization sensors, R7 and R8, to optimize opponent coding. We also find that coding ability increases sub-linearly with total rhabdom length, according to the law of diminishing returns. Consequently, the specialized shorter central rhabdom in the DRA codes polarization twice as efficiently with respect to rhabdom length than the longer rhabdom used in the rest of the eye.
Introduction
Sunlight is polarized by scattering and reflection, and many animals take advantage of this to guide tasks such as orientation, prey detection and water surface detection (Wehner, 2001). To detect polarization patterns in the sky, many insects use a specialised region in the eye, the Dorsal Rim Area (DRA) (Labhart & Meyer, 1999). In flies, the DRA is a narrow band of ommatidia along the dorsal margin of the eye, containing specialised central photoreceptors R7 and R8 (Wada, 1974a). The microvilli of rhabdomeric photoreceptors are intrinsically dichroic (Moody & Parriss, 1961; Snyder & Laughlin, 1975), but elsewhere in the eye the polarization sensitivity (PS) of the photoreceptors is suppressed by rhabdomere twist (Smola & Tscharntke, 1979). In the DRA, however, the rhabdomeres of R7 and R8 are not twisted (Wunderer & Smola, 1982a), and thus they present high PS (Hardie, 1984).
In the DRA, R7 and R8 form a pair of orthogonal polarization analysers with identical UV sensitivities, sampling the same small area of the sky (Hardie, 1985). The axons of R7 and R8 in the same DRA ommatidium project retinotopically to a specific region within the medulla (Strausfeld & Wunderer, 1985; Fortini & Rubin, 1991), where their signals are compared to extract information about polarization. This comparison most likely involves polarization-opponent interactions (Weir et al., 2016), which are also found in higher order neurons in some species of ants, locusts and crickets (Labhart, 1988; Labhart, 2000; Labhart, Petzold & Helbling, 2001; Vitzthum, Müller & Homberg, 2002).
Several conflicting parameters determine the quality of the photoreceptor signal. In most flies, the photosensitive membranes—rhabdomeres—of R7 and R8 form a tiered waveguide, the central rhabdomere pair (CRP, Fig. 1). The pair of rhabdomeres lie at the center of the ommatidium, and in axial section they are surrounded by the R1–6 achromatic rhabdomeres that form a waveguide each. The rhabdomere of R7 sits on top of the rhabdomere of R8, and thereby filters the light available to R8. A longer R7 rhabdomere increases the PS of R8 (Snyder, 1973; Gribakin & Govardovskii, 1975; Menzel, 1975; Hardie, 1984) but reduces its own PS by self-screening (Snyder, 1973; Nilsson, Labhart & Meyer, 1987). The quality of the signal coded by a photoreceptor is also limited by the quantal nature of light. A longer rhabdomere will be less affected by photon noise than a shorter one because it absorbs more photons (Warrant & Nilsson, 1998), and has more transduction units (microvilli) to convert photons into electrical signals (Howard, Blakeslee & Laughlin, 1987; Anderson & Laughlin, 2000). However, when the rhabdomeres of R7 and R8 make a CRP of given length it is not possible to increase the length of both photoreceptors simultaneously, lengthening one shortens the other.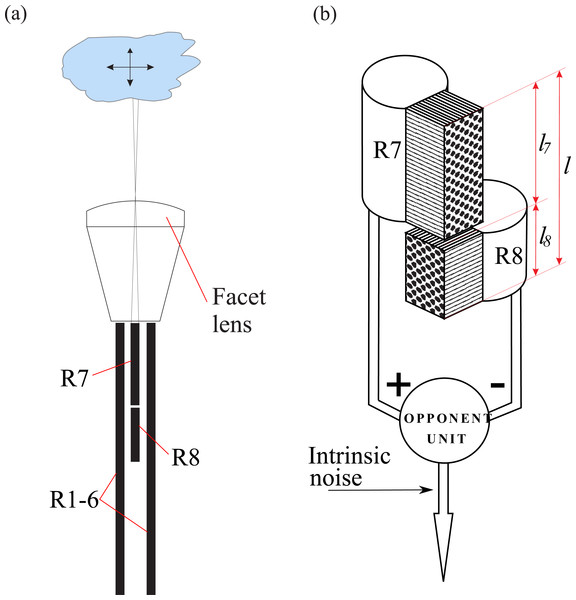 To investigate how these length dependent trade-offs between polarization sensitivity and photon noise influence the ability of the fly DRA to code polarization, we used a modelling procedure adapted from color vision (Vorobyev et al., 1998; Osorio & Vorobyev, 1996) and recently applied to polarization vision (How & Marshall, 2014). We find that for a CRP of fixed length, polarization sensitivity and signal coded by a polarization-opponent unit are highest when R8 is as short as possible. On the other hand, measures of discrimination that consider signal and two forms of noise, photon and intrinsic, are highest for intermediate values of R7 and R8 lengths, broadly agreeing with the experimental evidence (Wada, 1974a; Wunderer & Smola, 1982a). We conclude that it is essential to consider photon and intrinsic noise when analyzing the ability of tiered photoreceptors to support behaviour. When this is done we see that the distribution of a sensor resource, photoreceptor length, can be optimized for opponent coding.
Methods
Photon absorption rates and polarization sensitivity
An optical model gives the rates at which R7 and R8 absorb photons when sampling a small patch of blue sky.
Polarization sensitivity, signal and noise
Transduction and absorption rates
Sensitivity, signal and noise depend upon the transduction rate M; the rate at which a photoreceptor transduces absorbed photons to quantum bumps (unitary electrical responses to single photons). At all but the highest light levels, a fly photoreceptor transduces a constant high proportion (>0.5) of absorbed photons (Dubs, Laughlin & Srinivasan, 1981; Howard, Blakeslee & Laughlin, 1987; Van Steveninck & Laughlin, 1996a). For simplicity we assume that M = A. At the highest light levels transduction units (microvilli) saturate and this reduces sensitivity, reduces signal, and changes the statistics of noise (Howard, Blakeslee & Laughlin, 1987; Song et al., 2012). To account for these effects we convert absorption rate, A, to transduction rate, M, using our transduction unit saturation model (see below).
Polarization sensitivity without transduction unit saturation
In the absence of transduction unit saturation, transduction rates M equal absorption rates A. Because the microvilli of R7 and R8 are well aligned, the polarization angles at which transduction rates are maximum and minimum, θmax and θmin, are parallel and perpendicular to the microvilli, respectively. Thus θmin = 90° + θmax.
Polarization sensitivity is the ratio between the maximum and minimum transduction rates produced by linearly polarized light (degree of polarization d = 1) of constant intensity (Snyder, 1973): (14) Note that for simplicity we present generic equations in which M stands for either M7 or M8, depending on whether it is calculated using A7 or A8.
Signal, noise and contrast; unsaturated regime
To calculate signal and noise, we follow opponent models of color coding (Osorio & Vorobyev, 1996; Vorobyev & Osorio, 1998), and normalise photon transduction rate, M(θ), to the background rate, Mbg (15) The background is unpolarized light with the same spectrum and intensity, Ni. We take Mbg to be the mean transduction rate, in which case q(θ) is a contrast signal.
Given a constant photon flux Ni with polarization degree d, the transduction rate M(θ), and hence the contrast signal q(θ), varies with the polarization angle θ as cos(2θ) or, equivalently, cos2(θ). (16) Note that the background (d = 0) produces the same quantum catch as light polarized at 45° to the preferred absorption axis (θmax = 45°).
The total range of contrast signals that can be produced by changes in polarization angle, Δq, depends on the degree of polarization, d, and the PS, according to Eq. (16): (17)
The reliability of an optical signal is limited by photon noise, random fluctuations in absorption rate that follow the Poisson distribution. In the absence of transduction unit saturation we assume that every absorbed photon produces a quantum bump. Thus during a time interval τ, a photoreceptor transduces M(τ)(θ) photons, drawn from a Poisson distribution with mean M(τ)(θ) = τM(θ). By definition, the noise variance equals the mean: (18) Note that for the rest of Methods we write random variables in bold, and denote their mean values with regular letters.
We define the signal to noise ratio, SNR, as the ratio between the range of signals produced by changes in polarization angle and the standard deviation of photon noise. This definition holds for both quantum catches ΔM(τ) and contrast signals Δq: (19)
Assuming that photon noise is independent of the contrast signal (20) This assumption is valid for small contrast signals, as produced at low degrees of polarization, d.
Transduction unit saturation, sensitivity, signal and noise
In fly photoreceptors each microvillus acts as a transduction unit, producing an all or nothing unitary response (a quantum bump) to the absorption of a single photon (Hardie & Raghu, 2001). To model the effects of transduction unit saturation we divide the rhabdomere into thin (1 µm) segments and use extensions of Eqs. (11) and (13) to obtain the mean and variance of photon absorption in each segment. This treatment accounts for the change in mean absorption rate along the rhabdomere—light entering all but the first section is filtered by the sections above it.
Saturation occurs because it takes time for a microvillus to reload after it produces a quantum bump. This dead time, td, sets the minimum interval between quantum bumps produced by a microvillus. Thus at high light levels a microvillus's transduction rate fails to keep up with its absorption rate. Consider a 1 µm segment of rhadomere with nm microvilli, absorbing an average of As photons per second. Photons are absorbed in each of the nm microvilli with Poisson probabilities of parameter ν = Astd∕nm, but when more than one photon is absorbed in the time interval td, only one photon is transduced. As a consequence, during the interval of time td, each microvillus either transduces one photon with probability (21) or does not transduce it, with a probability (22)
Considering the nm microvilli in a single segment of rhabdomere, the number of photons transduced M(τ) during an integration time τ (which we take to be an integer multiple of td) follows a binomial distribution with success probability 1 − e−ν and number of trials nmτ∕td. This binomial has a mean (23) and variance (24)
Note that at low light levels, ν = Astd∕nm ≪ 1 and our binomial model approximates the Poisson distribution of the absorbed photons, as expected because at low light levels the effects of saturation on signal and noise are negligible. (25)
Because photons are transduced independently in each microvillus, and hence in every segment, the mean numbers of photons transduced by R7 and R8, and , and their variances, are obtained by summing the means and variances of all segments.
Polarization opponent model
To assess the effects of signal and noise on the ability to discriminate angles of polarization, we consider the output of a simple opponent mechanism that subtracts the input from R8 from the input from R7 in the same ommatidium. The opponent unit's output Q(τ) is the difference between the two photoreceptor contrast signals, and , plus a contribution of intrinsic noise. Thus, for each given polarization angle θ, Q(τ) is a random variable whose mean is independent of the integration time τ: (26) (27) but has noise variance that depends on τ. The variance of Q(τ) will be the sum of noise variances incoming from both R7 and R8, and intrinsic noise variance. Thus, in the absence of saturation (28) (29) where and are the variances of intrinsic noise (resulting from Gaussian white noise added to the contrast signal q7 and q8 of each of the photoreceptors) in a signal integrated across an interval of 1 s and an interval of τ, respectively.
Number of discriminable polarization angles: a measure of performance which considers noise
Photon noise and intrinsic noise limit how precisely a polarization angle, θ, can be estimated. To quantify the effect of this limitation we take successful models in colour vision (Vorobyev & Osorio, 1998) as a basis, and consider the R7/R8 system as equivalent to a dichromatic space. We define a distance ΔS between the signals generated in the opponent unit by light partially polarized with the same degree of polarization d and incident photon flux Ni but with polarization angles θ1 and θ2: (30) where is the absolute value.
This distance depends both on the amount the opponent signal Q changes for different polarization angles —ultimately determined by the PS of R7 and R8 (Eq. (17))— and the reliability of the opponent signal, i.e., the amount of noise (composed of intrinsic and photon noise). A change in polarization angle Δθ can be detected in the opponent signal when the distance ΔS is bigger than a given value. For simplicity, we will take this threshold to be 1, so ΔS, as defined in Eq. (30), is directly the number of discriminable polarization angles between polarization angles θ1 and θ2.
When considering the number of discriminable polarization angles between angles that produce very different quantum catches, we need to take into account that the photoreceptor noise varies as one moves across the stimulus space. The stimulus space is thus endowed of a Riemannian metric (Wyszecki & Stiles, 1982). The distance between light polarized at 0 degrees and light polarized at 90 degrees following a path of constant degree of polarization is better approximated by Osorio & Vorobyev (1996): (31) with θ0 = 0 < θ1 < ⋯ < θn−1 < θn = 90 degrees.
Mutual information: a different measure of performance
We use information theory to define a second measure of the ability to discriminate between different polarization angles. This new measure quantifies how much we can reduce our uncertainty on the polarization angle by a single measure of the noisy opponent signal. In principle, it should be related to, but does not necessarily correlate with, measures based on ideal observer performance, such as the total number of discriminable angles (Thomson & Kristan, 2005).
Let θ ∈ [0, π∕2) be the polarization angle, Q the output of a polarization-opponent unit, and f(θ), f(Q) and f(Q, θ) their marginal and joint probability density functions. We assume that the distribution of polarization angles θ is uniform, i.e., f(θ) = 2∕π, and that the degree of polarization d is constant.
If there was no noise, Q would be simply a function of θ, Q(θ). Since the system is limited by noise, we consider the probability density of Q when we know θ. Under reasonable assumption it is a Gaussian of standard deviation , in our case a function of the angle of polarization θ: (32) (33)
The mutual information or rate of transmission of information between the two continuous random variables θ and Q is then defined as Shannon (1948) (34) which quantifies how much a measure of the opponent output, Q, reduces the uncertainty about the polarization angle, θ, assuming that we are certain about the degree of polarization, d.
Choice of parameters
F-ratio was not measured in the DRA, so we chose F = 2, an average value in other parts of C. vicina eye (Hardie, 1985). We used Dr = 1.55µm (Wunderer & Smola, 1982a). Measurements suggest that the absorption coefficient of a photoreceptor rhabdomere for unpolarized light () lies between 0.01 µm−1 (e.g., Hardie, 1984) and 0.005 µm−1 (Warrant & Nilsson, 1998), so we took k = 0.0075 µm−1. Measurements of R7/R8 photoreceptors' PS in the DRA of C. vicina range from 6 to 19 (Hardie, 1984), so we chose a dichroic ratio of δ = k∥∕k⊥ = 10. Sky has a maximum polarization degree of about d = 0.6 − 0.8 in the UV, at 90 degrees from the sun in clear skies, but smaller at other orientations and under different meteorological conditions (Barta & Horváth, 2004). Behavioural threshold was measured to be at a degree of polarization of d = 0.05 in crickets and d = 0.1 in honeybees (Barta & Horváth, 2004). We modelled a polarization degree of d = 0.1.
Blowfly R1–6 photoreceptors have around 9 × 104 microvilli along an average length of 250 µm (Hardie, 1985; Hochstrate & Hamdorf, 1990). We assumed here a similar linear density of microvilli in the R7 and R8 of the DRA. We chose td = 30ms for the minimum interval between transduced photons in a C. vicina microvilli (Hochstrate & Hamdorf, 1990; Song et al., 2012), and we assumed that the fly integrates the signal across three of those intervals, i.e., integration time τ = 90 ms.
Discussion
In the dorsal rim area of the fly compound eye, the DRA, photoreceptors R7 and R8 are specialized to code the polarization of skylight. Because R7 and R8 form a central rhabdomere pair (CRP), with R7 placed in front of R8 (Fig. 1), R7 acts as a polarization filter that increases the polarization sensitivity of R8. We demonstrate how this tiered configuration sets up a trade-off between signal and noise. Lengthening R7, and hence increasing its absorption, increases R8's polarization sensitivity and hence R8's signal. However, lengthening R7 also reduces the number of photons R8 receives, thereby increasing the effect of photon noise. We evaluate this trade-off using a series of models, an optical model of photon absorption by R7 and R8, a model that accounts for the saturation of transduction units at high light levels, and an opponent model of polarization coding that introduces intrinsic noise. We find that with a CRP of fixed length, similar to that observed in the DRA, there are length fractions; i.e., divisions of the CRP between R7 and R8, that optimize polarization coding by maximizing signal to noise ratio (SNR). Saturation of transduction units at high intensities does not change these optimum length fractions, but reduces all measures of performance. Furthermore an optimal optical configuration, namely photoreceptor length fraction in a tiered CRP, depends in part on a neural factor, the level of intrinsic noise.
The intensity dependent range of optimum length fractions, 0.5–0.33, matches the range of length fractions observed among flies (Table 2), suggesting that R7 and R8 divide a resource, a CRP of given length, to optimize their ability to code polarization. Additional evidence for efficient resource allocation is obtained by noting that in the DRA R7 and R8 make a CRP that is shorter than the peripheral rhabdomeres of photoreceptors R1–6, and 50%–60% shorter than CRPs in the rest of the eye. Our models show that this reduction in length increases the efficiency with which the DRA R7/R8 uses CRP to code polarization; it doubles the ratio between quantitative measures of coding ability and CRP length.
We will now discuss the procedures we used, the validity of their assumptions, their relationship to previous studies, and the novelty of their contributions. We will close by assessing the impact of our findings on our understanding of the structure, function and design of photoreceptor arrays.