Ten genes and two topologies: an exploration of higher relationships in skipper butterflies (Hesperiidae)
Published

Accepted

Received
Academic Editor
Subject Areas

Keywords

Skipper butterflies

,

Hesperiidae

,

Phylogeny

,

Contrasting topologies

,

Incongruence
Copyright

©

2016

Sahoo et al.

Licence

This is an open access article distributed under the terms of the Creative Commons Attribution License, which permits unrestricted use, distribution, reproduction and adaptation in any medium and for any purpose provided that it is properly attributed. For attribution, the original author(s), title, publication source (PeerJ) and either DOI or URL of the article must be cited.
Cite this article

2016

.

Ten genes and two topologies: an exploration of higher relationships in skipper butterflies (Hesperiidae)

PeerJ

4

:

e2653

https://doi.org/10.7717/peerj.2653
Abstract
Despite multiple attempts to infer the higher-level phylogenetic relationships of skipper butterflies (Family Hesperiidae), uncertainties in the deep clade relationships persist. The most recent phylogenetic analysis included fewer than 30% of known genera and data from three gene markers. Here we reconstruct the higher-level relationships with a rich sampling of ten nuclear and mitochondrial markers (7,726 bp) from 270 genera and find two distinct but equally plausible topologies among subfamilies at the base of the tree. In one set of analyses, the nuclear markers suggest two contrasting topologies, one of which is supported by the mitochondrial dataset. However, another set of analyses suggests mito-nuclear conflict as the reason for topological incongruence. Neither topology is strongly supported, and we conclude that there is insufficient phylogenetic evidence in the molecular dataset to resolve these relationships. Nevertheless, taking morphological characters into consideration, we suggest that one of the topologies is more likely.
Introduction
A robust phylogeny is the key to understanding historical macroevolutionary processes that have shaped extant diversity. For instance, a phylogenetic hypothesis is needed to address questions regarding patterns of morphological evolution, coevolution, and historical biogeography, as well as for a higher-level classification system. Among invertebrates, butterflies have been the most popular study systems in evolutionary biology (Boggs, Watt & Ehrlich, 2003). Relationships among and within butterfly families have been largely studied by phylogenetic analyses of DNA sequence data (Campbell, Brower & Pierce, 2000; Caterino et al., 2001; Braby, Vila & Pierce, 2006; Nazari, Zakharov & Sperling, 2007; Wahlberg et al., 2009; Simonsen et al., 2011; Heikkilä et al., 2012; Wahlberg et al., 2014; Espeland et al., 2015). Yet, the higher-level relationships among skipper butterflies, with more than 4,000 species in about 567 genera (Warren, Ogawa & Brower, 2008) and representing a fifth of the world's butterfly fauna (Hernández-Roldán et al., 2014), are still unsatisfactorily resolved.
Until recently, the higher-level classification of the family that has been generally followed was that proposed by Evans (1949) based on morphological characters. However, a major problem with skipper systematics is the remarkable uniformity of morphological structure among skipper taxa, which makes phenotype-based grouping extremely challenging (Voss, 1952; Warren, Ogawa & Brower, 2008). Following multiple attempts over the last several decades (Voss, 1952; Ackery, 1984; Scott, 1985; Scott & Wright, 1990; Chou, 1994; Chou, 1999; Mielke, 2005), a recent study employing molecular data suggested a classification that included five subfamilies (Warren, Ogawa & Brower, 2008). This classification relied on analyses of one mitochondrial and two nuclear markers, a dataset of 2,085 bp. A subsequent analysis that added morphological data (49 characters) to the same molecular data led to a revised classification that included seven subfamilies (Warren, Ogawa & Brower, 2009).
Warren, Ogawa & Brower (2008, 2009) used Maximum Parsimony analyses with nodal support estimated through Bremer Support values (Bremer, 1994). Despite some strongly supported monophyletic taxa being recovered, many putative higher clades were unresolved. Specifically, uncertainty remained about relationships among the major clades within the subfamily Pyrginae. Furthermore, support for relationships among the monophyletic subfamilies Heteropterinae, Trapezitinae and Hesperiinae was weak to moderate. The status of Euschemoninae as sister to rest of the family, except Coeliadinae, received very low nodal support (Bremer support = 1), although this placement is corroborated by the early developmental characters of Euschemoninae, which are similar to those of Coeliadinae and Eudaminae (Warren, Ogawa & Brower, 2009).
Yuan et al. (2015) investigated relationships among a small subset of hesperiid taxa—23 genera from China—using 1,458 bp of mitochondrial sequence data. Their Maximum Likelihood (ML) tree also indicated uncertainty in the position of Eudaminae and Pyrginae. Another study based on complete mitochondrial genomes of six skipper butterflies representing five subfamilies (sensu Warren, Ogawa & Brower, 2009) failed to support the monophyly of Pyrginae (Kim et al., 2014).
In summary, existing studies on the higher-level relationships within this speciose butterfly family have indicated significant conflicts (Warren, Ogawa & Brower, 2008; Warren, Ogawa & Brower, 2009; Kim et al., 2014; Yuan et al., 2015), and we currently lack a robust higher level phylogenetic hypothesis for evolutionary studies or a subfamily-level classification. The reasons for conflicting topologies across studies and poor nodal support could be (a) incongruence among gene trees due to incomplete lineage sorting (Pollard et al., 2006; Whitfield & Lockhart, 2007), (b) ancestral introgression (Eckert & Carstens, 2008), (c) differences in characteristics of the datasets used (Nabholz et al., 2011), (d) inadequate taxon sampling, (e) insufficient data to resolve deeper nodes (Wolf et al., 2002; Rokas et al., 2003a) or, (f) a near-hard polytomy due to a rapid radiation (Kodandaramaiah et al., 2010).
In order to bring further understanding to the higher-level phylogeny of skipper butterflies, we assembled sequences of 10 gene regions from 270 genera and analyzed a 7,726 bp dataset using both parsimony and model-based tree reconstruction methods. We also compiled the complete mitochondrial genome of 15 skipper species across five subfamilies from GenBank to compare the tree from the mitochondrial genome with that of single mitochondrial and combined nuclear genes. Consistent with the existing conflict across studies (Warren, Ogawa & Brower, 2008; Warren, Ogawa & Brower, 2009; Kim et al., 2014; Yuan et al., 2015), our analyses showed conflicting topologies at the deeper nodes of the phylogeny. To understand the reasons for the uncertainty in the phylogenetic estimation, we followed an integrative approach with systematic data encoding and tree comparison.
Discussion
With a dataset of 7,726 bp from 270 hesperiid genera, we present the most comprehensive phylogeny of this important group of butterflies. Our analyses suggested that there are two contrasting topologies for the higher-level skipper phylogeny. First, we reconstructed the phylogenetic trees using the concatenated and combined nuclear datasets; the resulting trees were well-supported for higher-level relationships except at certain deep nodes. Tree comparisons revealed that there are multiple tree topologies for the relationships among major skipper lineages. We explicitly investigated gene-specific signals for the relationships among major clades, clustered them based on their topological congruence and reanalyzed to check for consistency.
Conflicting topologies?
Our analyses indicate the occurrence of two equally likely deep tree topologies (Figs. 1A and 1B). Interestingly, the proximate reasons for the occurrence of these contrasting topologies appear to vary depending on the partitioning scheme used for the analysis. However, neither topology was strongly supported in any analysis and the results from our explorations of incongruence among gene histories were not conclusive. Gene cluster analyses improved the nodal support for the monophyly of Pyrginae but were unable to recover the sister status of Eudaminae and Euschemoninae with good support. Similarly, from the PBS analysis, no pattern of incongruence in gene histories was observed. We conclude that there is insufficient information in the molecular dataset to resolve these relationships despite the extensive taxonomic sampling and large number of molecular characters.
The presence of conflicting topologies has also been reported from many other studies across plants (Soltis, Soltis & Zanis, 2002; Burleigh & Mathews, 2004; Ruhfel et al., 2014) and animals (Rokas et al., 2003a; Song et al., 2012). The possible reasons for topological incongruency are phylogenetic noise or conflict among gene trees (Smith et al., 2015). In case of the former, a concatenation approach is expected to give a better result (Rokas et al., 2003b; Smith et al., 2015). In the latter case, where the conflict is presumed to be a result of gene flow across taxa or incomplete lineage sorting, coalescence based methods have been used for tree reconstruction (Jarvis et al., 2014; Xi et al., 2014; Smith et al., 2015). However, there was very low node supports across gene trees, indicating that strong conflict across genes does not explain the patterns found here. We predict that a phylogenomic approach would provide a better outlook to this conflicting scenario or resolve the phylogeny, as such an approach has proved instrumental in other studies (Dunn et al., 2008; Kocot et al., 2011; Smith et al., 2011; Johnson et al., 2013; Jarvis et al., 2014; Richart, Hayashi & Hedin, 2016).
Systematic implications
Our study confirmed that all the subfamilies, possibly except Pyrginae, are monophyletic and received high BS support across multiple analyses. We are uncertain about the monophyly of Pyrginae, as our study reveals homoplastic character distributions that could potentially be explained by the occurrence of ancestral introgression among its early lineages. Hence, when a certain combination of genes was used for phylogenetic construction, Pyrginae was recovered monophyletic (e.g., Fig. 1B), as in the previous study (Warren, Ogawa & Brower, 2009). This result appears to be supported by morphology. Similarly, we remain uncertain about the true relationships among Eudaminae, Pyrginae and the clade containing Heteropterinae, Trapezitinae and Hesperiinae, due to short branches that may be explained by their rapid divergence from each other and possibly an introgression between Eudaminae and Euschemoninae. However, the arrangement of Euschemoninae as sister to all Hesperiidae (except Coeliadinae), and Eudaminae as sister to Pyrginae, is generally supported by morphology. We suggest that the relationships shown in Fig. 1B (also in Fig. 3B) should be used as the preferred phylogenetic hypothesis until a better-resolved phylogeny is available.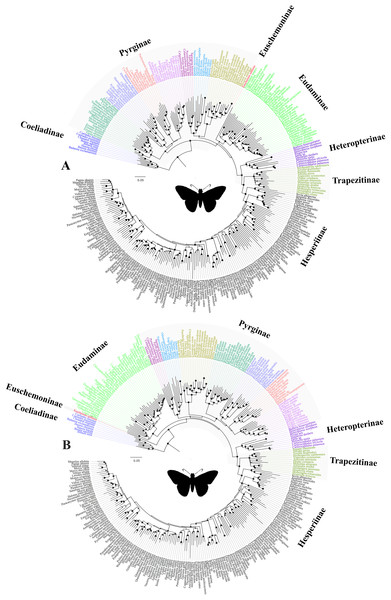 In addition, we observed unexpected placement of a few taxa within Pyrginae. For instance, Eracon, which was previously classified under Pyrgini (Warren, Ogawa & Brower, 2009), was found herein to group with Achlyodini. Likewise, Clito grouped within either Pyrgini or Erynnini based on dataset specific analyses. Moreover, we note that both Clito and Eracon sequences in our dataset have >70% missing sites. Hence, it is likely that the presence of insufficient informative sites within these taxa might influence their true positions in the phylogeny (Wiens, 2003; Wiens & Morrill, 2011). Therefore, for systematic implications, we pruned Clito, Eracon and three additional taxa with a large percentage of missing data from the dataset and reanalysed with gene partitions (Fig. 3). We observed no change in tree topology or node support values as a result of pruning these taxa. Hence, although they may appear on the tree in unorthodox positions, it is unlikely that presence of these taxa has any impact on our interpretation of higher-level relationships in the dataset as a whole.
We observed that the genus Cabirus, previously included within Eudaminae, grouped within Achlyodini (subfamily Pyrginae). Further study of the morphology of Cabirus is needed to corroborate this placement, although its position outside of Eudaminae seems to be correct. Three tribes within Hesperiinae—Aeromachini, Taractrocerini and Baorini—are monophyletic with high BS values. However, we are uncertain about the phylogenetic status of other proposed tribes within Hesperiinae due to prevalence of low BS values along the short internal branches. This indicates the possible occurrences of rapid ancestral radiation within Hesperiinae and needs further investigation.
Conclusions
With a broad coverage of all known subfamilies, we present the higher-level relationships among skipper butterflies. Our analyses suggest possible conflicting topologies with respect to (i) monophyly or paraphyly of Pyrginae and (ii) sister or non-sister status of Eudaminae and Euschemoninae. However, none of the topologies resulting from our alternative analyses is strongly supported, and incongruences in signal among genes cannot satisfactorily resolve these differences. We surmise that there is insufficient phylogenetic information in the current dataset to resolve these relationships. It is unlikely that adding data from a few more genes will improve the results, but data from entire genomes may result in a better-resolved phylogeny. However, taking morphological characters into consideration, we suggest one of the topologies as most likely (Figs. 1B and 3B), and that this topology will aid in future studies on this group.