Whole-brain ex-vivo quantitative MRI of the cuprizone mouse model
Published

Accepted

Received
Academic Editor
Subject Areas

Keywords

Cuprizone

,

Myelin

,

Quantitative imaging

,

MRI

,

Inflammation

,

Mouse
Copyright

©

2016

Wood et al.

Licence

This is an open access article distributed under the terms of the Creative Commons Attribution License, which permits unrestricted use, distribution, reproduction and adaptation in any medium and for any purpose provided that it is properly attributed. For attribution, the original author(s), title, publication source (PeerJ) and either DOI or URL of the article must be cited.
Cite this article

2016

.

Whole-brain ex-vivo quantitative MRI of the cuprizone mouse model

.

PeerJ

4

:

e2632

https://doi.org/10.7717/peerj.2632
Abstract
Myelin is a critical component of the nervous system and a major contributor to contrast in Magnetic Resonance (MR) images. However, the precise contribution of myelination to multiple MR modalities is still under debate. The cuprizone mouse is a well-established model of demyelination that has been used in several MR studies, but these have often imaged only a single slice and analysed a small region of interest in the corpus callosum. We imaged and analyzed the whole brain of the cuprizone mouse ex-vivo using high-resolution quantitative MR methods (multi-component relaxometry, Diffusion Tensor Imaging (DTI) and morphometry) and found changes in multiple regions, including the corpus callosum, cerebellum, thalamus and hippocampus. The presence of inflammation, confirmed with histology, presents difficulties in isolating the sensitivity and specificity of these MR methods to demyelination using this model.
Introduction
Myelin is a critical component of a healthy nervous system. It is composed of protein and lipid layers that tightly wrap neurons, improving their electrical conductivity and reducing their energy requirements (Nave & Werner, 2014). Focal demyelinating lesions are the hallmark of Multiple Sclerosis and disruption of myelin is also associated with other neurodegenerative diseases such as Alzheimer's and Parkinson's Disease. Non-invasive methods to quantify the myelination state of the nervous system are hence highly useful in order to better track the progression of these diseases, and any protective or regenerative treatments that become available (Dubessy et al., 2014).
Myelin is also a uniquely useful structure for MRI as it contributes to almost every known contrast mechanism. The high lipid content provides abundant pathways for spin-lattice interactions, reducing the longitudinal relaxation time (T1) of surrounding protons (Stuber et al., 2014) and generating significant Magnetization Transfer (MT) effects (Turati et al., 2014). It is impermeable, hindering the diffusion of water molecules (Song et al., 2005). Myelin is diamagnetic compared to grey matter (GM), leading to excellent phase and susceptibility contrast (Lee et al., 2012). The unique layered structure traps water protons in restricted environments, leading to reduced transverse relaxation (T2) and an additional inhomogeneous or dipolar MT effect (Mackay et al., 1994; Varma et al., 2015). It is hence of little surprise to find great interest in quantifying myelin content using Magnetic Resonance (MR) techniques.
Although numerous approaches have been proposed to quantify myelin with MRI, proper validation of such methods can be lacking in the literature. A particular case in point is the multi-component Driven-Equilibrium Single-Pulse Observation of T1/T2 (mcDESPOT) method. This aims to divide the MR signal resulting from steady-state sequences into three pools representing water trapped in the myelin sheath, intra-extracellular water, and free water in cerebrospinal fluid (Deoni, Matthews & Kolind, 2013). It has been used in several clinical studies, however to our knowledge it has had little validation with pre-clinical or histological studies. It has also been criticized for theoretical difficulties with the fitting procedure (Lankford & Does, 2012; Zhang et al., 2014), but these have been partially addressed by subsequent literature (Hurley & Alexander, 2014; Bouhrara & Spencer, 2015). In this paper, we provide a practical demonstration of mcDESPOT in the widely-used cuprizone mouse model of demyelination (Torkildsen et al., 2008; Skripuletz et al., 2011). In this model mice are fed cuprizone over a period of weeks, and progressive demyelination can be observed throughout white matter (WM) (Goldberg et al., 2015).
The cuprizone model has already been extensively imaged with multiple MR techniques, which are summarized in Table 1. However, the majority of these studies were restricted to imaging just one or two slices of the brain, often chosen to cover sections of the corpus callosum. This negates one of the major benefits of MRI, which is the ability to image the entire brain in a reasonable amount of time. The analyses are then often conducted on a small number of Regions-Of-Interest (ROIs), reducing the rich information available in MRI to a single composite number.
| Citation | In-/Ex-vivo | Acquired volume | Analysis volume | Methods |
| --- | --- | --- | --- | --- |
| Song et al. (2005) | Ex | MS | CC, EC, OT, CP | DTI |
| Merkler et al. (2005) | In | 3D | CC, EC | T1w, T2w, MTR |
| Sun et al. (2006) | In | MS | CC | DTI |
| Wu et al. (2008) | In | MS | CC | T2w, DTI |
| Torkildsen et al. (2009) | In | MS | Lesion volumes | T2w |
| Xie et al. (2010) | In | MS | CC | DTI |
| Zhang et al. (2012) | Both | 3D/MS | CC, Ctx | T2w, MTR, DTI |
| Chandran et al. (2012) | In | MS | CC, Cg, EC | T2w, DTI |
| Thiessen et al. (2013) | Both | SS | CC, EC, Ctx | T1/2, qMT, DTI, MWF |
| Fjær et al. (2013) | In | 3D | CC, GM, Cbl, Ctx | T2w, MTR |
| Falangola et al. (2014) | In | MS | CC | DKI |
| Turati et al. (2014) | In | SS×2 | CC, EC | qMT |
| Guglielmetti et al. (2016) | In | MS | CC, Ctx | T2w, DKI |
| Jelescu et al. (2016) | In | SS | CC | T2w, MTR, DKI |
| Tagge et al. (2016) | In | 3D | Cbr | T2w, MTR |
SS, Single-slice; MS, Multi-slice; CC, Corpus Callosum; EC, External Capsule; Ctx, Cortex; Cg, Cingulum; Cbl, Cerebellum; Cbr, Cerebrum; OT, Optic Tracts; CP, Cerebral Peduncles; T1w, T1 Weighted; T2w, T2 Weighted; T1, T1 Map; T2, T2 Map; MTR, Magnetisation Transfer Ratio; qMT, Quantitative Magnetisation Transfer; DTI, Diffusion Tensor Imaging; DKI, Diffusion Kurtosis Imaging; MWF, Myelin Water Fraction.
Hence a further aim of this study was to acquire full-brain, high resolution MRI of the cuprizone model, and look for effects outside of the corpus callosum. Such methodology is widespread in clinical MR studies, so their use in pre-clinical studies will aid translatability. We are aware of only two cuprizone papers that attempted similar acquisitions; however, Tagge et al. (2016) did not achieve sufficient SNR in the cerebellum and Fjær et al. (2013) did not conduct histology there.
The comprehensive study of Thiessen et al. (2013) attempted to measure the Myelin Water Fraction (MWF) with the quantitative Multi-Echo T2 (MET2) method but failed to find a MWF even in healthy WM at 7T. MET2 is considered somewhat of a gold standard for MWF imaging, so this study was an opportunity to evaluate whether mcDESPOT could robustly detect a MWF. Using ex-vivo imaging we could acquire a greater number of MR modalities at higher resolution than would be feasible in-vivo. In addition to the structural and relaxometry data, we also acquired Diffusion Tensor Imaging (DTI) data, allowing direct comparison of the sensitivity and specificity of DTI to relaxometry across the whole brain.
To summarise, the aims of this experiment were:
Demonstrate the feasibility of MWF imaging using the mcDESPOT technique in a pre-clinical model.

Observe the effects of cuprizone treatment across the entire encephalon using multiple quantitative MR methods.

Use histological validation to assess their sensitivity to demyelination and inflammation.
Results
The MR parameter maps and statistic images are available online (DOI: 10.6084/m9.figshare.3495848).
At the end of treatment the mean weight of the control and cuprizone groups were 27.5 ±2.5 g and 21.8 ± 1.2 g, respectively, which were significantly different when assessed with a two-tailed T-test (p = 0.0004). However the mean brain volumes were 387.8 ± 10.1 mm3 and 381.5 ± 9.0 mm3, which was not a significant difference (p = 0.26).
A single slice through the quantitative relaxometry parameter maps for a single control mouse is shown in Fig. 2. WM and GM are clearly distinguishable in the single-component maps. The T2 map better distinguishes the hippocampus and third ventricle at the base of the brain. MWF is clearly visible in the expected regions, with values of approximately 20% in the corpus callosum, slightly higher in the cerebral peduncles and optic tract and less than 5% in GM regions. IEWF is approximately the inverse of the MWF, but a large amount of Free Water is indicated in the third ventricle.

The myelin T1&T2 maps are fairly flat across the brain, indicating that the fitting routine finds fairly consistent values for these parameters. The exception to this is that the T2 of myelin water in the cerebral peduncles and optic tract appear to be lower than that found in the corpus callosum. The T2 of the IE-water shows some differences between WM and GM, but less than is found in the single-component T2 map. Although the myelin residence time (τM, defined as the mean time a water molecule stays in the myelin pool before exchanging to the IE-pool) shows good contrast, it must be remembered that this parameter is not well defined outside of WM tracts where there is close to 0% MWF (see below).
Similarly, Fig. 3 shows the DTI parameters from a single control mouse. These appear more blurred than the relaxometry maps due to the larger acquisition voxel size, however there is still contrast between WM and GM. AD is visibly higher than RD particularly in the hippocampus. FA shows good contrast between GM and WM, especially in the cerebral peduncles and optic tract.

Figure 4 shows three axial slices through the group average T1, T2, MWF & DTI maps at the level of the striatum, corpus callosum and arbor vitae of the cerebellum. The control group is presented on the left of each slice and the cuprizone group average on the right. Increases in T1&T2 are obvious in the corpus callosum and cerebellum, with a corresponding decrease in MWF. T2 increases are also visible outside of the WM tracts. Similar effects are present for MD, RD, and AD, while changes in FA are less evident.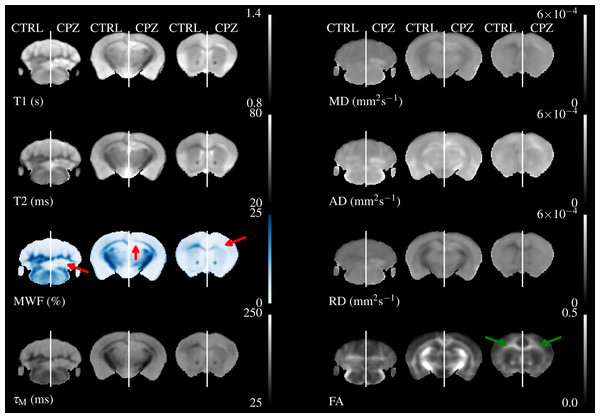 Figure 5 overlays the study template with the difference in group means for all parameters, thresholded at FWE-corrected p < 0.05. At this threshold a strong decrease in MWF and corresponding increases in T1&T2 of around 100 & 20 ms, respectively can be detected in the corpus callosum and arbor vitae. The detected regions of T2 change are much larger than for T1, and extend into the cortical and subcortical GM, including the sensorimotor cortex and the dorsal hippocampus. Increases in all diffusivities are also evident in corpus callosum, cerebellum, and thalamus. Changes in FA are restricted to a decrease directly in the splenium of the corpus callosum and an increase directly above, a decrease in the cingulate cortex and isolated decreases below the arbor vitae.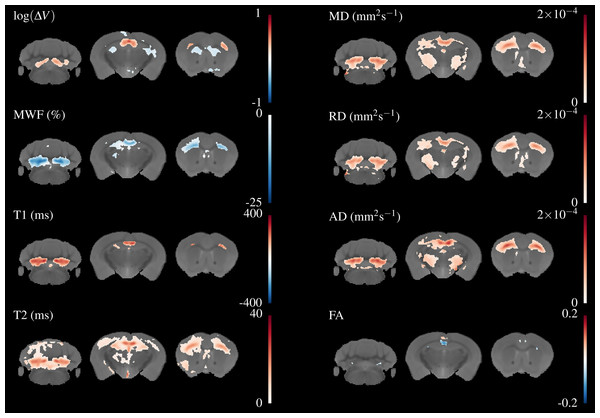 Regions of both volume increase and decrease were found in the TBM data. Large increases in volume were found in the splenium of the corpus callosum, external capsule, and inferior parts of the arbor vitae. These correspond well to areas of change indicated in the T1 and MWF maps. Decreases were found in the cortex, striatum, dorsal hippocampus and fimbria, which do not appear to overlap with changes in the quantitative parameters. For reasons of space not all these regions are shown in Fig. 5, but can be viewed in the downloadable results.
Figure 6 shows histology slices for the LFB and MBP stains at approximately the same position as the MRI slices in Figs. 4 and 5, again with a control animal on the left and a cuprizone animal on the right. Decreases in both stains are clearly evident in the cuprizone animal, marked by arrows. In the corpus callosum and external capsule the MBP stain appears to show a decrease towards the edges of the tract, with MBP still present in the center. The cerebellar WM is demyelinated in areas surrounding the cerebellar nuclei.

Figure 7 shows equivalent slices through the Iba1 staining for microglial activation. Zoomed areas are marked with boxes, showing the distinct shape of activated microglia in the cuprizone animal in the same areas that show demyelination in the LFB and MBP stains. Microglial activation appears less dense in the cerebellar nuclei compared to the corpus callosum. Figure 8 shows the quantitative histology results in the corpus callosum. Significant decreases in LFB and MBP staining, and increases in the number of Iba1 positive cells were found in the ROIs used. For LFB the mean intensities for control and cuprizone were 73.0 ± 4.3 and 26.8 ± 3.4, respectively (p = 0.0001), for MBP they were 46.6 ± 5.5 and 26.8 ± 3.4 (p = 0.0076) while for Iba1 the population counts were 4,775 ± 420 and 11,963 ± 1,513 (p = 0.0039).


Figure 9 shows a single slice of the Co-efficient of Variation (CoV) for selected parameter maps. The CoV for T1 is excellent, and is less than 5% throughout almost the entire parenchyma, while T2 is marginally worse. The CoV of MWF is highly region-dependent. In GM it is consistently above 10% and approaches 30% in some areas. This is perhaps expected given the low (<5%) absolute value of MWF in these regions. However, even in WM tracts the CoV is generally close to 10% and does not fall below 5%. The CoV of τM shows that this parameter is difficult to fit. Counter-intuitively, in GM areas the CoV appears low while in WM areas it is high. However, it must be remembered that in GM areas there is close to 0% MWF, so here the fitting procedure simply converges to the center of the fitting range. In WM areas, where there should be sufficient MWF to fit a valid τM, the CoV map increases indicating that there is insufficient information to fit this parameter correctly.

For the DTI parameters the diffusivity parameters have a mostly acceptable CoV (<10%) that increases slightly in WM regions. We attribute this to partial volume effects and residual mis-registrations arising from the large voxel size in the anterior-posterior direction for the diffusion acquisition. FA has a high CoV that is above 10% in much of the parenchyma.
Discussion
In this experiment, we aimed to demonstrate the use of mcDESPOT in the cuprizone model, with images acquired over the entire brain, and compare the sensitivity and specificity of multiple quantitative MR methods to demyelination. However, the presence of inflammation in the cuprizone model is a significant potential confound that has not been adequately discussed in previous MR literature.
Conclusions
This experiment demonstrates that T1&T2, the MWF, and diffusivities are sensitive to demyelination but not necessarily specific, due to confounding co-localized inflammation in the cuprizone model. FA appears insensitive to myelination state. In addition, we found that cuprizone causes localized volume changes in the mouse brain. Collectively these results show that whole brain acquisition and analysis is crucial to full understanding of the cuprizone model. We propose that similar methods would be beneficial when using MRI to study other preclinical models of neurodegeneration to better understand and refine the knowledge of brain pathology.