Identification and temporal expression of putative circadian clock transcripts in the amphipod crustacean Talitrus saltator
Institute of Biological, Environmental and Rural Sciences, University of Wales

,

Aberystwyth

,

Ceredigion

,

United Kingdom
Published

Accepted

Received
Academic Editor
Subject Areas

Keywords

Circadian

,

Crustacean

, Talitrus saltator,

Transcriptome

,

Rhythms
Copyright

©

2016

O'Grady et al.

Licence

This is an open access article distributed under the terms of the Creative Commons Attribution License, which permits unrestricted use, distribution, reproduction and adaptation in any medium and for any purpose provided that it is properly attributed. For attribution, the original author(s), title, publication source (PeerJ) and either DOI or URL of the article must be cited.
Cite this article

2016

. Identification and temporal expression of putative circadian clock transcripts in the amphipod crustacean Talitrus saltator.

PeerJ

4

:

e2555

https://doi.org/10.7717/peerj.2555
Abstract
Background
Talitrus saltator is an amphipod crustacean that inhabits the supralittoral zone on sandy beaches in the Northeast Atlantic and Mediterranean. T. saltator exhibits endogenous locomotor activity rhythms and time-compensated sun and moon orientation, both of which necessitate at least one chronometric mechanism. Whilst their behaviour is well studied, currently there are no descriptions of the underlying molecular components of a biological clock in this animal, and very few in other crustacean species.
Methods
We harvested brain tissue from animals expressing robust circadian activity rhythms and used homology cloning and Illumina RNAseq approaches to sequence and identify the core circadian clock and clock-related genes in these samples. We assessed the temporal expression of these genes in time-course samples from rhythmic animals using RNAseq.
Results
We identified a comprehensive suite of circadian clock gene homologues in T. saltator including the 'core' clock genes period (Talper), cryptochrome 2 (Talcry2), timeless (Taltim), clock (Talclk), and bmal1 (Talbmal1). In addition we describe the sequence and putative structures of 23 clock-associated genes including two unusual, extended isoforms of pigment dispersing hormone (Talpdh). We examined time-course RNAseq expression data, derived from tissues harvested from behaviourally rhythmic animals, to reveal rhythmic expression of these genes with approximately circadian period in Talper and Talbmal1. Of the clock-related genes, casein kinase IIβ (TalckIIβ), ebony (Talebony), jetlag (Taljetlag), pigment dispensing hormone (Talpdh), protein phosphatase 1 (Talpp1), shaggy (Talshaggy), sirt1 (Talsirt1), sirt7 (Talsirt7) and supernumerary limbs (Talslimb) show temporal changes in expression.
Discussion
We report the sequences of principle genes that comprise the circadian clock of T. saltator and highlight the conserved structural and functional domains of their deduced cognate proteins. Our sequencing data contribute to the growing inventory of described comparative clocks. Expression profiling of the identified clock genes illuminates tantalising targets for experimental manipulation to elucidate the molecular and cellular control of clock-driven phenotypes in this crustacean.
Introduction
Nearly all organisms are exposed to monotonous cyclic alterations in their environment. Competence to gate behaviour and physiology in tune with these changes is orchestrated by so-called circadian clocks, the cardinal features of which are: the clock mechanism is autonomous and endogenous i.e., it persists in the absence of external cues; the period of the rhythm is temperature compensated and is entrained by relevant cyclic environmental cues. For example, in the terrestrial realm, organisms invariably exhibit daily activity rhythms in temporal correspondence to the light and dark of day and night. Our understanding of the molecular and cellular underpinnings of circadian clocks has advanced tremendously in recent years and comparative studies have benefitted from the advent of next generation sequencing strategies to reveal clock genes in non-model species, including crustaceans (Christie et al., 2013; De Pitta et al., 2013; Nesbit & Christie, 2014; Toullec et al., 2013).
In the fruit fly brain about 150 cells, primarily in the protocerebrum and optic lobe, contribute to the central clock oscillatory system, although this number varies throughout arthropods. Indeed, in some Lepidoptera (Sauman et al., 2005) and Crustacea (Beckwith et al., 2011; Zhang et al., 2013) this number seems to be much lower. The consensus arthropod model of the central oscillatory mechanism is based on transcriptional/translational feedback loops (TTFLs), with positive loops driving the expression of negative factors that feed-back to inhibit the positive loops and hence their own transcription. Despite interspecific variation, the principle mechanisms and components are conserved across diverse taxa (For reviews, see Allada & Chung, 2010; Hardin, 2009; Sandrelli et al., 2008). Briefly, in Drosophila the transcription factors CLOCK and CYCLE (CLK and CYC) drive the expression of period (per) and timeless (tim). The translation of per and tim throughout the evening and early night results in the cytoplasmic accumulation of their cognate proteins that subsequently form stable heterodimers and translocate to the nucleus where they interfere with the action of CLK and CYC to inhibit their own transcription. Under constant conditions such as DD, this autoregulatory feedback loop takes circa 24 h to complete due to the opposing phosphorylation and dephosphorylation actions of various casein kinases and phosphatases that alter circadian protein stability. For example, the stability of PER is facilitated by casein kinase 1ε (CK1ε) or DOUBLETIME (DBT) phosphorylation and translocation of the PER/TIM dimer is mediated by phosphorylation via glycogen synthase kinase β or "SHAGGY" (SGG). In fruit flies maintained under LD conditions the blue light activated flavoprotein cryptochrome (dCRY1) acts as a transduction pathway to relay photic stimuli to the TTFL. When photo-activated at dawn dCRY1 facilitates the degradation of TIM, via the CRYPTOCHROME/JETLAG (JET) complex. This consequently leads to destabilisation of PER, which is ubiquitinated by E3 ubiquitin ligase SUPERNUMERARY LIMBS (SLIMB), and degraded via the proteasome. The resultant de-repression of dCLOCK and dCYCLE 'resets' the clock at dawn synchronising (or entraining) the system to the ambient conditions. Protein phosphatases (PP) including PP2A and PP1 regulate these phosphorylation events and so their action contributes to the temporal control of the feedback loops. A secondary negative loop also governs precisely timed oscillations; the CLK-CYC heterodimer initiates the transcription of the basic zipper (bZip) activator PAR domain protein 1ε (PDP1ε) and bZip transcriptional repressor vrille (vri) (Blau & Young, 1999) by binding E-boxes in the vri promoter. VRI accumulation culminates in the repression of clk transcription by binding VRI/PAR domain protein 1ε (PDP1ε) promoters (Cyran et al., 2003). VRI dependent repression also mediates transcription of output mRNAs that cycle in phase with clk, such as cryptochrome (Glossop et al., 2003). In mammals and some arthropods, CRYPTOCHROME 2 (CRY2) acts as a negative repressor of the CLK/BMAL positive loop. In flies the actions of CLK/CYC E-boxes are also targeted by a basic-helix-loop-helix repressor, CLOCKWORK ORANGE (CWO), which is thought to sustain rhythmicity (Kadener et al., 2007; Lim et al., 2007; Matsumoto et al., 2007).
In insects, the octadecapeptide pigment dispersing factor (PDF) that occurs in subsets of clock neurons plays pivotal roles in synchronising oscillator neurons in the clock network. Perturbation of PDF function leads to arrhythmicity or incompetence to adjust phase and period of rhythmic phenotypes to changing environmental cues (Shafer & Yao, 2014). PDF, or rather the orthologous pigment dispersing hormone (PDH) was first discovered in crustaceans where they play a neurohormonal role as well as a neuromodulatory function, effecting dispersion of retinal pigments and integumental chromatophores, including the diurnal rhythm of this action. In crustaceans, PDHs occur in several isoforms and the neuroarchitecture of PDH cells is more complex than for PDF, suggesting additional functions to pigment dispersion. However, the defined role(s) for PDH in rhythmic phenotypes of crustaceans remains poorly described (Beckwith et al., 2011; Strauss & Dircksen, 2010; Wilcockson et al., 2011)
Talitrus saltator lives in the sandy substratum of the supralittoral zone of beaches on the European Atlantic coast and in the Mediterranean. During the day it remains buried in the sand, emerging after dark to make foraging excursions along the land-beach axis. Before dawn it relocates to its burrowing zone to seek refuge, reinterred in the sand. This circadian locomotor activity persists in the absence of external cues and is thus endogenously driven (Bregazzi & Naylor, 1972; Edwards & Naylor, 1987). Remarkably, T. saltator also maintains its preferred position on the shore by orientating using visual cues such as the sun and moon as a compass guide (Pardi & Papi, 1952; Ugolini, 2003; Ugolini et al., 1999; Ugolini, Melis & Innocenti, 1999; Ugolini et al., 2007). This capability necessitates compensation for azimuthal changes over time (Ugolini, Tiribilli & Boddi, 2002). Thus, these clock-controlled phenotypes contribute to the fitness of T. saltator.
The well-defined behavioural phenotypes of T. saltator enable a range of comparisons with other organisms to be drawn. For example, another peracarid crustacean, the isopod Eurydice pulchra possesses independent circatidal and circadian clocks (Zhang et al., 2013) and the staggering time-compensated navigational mechanisms of the monarch butterfly (Reppert, 2006) are comparable to those of T. saltator. This brings the relevance of comparative clock biology sharply into focus; detailed analysis of a diverse non-model species may reveal commonalities or differences that give insight into how each has evolved and functions. Thus, T. saltator represents an excellent, tractable model for time-compensated orientation.
Despite decades of elaborate behavioural analyses, the molecular basis of clock-driven behavioural phenotypes in T. saltator is not understood, even at the most fundamental level. Therefore, we sought to elucidate the sequences of canonical clock genes and their temporal expression dynamics in T. saltator to provide a platform from which to explore the neuromolecular mechanisms of circadian clock mediated phenotypes in this animal. This work contributes also to the steadily growing inventory of crustacean transcriptomes and is applicable to further exploration of comparative chronobiology and animal orientation in a tractable and ecologically important model.
Results
Animals entrained under 12:12LD regimes showed robust activity rhythms when released into constant darkness (DD) with peak activity occurring in the middle of the subjective night (Fig. 1A). Periodogram analysis of representative animals revealed a period (tau) of 24.15 h (Fig. 1B). The demonstration of rhythmicity in these animals was essential to our sampling strategy; tissue for gene discovery was taken across one complete daily cycle and pooled to ensure capture of transiently expressed transcripts. Additionally, expression profiling of transcriptome contigs required samples harvested from rhythmic animals in-phase with respect to each other.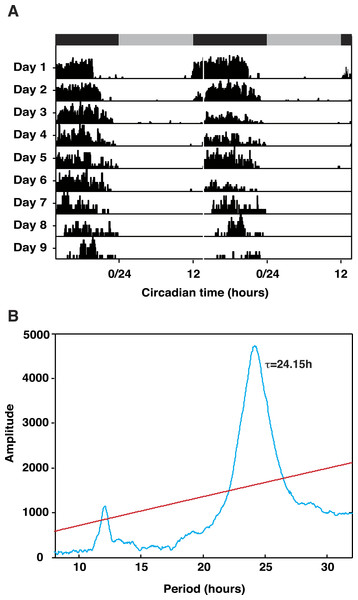 Discussion
Talitrus saltator exhibits intriguing clock-driven behavioural phenotypes, including circadian locomotor rhythms (Bregazzi & Naylor, 1972; Ugolini et al., 2007) and time-compensated solar and lunar navigation (Ugolini et al., 1999; Ugolini, Melis & Innocenti, 1999; Ugolini, 2003; Ugolini et al., 2007). Their abundance and suitability for behavioural experimentation make them an excellent model for comparative clock analysis but to make the species more genetically tractable we set out to define the neuromolecular components of its circadian clock. Initially, our strategy included homology cloning and RACE PCR to sequence full-length Talcry2, including the 3′ and 5′ UTRs, but we subsequently exploited RNAseq technologies to sequence the cerebral ganglia transcriptome and identify 'core' clock genes and clock related genes, known in other species to play a role in normal clock functioning.
The quality of the Trinity assembled transcriptome was evaluated in a number of ways. First, we set out to maximise coverage of temporally regulated transcripts by harvesting brain tissue across a complete day-night cycle, and from behaviourally rhythmic animals. The clock gene transcripts identified from our assemblies and the proportion of assembled contigs for that encoded full-length proteins (17 out of 28) suggest we satisfied this aim. Second, standard cloning and sequencing of several genes, including Talcry2, Talper and Talbmal1 and Talpdh-I resulted in 100% nucleotide alignment with the corresponding contig coding region. Third, confidence in the identity of our contigs as clock gene transcripts was provided by the identification of conserved functional motifs in each conceptual translation. This was reflected also in the BLAST searching and high confidence levels of the search returns (expressed as e-values) from the NCBI nucleotide and protein databases as well as FlyBase. Taken together, these attributes indicate that the transcriptome is a faithful representation of all genes expressed in this tissue across a day-night cycle. Furthermore, Blast2GO analysis of the assembled contigs resulted in broadly similar numbers of GO terms and categorisation pattern to previous studies (Lenz et al., 2014; Menon et al., 2012; Xie et al., 2012). The few differences observed between GO term numbers of T. saltator to other non-model species can be attributed to transcriptomes being compared across different tissues of diverse species at different stages of development and subjected to various environmental conditions.
Clock genes are well conserved across diverse taxa (Tauber & Kyriacou, 2005; Tauber et al., 2004) and the discovery of structurally similar transcripts in T. saltator was expected. Nevertheless, our data yielded some interesting comparative insights. In T. saltator we failed to find a CRY1 but the CRY2 showed very high sequence similarity to that of the isopod Eurydice pulchra, also lacking a CRY1 but possessing a mammalian-like CRY2 that has been demonstrated in vivo to function as the principle negative repressor BMAL1:CLK transcriptional activity (Zhang et al., 2013). Given the close relationship of T. saltator to E. pulchra it is tempting to speculate that the CRY2 we describe is also a negative regulator in the core oscillator system.
Whilst Drosophila do not have a CRY2, other insects, such as the monarch butterfly, Danaus plexippus have both CRY1 and CRY2 (Zhu et al., 2005). This is considered to be the ancestral state- Cry2 being lost in fruit flies (Sandrelli et al., 2008). However, peracarid crustaceans, that presumably predate insects, have only a CRY2, offering alternative evolutionary perspectives on the central clock mechanism. However, the evolutionary status of cryptochrome is likely highly complex; for example, and in contrast to E. pulchra and T. saltator, the copepod crustaceans, Calanus finmarchicus and Tigriopus californicus have been shown to express a putative CRY1 transcript (Lenz et al., 2014; Nesbit & Christie, 2014) whilst some insects such as the flour beetle, Tribolium castaneum and the honey bee, Apis mellifera have only a mammalian CRY2 (Rubin et al., 2006).
Using the Drosophila CYC as a search term we elucidated a CYC-like sequence in T. saltator containing a bHLH and 2 PAS domains, but differing from Drosophila in that it also contained a C-terminal transactivation domain, on the basis of which we assigned the T. saltator sequence as a vertebrate-like BMAL1. A very similar structural scenario was described for BMAL1 in E. pulchra and the water flea Daphnia pulex (Zhang et al., 2013). In E. pulchra deletion of the transactivation domain resulted in severely attenuated functionality (of the EpBMAL:EpCLK dimer) in a cell-based in vitro luciferase assay (Zhang et al., 2013). Again, whilst we have no experimental evidence to support the notion, the close structural and phylogenetic relationship between T. saltator and E. pulchra hint at a similar role for TalBMAL1.
Although our data reveal most of the clock gene candidates we had anticipated, some such as Taltim and Talclk were incomplete. However, given the presence of the conserved domains identified within the transcripts, we are confident that these partial sequences are the products of the Taltim and Talclk genes in T. saltator. Manual cloning and sequencing strategies are necessary to reveal the full-length sequences to these. We also uncovered two unusual sequences identified as Talpdh. For TalPDH-I the N-terminal end of the mature hormone contains the conserved NSE/ALINSSLLG signature but, the remaining sequence extends beyond the expected 18 residues that define PDHs, including a further 14 residues, and lacking an amidation signal. A second contig discovered with relaxed search stringency also exhibited features of PDH-like peptides with a 23 amino acid signal peptide, a 43 residue PPRP and a 23 amino acid mature PDH with C-terminal amidation. Concentrated efforts to locate other PDH candidates in our transcriptome were unsuccessful. Interestingly, a combined transcriptomic and mass spectrometry approach on the transcriptome/neuropeptidome of the krill Euphasia crystallorophias (Toullec et al., 2013) revealed three PDH isoforms PDH-Lβ1, PDH-Lβ2 and PDH-Lα. In this species PDH-Lβ1 expresses the characteristic N-terminal 12 residues but has an extended C-terminus, making the mature, amidated peptide 24 amino acids in length. The PDH-L2β is almost identical except for Ser2 being substituted for Ala2, reminiscent of the case in E. pulchra (Wilcockson et al., 2011). TalPDH-II also expresses the conserved N-terminus with a conserved substitution of Leu4 for Ile4. In accord with the structure of PDH prepropeptides, we observed the signal peptide and PPRP, separated from the mature peptide by a dibasic cleavage site (K-R). These PDH preprohormone-like features and confirmation of the contig sequences by standard and RACE PCR and cloning, together with the unusual PDH isoforms reported in euphausiids, allay our initial fears that our sequence data were mis-assemblies or anomalies. The structural and functional significance of PDHs in T. saltator are worthy of further investigation.
Many organisms show cyclic changes in gene expression of core and clock-related genes as a function of the TTFL. A feature of biological clocks is that they free-run in constant conditions i.e., the transcriptional/translational activity of the central oscillator persists with a circadian period in DD. We determined the transcriptional dynamics of the T. saltator clock genes in behaviourally rhythmic animals by mapping RNAseq sequencing reads for each time-course sample back to the assembled transcriptome and analysing temporal changes in these data by JTK_CYCLE analysis and ANOVA. Of the canonical clock genes only Talper and Talbmal were indicated as rhythmically expressed by JTK_CYCLE analysis and ANOVA with Talcry 2 abundance varying in time (ANOVA). In addition, the clock related genes, TalckIIβ, Talpp1, Talsirt1, Talsirt7 Talebony, Taljetlag, Talshaggy and Talpdh-II and showed oscillating expression using the same analytical parameters. TalCK11β, Talpp1, Talsirt1 and Talslimb abundance differences were also noted over time (ANOVA).
We chose the JTK_CYCLE algorithm because it is reported to be very robust to outliers and returns low numbers of false-positives (Hughes, Hogenesch & Kornacker, 2010). In our study we sacrificed an extended sampling period for increased biological replicates and three-hour sampling intervals. We are confident that this approach, coupled with the JTK_CYCLE data treatment yielded genuinely cycling genes that offer suitable targets for further exploration.
We caution that, it would be entirely speculative to draw conclusions on the functional significance of the rhythmicity or phase relationships of cyclic expression identified in the current study. Although circadian genes and proteins are conserved and the central tenet of the TTFL serves to describe the basis of rhythmicity across taxa, simple interspecific comparisons are confounded by the fact that clocks do show nuances in their organisation of the TTFL, e.g., in E. pulchra only Eptim shows robust cycling in animals expressing circadian and circatidal behaviour and yet Epper, which is non-rhythmically expressed, appears essential to circadian phenotypes (Zhang et al., 2013). Indeed, rhythmicity in gene expression itself is not a prerequisite for a functional clock (Lakin-Thomas, 2006). The tremendous scope for complex interplay of gene products and their cognate proteins will only be revealed by more targeted experimental approaches in non-model species. Nevertheless, our data indicate that sub-sets of clock and clock-related genes in T. saltator continue to cycle in free-running conditions and thus represent tantalising targets for investigation to uncover the role of these genes in either circadian or circalunidian (24.8 h) rhythms. For example, T. saltator has the capability to orientate by the sun and moon suggesting they may have separate daily and lunidian clocks (Ugolini et al., 1999). Indeed a precedence for independent clock mechanisms in marine organisms has been set, e.g., E. pulchra has been shown to possess a dual clock system with separate clocks orchestrating circatidal and circadian phenotypes and the marine worm Platyneries dumerilli employs separate mechanisms to keep circadian as well as lunar time (Zantke et al., 2013). The sequence data and expression analysis described here provide a foot-hold in a behaviourally tractable system from which we can address these questions.
In conclusion, we have sequenced the entire brain transcriptome of an ecologically important beach crustacean that exhibits intriguing clock-controlled phenotypes and report the sequences of key clock and clock-related genes that are likely key players in these phenotypes. Our dataset is one of only very few to describe the putative clock mechanism in a non-model crustacean and contribute to the growing inventory of crustacean and non-model transcriptomes that may have wide-ranging utility in the research community.