Targeted genomic enrichment and sequencing of CyHV-3 from carp tissues confirms low nucleotide diversity and mixed genotype infections
Published

Accepted

Received
Academic Editor
Subject Areas

Keywords

Cyprinid herpesvirus 3

,

Genome

,

Targeted genomic enrichment

,

Mixed infection

,

Variability
Copyright

©

2016

Hammoumi et al.

Licence

This is an open access article distributed under the terms of the Creative Commons Attribution License, which permits unrestricted use, distribution, reproduction and adaptation in any medium and for any purpose provided that it is properly attributed. For attribution, the original author(s), title, publication source (PeerJ) and either DOI or URL of the article must be cited.
Cite this article

2016

.

Targeted genomic enrichment and sequencing of CyHV-3 from carp tissues confirms low nucleotide diversity and mixed genotype infections

.

PeerJ

4

:

e2516

https://doi.org/10.7717/peerj.2516
Abstract
Koi herpesvirus disease (KHVD) is an emerging disease that causes mass mortality in koi and common carp, Cyprinus carpio L. Its causative agent is Cyprinid herpesvirus 3 (CyHV-3), also known as koi herpesvirus (KHV). Although data on the pathogenesis of this deadly virus is relatively abundant in the literature, still little is known about its genomic diversity and about the molecular mechanisms that lead to such a high virulence. In this context, we developed a new strategy for sequencing full-length CyHV-3 genomes directly from infected fish tissues. Total genomic DNA extracted from carp gill tissue was specifically enriched with CyHV-3 sequences through hybridization to a set of nearly 2 million overlapping probes designed to cover the entire genome length, using KHV-J sequence (GenBank accession number AP008984) as reference. Applied to 7 CyHV-3 specimens from Poland and Indonesia, this targeted genomic enrichment enabled recovery of the full genomes with >99.9% reference coverage. The enrichment rate was directly correlated to the estimated number of viral copies contained in the DNA extracts used for library preparation, which varied between ∼5000 and ∼2×107. The average sequencing depth was >200 for all samples, thus allowing the search for variants with high confidence. Sequence analyses highlighted a significant proportion of intra-specimen sequence heterogeneity, suggesting the presence of mixed infections in all investigated fish. They also showed that inter-specimen genetic diversity at the genome scale was very low (>99.95% of sequence identity). By enabling full genome comparisons directly from infected fish tissues, this new method will be valuable to trace outbreaks rapidly and at a reasonable cost, and in turn to understand the transmission routes of CyHV-3.
Introduction
Koi herpesvirus disease (KHVD) is an emerging disease that causes mass mortalities in koi and common carp, Cyprinus carpio L. Since the first report in the late 1990s (Hedrick et al., 2000), the disease has spread to many countries worldwide (Pokorova et al., 2005). The causative agent, cyprinid herpesvirus 3 (CyHV-3), is a large double-stranded DNA virus belonging to the Alloherpesviridae family, genus Cyprinivirus (Davison, 2010; King et al., 2011; Waltzek et al., 2005). Twelve alloherpesviruses have been described to date: two of them infect amphibians while the ten remaining infect various fish species, including eel, salmon, catfish, goldfish and sturgeon (Waltzek et al., 2009).
Although the pathogenesis of this virus is well understood and well described in the literature, little is known about the genomic diversity and evolution. Sequencing of three complete CyHV-3 genomes of isolates originating from the USA (U), Israel (I) and Japan (J) (Aoki et al., 2007) revealed that sequences were highly similar (>99.9%), which was consistent with a scenario of a unique virus that spread worldwide. Meanwhile, accurate genomic comparisons highlighted two main genetic lineages formed by the U/I and J strains. The existence of two lineages was further confirmed on a larger set of European and Asian isolates by using PCR-based molecular markers targeting various regions of the genome (Bigarré et al., 2009; Kurita et al., 2009). These two lineages were designated as European and Asian. Finally, the use of variable number of tandem repeats (VNTR) revealed a whole range of variants associated with both European and Asian lineages (Avarre et al., 2011). It was also demonstrated that genetically distinct strains of CyHV-3 may co-occur in a single enzootic area, and that carp were frequently infected with a mix of genotypes (Avarre et al., 2012; Sunarto et al., 2011). Although viruses evolve more rapidly than their hosts, the differentiation ability of CyHV-3 remains mostly unknown, and consequently, it is difficult to predict whether the presence of distinct genotypes within a single host results from distinct infection events, from the evolution of a unique strain, or from both. Thus, characterizing these genetic variants at the genome level is critical to better understand the ecological and evolutionary significance of such mixed infections, especially with regards to the virulence and the modes of propagation of the virus.
In this context, the objective of the present work was to develop a method enabling the sequencing of CyHV-3 full-length genomes directly from their host. Targeted genomic enrichment (TGE), or targeted sequence capture prior to sequencing, has been described for a large panel of applications (Mertes et al., 2011). In spite of its great potential in virology, the application of this approach has remained limited since its first description and successful application to human herpesviruses (Depledge et al., 2011). Using a set of probes designed to specifically capture CyHV-3 sequences, seven genomes were fully sequenced from carp gill tissue samples collected during several outbreaks. In order to reduce the cost associated with TGE, the influence of pre-capture multiplexing on the ability to recover full genomes and to discover mutations in CyHV-3 with high confidence was also evaluated.
Results
Viral genomic DNA enrichment: read mapping, sequencing depth and genome coverage
A total of 316,007,054 reads of 100 bp were obtained for the ten libraries, resulting in about 31.6 Gb of sequence data. The number of reads per library ranged from 9,163,662 (PoB3_3) to 56,046,694 (I_09-2i3) (Table 2). The rate of enrichment, reflected by the proportion of mapped reads, apparently correlated with the initial viral load, as it tended to increase concomitantly. For specimens with viral loads >106 copies, the proportion of mapped reads (after duplicate removal) was comprised between 43.99% (PP3_070411) and 50.70% (CB4_181110). Conversely, for PoB3, it varied between 3.22% and 7.22% of the total number of reads, depending on the assay format. Removal of duplicate sequences generally led to a significant reduction in the proportion of reads that could be mapped on the CyHV-3 reference genome (strain J). Sequence depth along this reference genome was variable both across and within specimens. It was >2,000× on average for all specimens with an estimated number of viral copies >105, and >200× for all other specimens (Table 2 and Fig. S1). For most samples, there was an over representation of reads at positions 226,373–226,831 and 228,015–228,163 (according to KHV-J coordinates, GenBank # AP008984). A Blast search revealed that these regions shared 97% and 94% identity with sequences of Cyprinus carpio genome (GenBank # LN591727 and LN591823, respectively). However, this over representation was attenuated in samples with high initial viral loads (J1_101110, CB4_181110 and PP3_070411). A higher coverage (×30) was also noticed for J2_101110 specimen in the region corresponding to positions 45,500–47,700; yet this portion of CyHV-3 genome did not return any significant blast hit. However, since the genome of Cyprinus carpio is not yet complete, it cannot be ruled out that these sequences belong to the carp genome. In spite of these slight differences, genomes could be recovered in their totality (or near-totality) from all samples, since coverage along the reference sequence was above 99.9%, with the exception of PoB3_2 for which coverage was slightly lower (99.05%).
Comparison of PoB3 sequences according to the assay format
Comparison of PoB3 in the different situations suggests that pre-capture multiplexing had an influence on the number of raw reads: the number of obtained sequences was highest when PoB3 was enriched separately, lowest when mixed with specimens with high viral loads (PoB3_3) and intermediate when mixed with specimens displaying lower viral loads (PoB3_4). The proportion of mapped reads (before duplicate removal) followed the same trend, with the noticeable exception of PoB3_2 (89.40%) (Table 2 and Fig. S2). However, this high proportion of mapped reads obtained with the double-capture protocol (PoB3_2) dropped to 4.59% after sequence duplicate removal, suggesting that the majority of these sequences corresponded to duplicates. Even though the mean depth values of the 4 PoB3 samples were comparable, their distribution along the genome, however, displayed marked differences: whereas sequence representation was the steadiest along the genome for PoB3_1, it was uneven for PoB3_2, and in a lesser extent for PoB3_3 and PoB3_4 (Fig. 1).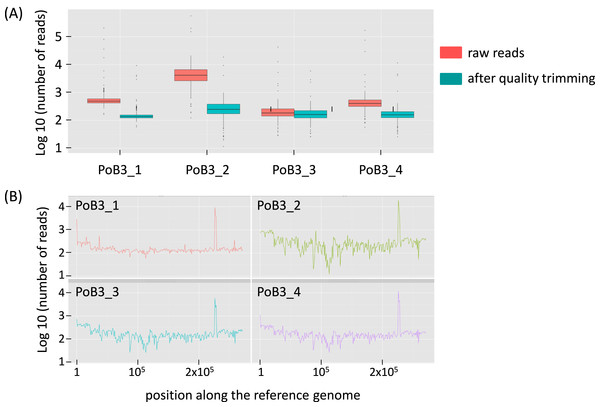 When compared to KHV-J reference strain, the number of variations (SNP + indel) observed for the 4 PoB3 samples varied from 423 (PoB3_1) to 457 (PoB3_3). Among these variations, 335 were shared by all 4 PoB3 samples (Fig. 2). PoB3_3 displayed the highest number of 'unique' variations (75), representing ∼16% of the total variations recorded for this sample. Examination of these 75 positions revealed that they all were 'heterozygous,' i.e., they consisted in a mix of two haplotypes, including that of the reference genome. Fifty five of these variations were shared with at least one of the three other co-enriched samples (J1-101110, CB4-181110, PP3_070411), and 10 additional ones were located in the region that matches with the host genome (between positions 226,373 and 228,163 according to KHV-J coordinates). A distance analysis including the four PoB3 replicates (Fig. S3) indicated that the impact of these differences on the general phylogeny was very limited.
| Specimen | SNP | Indel | % small nucleotide variants a | % intra-specimen heterogeneous sitesa,b |
| --- | --- | --- | --- | --- |
| PoB3_1 | 215 | 208 | 0.14 | 31.8 |
| PoB3_2 | 216 | 208 | 0.14 | 33.6 |
| PoB3_3 | 230 | 227 | 0.15 | 95.4 |
| J1-101110 | 47 | 66 | 0.04 | 31.3 |
| CB4-181110 | 43 | 57 | 0.03 | 31.3 |
| PP3_070411 | 66 | 60 | 0.04 | 42.5 |
| PoB3_4 | 213 | 211 | 0.14 | 93.0 |
| I10-3 | 72 | 53 | 0.04 | 72.1 |
| I_09-2i3 | 60 | 56 | 0.04 | 54.6 |
| J2_101110 | 94 | 77 | 0.06 | 81.9 |
Inter- and intra-specimen variations
Using KHV-J as reference, sequence identity ranged from 99.85% to 99.97%. The most divergent sequence was that of PoB3. This corresponded to approximately 425 sites that varied from the reference KHV-J sequence. The proportion of single nucleotide polymorphisms (SNP) and insertions/deletions (indel) was nearly 50%–50% for all samples (Table 3). As can be visualized on Fig. 3, variations were distributed across the entire genome, with no particular hotspot of variability. In addition to the differences between specimens, sequence variability also occurred within specimens. Indeed, the proportion of varying sites harboring more than one allele (using the GATK criteria) was above 30% for all specimens (Table 3). If some of this intra-specimen variability may probably be attributed to experimental biases (see 'Discussion' below), it nonetheless suggests the presence of multiple genotypes within a single specimen. Because of this intra-specimen sequence heterogeneity, distance analysis between specimens was realized directly from vcf files, using the PLINK software. Results indicated that PoB3 belonged to the European lineage, whereas all Indonesian specimens belonged to the Asian one (Fig. 4). Multiple sequence alignment realized on the seven generated consensus genomes and the three reference CyHV-3 genomes led to the same result (Fig. S4).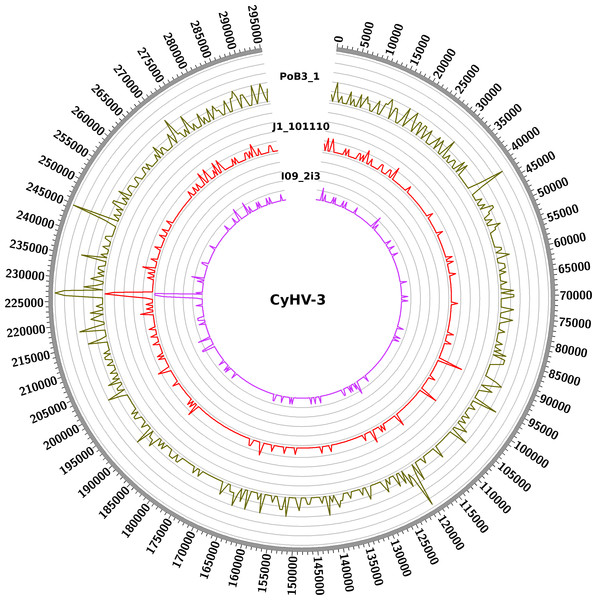 Discussion
Concentration of viral particles through cell culture propagation (providing a suitable cell line is available for the investigated virus) is not always successful and requires days to obtain sufficient viral titers. Using targeted sequence capture prior to sequencing enabled here to recover ten complete (or near-complete) 295-kbp genomes in one single run of sequencing, directly from infected tissues, and with mean read depth varying from 219× to 9179×. For comparison, Liu et al.(2011) used 24 genomic DNA libraries of Epstein Barr virus (EBV) to recover one full genome from a tumor tissue with an average read depth of 17×. This illustrates the potential of TGE to overcome the high discrepancy in the proportions of cellular and viral genomic DNA in raw samples obtained from infected tissues. Sample multiplexing is now routinely employed in next-generation sequencing, through the use of specific barcodes (Parameswaran et al., 2007). However, there are a limited number of studies describing pre-capture multiplexing, though it may improve both efficiency and cost-effectiveness of TGE (Shearer et al., 2012). In the present case, a rough estimation indicated that 4× multiplexing resulted in a drop of the per sample price from ∼1,600€ to ∼450€ (excluding sequencing costs).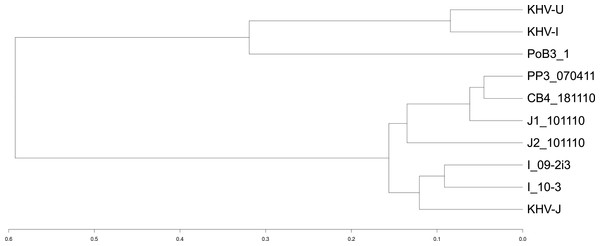 Although there are no replicates to allow for statistical confirmation, the results obtained on PoB3 samples revealed some interesting differences. First, the double-capture protocol resulted in a higher number of uncovered positions, suggesting that the repeated amplifications have generated a bias in sequence representation. Though this aspect is not well documented in the literature, it has been shown, however, that the time of barcode incorporation during the library preparation and its distance from the priming site, as well as the PCR extension temperature, were potential sources of bias (López-Barragán et al., 2011; Van Nieuwerburgh et al., 2011). Second, while pre-capture multiplexing entailed a decrease in the number of reads, it did not compromise the sequencing depth or the coverage along the genome. Third, there were slight differences in the number of variations found between the four PoB3 samples and KHV-J reference genome, with PoB3_3 displaying the highest number of 'unshared' variations, i.e., variations that were not recorded in the other PoB3 samples. It is interesting to note that the 75 variations that were specific to PoB3_3 were all heterozygous, and that the majority of them were shared by at least one of its co-enriched counterparts. Of these 75 variants, only 10 were located in the region that shares a high sequence identity with the carp reference genome. This evidence is likely indicative of low level cross-contamination with co-enriched samples. Comparison with PoB3_4, for which the 13 specific variations were also heterozygous and shared by at least one of the multiplexed samples, suggests that such a contamination would be favored by the difference in the initial viral loads of the multiplexed samples. For this reason, it seems advisable to multiplex samples with comparable viral loads.
It is generally acknowledged that errors during the mapping of cluster coordinates may result in 1–2% of bias in assignment of reads to sample during demultiplexing (Krueger, Andrews & Osborne, 2011). Considering the great difference in the sequencing depth between PoB3 samples and the other specimens, such a "contamination" could explain these faint differences between PoB3 samples. Moreover, an additional source of inaccuracy may also emanate from amplification and/or sequencing errors. In order to evaluate the contribution of pre-capture multiplexing on these observed differences, a specimen with a high viral load (1.5 × 108 viral copies) was passaged on CCB (common carp brain) cells and sequenced: (1) after TGE in a 4-plex format with specimens of comparable viral loads; (2) without enrichment. Comparison of the resulting sequences revealed only 18 differences over the 295-kbp genomes between the enriched and non-enriched samples (data concerning this specimen and additional ones will be published separately). This result brings additional evidence that pre-capture multiplexing does not induce any significant bias as long as the multiplexed specimens have comparable viral loads, and/or as long as the initial viral amount is sufficient to generate elevated read depth (>1,000×). In any case, the differences between the four PoB3 samples represented nearly 0.004–0.025% of the genome, i.e., 4–25 differences every 100 kb. This error rate appears acceptable, especially if we consider the low number of viral copies that were initially contained in this specimen.
Considering the relatively low viral load of J2_101110 specimen, we can also expect that a number of observed variations may constitute 'false callings'. This can be anticipated by (i) the total number of detected variations (171), which is slightly higher than in the other Indonesian specimens (100–126); and (ii) the higher proportion of heterozygous variations compared with the other Indonesian specimens. Even though the proportion of heterozygous positions is certainly over-estimated, especially in samples that were multiplexed prior to TGE, such a high rate of intra-specimen variability confirms previous findings that carp are frequently infected with a mix of CyHV-3 genotypes (Sunarto et al., 2011). The way such mixed infections arise in their host still remains speculative, as well as their ecological and evolutionary advantage. Now, the possibility to access full viral genomes from their host will undoubtedly contribute to a better understanding of CyHV-3 mixed infections.
The genomic distance analysis indicated that PoB3 specimen belonged to the European lineage, whereas the Indonesian samples fell in the Asian lineage. However, as was formerly shown (Aoki et al., 2007; Li et al., 2015), the divergence remains very low at the genome scale. The first KHVD outbreak reported in Indonesia dates back to 2002 (Sunarto et al., 2002). Since then, the disease rapidly spread throughout the whole country, especially in the West Java region (Sunarto, Rukyani & Itami, 2005). The use of 12 VNTR (variable number of tandem repeat) markers on the six investigated CyHV-3 Indonesian specimens revealed an important diversity of genotypes, which is not reflected at the genome scale (Avarre et al., 2012). This is not surprising, as tandem repeats evolve faster than any other part of a genome. Whereas some tandem repeats do not carry any adaptive value, others, however, allow functional diversification and may be involved in pathogenic pathways (Mrázek, Guo & Shah, 2007; Treangen et al., 2009). Therefore, full genomic comparisons will probably be more suitable to trace back outbreaks and to understand the transmission routes of CyHV-3, as they will also enable the study of the variations of short tandem repeats contained in the genomes of CyHV-3.
Conclusion
This TGE strategy enabled the successful recovery of full-length genomes from samples containing as little as 5,000 viral copies. Though pre-capture multiplexing of samples with low viral loads is prone to generate false variants, it dramatically reduces the cost of an experiment. From our results, we would advise to pre-capture multiplex only samples with an initial number of viral copies above 105, and to multiplex samples with comparable loads whenever possible. This TEG strategy will enable to analyze the genomic diversity of CyHV-3 and to study the dynamics of in vivo infections, by accessing the possible heterogeneity in genome populations through the analysis of the nucleotide composition at each position along the genome.