A comprehensive investigation of mesophotic coral ecosystems in the Hawaiian Archipelago
Published

Accepted

Received
Academic Editor
Subject Areas

Aquaculture, Fisheries and Fish Science, Biodiversity, Conservation Biology, Ecology, Marine Biology

Keywords

Mesophotic coral ecosystems

,

Hawaiian Archipelago

,

Endemism

,

Refugia

,

Closed-circuit rebreathers

,

Amino acid isotopic composition
Copyright

©

2016

Pyle et al.

Licence

This is an open access article distributed under the terms of the Creative Commons Attribution License, which permits unrestricted use, distribution, reproduction and adaptation in any medium and for any purpose provided that it is properly attributed. For attribution, the original author(s), title, publication source (PeerJ) and either DOI or URL of the article must be cited.
Cite this article

2016

.

A comprehensive investigation of mesophotic coral ecosystems in the Hawaiian Archipelago

.

PeerJ

4

:

e2475

https://doi.org/10.7717/peerj.2475
Abstract
Although the existence of coral-reef habitats at depths to 165 m in tropical regions has been known for decades, the richness, diversity, and ecological importance of mesophotic coral ecosystems (MCEs) has only recently become widely acknowledged. During an interdisciplinary effort spanning more than two decades, we characterized the most expansive MCEs ever recorded, with vast macroalgal communities and areas of 100% coral cover between depths of 50–90 m extending for tens of km2 in the Hawaiian Archipelago. We used a variety of sensors and techniques to establish geophysical characteristics. Biodiversity patterns were established from visual and video observations and collected specimens obtained from submersible, remotely operated vehicles and mixed-gas SCUBA and rebreather dives. Population dynamics based on age, growth and fecundity estimates of selected fish species were obtained from laser-videogrammetry, specimens, and otolith preparations. Trophic dynamics were determined using carbon and nitrogen stable isotopic analyses on more than 750 reef fishes. MCEs are associated with clear water and suitable substrate. In comparison to shallow reefs in the Hawaiian Archipelago, inhabitants of MCEs have lower total diversity, harbor new and unique species, and have higher rates of endemism in fishes. Fish species present in shallow and mesophotic depths have similar population and trophic (except benthic invertivores) structures and high genetic connectivity with lower fecundity at mesophotic depths. MCEs in Hawai'i are widespread but associated with specific geophysical characteristics. High genetic, ecological and trophic connectivity establish the potential for MCEs to serve as refugia for some species, but our results question the premise that MCEs are more resilient than shallow reefs. We found that endemism within MCEs increases with depth, and our results do not support suggestions of a global faunal break at 60 m. Our findings enhance the scientific foundations for conservation and management of MCEs, and provide a template for future interdisciplinary research on MCEs worldwide.
Introduction
Tropical coral reefs are compelling subjects for a wide range of scientific investigations because they provide an optimal combination of high diversity, extensive existing data, robust information infrastructure, large potential for the discovery of new taxa, and opportunities to gain new insights into fundamental ecological dynamics (Reaka-Kudla, 1997). They are also among the most severely threatened ecosystems on Earth (Pandolfi et al., 2003; Knowlton et al., 2010). It has become increasingly evident in recent years that anthropogenic impacts, such as overharvesting, pollution, coastal development, invasive species, ocean acidification, and global climate change, imperil the health of coral-reef ecosystems worldwide (Bruno & Selig, 2007; Burke et al., 2011). Although the vast majority of known hermatypic coral reefs occur at depths of less than 40 m, there is longstanding evidence for photosynthetic corals and associated reef communities at greater depths. Zooxanthellate hermatypic corals have been found at 98 m in the tropical Atlantic (Hartman, 1973; Fricke & Meischne, 1985; Reed, 1985), below 100 m in the Caribbean (Locker et al., 2010; Bongaerts et al., 2015; Garcia-Sais et al., 2014; Smith et al., 2014), 112 m at Enewetak (Colin et al., 1986), 125 m on the Great Barrier Reef (Englebert et al., 2014), 145 m in the Red Sea (Fricke & Schuhmacher, 1983), 153 m in Hawai'i, and 165 m at Johnston Atoll (Strasburg, Jones & Iversen, 1968; Maragos & Jokiel, 1985; Kahng & Maragos, 2006). Hopley (1991) reported 100% coral cover at 70 m on the Great Barrier Reef, and Jarrett et al. (2005) reported up to 60% coral cover at 60–75 m at Pulley Ridge in the Gulf of Mexico. Photosynthetic algae have been observed at similar or deeper depths (Porter, 1973; Littler et al., 1985; Colin et al., 1986; Hills-Colinvaux, 1986), and fish species at such depths belong almost exclusively to families typical of shallower coral-reef environments (Pyle, 1996b; Pyle, 1999a). Despite these scattered reports, coral-reef environments at depths greater than 30 m are poorly characterized, largely because of the logistical difficulties associated with accessing such depths (Pyle, 1996c; Pyle, 1998; Pyle, 1999b; Pyle, 2000; Parrish & Pyle, 2001). There are potentially thousands of species that have yet to be discovered and scientifically described from deeper coral reef habitats (Pyle, 1996d; Pyle, 2000; Rowley, 2014) and the basic ecology and population dynamics of these communities, as well as their connectivity with shallow reefs, are just beginning to be explored.
Most coral-reef monitoring programs are designed to target shallow reefs (Jokiel et al., 2001; Brown et al., 2004; Preskitt, Vroom & Smith, 2004; Kenyon et al., 2006). In recent years, there has been a greater effort to document coral-reef ecosystems at depths of 30 to over 150 m, now referred to as "Mesophotic Coral Ecosystems" (MCEs) (Hinderstein et al., 2010; Baker, Puglise & Harris, 2016). These research efforts have primarily focused on aspects of MCEs that are relevant to management policies, such as their distribution, ecology and biodiversity, as MCEs have been identified as a conservation priority (Blyth-Skyrme et al., 2013; Sadovy de Mitcheson et al., 2013). However, despite the growing body of research targeting MCEs, they are often not included in reef assessment and monitoring programs, management-related reports on the status and health of coral reefs (Brainard et al., 2003), or general overviews of coral-reef science (Trenhaile, 1997). Most studies of coral-reef development (and the models derived from them) (Dollar, 1982; Grigg, 1998; Braithwaite et al., 2000; Rooney et al., 2004) and coral-reef ecology (Luckhurst & Luckhurst, 1978; Friedlander & Parrish, 1998; Friedlander & DeMartini, 2002; Friedlander et al., 2003) do not include MCEs. Indeed, most of our understanding of coral-reef ecosystems is biased by the preponderance of data from depths less than 30 m, which represents less than one-fifth of the total depth range of the tropical coral-reef environment (Pyle, 1996b; Pyle, 1999a). An understanding of MCEs is essential to successfully characterize the health of coral reefs in general, and to formulate effective management plans in the face of increasing anthropogenic stress.
Coral-reef environments within the Hawaiian Archipelago have been extensively studied and documented for decades (Maragos, 1977; Chave & Malahoff, 1998; Hoover, 1998; Mundy, 2005; Randall, 2007; Fletcher et al., 2008; Grigg et al., 2008; Jokiel, 2008; Rooney et al., 2008; Toonen et al., 2011; Selkoe et al., 2016). These islands and reefs stretch over 2,500 km across the north-central tropical Pacific Ocean, and consist of the eight Main Hawaiian Islands (MHI) in the southeast, and a linear array of uninhabited rocky islets, atolls, reefs, and seamounts comprising the Northwestern Hawaiian Islands (NWHI) (Fig. 1). Many Hawaiian reefs are protected by local, state and federal laws, with a wide range of management and conservation efforts already in place. In particular, the NWHI fall within the Papahānaumokuākea Marine National Monument, a federally protected area larger than all U.S. National Parks combined (>360,000 km2), which is listed as a World Heritage site and includes about 10% of coral-reef habitats within U.S. territorial waters (Rohmann et al., 2005).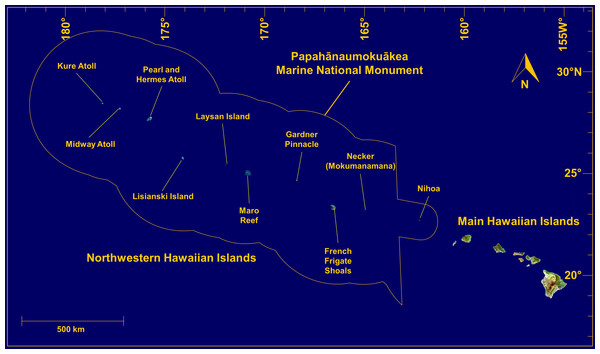 The first investigations of MCEs within the Hawaiian Archipelago were conducted in the 1960s with SCUBA (Grigg, 1965) and submersibles (Brock & Chamberlain, 1968; Strasburg, Jones & Iversen, 1968). These early investigations found an unexpected abundance of reef-associated species (including hermatypic corals) at depths from 25 to 180 m. These studies also revealed that many species of fishes previously believed to be restricted to shallow water inhabit much greater depths than expected. In the decades that followed, a smattering of publications reported on MCEs within the Hawaiian Archipelago (Grigg, 1976; Agegian & Abbott, 1985; Maragos & Jokiel, 1985; Moffitt, Parrish & Polovina, 1989; Chave & Mundy, 1994; Parrish & Polovina, 1994; Pyle & Chave, 1994), but most of these involved either a few individual species or habitats, or focused on a broader depth range (with MCEs representing only a small portion of the study). Beginning in the late 1980s, the advent of "technical" mixed-gas diving opened up new opportunities for exploration of MCEs in Hawai'i and elsewhere (Pyle, 1996a; Pyle, 1999b; Pyle, 2000; Grigg et al., 2002; Parrish & Pyle, 2002; Pence & Pyle, 2002; Parrish & Boland, 2004; Boland & Parrish, 2005; Grigg, 2006). In 2006, the discovery of extensive MCEs with near-100% coral cover off Maui, coupled with interest in documenting MCEs in the NWHI and a growing infrastructure supporting mixed-gas diving operations among Hawaiian research institutions, led to a surge of research in these deep-reef environments and a series of collaborative, multi-disciplinary projects dedicated to improving the understanding of MCEs. These projects include (1) the Deep Coral Reef Ecosystem Studies (Deep-CRES) program focused on the MCEs of the 'Au'au Channel off Maui and their relationship to shallower reefs funded by the National Oceanic and Atmospheric Administration's (NOAA) Center for Sponsored Coastal Ocean Research, (2) two separate studies funded by NOAA's Coral Reef Conservation Program to study MCEs off Kaua'i and O'ahu, and (3) ongoing annual research cruises sponsored by NOAA's Office of National Marine Sanctuaries to study MCEs within the Papahānaumokuākea Marine National Monument. These projects, as well as many other smaller surveys over the past two decades, have provided an opportunity for a coordinated effort to explore and document MCEs across the Hawaiian Archipelago.
The overarching goal of these activities was to establish a baseline understanding of MCEs in Hawai'i at depths ranging from 30 to over 150 m, and to provide insights into the structure, composition, ecological dynamics, and management needs of MCEs in general. The primary research activities were driven by a series of hypotheses designed to reveal fundamental characteristics of Hawaiian MCEs and how they compare with both shallow reef habitats and non-MCE habitats at comparable depths. The questions behind these hypotheses involved characterizations in four general categories: (1) basic geophysical habitat (water clarity, temperature, photosynthetically active radiation [PAR], water movement, nutrient levels, and substrate type), (2) patterns of biodiversity (species composition, relative abundance, and overlap, as well as patterns of endemism), (3) population structure and dynamics (growth rates, impact from anthropogenic and natural disturbance, connectivity, disease levels, age structure, fecundity and production), and (4) broad ecological patterns (trophic dynamics and genetic connectivity). In addition, data from these studies were used extensively to develop a spatial model based on physical parameters and other factors to predict the occurrence of MCEs in Hawai'i and globally (Costa et al., 2015). Ultimately, our hope is that the insights gained from this research, such as the predicted distribution and abundance of MCEs, the richness and uniqueness of the biodiversity they harbor, and the potential for MCEs to serve as refugia for overexploited biological resources on shallow reefs, will help guide future policy decisions in the conservation and management of marine resources in Hawai'i and elsewhere.
Materials and Methods
As this synthesis represents a broad summary of MCEs in Hawai'i, based on the results of a multi-year interdisciplinary collaborative effort by many individuals, the methods involved are extensive and diverse. The following represents a summary of methods used throughout this study, particularly as they pertain to data not previously published elsewhere. More detailed descriptions of methods used during this study, including aspects that have been previously published, are included in Supplemental Information 1, and within cited publications. The State of Hawai'i Department of Land and Natural Resources developed Special Activity Permits for the University of Hawai'i and National Marine Fisheries Service for work related to this project that occurred within State of Hawai'i waters. All sampling procedures and experimental manipulations were reviewed as part of obtaining the field permit. All vertebrates (fishes) were collected in accordance with University of Hawai'i IACUC protocol 09-753-5, "Phylogeography and Evolution of Reef Fishes" (PI: Dr. Brian Bowen), including collection and euthanization by spear.
Results and Discussion
Our intention in this work is to provide a broad characterization of MCEs across the Hawaiian Archipelago based on more than two decades of interdisciplinary and collaborative research, with emphasis on a seven-year effort to document MCEs in Hawaii largely funded by NOAA. Some portions of this overall research have already been published elsewhere, and others are presented for the first time herein. For purposes of clarity and cohesiveness, we present both novel and previously published information together. When information has previously been published, we provide appropriate literature citations, and when information is presented for the first time, we indicate it as such.
Our investigations revealed that MCEs throughout the Hawaiian Archipelago can be broadly categorized into several distinct habitat types (Fig. 7). The shallowest portions of MCEs (30–50 m) are characterized by a few of the coral species found on shallow Hawaiian reefs, in particular Montipora capitata Dana 1846, Pocillopora meandrina Dana 1846, Pocillopora damicornis (Linnaeus 1758) and Porites lobata Dana 1846. At depths of ∼40–75 m, expanses of low relief "carpets" of branching M. capitata are found overlying sediment fields, switching to a plate-like or laminar morphology on ledges and rocky slopes (Rooney et al., 2010). All MCE depths had large Halimeda spp. meadows and other dominant macroalgal communities over both hard and soft substrates. Although these macroalgal communities generally did not comprise major habitats for large-bodied fishes in the MHI (either in MCE depths, or in shallower areas), endemic reef-associated fishes were found in macroalgal (Microdicyton spp.) beds at MCE depths in the NWHI (Kane, Kosaki & Wagner, 2014). Throughout the archipelago, undercut limestone ledges with small caves and other features (the remnants of ancient shorelines) (Fletcher & Sherman, 1995) represent the dominant MCE habitat type at depths of 50–60 m, 80–90 m, and 110–120 m. In certain areas, particularly the 'Au'au Channel off Maui and off southeastern Kaua'i, near-100% Leptoseris coral cover extends for tens of km2 at 70–90 m. This habitat type, one of the primary subjects of our investigations, represents the most spatially extensive MCE environment documented to date (Costa et al., 2015).
These MCE habitats are often not in close proximity to each other, but separated by vast areas of sand lacking any rocky reef structure. Some of these sandy areas are characterized by meadows of Halimeda kanaloana (Maui), Avrainvillea sp. and/or Udotea sp. (west and south O'ahu), while others are devoid of organisms associated with coral-reef ecosystems (i.e., non-MCE habitat within MCE depth ranges). Another MCE habitat within the Hawaiian Archipelago that was not a primary subject of investigation for this work, but for which we have extensive qualitative observations, are the steep slopes and drop-offs characteristic of the island of Hawai'i (i.e., the "Big Island"), especially at the southeastern end of the archipelago. This habitat is dominated by basaltic rock (rather than the coral and limestone, which dominate MCE habitat throughout the rest of the archipelago). Finally, one MCE habitat notably absent from the Hawaiian Archipelago, but prevalent throughout most of the tropical Indo-Pacific, is steep limestone drop-offs, which often extend more or less continuously from shallow-reef depths down to MCE depths and beyond.
In the sections that follow, we highlight and summarize the most salient aspects of MCEs throughout the Hawaiian Archipelago. In particular, we compare and contrast patterns across different MCE habitats, different parts of the archipelago, and among different taxa, as well as emphasize both commonalities and differences among these patterns.
Supplemental Information
Detailed Materials and Methods
Detailed methods with Track Changes showing alterations from original submission
Raw data from this study
Tab 1: Algae Depth Data; Tab 2: Fish Depth Data; Tab 3: NWHI Fish Trophic Data; Tab 4: Temperature Depth Datasets; Tab 5: Temperature Depth Data.