Canopy position has a profound effect on soybean seed composition
Published

Accepted

Received
Academic Editor
Subject Areas

Keywords

Soybean

,

Canopy

,

Physiology

,

Elemental composition

,

Ionome

,

Nutrition
Copyright

©

2016

Huber et al.

Licence

This is an open access article distributed under the terms of the Creative Commons Attribution License, which permits unrestricted use, distribution, reproduction and adaptation in any medium and for any purpose provided that it is properly attributed. For attribution, the original author(s), title, publication source (PeerJ) and either DOI or URL of the article must be cited.
Cite this article

2016

.

Canopy position has a profound effect on soybean seed composition

.

PeerJ

4

:

e2452

https://doi.org/10.7717/peerj.2452
Abstract
Although soybean seeds appear homogeneous, their composition (protein, oil and mineral concentrations) can vary significantly with the canopy position where they were produced. In studies with 10 cultivars grown over a 3-yr period, we found that seeds produced at the top of the canopy have higher concentrations of protein but less oil and lower concentrations of minerals such as Mg, Fe, and Cu compared to seeds produced at the bottom of the canopy. Among cultivars, mean protein concentration (average of different positions) correlated positively with mean concentrations of S, Zn and Fe, but not other minerals. Therefore, on a whole plant basis, the uptake and allocation of S, Zn and Fe to seeds correlated with the production and allocation of reduced N to seed protein; however, the reduced N and correlated minerals (S, Zn and Fe) showed different patterns of allocation among node positions. For example, while mean concentrations of protein and Fe correlated positively, the two parameters correlated negatively in terms of variation with canopy position. Altering the microenvironment within the soybean canopy by removing neighboring plants at flowering increased protein concentration in particular at lower node positions and thus altered the node-position gradient in protein (and oil) without altering the distribution of Mg, Fe and Cu, suggesting different underlying control mechanisms. Metabolomic analysis of developing seeds at different positions in the canopy suggests that availability of free asparagine may be a positive determinant of storage protein accumulation in seeds and may explain the increased protein accumulation in seeds produced at the top of the canopy. Our results establish node-position variation in seed constituents and provide a new experimental system to identify genes controlling key aspects of seed composition. In addition, our results provide an unexpected and simple approach to link agronomic practices to improve human nutrition and health in developing countries because food products produced from seeds at the bottom of the canopy contained higher Fe concentrations than products from the top of the canopy. Therefore, using seeds produced in the lower canopy for production of iron-rich soy foods for human consumption could be important when plants are the major source of protein and human diets can be chronically deficient in Fe and other minerals.
Introduction
Although soybean seeds from a given plant may appear physically homogeneous, it has long been known that seed produced at the top of the canopy can have higher protein and less oil compared to seeds from the bottom of the canopy (Collins & Cartter, 1956). Subsequently it was demonstrated that positional effects are observed with determinate as well as indeterminate soybeans (Escalante & Wilcox, 1993a) and in normal protein as well as high-protein breeding lines (Escalante & Wilcox, 1993b). While these effects on protein and oil concentrations have been documented to occur, they are nonetheless not widely recognized today and there are no insights concerning possible physiological mechanisms that may underlie these positional effects. There are many other important seed constituents, in particular minerals, but the impact of canopy position on many of these seed constituents is unknown. Because legumes like soybean can contribute not only protein to the human diet but also minerals like iron (Fe) and zinc (Zn), canopy position effects on the concentrations of essential minerals could be important, especially for the health and nutrition of children and women. According to the World Health Organization, Fe deficiency is currently the most widespread mineral deficiency affecting more than 30% of the world's population (http://www.who.int/nutrition/topics/ida/en/). One approach to control this problem is to increase Fe intake via dietary diversification with Fe-rich foods and it is possible that variation with canopy position could be exploited.
Several factors could affect the development of seeds at the top of the plant differently than those at the bottom of the canopy and therefore could be responsible for differences in seed composition at maturity. First, flowering in the indeterminate soybean plants as used in the present study occurs first at lower nodes; thus, there is the potential for seeds lower in the canopy to develop over a longer period. However, while there is a lot of information about node position and flowering, there are few reports that have documented differences in duration of the seed fill period (SFP) as a function of node, as was demonstrated in cultivar 'Williams79' (Raboy & Dickinson, 1987). A second factor is that seeds lower in the canopy also develop under altered environmental conditions in terms of temperature, irradiance, light quality and humidity, which are recognized to impact soybean seed composition (Carrera et al., 2009; Carrera et al., 2011; Wolf et al., 1982). A third factor is the contribution of remobilization of reserves, including minerals, from leaves that may vary among minerals and with node position. Therefore, the role of canopy microenvironment and node position on seed composition warrants further consideration.
In the present study, we grew a core group of ten soybean lines in Urbana, IL, over a 3-yr period and monitored seed composition (protein, oil and mineral element concentration) at maturity as a function of node position. In general, there was a continuum in composition with seed that developed at the top of the canopy having more protein but less oil and reduced concentrations of minerals such as Mg, Fe, and Cu compared to seeds produced at the bottom of the canopy. Of particular note was the variation in Fe concentration, which was generally ∼20% higher in seeds from the bottom of the canopy. The differences in mineral concentrations such as Fe could have direct impact on use of soybeans for human food in countries that primarily depend on plant protein sources for intake of minerals. We also tested several possible developmental and micro-environmental factors for their ability to influence the seed compositional gradients, and used metabolomic profiling of developing seeds to investigate biochemical determinants of the protein and oil gradients. Collectively, the results establish a new type of seed heteromorphism in soybean where seeds appear physically homogenous but differ in composition and provide new insights to some of the underlying factors that may be responsible for the gradients in composition from bottom to top of the canopy.
Materials and Methods
Plant growth and sampling
Soybean lines were grown at the University of Illinois South Farm, Urbana, IL, in a randomized complete block design with three replicates each year. Each plot consisted of three rows 2.5 m long, with 0.75 m between rows and a planting density of roughly 30 seeds m−1. To produce the thinning treatment, all but three plants were removed from each row shortly after flowering. Delaying thinning until after the reproductive period had begun minimized branching on the remaining plants. Approximately 20 cm of plants were thinned from the ends of each row and the third plant was left in the middle in the row. The remaining plants were spaced approximately 1 m apart.
Plants were harvested at maturity. All plants were cut close to ground level and brought into the laboratory. Each main stem was divided into four quadrants and the stem fractions in each quadrant were threshed together for each plot. Only normal-sized plants were included in the analysis, and extremely small, wrinkled or off-color seeds were manually removed from all samples before analysis.
Soy products
To produce flour, soybeans were blanched (boiled for ∼25 min) and then baked before grinding. To produce soymilk and okara (remaining solids), soybeans were blanched (boiled for ∼5 min) twice and then ground in water and cooled slightly. The soymilk (liquid phase) and okara (solid phase) were separated using a cheesecloth and then dried separately and reground before analysis.
Seed storage product analysis
Protein and oil were measured with an Infratech 1241 Grain Analyzer (FOSS Analytical AB, Höganäs, Sweden), which is a true Near Infrared Transmission instrument that generates a spectrum from 850 to 1,050 nm via the monochrome light source and mobile grating system. A 50-ml seed sample was used that allowed for 10 subsample readings reported on a 13% moisture basis.
Ionomic analysis
Seed analysis was conducted as described in Ziegler et al. (2013). Briefly, single seeds from each quadrant were weighed using a custom-built seed weighing robot and then digested in concentrated nitric acid before loading onto an Elan ICP-MS. Internal standards were used to control for differences in dilution and sample injection. Leaf and soy products were analyzed in the same manner except that samples were added to digestion tubes by hand and weighed. Custom scripts were used to correct for internal standards and correct for sample weight.
Metabolomic analysis
Metabolome analysis was done through Metabolomics Center, Roy J. Carver Biotechnology Center, University of Illinois at Urbana-Champaign. Frozen seeds of the cultivar 'Williams 82' with attached seed coats were homogenized in liquid nitrogen and about 25 mg FW was extracted at room temperature with 1 mL of 50% methanol followed by addition of 800 µ1 of methanol:chloroform (1:2) as outlined in File S7. Each extraction was followed by centrifugation (5 min at 15,000 g), and the supernatants were collected. With the exception of samples for analysis of coenzymes, final extracts were evaporated under vacuum at −60 °C and subjected to GC/MS analysis.
Metabolic profiling
Dried extracts were derivatized with 100 µL methoxyamine hydrochloride (40 mg ml−1 in pyridine) for 90 min at 50 °C, then with 100 µL MSTFA at 50 °C for 120 min, and following 2-h incubation at room temperature 5 µL of the internal standard (hentriacontanoic acid, 10 mg ml−1) was added to each sample prior to derivatization. Metabolites were analyzed using a GC-MS system (Agilent Inc, CA, USA) consisting of an Agilent 7890 gas chromatograph, an Agilent 5975 mass selective detector and a HP 7683B autosampler. Gas chromatography was performed on a ZB-5MS (60 m × 0.32 mm I.D. and 0.25 µm film thickness) capillary column (Phenomenex, CA, USA). The inlet and MS interface temperatures were 250 °C, and the ion source temperature was adjusted to 230 °C. An aliquot of 1 µL was injected with the split ratio of 10:1. The helium carrier gas was kept at a constant flow rate of 2 ml min−1. The temperature program was: 5-min isothermal heating at 70 °C, followed by an oven temperature increase of 5 °C min−1 to 310 °C and a final 10 min at 310 °C. The mass spectrometer was operated in positive electron impact mode (EI) at 69.9 eV ionization energy at m/z 30–800 scan range.
Amino acid analysis
A 20 µl aliquot of the internal standard DL-chlorophenylalanine (1 mg ml−1 in 0.1M HCI) was added to the extracts, dried under vacuum, derivatized with 50 µl of neat N-methyl and 50 µL of acetonitrile at 80 °C for 4 h, cooled to room temperature and centrifuged briefly to remove condensate from the top of tube prior to injection of 1 µL at 5:1 split ratio into the GC/MS system, which consisted of an Agilent 6890N (Agilent Inc, Palo Alto, CA, USA) gas chromatograph, an Agilent 5973 mass selective detector and Agilent 7683B autosampler. Gas chromatography was performed on a 60 m ZB-5MS column with 0.32 mm inner diameter (I.D.) and 0.25 µm film thickness (Phenomenex, CA, USA) with injection temperature and MSD transfer line of 230 °C both, and the ion source adjusted to 230 °C. The helium carrier gas was set at a constant flow rate of 2 ml min−1. The temperature program was 5 min at 150 °C, followed by an oven temperature ramp of 5 °C min−1 to 315 °C for a final 3 min. The mass spectrometer was operated in positive electron impact mode (EI) at 69.9 eV ionization energy in m/z 50–800 scan range. Acquired data were normalized to the internal standard (DL-p-chlorophenylalanine) and sample fresh weight. Amino acid concentrations were calculated based on 2–75 µg ml−1 standard curves.
Free fatty acids, total fatty acids and coenzymes were also measured and values obtained used in the global analysis, but specific results are not presented. Detailed methods for the analysis are available on request.
The spectra of all chromatogram peaks were compared with electron impact mass spectrum libraries NIST08 (NIST, MD, USA), W8N08 (Palisade Corporation, NY, USA), and a custom-built database (460 unique metabolites). All known artificial peaks were identified and removed. To allow comparison between samples, all data were normalized to the corresponding internal standard and the sample fresh weight (FW). The spectra of all chromatogram peaks were evaluated using the AMDIS 2.71 (NIST, MD, USA) program. Metabolite concentrations were reported as concentrations relative to the internal standard (i.e., target compound peak area divided by peak area of internal standard: NI = Xi × X−1IS) per gram sample weight. The instrument variability was within the standard acceptance limit (5%).
Metabolites with more than 50% of missing data were removed and for the rest of the metabolites, any missing data was imputed with one-half of the minimum positive value in the original data assuming their level was below the instrument detection limit. MVA and visualization was performed with SIMCA-P+ 12.0 software (Umetrics AB, Umeå, Sweden) and MetaboAnalyst (Xia & Wishart, 2011) using log-transformed and autoscaled data and validated by sevenfold Cross-Validation and permutation with 500 random. To address the problem of multiple comparisons the False Discovery Rate (FDR) test was adopted (Storey, 2002).
Data analysis
Protein, oil, and elemental data were analyzed using R and the packages dplyr, ggplot2, grid, reshape2, qtlcharts and gplots. All data and analysis scripts used in the analysis are included as a supplemental file and are available on www.ionomicshub.org.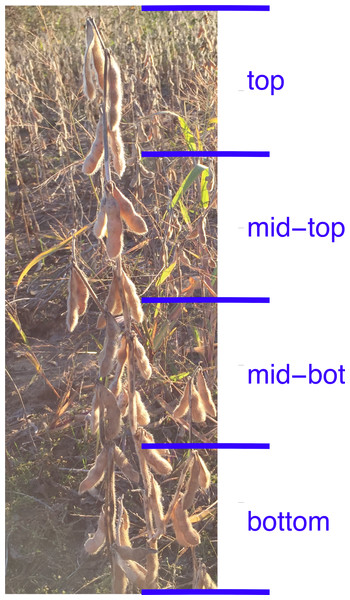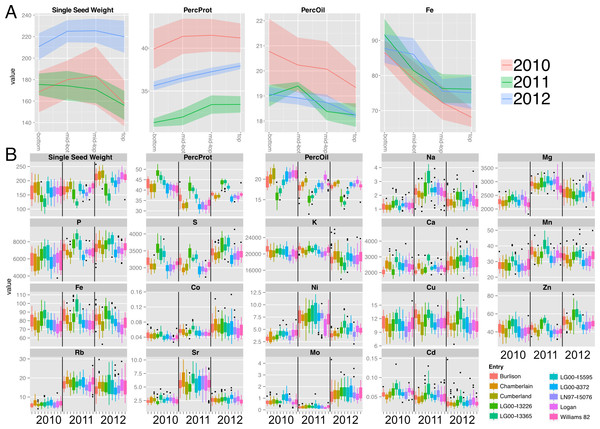 Discussion
The present study yields two major conclusions. First, the position along the main stem at which soybean seeds develop has a profound impact on seed composition, affecting the concentrations of protein, oil and certain minerals at maturity. Second, the canopy position effects on seed mineral concentrations (in particular Fe) are sufficiently large that there may be direct implications for human nutrition in countries where plants are the main source of protein and soybeans are used for human food. These conclusions are discussed in more detail below.