Rhodopsin 7–The unusual Rhodopsin in Drosophila
Neurobiology and Genetics, Biocenter, University of Würzburg

,

Würzburg

,

Germany
Published

Accepted

Received
Academic Editor
Subject Areas

Keywords

Rhodopsins

,

Opsins

,

GPCR

, Drosophila,

Vision

,

Phototransduction
Copyright

©

2016

Senthilan & Helfrich-Förster

Licence

This is an open access article distributed under the terms of the Creative Commons Attribution License, which permits unrestricted use, distribution, reproduction and adaptation in any medium and for any purpose provided that it is properly attributed. For attribution, the original author(s), title, publication source (PeerJ) and either DOI or URL of the article must be cited.
Cite this article

2016

. Rhodopsin 7–The unusual Rhodopsin in Drosophila.

PeerJ

4

:

e2427

https://doi.org/10.7717/peerj.2427
Abstract
Rhodopsins are the major photopigments in the fruit fly Drosophila melanogaster. Drosophila express six well-characterized Rhodopsins (Rh1–Rh6) with distinct absorption maxima and expression pattern. In 2000, when the Drosophila genome was published, a novel Rhodopsin gene was discovered: Rhodopsin 7 (Rh7). Rh7 is highly conserved among the Drosophila genus and is also found in other arthropods. Phylogenetic trees based on protein sequences suggest that the seven Drosophila Rhodopsins cluster in three different groups. While Rh1, Rh2 and Rh6 form a "vertebrate-melanopsin-type"–cluster, and Rh3, Rh4 and Rh5 form an "insect-type"-Rhodopsin cluster, Rh7 seem to form its own cluster. Although Rh7 has nearly all important features of a functional Rhodopsin, it differs from other Rhodopsins in its genomic and structural properties, suggesting it might have an overall different role than other known Rhodopsins.
Introduction
Higher animals are able to perceive their environment through various senses, and vision is possibly the most crucial one. Not only is it well-developed in many animals but it is also the most sensitive sense. A single photon is sufficient to activate a signaling cascade in which many different phototransduction proteins are involved (Nikolic et al., 2010). Rhodopsins, photon-receiving G-protein coupled proteins, play a decisive role in this context. Rhodopsins are seven helix membrane proteins that are covalently coupled to a light sensitive chromophore, called retinal. Photon absorption leads to the isomerization of retinal, which results in the conformational change of Rhodopsin to Metarhodopsin and subsequent activation of the G-protein coupled cascade (Devary et al., 1987; Britt et al., 1993; Kiselev & Subramaniam, 1994).
To have a broad and sensitive visual system, many animals express more than one Rhodopsin molecule. The fruit fly Drosophila melanogaster possesses six well-characterized Rhodopsins with distinct spectral sensitivities, named Rh1–Rh6 (Fig. 1A). While Rh1, Rh2 and Rh5 are sensitive to blue light (absorption maxima of 486, 418 and 442 nm), Rh3 and Rh4 are sensitive to UV light (331 and 355 nm), and Rh6 is sensitive to green light (515 nm) (Salcedo et al., 1999).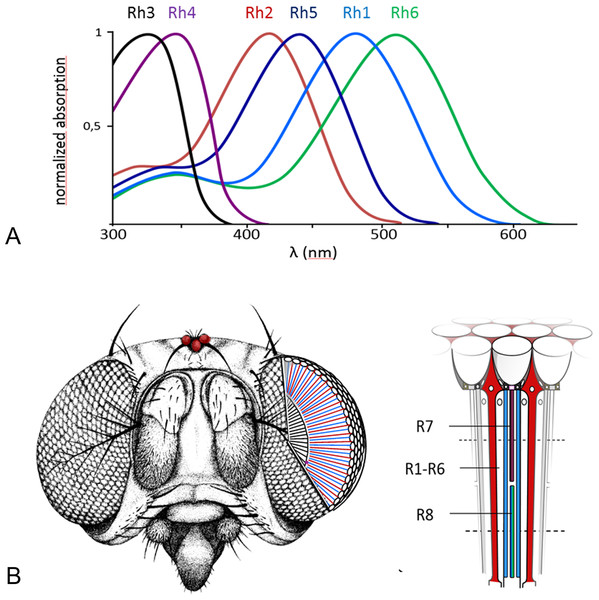 Besides differences in spectral sensitivity, each Rhodopsin also exhibits differences in expression site (Chou et al., 1999) (Fig. 1B). While Rh2 is expressed in the dorsal ocelli, the simple primitive eye found in many invertebrates, all other Rhodopsins (Rh1, Rh3, Rh4, Rh5, and Rh6) are expressed in different photoreceptor cells of the compound eye. The compound eye consists of approximately 800 identical optical units, termed ommatidia, and each ommatidium contains eight photoreceptor cells (R1–R8). Each photoreceptor cell expresses only one type of Rhodopsin: the outer photoreceptor cells (R1–R6) express the major Rhodopsin Rh1, which is encoded by the gene ninaE (O'Tousa et al., 1985; Zuker, Cowman & Rubin, 1985), the distal inner receptor cell R7 expresses either Rh3 or Rh4 whereas the proximal inner receptor cell R8 express either Rh5 or Rh6 (Rister, Desplan & Vasiliauskas, 2013; Behnia & Desplan, 2015). Two types of ommatidia, pale and yellow, are randomly interspersed in the compound eye, i.e. pale ca. 30% and yellow ca. 70%. The pale-type ommatidia contain Rh3 in the distal inner cell R7 cell and Rh5 in the proximal inner cell R8, while the yellow-type ommatidia contain Rh4 in the distal inner cell R7 and Rh6 in the proximal inner cell R8 (Chou et al., 1996; Huber et al., 1997; Papatsenko, Sheng & Desplan, 1997).
However, Rhodopsin expression seems not to be restricted to the eyes and to the ocelli. Two Rhodopsins, Rh5 and Rh6, are also found in the Bolwig's organ in the larvae (Yasuyama & Meinertzhagen, 1999; Sprecher & Desplan, 2008) and in the H.B-eyelet (Hofbauer & Buchner, 1989; Helfrich-Förster et al., 2001) of the adult fly. Though not as much as in in visual organs, Rhodopsins are also found in non-visual organs, e.g. in the testis (Alvarez, Robison & Gilbert, 1996), in the body wall (Shen et al., 2011), and in the second antennal segment (Senthilan et al., 2012). This might indicate that Rhodopsins are more than only visual proteins as they appear to be involved in audition and thermosensation. In addition, Rhodopsins are important for synchronizing the fly circadian clock to the environmental light-dark-cycles (Hanai & Ishida, 2009; Rieger, Stanewsky & Helfrich-Förster, 2003; Schlichting et al., 2014). In mammals, a special Rhodopsin, Melanopsin, that has all the characteristics of an invertebrate Rhodopsin, has a prominent role in synchronizing the circadian clock (reviewed in Lucas, 2013). In the fly, Melanopsin is not present but the existence of a further Rhodopsin was predicted from a study showing that flies that lack all Rhodopsins plus the blue-light photopigment Cryptochrome still respond to light by decreasing activity in the morning, even though the presence of this Rhodopsin alone was not sufficient to entrain the endogenous clock to the light-dark cycles (Helfrich-Förster et al., 2001).
Indeed, when the genome of the fruit fly Drosophila melanogaster was published in the year 2000, a novel Rhodopsin gene appeared. This gene CG5638 was then called Rhodopsin 7 (Rh7) due to the sequence similarity to other Rhodopsin genes. In this study, we tested the structural and evolutionary characteristics of Rh7 and compared it with other known Rhodopsins to get a first idea about its putative function. Not to be biased by putative pseudogenes, we compared the sequences of the Rhodopsin proteins and not those of the genes.
Discussion
The six previously identified Drosophila Rhodopsins fall into two groups: the vertebrate-melanopsin-type-opsins, and the insect-type-opsins. Whereas Rh3, Rh4, and Rh5 are very similar to other insect-opsins (e.g. UV-opsin Apis mellifera), Rh1, Rh2, and Rh6 are more closely related to vertebrate-melanopsins. The sequence similarity between Rhodopsins belonging to the same group is very high. Rh1 shares 69.16% of its amino acids with Rh2, and 51.65% with Rh6, while Rh3 is 73.01% identical to Rh4 and 40.83% to Rh5.
However, Rh7 only shares about 30% of its amino acids with other Drosophila Rhodopsins. This seems to be a small overlap compared to other Rhodopsin identities from the same group. However, even members from the two known groups only share 30–35% of their amino acids (Rh1, Rh2, and Rh6 compared with Rh3, Rh4, and Rh5). This already indicates that Rh7 might belong to a third, so far uncharacterized, Rhodopsin group.
Phylogenic tree analyses support the idea that Rh7 might belong to a novel Rhodopsin group. As expected Rh1, Rh2, and Rh6 cluster together with vertebrate melanopsins, while Rh3, Rh4, and Rh5 cluster with other insect opsins. Rh7 though, despite related to the insect-type-opsin group, seems to form its own unique group: the "Rh7-like" group. The fact that Rh7 homologues are already present in ancient animals like Limulus polyphemus and Daphnia pulex indicates that the Rh7 gene is indeed a conserved protein coding gene, otherwise random mutations would have appeared in the coding region of the gene. However, like all Rhodopsin genes, the Rh7 gene also seems to be duplicated in some animals. Both aphids as well as Daphnia possess more than one Rh7 relative in their genome, yet whether these multiple replicates are real protein coding genes or merely pseudogenes remains to be studied. Although many different arthropods possess Rh7 homologues, hymenopterans belonging to the group of apocrita for example don't possess Rh7 homologues. Since Athalia rosae and Neodiprion lecontei having its place within the symphyta (sawflies), the more basic group of hymenoptera, still possess Rh7, it is likely that the apocrita may have lost Rh7 during evolution due to different habituation.
Although the protein structure of Rh7 is very similar to all other known Rhodopsins, it slightly differs from the other Drosophila Rhodopsins. With its prolonged N- and C-termini, Rh7 possesses many more asparagines (N), serines (S) and threonines (T) than other Rhodopsins do. All these amino acids are important for protein-protein-interaction, thus Rh7 may interact with more and other interaction partners as compared to the known Drosophila Rhodopsins. In addition, it is notable that the N-termini of all Drosophila Rhodopsins differ a lot, when compared to each other (Fig. S3). This suggests that the N-terminus of each Rhodopsin has unique properties. Rh7 has the most conspicuous N-terminus. It is not only long, but has also the highest potency to undergo interactions with other proteins, perhaps even with other Rhodopsins. G-protein-coupled receptors (GPCRs) including Rhodopsin-like GPCRs can form dimers (Gurevich & Gurevich, 2008a; Gurevich & Gurevich, 2008b; Hiller, Kühhorn & Gmeiner, 2013). This dimerization seems not necessary for G-protein binding and activation, but it seems to influence signaling in the phototransduction cascade (White et al., 2007).
The assumption that Rh7 may interact with another Rhodopsin to exert its function is supported by the fact that Rh7 and its homologues miss the highly conserved QAKK motif, which is, together with the DRY motif, important for G-protein binding and consequently for the activation of the G-protein-coupled cascade. Thus, Rh7 might signal via a second Rhodopsin and not by itself. The presence of more than one Rhodopsin in one receptor cell has been shown in vertebrates and invertebrates (Applebury et al., 2000; Hu et al., 2014; Mazzoni, Desplan & Çelik, 2004; Stavenga & Arikawa, 2008) and makes this possible. Nevertheless, it is also imaginable that the conserved DRY motif alone, that is present in Rh7, suffices for G-protein binding. The latter is suggested by a study in the mosquito Aedes aegypti (Hu et al., 2014) showing that the Rh7 homologue of the mosquito, Op10, is a functional Rhodopsin although it lacks the QAKK motif. Op10 can even activate the phototransduction cascade in R1–6 of D. melanogaster. This suggests that G-protein binding is still possible even in the absence of the QAKK motif, but it does not exclude the possibility that Rh7 dimerizes with a second Rhodopsin and by this way affects signaling.
The distinctiveness of Rh7 is also confirmed by its genomic structure: first it possesses a palindromic RCSI, which is atypical for Rhodopsins, and, second, it possesses the RCSI in the middle of the gene while all other Rhodopsin genes possess the RCSI about 100 bp upstream of the transcription starting site. The hypothesis that the crucial role of Rh7 may have been lost in D. melanogaster during evolution, but may still present in other Drosophila species living in different habitats, is unsupported by the fact that some of the tested Drosophila species don't even own the RCSI in their genomic locus. These results might indicate that Rh7 is differently activated by other transcription factors than other Rhodopsin genes and that it could therefore be expressed in other tissues and developmental stages than other known Rhodopsins. Nevertheless, our qPCR results show that Rh7 with the long N-terminus tail is expressed in the retina of D. melanogaster.
In summary, we show here that Rh7 is a peculiar Rhodopsin with unusual properties. Its presence in most groups of arthropods, excluding those living in aphotic environments, suggests that it has a conserved function in light-signaling either as visual or non-visual Rhodopsin. Rh7 might play a role in basic insect circadian photoreception and thus play a similar role in insects as melanopsin plays in mammals. It will be most promising to unravel this putative function of Rh7 by using the arsenal of genetic techniques available in D. melanogaster. We are currently pursuing this endeavor.
Conclusion
Rh7 seems to be an ancient type of Rhodopsin, which is conserved among different arthropods but lost in other. Rh7 possess nearly all important features for a functional visual protein, but it differs from other known Rhodopsins in its genomic characteristics, suggesting that Rh7 may have a different role than other known Rhodopsins. The palindromic RCSI in the first intron, which is even lost in some species suggests that Rh7 is transcribed differently from other Rhodopsins. In addition, the structural properties of Rh7 suggest that it might undergo different pathways compared to all other known Rhodopsins.