Genetic structure and diversity of the selfing model grass Brachypodium stacei (Poaceae) in Western Mediterranean: out of the Iberian Peninsula and into the islands
1
Department of Agriculture and Environmental Sciences, High Polytechnic School of Huesca, University of Zaragoza

,

Huesca

,

Spain
2
Department of Botany, Institute of Biology, Tomsk State University

,

Tomsk

,

Russia
Published

Accepted

Received
Academic Editor
Subject Areas

Keywords

Annual model grass species

, Brachypodium stacei,

SSRs

,

Genetic diversity and structure

,

Balearic (Gymnesic) and Canarian islands

,

Isolation

,

Western Mediterranean
Copyright

©

2016

Shiposha et al.

Licence

This is an open access article distributed under the terms of the Creative Commons Attribution License, which permits unrestricted use, distribution, reproduction and adaptation in any medium and for any purpose provided that it is properly attributed. For attribution, the original author(s), title, publication source (PeerJ) and either DOI or URL of the article must be cited.
Cite this article

2016

. Genetic structure and diversity of the selfing model grass Brachypodium stacei (Poaceae) in Western Mediterranean: out of the Iberian Peninsula and into the islands.

PeerJ

4

:

e2407

https://doi.org/10.7717/peerj.2407
Abstract
Annual Mediterranean species of the genus Brachypodium are promising model plants for energy crops since their selfing nature and short-life cycles are an advantage in breeding programs. The false brome, B. distachyon, has already been sequenced and new genomic initiatives have triggered the de-novo genome sequencing of its close relatives such as B. stacei, a species that was until recently mistaken for B. distachyon. However, the success of these initiatives hinges on detailed knowledge about the distribution of genetic variation within and among populations for the effective use of germplasm in a breeding program. Understanding population genetic diversity and genetic structure is also an important prerequisite for designing effective experimental populations for genomic wide studies. However, population genetic data are still limited in B. stacei. We therefore selected and amplified 10 nuclear microsatellite markers to depict patterns of population structure and genetic variation among 181 individuals from 19 populations of B. stacei occurring in its predominant range, the western Mediterranean area: mainland Iberian Peninsula, continental Balearic Islands and oceanic Canary Islands. Our genetic results support the occurrence of a predominant selfing system with extremely high levels of homozygosity across the analyzed populations. Despite the low level of genetic variation found, two different genetic clusters were retrieved, one clustering all SE Iberian mainland populations and the island of Minorca and another one grouping all S Iberian mainland populations, the Canary Islands and all Majorcan populations except one that clustered with the former group. These results, together with a high sharing of alleles (89%) suggest different colonization routes from the mainland Iberian Peninsula into the islands. A recent colonization scenario could explain the relatively low levels of genetic diversity and low number of alleles found in the Canary Islands populations while older colonization events are hypothesized to explain the high genetic diversity values found in the Majorcan populations. Our study provides widely applicable information about geographical patterns of genetic variation in B. stacei. Among others, the genetic pattern and the existence of local alleles will need to be adequately reflected in the germplasm collection of B. stacei for efficient genome wide association studies.
Introduction
Approximately one third of Earth's land is covered by grass-dominated ecosystems comprising 600 genera and more than 12,000 species (Soreng et al., 2015). Besides their important ecological role, grasses are the core of human nutrition and several genomic efforts have focused on economically important species (e.g., rice: International Rice Genome Sequencing Project (2005); sorghum: Paterson et al. (2009)). Among grasses, the genus Brachypodium, a member of the Pooideae subfamily, has recently been developed as a new model system to study the evolution of grasses. The genome of the annual B. distachyon, commonly known as the false brome, has already been sequenced (International Brachypodium Initiative, 2010). This species has several features suitable for the development of a model plant for genomic studies such as a small diploid genome (∼355 Mbp), a short annual life-cycle, easily amenable to culture, and a selfing nature (Gordon et al., 2014).
The taxonomic identity of B. distachyon was recently challenged with the recognition that the three cytotypes attributed to different ploidy levels in this species (e.g., an autopolyploid series of individuals with x = 5 and 2n = 10 (2x), 20 (4x), 30 (6x) chromosomes; Robertson, 1981) were in fact three different species: two diploids, each with a different chromosome base number, B. distachyon (x = 5, 2n = 10) and B. stacei (x = 10, 2n = 20), and their derived allotetraploid B. hybridum (x = 5 + 10, 2n = 30) (Catalán et al., 2012; López-Alvarez et al., 2012). This recent taxonomic split has triggered new genomic initiatives including the re-sequencing of 56 new accessions of B. distachyon and the de-novo genome sequencing of B. stacei and B. hybridum, a project undertaken by the Joint Genome Institute and the International Brachypodium Consortium (http://jgi.doe.gov/our-science/science-programs/plant-genomics/brachypodium/). The forthcoming genomes of B. stacei and B. hybridum will allow the development of several functional genomic analyses on these diploid and polyploid species and their potential transfer to other cereals and forage or biofuel crops. A recent update on phenotypic traits and habitat preferences of the three species has increased the number of discriminant features that distinguish them and has thrown new insights into their respective ecological adaptations (Catalán et al., 2016a). However, very scarce genetic information exists for these close relatives of B. distachyon, especially for the rarest species of this complex, B. stacei (Catalán et al., 2016b). It would, therefore, be invaluable to have more information especially because a collection of germplasm reflecting the natural diversity of B. stacei is necessary for future genome wide association studies and the creation of reference lines.
Brachypodium stacei is a monophyletic annual diploid species that diverged first from the common Brachypodium ancestor, followed consecutively by B. mexicanum, B. distachyon and the clade of the core perennial taxa (Catalán et al., 2012; Catalán et al., 2016b). Several studies have revealed it to be distinct from B. distachyon and B. hybridum: e.g., protein data: Hammami et al. (2011); nuclear SSRs: Giraldo et al. (2012); DNA barcoding: López-Alvarez et al. (2012); isozymes: Jaaska (2014). A recent study using environmental niche models predicted a potential distribution of B. stacei in coastal and lowland areas of the circum-Mediterranean region (López-Alvarez et al., 2015), concurrent with its known geographic distribution (Catalán et al., 2016a). However, a large number of those populations occur in the western Mediterranean region and in Macaronesia (López-Alvarez et al., 2015; Catalán et al., 2016a). Population genetic studies conducted in its annual congener B. distachyon have demonstrated that the genetic structure does not fit a geographic pattern but rather might have resulted from a combination of factors such as long distance dispersal of seeds and flowering time isolation (Vogel et al., 2009; Mur et al., 2011; Tyler et al., 2016).
Here, we studied the patterns of genetic variation in the mainland Iberian Peninsula and the western island populations (continental Balearic Islands and oceanic Canary Islands) of B. stacei to unravel the origin and phylogeographic patterns of its populations. From all its range, this area is the best known due to previous studies (Catalán et al., 2012; Catalán et al., 2016a; López-Alvarez et al., 2012; López-Alvarez et al., 2015), which can guarantee the correct identification of B. stacei since it can be misidentified with its close-relatives (López-Alvarez et al., 2012). We specifically addressed the following questions: (1) Is genotypic diversity within populations limited by the prevalence of autogamous pollinations? (2) Do islands (e.g., continental, oceanic) contain less genetic variation than mainland areas? (3) Is there a signature of geographic genetic structure in this self-pollinated plant? Finally, we aim to provide recommendations necessary to establish an efficient germplasm collection of B. stacei, with the aim of helping future genomic initiatives in Brachypodium.
Material and Methods
Population sampling, DNA extraction and nSSR amplification
A total of 181 individuals were sampled from 19 populations of B. stacei covering the whole distribution range of this species within the Iberia Peninsula, plus the continental Balearic (Gymnesic) Islands (Majorca, Minorca) and the oceanic Canary Islands (Gomera, Lanzarote) (Table 1; Fig. 1). Nine populations were sampled in mainland Iberian Peninsula and ten across the two groups of islands (Fig. 1). In each population, ten individuals were collected randomly with a minimum sampling distance of 10 m, with the exception of the Iberian ALI and the Majorcan BANYA populations where only five and six individuals were respectively found. Sampling sizes, locations and geographic coordinates of each population sampled are given in Table 1. Fresh leaves were collected for each individual, dried in silica gel and stored at −20 °C until ready for DNA isolation. The silica samples for all individuals were deposited in the DNA bank of the BioFlora group at the University of Zaragoza in Spain and voucher specimens were deposited in the JACA herbarium (Spain).
Locality
Code
N
Latitude (N)
Longitude (W)
Ho
He
Na
AR
FIS
s
Exclusive genotypes
Mainland (Iberian Peninsula)
S Spain: Granada, Moclin
GRA
10
37°19′59″N
3°46′59″W
0.240
0.155
12
1.126
0.667*
0.800
3 (30%)
S Spain: Almeria, Cabo de Gata
ALM
10
36°44′2″N
2°8′35″W
0.170
0.102
11
1.050
0.0001
0.0001
3 (30%)
S Spain: Jaen: Cazorla, Cortijos Nuevos
JAE1
10
38°11′31″N
2°48′14″W
0.120
0.116
12
1.176
0.723*
0.839
4 (40%)
S Spain: Jaen: Quesada, Tiscar
JAE2
10
37°46′5″N
3°1′23″W
0.200
0.100
10
1.000
–
–
1 (10%)
SE Spain: Murcia, Portman
PORT
10
37°34′57″N
0°51′15″W
0.200
0.100
10
1.000
–
–
1 (10%)
SE Spain: Murcia, Calblanque
CALBN
10
37°35′59″N
0°45′29″W
0.140
0.108
14
1.246
0.526*
0.689
4 (40%)
SE Spain: Murcia, Cobaticas
CALBA
10
37°35′59″N
0°45′30″W
0.110
0.105
15
1.339
0.617*
0.763
5 (50%)
SE Spain: Murcia, Cala Reona
CALREL
10
37°36′56″N
0°42′56″W
0.030
0.009
13
1.239
0.520*
0.684
5 (50%)
SE Spain: Alicante, Cabo La Nao
ALI
5
38°45′22″N
0°13′8″E
0.300
0.150
10
1.000
–
–
1 (20%)
Balearic (Gymnesic) Islands
Spain: Minorca: Es Mercadal, Toro
MEN
10
39°59′6″N
4°6′47″E
0.240
0.173
13
1.203
0.386*
0.556
3 (30%)
Spain: Majorca: Sa Dragonera, Gambes
DRAG
10
39°35′13″N
2°19′37″E
0.111
0.154
16
1.428
0.916*
0.956
5 (50%)
Spain: Majorca: Arta, Peninsula de Llevant
ARTA
10
39°44′10″N
3°20′6″E
0.210
0.128
12
1.126
0.666*
0.799
3 (30%)
Spain: Majorca: Campanet, Coves
CAMPA
10
39°47′31″N
2°58′12″E
0.130
0.138
14
1.434
0.486*
0.654
6 (60%)
Spain: Majorca: Alcudia, Punta Negra
ALCU
10
39°52′48″N
3°10′41″E
0.140
0.108
14
1.200
0.0001
0.0001
2 (20%)
Spain: Majorca: Felenitx, San Salvador
FELEN
10
39°27′4″N
3°11′17″E
0.130
0.109
14
1.200
0.250
0.400
4 (40%)
Spain: Majorca: Petra, Bonany
BONA
10
39°35′38″N
3°5′10″E
0.290
0.391
23
1.992
0.385*
0.5555
9 (90%)
Spain: Majorca: Banyalbufar, Ses Animes
BANYA
6
39°41′6″N
2°30′36″E
0.167
0.239
15
1.496
0.825*
0.904
6 (100%)
Canary Islands
Spain: Gomera: Agulo
GOM
10
28°10′59″N
17°10′59″W
0.150
0.118
11
1.076
0.891*
0.942
2 (20%)
Spain: Lanzarote: Teguise
LAN
10
29°4′1″N
13°31′1″W
0.230
0.136
11
1.096
1.000*
1
2 (20%)
*
FIS values deviating from HWE (P > 0.05).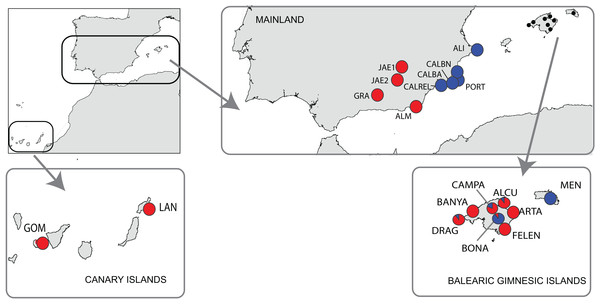 Total genomic DNA was extracted from fresh leaf tissue or from silica-dried leaf samples using the DNeasy Plant Mini Kit (Qiagen, Valencia, CA, USA) according to the manufacturer's protocol. The 181 samples used in this study were genotyped at 10 variable nuclear microsatellite markers (nSSRs) developed for B. distachyon (ALB006, ALB022, ALB040, ALB050, ALB086, ALB087, ALB139, ALB165, ALB181 and ALB311; Vogel et al., 2009). All those microsatellites were selected because during our preliminary studies they displayed good quality and high transferability success in B. stacei. The forward primer of each locus was 5-end labeled with a fluorescent dye. Amplifications were carried out in a final volume of 10 μl containing between 0.1 and 0.2 μl of each 10 m diluted primer (forward and reverse), 5 μl PCR Master Mix (QIAGEN) and 2.5 μl DNA. The polymerase chain reactions (PCR) were carried out on a GeneAmp PCR System 9700 thermocycler with a thermal profile consisting of a 4-min initial denaturation step at 95 °C followed by 35 cycles of 30 s at 95 °C, 30 s at 55 °C and 1 min at 72 °C. A final 72 °C extension step of 30 min was included to promote non-templated nucleotide addition at the 3′end of the PCR product. Multiplexed PCR products were genotyped on an Applied Biosystems 3130XL Genetic Analyzer using 2 μl of amplified DNA, 12 μl of Hi-Di formamide and 0.4 μl of GeneScan-500 (LIZ) size standard (Applied Biosystem). Allele sizes were determined using Peak Scanner version 1.0 (Life Technologies). Within each population, all loci were checked for the presence of null alleles using MICRO-CHECKER v.2.2.3 (van Oosterhout et al., 2004).
Hardy-Weinberg equilibrium, linkage disequilibrium and genetic diversity
Deviation from Hardy-Weinberg Equilibrium (HWE) was tested at both population and locus levels using FSTAT 2.9.3.2 (Goudet, 2001). To calculate the extent of linkage disequilibrium between pairs of loci (LD) in each population we set dememorization numbers at 10,000 and performed 100,000 iterations for all permutation tests (exact tests) in Genepop v.4.0.10 (Raymond & Rousset, 1995). Significant values were corrected for multiple comparisons by Bonferroni correction (Rice, 1989).
For each microsatellite locus and population, genetic polymorphism was assessed by calculating the total number of alleles (Na, allelic diversity), mean expected heterozygosity (He), mean observed heterozygosity (Ho), allelic richness (AR), and inbreeding coefficient (FIS) using FSTAT 2.9.3.2 (Goudet, 2001). The inbreeding coefficient was also estimated using the Bayesian procedure (IIM) implemented in INEst 2.0, which is robust to the presence of null alleles (Chybicki & Burczyk, 2009). Posterior distribution was based on 300,000 steps, sampling every 100 steps and discarding the first 30,000 steps as burn-in. In order to infer the statistical significance of inbreeding we compared the full model (nfb), the model including only the possibility of null alleles and inbreeding (nf), and the model including only null alleles and genotyping failures (nb). The best model was chosen based on the Deviance Information Criterion (DIC; cf. Chybicki, Oleksa & Burczyk, 2011).
GenAlEx 6 software was used to estimate the mean expected heterozygosity (He) and mean observed heterozygosity (Ho) for each population (Peakall & Smouse, 2006). In addition, the selfing rate (s) was also estimated as s = 2FIS/(1 + FIS) (Ritland, 1990). Spatial patterns of allelic quantity were visualized by mapping variation for the locations across space with the interpolation kriging function in ARCINFO (ESRI, Redlands, CA, USA), using a spherical semivariogram model.
Population genetic structure, genetic differentiation and isolation
The Bayesian program STRUCTURE v.2.3.4 (Pritchard, Stephens & Donnelly, 2000) was used to infer the population structure and to assign individual plants to subpopulations. Models with a putative numbers of populations (K) from 1–10, imposing ancestral admixture and correlated allele frequencies priors, were considered. Ten independent runs with 50,000 burn-in steps, followed by run lengths of 300,000 interactions for each K, were computed. The number of true clusters in the data was estimated using STRUCTURE HARVESTER (Earl & vonHoldt, 2012), which identifies the optimal K based both on the posterior probability of the data for a given K and the ΔK (Evanno, Regnaut & Goudet, 2005). To correctly assess the membership proportions (q values) for clusters identified in STRUCTURE, the results of the replicates at the best fit K were post-processed using CLUMPP 1.1.2 (Jakobsson & Rosenberg, 2007). BAPS v.5.2 (Corander, Marttinen & Mäntyniemi, 2006) was used to explore population structure further. In contrast to STRUCTURE, BAPS determines optimal partitions for each candidate K-value and merges the results according the log-likelihood values to determine the best K-value. Analyses in BAPS were done at the level group of individuals using the models without spatial information and by selecting 1–10 as possible K-values. Ten repetitions were performed for each K. POPULATION 1.2 (Langella, 2000) was used to calculate the Nei's genetic distance (DA; Nei, Tajima & Tateno, 1983) among individuals and to construct an unrooted neighbor-joining tree with 1,000 bootstrap replicates. Nei's genetic distance among individuals was also visualized by Principal Components Analysis (PCoA) with GenAlEx6 (Peakall & Smouse, 2006).
We estimated genetic differentiation among locations using an analysis of molecular variance (AMOVA) with ARLEQUIN 3.11 (Excoffier, Laval & Schneider, 2005). In addition, molecular variance was also studied (1) between the genetic groups retrieved by STRUCTURE and BAPS, (2) between mainland and island populations, (3) within mainland populations, e.g., S Spain vs. SE Spain, and (4) within island populations, e.g., Balearic vs. Canary Islands. In each analysis, variance was quantified among groups, among locations within groups and within sampling locations. Each AMOVA was run with 10,000 permutations at 0.95 significance levels. Relationships between genetic and linear geographic distances (isolation-by-distance, IBD) were examined using a Mantel test (Mantel, 1967) implemented in ARLEQUIN 3.11 (Excoffier, Laval & Schneider, 2005) with 10,000 permutations.
Supplemental Information
List of alelles genotyped in Brachypodium stacei.