CardioTF, a database of deconstructing transcriptional circuits in the heart system
State Key Laboratory of Cardiovascular Disease, Fuwai Hospital, National Center for Cardiovascular Diseases, Chinese Academy of Medical Sciences and Peking Union Medical College

,

Beijing

,

China
Published

Accepted

Received
Academic Editor
Subject Areas

Keywords

Database

,

Cardiac transcription factor

,

Position weight matrix

,

Cardiac enhancer
Copyright

©

2016

Zhen

Licence

This is an open access article distributed under the terms of the Creative Commons Attribution License, which permits unrestricted use, distribution, reproduction and adaptation in any medium and for any purpose provided that it is properly attributed. For attribution, the original author(s), title, publication source (PeerJ) and either DOI or URL of the article must be cited.
Cite this article

2016

.

CardioTF, a database of deconstructing transcriptional circuits in the heart system

.

PeerJ

4

:

e2339

https://doi.org/10.7717/peerj.2339
Abstract
Background: Information on cardiovascular gene transcription is fragmented and far behind the present requirements of the systems biology field. To create a comprehensive source of data for cardiovascular gene regulation and to facilitate a deeper understanding of genomic data, the CardioTF database was constructed. The purpose of this database is to collate information on cardiovascular transcription factors (TFs), position weight matrices (PWMs), and enhancer sequences discovered using the ChIP-seq method.
Methods: The Naïve-Bayes algorithm was used to classify literature and identify all PubMed abstracts on cardiovascular development. The natural language learning tool GNAT was then used to identify corresponding gene names embedded within these abstracts. Local Perl scripts were used to integrate and dump data from public databases into the MariaDB management system (MySQL). In-house R scripts were written to analyze and visualize the results.
Results: Known cardiovascular TFs from humans and human homologs from fly, Ciona, zebrafish, frog, chicken, and mouse were identified and deposited in the database. PWMs from Jaspar, hPDI, and UniPROBE databases were deposited in the database and can be retrieved using their corresponding TF names. Gene enhancer regions from various sources of ChIP-seq data were deposited into the database and were able to be visualized by graphical output. Besides biocuration, mouse homologs of the 81 core cardiac TFs were selected using a Naïve-Bayes approach and then by intersecting four independent data sources: RNA profiling, expert annotation, PubMed abstracts and phenotype.
Discussion: The CardioTF database can be used as a portal to construct transcriptional network of cardiac development.
Availability and Implementation: Database URL: http://www.cardiosignal.org/database/cardiotf.html.
Introduction
Heart disease is a leading cause of morbidity and mortality in both infants and adults (van der Linde et al., 2011; Celermajer et al., 2012). Insights into the cause of congenital heart diseases (CHDs) have led to the identification of mutations in essential cardiac transcription factors (TFs) (McCulley & Black, 2012). At the opposite end of the temporal spectrum, some cases of adult cardiac disease have been traced to variation in gene regulatory sequences (Smith & Newton-Cheh, 2015). Thus, knowledge of TFs, their downstream targets, and the regulatory genomic sequences involved in the heart development will enhance our understanding of heart disease.
Although the vast amounts of data generated by high-throughput technologies are archived in databases such as ArrayExpress or GEO of NCBI (Parkinson et al., 2011; Barrett et al., 2013), they do not contain cohesive knowledge and lack expert annotation. In addition, the field of cardiac development has experienced accelerated growth that can be attributed to the use of various animal models. However, to our present understanding, few efforts have been made to create a database which collects cardiac transcriptional information across species, thereby limiting the benefits from an evolutionary perspective to study heart development.
At present, two branching efforts have been made to archive and analyze the data. One is to construct small scale databases, like BloodChIP or CistromeMap, which are dedicated to collecting specific types of data (Chacon et al., 2014; Qin et al., 2012). The other approach is to establish a number of consortia, like ENCODE, modENCODE, and Epigenomics Roadmap, which are created to generate huge amounts of raw data and archive them (Harrow et al., 2012; Celniker et al., 2009; Romanoski et al., 2015). In addition to these projects, analysis and visualization software are valuable resources that lead to deeper understanding of the data, and facilitate the generation of novel hypotheses. Central databases, like Ensembl and UCSC also have search functions which allow browsing of the results generated by the consortia mentioned above (Mangan et al., 2014; Flicek et al., 2013). However, there are currently few databases committed exclusively to cardiovascular development (Djordjevic et al., 2014). This prompted us to combine information about TFs, position weight matrices (PWMs), and ChIP-seq results and create a one-stop site for information on cardiovascular development, thus facilitating systems biology studies in transcriptional network regulation (Blais & Dynlacht, 2005).
CardioTF was therefore constructed to capture all transcriptional information relating to cardiovascular development. As a biocuration project, it documents TFs, PWM files and enhancers across species, including fly, Ciona, fish, frog, chicken, mouse and human. It also implements a search engine to query this information on the fly. In addition to the data-mining effort, core cardiac TFs are identified using Naïve-Bayes approach, which can be used as a roadmap alongside with further annotation for enhancers to generate gene regulatory network of heart development.
Results
The database schema
Our database uses the MariaDB, a drop-in replacement for MySQL, as the database management system (DBMS). To address how information will be stored and how the elements will be related to one another, we used the unified modeling language (UML) to describe the high-level database model (Ullman & Widom, 2008). UML was originally developed as a graphical notation for describing software designs in an object-oriented style. It has been extended, and modified and is now a popular notation for describing database designs. Here, we used UML instead of an entity/relationship diagram to design the relational database schema following modeling principles, such as faithfulness, avoiding redundancy, and simplicity counts (Ullman & Widom, 2008) (Fig. 1). Where possible, we used a composition distinguished by a line between two classes that ends in a solid diamond at one end. The diamond implies that the label at the end must be 1:1. For example, there is a composition from CardioTFmatrix to CardioTFCenter, which means that every matrix annotation row (PWM related information) belongs to exactly one row in CardioTFCenter (one type of TF may have more PWM records in a CardioTFmatrix table). A 1:1 label at the CardioTFCenter end is implied by a solid black diamond.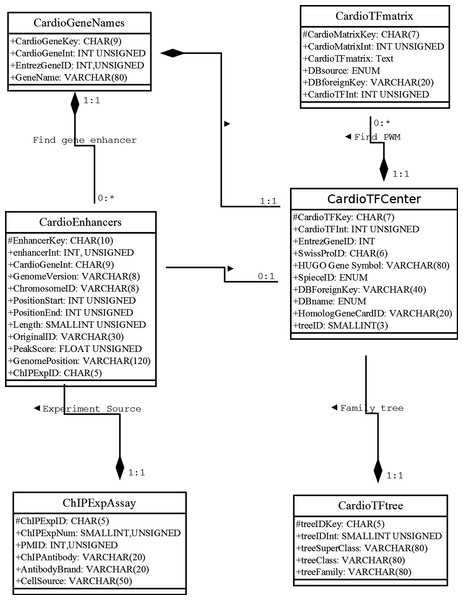 Web interface and search engine
CardioTF is a Perl website implemented using only Perl language to dynamically display the graphical output while querying the database in the backend (Fig. 2). To aid cardiovascular biologists, a search engine was created to allow users to: (1) identify homology information for the queried TF across six species and link to the corresponding central databases outside CardioTF; (2) identify PWM file union of three public databases regarding the queried TF; and (3) identify the enhancer regions revealed by ChIP-seq data of the queried gene. Thus, the database is able to perform the key functions required to construct a transcriptional network of heart development.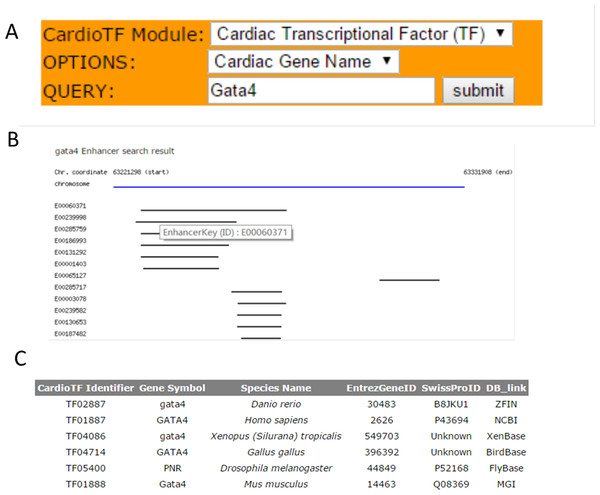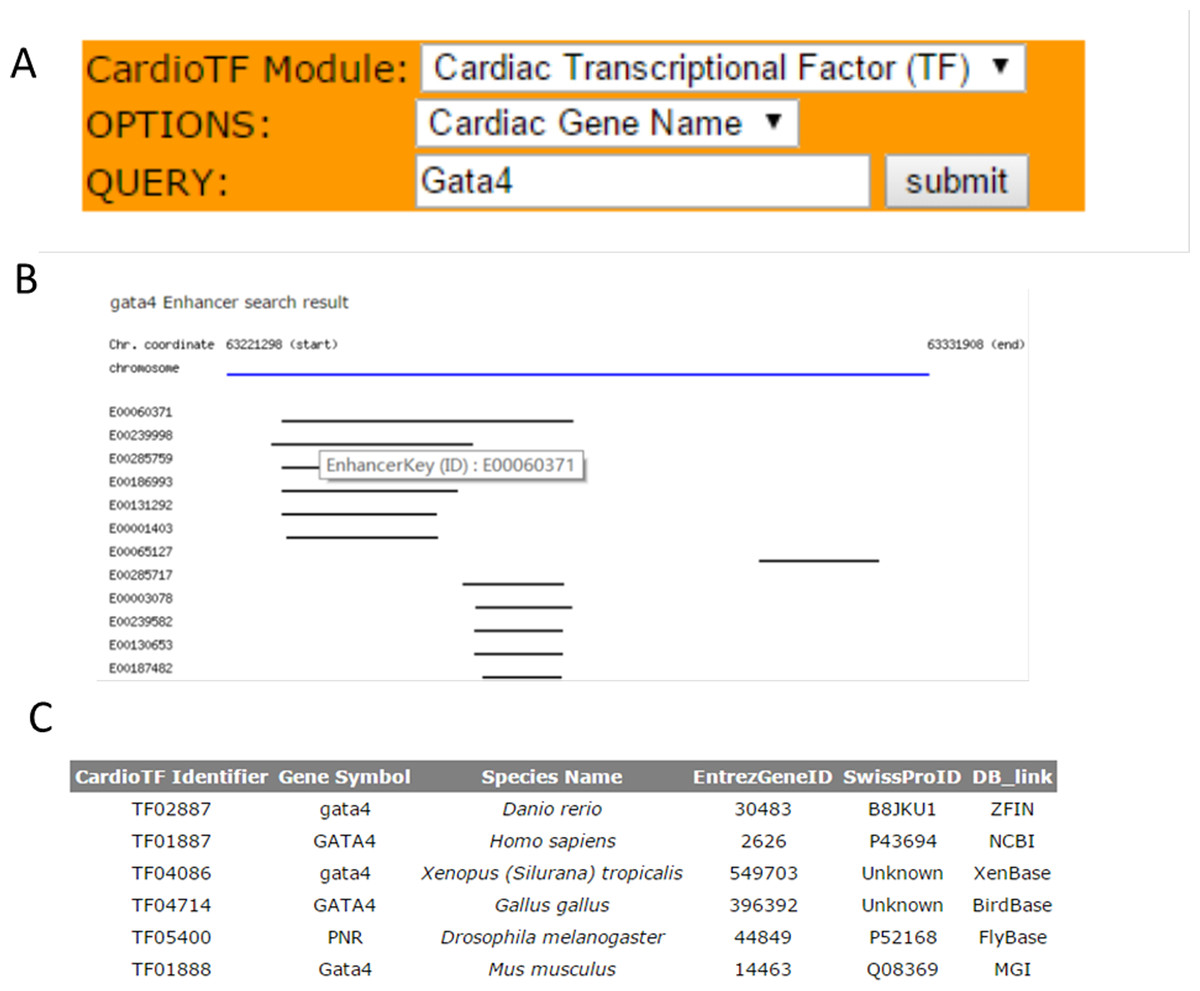 Cardiovascular TFs in the database
Wingender's annotation set (Wingender, Schoeps & Dönitz, 2013) was used as a benchmark to recruit TFs across species. The frozen version of this dataset contains 1,564 human TFs. Among them, only 1,513 TFs have corresponding Entrez gene records. Human-specific TFs, defined as those with no orthologs in the mouse genome, were discarded because no model system could be used to verify their function in vivo. This step excluded a further 313 human TFs which have no counterpart in mouse from the homolog annotation. Therefore, 1,200 mouse TFs were collected. Other established animal models for cardiovascular development include fly, Ciona, zebrafish, frog, and chicken. TFs from these species were collected if they were homologs to the above mouse TFs. The distribution of TFs from different species is shown in Fig. 3. The expression status of mouse TFs was verified by four independent resources, namely RNA-seq data re-analysis (Shen et al., 2012), phenotype annotations from the MGI database (Blake et al., 2014), expert recommendation from the UK Cardiovascular Gene Annotation Initiative (Khodiyar et al., 2011), and PubMed relevance from classification of Weinstein-like abstracts (see the subsequent section and Table S1).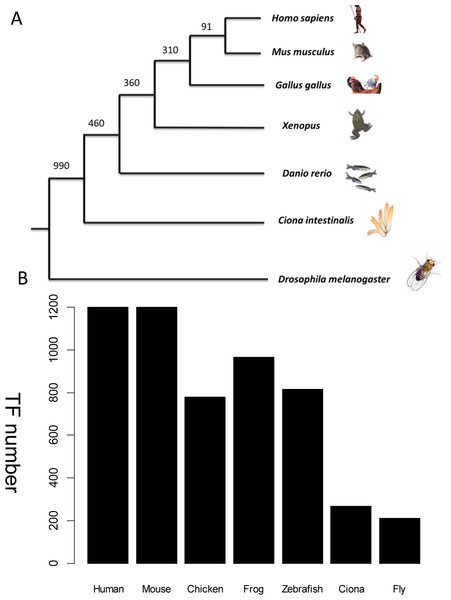 Weinstein TFs from PubMed analysis
We identified the journals that favored Weinstein-style papers, which were likely contain information on genes involved in cardiovascular development. As expected, after using a Naïve-Bayes method, the journals we identified were among the 30 journals most relevant to developmental biology. Two of the journals (Circ. Res. and J. Mol. Cell. Cardiol.) obviously publish research specifically in the area of heart system. (Table S1: CardioJournalDistribution). If normalized and ranked by publication rate, the above conclusion still holds true although two different heart journals (Eur. J. Echocardiogr, Heart Rhythm) are in the top 30 list (Table S1: CardioJournalDistribution_norm) in this case. We then used GNAT, a tool that recognizes gene names in the literature, to recover all TFs mentioned in Weinstein-style abstracts because we assumed that these TFs are studied by researchers in the cardiovascular community (Figs. 4 and S1; Table S1).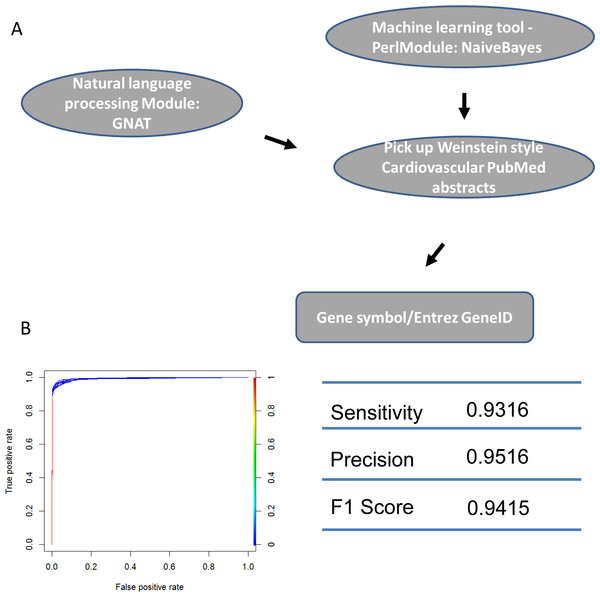 PWM files collected in database
Public databases for PWM files include UniPROBE, Jaspar, and hPDI, and they provide PWM files for TFs. Jaspar PWM files are curated from the published literatures whereas the other two databases generate PWM files from experiments. Our database integrates these three sources, and the TF PWM can be queried on the basis of the TF name. Search results directly link to the original database through the PWM raw database key. The CardioTFmatrix class contains 904 records, and these PWM files can be recognized by our local CardioSignalScan program to search for the motifs in genomic regions.
Core cardiovascular TFs
The 1,200 mouse TFs were included in the cardiac TF dataset as the entry point to initiate deep annotation. To define a core set of cardiac TFs, we intersected four independent sources of cardiovascular TF collections. Inclusion of the resulting 81 TFs is supported by their expression status, phenotype annotation, expert recommendation and PubMed relevance (Table S1). We also performed DAVID functional analysis, and found that these TFs are particularly enriched in cardiac muscle differentiation (Fig. S2). 10–20% of these TFs which are enriched in the Annotation Cluster 7 including Gata4, Gata6, Smad7, Nkx2-5, Tbx2, Tbx5, Foxc1, Foxp1, Prox1, Rara, Rarb, Rxra, Rxrb, Zfpm2. These 14 TFs, are annotated in the DAVID as being involved in cardiac muscle formation. As we know, the heart system includes the endocardium which is a specialized layer derived from endothelial cells. Cluster 8 from our DAVID analysis includes genes expressed in endothelial cells such as Smad5, Smad7, Meis1, Nkx2-5, Tbx20, Epas1, Foxc1, Foxo1, Hey1, Hand2, Hif1a, Mef2c, Prrx1, Prox1, Srf, Nr2f2, Tcf21, Vezf1, Zfpm2. Is this set of genes the minimum requirement for cardiac development? Indeed, these four sources of supporting evidence indicate that these TFs genes play a key role in heart development. We wanted to determine if these TFs display specific expression patterns in heart development. A heatmap was generated using seven RNA-seq data sets, including samples from embryonic cells, mesoderm cells, cardiac progenitors, nascent cardiomyocytes and adult heart tissue. This heatmap did not reveal any specific patterns (Fig. S3). In adult tissues, these TFs did not exhibit enriched expression in the adult heart. In the case of TFs which are never expressed at any stage of heart development, no specific expression pattern was revealed by the boxplot assay (Figs. S4 and S5).
Cardiovascular enhancers collected in this database version
Few enhancers have already been verified by traditional biological experiments, for example, by using transgenic expression of isolated DNA fragments in vivo to analyze temporal-spatial patterns. Therefore, the ChIP-seq method provides a high-throughput approach to delineate enhancer regions at the genome scale. A standard protocol was used to identify genome-wide locations of transcription/chromatin factor binding sites or histone modification sites from ChIP-seq data (Fig. S6). The present database houses 511,893 enhancer records, covering different stages of heart development. Searching for a single enhancer also provides a user interface to scan the TFBSs. The binding matrices provided in the list come from the core cardiac TFs. The flat text output file contains the matrix key for the TFs in the database and sorts these hits in the increasing order.
Discussion
We identified 5,442 TFs from six species, and integrated 904 PWM files from three PWM databases. We also collected 511,893 peak fragments for further analysis. The on-the-fly search tool was implemented to match the core cardiac TFBSs in the specified enhancer sequence. Our database provides a framework where users can query homology information for various TFs across species and PWM information corresponding to TFs and enhancers from high-throughput ChIP-seq data. The curation for cardiac enhancers and TFs facilitate future efforts to construct transcription network.
The database now contains the six species which are model organisms for studying heart development (Fig. 3A). Ciona is an ideal model used to study the early specification step in the Mesp-lineage. Zebrafish is well suited to perform imaging analysis and for performing quantitative study. The chicken is well suited for lineage tracing ex vivo. The mouse provides a well-studied mammalian model and is most similar to humans. The fly is a valuable model for testing new concepts and is easy to study at the genomic level. New models may be added in the future if they have unique advantage over the other models.
Previously, we constructed the CardioSignal database which collates cardiac factors driving genes expressed in a tissue-specific or quantitative manner. Most enhancers archived in the database are expressed specifically in the myocardium. CardioTF is a complementary database that accumulates cardiac TFs expressed in the epicardium, endocardium and myocardium. This information including PWMs can be used not only to find the features of enhancers in a machine learning approach (such the left-right patterning of the heart) but also to reconstruct regulatory network in systems biology.
We defined a core set of TFs using four independent sources, namely, RNA profiling, expert curation, PubMed abstract parsing and phenotype annotation to support their roles in cardiovascular development. In RNA-seq analysis, after pre-processing and post-processing of the adult heart data, the count table contained 48,995 genes. After filtering genes with FPKM > 1, there were 20,863 genes remaining. Roughly half of these annotated genes were abandoned because their gene expression level was too low. To analyze PubMed abstracts, a Naïve-Bayes approach was used to classify Weinstein-style abstracts and then pick out the TFs embedded in those abstracts. Most journals containing the key words "heart" or "cardiac" or "cardiovascular" focus on heart pathology or physiology instead of development biology. For example, journals such as "Cardiovascular research," "Circulation," and "Circulation research," accept papers related to the adult cardiovascular system. Most papers published in these journals take a more translational approach which is oriented to bench-side work. Our analysis identified two heart related journals (which is obvious from their name) suggesting that the algorithm was successful in finding the wording pattern present in Weinstein abstracts. The results indicate that most developmental biology manuscripts relating to cardiovascular system are sent to specialized journals that focus on development. Top-tier cardiovascular journals are more likely to publish papers describing the adult cardiovascular system. Our text analysis, whether normalized by publication number or not, had a tendency of identifying journals favored by heart developmental biologists and journals that specialized in developmental biology (Table S1).
Traditional definitions of heart specific TFs can often be ambiguous and should not include TFs that only regulate cardiac muscle. In the present definition, heart specific TFs must be detected to be expressed in heart tissue which includes the endocardium and epicardium layers. Both DAVID Annotation Clusters 7 and 8 contain TFs involved in heart muscle or vascular formation. The DAVID analysis result did not reveal any other clusters with genes involved in kidney, liver or the formation of other organs. Even the expression of GATA4 and MEF2C, which are de facto cardiac TFs, is not restricted to cardiomyocytes. These TFs are expressed in cardiac progenitors at a certain stage of development. The present approach is empirical and proposes a method which uses four independent data sources to identify true cardiac TFs based on their expression, phenotype, community opinion and PubMed abstracts. These 81 core TFs could be used further to support simulation study to infer the significance in future.
In general, the set of core cardiac TFs identified by these sources provide a roadmap for systems biology to construct a transcriptional network of heart development. Current approaches by the Sperling group or the Pu group only report three to four TFs based on ChIP-seq data (He et al., 2011; Schlesinger et al., 2011). Similar approaches by other genome biologists who tried to find cardiac enhancers on a genome scale have been reviewed elsewhere (Wamstad et al., 2012; Wamstad et al., 2014). However, the information generated from these studies is well below our knowledge of these core cardiovascular TFs, which have multiple sources supporting their role in cardiovascular development.
We archived 1,200 mouse TFs and wanted to determine at what stage of heart development they were expressed. Our preliminary analysis indicates that approximately 200 TFs have no evidence of their expression pattern, phenotype, expert recommendation, and PubMed abstracts. Whether these TF genes are expressed or play roles in heart disease requires further analysis.
The database still lacks cell lineage-based expression profiling data, which will quantify the expression level of various TFs and thus construct a 4-D dynamic expression pattern in vivo. This information could be combined with cell lineage-based ChIP-seq data to create a super-resolution of enhancer tomography.
Conclusions
Modern translational medicine rests upon the progressive study of pathways and principles from model organisms such as yeast, fly, fish, and mice to clinical studies in humans. Therefore, we recruited TFs from six model organisms which are established models for research on cardiovascular development. The identification and collation of these well-annotated homologs from different organisms will enable investigators to better address the complexities of transcriptional network on heart development (Wamstad et al., 2014).
We hope that in the near future, single-cell sequencing data may provide comprehensive gene expression information with detailed temporal-spatial resolution, thereby providing insight into the transcription networks that contribute to heart development or heart diseases. CardioTF database try to collate these cis and trans information and take the initial steps in the construction of a comprehensive transcriptional network.