Systematic relationships of five newly sequenced cervid species
Published

Accepted

Received
Academic Editor
Subject Areas

Keywords

Cervidae

,

Phylogeny

,

Polyphyly

,

Cytochrome b

, Pudu, Mazama, Muntiacus, Rusa
Copyright

©

2016

Heckeberg et al.

Licence

This is an open access article distributed under the terms of the Creative Commons Attribution License, which permits unrestricted use, distribution, reproduction and adaptation in any medium and for any purpose provided that it is properly attributed. For attribution, the original author(s), title, publication source (PeerJ) and either DOI or URL of the article must be cited.
Cite this article

2016

.

Systematic relationships of five newly sequenced cervid species

.

PeerJ

4

:

e2307

https://doi.org/10.7717/peerj.2307
Abstract
Cervid phylogenetics has been puzzling researchers for over 150 years. In recent decades, molecular systematics has provided new input for both the support and revision of the previous results from comparative anatomy but has led to only partial consensus. Despite all of the efforts to reach taxon-wide species sampling over the last two decades, a number of cervid species still lack molecular data because they are difficult to access in the wild. By extracting ancient DNA from museum specimens, in this study, we obtained partial mitochondrial cytochrome b gene sequences for Mazama bricenii, Mazama chunyi, Muntiacus atherodes, Pudu mephistophiles, and Rusa marianna, including three holotypes. These new sequences were used to enrich the existing mitochondrial DNA alignments and yielded the most taxonomically complete data set for cervids to date. Phylogenetic analyses provide new insights into the evolutionary history of these five species. However, systematic uncertainties within Muntiacus persist and resolving phylogenetic relationships within Pudu and Mazama remain challenging.
Introduction
Cervidae forms a subclade of ruminant artiodactyls and is the second most diverse group among terrestrial artiodactyls, with 55 extant species (IUCN, 2015), including one recently extinct species (Rucervus schomburgki; Duckworth, Robichaud & Timmins, 2008). Cervids natively inhabit Eurasia, the Americas, and potentially northernmost Africa (Mattioli, 2011). They are adapted to diverse climatic zones, ranging from the tropics to arctic regions, and to diverse habitats such as tundra, grasslands, swamps, forests, woodlands, and ecotones (Mattioli, 2011). Their unique phenotypic feature is a pair of antlers, which are osseous outgrowths of the frontal bone that are shed and rebuilt regularly. The current conservation status of cervids lists 29 species as 'threatened', nine species as 'data deficient', and 17 species as 'least concern' in the IUCN Red List of Threatened Species (IUCN, 2015). Samples and life history data are much more difficult to obtain from rare and threatened species than from more abundant species. Therefore, there is a discrepancy between the well-studied (e.g., Cervus elaphus, red deer; Odocoileus hemionus, mule deer; Rangifer tarandus, reindeer) and barely known species (e.g., Mazama spp., brocket deer; Pudu spp., pudu; Muntiacus spp., muntjac). Consequently, data for the latter taxa are overdue.
Cervid phylogenetics has improved considerably in recent decades through molecular systematics (e.g., Hassanin & Douzery, 2003; Pitra et al., 2004; Kuznetsova, Kholodova & Danilkin, 2005; Hernández-Fernández & Vrba, 2005; Hughes et al., 2006; Gilbert, Ropiquet & Hassanin, 2006; Marcot, 2007; Agnarsson & May-Collado, 2008; Duarte, González & Maldonado, 2008; Hassanin et al., 2012). However, several species are still underrepresented in molecular phylogenetic analyses because their current conservation status of threatened or data deficient negatively affects their sample collection.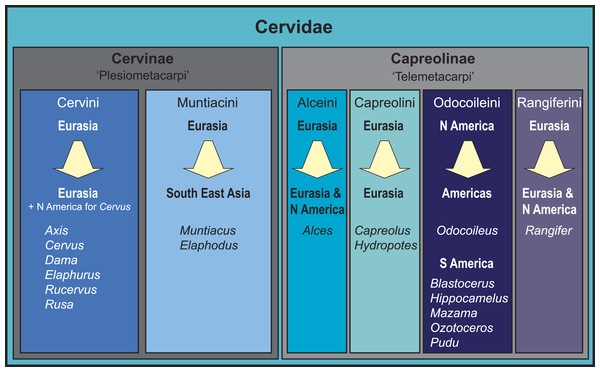 Consensus has been reached for the monophyly of taxa Cervidae, Muntiacini, Cervini, Capreolini and Odocoileini. Muntiacini and Cervini form the clade Cervinae, which is a sister taxon to Capreolinae comprising Odocoileini, Rangiferini, Capreolini and Alceini (e.g., Hernández-Fernández & Vrba, 2005; Gilbert, Ropiquet & Hassanin, 2006; Hassanin et al., 2012). The Capreolinae-Cervinae-split is commonly supported in previously published topologies and corresponds to the first (though not formally valid) morphological cervid classification by Brooke (1878), who differentiated Plesiometacarpi and Telemetacarpi (Fig. 1). Systematic relationships within Cervinae appear to be largely resolved, whereas Capreolinae systematics is more controversial (Pitra et al., 2004; Gilbert, Ropiquet & Hassanin, 2006; Duarte, González & Maldonado, 2008; Hassanin et al., 2012; Croitor, 2014). For an overview of current cervid classifications, see Fig. 1.
The mitochondrial cytochrome b (Cytb) gene is the best-sampled across cervids. Cytb is a marker that is known to be highly variable in mammals, which makes it a suitable marker for resolving genus and species level relationships but less suitable for resolving deeper nodes (family level and above) or for population studies (Hofreiter et al., 2001a). In addition, because mitochondrial genomes are maternally inherited, they may not allow a full reconstruction of a species' evolutionary history if there is no random mating.
However, Hassanin et al. (2012) sequenced and analysed mitochondrial genomes of 33 cervid species as part of a large Artiodactyla phylogenetic reconstruction and provided a robust phylogenetic framework for cervids. To date, sampling of mitochondrial genomes and individual partial Cytb sequences cover 46 of the 55 cervid species.
Here, we present the results of phylogenetic analyses that include four species not previously sampled for molecular data: Mazama chunyi (Peruvian dwarf brocket), Muntiacus atherodes (Bornean yellow muntjac; including holotype), Pudu mephistophiles (Northern pudu; including holotype), and Rusa marianna (Philippine brown deer), all of which were taken from museum specimens. We also sequenced three Mazama bricenii museum specimens (Mérida brocket; including the holotype), of which Cytb sequences have been published recently and were sequenced contemporaneously with our study (Gutiérrez et al., 2015). Except for M. atherodes (least concern), all species have been assessed as vulnerable based on the IUCN Red List. Therefore, considering the threat of extinction, our approach of sequencing DNA from museum material is an important contribution to cervid systematics.
The specific aims of our study were (1) to reconstruct the systematic position of M. bricenii and M. chunyi and further investigate the polyphyly of the genus Mazama, (2) to reconstruct the systematic position of M. atherodes, (3) to test the monophyly of the Philippine Rusa species (R. alfredi and R. marianna) and their sister taxon position relative to the Indonesian and mainland Rusa species (R. timorensis and R. unicolor), and (4) to test the monophyly of Pudu.
To achieve these aims, we experimented with different matrix sizes and parameters to examine the reliability of the phylogenetic signal throughout different data sets.
Material & Methods
Material
We sampled and sequenced five species from which no molecular data were available previous to our study (but see Gutiérrez et al., 2015) (Tables 1 and 2). Samples were taken from thirteen museum specimens, nine from the Natural History Museum in London (BMNH) and four from the Museum für Naturkunde Berlin (ZMB). Three specimens represent holotypes (BMNH 1908.6.24.5 Mazama bricenii, BMNH 1971.3088 Muntiacus atherodes, BMNH 1896.1.28.6 Pudu mephistophiles). One sample was derived from a wet specimen, one from a skin, and the remaining samples consisted of bone fragments or dried soft tissue remains of skulls (details in Table 2). Figure 2 shows where the specimens originated and their currently known species distributions. The collection dates of each specimen are given in Table 2.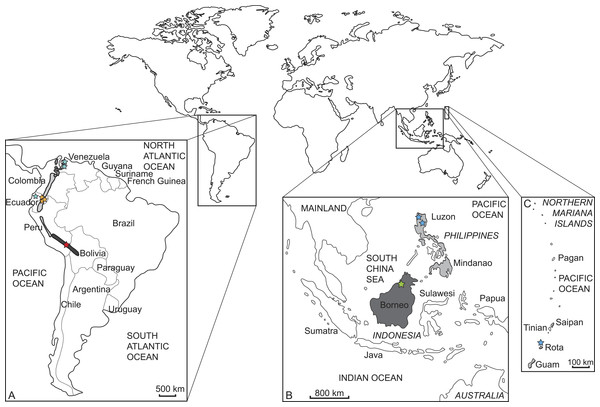 We obtained complete Cytb and/or mitochondrial genome sequences from NCBI GenBank (http://www.ncbi.nlm.nih.gov/genbank/) for 48 cervid species. These included the 45 extant cervids (full set of available extant cervid data excluding recently published M. bricenii sequences; Gutiérrez et al., 2015), one subspecies (Cervus elaphus canadensis), a questionable P. mephistophiles sequence from Hassanin et al. (2012), and one fossil cervid species (Megaloceros giganteus). We also added six non-cervid ruminant taxa (Table 1). The resulting Cytb data set is the most taxonomically extensive for Cervidae to date.
| Species | Collection ID | Accession no. | Sample (mg) | DNA (ng/µl) | Gaps in alignment | Collection entry | Locality | Material |
| --- | --- | --- | --- | --- | --- | --- | --- | --- |
| Rusa marianna | BMNH 1996.2 | LT546647 | 15.5 | 93.65 | – | 1996 | Philippines | Soft tissue fragments* |
| Rusa marianna | ZMB-MAM-75158 | LT546648 | 15.1 | 60.97 | – | NA | Philippines, Luzon | Soft tissue & bone fragments* |
| Rusa marianna | ZMB-MAM-20409 | LT546649 | 12.0 | 49.64 | – | 1915 | Captive animal | Soft tissue & bone fragments* |
| Rusa marianna | ZMB-MAM-75146 | LT546650 | 26.2 | 38.67 | 403–467 | 1905 | US, Northern Mariana Islands | Soft tissue & bone fragments# |
| Pudu mephistophiles | BMNH 1899.2.18.20 | LT546651 | 30.5 | 97.35 | 64–118, 176–211 | 1899 | Ecuador | Soft tissue & bone fragments*; juvenile |
| Pudu mephistophiles | BMNH 1896.1.28.6 | LT546652 | 7.6 | 56.57 | – | 1896 | Ecuador, Paramo of Papallacta | Snippet of skin, including hair; immature |
| Pudu mephistophiles | BMNH 1899.2.18.21 | LT546653 | 9.9 | 27.34 | 604–674, 784–810 | 1899 | Ecuador | Soft tissue & bone fragments*; juvenile |
| Pudu mephistophiles | ZMB-MAM-61577 | LT546654 | 165.8 | 325.57 | – | 1970 | Captive animal | Wet specimen; neonatal |
| Mazama chunyi | BMNH 1967.1362 | LT546655 | 15.6 | 56.22 | – | 1967 | Peru, Chiquis | Soft tissue & bone fragments** |
| Mazama bricenii | BMNH 1913.4.24.3 | LT546656 | 36.0 | 74.17 | – | 1913 | Venezuela, Merida | Soft tissue & bone fragments* |
| Mazama bricenii | BMNH 1908.6.24.5 | LT546657 | 2.4 | 7.07 | 288–394, 604–674 | 1908 | Venezuela | Soft tissue & bone fragments* |
| Mazama bricenii | BMNH 1934.9.10.228 | LT546658 | 10.2 | 77.08 | – | 1934 | Ecuador, Pichincha | Soft tissue & bone fragments* |
| Muntiacus atherodes | BMNH 1971.3088 | LT546659 | 23.3 | 87.60 | – | 1971 | Borneo, Brunei/ Indonesia/Malaysia | Soft tissue & bone fragments** |
Extraction
The challenges of sequencing ancient DNA are related to the degradation of DNA after an organism's death triggered by exogenous processes such as oxidation and background radiation. These processes affect the sugar-phosphate backbone and nitrous bases of the DNA strand, whereas hydrolytic processes such as depurination and deamination cause breakage in the DNA molecules (Hofreiter et al., 2001b). Due to the large number of mitochondria per cell, mitochondrial gene sequences are more likely to be retrieved from ancient material than is nuclear DNA (Hofreiter et al., 2001a).
DNA was extracted using the Qiagen QIAamp DNA Micro Kit, including an overnight lysis step, following the manufacturer's protocol. After lysis, 1 µg dissolved carrier RNA was added, as recommended in the protocol, 80 µl elution buffer was used for the last elusion step, and the last incubation step was set for five minutes instead of one minute. After the extraction, the DNA concentration was measured using a spectrometer (NanoDrop 1000; Peqlab Biotechnologie GmbH, software version ND 1000 v3.7.1) (Table 2).
PCR
Eight cervid-specific Cytb primers (Lister et al., 2005) were used to amplify a 747 base pair region from the 1140-base-pair-long mitochondrial Cytb, from nucleotide position 64 to 810. Each primer pair amplified a 100–140-base-pair-long sequence with overlap to adjacent sequences (Lister et al., 2005; Table 2).
Reagents
Quantity (µl)
a
b
c
d
PCR Flexi-Buffer (5X)
2.5
2.5
2.5
5
MgCl2 (25 mM)
1.5
1.5
2
3
dNTPs (10 mM)
0.5
0.5
0.5
1
Primer forward (5 µM)
0.5
0.5
0.5
1
Primer reverse (5 µM)
0.5
0.5
0.5
1
BSA
1.3
0
0
0
H2O
4.6
5.9
5.4
12.9
GoTaq polymerase
0.1
0.1
0.1
0.1
DNA
1
1
1
1
Total reaction volume
12.5
12.5
12.5
25
Polymerase chain reactions (PCR) were carried out using a TProfessional thermocycler (Biometra). Sequences amplified from each primer pair were validated against contamination with a negative control. The specific PCR components are given in Table 3. The PCR programme was as follows: initial denaturation at 95 °C for three minutes, then 35 cycles of denaturation at 95 °C for 30 s, annealing at 55 °C for 30 s, and extension at 72 °C for 30 s, and a final extension at 72 °C for five minutes. Amplification of target sequences was initially attempted using the components in Table 3, column (a) and an annealing temperature of 55 °C. Some primer-sample combinations did not result in amplification products. Therefore, we experimented with the components, e.g., not adding Bovine Serum Albumin (BSA), changing the overall reaction volume, and/or increasing the concentration of magnesium chloride (Table 3). We also experimented with annealing temperatures ranging from 48 °C to 52 °C. These optimisations were successful in most cases; however, a few sections of the individual sequences for certain specimens could not be successfully amplified, which left gaps in the Cytb sequence (Table 2).
Successfully amplified PCR products were sequenced in both directions using the amplification primers and the ABI BigDyeTerminator 3.1 chemistry following the manufacturer's protocol on a capillary sequencer (ABI 3730; AppliedBiosystems) in the Genomic Sequencing Unit, Faculty of Biology, LMU. After quality control, the approximately 100–140-base-pair-long forward and reverse sequencing reads were assembled into contigs. These individual contigs were then assembled into a contig with a maximum length of 747 base pairs using CodonCodeAligner v.3.7.1.1.
To ensure that a genuine cervid Cytb fragment has been amplified, the forward and reverse pre-assembly sequences from each primer, the individual contigs of forward and reverse strands and the final 747-base-pair-long contigs were each BLASTed against NCBI GenBank entries. Only fragments returning a cervid in the first 50 BLAST search results were used. In almost all cases, where the BLAST result was different from the cervid result, the sequences were found to be most similar to Bos taurus. This contamination is possibly caused by the BSA added to enhance PCR outcomes. Sequences were submitted to the European Nucleotide Archive under accession numbers LT546647 –LT546659 (Tables 1 and 2).
Alignment
The concatenated consensus sequences of each specimen were added to the existing Cytb data set (NCBI GenBank) and pairwise aligned by eye using Mesquite v.2.75 (Maddison & Maddison, 2011) and Seaview 4.2 (Gouy, Guindon & Gascuel, 2010). The alignment was carefully checked for stop codons within the alignment and/or unusual nucleotide positions by translation into amino acids to ensure the absence of pseudogenes and sequencing errors. The IUPAC ambiguity code was used in few cases where character states could not be assessed unambiguously after a re-investigation of the raw sequence data. These ambiguities most likely represent misreads from the chromatogram due to the somewhat poor condition of the DNA. Because these ambiguous sites are not numerous, their impact on the phylogenetic signal is negligible.
In total, three different alignments were created. First, we aligned the new 747 base pair long sequences with the complete Cytb sequences from GenBank to form a data set of 1140 base pairs. The final data set contained 130 taxa (124 cervids, six other ruminants). Second, to test whether the newly sequenced, shorter fragments carried a sufficient phylogenetic signal, two further alignments were created. One alignment was exactly 747 base pairs long, which was the same length as the new sequences, including internal gaps. The other alignment excluded even the internal gaps and was 569 base pairs long. We also re-analysed the cervid subset (33 species) of the complete mitochondrial genome alignment available for Artiodactyla in Hassanin et al. (2012) without the new sequences. The taxon sampling contained 39 cervid taxa and seven non-cervid ruminants.
Phylogenetic analyses
To test for the impact of alignment length on phylogenetic signal, we developed three alignments with varying base pair lengths. For each alignment, we used PartitionFinder (Lanfear et al., 2012) to identify the optimal partitioning scheme and mutation model (Table 4).
Analysis
Reference
Model(s)
Partitioned
Cervidae
Cervinae
Cervini
Muntiacini
Capreolinae
Capreolini
Odocoileini
Blastocerina
Odocoileina
BI-mtG
Fig. 3A, Fig. S1
GTR
Y
1
1
1
1
1
1
1
1
1
BI-1140-unpart
Fig. 3B, Fig. 4, Fig. S2
GTR
N
1
1
1
1
–
1
.84
.98
.99
BI-1140-part
Fig. 3C, Fig. S3
SYM
Y
1
.99
1
1
–
1
–
.75
.87
HKY
GTR
ML-1140
Fig. 3D, Fig. S4
GTR
N
99
89
99
92
–
100
57
55
41
BI-747-unpart
Fig. 3E, Fig. S5
GTR
N
1
1
1
.81
–
1
–
.85
–
BI-747-part
Fig. 3F, Fig. S6
SYM
Y
1
.99
1
.90
–
1
–
–
–
HKY
GTR
BI-569-unpart
Fig. 3G, Fig. S7
GTR
N
1
–
.99
.92
–
1
–
–
–
Abbreviations:

BI

Bayesian Inference

ML

Maximum Likelihood, the number represents the Cytb sequence length in the current alignment

Y

yes

N

no

part

partitioned

unpart

unpartitioned
The values within cells represent the node support for the respective split either as Bayesian posterior probabilities or as bootstrap support from maximum likelihood analyses; "–" indicates that the clade was not recovered in the respective analysis.
A summary of all analyses undertaken including the models and partitioning scheme, is shown in Table 4. PartitionFinder analysis on the 1140 Cytb data set resulted in a scheme with three different partitions for the individual codon positions using SYM for position 1, HKY for position 2, and GTR for position 3 for Bayesian inference analyses with MrBayes v.3.2.4 (Ronquist et al., 2012) (in the following referred to as BI-1140-part). For the maximum likelihood analyses with RAxML (Stamatakis, 2006), PartitionFinder suggested GTR for all codon positions (ML-1140). Alternatively, we undertook a Bayesian inference analysis without partitioning using the GTR model on the 1140-base-pair-long alignment (BI-1140-unpart). We also undertook a Bayesian analysis with the Cytb alignment reduced to 747 base pairs (BI-747-part) using the partitioning scheme suggested by PartitionFinder and the models decribed above as well as one unpartitioned analysis (BI-747-unpart) using GTR. Further, we undertook another Bayesian analysis on the 569 base pair alignment (BI-569-unpart), excluding the internal gaps, representing the shortest sequence length of the newly sequenced taxa (Maz_bri_Q_BMNH_1908.6.24.5). This analysis was run using the GTR model and no partitioning because of the short alignment length. The Bayesian re-analysis of the complete mitochondrial genome sequences (BI-mtG; without the newly sequenced Cytb sequences) was undertaken using GTR and divided the data set into seven partitions (Hassanin et al., 2012). The re-analysis was carried out because previous re-analyses of subsets of the complete mitochondrial genome resulted in different results than those found by Hassanin et al. (2012).
Substitution models for all analyses were implemented with a gamma distribution (Γ) without a proportion of invariant sites (I), although PartitionFinder suggested using Γ + I for most partitions. It is known that the combination Γ + I may create two areas of equal probability in the tree landscape, which can lead to convergence problems (Moyle et al., 2012). All Bayesian Inference analyses were run with MrBayes v.3.2.4 (Ronquist et al., 2012) using Metropolis-Coupled Markov Chain Monte Carlo (MC3); two separate runs sampled the tree landscape at a temperature of 0.35 sampling every 1,000th tree. The mitochondrial genome analysis was run with MrBayes v.3.2.4 (Ronquist et al., 2012) using MC3 with two separate runs sampling every 5,000th tree at a temperature of 0.35. All analyses automatically stopped when the standard deviation of split frequencies of posterior probabilities reached 0.01. From all post burn-in sampled trees, a consensus tree was generated (burn-in = 25%). For the Maximum Likelihood analysis we used RAxML v.7.3.0 (Stamatakis, 2006) including a rapid bootstrap search with 100 replicates on the 1140 base pair long data set.
Hyemoschus aquaticus (Tragulidae, Artiodactyla), which is an extant representative of crown ruminants, was used as the outgroup. The original tree topologies from all seven analyses are provided in Figs. S1–S7, and an overview is given in Fig. 3 and Table 4.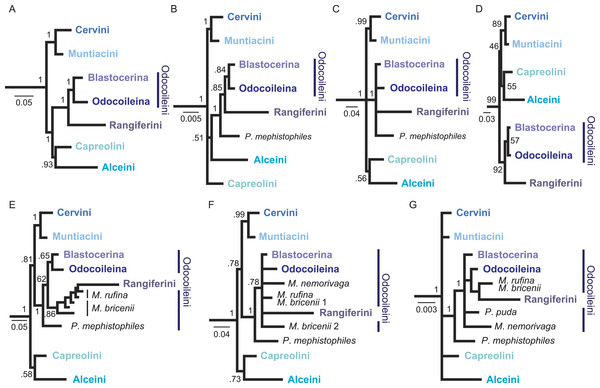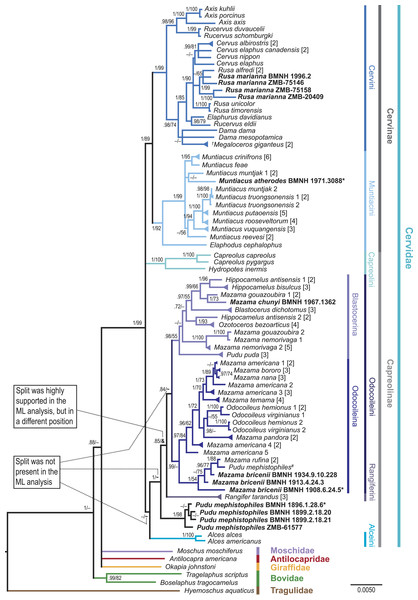 Conclusion
The taxonomically most extensive molecular phylogenetic data set for cervids compiled to date enabled us to undertake phylogenetic analyses to answer and test the initial questions and hypotheses: (1) Mazama bricenii is closely related to M. rufina and is more closely related to the M. americana-clade than to the M. gouazoubira-clade. However, from our topology, we infer that M. rufina is a subclade of M. bricenii. It cannot be excluded that these two taxa may represent the same species with M. rufina as the senior synonym. Mazama chunyi forms a sister taxon relationship with M. gouazoubira and can thus be assigned to the M. gouazoubira-clade. The discovery of a fifth clade (M. pandora) shows that the polyphyly and systematic relationships within Mazama are even more complex than previously thought and remain a challenge to address in future research. (2) Muntiacus atherodes is supported to be a valid species distinct from other Muntiacus spp. However, its systematic position cannot be resolved with certainty, but the maximum likelihood analysis indicates that it might be more closely related to the sympatric M. muntjak than to any other muntjac. (3) The Philippine rusine deer R. marianna and R. alfredi form a monophyletic clade and are sister taxon to a clade containing the other rusine deer, R. timorensis and R. unicolor and to the Cervus-clade. Our results indicate that R. alfredi forms a subclade of R. marianna rather than its sister taxon. (4) The genus Pudu appears to be polyphyletic, with P. puda nested within the Blastocerina and P. mephistophiles, thereby forming a monophyletic group in a yet-unresolved position.
Based on our topologies and previous work, we established here the new subtribes Blastocerina and Odocoileina, which form Odocoileini. A revision of the current taxonomy based on comparison of phenotypic and genotypic traits is desirable for future research on cervid systematics.
Supplemental Information
Supplementary Information
This file contains the figures of the resulting topologies from all undertaken phylogenetic analyses in this study.
Matrix
This file contains the full 1,140 base pair long cytochrome b data matrix.