Experimental exposure to urban and pink noise affects brain development and song learning in zebra finches (Taenopygia guttata)
Published

Accepted

Received
Academic Editor
Subject Areas

Keywords

Noise

,

HVC

,

Birdsong

,

Urban ecology

,

Song learning

,

Zebra finch
Copyright

©

2016

Potvin et al.

Licence

This is an open access article distributed under the terms of the Creative Commons Attribution License, which permits unrestricted use, distribution, reproduction and adaptation in any medium and for any purpose provided that it is properly attributed. For attribution, the original author(s), title, publication source (PeerJ) and either DOI or URL of the article must be cited.
Cite this article

2016

. Experimental exposure to urban and pink noise affects brain development and song learning in zebra finches (Taenopygia guttata)

PeerJ

4

:

e2287

https://doi.org/10.7717/peerj.2287
Abstract
Recently, numerous studies have observed changes in bird vocalizations—especially song—in urban habitats. These changes are often interpreted as adaptive, since they increase the active space of the signal in its environment. However, the proximate mechanisms driving cross-generational changes in song are still unknown. We performed a captive experiment to identify whether noise experienced during development affects song learning and the development of song-control brain regions. Zebra finches (Taeniopygia guttata) were bred while exposed, or not exposed, to recorded traffic urban noise (Study 1) or pink noise (Study 2). We recorded the songs of male offspring and compared these to fathers' songs. We also measured baseline corticosterone and measured the size of song-control brain regions when the males reached adulthood (Study 1 only). While male zebra finches tended to copy syllables accurately from tutors regardless of noise environment, syntax (the ordering of syllables within songs) was incorrectly copied affected by juveniles exposed to noise. Noise did not affect baseline corticosterone, but did affect the size of brain regions associated with song learning: these regions were smaller in males that had been had been exposed to recorded traffic urban noise in early development. These findings provide a possible mechanism by which noise affects behaviour, leading to potential population differences between wild animals occupying noisier urban environments compared with those in quieter habitats.
Introduction
Research into the effects of urban noise on the behaviour of wild animals has increased over the past decade. We now know that several species of birds change their song in association with anthropogenic noise. Specifically, birds appear to alter the frequency (Brumm, 2006a.; Potvin, Parris & Mulder, 2011; Slabbekoorn & Peet, 2003), amplitude (Kight & Swaddle, 2015), timing (Brumm, 2006b; Cartwright et al., 2014; Fuller, Warren & Gaston, 2007), meme use (Cardoso & Atwell, 2011; Potvin & Parris, 2013), and tempo (Potvin, Parris & Mulder, 2011; Slabbekoorn & Den Boer-Visser, 2006) of their songs in noisy environments.
While some of these adjustments are immediate responses to the sound environment (Halfwerk & Slabbekoorn, 2009; Kight & Swaddle, 2015; McMullen, Schmidt & Kunc, 2014; Potvin & Mulder, 2013; Verzijden et al., 2010), others are more consistent with longer-term improvements of signal efficacy in noisy environments—in agreement with the Acoustic Adaptation Hypothesis (Morton, 1975). For example, the differential occurrence in noisy areas of particular memes or dialects is evidence of cross-generational cultural evolution (Luther & Baptista, 2010; Luther & Derryberry, 2012; Potvin & Parris, 2013). However, the proximate mechanisms that contribute to this process—that is, the developmental, physiological, neurological, or mechanical changes resulting in song differences between generations—are still unknown.
One theory suggests that noise may be a source of developmental or chronic stress (Wright et al., 2007). Birds living in noisy areas may chronically engage their stress response, allowing them to cope with the stressor but pay a longer-term cost. While there is currently some evidence for this, results have been inconsistent (Blickley et al., 2012; Bonier, 2012; Crino et al., 2013; Partecke, Schwabl & Gwinner, 2006). If chronic stress is affecting young songbirds in noisy environments, cognitive development may be affected, resulting in altered songs (Buchanan et al., 2004; Nowicki, Searcy & Peters, 2002; Schmidt et al., 2013; Spencer & MacDougall-Shackleton, 2011). This would likely have an impact on the syllable content of songs (Brumm, Zollinger & Slater, 2009; Schmidt et al., 2014; Schmidt et al., 2013; Spencer et al., 2003; Zann & Cash, 2008). Testing this idea would require documenting connections among anthropogenic noise, biomarkers of developmental chronic stress, and adult song.
Even if birds do not respond to noise as a chronic stressor, noise may still affect the song-learning process by affecting neural and cognitive development and function (Iyengar & Bottjer, 2002; Kujala & Brattico, 2009). For example, changes in neuroanatomy and song learning may occur through the interruption or masking of tutor-tutee communication, through the impairment of auditory feedback during the song-learning process, or through other as yet unknown mechanisms (Dooling & Blumenrath, 2013; Kight & Swaddle, 2011). In the well-studied model of zebra finch (Taenopygia guttata) song learning, tutees (young males) form an auditory memory of songs sung by tutors (often their fathers) during a period of approximately 20 days (post-hatch day (PHD) 15–35), then subsequently attempt to match their vocal output to these auditory memories through the production of subsong (PHD 35–50) and plastic song (PHD 50–80; Catchpole & Slater, 2008). Noise could affect this process in multiple ways. First, noise may mask components of tutor song that may then not be learned by tutees, or affect the father's singing rate. Since anthropogenic noise is known to interfere with parent–offspring communication in other contexts (Leonard & Horn, 2008; McIntyre, Leonard & Horn, 2014; Schroeder et al., 2012) it is reasonable to assume that song learning may also be affected by such interference. Second, noise may disrupt parental feeding rate or incubation (Potvin & MacDougall-Shackleton, 2015b) and thus indirectly affect development. Third, noise may alter social interactions among birds, and thus affect song learning. For example, urban noise can alter social spacing in parid songbirds (Owens, Stec & O'hatnick, 2012). Finally, noise may impair auditory feedback during the production of subsong and plastic song by tutees and thus affect song development (Tschida & Mooney, 2012; Zevin, Seidenberg & Bottjer, 2004). Individual song variation is higher in some wild birds occupying noisy environments, consistent with impaired auditory feedback during song learning (Gough, Mennill & Nol, 2014).
We aimed to experimentally determine if noise affects song learning, song development, and development of the song-control regions of the brain. We used both field recordings of urban noise (traffic and other urban sounds) as well pink noise (white noise filtered to 0.1–3 kHz) in order to determine if noise effects are specific to particular sounds or general to noise in a particular frequency range. The replication of the general experimental design across two labs, although using different birds and different noise profiles in each experiment, also let us investigate more robustly whether there are generalities in the ways zebra finches respond to ambient noise. We also aimed to determine whether noise may act as a chronic developmental stressor and have long-lasting effects on circulating glucocorticoid hormone levels. By conducting an experiment under laboratory conditions we isolated the effects of noise (both recorded urban noise and pink noise) and controlled for other characteristics associated with urban habitats that may induce a stress response or affect song-learning in the wild, such as lighting (Kempenaers et al., 2010), breeding density (Hamao, Watanabe & Mori, 2011), diet (Gavett & Wakeley, 1986), or parasite load (Bonier et al., 2007). If nestling birds perceive anthropogenic noise as a chronic stressor, we predicted that noise would have long-lasting effects on baseline corticosterone levels. This in turn could affect development of song-control brain regions, resulting in under-developed song-control regions in noise-treated birds. Furthermore, we predicted that noise would hamper the development of song among juvenile male zebra finches either due to developmental stress, interference with auditory feedback, and/or masking tutor songs. If noise creates developmental stress we predicted that, similar to previous studies, songs of birds reared in noise would be developmentally delayed, would have reduced similarity to tutors' songs, and would have fewer distinct syllable types (i.e., lower complexity). If song masking and/or auditory feedback disruption occurred, we predicted that tutees subjected to noise would sing higher frequency songs (reducing the effect of masking on lower frequencies) compared to tutors and tutees learning under quiet conditions.
Methods
We conducted two independent experiments testing the effects of noise on song learning in zebra finches. In study 1, we measured the effects of experimental exposure to recorded urban noise on song learning, corticosterone levels, and the size of song-control brain regions. In study 2, we measured the effects of experimental exposure to synthetic noise in the frequency range of urban noise (white-noise 0.1–3 kHz band-pass filtered) on song learning. The timelines of these two studies are illustrated in Fig. 1.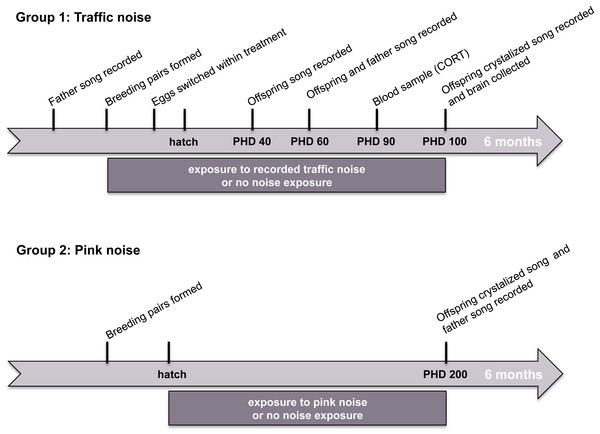 Ethical Note
All birds in study 1 were kept and treated in accordance with guidelines set by the Canadian Council on Animal Care (Neil & McKay, 2003), and all procedures in this study were approved by the University of Western Ontario Animal Use Subcommittee (protocol number 2007-089). Study 2 protocols were approved by the College of William and Mary Institutional Animal Care and Use Committee (IACUC-2012-11-23-8173-jpswad).
Results
On PHD 40, treatment noise did not affect the number of fully-formed syllables (Table S1). However, both minimum frequency (mean effect = 37.51 Hz; 95% CIs = −14.4, 84.72) and to a greater extent maximum frequency (mean effect = −258.0 Hz; 95% CIs = −320.3, −196.1) were affected by treatment at this early subsong stage, as indicated by the large skew in CI. The effect of noise treatment on minimum frequency was primarily driven by the group experiencing the loudest noise, as they sang approximately 113 Hz (approximately 30%) higher than the other groups. Maximum frequencies were approximately 774 Hz lower (approximately 6%) in subsong sung by males from the moderate and loudest cages compared to those in the silent or quiet cages.
Songs recorded at PHD 60 had high similarity to songs recorded at PHD 100, demonstrating well-developed song by PHD 60. Similarity measurements at these stages were unaffected by treatment, indicating songs were developing at the same rate in birds across all treatment groups (Table S2).
There was no effect of noise on a variety of parameters of crystallized songs recorded at PHD 100 including the number of notes in a song, song duration, or tempo (Table S3). Additionally, the effect of noise on lowest frequencies identified at PHD 40 was no longer detected at PHD 100 (Table S3, Fig. 2). Maximum frequency was slightly lower in songs sung by males from the moderate and loud noise cages than those in the quiet or silent cages (mean = −874.9 Hz; 95% CIs = −934.8, −814.7; Fig. 2). Peak frequency showed a similar trend, with the loudest cages having the lowest peak frequency, although again the effect was small (mean = −69.81 Hz; 95% CIs = −129.5, −9.972; Fig. 2).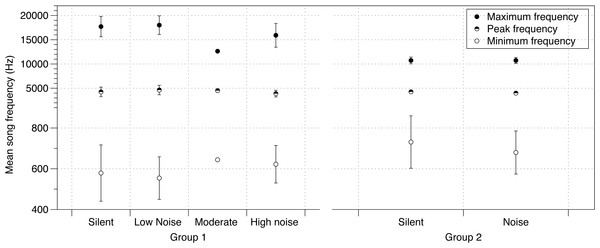 The PHD 200 songs of birds in study 2 were also affected by noise. Similar to study 1 birds at PHD100, there were no differences in minimum frequency (Table S4, Fig. 2). However, while peak frequencies were also lower in this noise group (mean = −228.9 Hz; 95% CIs = −404.3, −54.08; Fig. 2), birds in the noise treatment in study 2 sang higher, not lower, maximum frequencies (mean = 117.7 Hz, 95% CIs = −17.65, 271.1; Fig. 2; all effects in Table S1).
Baseline corticosterone of offspring was not affected by the noise treatment (Table S5). While telencephalon volume and RA were unaffected by treatment, the noise treatment negatively affected HVC volume and Area X volume (using either method of correction for total telencephalon volume). The number of brothers—balanced between treatment groups (Potvin & MacDougall-Shackleton, 2015b)—also had a negative impact on brain structure volume (HVC mean = −0.0338 mm3; 95% CIs = −0.057, −0.010; Area X mean = −0.011 mm3, 95% CIs = −0.237, 0.017; Fig. 3; all effects in Table S6).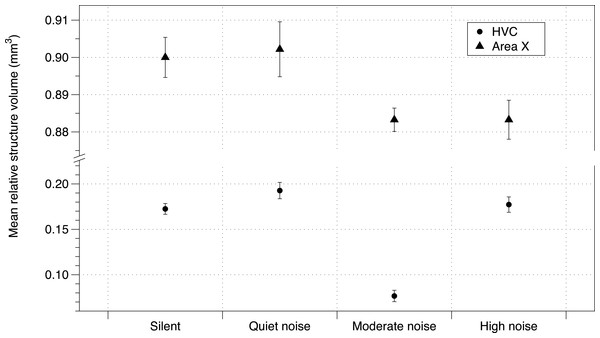 DIC analysis identified the model incorporating noise treatment, number of brothers, and Area X volume as being the model with best fit for all three measures of song similarity to father (% Similarity DIC score = 217.225; Accuracy DIC score = 196.356; % Sequence similarity DIC score = 219.638; all other scores for comparison in Table S7A). Area X itself was not important in the models predicting overall % Similarity or Accuracy, however it was important in predicting % Sequence similarity as was noise (larger Area X and higher noise levels were both correlated with lower % Sequence similarity), although their interaction was not important (Table S7B, Fig. 4). DIC penalizes models including redundant predictors, however this model produced the lowest DIC score even with cross-correlated values (Area X and noise, as above) (Spiegelhalter et al., 2002).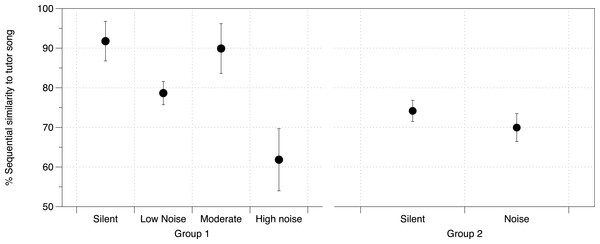 At PHD 200 for study 2 birds, although we did not have brain measurements for this group of birds, we identified noise as having an effect on % Sequence similarity between tutor and tutee (mean = 12.05%, 95% CIs = −1.055, 25.07) with other similarity measurements being unaffected (Fig. 4, all effects in Table S8).
Discussion
We found that while noise during development did not affect baseline corticosterone in young male zebra finches, it did affect HVC and Area X volume—brain regions that are crucial to song learning. These neuroanatomical effects were accompanied by behavioural consequences. The similarity of song between the tutor (father) and tutee (son) was decreased by the combined effects of noise treatment, Area X volume, and number of brothers. Specifically, the similarity in the sequence of notes in a song, comparing father to son, decreased with increasing noise. This latter result was observed in two independent experiments (i.e., in both studies 1 and 2) with different populations of zebra finches, suggesting that the effects on song learning result from noise below 3 kHz rather than traffic and other urban sounds per se. In contrast to predictions made from observations of free-living birds singing in urban habitats, songs that developed in the noise treatments were consistently lower in peak frequency, and not higher in frequency range or minimum frequency. Furthermore, maximum frequencies showed inconsistent changes in response to noise treatments—in study 1 crystallized songs (at PHD100) had a lower maximum frequency, whereas in study 2, songs (at PHD200) had a higher maximum frequency. These mixed results make it difficult for us to support the hypothesis that putatively adaptive frequency changes observed in wild urban birds are due to an effect of noise on song development in early life stages.
While we attempted to identify whether chronic stress might be a mechanism by which noise affects song development in birds living in artificially noisy environments, our results do not show that baseline corticosterone in young birds was elevated under such conditions. Similarly, a previous study on nestling white-crowned sparrows (Zonotrichia leucophrys oriantha) found that young birds experiencing chronic traffic noise had lower baseline glucocorticoid levels than those in quiet conditions (Crino et al., 2013), while another showed similar results to our own (Heiss, Clark & McGowan, 2009). At the moment, most studies on the effects of anthropogenic noise on corticosterone levels have been conducted on wild adult birds, and have produced varied results. While there is some evidence that certain species might experience chronically elevated glucocorticoid levels in urban or noisy areas (Blickley et al., 2012; Bonier et al., 2007; Zhang et al., 2011) other species do not (Fokidis, Orchinik & Deviche, 2009; Partecke, Schwabl & Gwinner, 2006; Potvin & MacDougall-Shackleton, 2015a). Many of these studies have attempted to isolate the effect of noise from other anthropogenic impacts on birds that might induce chronically elevated glucocorticoids; however it is clear that further research is needed to better understand how some species might be better able to acclimate or adjust their stress response to chronically noisy environments than others, and whether or how this acclimation may depend on age and social or genetic environment.
We did find an effect of noise environment on male brain structures associated with song learning. Telencephalon volume was unaffected, as was RA volume, but both Area X and HVC volumes were proportionally smaller in males from the noise treatment. The size of song-control brain regions is often correlated with song quality within- and between-species. We found that Area X, in particular, was related to the similarity of experimental males' song (at PHD 100) to their fathers' songs, along with noise treatment and number of brothers. Finding an effect of noise on corticosterone levels might have provided a mechanism by which noise could impact the size of Area X and HVC (Buchanan et al., 2004; Schmidt et al., 2013). However, it is likely that HVC is sensitive to environmental factors that may not instigate a chronic elevation in corticosterone. For example, noise may have been only transiently stressful to the birds at times other than those at which we sampled. Alternatively, reduced singing behaviour itself (though not measured in the present study) may have led to altered brain development. Noise and deafening has been shown to affect auditory and song learning circuits in previous studies of zebra finches (Iyengar & Bottjer, 2002), and neural plasticity of HVC is regulated by singing and social housing in canaries (Alward et al., 2014). We find it unlikely that noise exposure directly affects development of the song-control brain regions. Indeed, it is possible that noise may have affected incubation and/or parental feeding rates in study 1, as hatching rates were lower and nestling mass was lower in nests exposed to urban noise (Potvin & MacDougall-Shackleton, 2015b). Interestingly, no similar trends of breeding depression were found in Study 2 (D Potvin & S MacDougall-Shackleton, 2015, unpublished data). Determining the mechanisms by which noise affected neural and song development in our study would require further experiments, possibly with the manipulation or monitoring of food intake and/or real-time song learning behaviours.
The similarity of birds' songs to their fathers' songs was generally high across treatment groups, however noise did appear to specifically affect sequence similarity, or syntax, in both studies. Noise has been shown to affect certain aspects of song learning in previous studies due to auditory disruption (Tschida & Mooney, 2012; Zevin, Seidenberg & Bottjer, 2004). Traffic noise in particular has been shown to disrupt or mask other forms of parent–offspring communication in birds (Leonard & Horn, 2008; McIntyre, Leonard & Horn, 2014; Schroeder et al., 2012), therefore its impact on the accuracy of song learning, and especially the ability to copy long strings of syllables (even if the syllables themselves are accurate) is unsurprising. Zebra finch song is made up of common elements some of which are also expressed as calls (Price, 1979). Hence, while the learning of individual elements is important for communication in general, the accurate sequencing of these elements is likely particularly important for song construction (Menyhart et al., 2015; Riebel, 2009; Zann, 1993). The fact that this characteristic was impacted by noise in both separate studies—and with two different "types" of low-frequency noise—therefore strongly indicates a significant disturbance to the song learning process in this species.
While we found that learning was impacted by noise, we found no evidence of the putatively adaptive changes in song that have been reported in wild populations living along urban-rural gradients (i.e., singing higher minimum frequencies in environments subject to anthropogenic noise). While at PHD 40, Study 1 birds in noise sang higher minimum frequencies, by day 100 the only effect of urban noise was on maximum frequency, which was slightly lower than in quiet treatment birds. In contrast, birds from Study 2 showed higher maximum and peak frequencies after chronic pink (1–3 kHz) noise exposure. Combined, these results are inconsistent and do not support the hypothesis that zebra finches alter their song in the long-term to improve transmission in a noisy environment. All birds were recorded in relative silence, which could mean that young birds were adjusting their song frequency to the current acoustic environment only (i.e., they may have sung at higher frequencies in the experimental chambers but not in the recording chamber). We do not know whether zebra finches possess the vocal flexibility to spontaneously alter the frequency of their songs, but it seems likely given that it has been observed in other species (Potvin & Mulder, 2013; Verzijden et al., 2010). We cannot rule out that there may have been other adaptive changes in the songs that reduced masking but that we did not detect. Nevertheless, we interpret our results to show that in this species, the masking of lower acoustic notes in the transfer from tutor to tutee, resulting in only higher notes being learned, is not the underlying mechanism by which acoustic adaptation occurs in this environment.
One unsuspected novel result from our study was our finding that the number of brothers an individual has may have an impact on song-learning accuracy. The number of siblings has been shown previously to affect some aspects of nestling condition (Gil et al., 2006) and mate preferences (Holveck & Riebel, 2010), however brood size did not appear to influence metrics of song learning in a previous study (Gil et al., 2006). A possible explanation for the effect of brood size on song learning that we observed is that more brothers may increase the noise in a nest, and therefore provide additional noise effects separate from already present chronic urban or background noise. This more immediate source of auditory disruption may limit the amount a juvenile bird is able to practice its song, leading to higher numbers of discrepancies among birds that have to compete with siblings. Zebra finches also require a sensorimotor phase whereby there is one-on-one interaction between tutor and tutee (Derégnaucourt, 2011); a large number of brothers could modify the nature of interactions between a bird and its father, and brothers may serve as potential tutors for each other, thus affecting the song learning process. Having many siblings has also been shown to negatively affect offspring quality (growth rate, biometry; Gil et al., 2006; Potvin & MacDougall-Shackleton, 2015b), which may in turn result in poorer song learning ability. Further investigation into how brood size or, more specifically, the number of tutees in a group might impact song development over more specific time periods, especially through processes such as horizontal transfer between siblings, may shed more light on this finding.
We provide the first experimental findings for the impact of anthropogenic noise on song learning structures in the avian brain. We also found that noise affects the learning of song element sequences in particular. Both findings indicate that noise, along with brood size, is a crucial aspect of an individual's early environment with long-term consequences, despite noise not being identified as a physiological stressor. These results may also contribute to our current understanding of some of the difference in urban and rural birdsong. Of course, such conclusions do not rule out other processes that may be contributing to song changes in urban environments, such as sexual selection for effective urban songs or elements (Candolin & Heuschele, 2008). We suggest that future research focus on female preference of putatively urban-adapted song in urban and rural environments to disentangle whether sexual selection, rather than environmental pressures on song learning, might be the defining selective process behind song changes commonly observed in wild urban populations.
Supplemental Information
All raw song, physiological and brain measurement data used in the study
All raw song, physiological and brain measurement data used in the study. Separate sheets correspond to different datasets used in the study. Includes Group 1 song measurement data from RavenPro at PHD 40 and PHD 100, song comparison data within individuals PHD 60–100 and between tutors and tutees (for both groups), baseline corticosterone data for group 1, and brain measurement data for group 1.
Supplementary Tables of Bayesian model estimates and DIC comparison
Table S1. Bayesian model estimates for the effect of treatment on baseline circulating corticosterone in juvenile zebra finches.
Table S2. Bayesian model estimates for the effect of treatment on post-hatch day 40 song characteristics in juvenile zebra finches.
Table S3. Bayesian model estimates for the effect of treatment on the similarity of post-hatch day 60 song characteristics to crystallized song characteristics (PHD 100) in juvenile zebra finches.
Table S4. Bayesian model estimates for the effect of treatment on crystallized song characteristics (PHD 100 - Group 1) of juvenile zebra finches.
Table S5. Bayesian model estimates for the effect of treatment (noise versus silent only) on crystallized song characteristics (PHD 200 - Group 2) of juvenile zebra finches.
Table S6. Bayesian model estimates for the effect of treatment on brain structure volumes (relative to total brain size) of juvenile ( PHD100; group 1) zebra finches.
Table S7a. DIC comparison table for Bayesian models predicting song similarity to tutor.
Table S7b. Bayesian model estimates for the models with lowest DIC score in the comparison for predicting similarity to tutor song.
Table S8. Bayesian model estimates for the effect of treatment on song similarity to tutor of juvenile ( PHD200; group 2) zebra finches.