Gall-ID: tools for genotyping gall-causing phytopathogenic bacteria
Published

Accepted

Received
Academic Editor
Subject Areas

Keywords

Taxonomy

,

Genomes

,

Molecular diagnostics

,

Multilocus sequence analysis

,

Average nucleotide identity

, Agrobacterium, Rhodococcus
Copyright

©

2016

Davis II et al.

Licence

This is an open access article distributed under the terms of the Creative Commons Attribution License, which permits unrestricted use, distribution, reproduction and adaptation in any medium and for any purpose provided that it is properly attributed. For attribution, the original author(s), title, publication source (PeerJ) and either DOI or URL of the article must be cited.
Cite this article

2016

.

Gall-ID: tools for genotyping gall-causing phytopathogenic bacteria

.

PeerJ

4

:

e2222

https://doi.org/10.7717/peerj.2222
Abstract
Understanding the population structure and genetic diversity of plant pathogens, as well as the effect of agricultural practices on pathogen evolution, is important for disease management. Developments in molecular methods have contributed to increase the resolution for accurate pathogen identification, but those based on analysis of DNA sequences can be less straightforward to use. To address this, we developed Gall-ID, a web-based platform that uses DNA sequence information from 16S rDNA, multilocus sequence analysis and whole genome sequences to group disease-associated bacteria to their taxonomic units. Gall-ID was developed with a particular focus on gall-forming bacteria belonging to Agrobacterium, Pseudomonas savastanoi, Pantoea agglomerans, and Rhodococcus. Members of these groups of bacteria cause growth deformation of plants, and some are capable of infecting many species of field, orchard, and nursery crops. Gall-ID also enables the use of high-throughput sequencing reads to search for evidence for homologs of characterized virulence genes, and provides downloadable software pipelines for automating multilocus sequence analysis, analyzing genome sequences for average nucleotide identity, and constructing core genome phylogenies. Lastly, additional databases were included in Gall-ID to help determine the identity of other plant pathogenic bacteria that may be in microbial communities associated with galls or causative agents in other diseased tissues of plants. The URL for Gall-ID is http://gall-id.cgrb.oregonstate.edu/.
Material and Methods
Website framework and bioinformatics tools
The Gall-ID website and corresponding R shiny server backend are based on the Microbe-ID platform (Tabima et al., 2016) but include major additions and modifications: Auto MLSA, Auto ANI, BLAST with MAFFT, and the WGS Pipeline. The MLSA framework website was extended to support building Neighbor-Joining trees using incomplete distance matrices (NJ∗) using the function njs() in the R package PHYLOCH (Paradis, Claude & Strimmer, 2004). The MLSA framework was also modified to use the multiple sequence alignment program MAFFT using the R package PHYLOCH (Katoh & Toh, 2008; Heibl, 2013; Katoh & Standley, 2013). This allows user-submitted sequences to be added to pre-existing sequence alignments using the MAFFT "–add" function, to dramatically reduce the computational time required for analysis.
The server hosting the Gall-ID tools is running Centos Linux release 6.6, MAFFT version 7.221, SRST2 version 0.1.5, Bowtie 2 version 2.2.3, and Samtools version 0.1.18. Gall-ID uses R version 3.1.2 with the following R packages: Poppr version 1.1.0.99 (Kamvar, Tabima & Grünwald, 2014), Ape version 3.1-1 (Paradis, Claude & Strimmer, 2004), PHYLOCH version 1.5-5, and Shiny version 0.8.0.
The Auto MLSA tool was developed previously (Creason et al., 2014a). Briefly, Auto MLSA does the following: BLAST (either TBLASTN or BLASTN) to query NCBI user-selectable databases and/or local databases and retrieve sequences, filter out incomplete sets of gene sequences, align gene sequence individually, concatenate aligned gene sequences, determine the best substitution model (for amino acid sequences), filter out identical sequences, append key information to sequences, and generate a partition file for RAxML (Stamatakis, 2014). Auto MLSA also has the option of using Gblocks to trim alignments (Castresana, 2000). Auto MLSA was modified to use the NCBI E-utilities, implemented in BioPerl, to associate accession numbers with taxon IDs, species names, and assembly IDs (Stajich, 2002). For organisms without taxon identifiers, Auto MLSA will attempt to extract meaningful genus and species information from the NCBI nucleotide entry. Gene sequences are linked together using assembly IDs, which allows for genomes with multiple chromosomes to be compared, without having to rely on potentially ambiguous organism names. When assembly IDs are unavailable, whole genome sequences are linked using the four letter WGS codes, and, as a last resort, sequences will be associated using their nucleotide accession number. The disadvantage of using the latter approach is that organisms with multiple replicons, each with its own accession number, will be excluded from analysis. Auto MLSA is available for download from the Gall-ID website. Detailed instructions for using the tools are provided.
The Auto ANI script automates the calculations of ANI for all pairwise combinations for any number of input genome sequences. Each of the supplied genome sequences are chunked into 1,020 nt fragments and used as queries in all possible reciprocal pairwise BLAST searches. Parameters for genome chunk size, percent identity, and percent coverage have default values set according to published guidelines but can be changed by the user (Goris et al., 2007; Creason et al., 2014a). BLAST version 2.2.31+ was used with recommended settings, as previously described in Creason et al. (2014a): –task blastn –dust no –xdrop_gap 150 –penalty −1 –reward 1 –gapopen 5 –gapextend 2 (Goris et al., 2007). BLAST hits above the user-specified cut-offs (30% identity, 70% coverage, by default) are averaged to calculate the pairwise ANI values.
BLAST+ version 2.2.27 has been tested and works, but this version is currently unsupported. Versions 2.2.28–2.2.30 of BLAST+ have an undocumented bug that prevents efficient filtering using -max_hsps and -max_target_seqs and precludes their use in ANI calculation. Hence BLAST 2.2.31+ is the preferred and recommended version.
Sequences downloaded from NCBI are linked using assembly IDs. All accession types from NCBI are supported, assuming accession numbers are provided in the header line of the FASTA file. Locally generated genome sequences are also supported, in FASTA format, provided they follow the specified header format listed in the user guide. Alternatively, an auxiliary script is provided to rename headers within user-generated FASTA files to the supported format.
The WGS Pipeline was written in bash shell script and Perl. Paired Illumina sequencing reads located in the "reads" folder of the pipeline are processed in pairs. The program SMALT (Ponstingl, 2013) is used to align reads to a reference genome and produce CIGAR format output files (Ponstingl, 2013). The SSAHA_pileup program converts the CIGAR format files into individual pileup files (Ning, Cox & Mullikin, 2001). The pileup output is then combined with any additional supplied pre-computed pileup files and used to produce a core alignment of sites shared by 90% of the represented isolates. The optional "remove_recombination.sh" script runs the program Gubbins (Croucher et al., 2014) to remove sites identified as potentially acquired by recombination. Finally, the program RAxML is used to produce a maximum-likelihood phylogenetic tree with non-parametric bootstrap support (Stamatakis, 2014). By default 20 maximum likelihood tree searches are performed, and the "autoMRE" criterion is used to determine the number of non-parametric bootstrap replicates.
WGS Pipeline step
Statistic
Value
generate_pileup.sh (1 cpu)
Number of input paired read sets
19
Average runtime per pileup (hh:mm:ss)
00:42:01
Total runtime (hh:mm:ss)
13:18:14
generate_core_alignment.sh (1 cpu)
Total pileup alignment length
5,947,114 bp
90%-shared core alignment length
855,355 bp
Total runtime (hh:mm:ss)
00:15:32
remove_recombination.sh (10 cpus)
Number of core polymorphic sites
177,961 bp
core SNP alignment length (w/o putative recombinant SNPs)
174,819 bp
Computational time (hh:mm:ss)
04:25:32
Actual runtime (hh:mm:ss)
00:29:28
Figure output runtime (hh:mm:ss)
00:13:03
generate_phylogeny.sh (raxmlHPC-PTHREADS-AVX, 10 cpus)
Time to optimize RAxML parameters (hh:mm:ss)
00:02:32
Time to compute 20 ML searches (hh:mm:ss)
00:34:53
Number of bootstrap replicates (RAxML autoMRE)
50
Time to compute 50 bootstrap searches (hh:mm:ss)
01:02:09
Total runtime (hh:mm:ss)
01:39:34
All
Total runtime (hh:mm:ss)
15:55:51
The WGS Pipeline test analysis was performed and benchmarked using 10 cores of a cluster server running Centos Linux release 6.6 and containing four AMD Opteron™ 6376 2.3 Ghz processors (64 cores total) and 512 GB of RAM (Table 1). The versions of the tools used in tests of this pipeline were Perl version 5.10.1, SMALT version 0.7.6, SSAHA_pileup version 0.6, Gubbins version 1.1.2, and RAxML version 8.1.17. The default parameters for WGS Pipeline were used (20 ML search trees, "autoMRE" cutoff for bootstrap replicates) with the exception that the maximum-allowed percentage gaps in the Gubbins recombination analysis was increased to 50% in order to retain strain D188. The WGS Pipeline scripts were also modified to not ask for user input on the command line in order to run in a Sun Grid Engine (SGE) cluster environment.
Vir-Search uses the program SRST2, which employs Bowtie 2 and Samtools, with the "–gene_db" function to align the reads to custom databases of the virulence genes (Li et al., 2009; Inouye et al., 2012; Langmead & Salzberg, 2012; Inouye et al., 2014). The identity of the virulence genes that the reads input by the user align to the read coverage and depth, and the name of the strain corresponding to the most similar allele are parsed from the SRST2 output and reported to the user as a static webpage. Users are emailed a link to results once the analysis is complete. The submitted sequencing reads are deleted from the server immediately after completion, and results are available only to those with a direct link to the results webpage.
Datasets
The 16S and MLSA gene sequences were downloaded from the genome sequences of the following reference strains: Agrobacterium strain C58, Rhodococcus strain A44a, P. savastanoi pv. phaseolicola 1448A, and P. agglomerans strain LMAE-2, C. michiganensis subsp. nebraskensis NCPPB 2581, D. dadantii strain 3937, P. atrosepticum strain 21A, R. solanacearum strain GMI1000, X. oryzae pv. oryzicola strain CFBP2286, and X. fastidiosa subsp. fastidiosa GB514 (NCBI assembly ID: GCF_000092025.1, GCF_000760735.1, GCF_000012205.1, GCF_000814075.1, GCF_000355695.1, GCF_000147055.1, GCF_000740965.1, GCF_000009125.1, GCF_001042735.1, and GCF_000148405.1, respectively). The gene sequences were used as input for the Auto MLSA tool in BLAST searches carried out against complete genome sequences in the NCBI non-redundant (nr) and whole genome sequence (wgs) databases. The Auto MLSA parameters were: minimum query coverage of 50% (90% for the 16S plant pathogen dataset) and e-value cutoffs of 1e–5 for nr and 1e–50 for wgs. BLAST searches were limited to the genus for the bacteria of interest, with the exceptions of Agrobacterium, which was limited to Rhizobiaceae, and P. savastanoi, which was limited to the P. syringae group. BLAST searches were completed in August of 2015. The Auto MLSA tool uses MAFFT aligner to produce multiple sequence alignments for each gene (Katoh & Standley, 2013). The Gblocks trimmed alignment output of Auto MLSA was not used because Gall-ID aligns user-submitted gene sequences to each full gene alignment (Castresana, 2000).
| Isolate name | Host | Positive ID based on | # high quality read pairs | Clade (based on 16S rDNA) | # of virulence genes ID'ed |
| --- | --- | --- | --- | --- | --- |
| 13-2099-1-2 | Quaking Aspen | virD2 PCR | 1,244,074 | Agrobacterium | 63 |
| 13-626 | Pear | virD2 PCR | 220,903 | Agrobacterium | 2 (nocM, nocP) |
| AC27/96 | Pieris | Not pathogenic | 826,690 | Rhizobium | 1 (tssD) |
| AC44/96 | Pieris | No reaction to hybridization probes | 1,404,002 | Rhizobium | 0 |
| B131/95 | Peach/Almond Rootstock | Pathogenicity assay | 539,283 | Agrobacterium | 46 |
| B133/95 | Peach/Almond Rootstock | Pathogenicity assay | 1,199,902 | Agrobacterium | 46 |
| B140/95 | Peach/Almond Rootstock | Response to 20 different biochemical and physiological tests | 448,314 | A. tumefaciens | 51 |
| N2/73 | Cranberry gall | Response to 20 different biochemical and physiological tests | 1,345,404 | A. tumefaciens | 64 |
| W2/73 | Euonymus | Response to 20 different biochemical and physiological tests | 1,244,159 | A. rubi | 51 |
| 15-1187-1-2a | Yarrow | virD2 PCR | 508,223 | A. tumefaciens | 39 |
| 15-1187-1-2b | Yarrow | virD2 PCR | 299,970 | A. tumefaciens | 38 |
| 14-2641 | Rose | No data | 698,756 | Serratia | 0 |
| 15-172 | Leucanthemum | Colony morphology on selective media | 384,308 | A. tumefaciens | 56 |
| 15-174 | Leucanthemum | Colony morphology on selective media | 753,570 | A. tumefaciens | 58 |
Bacterial strains, growth conditions, nucleic acid extraction, and genome sequencing
Strains of Agrobacterium were grown overnight in Lysogeny Broth (LB) media at 28 °C, with shaking at 250 rpm (Table 2). Cells were pelleted by centrifugation and total genomic DNA was extracted using a DNeasy Blood and Tissue kit (Qiagen, Venlo, Netherlands). DNA was quantified using a QuBit Fluorometer (Thermo Fisher, Eugene, Oregon) and libraries were prepared using an Illumina Nextera XT DNA Library Prep kit, according to the instructions of the manufacturer, with the exception that libraries were normalized based on measurements from an Agilent 2100 Bioanalyzer (Agilent Technologies, Santa Clara, CA). Each library was assigned an individual barcode using an Illumina Nextera XT Index kit. Libraries were multiplexed and sequenced on an Illumina MiSeq to generate 300 bp paired-end reads. Sequencing was done in the Center for Genome Research and Biocomputing Core Facility (Oregon State University, Corvallis, OR). Sickle was used to trim reads based on quality (minimum quality score cutoff of 25, minimum read length 150 bp after trimming) (Joshi & Fass, 2011). Read quality was assessed prior to and after trimming using FastQC (FastQC, Cambridge, UK). Paired reads for each library were de novo assembled using Velvet version 1.2.10 with the short paired read input option ("-shortPaired"), estimated expected coverage ("-exp_cov auto"), and default settings for other parameters (Zerbino & Birney, 2008). Genome sequences were assembled using a range of input hash lengths (k-mer sizes), and the final assembly for each isolate was identified based on those with the best metrics for the following parameters: total assembly length (5.0∼7.0 Mb), number of contigs, and N50. Paired reads for each library were error corrected and assembled using SPAdes versions 3.6.2 and 3.7.0, with the careful option ("–careful") and kmers 21, 33, 55, 77, and 99. Scaffolds shorter than 500 bp and with coverage less than 5X were removed from the SPAdes assemblies prior to analysis.
Results and Discussion
Gall-ID (http://gall-id.cgrb.oregonstate.edu/) is based on the Microbe-ID platform and uses molecular data to determine the identity of plant pathogenic bacteria (Tabima et al., 2016). Gall-ID is organized into modules shown as tabs that allow users to choose from one of four options for analyzing data (Fig. 1).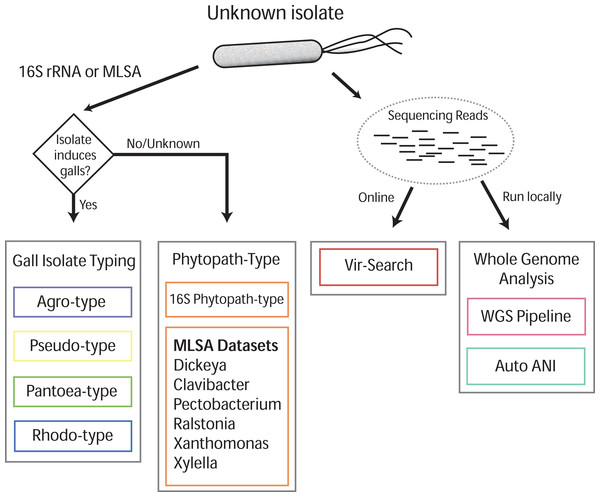 Conclusions
Gall-ID provides simplified and straightforward methods to rapidly and efficiently characterize gall-causing pathogenic bacterial isolates using Sanger sequencing or Illumina sequencing. Though Gall-ID was developed with a particular focus on these types of bacteria, it can be used for some of the more common and important agricultural bacterial pathogens. Additionally, the downloadable tools can be used for any taxa of bacteria, regardless of whether or not they are pathogens.