Systematic revision of Platanthera in the Azorean archipelago: not one but three species, including arguably Europe's rarest orchid
1
Royal Botanic Gardens Kew, Richmond, Surrey

,

United Kingdom
2
CIBIO Research Center in Biodiversity and Genetic Resources – Azores, Department of Biology, University of the Azores

,

Ponta Delgada

,

Portugal
Published

Accepted

Received
Academic Editor
Subject Areas

Keywords

Endemism

,

Evolutionary radiation

,

Migration

,

Molecular phylogeny

,

Monography

,

Morphometrics

,

Orchid

, Platanthera ,

Species circumscription

,

Speciation
Copyright

©

2013

Bateman et al.

Licence

This is an open access article distributed under the terms of the Creative Commons Attribution License, which permits unrestricted use, distribution, and reproduction in any medium, provided the original author and source are credited.
Cite this article

2013

. Systematic revision of Platanthera in the Azorean archipelago: not one but three species, including arguably Europe's rarest orchid.

PeerJ

1

:

e218

https://doi.org/10.7717/peerj.218
Abstract
Background and Aims. The Macaronesian islands represent an excellent crucible for exploring speciation. This dominantly phenotypic study complements a separate genotypic study, together designed to identify and circumscribe Platanthera species (butterfly-orchids) on the Azores, and to determine their geographic origin(s) and underlying speciation mechanism(s).
Methods. 216 individuals of Platanthera from 30 Azorean localities spanning all nine Azorean islands were measured for 38 morphological characters, supported by light and scanning electron microscopy of selected flowers. They are compared through detailed multivariate and univariate analyses with four widespread continental European relatives in the P. bifolia-chlorantha aggregate, represented by 154 plants from 25 populations, and with the highly misleading original taxonomic descriptions. Physiographic and ecological data were also recorded for each study population.
Key Results. Despite limited genetic divergence, detailed phenotypic survey reveals not one or two but three discrete endemic species of Platanthera that are readily distinguished using several characters, most floral: P. pollostantha (newly named, formerly P. micrantha) occupies the widest range of habitats and altitudes and occurs on all nine islands; P. micrantha (formerly P. azorica) occurs on eight islands but is restricted to small, scattered populations in laurisilva scrub; the true P. azorica appears confined to a single volcanigenic ridge on the central island of São Jorge.
Conclusions. Although hybridity seems low, the excess of phenotypic over genotypic divergence suggests comparatively recent speciation. The most probable of several credible scenarios is that Azorean Platantheras represent a single migration to the archipelago of airborne seed from ancestral population(s) located in southwest Europe rather than North America, originating from within the P. bifolia-chlorantha aggregate. We hypothesise that an initial anagenetic speciation event, aided by the founder effect, was followed by the independent origins of at least one of the two rarer endemic species from within the first-formed endemic species, via a cladogenetic speciation process that involved radical shifts in floral development, considerable phenotypic convergence, and increased mycorrhizal specificity. The recent amalgamation by IUCN of Azorean Platantheras into a single putative species on their Red List urgently requires overruling, as (a) P. azorica is arguably Europe's rarest bona fide orchid species and (b) the almost equally rare P. micrantha is one of the best indicators of semi-natural laurisilva habitats remaining on the Azores. Both species are threatened by habitat destruction and invasive alien plants. These orchids constitute a model system that illustrates the general advantages of circumscribing species by prioritising field-based over herbarium-based morphological approaches.
Introduction
Given that they are situated 1600 km from the closest continental landmass of Iberia, 2000 km from the Atlas Mountains of Morocco and 2300 km from Newfoundland, it is perhaps not surprising that the nine islands that constitute the Azores archipelago (total area 2335 km2) support an exceptionally impoverished orchid flora. Only two orchid genera are represented on the islands.
Firstly, a unique outlier of the otherwise exclusively Mediterranean tongue-orchids of the genus Serapias has attracted some attention. Assigned to S. cordigera when first reported from five Azorean islands of the central and western groups by Seubert & Hochstetter (1843) and Seubert (1844), the more widespread species was later segregated as an Azorean endemic solely on the basis of morphological differences that are at best subtle. This species was initially named S. azorica (Schlechter, 1923), but nomenclatural complications led to its eventual re-description as S. atlantica, following a thorough morphometric survey by Rückbrodt & Rückbrodt (1994). A subsequent study by Delforge (2003) upheld the endemic status attributed to this species, which has now been recorded on all Azorean islands but the western group of Corvo and Flores (Schäfer, 2002; Silva et al., 2010; Silva, 2013), though it is said to be in decline (Tyteca & Gathoye, 2012). More recently, populations of the widespread Mediterranean autogam S. parviflora have been found on the Azorean islands of Terceira and Santa Maria, occupying a North–South-oriented strip in the western half of the latter island (Silva, 2013). Unfortunately, these Serapias species have not yet attracted molecular research.
Greater scientific attention has been paid to the second of the two Azorean orchid genera, Platanthera. These butterfly-orchids formed part of the first serious botanical collections made on the islands. Gathered by KCF Hochstetter in 1838, they featured in a subsequent floristic list (Seubert & Hochstetter, 1843) and were then rapidly (if poorly) described in Seubert's (1844) landmark flora of the islands. Seubert described two species, initially assigned (incorrectly) to the genus Habenaria: H. micrantha and H. longebracteata. When these species were correctly re-assigned to Platanthera by Schlechter (1920, 1923), nomenclatural rules required renaming of 'H.' longebracteata as P. azorica. The epithets micrantha and azorica have since enjoyed common usage. Unfortunately, re-examination of the original Hochstetter specimens during the present investigation has shown unequivocally that the holotype previously viewed as the basis for the morphological species commonly known as P. micrantha is in fact attributable to the morphological species commonly known as P. azorica. The holotype of the species commonly known as P. azorica is in turn attributable to a new and exceptionally rare species of Platanthera, formally described here for the first time (but previously illustrated by Seubert, 1844). This nomenclatural faux pas is especially unfortunate as it leaves the most widespread species, previously known as P. micrantha, lacking a valid epithet. Following with great reluctance the equally regrettable requirements of the International Code of Nomenclature for Algae, Fungi, and Plants (ICN: McNeill et al., 2012), this well-known, relatively frequent, minute-flowered species is here re-described as P. pollostantha, sp. nov.
Thus, it is essential to understand that, throughout the remainder of this text, the widespread taxon long misidentified (and formerly known) as P. micrantha is correctly named P. pollostantha and the taxon long misidentified (and formerly known) as P. azorica is correctly named P. micrantha. The true P. azorica is exceptionally rare and has long been overlooked by fieldworkers. All three species are undoubtedly endemic to the Azores.
Having finally cut this long-standing nomenclatural 'Gordian knot', it is important to note three further points: (1) there has been much debate in the literature regarding whether one species or two species of Platanthera occur on the Azores, (2) the majority of observers expressing opinions on this matter have not actually visited the islands, and (3) no previous author has argued that three species of Platanthera occur on the islands, rather than one or two. Indeed, the recent conservation assessment for IUCN Red Listing (Rankou, Fay & Bilz, 2011a) controversially treated all Azorean Platantheras as a single widespread species, P. 'micrantha'. With this noteworthy exception, and in the absence of knowledge of the existence of the rarest species, conservation attention has largely focused on the species of intermediate rarity, P. micrantha (formerly P. azorica) – a species that our field investigations have shown to be a valuable indicator of high-quality semi-natural vegetation on the islands.
Setting aside taxonomic controversies, these orchids are also of considerable evolutionary interest. Firstly, the Azorean Platantheras constitute the only orchid lineage present in any of the Macaronesian archipelagos that appears to have undergone dichotomous (cladogenetic) speciation following its arrival on the islands (Bateman et al., in press). Also, all of the few previous authors who have speculated on the likely origin of the continental migrant(s) that are assumed to have established the genus on the Azores have favoured an origin from North America and/or the Palearctic rather than from Iberia or North Africa (e.g., Delforge, 2003).
Recent papers presented DNA evidence from nuclear ribosomal Internal Transcribed Spacer (ITS) sequences that the Azorean butterfly-orchids are correctly assigned to Platanthera rather than Habenaria, clearly placing them within the P. bifolia-chlorantha group that is the sole representative of the genus in southern and central continental Europe (Bateman et al., 2009; Bateman, James & Rudall, 2012). Thus, an origin of the lineage from North America rather than from Europe or North Africa can be confidently rejected. Further molecular data are featured in a companion paper to the present work; comparison by Bateman et al. (in press) of nrITS and plastid microsatellite data from Azorean and European plus North African species of the P. bifolia-chlorantha aggregate suggests (albeit equivocally) that the Azorean lineage represents a single migration of seed to the archipelago from a mainland European population within the aggregate, followed by a modest radiation of the immigrant lineage on the islands into three endemic species. Moreover, ITS data derived from the fungal symbionts of the plants indicate that mycorrhizal specialisation played a role in these speciation events (Bateman et al., in press).
The present paper focuses on the results of a detailed and intensive field-based morphometric survey of populations distributed across the nine islands, considered in the context of both the molecular data and a historical and herbarium-based review. We use this 'integrated monograph' to address the following questions:
Can we confirm that not one or two but rather three bona fide biological species of Platanthera occur on the Azores?

Can the nomenclatural puzzles long surrounding their Linnean epithets finally be fully explained, and both satisfactorily and legally resolved?

Do morphological characters exist that are capable of reliably distinguishing among these species and separating them from their continental relatives?

What is the frequency of hybridisation between these species?

What are their habitat preferences and biogeographic distributions?

Which mechanisms are implicated in their respective speciation events?

Can we further clarify their relationships?

What are the major threats to, and most appropriate conservation status for, each re-circumscribed species?
We also compare the broader implications of this study for pursuing field-based versus herbarium-based approaches to taxonomic revision.
Materials and Methods
Field sampling
In total, seven species of Platanthera were sampled: three from the Azores (Figs. 1–6) and four from mainland Eurasia (Figs. 7–10). Of the 21 colonies of Platanthera in southern England visited by RB and PR during May–June 2003 and/or 2004 that contained flowering plants capable of yielding useful data, 11 contained P. chlorantha only (Fig. 10), eight contained P. bifolia only (Fig. 9), and two contained both species. Small numbers of putative hybrid plants were also found in both of the mixed colonies (Bateman, James & Rudall, 2012). For the smaller colonies, all flowering plants in suitable condition were measured (six sites yielded only one measurable plant). In larger colonies, individual plants were selected to adequately represent the range of phenotypic variation and habitat occupancy evident at the locality. In total, measurements were taken from 139 plants: 79 individuals of P. chlorantha, 55 individuals of P. bifolia and five putative hybrids between these species. Information describing the 21 sampled localities was summarised in appendices 1 and 2 of Bateman, James & Rudall (2012).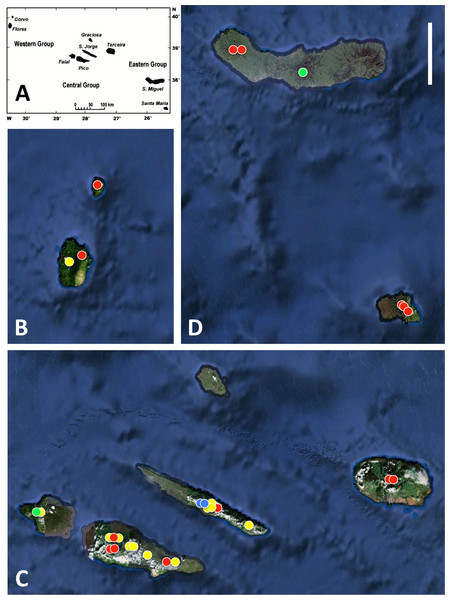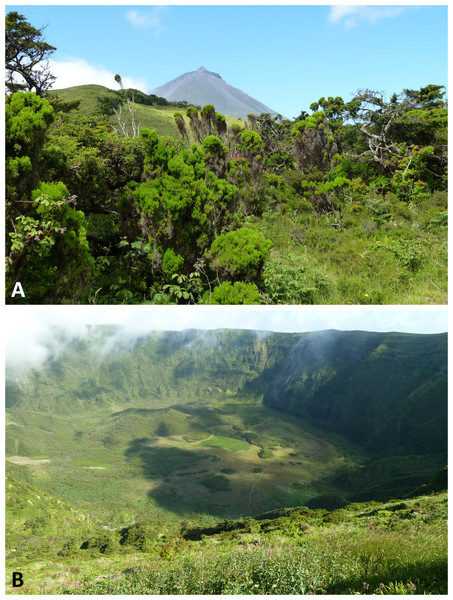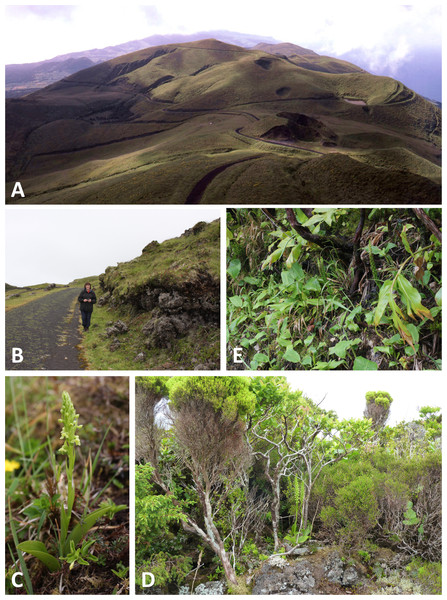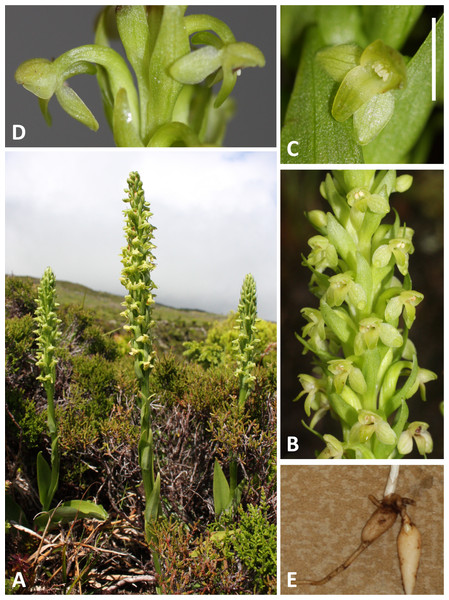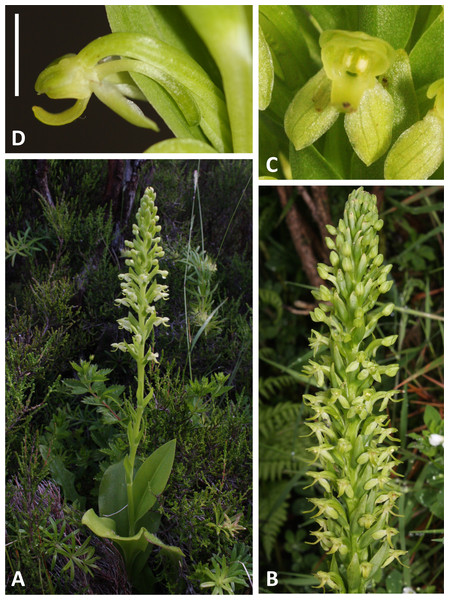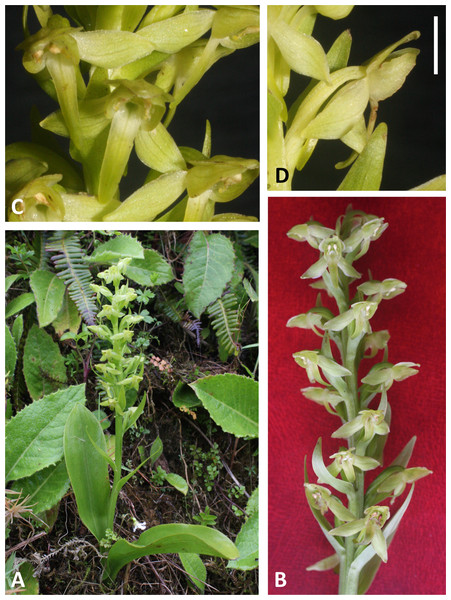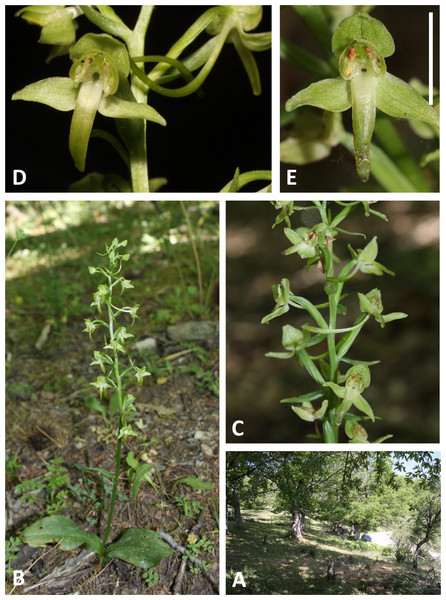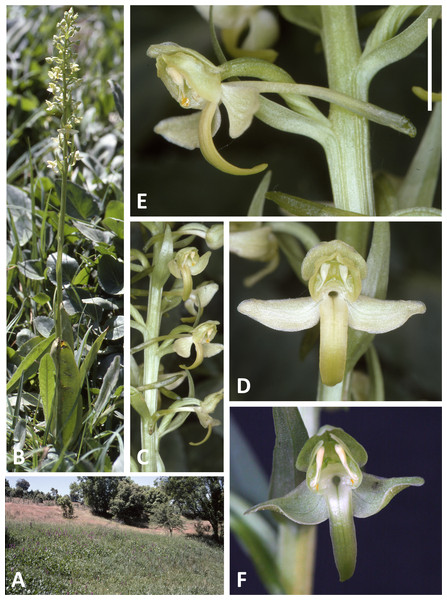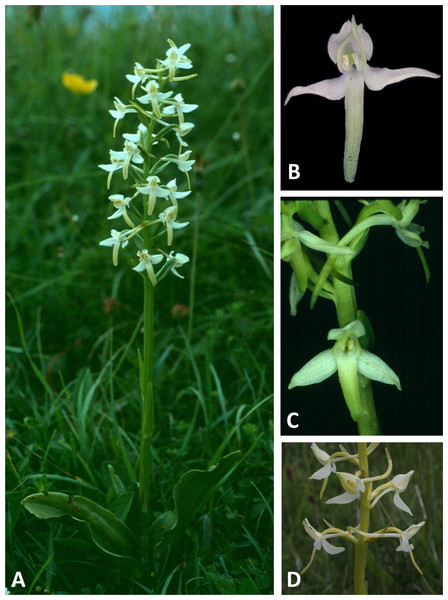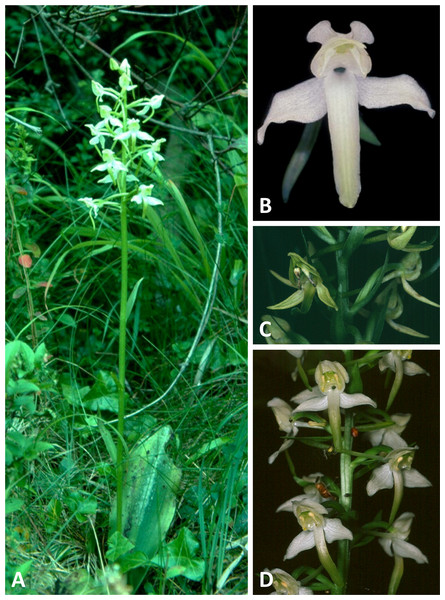 Attempts by RB and PR to extract data from populations of P. algeriensis were only partially successful. In April 2011 we were able to locate only a single flowering plant at an east coast locality on the central Mediterranean island of Corsica (Fig. 8F); fortunately, this one plant eventually generated morphometric and DNA data. Our May 2012 expedition to the Ifrane region of Morocco yielded much larger numbers of individuals of P. algeriensis (Figs. 8A–8E) but as the late season meant that none was close to flowering, we were restricted to obtaining DNA data, albeit from both the orchids and their mycorrhizal symbionts (Bateman et al., in press). The two subpopulations sampled were separated by ca 400 m. In May 2013 we focused on collecting data on P. holmboei from its westernmost occurrence, on the Aegean island of Lesvos. We eventually measured 14 plants from three populations that together constituted a 4 km North–South transect across Mt Olympus (Fig. 7).
All three authors participated in field sampling of Platanthera on the Azores (Table 1), which was conducted under permit by Moura in 2009 and 2011, and by Bateman and Rudall in 2011 and 2012. A total of 30 sites were sampled morphometrically, and a further seven sites yielded DNA samples only. Platanthera pollostantha was sampled on all islands except Graciosa, and P. micrantha on all islands except Graciosa, Terceira and Santa Maria (Fig. 1). Topographic features sampled on these ubiquitously volcanigenic landscapes were most commonly calderas (Fig. 2B), parasitic cones and lava flows, particularly lava tunnels/caves (Fig. 2A). The most common habitats were grassy clearings and tracksides within laurisilva scrub (Figs. 2A and 3D), but also included alpine heaths (Fig. 3B) and tracksides through Cryptomeria plantations (see also illustrations in Tyteca & Gathoye, 2012). Current evidence suggests that P. azorica is confined to a small upland area of São Jorge (Fig. 3A: but see 'Convoluted taxonomic history' below). Sampling was especially intensive on Pico, a large, topographically diverse and comparatively unspoilt island located within the central cluster of five islands (Figs. 1, 2A, 3B and 3D).
Morphometrics/
DNA
Mycorrhizal
DNA
Group
Island
Locality
Habitat(s)
pH
Altitude
(m asl)
Peak flowering
Collector(s)
Po
Mi
Az
Po
Mi
Az
W
Flores
Caldeira Seca e Caldeira
Comprida
V
–
594
–
M11
10
2
–
–
1
–
Ribeira da Badanelia
V
5.9
683
–
M11
1
–
–
1
–
–
Corvo
Caldeirão (Cumeeiras)
A
4.6
600
–
M11
10
–
–
2
–
–
S slope caldera (Morro dos
Homens)
A?
–
551
–
C08
(5)
–
–
–
–
–
Forked ribeira, NE caldera
(Cancela)
A?
–
414
–
C08
(1)
(1)
–
–
–
–
Lower rd, E coast (Lomba)
V?
–
321
–
C08
–
(6)
–
–
–
–
C
Faial
Cabeço dos Trinta,
W Caldera
V
–
731
6/3
B11
–
1d
–
–
1
–
Canto dos Banquinhos,
Faial caldera
V
–
780
6/4 (po)
B11
3
8
–
2
1
–
6/3 (mi)
Pico
Furna do Frei Matias
V
4.1
660
–
M09
10
1
–
–
–
–
Roadside bank N Capitão,
W Pico Mt
A
–
1000
6/4
B11
6
–
–
–
T-junction on EN3,
Cerrado de Sonicas,
NNW Pico Mt
H
–
870
6/2-3
B11
5
–
–
1
–
–
Refugium, Cabeço das
Cabras, W Pico Mt
H
–
1235
6/3-4
B12
1
–
–
1
–
–
Lava tunnel, roadside EN3
imm. E Bica, N Pico Mt
H + V
–
928
6/2-3
B12
3
2
–
2
2
–
Chã do Pelado, Caveiro
L
5.3
790
–
M09
10
–
–
–
–
Pico da Urze rd S EN3,
S Cabeço de Teixo,
SW São Roque
V
–
830
6/2
B12
3
5
–
3
5
–
Brejos plateau, N Cabeço
do Sintrão, ENE Pico Mt
V
–
789
6/4 (po)
B11
7
7
–
4
5
–
6/3-4 (mi)
B12
Track on plateau
W Cabeço da Rocha,
NNW Lajes
V + H
–
774
6/3-4 (po)
B11
2
4
–
2
1
–
6/2-3 (mi)
Track E imm. S junction
EN3-EN2, Corre Agua,
S São Roque
H
–
730
6/2-3
B12
(1)
–
–
–
–
–
Roadside NW Cabeço do
Ferrobo, NW Lajes
V
–
540
6/2
B12
(1)
–
–
–
–
–
Imm. E Cabeco de Rocha,
W Lagoa do Caiado, N Lajes
L
–
840
6/2
B12
(1)
–
–
–
–
–
Track, Achada,
N Lagoa do Paul, SE Grotões, N Lajes
V
–
830
6/2
B12
(1)
–
–
–
–
–
Caldeirão da Ribeirinha
V
–
750
–
M09
10
1
–
–
–
–
São Jorge
Small volcanic cone, W Pico da Esperança
A + V
5.9
976
–
M11
3
–
8
–
–
2
Trackside,
SE slope Pico da Esperan ç a,
SSW Norte Grande
A
–
1000
6/4 (po)
B12
6
–
12
2
–
8
6/1-2 (az)
Ravine N Pico do Areeiro, S Norte Grande
A + V
–
885
6/2-3
B12
+
1
–
–
–
–
Crater, Pico Pinheiro-P. do Areeiro,
S Norte Grande
A + V
–
860
6/4 (po)
B12
2
6
–
2
4
–
6/2 (mi)
Track NE Pico Pinheiro,
S Norte Grande
V
–
730
6/2-3
B12
+
1
–
–
–
–
Woodland E Pico do Paul,
N Calheta
L
–
468
6/1-2
B12
2
–
–
1
–
–
Trilho Topo-Fajã do Santo Cristo
V
5.2
560
–
M11
10
6a
–
2
1
–
Graciosa
[NOT SAMPLED]
Terceira
Rocha do Chambre
V
–
549
–
M11
6
–
–
2
–
–
Caminho Algar do Carvão-Caldeira de Agualva
V
–
610
–
M11
2
–
–
–
–
–
E
São Miguel
Portal de Vento, E Vista
do Rei, Sete Cidades
H + G
–
610
6/3-4
B11
5
–
–
5
–
–
E + N Lagoa do Canário,
SE Sete Cidades caldera
C
–
810
6/3
B11
5
–
–
4
–
–
Lagoa do Fogo, SSE Ribeira Grande
V
–
670
6/3-4
B11
–
10
–
–
3
–
Sta. Maria
Pico Alto, W Santa Bárbara
V
5.7
474
–
M09
10d
–
–
–
–
–
Halfway, rd Pico Alto-Cruz
dos Picos, W Santa Barbara
V
–
468
5/4-6/1
B12
5
–
–
3
–
–
Miradouro da Pedra Rija
H + C
6.1
393
–
M09
4b
–
–
–
–
–
n
141
55 a
20
39
24
10
a
Two plants were subsequently tentatively identified as the hybrid P. pollostantha × micrantha.
b
One additional DNA sample collected.
c
Two additional DNA samples collected.
d
Three additional DNA samples collected. Parenthetic figures lack morphometric data and were collected only as DNA samples.
+

species present but not sampled
Taxa

Po

P. pollostantha

Mi

P. micrantha

Az

P. azorica
Collectors

M

Mónica Moura

B

Richard Bateman and Paula Rudall

C

Mark Carine; suffixed numbers indicate the year of collection
Habitat

V

laurisilva including Vaccinium cylindraceum

L

laurisilva lacking Vaccinium

H

Erica heath

A

alpine grassland

C

Cryptomeria plantation
For peak flowering estimates, the slash is preceded by the month and succeeded by the week(s) of that month.
In total, morphometric data were obtained from 141 plants of P. pollostantha (26 localities – Fig. 4), 55 plants of P. micrantha (two subsequently re-assessed as hybrids: 13 localities – Fig. 5), and 20 plants of P. azorica (two adjacent localities, where this species co-occurred with P. pollostantha – Fig. 6), totalling 216 plants. Numbers of samples available for DNA analyses were slightly larger (Table 1). Subsets of the individuals measured were sampled for DNA analysis of mycorrhizal associates: 39 plants of P. pollostantha (17 localities), 24 plants of P. micrantha (two subsequently re-assessed as hybrids: 10 localities), and 10 plants of P. azorica (two localities) (Bateman et al., in press). Pickled flowers for microscopic study and imaging were obtained from several populations spanning the three groups of islands.
Our within-site sampling strategy was designed to minimise disturbance to individual plants. Destructive measurements of tubers were not attempted, and the two or three stem-roots present were disturbed only in a minority of plants that were subjected to not only morphometric study but also sampling for mycorrhizae. Within each population, plants for study were chosen to proportionately reflect the range of variation evident in both morphology and habitat. Vegetative characters were measured non-destructively from in situ plants, and only approximately five flowers from each plant were removed for further study: one was permanently mounted and measured, whereas the remainder were placed in fine-grained dried silica gel to act as a DNA-friendly voucher. Wherever possible, the florets chosen to provide morphometric data on the flower, ovary and bract were located 30–40% of the distance from the base to the apex of the inflorescence, in order to minimise the widespread effect of diminution in flower size toward the apex (Bateman & Rudall, 2006).
Morphometric characters
Largely following Bateman, James & Rudall (2012), the 38 characters that were scored morphometrically (Appendix 1) described the stem and inflorescence (4), leaves (7), bracts (5), labellum (5), spur and ovary (5), sepals and lateral petals (5), and gynostemium (7). They can alternatively be categorised as metric (27), meristic (3), multistate-scalar (6), and operationally bistate (2). Metric characters for most floral organs were measured at a resolution of 0.1 mm; RB and PR used a Leitz ×8 graduated ocular, whereas MM used electronic calipers. There were two exceptions: RB measured gynostemium characters for some individuals to a resolution of 0.1 mm at ×10 magnification under a Leica MZ8 binocular microscope, and recorded floral bract cells (two characters) in µm at ×100 magnification under a Leica Dialux 20 compound microscope. The complete absence of anthocyanin pigments from the clade rendered redundant our usual practice of quantitatively colour matching various flower-parts.
Data analysis
Morphometric data for individual plants were summarised on an Excel v14.3 spreadsheet. Mean values, plus sample standard deviations and coefficients of variation for all metric and some meristic characters, were calculated for every character in each of the three species. Univariate and bivariate analyses were summarised and presented using Deltagraph v5.6 (SPSS/Red Rock software, 2005), which in some cases was also used to calculate linear regressions.
The full morphometric matrix contained 370 individuals ×38 characters. That part of the matrix consisting of the 139 plants of P. bifolia and P. chlorantha inherited from the study of Bateman, James & Rudall (2012), plus the 15 plants of P. algeriensis and P. holmboei measured subsequently, contained 13.0% missing values, whereas the 216 plants measured in the Azores incurred only 4.6% missing values. The characters affected by missing values on the Azores were auricle length (C21), bract cell diameter (C22) and shape (C23), basal bract length (C26) and position of maximum leaf width (C35); of these, only the bract cell characters incurred more than one-third of missing values. The assembled data were analysed by multivariate methods using Genstat v14 (Payne et al., 2011). All calculated ratios were also omitted from the multivariate analyses as, by definition, they duplicated their constituent characters.
One character (C4: pale green versus dark green pigmentation of the labellum) was subsequently judged to largely duplicate another character (C5: maximum extent of green pigmentation on the labellum) and was therefore omitted from the analyses. The remaining 37 characters were used to compute a symmetrical matrix that quantified the similarities of pairs of data sets (i.e., plants) using the Gower Similarity Coefficient (Gower, 1971) on unweighted data sets scaled to unit variance. The resulting matrix was in turn used to construct a minimum spanning tree (Gower & Ross, 1969) and subsequently to calculate principal coordinates (Gower, 1966; Gower, 1985) – compound vectors that incorporate positively or negatively correlated characters that are most variable and therefore potentially diagnostic. Principal coordinates are especially effective for simultaneously analysing heterogeneous suites of morphological characters and can comfortably accommodate missing values; they have proven invaluable for assessing relationships among orchid species and populations throughout the last three decades (reviewed by Bateman, 2001).
Six separate multivariate analyses were conducted, all but one involving the progressive reduction in the number of taxa (and thus of plants) included: all seven species, the three Azorean species only, the three Azorean species only (vegetative characters omitted), the two more widespread (and widely accepted) Azorean species only, and each of these two species alone (these single-species analyses were designed primarily to investigate relationships between populations on different islands). For each multivariate analysis, the first four principal coordinates (PC1–4) were plotted together in pairwise combinations to assess the degree of morphological separation of individuals (and thereby of populations and taxa) in these dimensions, and pseudo-F statistics were obtained to indicate the relative contributions to each coordinate of the original variables.
Micro-imaging
Selected flowers of the two British species were sampled from the Stockbury area of north-central Kent and stored in 70% ethanol. The spirit collection at RBG Kew yielded an alcohol-fixed inflorescence of P. holmboei from Mt Troodos on Cyprus, later supplemented with flowers obtained in 2013 from several plants on Mt Olympus, Lesvos. Flowers of P. algeriensis were collected in April 2011 by RB and PR from a single plant located along the east coast of Corsica near Ghisonaccia. Flowers of several accessions of all three Azorean taxa were placed in alcohol by MM in June/July 2009, and by RB and PR in June 2011 (several localities on Pico) and June 2012 (all from the 'spinal ridge' linking Pico da Esperança to Pico Areeiro).
Specimens were initially imaged using a Nikon Shuttlepix P-MFSC optical system, where necessary subsequently using EDX image stacking to achieve an average focus from multiple primary optical frames. Preparation for scanning electron microscopy (SEM) involved selecting flowers from each inflorescence for dehydration through an alcohol series to 100% ethanol. They were then stabilised using an Autosamdri 815B critical-point drier, mounted onto stubs using double-sided adhesive tape, coated with platinum using an Emtech K550X sputter-coater, and examined under a Hitachi cold-field emission SEM S-4700-II at 2 kV or 4 kV. The resulting images were recorded digitally for subsequent manipulation in Adobe Photoshop. Comparison of fresh and spirit material of P. bifolia demonstrated the absence of any serious artefacts caused by preservation in spirit.
Journal nomenclatural statement
The electronic version of this article in Portable Document Format (PDF) will represent a published work according to the International Code of Nomenclature for algae, fungi, and plants (ICN), and hence the new names contained in the electronic version are effectively published under that Code from the electronic edition alone. In addition, new names contained in this work which have been issued with identifiers by IPNI (International Plant Names Index) will eventually be made available to the Global Names Index. The IPNI LSIDs can be resolved and the associated information viewed through any standard web browser by appending the Life Science Identifier (LSID) contained in this publication to the prefix "http://ipni.org/". The online version of this work is archived and available from the following digital repositories: PeerJ, PubMed Central, and CLOCKSS.
Results
Micro-imaging
Both light and scanning electron micro-imaging were performed primarily to detail more accurately the morphology of the gynostemium, though this approach also provided useful data on the epidermal micromorphology of the perianth segments and spur interior. The resulting images (Figs. 11–17) support some generalisations previously made regarding the floral morphology of the P. bifolia-chlorantha clade but also provide some valuable new insights. The gynostemia of these species are characterised by pronounced connectives, large tripartite stigmas, 'granular' (perhaps better described as botryoidal) auricles, and well-developed anther locules containing tripartite pollinaria. The pollinia are sectile, consisting of two longitudinal rows of massulae linked by elastoviscin threads, and the viscidia protrude to varying degrees into the pre-stigmatic cavity. The sepals and lateral petals reliably produce stomata adaxially, but in contrast, the spur interiors differ considerably in epidermal features.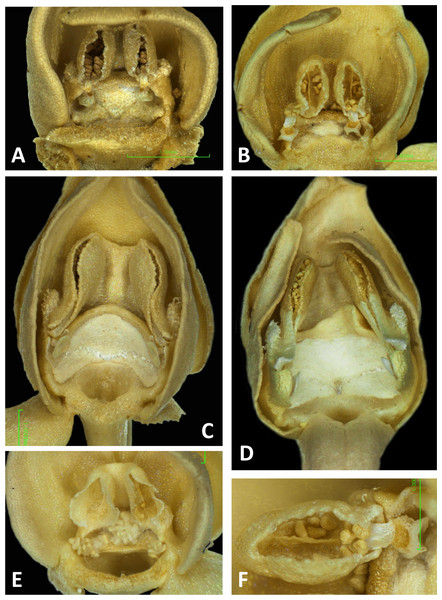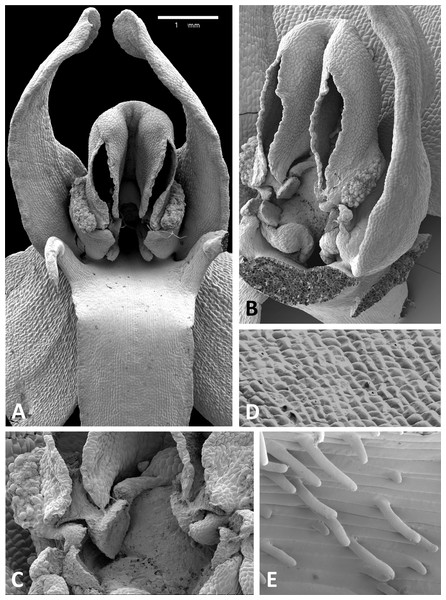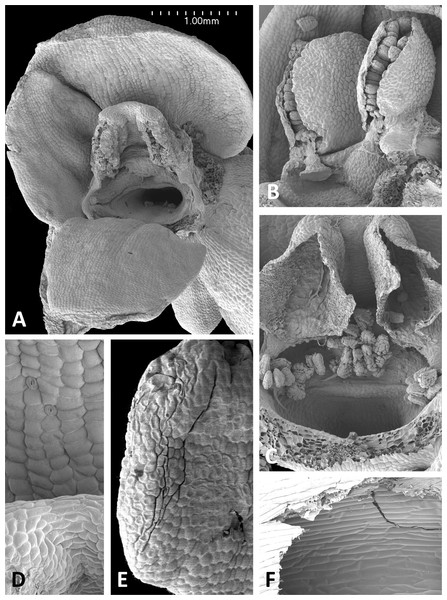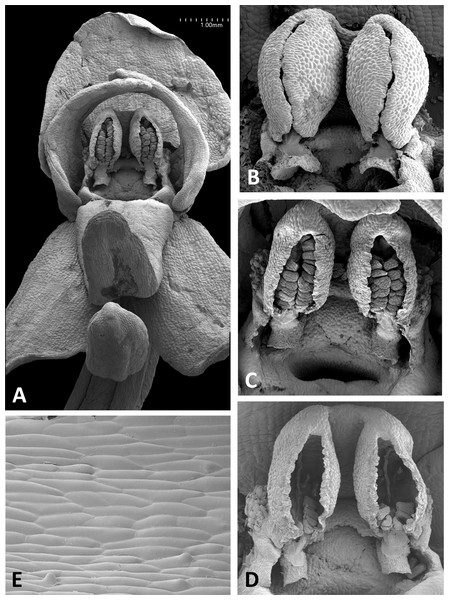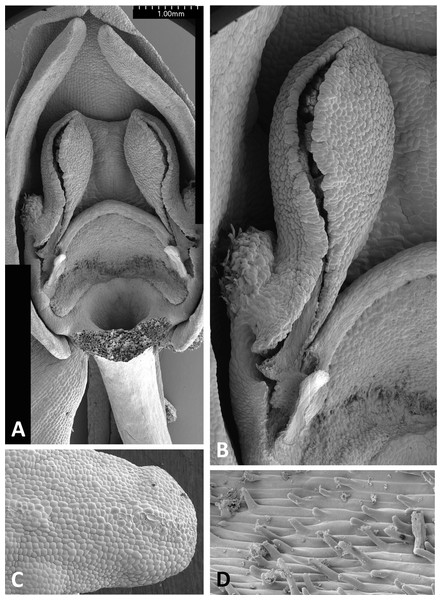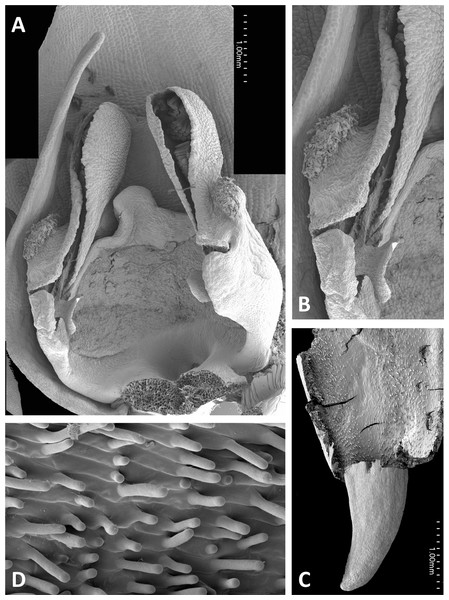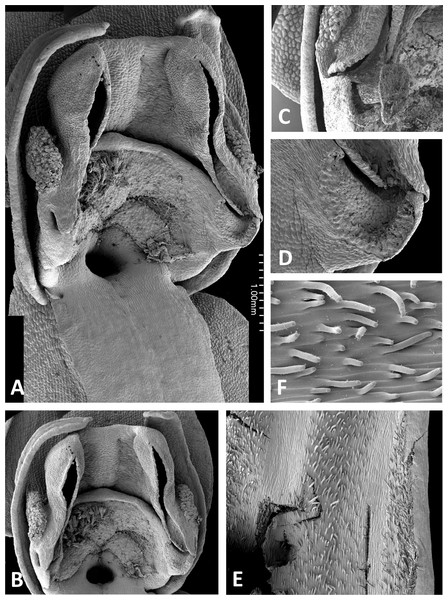 Perianth segments
The flower of P. pollostantha (LSID: 77134154-1) depicted in Fig. 13A is a relatively recently opened bud – the labellum has not yet reached a near-vertical position or become recurved – and the lateral sepals have been removed to reveal the compact (and somewhat disrupted) gynostemium and the dorsiventrally compressed entrance to the remarkably short labellar spur. The median sepal combines with the lateral petals to form a tight hood cowling the gynostemium. The sepals and lateral petals bear stomata adaxially (Fig. 13D), whereas the labellum shows some evidence of glandular cells concentrated towards the apex (Fig. 13E). The internal epidermis of the spur is smooth (Fig. 13F).
The flower of P. micrantha depicted in Fig. 14A remains intact, though the labellum has deliberately been torn at the base and forced downward in order to better expose the gynostemium. The gynostemium and dorsiventrally compressed spur entrance are more effectively detailed in Figs. 14B and 14C. The spur curves strongly forward, projecting toward the viewer from beneath the upwardly-curved labellum (Fig. 14A). The median sepal forms a more-or-less planar 'awning' above the gynostemium, which is also protected by the two lateral petals that twist inwards to form a distinctive arch above the gynostemium, their apices sometime overlapping. In contrast, the lateral sepals are spreading and oriented closer to the vertical than the horizontal. The interior of the spur is smooth (Fig. 14E).
The gynostemium of P. azorica is again protected by a hood that consists of the lateral petals and median sepal, but both the gynostemium and hood are more elongate (Fig. 15A). The stigma is well developed and its lateral lobes extend downward on either side of the circular spur entrance, overhung by a substantial rostellum. Once again, the sepals and petals bear stomata, the labellum appears distally glandular (Fig. 15C), but in this species, the interior of the spur is strongly papillate rather than smooth (Fig. 15D).
Flowers of three of the four large-flowered mainland species are remarkably similar structurally, resembling P. azorica and showing only modest differences in flower size and proportions of particular organs. The flower of P. algeriensis (Fig. 16A) is remarkably similar to that of P. azorica, differing mainly in size, while that of P. algeriensis (Fig. 17A) in turn closely resembles the flower of P. chlorantha (multiple SEM images illustrated in Fig. 4 of Bateman, James & Rudall, 2012). All three species have stomata on sepals and petals, an apparently glandular labellum, and a strongly papillate spur interior (Fig. 14D). Moreover, the distal, nectar-secreting portions of the spurs of the mainland species are oval in transverse section, being expanded dorsiventrally toward the single vascular strand that loops around the spur apex (cf. Box et al., 2008; Bell et al., 2009). In these species, the papillae are best developed in two longitudinal zones located immediately above the opposing arms of the vein (Figs. 16C and 17E).
These perianth features also characterise P. bifolia (Figs. 12D and 12E), which differs from P. chlorantha, P. algeriensis, P. holmboei and P. azorica mainly in gynostemial structures (see below). In at least some individuals, two pairs of gynostemial projections partially obscure the cylindrical spur entrance, the inner pair extending from beneath the anther locules (interpreted as extensions of the lateral lobes of the stigma) and the outer flanges curving inwards from below the auricles (Fig. 12A). Admittedly, these structures are less well-developed in some other individuals of this species (Fig. 12B). As in the other large-flowered species, sepals and labellum bear stomata (Fig. 12D), and the interior of the spur is strongly papillate (Fig. 12E).
Gynostemium
The wide range of gynostemium morphologies exhibited by the genus Platanthera s.l. was surveyed by Efimov (2011), and some details of P. bifolia, P. chlorantha and P. holmboei were illustrated by Claessens & Kleynen (2011) and Bateman, James & Rudall (2012). The gynostemia of the three Azorean species (Figs. 11A–11C, 11E, 11F and 13–15) share the basic architecture that is characteristic of the bifolia-chlorantha aggregate (Figs. 11D, 12, 16 and 17) – an upright orientation; gynostemium flanked by two pale, granular auricles; prominent paired anther locules linked by a robust connective; a slightly concave tripartite stigma, the larger polygonal median lobe being flanked by two triangular lateral lobes (all typically coated in a pale, viscous stigmatic fluid); a laterally extended but often subdued rostellar ledge located immediately above the stigma; viscidia exposed rather than being enclosed in a bursicle; pollinaria readily divisible into sectile pollinium and caudicle that are undoubtedly anther-derived versus a circular/oval, concave, at least obscurely bipartite viscidium that is reputedly stigma-derived (cf. Kurzweil, 1987; Claessens & Kleynen, 2011).
The plates detailing the gynostemia of our study species (Figs. 11–17) clearly separate P. micrantha plus P. pollostantha from the remaining five species. Moreover, P. micrantha and P. pollostantha resemble P. bifolia more closely than P. azorica or P. chlorantha and its relatives (P. algeriensis and P. holmboei). Platanthera azorica and the P. chlorantha group have circular spur entrances, circular viscidia, geniculate and terete caudicles, pollinia consisting of several vertical rows of massulae, sigmoid locular apertures, well-developed auricles and, most importantly, large, collar-like stigmatic surfaces extensively coated in milk-coloured stigmatic fluid and delineated above by a laterally extended rostellum (Figs. 11C, 11D and 15–17). In contrast, P. micrantha and P. pollostantha have dorsiventrally compressed 'letter-box' spur entrances, oval viscidia, more-or-less linear strap-like caudicles, fewer vertical rows of massulae, linear locular apertures, auricles that are often barely discernible, and small, dorsiventrally compressed stigmatic surfaces where often only the central lobe is coated with stigmatic fluid and the rostellum is both short and subdued (Figs. 11A, 11B, 11E, 11F, 12 and 13).
Remarkably, no structural or even proportional differences distinguish the Azorean P. azorica from the mainland P. algeriensis; these species differ primarily in the somewhat smaller flower size of the former. The apically broader connective of P. holmboei (Figs. 17A and 17B) causes it to more closely resemble P. chlorantha, though again its flowers tend to be somewhat smaller. The similarity among these four species is particularly striking in their shared possession of a distinctive pollinarium morphology. Their long caudicles undergo a right-angled bend just above the viscidia, thereby positioning the pair of circular, sucker-like viscidia in opposition, so that they are well-placed to contact the compound eyes of a suitably sized insect visitor (cf. Figs. 11C, 11D and 15–17).
Strong similarities are also evident between the gynostemia of the two small-flowered Azorean species – P. pollostantha and the somewhat larger-flowered P. micrantha (cf. Fig. 11A, 13 vs Fig. 11B, 14) – though some subtle differences are discernible. The stigma of P. pollostantha has a larger height-to-width ratio, and lateral lobes that project outward as rather subdued 'horns'. Both species have distinctive pollinaria with strap-like caudicles that, despite their comparatively short length, project below the rostellar ledge into the void beneath, each being located immediately in front of one of the lateral lobes of the stigma and diagonally above the spur entrance. The viscidia project downward but also tend to be angled slightly backward, seemingly well-placed to contact any insect proboscis that is actively seeking the spur entrance. This posture also characterises at least some varieties of P. bifolia (Fig. 12; see also p. 283 of Claessens & Kleynen, 2011), and is already evident in immature buds (Fig. 14B). However, the viscidia of the two Azorean species differ in detail. Those of P. pollostantha are near-circular in outline and their reputed bipartite nature is obscure (Fig. 13B), whereas the bipartite nature of the viscidia is clear in P. micrantha; the caudicle terminates in a robust, circular inner disc resembling that of P. pollostantha, but this is attached to the centre of a much more extensive, elongate-oval disc. This outer disc consists of less robust tissue that curls downward laterally, thereby forming a hemi-cylinder that is oriented towards the stigmatic surface (Figs. 11F and 14B–14D); it appears to become desiccated soon after anthesis (cf. Figs. 14B versus 14A, 14C and 14D).
Interestingly, relatively large, elongate viscidia also characterise at least some populations of P. bifolia (e.g., p. 284 of Claessens & Kleynen, 2011), though in other populations of this species the viscidia are directed inward (Fig. 12B) and resemble more closely those of P. chlorantha and its Mediterranean endemic allies (Figs. 16 and 17).
Univariate analyses
Table 3 gives mean, sample standard deviation and coefficient of variation values for all 38 morphometric characters measured in each of the three Azorean species of Platanthera. Data are also given for five individual plants of particular interest: two putative hybrids between P. pollostantha and P. micrantha (from the Trilho Topo locality, near the eastern end of São Jorge) and the holotypes of each of the three species.
Species
length
lab
width
lab
reflexion
lab
pigment
lab
extent
pigm
lab
length
spur
width
mouth
spur
width
halfw
spur
curvature
spur
length
ovary
Mean
pollostantha
2.86
2.08
1.35
1.94
74
3.12
0.77
0.82
4.97
8.35
SSD
0.7
0.34
25.2
0.41
0.25
0.15
1.84
CV(%)
24.5
16.3
34.1
13.1
32.5
18.3
22
Mean
micrantha
4.61
1.57
0.02
1.64
87.7
7.27
0.75
0.88
4.83
11.9
SSD
0.84
0.27
20.1
0.97
0.14
0.16
1.75
CV(%)
18.2
17.2
22.9
13.3
18.7
18.2
14.7
Mean
azorica
8.32
2.41
3.1
1.8
76.5
9.51
1.36
1.12
4.7
14.0
SSD
0.98
0.24
5.9
0.89
0.55
0.25
1.4
CV(%)
11.7
10
7.7
9.4
40.4
22.3
10
Holotypes
micrantha
2.3
1.5
1
NM
NM
2.4
0.5
0.6
5
8.5
azorica
4.2
1.1
0
NM
NM
6.5
0.7
0.8
5
11
adelosa
7.2
1.4
3
NM
NM
7.9
0.9
0.6
4
12
Hybrid (1)
pollost. × micr.
2.68
1.32
0
2
80
4.8
0.4
0.5
4
6.08
Hybrid (2)
pollost. × micr.
1.78
1.27
0
2
80
4.48
0.5
0.91
4
8.37
Species
pos
lat
sepal
length
lat
sepal
width
lat
sepal
length
lat
petal
colour
lat
petal
length
col
width
col
width
stigma
length
poll
distance
visc
Mean
pollostantha
1.04
3.38
2.32
2.27
1
1.26
1.39
0.84
0.91
0.83
SSD
0.7
0.35
0.59
0.27
0.25
0.29
0.2
0.17
CV(%)
20.7
15.1
26
21.4
18
34.5
22
20.5
Mean
micrantha
0.13
4.94
2.77
3.16
1
1.46
1.54
1.17
1.15
1.01
SSD
0.68
0.44
0.47
0.26
0.25
0.21
0.17
0.2
CV(%)
13.8
15.9
14.9
17.8
16.2
17.9
14.8
19.8
Mean
azorica
1
8.19
3.64
5.7
1
3.16
3.49
2.67
2.49
3.1
SSD
0.92
0.46
0.85
0.51
0.41
0.5
0.54
0.37
CV(%)
11.2
12.6
14.9
16.1
11.7
18.7
21.7
11.9
Holotypes
micrantha
1
2.7
1.6
1.9
NM
1.2
1.2
NM
0.8
NM
azorica
0
4.5
2.2
3.8
NM
1.2
1.4
NM
1
NM
adelosa
1
8
3.1
4.5
NM
2.7
3.2
NM
2
NM
Hybrid (1)
pollost. × micr.
0
2.67
1.8
2.83
1
0.9
1
0.6
0.5
1
Hybrid (2)
pollost. × micr.
0
3.5
2.14
2.6
1
1.2
0.7
0.6
0.7
0.8
Species
distance
apices
length
stamin
mean
cell
diam
bract
mean
cell
shape
bract
width
floral
bract
length
floral
bract
length
basal
bract
stature
stem
length
spike
no.
flowers
Mean
pollostantha
0.47
0.47
53
1
3.47
10.28
27.07
24.8
77
40
SSD
0.15
0.11
12
1
3.37
19.4
8.4
28
18
CV(%)
31.9
23.4
22.6
28.8
32.8
71.7
33.9
36.4
45
Mean
micrantha
0.64
0.53
47
1
4.94
13.44
21.17
31.7
109
60
SSD
0.13
0.2
8
1.03
3.21
13.6
8.8
40
30
CV(%)
20.3
37.7
17
20.9
23.9
64.2
27.8
36.7
50
Mean
azorica
2.2
0.83
51
1
5.37
18.07
28.31
20.1
85
18
SSD
0.3
0.43
8
0.9
3.52
8.35
4.9
23
5.5
CV(%)
13.6
51.8
15.7
16.8
19.5
29.5
24.4
27.1
30.6
Holotypes
micrantha
NM
NM
NM
NM
3.2
13
16
30
65
28
azorica
NM
NM
NM
NM
4.2
15
19
25
93
68
adelosa
NM
NM
NM
NM
4.2
20
28
21
65
10
Hybrid (1)
pollost. × micr.
0.8
0.5
48
1
2.19
7.03
30.02
26
65
25
Hybrid (2)
pollost. × micr.
0.5
0.6
NM
NM
1.95
5.45
30
27
95
41
Species
stem
diam
no.
non
sheathing
leaves
no.
sheathing
leaves
width
longest
leaf
length
longest
leaf
length
max
width/
length
petiole
developm
angle
ground
Mean
pollostantha
2.93
4.12
2.13
31.4
105.1
61.58
0.12
2.17
SSD
0.99
1.49
0.52
15.1
36.6
9.01
CV(%)
33.8
36.2
24.4
48.1
34.8
14.6
Mean
micrantha
3.69
3.25
2.32
54.4
125
58.8
0.04
2.04
SSD
1.21
1.28
0.61
15.4
36.5
4.9
CV(%)
32.8
39.4
26.3
28.3
29.2
8.3
Mean
azorica
3.82
1.75
1.85
40.1
111
59.8
0.05
2
SSD
1.01
0.72
0.37
11.8
32.1
5.2
CV(%)
26.4
41.1
20
29.4
28.9
8.7
Holotypes
micrantha
2.7
5
2
46
105
55
0
2
azorica
3.2
5
2
46
110
50
0
2
adelosa
2.5
0
2
26
93
50
0
2
Hybrid (1)
pollost. × micr.
1.98
2
2
30
100
NM
0
2
Hybrid (2)
pollost. × micr.
3
2
2
36
110
NM
0
2
Potentially diagnostic scalar characters were summarised as histograms: selected for presentation here are histograms for labellum reflexion, lateral sepal position, number of sheathing leaves and number of non-sheathing leaves (Fig. 20). Metric and meristic characters of particular interest were plotted together in pairwise combinations to yield scatter-diagrams of individual plants. Examples shown here are length versus width of gynostemium and viscidial separation versus pollinarium length (Figs. 21A and 21B), labellum length versus labellum width and labellum length versus spur length (Figs. 22A and 22B), ovary length versus spur length and leaf length versus leaf width (Figs. 23A and 23B), and lastly, labellum length versus lateral sepal length and inflorescence length versus number of flowers in inflorescence (Figs. 24A and 24B). Where appropriate, linear regressions were plotted for each of the three Azorean species of Platanthera (Figs. 23 and 24A).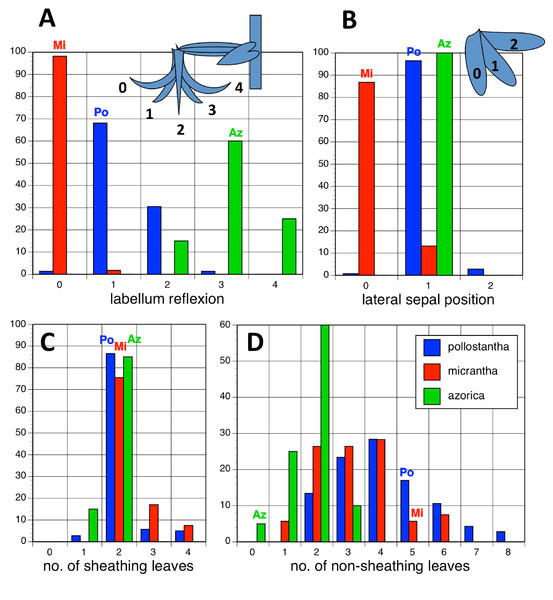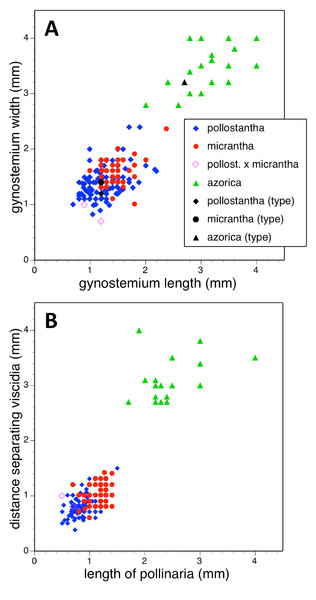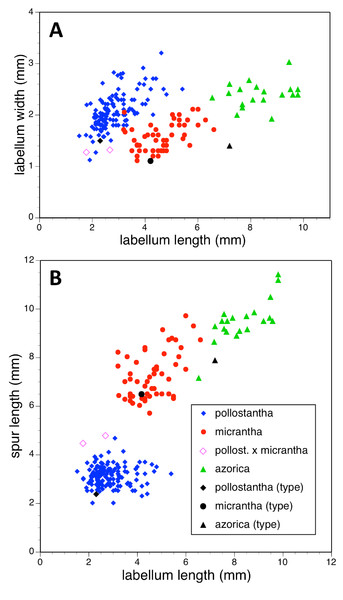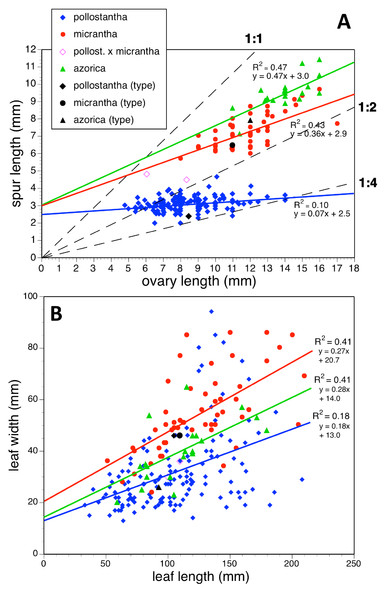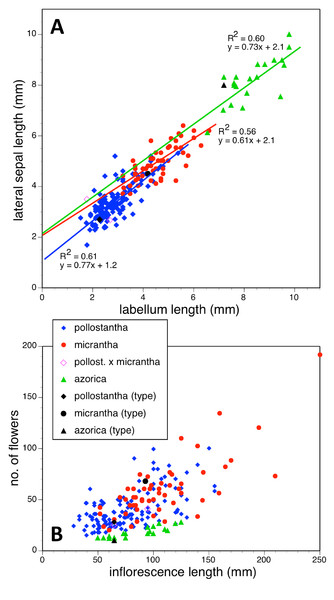 Each of these 16 figured plots provides substantial discrimination between at least two of the three Azorean Platanthera species. The significance of the discrimination that is revealed, and of the characters that underlie that discrimination, are considered in the following detailed Discussion.