Fine motor deficits in reading disability and language impairment: same or different?
Department of Experimental Psychology, University of Oxford

,

Oxford

,

UK
Published

Accepted

Received
Academic Editor
Subject Areas

Keywords

Reading disability

,

Specific language impairment

,

Dyslexia

,

Motor

,

Imitation

,

Speed

,

Dexterity

,

Comorbidity
Copyright

©

2013

Brookman et al.

Licence

This is an open access article distributed under the terms of the Creative Commons Attribution License, which permits unrestricted use, distribution, and reproduction in any medium, provided the original author and source are credited.
Cite this article

2013

.

Fine motor deficits in reading disability and language impairment: same or different?

PeerJ

1

:

e217

https://doi.org/10.7717/peerj.217
Abstract
Several studies have found evidence of motor deficits in poor readers. There is no obvious reason for motor and literacy skills to go together, and it has been suggested that both deficits could be indicative of an underlying problem with cerebellar function and/or procedural learning. However, the picture is complicated by the fact that reading problems often co-occur with oral language impairments, which have also been linked with motor deficits. This raises the question of whether motor deficits characterise poor readers when language impairment has been accounted for – and vice versa. We considered these questions by assessing motor deficits associated with reading disability (RD) and language impairment (LI). A large community sample provided a subset of 9- to 10-year-olds, selected to oversample children with reading and/or language difficulties, to give 37 children with comorbid LI + RD, 67 children with RD only, 32 children with LI only, and 117 typically-developing (TD) children with neither type of difficulty. These children were given four motor tasks that taxed speed, sequence, and imitation abilities to differing extents. Different patterns of results were found for the four motor tasks. There was no effect of RD or LI on two speeded fingertip tapping tasks, one of which involved sequencing of movements. LI, but not RD, was associated with problems in imitating hand positions and slowed performance on a speeded peg-moving task that required a precision grip. Fine motor deficits in poor readers may be more a function of language impairment than literacy problems.
Introduction
It has been noted for many years that children who are poor readers may also show signs of clumsiness and poor fine motor control. In an early epidemiological study, Rutter & Yule (1970) found an excess of motor impairments in children who were poor readers relative to their IQ ('specific reading retardation'), regardless of whether this was assessed by parental report, clinical observation or direct assessment. This kind of observation has been used as evidence that reading disability (RD) is not just the result of poor teaching, but has a neurological basis (Ramus, 2004). However, the link between motor impairment and literacy problems remains poorly understood.
One complication is that it remains unclear whether motor impairments are a genuine correlate of RD, or whether they are linked more closely to other problems that co-occur with poor reading. Many children diagnosed with RD (or 'developmental dyslexia') also have oral language problems, but these may be overlooked if language is not formally assessed (Bishop & Snowling, 2004). Studies of children with language impairments (LI) provide ample evidence that motor deficits are common in this population. These observations raise two related questions. Will we find evidence of motor impairment if we focus only on poor readers who do not have oral language problems? And if motor deficits are seen in children with combined reading and language impairments, are they the same as those in children who read well despite oral language problems? Because many children have both reading and language difficulties, the existing literatures on RD and LI cannot answer these questions: we need a study of children who have been explicitly assessed for both oral and written language abilities.
Another issue concerns how motor skills are measured. Previous studies have included both fine and gross motor skills, tasks that stress speed versus those stressing precision, and tasks that involve learning versus those that do not. We need to clarify whether RD and LI are associated with distinct types of motor difficulty. The answer to this question has implications for our understanding of possible neurological underpinnings of children's language and literacy problems.
Where motor deficits have been associated with RD or LI, two types of explanation have been proposed. It could be that the motor deficit co-occurs with other disorders because the causal factors that lead to RD and/or LI are correlated with causal factors that lead to motor problems. Typically this is interpreted at the neurobiological level; for instance, there could be a nonspecific factor, such as delay in myelination, that affects multiple systems at once, or there might be a more specific link, with a deficit affecting a brain region that is involved in both motor co-ordination and language learning, such as the cerebellum. Or the link may go beyond common etiology to involve shared underlying cognitive processes – for instance, language difficulties have been linked to limitations in speed of processing, in sequencing and in imitative capacity – features that are implicated to different extent in different motor tasks. Our focus here is on fine motor skills that might be expected to relate to language impairment, insofar as they share these cognitive characteristics. For instance, theories of language impairment that implicate reduced speed of processing predict there will be links between reduced motor speed and slowed performance on language or literacy tasks that involve rapid processing. Thus, by pinpointing the nature of motor deficits that co-occur with reading or language difficulties, we may cast light on cognitive underpinnings of these disorders, clarifying whether they have similar origins.
We will first review what is known about different fine motor abilities in relation to reading and language impairments and then present new data on a large sample of children assessed for both language and literacy skills. We use the term 'reading disability' (RD) rather than 'dyslexia' to refer to children with specific problems in reading development, and 'language impairment' (LI) to encompass those whose language development is significantly below age level for no apparent reason.
Method
Data collection conformed to the Declaration of Helsinki, and ethics approval was obtained from Oxford University's Experimental Psychology Research Ethics Committee. Parents of participating children gave informed consent, and children gave verbal assent, as agreed by the Ethics Committee. Children were seen in a quiet room at home or school by a trained research assistant. Motor tasks were interleaved within a battery of language and reading ability tests, in a session lasting no longer than 2 h.
Results
Means for each subgroup on the selection variables, nonverbal ability and SES are shown in Table 1.
Multilevel modelling
Figure 1 shows mean raw scores on the four motor tests in relation to language and reading impairment. Log- or rank-transformed scores, as described above, were used in the analysis where appropriate to improve normality. F-ratios for the fixed effects and interaction are shown in Table 2.

Effect
Statistic
Finger
tapping
Finger
sequences
Purdue
pegboard
Imitation of hand
positions
LI
F
0.07
0.06
5.85*
6.42*
DF
1,246.6
1,245.9
1,247.8
1,238.8
p
.796
.812
.016
.012
Cohen's d
.034
.030
.316
.318
RD
F
0.02
3.0
0.92
0.48
DF
1,247.4
1,247.8
1,245.8
1,247.0
p
.900
.084
.338
.488
Cohen's d
.017
.208
.116
.082
LI × RD
F
1.91
0.05
0.11
0.03
DF
1,226.2
1,224.0
1,230.9
1,209.4
p
.169
.830
.736
.874
Sex
F
2.78
0.57
0.56
2.49
DF
1,152.1
1,153.04
1,148.5
1,151.8
p
.098
.452
.454
.116
Different patterns of results were found for the four motor tasks. On the NEPSY Repetitive Fingertip Tapping and Sequential Fingertip Tapping tasks, there was no significant effect of LI or RD, and no interaction between these factors. In contrast, on the Purdue Pegboard and NEPSY Imitating Hand Positions test there was a significant effect of LI. The effect of RD was not significant and there was no interaction between the two conditions.
Correlations
Figure 2 shows the correlations between cognitive tests and motor tests after partialling out Block Design. Results for the two subsamples of twins (each containing one member of a twin pair, selected at random) are shown separately. The full sample was used for this analysis. For a sample of this size, a correlation of .17 is significant at .05 level, a correlation of .23 is significant at .01 level, and a correlation of .29 is significant at .001 level. None of the correlations with finger-tapping were consistently found in both samples at the .05 level.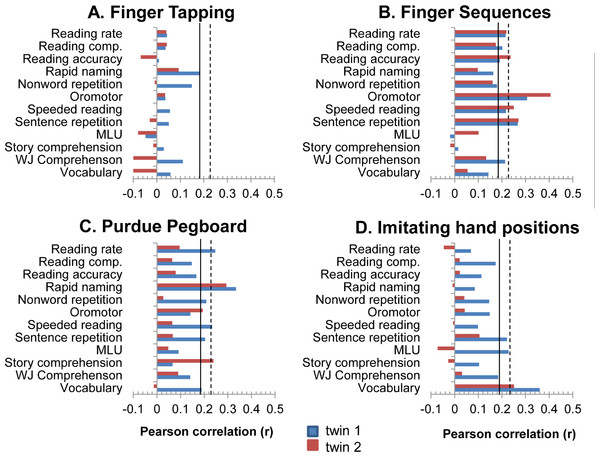 The NEPSY Sequential Fingertip Tapping task had consistent, though modest, correlations with speeded reading (TOWRE average) and the NARA subtests, as well as with Sentence Repetition. For this task, the highest correlation in both subsamples was with NEPSY Oromotor Sequences, suggesting that there may be a common core involvement of motor systems in sequencing speech and finger movements.
The Purdue Pegboard task was reliably correlated with Rapid Serial Naming, but correlations with individual language tasks were mostly inconsistent from twin to twin. NEPSY Imitating Hand Positions also showed an inconsistent pattern of correlations in the two subsamples of twins. Only WASI Vocabulary was consistently significantly correlated with this test in both subsamples.
Discussion
Our first question was whether motor deficits are associated with RD in children who do not have additional LI. A large sample of twin children was divided into those with RD, those with LI, those with RD + LI and those with no language or literacy problems (TD). When these four groups were compared on performance on four motor tests, we found that LI status rather than RD status was associated with poor performance on two measures. This suggested that associations between motor impairments and RD may be largely driven by comorbid language difficulties. Furthermore, motor tasks show different patterns of association with LI. This leads to our second question: whether some specific aspects of motor function are linked with language difficulties. We will consider the results in terms of the extent to which motor tasks stressed speed, sequencing and imitation.
Supplemental Information
Consent form used for parents of participants
SPSS script for mixed models analysis of dependent variable Purdue_raw, with factors LI and RD, and sex as covariate