The wings before the bird: an evaluation of flapping-based locomotory hypotheses in bird antecedents
Published

Accepted

Received
Academic Editor
Subject Areas

Keywords

Flight

,

WAIR

,

Maniraptora

,

Macroevolution

,

Theropoda

,

Flap running

,

Flight stroke
Copyright

©

2016

Dececchi et al.

Licence

This is an open access article distributed under the terms of the Creative Commons Attribution License, which permits unrestricted use, distribution, reproduction and adaptation in any medium and for any purpose provided that it is properly attributed. For attribution, the original author(s), title, publication source (PeerJ) and either DOI or URL of the article must be cited.
Cite this article

2016

.

The wings before the bird: an evaluation of flapping-based locomotory hypotheses in bird antecedents

.

PeerJ

4

:

e2159

https://doi.org/10.7717/peerj.2159
Abstract
Background: Powered flight is implicated as a major driver for the success of birds. Here we examine the effectiveness of three hypothesized pathways for the evolution of the flight stroke, the forelimb motion that powers aerial locomotion, in a terrestrial setting across a range of stem and basal avians: flap running, Wing Assisted Incline Running (WAIR), and wing-assisted leaping.
Methods: Using biomechanical mathematical models based on known aerodynamic principals and in vivo experiments and ground truthed using extant avians we seek to test if an incipient flight stroke may have contributed sufficient force to permit flap running, WAIR, or leaping takeoff along the phylogenetic lineage from Coelurosauria to birds.
Results: None of these behaviours were found to meet the biomechanical threshold requirements before Paraves. Neither was there a continuous trend of refinement for any of these biomechanical performances across phylogeny nor a signal of universal applicability near the origin of birds. None of these flap-based locomotory models appear to have been a major influence on pre-flight character acquisition such as pennaceous feathers, suggesting non-locomotory behaviours, and less stringent locomotory behaviours such as balancing and braking, played a role in the evolution of the maniraptoran wing and nascent flight stroke. We find no support for widespread prevalence of WAIR in non-avian theropods, but can't reject its presence in large winged, small-bodied taxa like Microraptor and Archaeopteryx.
Discussion: Using our first principles approach we find that "near flight" locomotor behaviors are most sensitive to wing area, and that non-locomotory related selection regimes likely expanded wing area well before WAIR and other such behaviors were possible in derived avians. These results suggest that investigations of the drivers for wing expansion and feather elongation in theropods need not be intrinsically linked to locomotory adaptations, and this separation is critical for our understanding of the origin of powered flight and avian evolution.
Introduction
Evolution of powered flight in vertebrates was a key innovation that spurred the evolutionary success of birds, bats, and pterosaurs (Sears et al., 2006; Butler et al., 2009; Benson & Choiniere, 2013). Of the three radiations, the theropod to bird transition has garnered the most interest and scholarship due to the higher quality of the fossil record documenting the origin and refinement of their flight including: the evolution of feathers, reduced body size, an avian-like physiology and respiration, elongate forelimbs, and modifications of the pectoral and forelimb musculoskeletal system (Baier, Gatesy & Jenkins, 2007; Codd et al., 2008; Dececchi & Larsson, 2009; Dececchi & Larsson, 2013; Makovicky & Zanno, 2011; Benson & Choiniere, 2013; Brusatte et al., 2014; Xu et al., 2014). Despite the wealth of fossil evidence documenting this transition deducing the origin and subsequent evolution of the flight stroke, a biomechanical innovation that permitted aerial locomotion, remains elusive.
The flight stroke of extant birds traces a complex ellipsoidal path that is controlled by derived muscle origins and insertions and modified shoulder, elbow, and wrist joints and ligaments (Gatesy & Baier, 2005). Many antecedent functions of the flight stroke have been proposed. These include a raptorial function of the forelimbs for fast prey capture (Ostrom, 1974), behavioural precursors such as courtship, balance, or warning displays (Fowler et al., 2011; Foth, Tischlinger & Rauhut, 2014), as well as locomotory functions (Caple, Balda & Willis, 1983; Dial, 2003; Chatterjee & Templin, 2007).
Powered flight differs from gliding flight in that it uses active flapping to generate thrust. Some models of the origin of avian flight propose antecedents living in trees and deriving the flight stroke from a parachuting or gliding stage (Chatterjee & Templin, 2004; Alexander et al., 2010; Dyke et al., 2013) based primarily on the observation that many modern arboreal tetrapods perform similar behaviors (Dudley et al., 2007; Evangelista et al., 2014). Yet nearly all stem avians have hindlimb morphologies that compare most closely to extant cursorial tetrapods (Dececchi & Larsson, 2011) and a multivariate analysis of limb element lengths recovered the earliest birds as most similar to extant terrestrial foragers (Bell & Chiappe, 2011; Mitchell & Makovicky, 2014). The only theropod taxa that may diverge from this are Scansoriopterygidae, a clade known from four small, fragmentary specimens, but presenting intriguing and radically divergent morphologies from other maniraptoran theropods. Notably, when preserved, they possess large pedal and manual phalangeal indices, a reduced crural index, a reduced hindlimb length, and reduced limb integument not seen in avian antecedents, including paravians (Glen & Bennett, 2007; Bell & Chiappe, 2011; Dececchi & Larsson, 2011; Dececchi, Larsson & Hone, 2012). One scansoriopterygid may even possess a skin patagium that may have functioned as an airfoil (Xu et al., 2015). These putative gliding structures are extremely divergent from other theropods and likely represent a convergent pathway to becoming volant.
Of all the models for the origin of the flight stroke from a terrestrial life history two major categories exist: those that have locomotory functional aspect are flap running (Burgers & Chiappe, 1999), wing assisted incline running or WAIR (Dial, 2003), and vertical leaping (Caple, Balda & Willis, 1983). Behaviors in the second category are non-locomotory behaviors, such as balancing during prey capture (Fowler et al., 2011) and braking during high-speed turns (Schaller, 2008). The three stringent locomotory behaviours (WAIR, flap running and vertical leaping) are variations on a proto-flight stroke assisting in force generation to increase ground and launch velocities (Burgers & Chiappe, 1999) or to assist in ascending steep inclines to facilitate escape to elevated refuges such as into trees or up inclined rock faces (Dial, 2003). All three are present throughout much of extant bird diversity and have been areas of research into the possible pathways for the origins of powered flight.
WAIR is a behaviour observed primarily as a means of predator escape, especially in pre-flight capable juveniles (Tobalske & Dial, 2007; Dial, Jackson & Segre, 2008; Jackson, Segre & Dial, 2009; Heers & Dial, 2012; Heers, Dial & Tobalske, 2014). This has been suggested to provide a series of functional and morphological stages using immature age classes of extant individuals as proxies for transitional evolutionary stages from basal coelurosaurs to volant birds (Dial, Randall & Dial, 2006; Heers & Dial, 2012). This has been most thoroughly studied in the Chukar partridge (Alectornis chukar, hereafter referred to as Chukars), though work has been done in other extant birds such as the Brush Turkey (Alectura lathami) and Peafowl (Pavo cristatus) (Heers & Dial, 2015). At the earliest juvenile stages Chukars (0–5 days post hatching [dph] and < 20 g) either crawl or asymmetrically flap their wings to produce forces of approximately 6–10% of their body weight (Jackson, Segre & Dial, 2009; Heers, Tobalske & Dial, 2011; Heers, Dial & Tobalske, 2014) to ascend inclines of less than 65°, slightly greater than the level that they can ascend using their legs alone (55–60°) (Bundle & Dial, 2003; Dial, Randall & Dial, 2006). At these low angles, the primary locomotory forces are generated from the hindlimbs but this changes when higher angles are attempted (Bundle & Dial, 2003). To ascend to sub vertical angles, juvenile and older individuals must produce forces equaling a minimum of 50% of their body weight (Dial & Jackson, 2011). Larger birds with masses greater than 0.8 kg such as adult Brush Turkeys or Peafowl struggle to WAIR at this level (Dial & Jackson, 2011; Heers & Dial, 2015). Low angle WAIR has been hypothesized to be present throughout Coelurosauria and sub vertical WAIR minimally at Paraves (Dial, 2003; Heers & Dial, 2012; Heers, Dial & Tobalske, 2014).
Vertical leaping (both from the ground and perches) begins as an effectively ballistic process in flying animals, initiated by the hindlimbs in birds (Heppner & Anderson, 1985; Bonser & Rayner, 1996; Earls, 2000; Tobalske, Altshuler & Powers, 2004), bats (Schutt et al., 1997; Gardiner & Nudds, 2011), and insects (Nachtigall & Wilson, 1967; Nachtigall, 1968; Nachtigall, 1978; Schouest, Anderson & Miller, 1986; Trimarchi & Schneiderman, 1995; Dudley, 2002). Immediately after the ballistic phase is initiated, the wings are engaged for the climb out phase of launch. Leaping takeoffs are common among small to medium sized birds (Provini et al., 2012) but are also present in many larger birds including Turkeys (Tobalske & Dial, 2000), Peafowl (Askew, 2014), Tinamou (Silveira et al., 2001) as well as herons, storks, eagles, and vultures) (TA Dececchi and MB Habib, 2015, personal observations). The largest living flying birds, Kori bustards, are documented to use a very short run before launch (Prozesky, 1970), though large captive specimens have demonstrated a true leaping takeoff, as well (MB Habib, 2014, personal observations). Caple, Balda & Willis (1983) proposed as a model for the origin of flight in birds, especially in smaller taxa. Flap-running is used in some extant birds, especially semi aquatic species, to accelerate to takeoff speeds whether starting from a water or land launch (though mostly associated with compliant surfaces, e.g. water–see Earls, 2000).
Here we present biomechanical models to test when and if a flight stroke may have contributed to flap running, WAIR, or leaping takeoff along the phylogenetic lineage from Coelurosauria to birds and if these models coincide with the evolution of pennaceous feathers and musculoskeletal adaptations for flight. Our goal is to take evolutionary narratives about pathways to flight origins and evaluate them using quantitative, mechanical models derived from living birds. Although feathery integument is likely to have been a synapomorphy for all dinosaurs and perhaps even all ornithodirans (Godefroit et al., 2014 but see Barrett, Evans & Campione, 2015), the evolution of pennaceous forelimb and hindlimb feathers has been hypothesized to have been driven by selection for locomotion (Burgers & Chiappe, 1999; Xu et al., 2003; Dial, Randall & Dial, 2006; Heers, Tobalske & Dial, 2011). Thus we set up a testing regime to determine if non-avian theropods could produce biomechanical values that fit within the realms of those measured in modern animals exhibiting these behaviors, and if is there a decoupling of the timing of the success in these behaviours from the origin of previous proposed flight related traits.
Materials and Methods
Due to uncertainty regarding soft tissues in fossil organisms, some variables were treated as constants in the taxa modeled and based on values for extant birds. These include feather material properties, arrangement and muscle power. Using these values provided conservative estimates in the sense that they would yield more capable performances for taxa that may lie near biomechanical thresholds. Wing feather arrangements for some fossils appear to be similar to modern birds (Elżanowski, 2002; Xu et al., 2003; Foth, Tischlinger & Rauhut, 2014) though for some taxa this has been disputed (Xu, Zheng & You, 2010; Longrich et al., 2012).
A greater source of uncertainty and debate is fraction of forelimb muscle mass that is due to the M. pectoralis and its potential power output. Extant birds have extremely large wing muscles, as a proportion to their bodyweight (Marden, 1987). The mass of M. pectoralis for birds' ranges between 10–20% of total body mass (Greenewalt, 1975; Askew, Marsh & Ellington, 2001), and total flight muscle fractions for birds can reach 40% (Hartman, 1961; Greenewalt, 1962). This is significantly larger than that estimated in non-avian theropods or early birds. For example, Archaeopteryx's pectoral muscles are estimated at only 0.5% of its body mass (Bock, 2013) with the entire forelimb (including bone and all other tissues) at 11–14% (Allen et al., 2013). For our analysis, we calculated values for power available from the forelimb and hindlimb based on the assumption that non-avian theropods had forelimb muscle mass fractions of 10% their total mass and that hindlimb muscle mass fractions were 30% of total mass. These values are likely significant overestimations for non-paravians pectoral regions, but the pelvic region values are within the range previous estimated for non-avian maniraptorans (Allen et al., 2013), whose estimates do not include the M. caudofemoralis. The pectoral muscle values we assigned are similar to estimates of pectoral region mass in Microraptor and Archaeopteryx, though those estimates are based on the entire pectoral region tissues (except feathers) and thus the relative mass of the pectoral musculature is likely smaller.
Yet power and muscle mass may not be the main determinant for the use of wings as locomotory structures. Jackson, Tobalske & Dial (2011) estimated that pigeons, with approximately 20% of their body mass as pectoralis muscles, only used approximately 10% of their mass-specific power for low angle WAIR. Further, it has been suggested that power output itself may not determine flight ability, but lift to power ratio (Marden, 1987). For this analysis we have assumed extant bird power productions and metabolic capacities for short "burst" activities for non-avian theropods and early birds. Although paravian metabolism was not at the levels seen in extant birds, it was sufficient to perform short burst activities (Erickson et al., 2009). Regardless, as our methodology uses wing-beat frequency in conjunction with body size and wing arc measures to generate a lift production value, we are not dependent on either theory (power or lift force) to produce meaningful results.
Results
Wing loading
Increase in WAIR ability broadly corresponds to decreased wing loading in Chukars (Heers & Dial, 2015), something noted in other galliform birds (Dial & Jackson, 2011). Thus wing loading values may offer a rough comparison between non-avian theropod specimens and Chukars of a similar body mass. Among non-avian theropods, wing loading values ranged from 46 N/m2 (Microraptor) to over 11,000 N/m2 (Sinosauropteryx). Of the thirty-four non-avian specimens included, only eight, representing five genera (all are deinonychosaurs) showed loading values less than that seen in 1-day-old Chukars (170 N/m2), the highest values recorded across ontogeny. 1-day-old Chukar chicks do not WAIR, can only surmount inclines of less than 48° still performed asynchronous wing beats and their wings make prolonged contacts with the substrate in a crawling fashion (Jackson, Segre & Dial, 2009; Heers & Dial, 2015). No non-paravian showed values less than the 160 N/m2 measured at 3 dph Chukars, with most pennaraptorans at values 2–8 times that seen at even the highest Chukar chick loadings (Table 1; Fig. 1). Focusing on the embryonic and early ontogenetic stage specimens in our analysis, to test whether WAIR was possible at early ages and lost through ontogeny, we recovered loading values again significantly higher than the highest values seen during Chukar ontogeny, with values 126–234% those of 1-day-old chicks which were also significantly smaller. For comparison, the hatchling size Similicaudipteryx specimen (STM 4-1) had a body mass estimated at approximately 63 g, similar to a 17 dph Chukar chick (stage II), but wing loading values of 372 N/m2, 5.8 times higher than seen in the 17 dph chick and over twice that seen in 3 dph Chukars due to Similicaudipteryx having a wing area only the size of a 6 dph chick which weight approximately 16 g. This suggests that none of the non-paravian theropods could perform the lowest levels of WAIR, even disregarding their limited range of motion and flapping frequency compared to juvenile extant avians. None of the Mesozoic avian taxa, under either mass reconstruction, showed loading values above 74 N/m2, which corresponds to approximately 11 dph (stage II) Chukar chicks, which is approximately the time where fledgling begins (Harper, Harry & Bailey, 1958; Christensen, 1996).
WAIR
At a CoM velocity of 1.5 m/s nine of thirty-four specimens of non-avian theropods reached the minimal benchmark for level 1 WAIR (0.06 bw) under at least one of the three flapping speed and flap angle permutations (Fig. 2; Tables 3 and S4–S6). When the velocity was decreased to 0.6 m/s number that succeed decreased to eight as the Sinornithosaurus specimen based on the measurements of Sullivan et al. (2010) failed to achieve the 0.06 bw benchmark (Fig. 2; Table 3). All are deinonychosaurs. Three specimens (the larger Similicaudipteryx specimen, and the smaller mass estimates for Yixianosaurus and Yulong) approach the WAIR level 1 criteria, but none yield values higher than 0.05 bw, and this only under the MOD reconstruction at the highest abduction angle. All specimens of Microraptor and the smaller specimens of Anchiornis and Eosinopteryx yielded bodyweight support values above 0.06 bw across all permutations at 1.5 m/s whereas at 0.6 m/s only the smaller Anchiornis and Microraptor gui specimens achieve this. Within non-avian theropods using a 90° flap angle at 1.5 m/s, only a single specimen of Microraptor gui (BMNHC PH881) has body weight support values reaching the 0.5 bw cutoffs for WAIR level 2, though the larger specimen (IVPP V 13352) comes close under the MOD reconstruction (Tables 3 and S4–S6). At 50° only the smaller Anchiornis, Changyuraptor, Eosinopteryx and all 3 Microraptor specimens, achieve the 0.06 bw benchmark at 1.5 m/s and this decreases to only the smaller Anchiornis and Microraptor at 0.6 m/s. No non-avians or Archaeopteryx achieved bw support values higher than 0.33 under the 50° at 1.5 m/s and only Microraptor gui, Archaeopteryx specimens and the smaller Anchiornis reaching a minimal of 0.1 bw under this permutation.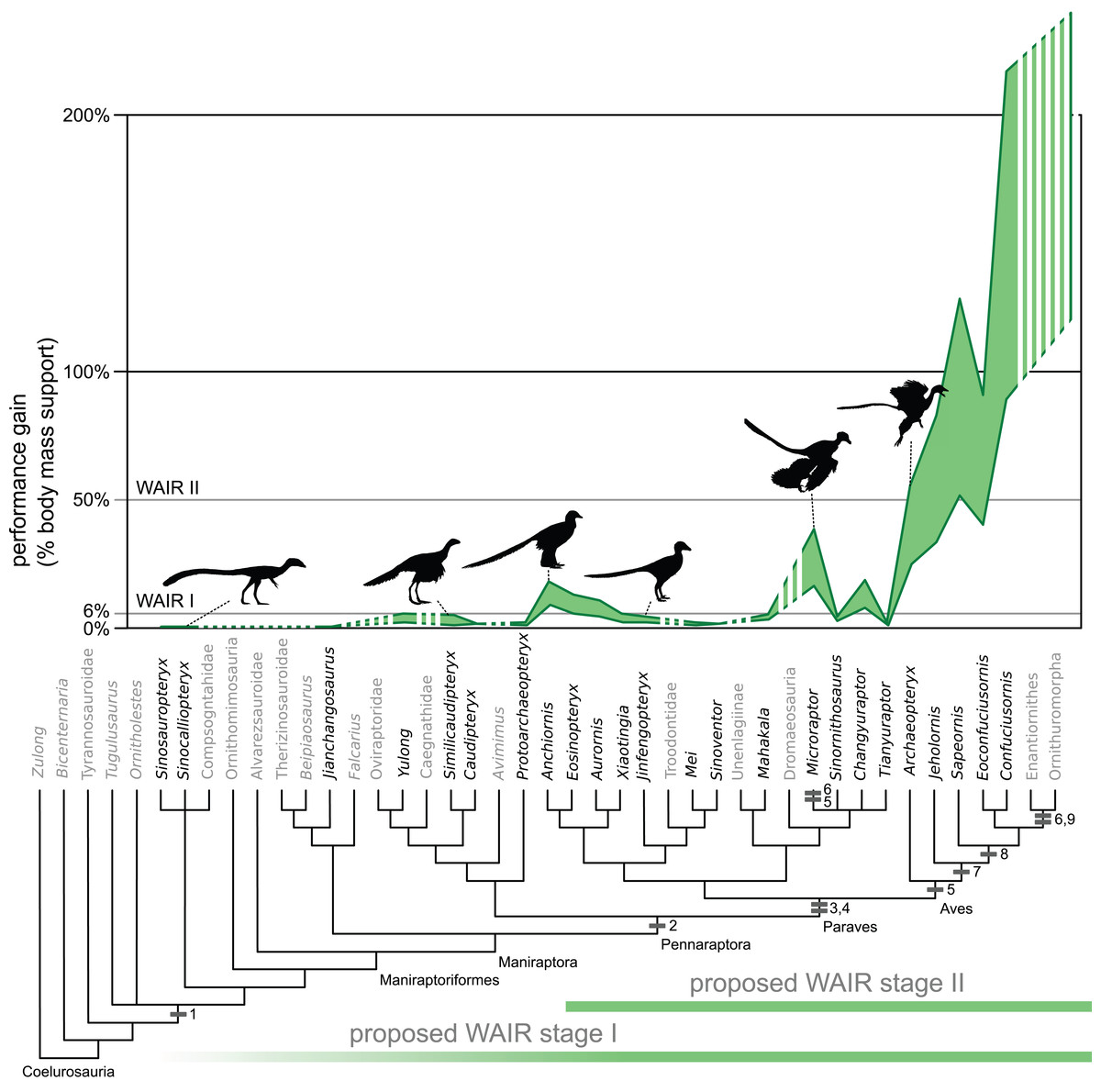 | Taxa | Specimen | M/S | bw All | bw GF | bw MOD | M/S | bw All | bw GF | bw MOD |
| --- | --- | --- | --- | --- | --- | --- | --- | --- | --- |
| Anchiornis | BMNHCPH828 | 1.5 | 0.24 | 0.22 | 0.22 | 0.6 | 0.17 | 0.15 | 0.15 |
| Anchiornis | LPM B00169 | 1.5 | 0.10 | 0.09 | 0.12 | 0.6 | 0.06 | 0.06 | 0.08 |
| Archaeopteryx | 11th | 1.5 | 0.70/0.37 | 0.62/0.33 | 0.78/0.46 | 0.6 | 0.52/0.27 | 0.45/0.23 | 0.59/0.34 |
| Archaeopteryx | Berlin | 1.5 | 0.67/0.38 | 0.60/0.34 | 0.74/0.46 | 0.6 | 0.50/0.27 | 0.43/0.24 | 0.56/0.34 |
| Archaeopteryx | London | 1.5 | 0.57/0.28 | 0.50/0.25 | 0.67/0.37 | 0.6 | 0.42/0.20 | 0.37/0.17 | 0.51/0.27 |
| Archaeopteryx | Munich | 1.5 | 0.66/0.39 | 0.59/0.34 | 0.68/0.43 | 0.6 | 0.48/0.28 | 0.42/0.24 | 0.51/0.32 |
| Archaeopteryx | Thermopolis | 1.5 | 0.71/0.41 | 0.63/0.37 | 0.75/0.47 | 0.6 | 0.52/0.29 | 0.46/0.26 | 0.56/0.34 |
| Archaeopteryx | Eichstatt | 1.5 | 0.42/0.29 | 0.38/0.26 | 0.39/0.28 | 0.6 | 0.30/0.20 | 0.26/0.17 | 0.27/0.19 |
| Aurornis | YFGP-T5198 | 1.5 | 0.08 | 0.07 | 0.10 | 0.6 | 0.05 | 0.05 | 0.07 |
| Caudipteryx | IVPP 12344 | 1.5 | 0.01 | 0.01 | 0.02 | 0.6 | 0.01 | 0.00 | 0.01 |
| Caudipteryx | IVPP 12430 | 1.5 | 0.01 | 0.01 | 0.01 | 0.6 | 0.00 | 0.00 | 0.01 |
| Changyuraptor | HG B016 | 1.5 | 0.11 | 0.10 | 0.25 | 0.6 | 0.05 | 0.05 | 0.14 |
| Citipati | MPC-D100/971 | 1.5 | 0.03 | 0.03 | 0.03 | 0.6 | 0.02 | 0.02 | 0.02 |
| Eosinopteryx | YFGP-T5197 | 1.5 | 0.12 | 0.11 | 0.12 | 0.6 | 0.08 | 0.07 | 0.08 |
| Jianchangosaurus | 41HIII-0308A | 1.5 | 0.00 | 0.00 | 0.00 | 0.6 | 0.00 | 0.00 | 0.00 |
| Jinfengopteryx | CAGS-IG 04-0801 | 1.5 | 0.03 | 0.02 | 0.03 | 0.6 | 0.02 | 0.01 | 0.02 |
| Mahakala | IGM 100/1033 | 1.5 | 0.04 | 0.03 | 0.05 | 0.6 | 0.02 | 0.02 | 0.03 |
| Mei long | DNHM D2154 | 1.5 | 0.01 | 0.01 | 0.02 | 0.6 | 0.01 | 0.01 | 0.01 |
| Mei long | IVPP V12733 | 1.5 | 0.01 | 0.01 | 0.01 | 0.6 | 0.00 | 0.00 | 0.01 |
| Microraptor | BMNHC PH 881 | 1.5 | 0.49 | 0.43 | 0.50 | 0.6 | 0.35 | 0.31 | 0.36 |
| Microraptor | IVPP V 13352 | 1.5 | 0.28 | 0.25 | 0.42 | 0.6 | 0.20 | 0.17 | 0.32 |
| Microraptor hanqingi | LVH 0026 | 1.5 | 0.14 | 0.12 | 0.24 | 0.6 | 0.08 | 0.07 | 0.15 |
| Oviraptor in sedis | MPC-D100/1018 | 1.5 | 0.05 | 0.04 | 0.03 | 0.6 | 0.03 | 0.03 | 0.02 |
| Protarchaeopteryx | GMV2125 | 1.5 | 0.00 | 0.00 | 0.01 | 0.6 | 0.00 | 0.00 | 0.00 |
| Similicaudipteryx | STM22-6 | 1.5 | 0.02 | 0.02 | 0.05 | 0.6 | 0.01 | 0.01 | 0.03 |
| Similicaudipteryx | STM4-1 | 1.5 | 0.02 | 0.02 | 0.02 | 0.6 | 0.01 | 0.01 | 0.01 |
| Sinocalliopteryx | JMP-V-05-8-01 | 1.5 | 0.00 | 0.00 | 0.00 | 0.6 | 0.00 | 0.00 | 0.00 |
| Sinornithoides | IVPP V9612 | 1.5 | 0.01 | 0.01 | 0.01 | 0.6 | 0.00 | 0.00 | 0.01 |
| Sinornithosaurus | NGMC-91A | 1.5 | 0.01 | 0.01 | 0.01 | 0.6 | 0.00 | 0.00 | 0.01 |
| Sinornithosaurus | Sullivan et al. (2010) | 1.5 | 0.05 | 0.05 | 0.06 | 0.6 | 0.03 | 0.03 | 0.04 |
| Sinosauropteryx | NICP 127587 | 1.5 | 0.00 | 0.00 | 0.00 | 0.6 | 0.00 | 0.00 | 0.00 |
| Sinosauropteryx | NIGP 127586 | 1.5 | 0.00 | 0.00 | 0.00 | 0.6 | 0.00 | 0.00 | 0.00 |
| Sinovenator | IVPP V11977 | 1.5 | 0.01 | 0.01 | 0.01 | 0.6 | 0.00 | 0.00 | 0.01 |
| Tianyuraptor | STM1–3 | 1.5 | 0.00 | 0.00 | 0.00 | 0.6 | 0.00 | 0.00 | 0.00 |
| Troodon embryo | MOR 246-1 | 1.5 | 0.04 | 0.04 | 0.03 | 0.6 | 0.02 | 0.02 | 0.02 |
| Xiaotingia | STM 27-2 | 1.5 | 0.03 | 0.03 | 0.05 | 0.6 | 0.02 | 0.02 | 0.03 |
| Yixianosaurus | IVPP 12638 | 1.5 | 0.03/0.02 | 0.03/0.02 | 0.05/0.03 | 0.6 | 0.02/0.01 | 0.02/0.01 | 0.03/0.02 |
| Yulong | 41HIII-0107 | 1.5 | 0.03 | 0.03 | 0.04 | 0.6 | 0.02 | 0.02 | 0.02 |
| Zhenyuanlong | JPM-0008 | 1.5 | 0.02 | 0.01 | 0.04 | 0.6 | 0.01 | 0.01 | 0.03 |
Among Mesozoic birds, the different mass estimation methods produced significantly different body weight support values and are more prominent in the most basal birds in our analysis Sapeornis and Jeholornis (Fig. 2; Tables S4–S6). All basal avians show the capability of level 1 WAIR (bw support values of 0.06 or greater) under all flap frequencies estimates, mass estimates or flap angles used here and no avians showing values below 0.1 bw under any permutation. In Archaeopteryx, there is no clear trend in WAIR capability and allometry as all specimens besides the Eichstatt individual show a similar range of body weight support values (Table 3). At the higher flap angle and lower mass, all avians show the capability for level 2 WAIR (> 0.5 bw). All birds more derived than Archaeopteryx yield a body weight support values in excess of 1.0 bw at their lower mass estimate at 1.5 m/s 90° flap angle under all 3 flap frequencies, except for Sapeornis where the smaller specimen exceeds 1.0 bw only under the MOD permutation. Of note, the values recovered for more derived avians are significantly higher than those observed in experimental data (Tobalske & Dial, 2007) or calculated using extant measurements (Tables 2 and S7) and well above the 1.0 threshold for takeoff. This suggests that these taxa could have performed this behavior at lower wing beat frequencies, body velocities and flap angles than the values used here, as seen in some extant birds (Jackson, Tobalske & Dial, 2011), or that physiology and power production differed between extant and basal birds (Erickson et al., 2009; O'Connor & Zhou, 2015), or a combination of both. If the latter is correct, it suggests our measurements for non-avian theropods overestimate the power production potential in these taxa, and thus overestimate their WAIR capabilities.
Flap running
Among non-avian theropods, flap running peaked in effectiveness within small-bodied paravians (Fig. 3; Table S8). With a 90° flap angle, the smaller Anchiornis specimen and Microraptor gui were the only non-avian taxa to show increases greater than 1.0 m/s under all permutations (71–79 and 75–208% performance increases, respectively), although only Microraptor achieved speeds capable of flight. More realistic 50° flap angles yielded only a 23–27 and 26–65% performance increase for these taxa. Among non-paravians, even under the highest flap angle and flap frequency permutations no taxon exceeded an increase of 17% in running speed with the highest values found in the larger specimen of Similicaudipteryx. At flap angles below 90° only the larger Similicaudipteryx and the lighter mass estimated Yixianosaurus specimens among non-paravians yielded velocity increases approaching 10%. Although some paravians had high levels of increased speed, Mahakala, Mei, Jinfengopteryx, Xiaotingia, Tianyuraptor, and Sinovenator showed increases of less 17% under all permutations, with many showing values in the single digits. At 50° only Microraptor sp., Changyuraptor, Eosinopteryx and Anchiornis showed a greater than 10% increase in running velocity. All specimens of Archaeopteryx showed speed increases similar to or greater than those seen in Microraptor and Anchiornis though there is no clear pattern relating body size to speed, as the largest (London) and smallest (Eichstatt) specimens yielded similar values (Table S8). Only Microraptor and all specimens of Archaeopteryx showed the ability to achieve takeoff velocities by this method alone (Table S8).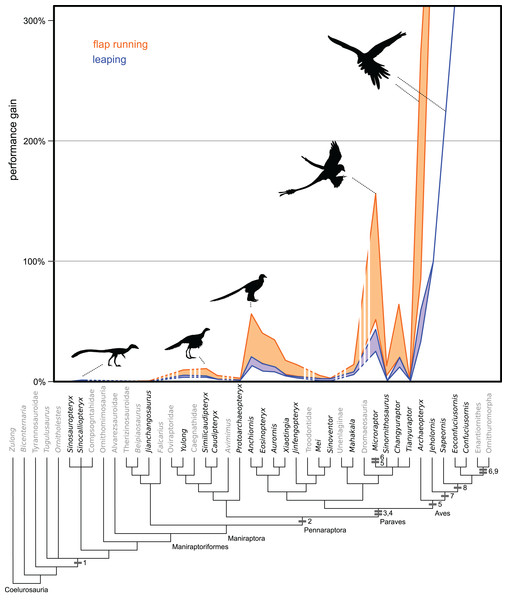 Leaping
The use of forelimbs during jumping was divided into three discrete analyses, one examining the potential of the wings to increase maximum jump height, one to examine distance gained horizontally, and finally to see if the wings could generate enough force to take off from a standing start as seen in most extant birds.
Vertical
No non-paravian gained more than 8% additional height with flapping using the highest flap angles, and most gained less than 3% (Fig. 3, Table S9). Using more reasonable flap angles of 50°, none exceeded 4%. Within paravians, several taxa generated greater than 10% height increases, including Anchiornis, Microraptor, Eosinopteryx, Changyuraptor, Aurornis and all Archaeopteryx specimens (Table S9). Despite this most troodontids, both the "short armed" Jehol Dromaeosaurs, Mahakala and Sinornithosaurus showed values more similar to non-paravians, between 1–8.5% increase in height. Of interest, the "four winged" taxa used here (Anchiornis, Microraptor, and Changyuraptor) yielded increased height gains on the order of 16–64%, with Microraptor gui specimens showing values in excess of 50% (Fig. 3, Table S9). Even under the lowest flap angle settings, both specimens of M. gui showed leaping height increases of greater than 30%, almost four times the value for the non-paravians under any setting, and Changyuraptor and Microraptor hanqingi showed values of approximately 20%, which is greater than twice the highest value seen in any non-paravian. All Archaeopteryx specimens showed height gains greater than 30% under all mass permutations, with the lighter estimates for the Berlin, Thermopolis and 11th specimen exceeding 190% non-flapping height values. Interestingly the only specimen that did not reach the 50% height gain under any permutation is the Eichstatt specimen, the smallest in our analysis, whose range between 34–48% gains is similar to what is seen in the larger microraptorine specimens (excluding Sinornithosaurus).
Horizontal
Similar to vertical leaping, there was a marked disparity between distance gained in the "four winged" paravian taxa and all others (Table S10). Only one non-paravian Similicaudipteryx STM-22, under the highest setting and at a 45° takeoff angle, showed distance increases of 5% or greater. Among paravians Microraptor, Changyuraptor, the smaller Anchiornis and all species of Archaeopteryx show leaping values greater than 20% non-flapping horizontal distance at the 45° take off, though this drops to 15% at 30°.
Vertical takeoff
Among non-avians, only Microraptor gui achieved body weight supports greater than 1 under any flap angle or flapping frequency permutation under the two avian derived take off speeds assessed. No non-paravian showed values greater than 0.15 bw under these conditions (Tables S11–S13). Outside of Microraptor, Changyuraptor and the smaller specimen of Anchiornis, deinonychosaurians did not have values beyond 0.5 bw under either speed or any flap frequency permutation. In avians at the lower body weight estimate, all taxa showed values greater than 1.0 bw at the high end of their flapping angle range. At the higher mass estimates, multiple specimens of Archaeopteryx showed levels below 1.0 bw, with the lowest values seen in the Eichstatt and London specimens (Tables S11–S13). Many extant avians use launch speeds between 1.5 m/s and 3.8 m/s (Earls, 2000; Berg & Biewener, 2010; Heers, Dial & Tobalske, 2014). At these takeoff speeds avians more derived than Archaeopteryx achieved values in excess of 1.0 bw, with the exception of the larger mass estimates of Sapeornis under the ALL and GF flapping estimates (Tables S4–S6 and S11–S13). At the higher speed of 5.1 m/s, achievable by strong leapers, beyond Microraptor the only other non-avian theropods to achieve greater than 1.0 bw support was the smaller specimen of Anchiornis under a single flap rate permutation at 90° flap angle.
Discussion
A major challenge of attempting to create models that examine evolutionary transitions is that of efficiency versus effectiveness. Evolved traits may need to only function at some basic level, rather than contribute high degrees of functional adaptation. Thus, an argument against our use of thresholds, such as a 6% body weight support as the minimum for WAIR, is that smaller values, such as 5% or even 1%, may still provide selective advantages for individuals. Although this line of thought is defensible, we suggest a challenge to this. The first is that these low values are not testable in the sense that there are not physically defined thresholds to demarcate when a behaviour may or may not function. Without these parameters to test, any discussion becomes a story-telling scenario. In addition, we have used liberal parameters in reconstructing extinct taxa based on output values measured in modern, derived avians. This optimistic reconstruction of the possible ignores that non-avian theropods have additional functional restrictions based in their musculoskeletal, neuromuscular and integumentary systems not present in extant birds. The minimal age of origin for powered flight in avian theropods where is 130 million years ago (Wang et al., 2015) and this behavior and all its functional and morphological components have been under refinement through selection ever since. Thus, we postulate that the claim that non-avian theropod would be able to perform functions at output levels below the threshold minimums seen in extant avian taxa difficult to defend. For example, flapping frequency and flap angle have large effects on the resulting body weight support values and using avian take off values are likely significant over estimations for values obtainable in most if not all the taxa sampled here. Our use of a velocity of 1.5 m/s is based on the speed of adult Chukars, whose WAIR ability is much greater than proposed of any non-avian taxa examined here. Using juvenile values (0.6 m/s of stage I) reduces the bw support values by approximately one third. Additionally, by using coefficient of lift values of 1, which is higher than is seen in a 20 dph Chukar at 45° angle of attack (stage II per Jackson, Segre & Dial, 2009), we are likely highly positively biasing the results. Thus, we argue that due to our relaxed constraints and the significantly higher wing loadings to that seen in any stage of Chukar development (even the asymmetrical crawling stage of 1–3 dph from Jackson, Segre & Dial, 2009), the taxa sampled here that did not reach the 0.06 bw threshold derived from in vivo experiments or meet the wing loading values seen in the earliest stages of ontogeny should not be considered WAIR capable. Although we do not have in vivo derived values to compare with leaping and flap running estimates, it is not parsimonious to propose that small incremental increases measured only under unnaturally lenient conditions support a behavior.
For all behaviours tested here there is a sharp contrast in performance levels between a small number of paravian taxa (Microraptor, Anchiornis, Changyuraptor, Aurornis and Eosinopteryx) and all other non-avian taxa. This discrepancy is marked not only because it does not correlate to the origin of pennaceous feathers at pennaraptora but it also does not include all members of Paraves within the high performing category. Multiple small bodied and basal members of both deinonychosaurian subgroups, such as Mahakala, Xiaotingia, Jinfengopteryx, Mei, Sinovenator and Sinornithosaurus, show little evidence of benefit from flapping assisted locomotion. As these taxa are similar in size to the paravians that do show potential benefits, the argument that this loss is a byproduct of allometry is not possible. Allometric loss of performance is possible though in the larger, feathered dromaeosaurs like Velociraptor (∼15 kg, Turner et al., 2007) or Dakotaraptor (∼350 kg, Depalma et al., 2015), but our data from embryonic maniraptorans does not support this postulate. As our measurements for the small paravian wing areas are based either on preserved feather length (Sinornithosaurus) or on long feathered close relatives (Anchiornis for Xiaotingia, Jinfengopteryx, Mei, Sinovenator and Microraptor for Mahakala) our values for them are likely overestimates and suggests that locomotion was not a major driver for forelimb evolution, even among small sized paravians.
Conclusion
All models tested here suggest that the feathered forelimbs of all non-paravian theropods and most non-avian theropods were not capable of surpassing the minimal physical thresholds of powered flight and WAIR. The origin of pennaceous feathers was not tied to a dramatic locomotory shift in these early non-avian theropods. Non-paravian taxa such as Caudipteryx, Similicaudipteryx, and Yixianosaurus have forelimb feathers greater than 100 mm in length, and similar sized feathers are suspected on other oviraptorosaurs (Paul, 2002; Hopp & Orsen, 2004), large dromaeosaurs (Depalma et al. 2015) and even ornithomimids (Zelenitsky et al., 2012; van der Reest, Wolfe & Currie, 2016). These structures represent a significant energetic investment for structures that we estimate to have had minimal locomotory benefits. Moreover, the symmetry of the vanes of the pennaceous feathers in these taxa would make the feathers aeroelastically unstable, further constraining their use in a locomotor context (even the pennaceous feathers of microraptorines may have been somewhat unstable during aerial locomotion, with vane asymmetries below the critical values for functional aeroelastic flutter reduction see Feo, Field & Prum (2015)). These taxa also possessed large tail feathers that were likely used for display (Pittman et al., 2013; Persons, Currie & Norell, 2014) and feather melanin based pigmentation likely coincides with the origin of pennaceous feathers (Li et al., 2010; Li et al., 2014). This suggests other non-locomotory functions such as display or brooding were likely significant evolutionary driver for pennaceous feather growth (Hopp & Orsen, 2004; Zelenitsky et al., 2012).
The mosaic evolution of flight related characters suggests the evolution of the flight stroke was not continuous in this clade, nor driven by a single overall driver. If different behavioural traits or selective regimes and not a single locomotory function were driving the evolution of feather elongation, one may not expect the concordance of "pre-flight" characters in different coelurosaur clades or even in all members of a single clade. This would explain the non-uniform distribution of traits such as the elongated forelimbs with well-developed feathers (Dececchi & Larsson, 2013; Godefroit et al., 2013; Foth, Tischlinger & Rauhut, 2014), laterally facing glenoid (Gao et al., 2012), and an ossified sternum for muscle attachment (Zheng et al., 2014).
Although it is beyond the scope of this paper to speculate on which driver or combination of drivers led to feather elongation and forelimb musculoskeletal evolution for powered flight, we suggest that future research not focus on any single event or "pathway" to attempt to explain pre-avian evolution of characters later exapted into the flight apparatus. Given the time between the Paravian-avian split and the appearance of the Jehol microraptorines is approximately 40 million years, estimated from the oldest known paravian Anchiornis (161 Ma) and Microraptor (120 Ma) (Xu, Zhou & Wang, 2000; Xu et al., 2009) a single continuous locomotory based evolutionary driver is unlikely. Moreover, it seems unparsimonious to argue that refining flapping based locomotion was central to the evolution of maniraptorans when the lineages show marked difference in their ecology, body size, limb usage and feather extent.
Although the selective pressures for each of these traits is unknown, what is apparent is it that pennaceous feathers and other critical characters related to the evolution of powered flight were not originally adapted for significantly different locomotion. It is also clear that WAIR was not a major driver for the evolution for much of Maniraptora or even Paraves. These findings reshape how we view the origins of birds and the evolution of different maniraptoran clades and refocus our investigations to look at taxa not as steps of a ladder towards the origin of flight, but as organisms adapting to the unique demands of their immediate behavioural and ecological surroundings.