New lower jaw and teeth referred to Maxakalisaurus topai (Titanosauria: Aeolosaurini) and their implications for the phylogeny of titanosaurid sauropods
1
Laboratório de Paleontologia e Evolução de Petrolina, Colegiado de Ciências Biológicas, Universidade Federal do Vale do São Francisco

,

Petrolina,

,

Pernambuco,

,

Brazil
2
Laboratório de Paleontologia de Ribeirão Preto, FFCLRP, Universidade de São Paulo, Universidade de São Paulo,

,

Ribeirão Preto,

,

São Paulo,

,

Brazil
3
Laboratório de Paleontologia, Instituto de Biologia, Universidade Federal de Uberlândia

,

Uberlândia,

,

Minas Gerais,

,

Brazil
Published

Accepted

Received
Academic Editor
Subject Areas

Keywords

Dinosauria

,

Titanosauria

,

Cretaceous

,

Phylogeny

,

Evolution

,

Bauru Group

,

Adamantina Formation
Copyright

©

2016

França et al.

Licence

This is an open access article distributed under the terms of the Creative Commons Attribution License, which permits unrestricted use, distribution, reproduction and adaptation in any medium and for any purpose provided that it is properly attributed. For attribution, the original author(s), title, publication source (PeerJ) and either DOI or URL of the article must be cited.
Cite this article

2016

. New lower jaw and teeth referred to Maxakalisaurus topai (Titanosauria: Aeolosaurini) and their implications for the phylogeny of titanosaurid sauropods.

PeerJ

4

:

e2054

https://doi.org/10.7717/peerj.2054
Abstract
Sauropod dinosaurs compose a diversified, well known, and worldwide distributed clade, with a stereotyped body plan: deep trunk, elongated neck and tail, columnar limbs and very small skull. In Brazil, the group is represented by ten formally described Cretaceous species, mostly titanosaurs. This is the case of Maxakalisaurus topai, known based on an incomplete and disarticulated skeleton, unearthed from deposits of the Adamantina Formation in Minas Gerais. Here, we report a partial right dentary, including five isolated teeth, collected from the same site as the type-series of M. topai and tentatively referred to that taxon. The bone is gently curved medially, the functional teeth are set on an anterolingual position, and two replacement teeth are seen per alveoli. New morphological data gathered from that specimen was employed to conduct a comprehensive phylogenetic analysis of Titanosauria (with 42 taxa and 253 characters), based on previous studies. The Aeolosaurini clade was recovered, with Gondwanatitan and Aelosaurus as sister taxa, and Maxakalisaurus, Panamericansaurus, and Rinconsaurus forming a basal polytomy.
Introduction
Sauropodomorpha is a clade of herbivorous dinosaurs that originated during the Late Triassic and were prevalent, both in diversity and biomass, in terrestrial biomes during the Middle-Late Mesozoic, with at least 175 valid taxa currently known (Young, 1951; Dodson, 1990; Galton, 1986; Langer et al., 1999; Barret & Upchurch, 2005; Martinez & Alcober, 2009; Mannion et al., 2011; Novas et al., 2011). them, Sauropoda is not only the most diverse clade, but the second most representative dinosaurian group - c. 18% of the non-avian dinosaur diversity (Curry Rogers & Wilson, 2005). The sauropod body plan is unique among terrestrial tetrapods, with a short and deep trunk combined to a very small skull and a very long neck and tail, and massive and columnar limbs that only enables the quadrupedal, graviportal locomotion (Sander et al., 2011; Bates et al., 2016). The earliest diverging forms, such as Vulcanodon, Shunosaurus, and Jobaria, are arranged on successively closer positions to Neosauropoda, which includes Diplodocoidea and Macronaria (Wilson, 2002). Within Macronaria, Titanosauria represents the most speciose clade, corresponding to one of the most abundant Cretaceous dinosaur groups, particularly successful in Gondwana, mainly in the South America mainland (Salgado, Coria, & Calvo, 1997; Wilson, 2002). The group includes early splits (e.g., Phuwiangosaurus) and the Lithostrotia lineage, also including early splits and clades like Nemegtosauridae, Saltasaurinae, Opisthocoelicaudinae, and Aeolosaurini (Apesteguia, 2004; Wilson & Upchurch, 2003; Upchurch, Barrett & Dodson, 2004; Santucci & Arruda-Campos, 2011).
Sauropods are currently represented in Brazil by ten formally proposed Cretaceous taxa (Fig. 1), all within the Titanosauria clade, except for the diplodocoid Amazonsaurus maranhensis (Carvalho, Avilla & Salgado, 2003). Described by Kellner et al. (2006) from deposits of the Adamantina Formation, in Minas Gerais, Maxakalisaurus topai corresponds to one of those titanosaurs, and seems closely related to the Aelosaurini group (Santucci & Arruda-Campos, 2011). The taxon is based on a disarticulated bone assemblage, including an incomplete maxilla, several vertebrae (twelve cervical, seven dorsal, one sacral, and six caudal elements), at least three chevrons, one osteoderm, as well as some scapular and pelvic elements such as scapulae, sternal plates, humeri, metacarpals, ischium, and fibula (Kellner et al., 2006). Recently, new field incursions to the type-locality of M. topai (Kellner et al., 2006; Batezelli, 2015) unearthed the additional specimen here analyzed. The new elements provide data to better understand the morphology and phylogeny of titanosaurids.
Materials and Methods
Material
The new fossil material was collected from a fine to medium grained reddish sandstone of the Adamantina Formation (Bauru Group, Upper Cretaceous), at the type-locality of Maxakalisaurus topai, located about 45 km west of Prata (Minas Gerais), at the Prata-Campina Verde road. The material includes an incomplete right dentary and isolated teeth found on a subparallel arrangement, housed at the Zoological Collection of INBIO/UFU, under numbers MBC-42-PV and MBC-38-PV, respectively. The dentary shows external crackled surface and some longitudinal fractures, an indicative of prolonged subaerial exposure, as also seen in the type-series. The assemblage, collected in an area of 40 m2, consists of supposedly associated and autochthonous remains restricted to a single horizon (Kellner et al., 2006). It also includes isolated turtle shell fragments, crocodylomorph and theropod teeth, and the sauropod bones were all associated to M. topai. The anterior maxillary fragment of the holotype measures approximately 5 cm in length, and bears five alveoli with functional and replacement teeth. The dentary (MBC-42-PV) described here is 8.2 cm in length, close to the size expected for that of the holotype. In addition, the pencil-like teeth of holotypic maxilla is very similar in length and shape to isolated teeth of MBC-38-PV. Put together, these data allow associating MBC-42-PV and MBC-38-PV to M. topai.
Phylogenetic analysis
In order to conduct the phylogenetic study, two recent analyses for Sauropoda (Santucci & Arruda-Campos, 2011; Zaher et al., 2011) were reviewed. Both are based on the original study of Wilson (2002) and relatively well sampled for Brazilian sauropods. The resulting matrix contains 253 characters: 234 originally proposed by Wilson (2002), seven added by Santucci & Arruda-Campos (2011) and twelve by Zaher et al. (2011). Likewise, the 42 terminal taxa correspond to the 29 taxa used in Wilson (2002), plus the nine added by Santucci & Arruda-Campos (2011) and the four added by Zaher et al. (2011). Two heuristic searches were carried out (using Tree Bisection and Reconnection, 10,000 replicates, and hold of 10) on TNT (Goloboff, Farris & Nixon, 2008), with characters 8, 37, 64, 66, and 198 ordered, as in the original analysis of Wilson (2002). In the first analysis, the scoring for M. topai was based only on previous works, whereas the second includes the new data gathered here from the referred dentary and teeth. In addition, Retention and Consistency Indices were obtained for the two analysis, using STATS script on TNT (Goloboff, Farris & Nixon, 2008). Branch-support were evaluated by Bremer support (Bremer, 1994), using Bremer Script on TNT (Goloboff, Farris & Nixon, 2008), and Boostrap analysis (Felsenstein, 1985) also implemented on TNT, with 3,000 replicates for search suboptimal tress in steps with tree bisection-reconnection branch swapping.
Systematic Paleontology
Holotype: Partial skeleton composed of an incomplete right maxilla (with teeth), the remains of 12 cervical vertebrae (including several cervical ribs), part of seven dorsals (and ribs), one sacral neural spine, one sacral centrum, six caudals, several hemal arches, part of both scapulae, both sternal plates, the distal portion of a left ischium, both humeri, the second and forth right metacarpals, incomplete fibula, one osteoderm, and several unidentified bones. This specimen (MN 5013-V) is housed at the Museu Nacional of the Universidade Federal do Rio de Janeiro, Rio de Janeiro, Brazil.
Referred materials: MN 7048-V, distal end of a right scapula, and MN 7049-V and MN7050-V, two sternal plates, housed at the Museu Nacional of the Universidade Federal do Rio de Janeiro; MBC-42-PV, incomplete right dentary, and MBC-38-PV, isolated teeth found on a subparallel arrangement, housed at the Zoological Collection of INBIO/UFU.
Type locality and horizon: 45 km west of the Prata town, at the Prata – Campina Verde road, in a region called Serra da Boa Vista, Minas Gerais State, Brazil; Adamantina Formation, Bauru Group, Upper Cretaceous (Kellner et al., 2006; Batezelli, 2015).
Emended diagnosis: Titanosaur dinosaur characterized by the following combination of features: Meckelian channel not enters on symphysis area on dentary; tooth row in U-shaped; teeth with high-angled planar facets and suboval in cross-section; two replacement teeth per alveolus; tail composed of anterior and midposterior caudal vertebrae with the anterior (and posterior) surface of the centrum dorsoventrally compressed; midposterior caudal vertebrae with the lateral surface of the centrum strongly concave (spool-shaped); dorsal margin of neural spine in midposterior caudal vertebrae inclined anteriorly; presence of at least one midposterior caudal with biconvex centrum; metacarpal IV about 12% shorter than metacarpal II; sacral centrum with keel-shaped ventral surface.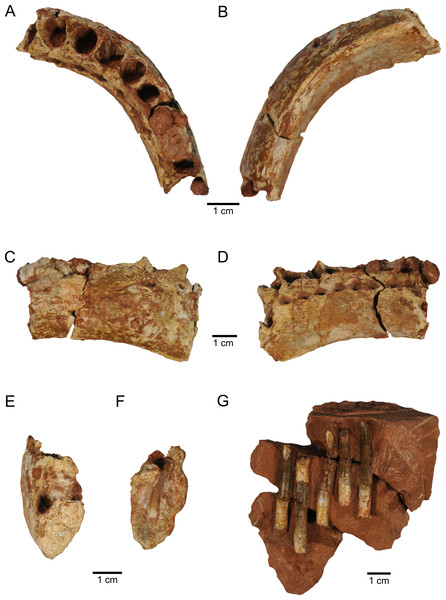 Conclusions
Details of the skull anatomy for Titanosauria are uncommon due to preservation biases, and their classification and phylogeny are grounded on postcranial data, especially for the Saltasauroidea. Of the 15 dentary and teeth characters found in the phylogenetic literature on Sauropods, the new data gathered for Maxakalisaurus topai allow the scoring of nine, increasing from 24 to 33 the characters known for that taxon. This scorings did not significantly change previous phylogenetic hypothesis, but the new material helps to better understand the jaw morphology, function, and tooth replacement of M. topai, and of Titanosauria as a whole.
Supplemental Information
Phylogenetic Analysis Dataset
(A) Phylogenetic Characters (B) Operational Taxonomic Units (C) Phylogenetic Matrix.