Reconstructing ecosystem functions of the active microbial community of the Baltic Sea oxygen depleted sediments
Published

Accepted

Received
Academic Editor
Subject Areas

Keywords

Baltic Sea

,

Microbial functions

,

Eutrophication

,

Anoxic sediment

,

Oxygen depletion

,

Cyanobacteria

,

Integron integrase

,

Metatranscriptome

,

Methanogenesis

,

Methane oxidation
Copyright

©

2016

Thureborn et al.

Licence

This is an open access article distributed under the terms of the Creative Commons Attribution License, which permits unrestricted use, distribution, reproduction and adaptation in any medium and for any purpose provided that it is properly attributed. For attribution, the original author(s), title, publication source (PeerJ) and either DOI or URL of the article must be cited.
Cite this article

2016

.

Reconstructing ecosystem functions of the active microbial community of the Baltic Sea oxygen depleted sediments

.

PeerJ

4

:

e1593

https://doi.org/10.7717/peerj.1593
Abstract
Baltic Sea deep water and sediments hold one of the largest anthropogenically induced hypoxic areas in the world. High nutrient input and low water exchange result in eutrophication and oxygen depletion below the halocline. As a consequence at Landsort Deep, the deepest point of the Baltic Sea, anoxia in the sediments has been a persistent condition over the past decades. Given that microbial communities are drivers of essential ecosystem functions we investigated the microbial community metabolisms and functions of oxygen depleted Landsort Deep sediments by metatranscriptomics. Results show substantial expression of genes involved in protein metabolism demonstrating that the Landsort Deep sediment microbial community is active. Identified expressed gene suites of metabolic pathways with importance for carbon transformation including fermentation, dissimilatory sulphate reduction and methanogenesis were identified. The presence of transcripts for these metabolic processes suggests a potential for heterotrophic-autotrophic community synergism and indicates active mineralisation of the organic matter deposited at the sediment as a consequence of the eutrophication process. Furthermore, cyanobacteria, probably deposited from the water column, are transcriptionally active in the anoxic sediment at this depth. Results also reveal high abundance of transcripts encoding integron integrases. These results provide insight into the activity of the microbial community of the anoxic sediment at the deepest point of the Baltic Sea and its possible role in ecosystem functioning.
Introduction
Globally, oxygen depleted areas of seas and oceans have increased over the past 50 years (Diaz & Rosenberg, 2008; Stramma et al., 2008). In the Baltic Sea the hypoxic areas have expanded from 5,000 km2 to 60,000 km2 over the past century mainly due to eutrophication (Carstensen et al., 2014a). The expansion of hypoxia has escalated in recent years (Zillén & Conley, 2010; Hansson & Andersson, 2014) resulting in some of the largest oxygen depleted and sulphidic areas in the world (Diaz & Rosenberg, 2008). This is specifically evident in the Baltic Proper, the central part of the Baltic Sea, a brackish water basin with limited water ventilation and high nutrient load from agricultural production, riverine input, and seasonal phytoplankton blooms (Conley et al., 2009). Microbial respiration of organic matter, e.g., from the phytoplankton blooms, effectively depletes dissolved oxygen below the halocline (Cederwall & Elmgren, 1990), resulting in hypoxic waters and anoxic sediments (Cederwall & Elmgren, 1990; Diaz & Rosenberg, 2008; HELCOM, 2009). Consequences of oxygen depletion are changes in the biogeochemical cycles of nutrients and ecosystem energy flows (Conley et al., 2009; Carstensen et al., 2014b), in which microbial populations have an essential function (Falkowski, Fenchel & Delong, 2008). Ultimately, severe oxygen deficiency will increase mortality of macro-benthic organisms, which leads to deterioration of benthic communities and fish habitat of the Baltic Sea ecosystem (Cederwall & Elmgren, 1990; Conley et al., 2009; Carstensen et al., 2014b). This results in what are called 'dead zones' (Diaz & Rosenberg, 2008) with both ecological and economic consequences (Elmgren, 2012; Ahtiainen et al., 2014).
The euxinic conditions are especially pronounced at the highly stratified Landsort Deep that stretches into the deepest point (466 m) of the Baltic Sea. At depth, anoxia and sulphide have been persistent features for the past decade (SMHI, 2014) and the lamination of Landsort Deep bottom sediment suggests essentially anoxic conditions at the sediment surface during the past ca. 4500 14C years (Lepland & Stevens, 1998). The sediment at this site is rich in organic material since flocks of cells, from phytoplankton blooms and other organic particles, sink through the water column (Leipe et al., 2011) and accumulate at the sediment surface, resulting in so called accumulation bottoms (Fredén, 1994). Particulate organic carbon values of the Baltic Proper deep are comparable only to regions of extreme productivity and oxygen depletion, such as the upwelling areas off Peru, SW Africa and the Arabian Sea (Leipe et al., 2011 and references therein). Moreover, the Baltic Sea is affected by anthropogenic pollution, heavy metals and organic pollutants have accumulated in the anoxic sediment of the Landsort Deep (HELCOM, 2010).
Transformation of organic compounds and nutrients is largely driven by microbial communities. Through a metagenomic survey of microbial communities along the oxygen gradient at Landsort Deep, we previously showed that there was a functionally and taxonomically diverse bacterial and archaeal community in the sediment (Thureborn et al., 2013). While a metagenomic survey reveals the functional capacities it does not disclose activity and if the genomic content is transcribed. Since DNA may stay preserved at anoxic conditions (Corinaldesi et al., 2011) it cannot be excluded that the metagenome represents sedimented possibly dead cells rather than a local functionally active community. Recent studies have analysed the taxonomic composition of Baltic Proper microbial communities in oxygen depleted sediments rich in organic compounds (Sinkko et al., 2013) and surveyed specific microbial functions e.g., methane oxidation or acetate uptake, in the hypoxic pelagic zone (Berg et al., 2013; Jakobs et al., 2013). However, what functions of the microbial community that are expressed as gene transcripts in the sediment of the 'Baltic Sea dead zone' and how the sediment community at Landsort Deep in situ capitalise on the organic matter in the anoxic environment have not previously been investigated. Recently a metatranscriptomic experimental study of sulphidic marine sediments from methane seeps near Barbados and from the Santa Barbara Basin showed differences in polyphosphate metabolism at oxic and anoxic conditions (Jones, Flood & Bailey, 2015). However, in situ microbial community transcriptional activity of deep sea marine sediments in general is poorly described since there are only two published studies to date, i.e., metatranscriptomes from Peru Margin sub seafloor (Orsi et al., 2013) and Arctic Jan Mayen vent field (Urich et al., 2014). No metatranscriptomics studies have focused on anoxic brackish sediments. With the prospect of a progression of oxygen depletion both in the Baltic Proper (Meier et al., 2011; Kabel et al., 2012) and globally (Altieri & Gedan, 2015), a deeper understanding of microbial metabolic processes in anoxic sediments is increasingly important as these processes are key in essential ecosystem functions such as carbon, sulphur and nitrogen transformation.
In this study, we investigated what functional capacities of the microbial community in the Landsort Deep anoxic sediment were realised, i.e., actually expressed, using a metatranscriptomics approach. We analysed the expression of metabolic and regulatory pathways to elucidate the ecosystem functions that the sediment microbial community potentially contributes to. Given the eutrophication process with extension of anoxic zones in the Baltic Sea and the global importance of carbon cycling, we specifically considered sediment community transformation of organic carbon. The results reveal a sediment microbial community with active expression of genes for essential nutrient transformation processes and provide metatranscriptomic information on the deepest part of the Baltic Sea. The information is important for understanding microbial ecosystem functions of the expanding anoxic sediment areas of the Baltic Sea but also pertinent in the wider perspective of eutrophied marine environments and anoxic sediments.
Discussion
The Baltic Sea holds some of the largest oxygen depleted and sulphidic areas in the world (Diaz & Rosenberg, 2008). It is predominantly an effect of eutrophication with seasonal phytoplankton blooms and oxygen depleting heterotrophic respiration. Pelagic and coastal sediment microbial communities of the Baltic Sea have been comprehensively studied (e.g., Edlund et al., 2008; Dupont et al., 2014). However, the community of the habitat persistently exposed to oxygen depletion, the deepest point of the Baltic Sea, has previously received little attention (Thureborn et al., 2013). While biogeochemical analysis may reveal whether a microbiome responds to environmental conditions and contributes to key ecosystem functions it does not provide genetic information suggesting how this is accomplished. This study shows what genes of metabolic and regulatory pathways are expressed by the Landsort Deep sediment community. Results reveal that the community is active in situ expressing a large portion of the genome content detected in the metagenome (Fig. 1). The presence of transcripts, i.e., relatively unstable environmental mRNA, demonstrates that the deep trench sediment metagenome comprises living cells and not solely preserved DNA of dead cells deposited from the water column (Corinaldesi et al., 2011). These results further strengthen our previous metagenomic results (Thureborn et al., 2013). Moreover, the comparison with other metatranscriptomes from sediments, although limited by the presence of few such studies and inherent differences in sampling and laboratory procedures (Jones et al., 2015), highlights the special characteristics of the Landsort Deep sediment and the importance of future comparative work.
The eutrophication process, climate and the Baltic Sea bathymetry all influence the environmental conditions at Landsort Deep. Euxinic conditions with high sediment deposition rates, anoxic sediment and H2S in the overlying waters (Lepland & Stevens, 1998; Leipe et al., 2011) were confirmed at the time of sampling by a high concentration of organic carbon in the sediment (79.0 mg/L DOC) and sulphidic bottom water (16.3 µmol/L H2S) (Table S2). Landsort Deep metatranscriptomic results reflect these environmental conditions and propose a sediment community capitalising on the deposited organic carbon, possibly with a life strategy of sensing and attaching to the carbon source (Keyhani & Roseman, 1999). For example, transcripts encoding proteins involved in motility and attachment indicate that some of the Landsort Deep microorganisms move toward or attach to surfaces and substrates, such as aggregates of cells and organic debris from the water column deposited at the sediment surface (Fig. 3, Fig. S1 and Table S3). Once attached, the microorganisms could convert the organic matter to less complex compounds. Indeed, expressions of several genes encoding key enzymes for degradation of carbohydrates and polymers (Table S5) suggest that the sediment community mineralises the organic matter. For example, transcripts for chitinase support that specifically chitin is hydrolysed into oligo- or dimers and that this polymer, present in debris derived from zooplankton and invertebrates (Gooday, 1990), is a metabolic resource for the Landsort Deep sediment community. The expressions of glycoside hydrolase genes and several other genes for enzymatic hydrolysis of carbon polymers imply that there are substrates available for further mineralisation in the sediment through anaerobic heterotrophy.
Dissimilatory sulphate reduction was an anaerobic heterotrophic pathway of which the complete gene suite was expressed (Fig. S3). Metabolism with sulphate as electron acceptor in heterotrophy was also supported by the highly sulphidic environment of Landsort Deep (Table S2). Organic matter, which has been mineralised into smaller organic carbon compounds—e.g., volatile fatty acids (VFA) such as acetate, lactate, formate and propionate—may serve as electron donors in sulphate reduction. These smaller organic compounds, at a concentration of 79.0 mg/L at Landsort Deep (Table S2), are primarily products from microbial fermentation of monomers and oligomers (Holmer & Storkholm, 2001; Finke & Jorgensen, 2008). Landsort Deep sulphate reducers hence depend on other community members, i.e., fermenters, to provide electron donors, in this study corroborated by a high proportion of expressed genes within fermentative pathways (Table S5). Since the sediment community expressed all fermentative pathways, sulphate reducers probably have access to the necessary carbon substrates. Although the presence of transcripts does not confirm enzymatic activity, these results are consistent with active heterotrophic mineralisation of dissolved organic matter through fermentation and dissimilatory sulphate reduction in the Landsort Deep sediment.
Methanogenesis was one of the major ecosystem processes identified in the metatranscriptome (Fig. 1) which corresponds well with the high methane concentrations (Schmale et al., 2010; Jakobs et al., 2013) in the anoxic water of Landsort Deep and our previous metagenome results (Thureborn et al., 2013). All four methanogenic pathways, from carbon dioxide, acetate, methanol and methylamines, respectively, were present according to transcript information (Table S6). Moreover, abundance data and taxonomic information of transcripts encoding methanogenic enzymes suggest that methane production from carbon dioxide by Methanosarcinales is the predominant methanogenic pathway in the Landsort Deep sediment (Table S6). Interestingly, the mcrA gene, expressed in the Landsort Deep sediment, was not detected in the Peru Margin and Arctic Jan Mayen sediments (Fig. S2). The absence of mcrA transcripts in the Peru Margin sediment metatranscriptomes has been suggested to be a consequence of low archaeal expression and a masking of the mcrA expression by housekeeping genes (Orsi et al., 2013). The high expressions of euryarchaeal genes in general, and mcrA in particular, in Landsort Deep sediment hence suggest comparatively high methanogenic activity at this site. Furthermore, our results indicate that active anaerobic methane oxidation occurs in the anoxic sediment of Landsort Deep. It could be possible both by reverse methanogenesis by Archaea in the ANME group (Fig. S6) in cooperation with coexisting sulphate reducing Deltaproteobacteria (i.e., Desulfobacteraceae) (Fig. 4) (Hallam et al., 2004; Knittel & Boetius, 2009) and by bacterial anaerobic methane oxidation by Methylococcaceae using available nitrate as electron acceptor (Table S2) (Ettwig et al., 2010). In situ oxidation of produced methane hence potentially restricts methane release to the hydrosphere. These results are supported by a recent study, which demonstrated bacterial aerobic methane oxidation in the redox zone of the Landsort Deep water column but also proposed that methane was oxidised anaerobically in the anoxic deep water (Jakobs et al., 2013).
Energy metabolism in the sediment community of Landsort Deep, as inferred from expressed transcripts, appears to a large extent comprise the processes fermentation, methanogenesis, sulphate reduction and methane oxidation (Fig. 6). Drawing on these results, the Landsort Deep sediment methanogens and sulphate reducers may use products of fermentation as electron donors acting as sinks for hydrogen and organic acids. This may increase the fermentation rate, since concentrations of metabolites stay low, and improve the supply of substrates for respiring bacteria (Fenchel & Finlay, 1995). Organic acids would otherwise build up in the immediate environment and potentially reduce the efficiency of fermentation (Fenchel & Finlay, 1995). Methanogenic archaea, fermenting bacteria and anaerobic respiring bacteria may well make up synergistic assemblages, an "interactome", to which anaerobic methane oxidisers affiliate to capitalise on the methane (Fig. 6). Importantly, these results show that the microbial community expresses an array of metabolic enzyme genes that are crucial for transformation of the organic matter deposited in the sediment of Landsort Deep.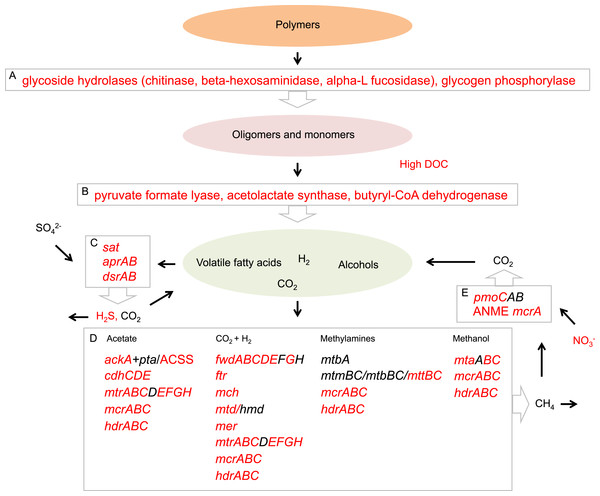 A characteristic feature of the Landsort Deep and other anoxic sediment metagenomes was the high abundance of integrons (Thureborn et al., 2013). The high abundance of transcripts encoding integron integrases detected in this study demonstrates that the integron genes of the Landsort Deep sediment are indeed expressed (Table S4). Further- more, transcripts encoding integron integrases are overrepresented in the metatranscriptome of Landsort Deep sediment in comparison with other sediments (Fig. S2). Integrons carry a large pool of adaptive genes with a potential to facilitate acquisition and recombination of foreign DNA into microbial genomes that may improve the recipient's environmental fitness (Labbate, Case & Stokes, 2009), and integron recombination events have been found to be induced by environmental stress (Guerin et al., 2009). Notably, prevalence of integrons has been shown to increase with the degree of environmental pollution (Hardwick et al., 2008; Wright et al., 2008; Rosewarne et al., 2010) and the class 1 integron-integrase gene has been suggested as a proxy for anthropogenic pollution (Gillings et al., 2015). The comparatively high abundance of integron integrase transcripts in Landsort Deep sediment possibly reflects the high concentrations of pollutants at this site (HELCOM, 2010). Interestingly, Landsort Deep sediment (the same sample as in this study) has been shown to be a hot spot of IncP alpha plasmids, mobile genetic elements that may contribute to bacterial survival in polluted environments (Dealtry et al., 2014).
Environmental conditions at Landsort Deep, i.e., permanent darkness and anoxia at approximately 460 m water depth, are not expected to favour activity connected with photosynthesis. Surprisingly, our results show a high abundance of eukaryotic transcripts encoding the D1 protein of the PSII P680 reaction centre (psbA), particularly from diatoms (Fig. 2, Fig. S7). Expression of psbA in sunlit anoxic sediments was recently observed for oxygenic photosynthesis (Spain et al., 2015). However, high abundance of psbA transcripts in a permanently dark environment as the Landsort Deep sediment may be a consequence of how the PsbA protein synthesis is regulated in eukaryotic micro-algae. According to a previous study, stable pool of psbA transcripts accumulates during darkness as a result of constitutive transcription and strong regulation of protein biosynthesis at the level of translation initiation (Mulo, Sakurai & Aro, 2012). Moreover, constitutive expression of this gene has been shown in diatoms (Nymark et al., 2013). A possible scenario is that psbA transcripts at Landsort Deep remain in micro algae reaching the anoxic sediment after the spring phytoplankton bloom (Ploug & Grossart, 2000; Sarthou et al., 2005) that peaked in April just prior to sampling and in which diatoms are the major constituents (Kaitala, Hällfors & Maunula, 2010).
Another unexpected finding was the high abundance of transcripts assigned to Cyanobacteria (Fig. 4). These results, however, are corroborated by the high abundance of Cyanobacteria in the rRNA (P Thureborn, 2015, unpublished data) and support our previous finding of Cyanobacteria in the Landsort Deep sediment metagenome (1.6% of protein coding genes) (Thureborn et al., 2013). Cyanobacteria are capable of fermentative metabolism under dark and anoxic conditions (Stal & Moezelaar, 1997). However, the lack of evidence for cyanobacterial fermentative metabolism in the metatranscriptome (Table S7) suggests other reasons that better may explain the presence of Cyanobacteria in the Landsort Deep sediment. Cells may originate from the upper water column (Funkey et al., 2014), experience environmental stress and maintain non-growth functions (Schimel, Balser & Wallenstein, 2007) in the cold, dark and anoxic sediment. This is consistent with high expression of the cold-shock DEAD-box protein A (Fig. 2, Table S7), which has been shown to be involved in ribosome biogenesis, RNA turnover and translation initiation and cyanobacterial adaptation to low temperature (Chamot et al., 1999; Redder et al., 2015). These are all important processes in adaptation to a changing environment and stress response. Studies have also shown that Synechocystis DEAD-box RNA helicase transcripts accumulate when the electron transport chain is reduced (Patterson-Fortin, Colvin & Owttrim, 2006), opening for the suggestion that abundance of these transcripts at deep sea sediments reflects RNA redox regulation. Our finding of cyanobacterial transcripts in the Landsort Deep anoxic sediment merits further studies on cyanobacterial physiology during dark anoxic conditions and the broader role of Cyanobacteria in the Baltic Sea carbon transformation.
In conclusion, analyses of environmental mRNA and DNA revealed that the diverse sediment microbiome of Landsort Deep expressed large portions of its functional capacity. The metatranscriptome and environmental data indicate a sediment community active in capitalising on organic matter through anoxic mineralisation and carbon transformation, possibly through synergistic interactions between fermenters, sulphate reducers, methanogens and methane oxidisers (Fig. 6). With the prospect of a progression of anoxic conditions in the Baltic Sea, our results contribute information for future efforts to foresee microbial ecosystem functions in a scenario in which euxinic conditions prevail. Furthermore our results advance the understanding, at transcriptional level, of microbial ecosystem functions in deep water anoxic sediments.