In planta comparative transcriptomics of host-adapted strains of Ralstonia solanacearum
Published

Accepted

Received
Academic Editor
Subject Areas

Keywords

Ralstonia solanacearum ,

Transcriptomics

,

Host adaptation
Copyright

©

2016

Ailloud et al.

Licence

This is an open access article distributed under the terms of the Creative Commons Attribution License, which permits unrestricted use, distribution, reproduction and adaptation in any medium and for any purpose provided that it is properly attributed. For attribution, the original author(s), title, publication source (PeerJ) and either DOI or URL of the article must be cited.
Cite this article

2016

. In planta comparative transcriptomics of host-adapted strains of Ralstonia solanacearum.

PeerJ

4

:

e1549

https://doi.org/10.7717/peerj.1549
Abstract
Background. Ralstonia solanacearum is an economically important plant pathogen with an unusually large host range. The Moko (banana) and NPB (not pathogenic to banana) strain groups are closely related but are adapted to distinct hosts. Previous comparative genomics studies uncovered very few differences that could account for the host range difference between these pathotypes. To better understand the basis of this host specificity, we used RNAseq to profile the transcriptomes of an R. solanacearum Moko strain and an NPB strain under in vitro and in planta conditions.
Results. RNAs were sequenced from bacteria grown in rich and minimal media, and from bacteria extracted from mid-stage infected tomato, banana and melon plants. We computed differential expression between each pair of conditions to identify constitutive and host-specific gene expression differences between Moko and NPB. We found that type III secreted effectors were globally up-regulated upon plant cell contact in the NPB strain compared with the Moko strain. Genes encoding siderophore biosynthesis and nitrogen assimilation genes were highly up-regulated in the NPB strain during melon pathogenesis, while denitrification genes were up-regulated in the Moko strain during banana pathogenesis. The relatively lower expression of oxidases and the denitrification pathway during banana pathogenesis suggests that R. solanacearum experiences higher oxygen levels in banana pseudostems than in tomato or melon xylem.
Conclusions. This study provides the first report of differential gene expression associated with host range variation. Despite minimal genomic divergence, the pathogenesis of Moko and NPB strains is characterized by striking differences in expression of virulence- and metabolism-related genes.
Background
Although the virulence mechanisms of the model Ralstonia solanacearum strain GMI1000 have been extensively investigated in model host plants such as Solanum lycopersicum (tomato) and Arabidopsis thaliana, the genetically diverse Ralstonia solanacearum species complex (RSSC) has a cumulative host range that includes more than 250 plant species (Genin & Denny, 2012). Very little is known about the prevalence of virulence factors in the RSSC or their contribution to disease across this wide array of hosts. Moreover, recent in planta studies have tended to disprove models of virulence regulation that were based on in vitro studies (Jacobs et al., 2012; Monteiro et al., 2012).
RSSC strains cluster in four phylotypes that correspond to strain geographic origin; we focused on phylotype II, which are strains that originated in the Americas. Several groups of strains appear to have adapted to specific hosts; these are often clustered in distinct phylogenetic lineages. The best studied is the brown rot pathotype (phylotype IIB-1), which is a monophyletic group of strains that wilt potatoes in cool highland tropical and temperate zones (Cellier & Prior, 2010). Less studied groups include the Moko and not-pathogenic-to-banana (NPB) pathotypes. The Moko pathotype is a polyphyletic group (phylotype IIB3, IIB4, IIA6, IIA24, etc.) of strains that are pathogenic to banana but not to cucurbits (Cellier & Prior, 2010). The NPB pathotype is a monophyletic group very close to the IIB4 Moko lineage that has lost the ability to infect banana. However, it is highly virulent on several members of the Cucurbitaceae family (Wicker et al., 2009; Wicker et al., 2007). Remarkably, most of the strains in these two groups are also pathogenic to tomato plants. Thus, the host spectrums of Moko and NPB strains include both exclusive host plants and a common host, tomato. Because NPB and IIB4 Moko strains are genetically similar but have strikingly different biological host ranges, these strains offer a compelling experimental model to pinpoint mechanisms of host specificity in R. solanacearum.
We previously used comparative genomic analysis to characterize the gene content and sequence differences between Moko and NPB strains from the IIB4 lineage. The lack of significant genomic differences between these strains, particularly with respect to virulence factors, led us to hypothesize that the different host ranges of Moko and NPB strains can be explained by differential expression of common genes (Ailloud et al., 2015).
This work represents the first report of transcriptomic differences associated with RSSC host range variation. It is also the first gene expression analysis of R. solanacearum strains from the Moko and NPB pathotypes in the IIB4 lineage. We extracted RNA from Moko strain UW163 (hereafter called the Moko strain) and NPB strain IBSBF1503 (hereafter called the NPB strain) under biologically relevant conditions: minimal medium, rich medium, and during pathogenesis of tomato (both strains), banana (Moko strain) or melon (NPB strain). Differential gene expression was inferred from pairwise comparisons designed to determine either the influence of different environments on individual pathotypes or differences in gene expression between pathotypes (Fig. 1). We observed striking differences between the two pathotypes in levels of type III effector (T3E) genes expression during plant infection, as well as differential regulation of genes encoding siderophore biosynthesis and nitrogen metabolism.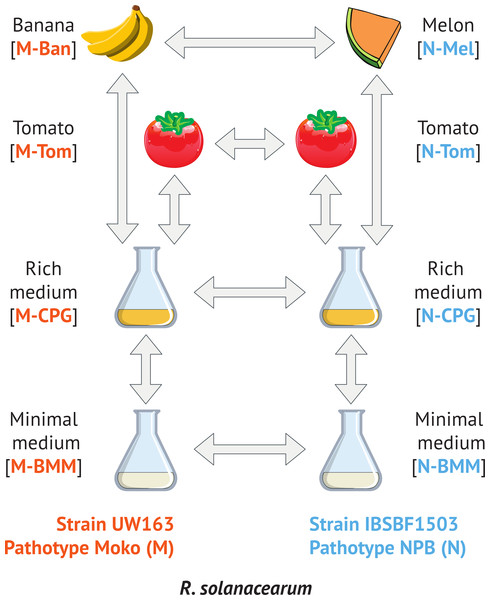 Conclusions
In contrast with our previous comparative genomics study that found few differences in gene content and sequence between Moko and NPB strains of R. solanacearum, this transcriptomic analysis revealed significant differences between these phylogenetically close but biologically divergent plant pathogens. The Moko and NPB strains exhibited much more divergent transcriptomic profiles than might have been predicted by their gene content, especially during bacterial wilt pathogenesis. Gene expression was generally convergent between the two pathotypes in similar environmental conditions, but the expression levels of several virulence-associated genes diverged during infection of their unique hosts. In banana plants, the Moko strain differentially up-regulated siderophore biosynthesis and nitrate assimilation, whereas in melon plants the NPB strain differentially up-regulated expression of certain T3E and denitrification. The differences in gene expression upon plant cell contact were more strain-specific than host-specific, particularly with respect to virulence-related genes. Future functional studies should address the degree to which the differential expression of T3Es, siderophores and nitrogen metabolic pathways are involved in the distinct host ranges of R. solanacearum Moko and NPB strains. Furthermore, this study focused solely on the transcriptomic behavior of R. solanacearum after the first wilting symptoms become apparent and the vascular infection is already established. Additional studies are required to characterize the expression profiles of host-adapted strain during root colonization and pre-symptomatic disease stages as well as during incompatible interactions when the Moko strain attempts to infect melon or the NPB strain attempts to infect banana.
Supplemental Information
Differentially expressed genes in R. solanacearum strains UW163 (Moko) and IBSBF1503 (NPB) under each tested comparison
Results were merged from edgeR and DEseq2 results and filtered with −2 > log2FC > 2 and FDR < 0.01. M-CPG or N-CPG: Moko or NPB strains grown in rich medium; M-BMM or N-BMM: Moko or NPB strains grown minimal medium; M-Tom or N-Tom: Moko or NPB strain extracted from tomato; M-Ban: Moko strain extracted from banana; N-Mel: NPB strain extracted from melon.
Classification of differentially expressed genes of R. solanacearum strains UW163 (Moko) and IBSBF1503 (NPB) growing in rich medium vs. growing in plant hosts
In the first sheet, on each line, "CONV", "DIV", "ODD" describes the expression pattern of the gene between Moko and NPB in similar conditions: conserved, divergent and inconsistent, respectively. "Plant", "Moko", "NPB", "Tom.", "Mel." and "Ban." corresponds to in planta expression categories 1, 2a, 2b, 3a, 3b, 3c, respectively. The next sheets correspond to the results for each categories.