Isoscapes of remnant and restored Hawaiian montane forests reveal differences in biological nitrogen fixation and carbon inputs
Published

Accepted

Received
Academic Editor
Subject Areas

Keywords

Acacia koa,

Forests

,

Hawaii

,

Restoration

,

Hakalau

,

Stable isotopes
Copyright

©

2023

Wall et al.

Licence

This is an open access article distributed under the terms of the Creative Commons Attribution License, which permits unrestricted use, distribution, reproduction and adaptation in any medium and for any purpose provided that it is properly attributed. For attribution, the original author(s), title, publication source (PeerJ) and either DOI or URL of the article must be cited.
Cite this article

2023

.

Isoscapes of remnant and restored Hawaiian montane forests reveal differences in biological nitrogen fixation and carbon inputs

.

PeerJ

11

:

e15468

https://doi.org/10.7717/peerj.15468
Abstract
Deforestation and subsequent land-use conversion has altered ecosystems and led to negative effects on biodiversity. To ameliorate these effects, nitrogen-fixing (N2-fixing) trees are frequently used in the reforestation of degraded landscapes, especially in the tropics; however, their influence on ecosystem properties such as nitrogen (N) availability and carbon (C) stocks are understudied. Here, we use a 30-y old reforestation site of outplanted native N2-fixing trees (Acacia koa) dominated by exotic grass understory, and a neighboring remnant forest dominated by A. koa canopy trees and native understory, to assess whether restoration is leading to similar N and C biogeochemical landscapes and soil and plant properties as a target remnant forest ecosystem. We measured nutrient contents and isotope values (δ15N, δ13C) in soils, A. koa, and non-N2-fixing understory plants (Rubus spp.) and generated δ15N and δ13C isoscapes of the two forests to test for (1) different levels of biological nitrogen fixation (BNF) and its contribution to non-N2-fixing understory plants, and (2) the influence of historic land conversion and more recent afforestation on plant and soil δ13C. In the plantation, A. koa densities were higher and foliar δ15N values for A. koa and Rubus spp. were lower than in the remnant forest. Foliar and soil isoscapes also showed a more homogeneous distribution of low δ15N values in the plantation and greater influence of A. koa on neighboring plants and soil, suggesting greater BNF. Foliar δ13C also indicated higher water use efficiency (WUEi) in the plantation, indicative of differences in plant-water relations or soil water status between the two forest types. Plantation soil δ13C was higher than the remnant forest, consistent with greater contributions of exotic C4-pasture grasses to soil C pools, possibly due to facilitation of non-native grasses by the dense A. koa canopy. These findings are consequential for forest restoration, as they contribute to the mounting evidence that outplanting N2-fixing trees produces different biogeochemical landscapes than those observed in reference ecosystems, thereby influencing plant-soil interactions which can influence restoration outcomes.
Introduction
Forests provide essential ecosystem services including carbon (C) storage and nutrient cycling. However, human-induced disturbances, deforestation, land conversion, and invasive species have led to devastating losses in biodiversity and potentially irreversible alterations to biogeochemical processes (Cramer et al., 2004; Asner et al., 2008; Handa et al., 2014; Veldkamp et al., 2020). While active forest restoration has been touted as a tool to spur secondary succession and regain desirable ecosystem states, it remains unclear if this practice will lead to the recuperation of the biogeochemical properties provided by primary forest reference ecosystems (Aerts & Honnay, 2011; Sullivan et al., 2019; Yelenik et al., 2021). As land management strategies focused on restoration are developed to reconcile losses of ecosystem services, there is a need to understand the spatial extent and long-term impacts of these restoration strategies on restoring biogeochemical properties and C and nutrient cycling.
Nitrogen (N) is a key component of biogeochemical cycles, and N is often one of the most limiting nutrients for plant growth and photosynthesis—especially in early successional or secondary tropical forests (Vitousek & Farrington, 1997). Furthermore, the conversion of tropical forests to pasture and other agricultural crops can lead to significant changes in soil properties such rates of N cycling and N availability, as well as C sequestration and storage (Veldkamp et al., 2020). Trees capable of atmospheric nitrogen (N2) fixation via symbiotic interactions with root nodule inhabiting bacteria (ex. Rhizobia spp.) can be integral to restoring forests by catalyzing ecological succession, reversing the effects of destructive land-use practices on soil N availability, and aiding global efforts to mitigate climate change through increasing C sequestration (Chazdon, 2003; Batterman et al., 2013; Chazdon et al., 2016; Levy-Varon et al., 2019; but see, Kou-Giesbrecht & Menge, 2019). Specifically, as the density of N2-fixing trees, such as leguminous species in the genus Acacia (Resh, Binkley & Parrotta, 2002) increases, N in the soil and neighboring plants can also increase (Sitters, Edwards & Olde Venterink, 2013). Therefore, biological nitrogen fixation (BNF) has the capacity to positively influence the performance and N-budgets of both N2-fixing and non-N2-fixing plants.
In the tropics, N2-fixing trees are often used as ecosystem engineers for the restoration of degraded landscapes (Fisher, 1995; Scowcroft, Haraguchi & Hue, 2004). However, the outcomes of these efforts are mixed, with some restored areas stalled in apparent alternative stable states (Yelenik, 2017), while others progress toward ecosystem targets and restoration goals (Fisher, 1995; Rhoades, Eckert & Coleman, 1998; Koutika et al., 2021). These differing effects of N2-fixing trees may be owed to heterogeneous N inputs across landscapes (Dixon et al., 2010; Sullivan et al., 2014), as well as ecosystem-specific biotic and abiotic factors (Pearson & Vitousek, 2002; Staddon, 2004; Wynn & Bird, 2007; Dixon et al., 2010; Barron, Purves & Hedin, 2011; Sitters, Edwards & Olde Venterink, 2013). For example, active restoration that relies on establishing forests of N2-fixing trees may have unintended consequences, such as promoting weedy or invasive species (Funk & Vitousek, 2007), thereby altering successional trajectories toward non-target states (Stinca et al., 2015). A better understanding of the spatiotemporal effects of N2-fixing trees on ecosystems is needed, especially in the context of forest restoration.
Stable isotopes are time-integrating markers that can provide insight into biogeochemical processes and shifts in ecosystem services occurring across multiple landscapes and spatiotemporal scales (Cheesman & Cernusak, 2016). Spatially explicit, geo-referenced isotope landscapes (termed 'isoscapes') allow for the measured isotope values of individual replicates (i.e., within or among species, or sample types) to be interpolated to landscape scales (Bowen, 2010). While only a few studies have used isoscapes in plant ecology (Hellmann et al., 2011; Rascher et al., 2012), their application may provide new and important insights into plant-microbe and plant-soil feedbacks, such as BNF by N2-fixing trees, which can vary at relatively smaller spatial scales.
BNF results in N stable isotope values (δ15N) that are more similar to the atmosphere (~0‰) relative to N assimilated from soil N pools (Craine et al., 2015). Soil δ15N values represent an integration of N inputs and outputs in an ecosystem, and are influenced by processes that lead to isotope fractionation (i.e., nitrification, denitrification, ammonia volatilization), atmospheric deposition, leaching, as well as the pedogenic and environmental factors that shape these processes (Natelhoffer & Fry, 1988; Austin & Vitousek, 1998; Martinelli et al., 1999; Burnett et al., 2022). Variability in soil δ15N can complicate the interpretation of leaf δ15N values, especially for non-N2-fixing plants (Robinson, 2001). However, the low δ15N values associated with BNF are distinct enough to be traced through soils and vegetation (Hellmann et al., 2011). For instance, δ15N isoscapes revealed the contribution of an invasive, non-native N2-fixing shrub (Acacia longifolia) to the N pools of surrounding plants and the corresponding modification of nutrient cycling and community function due to this invasive species (Rascher et al., 2012).
Along with standard comparisons of C to N concentrations, leaf and soil C stable isotope values (δ13C) can provide additional evidence on the rates of nutrient cycling, the relative contribution of plant functional types (i.e., C3 vs. C4 photosynthesis) to soil C pools, and the integrated plant water use efficiency (WUEi) of plants in an ecosystem (Cernusak et al., 2013; Driscoll et al., 2020). Combined, δ13C and δ15N values sampled across a landscape can provide spatially explicit information on plant performance and ecosystem processes, which can be compared among ecological community members or between communities (Hellmann et al., 2016). While it is clear that isoscapes provide new perspectives on the spatial relationships of biochemical processes and biological interactions fundamental to ecology (Cheesman & Cernusak, 2016; McCue et al., 2020), they have yet to be widely applied to understand plant-soil feedbacks in the context of restoration.
Native Hawaiian montane mesic and wet forests have significantly declined due to over a century of deforestation and extensive human- and livestock-mediated disturbance (Pau, Gillespie & Price, 2009; McDaniel et al., 2011; Yelenik, 2017). These forests are dominated by two foundational endemic tree species—N2-fixing Acacia koa (koa, Fabaceae) and the non-N2-fixing Metrosideros polymorpha ('ōhi'a lehua, Myrtaceae)—and provide critical ecosystem services, including habitat for many endangered bird species in Hawai'i (Paxton et al., 2018). To restore montane mesic forest habitats on Hawai'i Island, over 390,000 nursery-grown A. koa trees (i.e., outplants) have been planted in the Hakalau Forest National Wildlife Refuge since 1987 (hereafter, Hakalau; Fig. 1). This effort started in the greenhouse, where individual trees (one per pot) were grown in 15-cm-long cone-tainers, reaching a height of 30-cm in <6 months. In the plantation, a bulldozer with a miniblade scoured the soil to remove grass competitors and make plots (1 × 1 m) every 3 m, with rows every 4 m a part. Individual greenhouse-grown koa were planted in holes created by an auger power planter (the same size as the root plug) with fertilizer added to the auger hole (see Jeffrey & Horiuchi, 2003).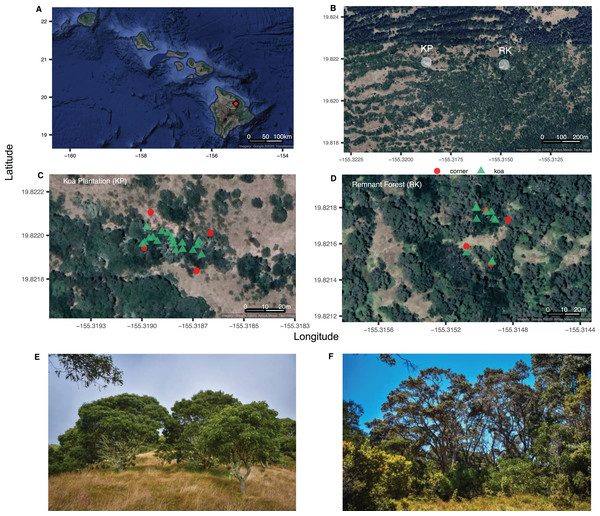 Acacia koa outplants were introduced to 5,000 acres of fenced, abandoned, previously grazed pastureland in close proximity to remaining forested habitats and endangered bird populations (Jeffrey & Horiuchi, 2003; McDaniel & Ostertag, 2010). Forest patches are critical in supporting biodiversity (Wintle et al., 2019), and patchiness and/or fragmentation can lead to dramatic differences in forest climate that support rates of litter decomposition and nutrient cycling (Crockatt & Bebber, 2015). Therefore, the active outplanting of A. koa in discrete corridors near more intact forest patches was leveraged to facilitate the passive restoration and expansion of koa and other native plant species recruitments, with the goal of ultimately turning isolated patches into intact, contiguous forest habitat (Scowcroft & Yeh, 2013). However, after 30 years the understories of A. koa plantations remain grass-dominated, native woody plant recruitment is low, and endangered birds are sparse (Yelenik, 2017; Paxton et al., 2018). The causes of this stalled forest recovery are uncertain, but they likely include the influence of A. koa BNF on soil chemistry, nutrient concentrations, and nutrient cycling (Scowcroft, Haraguchi & Hue, 2004). As a N2-fixing tree, A. koa produces abundant low C:N leaf litter (high N), which can lead to greater supply of N to the soil surface under A. koa relative to M. polymorpha, which has high litter C:N (Scowcroft, 1997; Yelenik, Rehm & D'Antonio, 2022). These differences in litter N can increase rates of decomposition and ultimately affect the return of nutrients to soil N pools (Baker, Scowcroft & Ewel, 2009; Zhou et al., 2018). Differences in canopy composition and associated litter decomposition can have important implications for forest nutrient cycling and the composition of forest understories. In the plantations, the ability for A. koa to increase soil nutrient, coupled with the high densities of this canopy tree in monoculture corridors, may be favoring the growth of exotic nitrophilous grasses from the historic pastures and inhibiting native seedling establishment (Yelenik, 2017).
To examine the interactions between BNF, soil and leaf N content as well as C inputs at the ecological community scale, we applied a spatially explicit sampling approach within a mixed M. polymorpha/A. koa native montane forest (hereafter, the "remnant forest") and an A. koa plantation (hereafter, "koa plantation"). The remnant forest is largely dominated by native understory plants, whereas the koa plantation understory is dominated by C4 exotic grasses interspersed with a C3 non-native shrub (Rubus argutus). While the land-use history and present-day plant communities of these two forest types differ, they occupy the same climate and parent soil types (http://rainfall.geography.hawaii.edu, https://gis.ctahr.hawaii.edu/SoilAtlas). We used δ15N and δ13C values of soil and foliar samples to construct isoscapes and examine the degree of BNF between the two forest types and test the influence of BNF by A. koa on δ15N values in soils and neighboring plants (Rubus spp.). We hypothesized that the higher density and more even distribution of A. koa in the koa plantation compared to the remnant forest will result in lower δ15N values in soil and plants from the koa plantations with greater and spatially more homogeneous BNF inputs than the remnant forests. In addition, we expected higher foliar δ13C values in the koa plantation as a result of greater water demand in the young, dense A. koa forests driving higher WUEi (Kagawa et al., 2009). Introduced C4 grasses are abundant in the understory of the koa plantation but are uncommon in the remnant forest where there are no known native C4 plants (Yelenik, 2017). Therefore, we also predicted that soil δ13C would be higher in the koa plantation relative to the remnant forest, indicating greater contributions of C4 grasses to soil C pools. The results of this study will clarify the effects of tropical N2-fixing monoculture plantations on the distribution of N and soil nutrient cycling and how these may differ from the target ecosystem for restoration.
Discussion
Assessments of biogeochemical landscapes can provide insight into key ecosystem properties, plant-soil feedback, and plant-plant interactions. As the degree of BNF increases, there is a well-documented decrease in foliar δ15N in N2-fixing plant species (Craine et al., 2015). Differences in BNF between ecological communities often have corresponding effects on other ecosystem properties such as soil and neighboring non-N2-fixing plant δ15N values and nutrient status, as well as rates of photosynthesis and nutrient cycling. In addition to δ15N analyses, δ13C values coupled with information on C and N concentrations can aid in inferences about each of these ecosystem-level processes occurring at different spatial scales (Moyer-Henry et al., 2006; Rascher et al., 2012; Hoogmoed et al., 2014; Craine et al., 2015). The use of large "super-plots" in discrete habitats, which are sampled at small spatial scales and/or grids to perform spatial interpolation, is common in isoscape experimental designs (Rascher et al., 2012; Hellmann et al., 2016). Earlier studies sampled A. koa across elevation and rainfall gradients on Hawai'i Island, mapping δ15N and δ13C values to determine environmental impacts on plant performance and suitability of sites for forest restoration (Lawson & Pike, 2017). We find that spatially-explicit sampling at smaller spatial scales is equally useful in identifying difference is plant-soil-microbe interactions and the influence of BNF. Here, using δ15N isoscapes to determine differences in BNF between two forest patches that differ in their land use histories and management, we found strong evidence for greater, and more homogeneous contribution of newly-fixed N in the soil and plants of the afforested koa plantation compared to the remnant native forest. While these forests plots represent but a subset of the plantation and remnant forest habitats, each plot covered a significant area (700 m2) and was specifically chosen because the vegetation was representative of each unique forest type, while the abiotic conditions were similar (climate, slope, aspect, soil parent material). Therefore, the results of our study should be considered representative of forest community-level dynamics. However, increasing plot-level replication in future studies may allow for greater biogeochemical heterogeneity to be quantified within and among forest types (plantations and remnant forests) and the influence of environmental factors (such as elevation, rainfall, volcanic organic gases) on BNF and forest restoration.
In the koa plantation, δ15N soil and foliar isoscapes revealed a more evenly distributed signature of low δ15N values in the plantation relative to the remnant forest, indicative of a greater contribution of BNF in the koa plantation that could be related to the demography and density of A. koa (Figs. 4 and 5). The finding that both A. koa and understory Rubus spp. also had lower δ15N values in the koa plantation relative to the remnant forest (Fig. 2) further suggests greater BNF by A. koa and a greater contribution of newly-fixed N to neighboring plants. While soil δ15N values did not statistically differ significantly between forest types, the δ15N soil isoscape showed overall lower δ15N values in the koa plantation compared to the remnant forest (Fig. 4). The marginal differences in soil δ15N between the two forest types may be due in part to differences in water availability between forest types (Austin & Vitousek, 1998), but further efforts are needed to determine if the soil water status differs among these forests (Bothwell et al., 2014). In both forests, however, the high soil δ15N values indicate significant losses of N relative to the size of the nitrogen pool, possibly from rapid N turnover and fractionation or leaching (Natelhoffer & Fry, 1988; Austin & Vitousek, 1998; Burnett et al., 2022). Nevertheless, our suite of biogeochemical metrics (δ15N, δ13C, N and C concentrations) provide new insights on plant-soil-water relations, nutrient and C cycling, and offer clues as to why the plantations continue to foster a non-native grass dominated state even after three decades post reforestation (Yelenik, 2017; Yelenik et al., 2021).
In addition to higher density of A. koa in the plantation, the demographics of A. koa outplants and saplings in the plantation (<30 y old) compared to the remnant forest may be influencing C and N cycling in this system. Nodule biomass and N2-fixation rates are life-stage dependent, with younger stands (6 y) exhibiting an order of magnitude higher nodule biomass and N2-fixation rates than older stands (20 y) (Pearson & Vitousek, 2001). The growth rate of A. koa across the Hawaiian Islands is variable, with dbh-based growth rates of 10–15 mm/y in sunlit areas where the crown is exposed and 6–7 mm/y estimated across a range of sites in the Hawai'i Department of Forestry and Wildlife long-term forest plots (Baker, Scowcroft & Ewel, 2009). In remnant forests of Hakalau, growth rates of 4 mm/y for A. koa have been observed (Hart, 2010), but no dbh-age estimates exist for the koa plantation. If we assume A. koa in the sunlit plantation have growth rates similar to other sunlit areas across Hawai'i (~12 mm/y) and A. koa in the remnant forest growth rates are 4 mm/y, we estimate mean (±SE) ages of trees from the plantation to be significantly younger (p = 0.049, Table S1) than the remnant forest (30 ± 2 KP and 55 ± 12 years RK) (Fig. S3), with two trees from the remnant forest being >110 years old. These estimates agree with the known age of the planting of the plantation (~1990) and support the hypothesis that forest demographics may be important to affecting the degree of N2-fixation in A. koa and its contribution to plants and soils of Hakalau.
In our study system, the high densities A. koa in the plantation, along with immature A. koa recruits in thickets adjacent to planted trees, may be contributing to the higher rates of N2-fixation we detected based on lower δ15N values (Figs. 2A, 4 and 5). The high density of A. koa has the potential to contribute more leaf litter of lower C:N to the forest floor relative to the mixed-canopy remnant forest. The greater number of multi-stemmed A. koa in the plantation (80% in KP vs. 20% RK)—which may be due to the spacing of outplants and the lack of competition in the plantation—also emphasizes the differing growth patterns in the outplanted A. koa relative to naturally recruited trees in remnant forests. These conditions may shape litterfall to the forest floor, which can be dynamic in both abundance and nutrient concentrations and reflective of shifts in plant community composition (Lanuza et al., 2018). Taken together, we suggest the greater densities, faster growth rates, and younger demographics of A. koa in the koa plantation provide a context for low C:N litterfall (and greater N contributions) in the early stages of reforestation to lead to persistent changes in nutrient cycling.
Despite a strong signal of significantly higher BNF in the plantation (Figs. 2A, 4A and 5A), we found no statistically significant differences in foliar or soil N concentrations (Figs. 2C and 2D). While this result is puzzling, one likely explanation is that the plantation may have relatively more well drained soils, and plantation A. koa may have higher water demands compared to remnant forests (Meinzer, Fownes & Harrington, 1996; Brauman, Freyberg & Daily, 2015). We note A. koa foliar δ15N values reported here are high relative to other studies of A. koa (Burnett et al., 2022; Lawson & Pike, 2017); however, these values are in-line with N2-fixing plants from dry-forests and grasslands (Heaton, 1987), suggesting water limitations may be influencing A. koa δ15N in these forests. Even though we did not measure water holding capacity of each soil type, the significantly higher foliar δ13C values in the plantation—coupled with the lack of differences in soil and foliar N despite evidence of higher BNF—is indicative of water being an important factor limiting A. koa productivity and affecting soil N properties (Ares & Fownes, 1999; Burnett et al., 2022).
Assuming water is more limited in the plantation, higher δ13C foliar values among A. koa and Rubus sp. individuals in the plantation may indicate higher rates of photosynthesis (reduced 13CO2 discrimination) and/or higher WUEi relative to the remnant forest (Farquhar, Ehleringer & Hubick, 1989; Cernusak et al., 2013). Considering the similarity in soil and foliar N in the two forests, we expect the differences in δ13C values are more likely to relate to WUEi and not increased rates of photosynthesis. In support of this, (Ares & Fownes, 1999) found A. koa foliar δ13C values increased across a gradient of decreasing rainfall, and WUEi increased in greenhouse grown seedlings experiencing drought-stress. Furthermore, it has been documented that remnant native Hawaiian forests conserve more water (Kagawa et al., 2009) and contribute more to aquifer recharge compared to plantation forests (Brauman, Freyberg & Daily, 2015). More stable water availability and less draw down of water resources in the remnant forest is consistent with patterns of greater stomatal conductance, higher ci/ca, and lower WUEi (Farquhar, Ehleringer & Hubick, 1989). Therefore, lower foliar δ13C values in A. koa and Rubus sp. in the remnant forest may be an effect of less water demand in native/remnant forests, better soil water holding capacity, or both (Fig. 2). This finding is important, as the greater abundance of C4 grasses in the understory of the plantation (Yelenik, 2017) may relate to the greater competitive ability of these grasses for water resources compared to native understory plants.
Photosynthetic fractionation is less in C4 than C3 plants, resulting in 13C-enrichment and higher leaf δ13C values ranging from −10‰ to −15‰ compared to C3 plants (−21‰ to −30‰) (Farquhar, Ehleringer & Hubick, 1989; Ehleringer, Buchmann & Flanagan, 2000). In the koa plantation soils, a clear pattern emerges of higher soil δ13C values, consistent with a greater contribution of C4-derived C to soils (Staddon, 2004). This finding is also supported by the soil δ13C isoscape (Fig. 4), where we observed increasing soil δ13C values in areas where grasses were dominant. N availability also influences rates of decomposition and has a direct influence on soil C pools (Averill & Waring, 2018); therefore, greater BNF in the plantation could accelerate soil C turnover, which may result in soils enriched in 13C (Choi et al., 2005). Accordingly, future studies should examine isotope values in understory grasses and how low C:N leaf litter, such as A. koa, is assimilated into soil and understory plant biomass, especially in the nitrophilous kikuyu grass (Cenchrus clandestinus). Follow up studies are on-going to determine rates of soil nutrient cycling in Hakalau, especially in order to disentangle how soil C, N, and leaf litter C:N influence soil δ13C values.
Conclusion
Recuperating biogeochemical properties in secondary tropical forests is vital to supporting plant growth and post-disturbance recovery (Sullivan et al., 2019). In some cases N2-fixing plants may therefore be useful in facilitating nutrient and plant community recovery (Chaer et al., 2011). However, our data suggest that monoculture plantations of a native N2-fixing tree can lead to an increase in BNF and a more homogeneous distribution of fixed N in plants and soils that is unlike the distribution of N in a primary forest—the target habitat for restoration (Figs. 4 and 5). If this "plantation-effect" promotes undesirable species such as the non-native grasses in our plantation site, then creating a homogeneous area of high BNF may hinder restoration goals. Therefore, restoration efforts should consider how the abundance and density of N2-fixing trees may influence plant-plant and plant-soil interactions and the potential for restoration to produce ecosystem states that differ from reference ecosystem counterparts. Considering the wide application of N2-fixing trees in tropical forest restoration, both in Hawai'i and abroad, there remains a need to better understand how BNF by canopy trees varies within-and-among forest areas, across environmental conditions and habitat types, and its role in affecting nutrient cycling and forest communities. Addressing this uncertainty will support effective restoration strategic planning (i.e., outplanting density, multiple species planting) and management goals (i.e., habitat restoration, seedling and avian recruitment). Based on our findings in Hakalau, we suggest future restoration efforts might include a greater diversity of N2-fixing and non-N2-fixing canopy tree species to generate greater variation in understory and soil conditions more typical of remnant or intact forests.
Supplemental Information
Supplemental Tables and Figures.