The complete mitochondrial genome of Lerema accius and its phylogenetic implications
1
Departments of Biophysics and Biochemistry, University of Texas Southwestern Medical Center

,

Dallas, TX

,

United States
2
Howard Hughes Medical Center, University of Texas Southwestern Medical Center

,

Dallas, TX

,

United States
Published

Accepted

Received
Academic Editor
Subject Areas

Keywords

Illumina sequencing

,

Clouded Skipper

, De novo assembly,

Hesperiinae
Copyright

©

2016

Cong and Grishin

Licence

This is an open access article distributed under the terms of the Creative Commons Attribution License, which permits unrestricted use, distribution, reproduction and adaptation in any medium and for any purpose provided that it is properly attributed. For attribution, the original author(s), title, publication source (PeerJ) and either DOI or URL of the article must be cited.
Cite this article

2016

. The complete mitochondrial genome of Lerema accius and its phylogenetic implications.

PeerJ

4

:

e1546

https://doi.org/10.7717/peerj.1546
Abstract
Butterflies and moths (Lepidoptera) are becoming model organisms for genetics and evolutionary biology. Decoding the Lepidoptera genomes, both nuclear and mitochondrial, is an essential step in these studies. Here we describe a protocol to assemble mitogenomes from Next Generation Sequencing reads obtained through whole-genome sequencing and report the 15,338 bp mitogenome of Lerema accius. The mitogenome is AT-rich and encodes 13 proteins, 22 transfer-RNAs, and two ribosomal-RNAs, with a gene order typical for Lepidoptera mitogenomes. A phylogenetic study based on the protein sequences using both Bayesian Inference and Maximum Likelihood methods consistently place Lerema accius with other grass skippers (Hesperiinae).
Introduction
The order Lepidoptera contains approximately 160,000 described and half a million estimated species (Kristensen, Scoble & Karsholt, 2007). It represents one of the most diverse and fascinating groups of insects with many species emerging as model organisms for genetics and evolution (Clarke & Sheppard, 1972; Nishikawa et al., 2013; Kunte et al., 2014; Zhan et al., 2011; Hines et al., 2012; Surridge et al., 2011; Engsontia et al., 2014; Zhang, Kunte & Kronforst, 2013). Studies of these model organisms benefit significantly from decoding the genomes of select Lepidoptera species. Recently, we published the genome draft of Clouded Skipper Lerema accius using next generation sequencing techniques (Cong et al., 2015). Traditional genome assemblers failed to automatically assemble the Clouded Skipper mitogenome together with the nuclear genome. This failure probably resulted from a difficulty in distinguishing the mitogenome NGS reads from those of nuclear genome as well as a high erroneous k-mers frequency due to high mitochondrial DNA coverage. However, a dedicated effort should allow assembly of the mitogenome from whole-genome sequencing reads.
The insect mitogenome is circular, consisting of 14–19 kilobases (kb) that contain 13 protein-coding genes (PCGs), two ribosomal-RNA-coding genes (rRNAs), 22 transfer-RNA-coding genes (tRNAs), and an A + T rich displacement loop (D-loop) control region (Cameron, 2014). Because of their maternal inheritance, compact structure, lack of genetic recombination, and relatively fast evolutionary rate, mitogenomes have been used widely in molecular phylogenetics and evolution studies (Cameron, 2014; Moritz, Dowling & Brown, 1987). Here, we assemble and annotate the complete mitogenome of Lerema accius from next generation sequencing reads. Phylogenetic analyses using published mitogenomes of skipper butterflies (Hesperiidae) place Lerema accius among other grass skippers (Hesperiinae).
Results and Discussion
Annotation of the mitogenome
The complete mitogenome of Lerema accius is deposited in GenBank of NCBI under accession number KT598278. The length of this mitogenome is 15,338 bp and it retains the typical insect mitogenome gene set and gene order, including 13 PCGs (nd1-6, nd4l, cox1-3, atp8, atp6, and cytb), 22 tRNA genes (two for Serine and Leucine and one for each of the rest of the amino acids), 2 ribosomal RNAs (rrnL and rrnS), and an A + T rich D-loop control region. The annotation of the mitogenome is illustrated in Fig. 1. The cox1 gene uses start codon CGA, which is consistent with many other insect mitogenomes (Kim et al., 2009). All the rest of the genes start with the typical ATN. cox1, cox2 and nd4 use an incomplete stop codon T (Ojala, Montoya and Attardi, 1981), and a complete TAA codon will likely be formed during mRNA maturation (Ojala, Montoya and Attardi, 1981; Boore, 1999).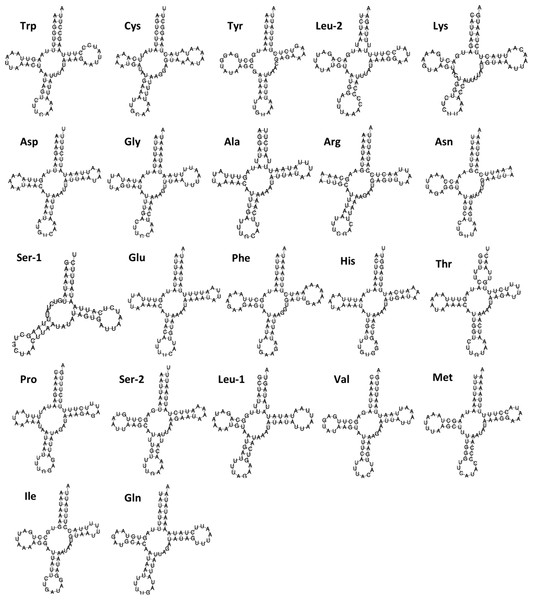 The lengths of tRNA-coding genes range from 60 bp to 70 bp. Secondary structures predicted by MITOS suggest that all tRNAs adopt a typical cloverleaf structure except for trnS1(gcu) (Fig. 2). The dihydrouridine (DHU) arm of trnS1(gcu) does not form a stable stem-loop structure, which is very common in butterfly mitogenomes (Lu et al., 2013; Kim et al., 2014). A 488 bp A + T rich region (A + T content: 94.7%) connects rrnS and trnM(cau). This region contains an "ATAGA" motif located 22 bp downstream from rrnS and is followed by 15 bp of poly-T stretch that is a gene regulation element commonly found in Lepidoptera (Lu et al., 2013; Salvato et al., 2008).
Phylogenetic analysis
We built a phylogenetic tree of the 10 skipper species with published mitogenomes, based on the concatenated alignment of the mitochondrial protein sequences. Three Papilionidae and three Geometridae mitogenomes were used as outgroups. Maximum likelihood method RAxML automatically selected MTZOA, a general mitochondrial amino acid substitution model, as the most appropriate, and placed Lerema accius among other grass-skippers (Subfamily Hesperiinae). A Bayesian analysis with the CATGTR model supported a tree with exactly the same topology. This topology is largely consistent with previously reported phylogenetic studies on the basis of standard gene markers and morphology (Warren, Ogawa and Brower, 2008; Warren, Ogawa and Brower, 2009; Yuan et al., 2015). Notably, the subfamily Coeliadinae (represented by Hasora anura) is a sister to all other Hesperiidae. Topology between the subfamilies Eudaminae (Lobocla bifasiatus), Pyrginae (other branches shown in green in Fig. 3) and remaining Skippers is unresolved. The tribes Celaenorrhini (Celaenorrhinus maculosa) and Tagiadini (Daimio and Ctenoptilum) group together (in the absence of Pyrrhopygini). The subfamily Heteropterinae (represented by Carterocephalus silvicola) is a sister to grass skippers (Hesperiinae).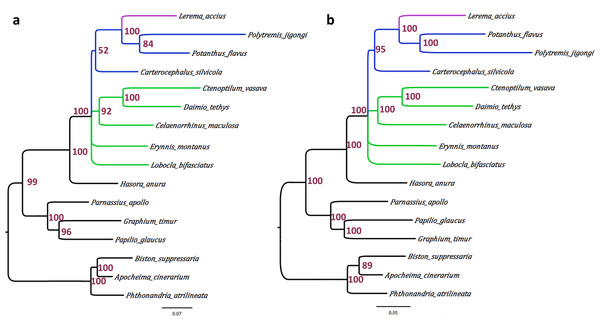 Interestingly, based on the mitochondrial genome, the two Asian grass skippers (Potanthus from the tribe Taractrocerini and Polytremis from the tribe Baorini) are grouped together, and Lerema (from the tribe Moncini) is their sister. The sequences of two nuclear markers, EF1a and wingless, are available from these species in the database; however, they support different topologies at low confidence. While the maximal likelihood tree based on EF1a favors (bootstrap: 52%) the same topology as the mitogenome, the tree based on wingless groups Potanthus with Lerema with a 63% bootstrap support and places Polytremis as their sister. The phylogeny between these tribes could become clear when more sequences from more taxa become available.