Identifying communities from multiplex biological networks
1
Aix Marseille Université, CNRS, Centrale Marseille, I2M UMR 7373

,

Marseille

,

France
2
Aix Marseille Université, Inserm, TAGC UMR_S1090

,

Marseille

,

France
Published

Accepted

Received
Academic Editor
Subject Areas

Keywords

Communities

,

Clustering

,

Functional modules

,

Modularity

,

Biological networks

,

Multiplex networks

,

Multi-layer networks

,

Coffin-Siris syndrome
Copyright

©

2015

Didier et al.

Licence

This is an open access article distributed under the terms of the Creative Commons Attribution License, which permits unrestricted use, distribution, reproduction and adaptation in any medium and for any purpose provided that it is properly attributed. For attribution, the original author(s), title, publication source (PeerJ) and either DOI or URL of the article must be cited.
Cite this article

2015

.

Identifying communities from multiplex biological networks

.

PeerJ

3

:

e1525

https://doi.org/10.7717/peerj.1525
Abstract
Various biological networks can be constructed, each featuring gene/protein relationships of different meanings (e.g., protein interactions or gene co-expression). However, this diversity is classically not considered and the different interaction categories are usually aggregated in a single network. The multiplex framework, where biological relationships are represented by different network layers reflecting the various nature of interactions, is expected to retain more information. Here we assessed aggregation, consensus and multiplex-modularity approaches to detect communities from multiple network sources. By simulating random networks, we demonstrated that the multiplex-modularity method outperforms the aggregation and consensus approaches when network layers are incomplete or heterogeneous in density. Application to a multiplex biological network containing 4 layers of physical or functional interactions allowed recovering communities more accurately annotated than their aggregated counterparts. Overall, taking into account the multiplexity of biological networks leads to better-defined functional modules. A user-friendly graphical software to detect communities from multiplex networks, and corresponding C source codes, are available at GitHub (https://github.com/gilles-didier/MolTi).
Introduction
Biological macromolecules do not act in isolation, but rather interact with each other to perform their cellular functions. In particular, thousands of interactions are observed between proteins, forming the basis of cellular biological processes. Thanks to the scaling of the experimental techniques allowing interaction discovery, and to the development of centralized databases, recent years have witnessed the accumulation of thousands of physical and functional interactions of various nature (Sharan & Ideker, 2006). For instance, data obtained from yeast two-hybrid and affinity purification-mass spectrometry experiments inform on the physical interactions between proteins and their organization as molecular complexes; mRNA expression correlations identify the genes that are co-expressed in a set of experimental conditions, and signaling pathway data describe the cascades of reactions transmitting signals within and between cells.
Interaction data are usually represented as networks, i.e., graphs in which vertices correspond to genes or proteins, and edges to interactions. One of the leading approaches to extract functional knowledge from biological networks is their clustering into communities—or modules—of tightly linked genes/proteins (Aittokallio & Schwikowski, 2006). These modules are expected to represent the building blocks of the cells (Hartwell et al., 1999). Clustering algorithms developed for community detection are frequently based on graph topological properties, such as density or modularity (for reviews, Wang et al., 2010; Pizzuti & Rombo, 2014). They have been thoroughly assessed on biological networks (Brohée & Van Helden, 2006), and are widely used in biology (Arroyo et al., 2015; Wan et al., 2015; Huttlin et al., 2015; Chapple et al., 2015; Katsogiannou et al., 2014). However, they have been applied on single networks whereas recently multiplex (alt. multi-layer or multi-slice) networks (Kivelä et al., 2014) have been introduced in biology. These multiplex networks are sets of networks sharing the same nodes, but in which edges belong to different categories or represent interactions of different nature. As biological interaction sources are diverse, biological multiplex networks contain sparse layers of high relevance (e.g., curated signaling pathway networks), while other layers contain thousands or even millions of interactions (e.g., co-expression networks). In order to extract relevant biological information, it is thus important to assess the approaches able to detect communities from these multiplex biological networks.
As the majority of current clustering approaches takes as input a single network, the interactions from the different sources are classically aggregated into a unique network, herein called monoplex, in which all the edges are equally considered, regardless of their molecular nature. For instance, in the chaperome network (Brehme et al., 2014), protein–protein interactions and co-expression associations were aggregated and the link-community clustering algorithm (Ahn, Bagrow & Lehmann, 2010) was applied on the resulting monoplex network to identify communities. However, considering all the interaction categories as equivalent likely excludes important information, because the gene/protein relationships have different meanings or relevance (Battiston, Nicosia & Latora, 2014). On another hand, approaches known as consensus clustering aggregate a posteriori the communities obtained from several independent networks (Senbabaoglu, Michailidis & Li, 2014; Lancichinetti & Fortunato, 2012). Finally, more recently, different topological measures have been adapted to multiplex networks (Kivelä et al., 2014; Battiston, Nicosia & Latora, 2014), and a handful of community detection algorithms can take multiple networks as input (Mucha et al., 2010; Shiga & Mamitsuka, 2012; Papalexakis, Akoglu & Ience, 2013; Bennett et al., 2015). To our knowledge, these 3 sets of approaches, namely network aggregations, consensus clustering and multiplex approaches, have not been extensively compared and evaluated.
In order to do so, we carefully explored modularity-based approaches by identifying communities from multiplex networks using (i) the union-, intersection-, or sum-aggregations of the layers of the multiplex network, (ii) the consensus of the community obtained on the individual layers and (iii) a natural extension of the modularity, called here multiplex-modularity, that allows identifying communities directly from multiplex networks (similar to Bennett et al. (2015)). Importantly, the strong assumption that all the network sources share the same community structure underlies all these approaches. More generally, this assumption is implicit for any approach returning a single community structure from a multiplex network.
We investigated whether combining multiple network sources could improve the detection of communities, in particular when noise impairs the inference of the community structure from individual networks. More particularly, we assessed the influence of important features characterizing biological networks, such as their heterogeneous densities and the weight of missing data. We first ran extensive simulations on random multiplex networks generated with a community structure, and mimicking the sparsity, the heterogeneity and the incompleteness of biological networks. We then showed that (i) the aggregation of the layers of the multiplex networks through their union and intersection ultimately erases the community structure, and (ii) the multiplex-modularity clustering outperforms the aggregation and consensus approaches. Importantly, the multiplex-modularity approach is more reliable than all other approaches when the set of studied networks are incomplete or heterogeneous in density, i.e., when networks display features of real biological networks.
We then studied a real-case of multiplex biological network composed of 4 interaction layers. Communities obtained with the multiplex-modularity are more associated to significantly enriched biological processes compared to their aggregated counterparts. We detailed, as an example, a module that clusters the proteins implicated in the Coffin-Siris syndrome. These proteins are clustered with proteins involved in other syndromes displaying overlapping clinical features.
Finally, we provide MolTi, a standalone graphical interface allowing the users to cluster multiple input networks, annotate the obtained clusters and parse the resulting communities.
Results
The multiplex-modularity recovers accurate communities from simulated multiplex networks
We used stochastic block models (SBMs) to randomly simulate multiplex networks with a reference community structure, and composed of 1–9 graph layers (Methods, Section 'Random graph models'). To reflect some of the characteristics of biological networks in the simulated networks, we generated multiplex networks composed of sparse, dense and mixed graphs. In addition, the incompleteness of biological networks was simulated by node withdrawal.
We chose the Louvain algorithm that optimizes the network modularity (Blondel et al., 2008) to identify communities. The multiplex-modularity is defined as the sum of the individual network layer modularities with regard to the same community partition (Methods, Section 'Multiplex-modularity'). We adapted the Louvain algorithm to optimize this multiplex-modularity (Methods, Section 'Clustering algorithms for community detection'). The Louvain algorithm was directly applied to the multiplex networks aggregated through their union, intersection or sum (Methods, Section 'Clustering algorithms for community detection'). Finally, we also computed a consensus clustering of the communities detected on individual networks (Methods, Section 'Consensus clustering'). The adjusted Rand index, which measures the similarity between two partitions (Methods, Section 'Adjusted Rand index'), was used to compare the communities identified with the different approaches to the reference community structure used to generate the networks.
The intersection and union aggregations, and consensus clustering, fail to recover the community structure
We first observed that the identification of communities from the intersection of the graphs composing the multiplex network eventually leads to detect less accurate community structures (Fig. 1). An exception occurs for the simulation of dense graphs, for which we observed an improvement with the intersection of multiplex networks composed of 2 and 3 graph layers (Fig. 1C-1). In all others cases, the accuracy of the communities detected by the intersection aggregation decreases with the number of graphs composing the multiplex networks. Indeed, as the probability of observing an edge between two given vertices in all the graphs decreases with the number of graphs, the intersection tends to be empty.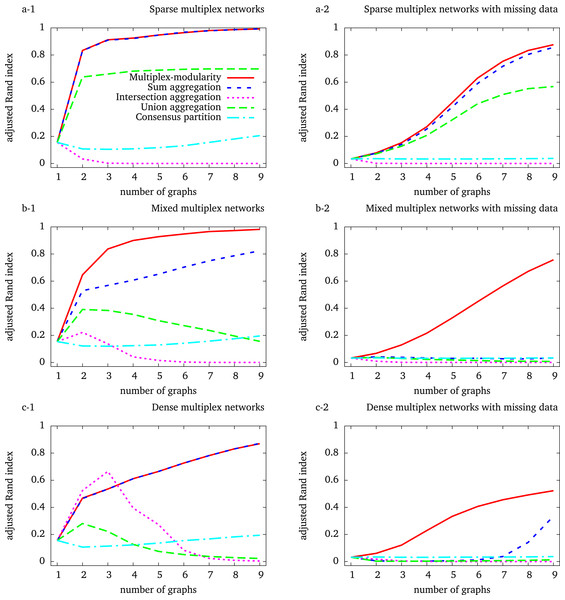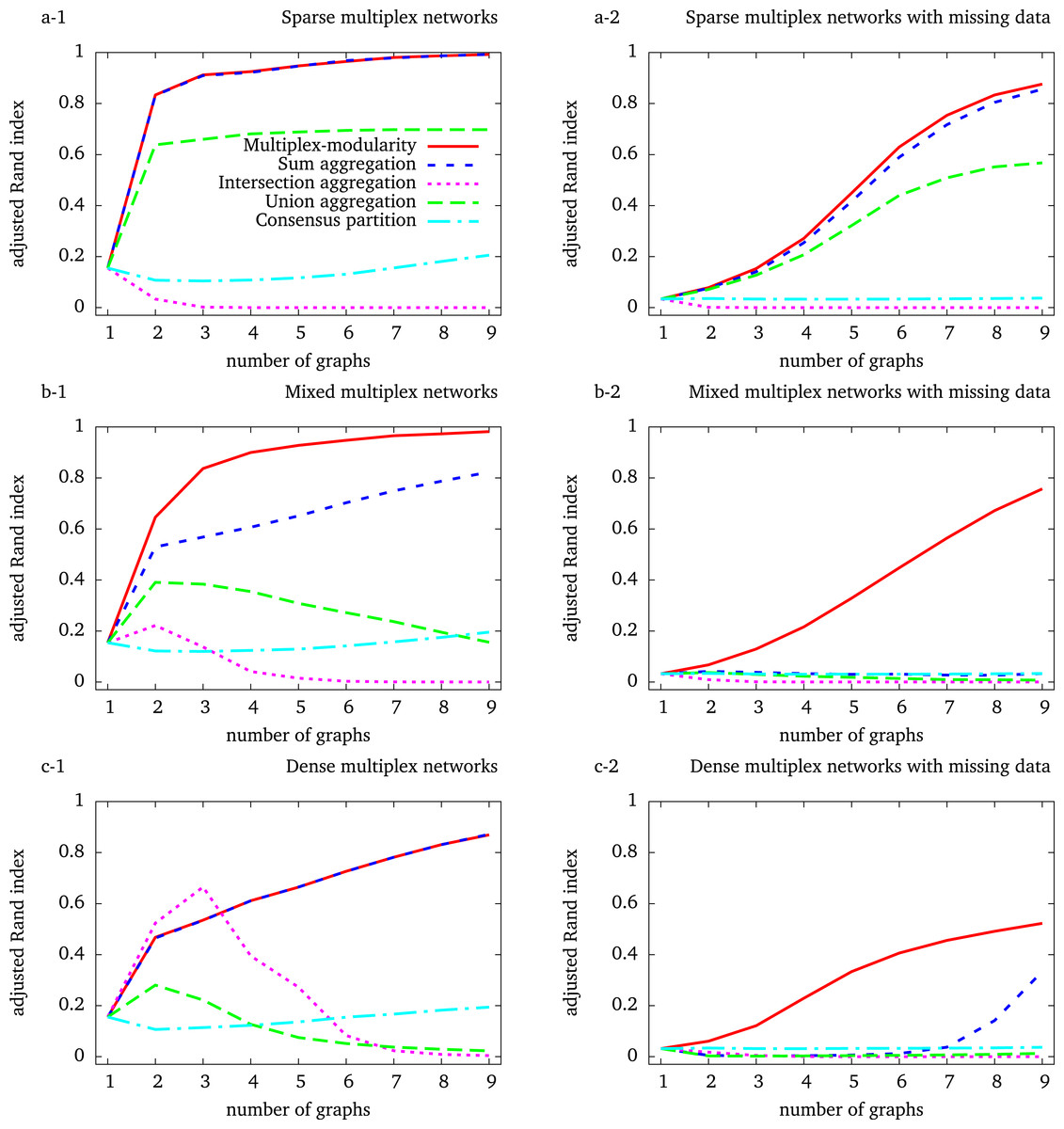 A similar behavior is expected for the identification of communities from the union of the graphs composing the multiplex network, as the union aggregated network tends to be complete. This is observed for the simulation of dense and mixed-densities multiplex networks (Figs. 1C-1,2 and 1B-1,2). However, the adjusted Rand index increases with the number of graph layers on sparse simulations (Fig. 1A-1, 2). This unexpected behavior comes from the fact that these simulated networks are so sparse that their unions do not saturate, given the number of graphs considered here. In summary, both the union and intersection aggregations ultimately lead to lose the community structure.
The performance of the consensus clustering increases slowly when considering more than 2 graph layers, showing that a general community structure may eventually emerge from that detected on the individual graphs (Figs. 1A-1, 1B-1 and 1C-1). However, the accuracy of the consensus clustering never outperformed nor got close to the Multiplex-modularity accuracy in our simulations.
The multiplex-modularity better recovers communities in heterogeneous density and missing data contexts
In our simulations, the accuracy of the communities detected by the sum aggregation and the multiplex-modularity approach is consistently better than the accuracy of the union and intersection aggregations, or the consensus clustering. Importantly, the accuracy of the communities detected by the sum aggregation and the multiplex-modularity approach increases with the number of graph layers considered. Although the community structure seems undetectable from a single graph, it is almost perfectly inferred by the multiplex-modularity approach when a sufficient number of graphs is reached. For instance, communities are recovered with Rand Indexes over 0.9 with 3 graphs for sparse multiplex networks (Fig. 1A-1), 4 graphs for mixed multiplex networks (Fig. 1B-1) or 9 graphs for dense graphs and sparse multiplex networks with missing data (Figs. 1C-1 and 1A-2).
The sum aggregation and multiplex-modularity approaches show very similar performances on sparse and dense homogeneous multiplex networks (Figs. 1A and 1C). However, these two approaches do differ for mixed-densities multiplex networks and when missing data are simulated to account for network incompleteness (Fig. 1, Methods, Section 'Network incompleteness and missing data'). In these cases, the accuracy of the multiplex-modularity approach is better than the sum aggregation. As expected, in a missing data context, the community structures are more difficult to detect. All the approaches based on the aggregation of layers composing a multiplex network are sensitive to missing data. Nonetheless, the multiplex-modularity approach still identifies adequate communities when the number of graphs is sufficiently large, and is particularly more accurate than the sum aggregation approach. Additionally, we compared our multiplex-modularity approach to GenLouvain, a general approach to detect communities from multiplex networks incorporating inter-slice connections (Mucha et al., 2010). In most simulated cases, GenLouvain has a behavior similar to the the sum aggregation approach (Fig. S1).
Multiplex-modularity identifies relevant modules from a biological multiplex network
Discussion
Interactions between genes and proteins can be of various nature and are identified by diverse experimental approaches. We focused here on different facets of protein cellular functions by taking into account (i) physical interactions between proteins, extracted from experiments such as yeast 2-hybrid screens, (ii) interactions derived from the belonging of proteins to complexes, (iii) functional interactions extracted from pathway databases and (iv) co-expression correlations derived from mRNA expression in different cellular contexts. However, other types of functional relationships between genes or proteins, such as their implication in the same disease (Goh et al., 2007) or their targeting by the same drug (Yildirim et al., 2007) could be considered. Consequently, many networks can depict gene/protein functional relationships. Each of them represents a different layer of a multiplex biological network, and each layer has its own meaning, size, relevance and bias. For instance, the network of pathways is derived from information provided by several pathway databases containing heavily curated expert knowledge rather than large-scale datasets prone to noise. Conversely, the network of correlations computed from RNA-seq expression data contains a lot of links, some of which are undoubtedly noise. Furthermore, the different experimental approaches sourcing the interaction data capture different parts of the interaction space, therefore leading to incomplete networks. It is estimated for instance, that only 20% of the human protein–protein interaction space has been currently deciphered (Menche et al., 2015). Similarly, curated interactions in pathway databases are limited to the proteins for which such information exists, letting aside a potential wealth of data yet to be deciphered. In this context, taking into account diverse network sources when deriving functional modules is expected to cover a more comprehensive picture of protein cellular functioning. The underlying reason is to combine informative-but-sparse and plenty-but-noisy information to strengthen each other, and improve the clustering performance (Papalexakis, Akoglu & Ience, 2013).
We explored here different approaches based on modularity to identify communities from a set of networks. These approaches are all based on the assumption that the layers of a multiplex network have the same community structure. For biological networks, this means that the different categories of gene/protein functional relationships are considered as instances or realizations of the real underlying functional modules. In our work, this assumption is also fulfilled by the simulated random multiplex networks, as they are generated from the same reference community structure. The aggregation of the network layers into a monoplex network, or the consensus of communities are classically applied to biological networks. The use of a natural extension of the modularity metric to multiplex networks is newer (Bennett et al., 2015, this work).
While performing these analyses, Bennett et al. (2015) published an extension of the modularity to multiplex networks equivalent to our multiplex-modularity. The originality of our work lies in the extensive comparisons we performed with the aggregation and consensus approaches. In particular, we used random simulated networks to precisely study the effects of different network topological features. This is particularly important for the identification of communities from multiplex biological networks, as their density and incompleteness can vary. Overall, when simulating networks with heterogeneous densities and missing data, the multiplex-modularity approach outperforms all its aggregated counterparts. This better performance is also observed in a real-case multiplex biological network, for which the multiplex-modularity approach identifies more balanced and annotated communities.
Other clustering approaches on multiplex networks were not considered because they cannot readily be applied to detect communities from large-scale multiplex biological networks with missing data (Shiga & Mamitsuka, 2012; Papalexakis, Akoglu & Ience, 2013). The GenLouvain approach (Mucha et al., 2010), a generalization of the modularity to any kind of multi-slice networks, requires parameters difficult to set for biological networks, such as inter-layer coupling (Mucha et al., 2010). Hence, we applied GenLouvain only to the simulated multiplex networks (Fig. S1).
The large-scale interaction networks available nowadays constitute both a fantastic source of information to study proteins functioning in their cellular context, and a huge challenge calling for the development of methods to mine knowledge from such complex data. We established here that the multiplex framework is suited to combine interaction networks of different nature and allows recovering relevant functional modules.
Supplementary Material