Marine microbial communities of the Great Barrier Reef lagoon are influenced by riverine floodwaters and seasonal weather events
Published

Accepted

Received
Academic Editor
Subject Areas

Keywords

Microbiology

,

Coral reefs

,

Anthropogenic impacts

,

Amplicon sequencing

,

Monitoring

,

Seasonality

,

Floodwaters
Copyright

©

2016

Angly et al.

Licence

This is an open access article distributed under the terms of the Creative Commons Attribution License, which permits unrestricted use, distribution, reproduction and adaptation in any medium and for any purpose provided that it is properly attributed. For attribution, the original author(s), title, publication source (PeerJ) and either DOI or URL of the article must be cited.
Cite this article

2016

.

Marine microbial communities of the Great Barrier Reef lagoon are influenced by riverine floodwaters and seasonal weather events

.

PeerJ

4

:

e1511

https://doi.org/10.7717/peerj.1511
Abstract
The role of microorganisms in maintaining coral reef health is increasingly recognized. Riverine floodwater containing herbicides and excess nutrients from fertilizers compromises water quality in the inshore Great Barrier Reef (GBR), with unknown consequences for planktonic marine microbial communities and thus coral reefs. In this baseline study, inshore GBR microbial communities were monitored along a 124 km long transect between 2011 and 2013 using 16S rRNA gene amplicon sequencing. Members of the bacterial orders Rickettsiales (e.g., Pelagibacteraceae) and Synechococcales (e.g., Prochlorococcus), and of the archaeal class Marine Group II were prevalent in all samples, exhibiting a clear seasonal dynamics. Microbial communities near the Tully river mouth included a mixture of taxa from offshore marine sites and from the river system. The environmental parameters collected could be summarized into four groups, represented by salinity, rainfall, temperature and water quality, that drove the composition of microbial communities. During the wet season, lower salinity and a lower water quality index resulting from higher river discharge corresponded to increases in riverine taxa at sites near the river mouth. Particularly large, transient changes in microbial community structure were seen during the extreme wet season 2010–11, and may be partially attributed to the effects of wind and waves, which resuspend sediments and homogenize the water column in shallow near-shore regions. This work shows that anthropogenic floodwaters and other environmental parameters work in conjunction to drive the spatial distribution of microorganisms in the GBR lagoon, as well as their seasonal and daily dynamics.
Introduction
Coral reefs are among the most biologically diverse and productive ecosystems on Earth. However, these complex assemblages, often compared to tropical rainforests, are under increasing anthropogenic pressure. Reefs are experiencing a rapid decline due to a combination of local pressures such as overfishing, nutrient enrichment, increased land runoff and sedimentation, and global disturbances such as rises in temperature (Pandolfi et al., 2003; De'ath et al., 2012). The GBR is a World Heritage Area and the largest reef complex in the world, stretching over 2,100 km along the Queensland coast of Australia. Despite being considered one of the best managed marine areas, the GBR is exposed to nutrient, sediments and pollutant inputs from land-based activities (Schaffelke et al., 2012a; Schaffelke et al., 2013) resulting in a 50.7% decrease in coral cover over the last 27 years (De'ath et al., 2012). Given the fundamental socio-economic role coral reefs have in many countries (food production, tourism, coastal protection) and their ecological value (biodiversity and productivity), it is vital that these ecosystems are better understood and protected.
Microorganisms are a diverse group of unicellular organisms that form the base of the marine food chain (Azam et al., 1983), hence indirectly sustaining higher order organisms including invertebrates and fish. They are also an essential component of the coral holobiont, and disturbing the balance between the corals and their associated microbiota has been implicated in reduced reef health (Dinsdale et al., 2008; Bruce et al., 2012). In addition, the small size and fast reproduction rate of microorganisms make them very efficient at cycling nutrients, metabolizing foreign compounds in marine ecosystems and colonizing new ecological niches (Thurber et al., 2009).
In the GBR lagoon, river runoff from agricultural areas introduces sediments, excess nutrients from fertilizers (e.g., phosphate and nitrate) and pesticides (herbicides or insecticides) from the land to the inshore waters (Furnas, 2003; Brodie et al., 2012), predominantly during discrete, short-lived flood events during the 5-month summer monsoonal wet season. Land use changes over the past 200 years (increased agriculture, urbanization) have increased the amounts of sediments, nitrogen, phosphorus and herbicides in these floodwaters (Devlin & Brodie, 2005; Devlin et al., 2012a), with profound impacts on coastal ecosystems (Schaffelke, Mellors & Duke, 2005; Fabricius, 2005; Brodie & Mitchell, 2005; De'ath & Fabricius, 2011; Schaffelke et al., 2013). Particularly high levels of herbicides such as diuron are currently found in the GBR lagoon, which inhibits the photosystem II and damages mangroves, seagrass, corals, and other non-target photosynthetic organisms (Lewis et al., 2009; Shaw et al., 2010). While herbicides can be toxic to some microorganisms (Leboulanger et al., 2008), they can be neutral to others that have dedicated enzymes for their degradation (Aislabie & Lloyd-Jones, 1995). To date, microbial communities co-existing with the other macroscopic species on the GBR have not been characterized and it is unclear how anthropogenic compounds found in seasonal runoff affect these communities.
In this study, we characterized planktonic microbial communities of seven GBR lagoon sites differentially exposed to inputs from the rivers of the Wet Tropics catchment. Over three years, we determined water chemistry and characterized microbial communities using 16S rRNA gene amplicon sequencing. We hypothesized that microbial communities follow seasonal dynamics and respond to riverine input, potentially buffering reef ecosystems against effects of elevated floodwater constituents through nutrient cycling and detoxification.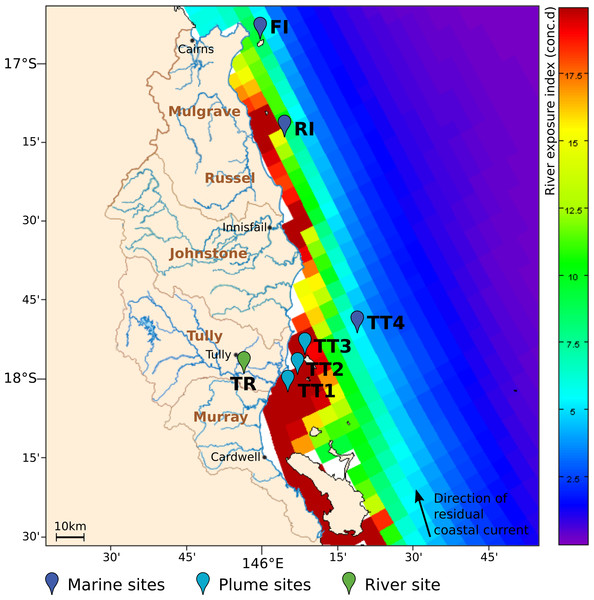 Conclusions
This study is a baseline description of microbial communities in the inshore GBR lagoon. Marine Group II Archaea, Pelagibacteraceae and Rickettsiales were prevalent in all the seawater samples. A seasonal effect of temperature and rainfall on the microbial communities was apparent in the three year sampling period. However spatial effects were more pronounced, with sites located close to the Tully river mouth including many river-specific taxa, particularly during the wet season. Seasonal storms like those that occurred in the wet season 2010–11 caused elevated suspended solids and decreased salinity at plume sites, which translated into large, transient changes in microbial community structure. Water quality played a role in driving microbial community structure in the GBR lagoon, but the complex interconnections between environmental parameters mean that future research such as experimental manipulations will be needed to precisely elucidate how each individual anthropogenic compound shapes microbial community composition and affects coral reefs.