Building consensus around the assessment and interpretation of Symbiodiniaceae diversity
Published

Accepted

Received
Academic Editor
Subject Areas

Keywords

Symbiodiniaceae

,

Symbiosis

,

ITS2

,

Coral

,

Cnidarian

,

Species

,

Population

,

Community

,

Genetic diversity

,

Collaborative
Copyright

©

2023

Davies et al.

Licence

This is an open access article distributed under the terms of the Creative Commons Attribution License, which permits unrestricted use, distribution, reproduction and adaptation in any medium and for any purpose provided that it is properly attributed. For attribution, the original author(s), title, publication source (PeerJ) and either DOI or URL of the article must be cited.
Cite this article

2023

.

Building consensus around the assessment and interpretation of Symbiodiniaceae diversity

.

PeerJ

11

:

e15023

https://doi.org/10.7717/peerj.15023
Abstract
Within microeukaryotes, genetic variation and functional variation sometimes accumulate more quickly than morphological differences. To understand the evolutionary history and ecology of such lineages, it is key to examine diversity at multiple levels of organization. In the dinoflagellate family Symbiodiniaceae, which can form endosymbioses with cnidarians (e.g., corals, octocorals, sea anemones, jellyfish), other marine invertebrates (e.g., sponges, molluscs, flatworms), and protists (e.g., foraminifera), molecular data have been used extensively over the past three decades to describe phenotypes and to make evolutionary and ecological inferences. Despite advances in Symbiodiniaceae genomics, a lack of consensus among researchers with respect to interpreting genetic data has slowed progress in the field and acted as a barrier to reconciling observations. Here, we identify key challenges regarding the assessment and interpretation of Symbiodiniaceae genetic diversity across three levels: species, populations, and communities. We summarize areas of agreement and highlight techniques and approaches that are broadly accepted. In areas where debate remains, we identify unresolved issues and discuss technologies and approaches that can help to fill knowledge gaps related to genetic and phenotypic diversity. We also discuss ways to stimulate progress, in particular by fostering a more inclusive and collaborative research community. We hope that this perspective will inspire and accelerate coral reef science by serving as a resource to those designing experiments, publishing research, and applying for funding related to Symbiodiniaceae and their symbiotic partnerships.
Introduction
Dinoflagellates in the family Symbiodiniaceae occupy multiple ecological niches on tropical, subtropical, and temperate reefs, ranging from species that are exclusively free-living to those that form symbioses with marine invertebrates (LaJeunesse et al., 2018). The biology of symbiotic Symbiodiniaceae has been a major research focus due to the integral role these mutualists play in the health of scleractinian corals and other marine invertebrates (Glynn, 1996; Hughes et al., 2017). Although many scleractinian coral species exhibit specificity for particular Symbiodiniaceae (Baker, 2003; Hume et al., 2020; Thornhill et al., 2014), some coral species and even individual coral colonies can associate with a diversity of algal symbionts (Baker & Romanski, 2007; Silverstein, Correa & Baker, 2012). Moreover, not all host-symbiont pairings are equally resistant or resilient to stress (Abrego et al., 2008; Berkelmans & Van Oppen, 2006; Hoadley et al., 2019; Howells et al., 2013a; Sampayo et al., 2008), and a change in symbiont community may enhance tolerance to future stress. Thus, efforts to characterize the genetic and functional diversity within Symbiodiniaceae not only advances our fundamental knowledge of the evolution and ecology of microeukaryotes, but also provides insights into the potential for cnidarian-Symbiodiniaceae partnerships, and ultimately for coral reefs, to respond to rapidly changing environments.
The first "Symbiodinium" species was formally described by Freudenthal (1962). As more associations with these endosymbiotic dinoflagellates were cataloged, the utility of allozymes (Schoenberg & Trench, 1980) and later ribosomal markers (LaJeunesse, 2001; Rowan & Powers, 1991) to distinguish different lineages became apparent. Continued exploration of Symbiodiniaceae diversity through molecular genetics ultimately resulted in a recent systematic revision, delineating at least eleven genera and many species (LaJeunesse et al., 2021, 2018; Nitschke et al., 2020; Pochon & LaJeunesse, 2021). However, despite numerous advances in our ability to resolve Symbiodiniaceae populations, often allowing for genus, species, or even strain level identification (Thornhill et al., 2017), diversity assessments pose substantial challenges (Fig. 1). For example, Symbiodiniaceae density often exceeds 1–2 million cells per square centimeter of host tissue (Fitt et al., 2000). Further, hosts may associate with a single species or a mixture of multiple species and/or genera (Baker & Romanski, 2007; Coffroth et al., 2010; Kemp, Fitt & Schmidt, 2008; Rowan & Knowlton, 1995; Thornhill et al., 2017, 2006; van Oppen et al., 2005). In addition, Symbiodiniaceae have expansive genomes (~1–5 Gbp; Saad et al., 2020), often including multi-copy genes and extensive gene duplication (Lin, 2011; González-Pech et al., 2021). Therefore, many approaches to resolve Symbiodiniaceae taxonomy rely on multi-copy gene markers. For example, the multi-copy internal transcribed spacer 2 (ITS2) rDNA region is most frequently used to resolve Symbiodiniaceae lineages, yet data generated by this marker straddle intergenomic and intragenomic variation (the latter of which is abbreviated as IGV), limiting its utility for some applications (Smith, Ketchum & Burt, 2017). This issue has fueled an active debate within the research community regarding the interpretation of ITS2 molecular data and likely contributed to underuse of other molecular markers, even though they may be more appropriate in some contexts (LaJeunesse & Thornhill, 2011; Takishita et al., 2003).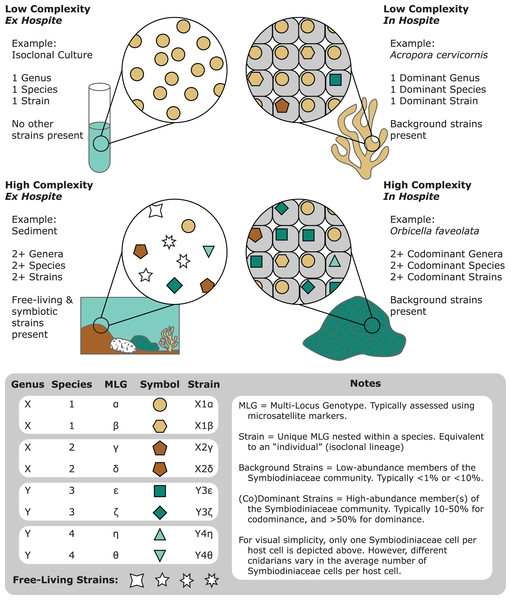 Indeed, the increasing popularity of amplicon-sequencing methods (Arif et al., 2014; Green et al., 2014; Howe-Kerr et al., 2020; Hume et al., 2019; Quigley et al., 2014), exploration of additional molecular markers (Pochon et al., 2019, 2012; Smith et al., 2020; Takabayashi, Santos & Cook, 2004), and incorporation of whole-genome datasets (Dougan et al., 2022; González-Pech et al., 2021; Liu et al., 2018) have led to novel insights into Symbiodiniaceae diversity. However, such advances have led to additional challenges. For example, most genetic loci exhibit differential utility across Symbiodiniaceae genera (Pochon, Putnam & Gates, 2014). Furthermore, different analytical pipelines and thresholds applied to the same marker(s) among studies have led to different estimates of genetic variation and interpretation of their functional importance (Cunning, Gates & Edmunds, 2017; Howells et al., 2016; Wham & LaJeunesse, 2016; Wirshing & Baker, 2016). These issues have further fueled the debate around which markers to use and how to interpret the resulting data.
Recognizing that continued debate may complicate the process of scientific inquiry, we sought to identify areas of consensus regarding the assessment and interpretation of Symbiodiniaceae genetic diversity. Sixty-one scientists from 12 countries, spanning expertise in the taxonomy, physiology, genomics, and ecology of Symbiodiniaceae and other marine microbes, participated in a workshop funded by the National Science Foundation titled "Building consensus around the quantification and interpretation of Symbiodiniaceae diversity," held virtually in July 2021. The overall aim was to reduce barriers to those designing experiments, publishing research, and applying for funding related to Symbiodiniaceae and their partnerships. The major workshop outcomes are summarized herein, though not exhaustively. We highlight techniques that are broadly accepted by many experts in the field and point out caveats and considerations for these approaches (Box 1). Where agreement was not reached, we identify the key issues that remain unresolved and point to technologies that might help fill knowledge gaps so that consensus can be achieved in the future. We conclude with suggestions for how to make the Symbiodiniaceae research community a more inclusive and welcoming space that promotes innovation as we navigate the coral reef crisis. Above all, we wish to stress that the choice of genetic marker(s) and analytical framework(s) for interpreting Symbiodiniaceae diversity will always depend on the research question at hand, along with the availability of resources (e.g., for sample preservation, processing, and computation), and that these options will inevitably evolve as our understanding of the system continues to develop.
General
Different research questions require different levels of resolution of Symbiodiniaceae diversity (e.g. species, populations, communities).

Molecular markers evolve at different rates and vary in their ability to resolve different Symbiodiniaceae taxonomic levels and lineages, requiring careful selection of the appropriate marker(s) for a given question.

Many markers and analytical approaches are available, each with their own strengths and weaknesses. As genomic resources for Symbiodiniaceae continue to be developed and technologies advance, so will options for analyzing and interpreting diversity.

Collaborations among research groups can ameliorate methodological and analytical disconnect within the Symbiodiniaceae community, while also reducing costs associated with answering complex and integrative research questions.
1. Species-Level Assessment of Symbiodiniaceae Diversity
Resolving Symbiodiniaceae to the species level is important. Species identification forms the basis of comparative physiological, ecological, and evolutionary investigations within Symbiodiniaceae.

A robust Symbiodiniaceae taxonomy is required to facilitate scientific communication, link past and future research, and establish legal frameworks for conservation. Funding to develop and maintain up-to-date public taxonomic tools and databases should be increased.

There are distinctions between describing a new species, recognizing a new species, and identifying a known species. Reef researchers benefit from incorporation and consideration of the current taxonomy whenever possible.

Expanding publicly accessible Symbiodiniaceae culture collections and their formal genetic, morphological, and physiological description will drive taxonomic, ecological, physiological, and genomic research. Supporting these resources for use by the scientific community should be a priority for long-term funding.
2. Population-Level Assessment of Symbiodiniaceae
Population-level studies evaluate the distribution of genetic variation within Symbiodiniaceae species, often across spatiotemporal gradients or among host taxa, to understand the influence of evolutionary processes such as gene flow, genetic drift, and natural selection.

When multiple Symbiodiniaceae lineages are present within host colonies, population-level questions are more challenging to address.

Pre-screening to determine which lineages are present within samples is necessary to determine the marker(s) needed to address population-level questions in Symbiodiniaceae.

Microsatellite loci can be effective at addressing population-level questions in Symbiodiniaceae if used appropriately.

The ITS2 region of Symbiodiniaceae rDNA may be an effective marker for distinguishing between different populations, but requires thorough validation to distinguish intra- and inter-genomic variation.
3. Community-Level Assessment of Symbiodiniaceae
Symbiodiniaceae communities can be conceptualized at different scales. The presence of two or more Symbiodiniaceae species within a host individual constitutes a "local community." Symbiodiniaceae diversity at larger scales (e.g., among conspecific host colonies, multiple host species, or across environmental pools such as sediments and the water column including free-living Symbiodiniaceae) constitutes a "macroscale community." The total diversity of both local and macroscale communities is likely underestimated.

Local Symbiodiniaceae communities are often composed of representatives of different genera, rather than multiple species or lineages within the same genus.

Marker genes that exhibit inter- and intra-genomic variation (as well as variation in copy number across lineages) make it challenging to characterize Symbiodiniaceae community composition. Quantifying this molecular variation for Symbiodiniaceae genera and species is a priority.

The Symbiodiniaceae ITS2 marker can be useful for describing Symbiodiniaceae communities but there are circumstances where multiple markers or other approaches may be more appropriate. The majority of researchers at the workshop reported greatest familiarity and comfort with the ITS2 marker, which may have contributed to its popularity in characterizing Symbiodiniaceae communities.

There is a lack of consensus regarding best practices for interpreting Symbiodiniaceae gene amplicon data to identify species, and for applying and interpreting community diversity metrics. Authors are encouraged to clearly highlight assumptions associated with their data interpretation, acknowledge that other interpretations exist, and discuss whether or not alternative interpretations change the biological or ecological findings of their study.
4. Beyond Genotype: Phenotyping Symbiodiniaceae
Phenotypic diversity varies greatly within and between Symbiodiniaceae species, thus it is critical to avoid overestimating the functional significance of a given symbiont based on taxonomic assignment alone (e.g., assuming that all Durusdinium spp. are heat-tolerant).

There is a need to develop technologies to functionally assess Symbiodiniaceae in culture, in hospite, and in the environment–and to better contextualize the resulting phenotypes–with the understanding that functional diversity will vary depending on the metrics used.

When attempting to understand phenotypic variability among strains and species, using cultures of Symbiodiniaceae can help control confounding variables. However, because cultures are, by nature, artificial environments, performance in vitro may differ from performance in hospite, and many species are difficult to culture.
5. Integrating Multiomic Technologies to Study Symbiodiniaceae
Various 'omics techniques have been used to address Symbiodiniaceae taxonomic, functional, and physiological research questions. Because each technique has unique considerations, leveraging these novel tools requires stringent ground-truthing and the development of quality standards.

Genome projects have improved tremendously over the past decade, but there are unique biological obstacles that have restricted Symbiodiniaceae genome assembly quality. Examples include large genome sizes, high repeat content, and difficulty annotating gene functions.

Integrating multiple techniques, such as transcriptomics and proteomics, and coupling these with phenotyping methods, can help answer outstanding questions regarding Symbiodiniaceae-host interactions. Efficient experimentation will require combining expertise across laboratories.
6. Ensuring an Inclusive Symbiodiniaceae Research Community
Critical examination is at the heart of scientific inquiry. A diversity of perspectives has always been and will continue to be needed to move the Symbiodiniaceae field forward.

The publication process should be equitable. Recommendations to journals and scientific societies include increasing diversity on relevant editorial boards, scaling publication costs for researchers employed in countries with lower income economies, and implementing double-blind review. Researchers should actively cite articles led by diverse colleagues.

Parachute science should be avoided. Recommendations include fostering long-term international collaborations and exchange programs to involve local scientists in Symbiodiniaceae research, improving sensitivity to the challenges facing colleagues in funding-limited partner institutions, and extending full collaborative benefits including authorship and grant writing opportunities to these colleagues.

Accessibility and collaboration should be fostered. Recommendations include expanding a recently established database of Symbiodiniaceae researchers and their research products, maintaining hybrid format options for conferences, and supporting long-term funding for international collaborations.

It is critical to improve recruitment, retention, and promotion of scholars of diverse backgrounds. Recommendations include working actively to increase diversity at all levels of academia and science, promoting the work of minority scientists, and providing strong multidimensional mentorship to support and retain these scientists throughout each career stage.
Guidance for species-level assessment of symbiodiniaceae diversity
Guidance for population-level assessment of symbiodiniaceae
Guidance for community-level assessment of symbiodiniaceae
Beyond genotype: phenotyping symbiodiniaceae
Why do we need to characterize Symbiodiniaceae phenotypic diversity?
Not all genetically distinct Symbiodiniaceae taxa exhibit physiological differences (e.g., through functional convergence; Goyen et al., 2017; Suggett et al., 2015), whereas unique isolates of the same taxon may be functionally divergent (e.g., Beltrán et al., 2021; Díaz-Almeyda et al., 2017; Hawkins, Hagemeyer & Warner, 2016; Howells et al., 2011; Mansour et al., 2018; Parkinson et al., 2016; Parkinson & Baums, 2014; Russnak, Rodriguez-Lanetty & Karsten, 2021). This is not surprising given the effects of strong local selection within reef habitats (Howells et al., 2011; Kriefall et al., 2022; Marhoefer et al., 2021; Suggett, Warner & Leggat, 2017; van Oppen et al., 2018) and the role of acclimatization (Torda et al., 2017). Stringent functional interrogation is therefore critical to determining how healthy cnidarian-symbiont associations will survive the climate crisis. This goal rests on advancing physiological descriptions, increasing the number of cultured isolates from diverse hosts, and extending the methodological toolbox to characterize Symbiodiniaceae differences. Thus, a more comprehensive functional characterization can accompany taxonomic assignment, helping to build greater community consensus on methods and standards for describing phenotypes of interest (Fig. 5).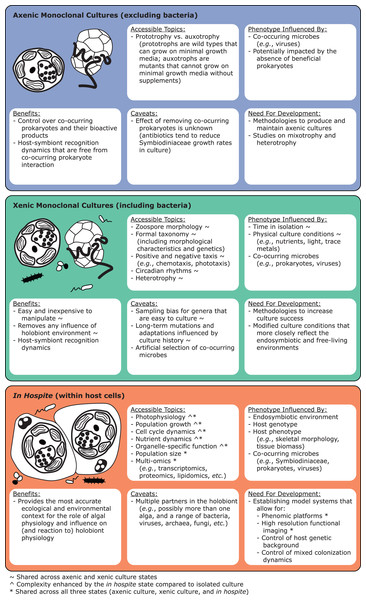 What do we need to consider when assessing Symbiodiniaceae phenotypes in hospite?
An overwhelming interest among Symbiodiniaceae researchers to date has been identifying thermal threshold phenotypes based on bio-optics (e.g., Goyen et al., 2017; Hennige et al., 2009; Voolstra et al., 2021d), targeted biochemistry (e.g., Tchernov et al., 2004) or "-omics" metrics (e.g., Olander et al., 2021; Roach et al., 2021). These varied foci illustrate that phenotypes are operationally defined. Consequently, the detected functional diversity (the extent and range of phenotypes resolved) may appear different depending on the metrics used. For example, descriptions of phenotype diversity for heat stress sensitivity based on photobiological properties may not align with those based on metabolic indicators (Goyen et al., 2017) or light adaptation (Suggett et al., 2015, 2022). Thus, reconciling genetic diversity with functional diversity must be carefully contextualized based on the measurement criteria and scientific questions at hand.
While it is valuable to confirm symbiont traits when in symbiosis, the presence of local Symbiodiniaceae communities and "secondary" symbionts in cnidarian holobionts complicate this effort. In local Symbiodiniaceae communities, it can be difficult to determine the relative abundance of each lineage present. Although accounting for copy number can help determine symbiont cell number and density in such cases (see "Accounting for Copy Number Variation"), other algal-centric physiological metrics, which reflect the combined average of all symbionts present within the host (Cunning, Silverstein & Baker, 2018), will be difficult to interpret. Single-cell sorting techniques may help assess unique phenotypic distinctions across different symbiont species from the same host (Snyder et al., 2020), but these techniques constitute additional effort and cost. Moreover, cnidarians host a variety of other microeukaryotic, prokaryotic, and viral symbionts (Ainsworth, Fordyce & Camp, 2017; Hernandez-Agreda, Gates & Ainsworth, 2017; Thurber et al., 2017), some of which are associated with colony health and resilience to environmental stress (Bourne, Morrow & Webster, 2016; Voolstra et al., 2021c; Ziegler et al., 2017). Some viruses even infect Symbiodiniaceae cells themselves (Grupstra et al., 2022a; Levin et al., 2017), with diverse potential impacts on Symbiodiniaceae phenotypes (Correa et al., 2021; van Oppen, Leong & Gates, 2009). The degree to which these "secondary" symbionts impact the observed phenotype of Symbiodiniaceae cells in hospite is an active area of research (Maire et al., 2021; Matthews et al., 2020). Finally, coral tissue thickness, pigmentation, skeletal reflectance, or other coral-associated microorganisms can affect irradiance levels reaching Symbiodiniaceae in hospite (Dimond et al., 2013; Dimond, Holzman & Bingham, 2012; Enríquez, Méndez & Iglesias-Prieto, 2005; Marcelino et al., 2013; Smith et al., 2013; Titlyanov et al., 2009; Wangpraseurt et al., 2014, 2012). Variation in these physiological metrics can therefore affect symbiont phenotype, and lead to variable responses to climate stress (Hoadley et al., 2019).
Traits where variability across species exceeds that within populations are ideally suited for phenotypic analysis, but are presently unknown to the field or are challenging to measure in consistent and ecologically meaningful ways. Consequently, high-throughput approaches for assessing Symbiodiniaceae phenotypes need to consider tradeoffs that are constrained by end goals. For example, recent high-throughput approaches for assessing thermal tolerance at the whole coral level—such as coral bleaching automated stress systems (CBASS; Voolstra et al., 2020)—and the single cell level (Behrendt et al., 2020) have incorporated short thermal challenges followed by stress characterization through the measurement of 1–2 physiological variables such as maximum PSII photochemical efficiency (Fv/Fm) and cell density. While single-phenotype assays can be informative within the context of ecosystem service values (e.g., identifying thermally tolerant corals for nursery propagation; Cunning et al., 2021), identification of functionally distinct Symbiodiniaceae phenotypes will benefit from measuring a broader spectrum of physiological metrics (Hoadley et al., 2021). Phenotypic characterization using multiple photosynthetic metrics can provide some species-specific resolution (Suggett et al., 2015), and the non-invasive nature of chlorophyll a fluorometry lends itself to high-throughput approaches. However, poor contextualization of photosynthetic parameters with respect to cnidarian resilience currently limits the use of these techniques alone for large-scale phenomic studies, and may ultimately require integration of fitness metrics influenced by resource availability such as elemental composition via nutrient acquisition. While specific consensus on measurement protocols is beyond the scope of this perspective, taking a multidisciplinary approach and transparently documenting important methodological choices will help move the field forward.
What do we need to consider when assessing Symbiodiniaceae phenotypes in culture?
Axenic or bacteria-depleted cultures are promising tools for connecting Symbiodiniaceae genotypes to phenotypes because their genetic identity is readily determined (see "Guidance for Species-Level Assessment of Symbiodiniaceae Diversity") and morphological, physiological, and behavioral diversity are readily discernible among such algal isolates (Costa et al., 2019; Xiang, 2018; Xiang et al., 2013). In terms of photo-physiology, fluorometry has become a convenient and accessible tool to gauge "culture health" (Hennige et al., 2009; Robison & Warner, 2006; Suggett et al., 2009). Fluorometry is also used in studies examining phenotypic variation focused on photosynthetic traits and how they are affected by resource availability (light, nutrients) and temperature (Díaz-Almeyda et al., 2017; Suggett et al., 2015), and has been inferred to reflect holobiont health (Voolstra et al., 2020). While photosynthetic traits are informative of cellular functioning, they are insufficient in isolation of other measurements to explain phenotypic variation in growth (e.g., Brading et al., 2011; Hennige et al., 2009; Suggett et al., 2015). Recent data point to variable photo-physiological tolerance and thermal plasticity of genetically divergent Symbiodiniaceae grown in monoculture, which has contributed to a deeper understanding of the algal symbiont response to increasing sea surface temperatures (Grégoire et al., 2017; Klueter et al., 2017; Russnak, Rodriguez-Lanetty & Karsten, 2021; Suggett et al., 2015). However, a large number of genetically distinct algal symbionts identified in hospite have resisted sustained growth in culture (e.g. Krueger & Gates, 2012; Santos, Taylor & Coffroth, 2001). Furthermore, physiological and functional 'omics data indicate that when in culture or freshly isolated, Symbiodiniaceae exhibit responses to thermal stress that differ from those of the same population in hospite (Bellantuono et al., 2019; Gabay et al., 2019; Goulet, Cook & Goulet, 2005). These data suggest that some physiological traits measured from culture-based studies may not be easily extrapolated to the symbiotic state. Such issues are particularly pronounced when measuring nutrient-associated phenotypes, as most culture media are nutrient-replete while Symbiodiniaceae in hospite appear to be nutrient-limited (Maruyama & Weis, 2021).
Emergent properties are novel characteristics that smaller units of organization gain when they become part of a larger complex system. Research focusing on core emergent properties expressed in culture, that can also be easily assessed in nature (in hospite), is logical given that phenotypes will consistently be the result of specific environmental conditions operating on the underlying molecular machinery. However, in decades of studies on Symbiodiniaceae cultures, the environmental conditions imposed have not consistently been reported at the time of, or prior to, sampling. Examples of such metadata include the growth phase (steady state vs. non-steady state; Tivey, Parkinson & Weis, 2020) or cell cycle phase (Fujise et al., 2018; Tivey, Parkinson & Weis, 2020), as well as the actual environments in the cultures (light quality/quantity, nutrients) as opposed to those measured in the incubators or assumed from the recipe of the medium used (e.g., Camp et al., 2020; Reich et al., 2020), and the extent of bacterial loading. Consequently, developing guidelines for rigorous reporting of environmental (experimental) conditions when phenotypes are quantified is a key priority. Ensuring inter-comparability among studies in the future will similarly depend on operating under a more consistent set of measurement protocols for phenotypic traits.
Integrating multiomic technologies to study symbiodiniaceae
Ensuring an inclusive symbiodiniaceae research community
Conclusions
Addressing (and ultimately solving) the challenges associated with the coral reef crisis is increasingly urgent as climate change accelerates. Microalgae in the family Symbiodiniaceae play a critical role in determining coral bleaching outcomes. Advancing our knowledge of the genetic diversity of these organisms, how their diversity functionally impacts coral bleaching, and how we can apply such knowledge to mitigate climate change consequences is vital. We have identified consensus approaches for studies of Symbiodiniaceae genetic diversity at the species and population levels, while recognizing several outstanding issues regarding the characterization of community diversity. We highlight key paths forward for research including exploration of the phenotypic landscape and leveraging new technologies that are broadly applied in model systems. We also emphasize the need for increased collaboration and inclusivity among Symbiodiniaceae researchers. Overall, we acknowledge the dire need for advancing our understanding of Symbiodiniaceae ecology, physiology, and evolution, which will have the potential to expedite restoration practices and facilitate management decisions as we continue to push for political action on climate change.
Supplemental Information
Current list of formally described Symbiodiniaceae species and associated diagnostic information.
Mito = Mitochondrial; Chloro = Chloroplast; R = Resolves all species within the genus; D = Diagnostic (uniquely differentiates a particular species of the genus); ND = Not diagnostic (sequence/trait identical in two or more species); M = Measured but lacking congenerics or reference material for comparison; X = Not used in species description; U = Unknown (e.g., sampled from a symbiotic habitat but not necessarily likely to be the numerically dominant symbiont); Y = Yes; N = No; NA = Not Applicable; ND* = Not diagnostic of species, but lack of elongated amphiesmal vesicles is diagnostic of Cladocopium; D** = Some ITS2 sequences may be diagnostic, but others in the in the same genome may not be; Y*** = Opportunistic and occurring at background levels unless host health is compromised. Compared to Table 1, this supplement also includes authentic cultured strains, synonyms, and key references for each species.
Symbioidiniaceae Collaborative Community spreadsheet (as of April 18 2023).