Wolbachia co-infection in a hybrid zone: discovery of horizontal gene transfers from two Wolbachia supergroups into an animal genome
Published

Accepted

Received
Academic Editor
Subject Areas

Keywords

Wolbachia ,

Horizontal gene transfer

,

Hybrid zone

,

Phage WO

,

Grasshopper
Copyright

©

2015

Funkhouser-Jones et al.

Licence

This is an open access article distributed under the terms of the Creative Commons Attribution License, which permits unrestricted use, distribution, reproduction and adaptation in any medium and for any purpose provided that it is properly attributed. For attribution, the original author(s), title, publication source (PeerJ) and either DOI or URL of the article must be cited.
Cite this article

2015

. Wolbachia co-infection in a hybrid zone: discovery of horizontal gene transfers from two Wolbachia supergroups into an animal genome.

PeerJ

3

:

e1479

https://doi.org/10.7717/peerj.1479
Abstract
Hybrid zones and the consequences of hybridization have contributed greatly to our understanding of evolutionary processes. Hybrid zones also provide valuable insight into the dynamics of symbiosis since each subspecies or species brings its unique microbial symbionts, including germline bacteria such as Wolbachia, to the hybrid zone. Here, we investigate a natural hybrid zone of two subspecies of the meadow grasshopper Chorthippus parallelus in the Pyrenees Mountains. We set out to test whether co-infections of B and F Wolbachia in hybrid grasshoppers enabled horizontal transfer of phage WO, similar to the numerous examples of phage WO transfer between A and B Wolbachia co-infections. While we found no evidence for transfer between the divergent co-infections, we discovered horizontal transfer of at least three phage WO haplotypes to the grasshopper genome. Subsequent genome sequencing of uninfected grasshoppers uncovered the first evidence for two discrete Wolbachia supergroups (B and F) contributing at least 448 kb and 144 kb of DNA, respectively, into the host nuclear genome. Fluorescent in situ hybridization verified the presence of Wolbachia DNA in C. parallelus chromosomes and revealed that some inserts are subspecies-specific while others are present in both subspecies. We discuss our findings in light of symbiont dynamics in an animal hybrid zone.
Introduction
Microbial communities of many arthropod species are dominated numerically by heritable bacterial symbionts whose phenotypic effects range from mutualism to parasitism (Douglas, 2011). In some cases, millennia of co-evolution have produced obligate, mutualistic relationships in which microbial symbionts make essential amino acids and/or vitamins to complement the nutritionally incomplete diet of their hosts (Pais et al., 2008; Tamas et al., 2002; Van Ham et al., 2003). In other cases, maternally-transmitted bacteria directly impact arthropod host reproduction by manipulating sex determination, fecundity, and the ratio of infected females (the transmitting-sex) within a population (LePage & Bordenstein, 2013). The alphaproteobacterium Wolbachia is the most widespread of these reproductive manipulators, infecting an estimated 40–52% of all terrestrial arthropod species (Weinert et al., 2015; Zug & Hammerstein, 2012). It uses a variety of mechanisms to increase the number of host females in a population including feminization of genetic males, male-killing, parthenogenesis, and cytoplasmic incompatibility (CI), which typically results in embryonic death of offspring produced by an uninfected female mated with an infected male (Serbus et al., 2008).
Hybrid zones are excellent model systems for studying the impact of interactions between heritable endosymbionts on animal evolution. For example, Drosophila recens and D. subquinaria meet in secondary contact in a hybrid zone spanning central Canada where D. recens is infected by a Wolbachia strain that causes strong CI (∼90% reduction in progeny) when  males mate with naturally uninfected D. subquinaria females (Jaenike et al., 2006; Shoemaker, Katju & Jaenike, 1999). In contrast, weak levels of CI in a hybrid zone could promote Wolbachia exchange between animal species. Two closely related species of field crickets, Gryllus firmus and G. pennsylvanicus, hybridize in a north-south zone along the eastern front of the Appalachian Mountains in the United States (Harrison & Arnold, 1982). Though each cricket species is predominantly infected with different Wolbachia strains, Wolbachia is not a primary source of hybrid incompatibility in this system (Mandel, Ross & Harrison, 2001). This may partly explain why a significant portion of G. pennsylvanicus are infected with both Wolbachia strains (Mandel, Ross & Harrison, 2001). Wolbachia co-infection of the same host can readily facilitate gene exchange and transfer of mobile elements between intracellular bacteria according to the intracellular arena concept (Bordenstein & Reznikoff, 2005; Bordenstein & Wernegreen, 2004; Newton & Bordenstein, 2011). Indeed, we previously showed that the co-infecting Wolbachia strains in G. pennsylvanicus crickets harbor a nearly identical infection of Wolbachia's temperate bacteriophage WO (Chafee et al., 2010). Thus, hybrid zones that permit mixing of Wolbachia symbionts may in turn enable horizontal gene transfer between the coinfections.
Here, we investigate horizontal gene transfer of bacteriophage WO in a natural hybrid zone of the meadow grasshopper Chorthippus parallelus. During the last Ice Age, C. parallelus populations on the Iberian Peninsula were geographically isolated from those in continental Europe, resulting in the divergence of Iberian C. parallelus erythropus (Cpe) subspecies from the contemporary continental subspecies, C. parallelus parallelus (Cpp) (Shuker et al., 2005a). Now in secondary contact, hybrids of the two subspecies have interbred for an estimated 9,000 generations along a hybrid zone in the Pyrenees Mountains between France and Spain (Hewitt, 1993; Shuker et al., 2005a) (Fig. 1). Due to low dispersal rates, all grasshoppers collected from populations in the hybrid zone (i.e., Portalet) are hybrids of the two subspecies, while pure Cpp and Cpe populations reside on the edges of the hybrid zone (Gabas for Cpp and Escarrilla for Cpe) (Bella et al., 2007; Hewitt, 1993; Shuker et al., 2005a) (Fig. 1). F1 hybrids produced in laboratory crosses between the subspecies follow Haldane's rule and produce sterile F1 hybrid males, but both hybrid males and females in the field are fertile, possibly due to selection against deleterious allelic combinations that result in hybrid sterility (Bella, Hewitt & Gosalvez, 1990; Shuker et al., 2005b).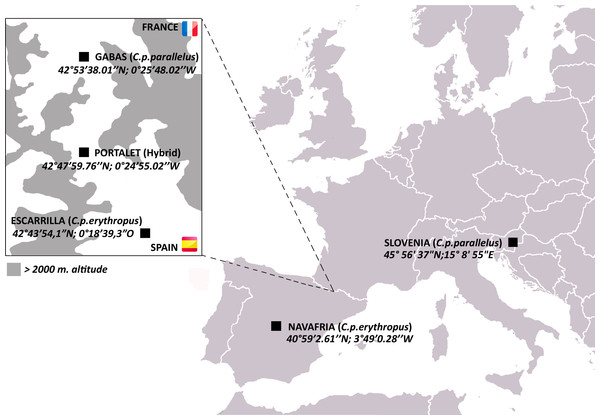 C. parallelus subspecies are infected with Wolbachia strains from two divergent supergroups: Cpp are primarily infected with B Wolbachia while Cpe mostly harbor F Wolbachia (Zabal-Aguirre, Arroyo & Bella, 2010). In natural hybrid populations, the B and F Wolbachia each cause a significant amount of unidirectional CI, reducing embryo viability by approximately 33% and 23%, respectively, in incompatible crosses (Zabal-Aguirre et al., 2014). Bidirectional CI is weaker, with a 15% reduction in viable embryos in crosses between F-infected and B-infected grasshoppers (Zabal-Aguirre et al., 2014). With these incomplete CI rates permitting the spread of Wolbachia strains, the incidence of Wolbachia infection is highly variable in the hybrid zone, and individuals collected from a single population are either uninfected, singly-infected with B or F Wolbachia, or co-infected by both (Zabal-Aguirre, Arroyo & Bella, 2010).
As the temperate bacteriophage WO is well known to transfer between A and B supergroup co-infections in arthropods (Bordenstein & Wernegreen, 2004; Chafee et al., 2010; Gavotte et al., 2007; Kent et al., 2011; Masui et al., 2000; Metcalf & Bordenstein, 2012), we used the C. parallelus hybrid zone to investigate whether phage WO can also transfer between co-infections of B and F Wolbachia. Here, we present the first screen for phage WO in the C. parallelus hybrid zone. While we do not find evidence for WO transfer between B and F Wolbachia, we identify three main WO haplotypes in the grasshopper genome. We also report, for the first time to our knowledge, the transfer of large amounts of DNA from two divergent Wolbachia supergroups into the host nuclear genome.
Discussion
The Chorthippus parallelus hybrid zone is an excellent model for symbiosis research since Wolbachia infection status is highly variable, with individuals collected at the same geographical location infected with either F or B Wolbachia, co-infected with both or naturally uninfected (Zabal-Aguirre, Arroyo & Bella, 2010). Though Wolbachia diversity has previously been investigated in this system, this work comprises the first screen for Wolbachia's temperate phage WO. We set out to characterize the types of phage WO present in the population and to determine whether co-infection with Wolbachia strains from divergent B and F supergroups facilitated transfer of phage WO between Wolbachia. Instead, we discovered an unexpected diversity of phage WO orf7 alleles and multiple instances of horizontal transfer of the phage WO orf7 gene to hybrid and non-hybrid grasshopper genomes. In total, we identified eight unique orf7 alleles from nine different individuals collected from a single hybrid population. Genome sequencing of Cpp grasshoppers confirmed that three of these alleles (4, 6, and 7) predate secondary hybridization of Cpp and Cpe subspecies, while the other alleles may have been introduced to the hybrid zone by Cpe or may be unique to hybrid populations.
Since many of the alleles are so similar to others (≥96% identical), they may represent allelic variation at the same locus in the diploid grasshopper genome instead of independent gene transfers. Thus, we conservatively classified similar alleles into three phage "haplotypes". Interestingly, we did not conclusively identify orf7 alleles that were specific to Wolbachia cytoplasmic infections even though many of the grasshoppers were infected by B and/or F Wolbachia. It is likely that the cytoplasmic Wolbachia infections harbor phage WO with orf7 sequences that are so similar to those in the host genome that we cannot distinguish between the two. For example, alleles 3 and 7 were only sequenced from B-infected individuals and may reside in the cytoplasmic B Wolbachia genome, but further genome sequencing of the cytoplasmic Wolbachia is needed to verify this observation.
After sequencing the genome of uninfected Cpp grasshopers, we discovered that not only phage genes had transferred to the host genome but also large regions of both B and F Wolbachia. Many animal hosts that harbor or once harbored Wolbachia have evidence of Wolbachia DNA in their genomes (Bordenstein, 2007; Dunning Hotopp, 2011; Dunning Hotopp et al., 2007), probably because Wolbachia are uniquely poised for symbiont-to-host gene exchange since they target the germ-line stem cell niche during host oogenesis (Fast et al., 2011; Robinson, Sieber & Dunning Hotopp, 2013; Toomey et al., 2013). Wolbachia nuclear inserts can be quite large and cover a substantial portion of a Wolbachia genome. For example, approximately 30% of a Wolbachia genome is inserted in the X-chromosome of the bean beetle Callosobruchus chinensis (Kondo et al., 2002; Nikoh et al., 2008), while an estimated 180 kb of Wolbachia DNA is present in the genome of the longicorn beetle Monochamus alternatus (Aikawa et al., 2009). Multiple Wolbachia insertions in the same host genome have also been identified. Several Drosophila ananassae populations have multiple copies of an entire Wolbachia genome on one of their chromosomes (Dunning Hotopp et al., 2007; Klasson et al., 2014), while the tsetse fly Glossina morsitans morsitans genome has three Wolbachia chromosomal inserts with the two largest inserts each covering roughly half a Wolbachia genome at 527 kb and 484 kb (Brelsfoard et al., 2014). The large Wolbachia inserts in this case are highly similar to each other and also closely-related to the tsetse fly cytoplasmic Wolbachia strain, wGmm, suggesting a single transfer from wGmm to the tsetse fly genome followed by duplication of the insert, though independent transfer events cannot be ruled out (Brelsfoard et al., 2014). Either way, both insertions came from the same Wolbachia supergroup and likely from the same Wolbachia strain.
In our study, phylogenetic analyses of variable contigs mapping to the same Wolbachia genes revealed that inserts in the C. parallelus genome likely originated from both B and F Wolbachia. To our knowledge, this is the first case of substantial Wolbachia DNA transfer from divergent supergroups into the same host genome. Similar techniques used to analyze the genomes of Wolbachia-free nematodes such as Acanthocheilonema viteae, Onchocerca flexuosa, Loa loa, and Dictyocaulus viviparus found ancient remnants of Wolbachia genes that appear to have originated from multiple supergroups when compared to present-day cytoplasmic Wolbachia genes (Desjardins et al., 2013; Koutsovoulos et al., 2014; McNulty et al., 2010). However, the antiquity of these horizontal transfer events makes accurate phylogenetic inferences difficult, especially since the Wolbachia genes in the nematode host are no longer under the same selective pressures as cytoplasmic Wolbachia genes. For example, McNulty et al. (2010) estimates that "fossilized" evidence of Wolbachia sequences in the genomes of A. viteae and O. flexuosa must be several million years old based on their low percent identities (78% and 81%, respectively) to any contemporary Wolbachia sequences. In contrast, average percent identities of the B Wolbachia gene variants to wPip and the F Wolbachia gene variants to wCle for the 130 shared genes in the C. parallelus inserts (Table S5) are 94 ± 0.05% and 93 ± 0.04%, respectively.
The higher percent identity to a contemporary Wolbachia strain for the grasshopper inserts suggest that they have transferred more recently and/or are better preserved in the grasshopper genome due to the unique evolutionary dynamics of grasshopper genomes. Orthopterans like grasshoppers, locusts and crickets are known for their enormous genomes, and C. parallelus grasshoppers have one of the largest genomes in the order with estimates ranging from 12.3 to 14.7 Gb (Lechner et al., 2013). Genome gigantism in Orthoptera is thought to largely be due to frequent acquisition of new genetic material coupled with slow rates of DNA loss (Bensasson et al., 2001; Bensasson, Zhang & Hewitt, 2000; Song, Moulton & Whiting, 2014). For example, Orthopteran genomes exhibit unusually high rates of DNA transfer from mitochondria to the nuclear genome (Bensasson, Zhang & Hewitt, 2000; Song, Moulton & Whiting, 2014), and, with the slow rate of DNA loss, some of these inserts have remained intact for 150 million years (Song, Moulton & Whiting, 2014). Based on the rate of mitochondrial gene acquisition, grasshopper genomes may be more amenable to horizontal gene transfer in general, especially from intracellular cytoplasmic entities like mitochondria or Wolbachia. It is not surprising, then, to presume that DNA from both B and F Wolbachia would eventually wind up in the C. parallelus host genome.
The dynamic nature of Wolbachia lateral gene transfer to the C. parallelus genome is evident when visualized with FISH. Some inserts are present at the same position on the chromosomes of both Cpp and Cpe while other inserts are subspecies-specific, indicating that insertion events likely occurred both before and after the divergence of the subspecies. Our sequencing of the WO orf7 gene supports this hypothesis since the Cpar-WO2 and Cpar-WO3 haplotypes are present in the genomes of Cpp individuals from Gabas and in hybrids from Portalet, while the Cpar-WO1 haplotype was only detected in Portalet. Subspecies-specific sequences are likely relatively young since the two subspecies are estimated to have diverged between 0.2 and 2 MYA (Cooper & Hewitt, 1993; Lunt, Ibrahim & Hewitt, 1998). If hybrid-specific inserts arose independently, they would be even younger since the transfer would have had to occur after the formation of the hybrid zone roughly 9,000 years ago (Hewitt, 1993; Shuker et al., 2005a). Thus, slow rates of DNA loss coupled with relatively recent transfer events allows standard phylogenetic analyses to easily identify and distinguish the inserts in the C. parallelus genome as originating from either a B or F Wolbachia, whereas Wolbachia inserts in nematode genomes may be too divergent to accurately predict the donor Wolbachia's supergroup.
Instead of independent transfers, B and F Wolbachia strains may have recombined to produce a Wolbachia strain with genes from both supergroups and part of this "hybrid" Wolbachia genome transferred as a single event into the C. parallelus genome. This scenario appears unlikely as we identified 130 Wolbachia genes with multiple alleles from both B and F Wolbachia in the genomic inserts. A recombinogenic genome with substantial genetic redundancy of essential genes is improbable given that endosymbiont genomes tend to be relatively streamlined (Newton & Bordenstein, 2011; Wernegreen, 2002). Furthermore, FISH analyses verified the presence of Wolbachia DNA in multiple locations on the C. parallelus chromosomes and further characterization of the inserts and their evolutionary history is in progress.
Conclusion
Alongside genetic introgression, animal hybrid zones offer an avenue for symbiont exchange, especially for heritable endosymbionts like Wolbachia (Mandel, Ross & Harrison, 2001; Zabal-Aguirre, Arroyo & Bella, 2010). Resulting co-infections of multiple Wolbachia strains in a hybrid host provide opportunities for genetic exchange within the intracellular arena (Bordenstein & Reznikoff, 2005; Metcalf & Bordenstein, 2012; Newton & Bordenstein, 2011). Though exchange of bacteriophage WO occurs often between co-infections of A and B Wolbachia (Bordenstein & Wernegreen, 2004; Chafee et al., 2010; Kent et al., 2011; Masui et al., 2000), we found no evidence for phage WO transfer among B and F Wolbachia in hybrid C. parallelus grasshoppers. Instead, we found that horizontal gene transfer is clearly a dynamic process in C. parallelus, with two discrete Wolbachia supergroups (B and F) transferring approximately 448 kb and 144 kb of DNA, respectively, to the host genome. Since many insects are co-infected with Wolbachia from different supergroups, it is curious why there are not more insect genomes with Wolbachia inserts of dual origin. Part of the answer is likely that other genomes with inserts of dual origin have simply not been sequenced yet. However, grasshopper and other Orthopteran genomes, with their high rates of DNA acquisition and slow rates of DNA loss, may be uniquely poised for acquiring Wolbachia genes and maintaining them relatively intact for long periods of time, allowing phylogenetic analyses to accurately distinguish between different supergroups. Though the gigantic genomes of Orthopterans currently make them challenging to sequence and assemble, it will be interesting to see if more species of this undersampled insect order also have DNA from multiple endosymbionts in their genomes.