A manager's guide to using eDNA metabarcoding in marine ecosystems
Published

Accepted

Received
Academic Editor
Subject Areas

Keywords

eDNA

,

Metabarcoding

,

Management

,

Biomonitoring

,

Assessment

,

Biodiversity

,

Marine

,

Protocol

,

Primer set

,

Site occupancy
Copyright

©

2022

Gold et al.

Licence

This is an open access article distributed under the terms of the Creative Commons Attribution License, which permits unrestricted use, distribution, reproduction and adaptation in any medium and for any purpose provided that it is properly attributed. For attribution, the original author(s), title, publication source (PeerJ) and either DOI or URL of the article must be cited.
Cite this article

2022

.

A manager's guide to using eDNA metabarcoding in marine ecosystems

.

PeerJ

10

:

e14071

https://doi.org/10.7717/peerj.14071
Abstract
Environmental DNA (eDNA) metabarcoding is a powerful tool that can enhance marine ecosystem/biodiversity monitoring programs. Here we outline five important steps managers and researchers should consider when developing eDNA monitoring program: (1) select genes and primers to target taxa; (2) assemble or develop comprehensive barcode reference databases; (3) apply rigorous site occupancy based decontamination pipelines; (4) conduct pilot studies to define spatial and temporal variance of eDNA; and (5) archive samples, extracts, and raw sequence data. We demonstrate the importance of each of these considerations using a case study of eDNA metabarcoding in the Ports of Los Angeles and Long Beach. eDNA metabarcoding approaches detected 94.1% (16/17) of species observed in paired trawl surveys while identifying an additional 55 native fishes, providing more comprehensive biodiversity inventories. Rigorous benchmarking of eDNA metabarcoding results improved ecological interpretation and confidence in species detections while providing archived genetic resources for future analyses. Well designed and validated eDNA metabarcoding approaches are ideally suited for biomonitoring applications that rely on the detection of species, including mapping invasive species fronts and endangered species habitats as well as tracking range shifts in response to climate change. Incorporating these considerations will enhance the utility and efficacy of eDNA metabarcoding for routine biomonitoring applications.
Introduction
Over the past decade, the use of environmental DNA (eDNA) to survey biological communities has grown tremendously (Taberlet et al., 2018; Beng & Corlett, 2020; Miya, Gotoh & Sado, 2020). These eDNA approaches identify individual species or reconstruct entire communities from DNA shed by resident organisms into the environment (e.g., seawater, freshwater, soil, or air) (Thomsen & Willerslev, 2015; Barnes & Turner, 2016; Deiner et al., 2017; Harrison, Sunday & Rogers, 2019; Tsuji et al., 2019; Clare et al., 2022; Lynggaard et al., 2022). A key strength of eDNA is its versatility and applicability across any terrestrial or aquatic ecosystem and across the tree of life from microbes to mammals (Stat et al., 2017; Djurhuus et al., 2020; Chavez et al., 2021). Yet, despite the value of eDNA for biomonitoring and the rapid adoption of this approach within the academic community, limited experience and expertise in molecular ecology by resource managers inhibits the application of eDNA in resource management.
Harnessing the power of eDNA for ecosystem monitoring and management requires that resource managers understand the value and accessibility of such approaches as well as key methodological choices underpinning eDNA approaches to develop effective molecular biomonitoring strategies. For example, quantitative polymerase chain reaction (qPCR) assays (Yamahara et al., 2019) (see also ddPCR assays (Lafferty et al., 2018) or LAMP (Williams et al., 2017)) selectively identify and quantify individual target species within an eDNA sample, and are particularly useful for detecting presence/absence of rare and invasive species (Biggs et al., 2015; Evans et al., 2017; Beng & Corlett, 2020). Single species eDNA approaches have robust Standard Operating Procedures (SOPs) (Abbott et al., 2021), are routinely used in legal and regulatory frameworks (Mahon et al., 2013; Wilcox et al., 2013; Biggs et al., 2015; Thomas et al., 2020), and are particularly effective at detecting rare and invasive species in aquatic habitats (Larson et al., 2020; Morisette et al., 2021). In contrast, metabarcoding ascertains the species composition of an ecosystem (Beng & Corlett, 2020), differentiating communities inhabiting different microhabitats (Port et al., 2016; Monuki, Barber & Gold, 2021), monitoring local ecosystems (Stat et al., 2019; Postaire et al., 2020) or testing the impact of management strategies (Gold et al., 2021b) while still providing information on invasive, protected, and rare species (Kelly et al., 2014; Bohmann et al., 2014). Although a growing number of review papers (Deiner et al., 2017; Taberlet et al., 2018; Beng & Corlett, 2020) provide an extensive historical summary and overview of considerations for the design and implementation of eDNA metabarcoding, these papers are written for molecular ecologists and are less accessible to resource managers without specialized molecular lab experience.
This article is designed to help managers without molecular ecology experience understand how methodological considerations of eDNA metabarcoding impact results, so that eDNA data can be collected and used appropriately, with the greatest impact for management efforts. We explicitly highlight five key considerations for designing a metabarcoding survey to help resource managers maximize the benefit of eDNA metabarcoding data as a complement to conventional field methods (summarized in Table 1). We then present a case study, applying these considerations to eDNA monitoring of one of the world's busiest shipping ports.
Selection of Genes and Primers
No single gene can capture all species diversity. Primer selection(s) will vary depending on (1) species of interest and (2) sufficient variability in the gene(s) to distinguish target species. Benchmarking primer sets and genes both in the lab and bioinformatically is important to determine an assay's specificity and breadth.
Barcode reference database
Matching reference sequences for each target species and for the barcoding gene(s) of interest are needed to ensure accurate species level identification. These sequences can be obtained from public sequence databases such as GenBank, BOLD, etc., or can be generated from reference tissue voucher specimens of target species.
Apply Decontamination Pipelines
Controls for field, lab extraction, and amplification are necessary to identify contaminants. Decontamination pipelines are needed to distinguish signal and noise from raw eDNA sequence calls. Site occupancy modeling of sequence co-occurrence patterns enhances the interpretation of eDNA data.
Pilot study to define spatial/temporal variance
eDNA sampling plans must be designed with specific monitoring questions in mind. A pilot study will be needed to define the level of spatial and temporal variance of eDNA in your system.
Archiving of samples, extracts, and raw sequence data
Like a time capsule, eDNA samples are an invaluable record of the past that can be reanalyzed as new technologies develop. Even without physical reanalysis, improved barcode libraries and analytical algorithms allow metabarcoding sequence data to yield improved results over time.
We note that our article does not cover the full scope of molecular methodological choices that impact the efficacy of eDNA metabarcoding because (1) we feel that the published literature has discussed such comparisons at length and (2) such detailed discussion of molecular protocol optimization is better suited to molecular scientist practitioners as opposed to marine resource managers, the target audience of our manuscript. Previous work has demonstrated a suite of laboratory and field choices that can impact downstream eDNA metabarcoding results and interpretation including sample collection type (Holman et al., 2019; Koziol et al., 2019), filter type (Turner et al., 2014; Spens et al., 2017), sample preservation method (Mauvisseau et al., 2021), DNA extraction method (Deiner et al., 2018; Pawlowski et al., 2021), PCR methods (Pawluczyk et al., 2015; Kawato et al., 2021), and library preparation methods (Bohmann et al., 2021; Zaiko et al., 2022). We refer readers interested in the optimization of such molecular approaches to the references above.
Here we focus on the five following considerations:
Materials & Methods
The sequence of procedures followed in the eDNA sample collection, sequencing, and analysis is summarized in Fig. 3. We present a summarized description of the methods here as this is not the focus of our manuscript, but provide a full detailed description of the methods in Supplemental Materials Appendix 1. All sequences are made available through GenBank SRA (PRJNA851175), data through Dryad (https://doi.org/10.5068/D1B10H), and code through Zenodo (https://doi.org/10.5281/zenodo.6667975). All work was conducted under State of California permits (SC-004668 and S-191440006-19209-001).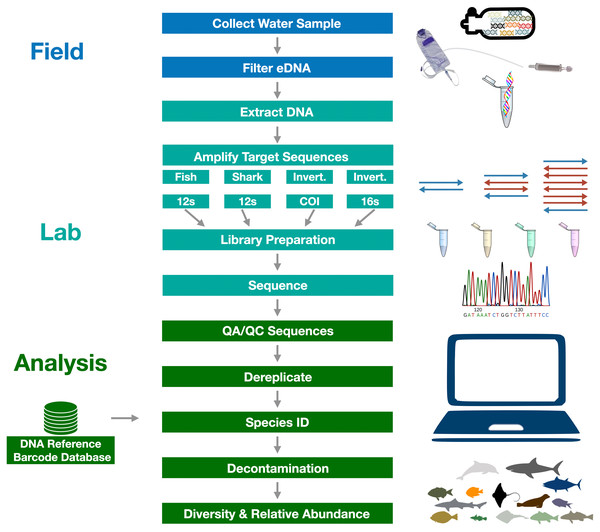 Field sampling: environmental DNA
To compare the efficacy of eDNA and trawling for monitoring of fish communities in the Ports of Los Angeles and Long Beach, we conducted paired eDNA and trawl surveys at seven stations on 20–21 August 2018, each of which is a standard trawl station in the conventional periodic biodiversity surveys conducted by the Ports (Table 2, Tables S1, S2, Figs. 1 & 2C; full methods are detailed in Supplemental Materials Appendix 1). We sampled three replicate 1 L seawater samples at four locations 2 m above the sea floor at each of the 7 sampling stations along an approximately 150 m transect aligned with the trawl track, using the R/V Yellowfin as a sampling platform. Seawater was gravity filtered onto 0.22 µm Sterivex filter cartridges and stored on dry ice before being transferred to a −20 °C freezer.
Field sampling: Midwater Trawls
Within 15–90 min of the eDNA seawater sampling, we trawled the station for 5 min with a 7.6 m semi-balloon otter trawl with 2.5-cm side mesh and 1.3-cm mesh cod-end deployed from the R/V Early Bird II (Fig. 2D), following standard protocols of the Ports Biosurvey program, as detailed in the 2018 Biosurvey report (Wood & IS, 2021). All fish were identified to species level and standard length was recorded. See Table S2 for details of trawl locations and depths.
Environmental DNA extractions, amplification, and sequencing
We exacted eDNA from the frozen Sterivex filters within one week of collection using the DNeasy Blood and Tissue Qiagen Kit (Spens et al., 2017). We amplified eDNA with four primer sets (described below) modified with Illumina Nextera XT adapters (Illumina, San Diego, CA) in triplicate PCR replicates. We prepared sequencing libraries following the methods of (Curd et al., 2019) which involved a second PCR indexing step to tag libraries so they can later be distinguished from each other (See S1 Supplemental Materials Appendix 1). Resulting indexed libraries were bead cleaned to remove fragments <200 bp, were quantified with the Qubit BR assay (Thermofisher, Waltham, MA, USA), then sequenced on an Illumina MiSeq (Illumina Inc., La Jolla, CA, USA) with V3 kit to obtain paired-end 2 × 300 bp reads at the Technology Center for Genomics & Bioinformatics (UCLA, CA, USA) (See S1 Supplemental Materials Appendix 1 for further details).
| Sampling Level | Sample Enumeration | Total Number |
| --- | --- | --- |
| Stations | 1, 2, 3, 4, 5, 6, 7 | 7 stations |
| Locations (4 per station) | (4 locations ×7 stations) | 28 locations |
| Samples (3 per location) | (3 samples ×28 locations) + (1 blank ×7 stations) | 84 samples + 7 blanks |
Bioinformatic analysis and taxonomic assignment
We used the Anacapa Toolkit (Curd et al., 2019) for amplicon sequence variant (ASV) parsing, quality control, and taxonomic assignment (Curd et al., 2019; Gold et al., 2021a) (See S1 Supplemental Materials Appendix 1 for full description). Importantly, we note that we employed stricter sequence alignment parameters within the Anacapa classifier for the CO1 and 16S locus (95% identity and query coverage) than the 12S loci (80% identity and query coverage) given the lack of complete reference databases for the CO1 and 16S loci (Curd et al., 2019). Separate reference databases were generated for the 12S, COI, and 16S from all publicly available sequencing data in GenBank from October 2019 using CRUX with default parameters (Curd et al., 2019). A more comprehensive 12S reference database was created by supplementing the above database with barcodes from 252 native fish species as detailed in (Gold et al., 2021a).
Impact of reference databases
To highlight the importance of complete reference databases, we compared MiFish Teleost bony fish sequences by conducting species identification using both the less complete 12S reference database and the more comprehensive 12S reference database described above (Gold et al., 2021a; Gold et al., 2021b). For all other comparisons and analyses using the MiFish Teleost bony fish data, we used the more comprehensive 12S fish reference database. For this study, we did not add additional local or regional DNA barcodes to 16S and CO1 reference databases and therefore warn that they are comparatively sparse for native invertebrate species (See Discussion). We chose the above primer sets given their previous application and validation in coastal waters in the California Current and our familiarity using them, recognizing that alternative primer sets could have been used (e.g., Teleo 12S or Evans 16S primer set; (Kelly et al., 2016; Evans et al., 2016; Andruszkiewicz et al., 2017; Closek et al., 2019; Curd et al., 2019; Djurhuus et al., 2020; Pitz et al., 2020; Gold et al., 2021a; Polanco et al., 2021b).
Impact of primer selection
To identify the value of including additional markers in eDNA metabarcoding analyses, we compared taxonomic assignments made by each primer set and the incremental value of adding additional barcoding targets. Specifically, we used two fish primer sets: the MiFish Universal Teleost 12S primer set which is designed to target bony fishes, and the MiFish Universal Elasmobranch 12S primer set (Miya et al., 2015) which is designed to target sharks and rays. We also included two universal primer sets: the Leray metazoan CO1 primer set (313 bp) (Meyer et al., 2021), and the Kelly metazoan 16S primer set (114–160 bp) (Kelly et al., 2016) both designed to broadly amplify all marine metazoans, particularly invertebrates.
Decontamination pipeline
To explore the importance of decontamination pipelines designed to reduce false positives, we examined the combined fish eDNA data (combined results from both 12S MiFish primer sets) with and without site occupancy modeling. Decontamination of data including site occupancy modeling was conducted following the methods of Kelly, Gallego & Jacobs-Palme (2018) (See S1 Supplemental Materials Appendix 1).
Archiving of samples, extracts, and raw sequence data
DNA extracts were archived in the CALeDNA freezer collection at UCLA (Meyer et al., 2021). Raw sequence data was archived on NCBI SRA (SUB11632426). Original filter capsule and water samples were not archived as they were consumed in the DNA extractions.
Comparison of eDNA metabarcoding and trawl surveys
We compared the fish species identified at each site by conventional trawl survey methods with the combined fish eDNA data, visualizing species detections across methods through Venn diagrams and heat maps.
Spatial structuring of eDNA
We investigated the variability of eDNA signatures across all locations and stations (Oksanen et al., 2020). We then estimated the sampling completeness, the fraction of diversity observed with our sampling effort, within a given location, within a given station, and within the port as a whole (Hsieh, Ma & Chao, 2016). We did not examine the spatial variation of trawls given the limited sample size (n = 7) and lack of within-station replication.
Results
Across the seven trawl stations in the Ports of Los Angeles and Long Beach conducted between August 20–21, 2018, we captured 452 total individual fish, identifying 17 species belonging to 16 genera and 10 families (Tables S3 & S4).
After processing via the Anacapa Toolkit and decontamination, we retained 705 ASVs across 83 samples and 7.1 million reads for the MiFish Teleost primer set, 569 ASVs across 83 samples and 3.2 million reads for the MiFish Elasmobranch primer set, 2,791 ASVs across 79 samples and 3.2 million reads for the Leray CO1 primer set, and 888 ASVs across 77 samples and 6.9 million reads for the Kelly 16S primer set (See S1 Supplemental Materials Appendix II).
Discussion
Paired comparisons of eDNA and benthic trawls in the Ports of Los Angeles and Long Beach showed that eDNA captured all fish taxa captured in trawls, and all but one species after site occupancy modeling. However, as with previous DNA studies (Thomsen et al., 2012; Kelly et al., 2017; Stat et al., 2019; Jeunen et al., 2020b), eDNA captured substantially more species, capturing more than 4 times as many species as traditional fish trawls. This greater richness was observed even after the application of site occupancy modeling, providing greater confidence in the results (Royle & Link, 2006). Further, eDNA sampling required substantially less risk of habitat disturbance and incidental loss of fish than trawling, making it more amenable to regular sampling, rather than every five years as occurs with current Port Complex and regional monitoring protocols, increasing the ability to understand changes in the Port Complex's marine ecosystems. Below we summarize the impact of different choices employed in this eDNA pilot.
Conclusions
Given the strengths and limitations of current methods, eDNA metabarcoding approaches are best suited for comprehensive biodiversity inventories in coastal and benthic ecosystems (Meyer et al., 2021). The sensitivity and comprehensiveness of eDNA metabarcoding approaches are particularly useful for biomonitoring efforts where the objective is to determine the location of a given species (Kelly et al., 2014; Bohmann et al., 2014). This includes tracking invasion fronts of marine species of management concern as demonstrated here; as well as identifying species range shifts in response to ocean warming (Beng & Corlett, 2020; Stoeckle, Mishu & Charlop-Powers, 2020; Gold et al., 2021b). Likewise, eDNA metabarcoding is well suited for inventorying endangered and protected species in nearshore and estuary environments (Stoeckle, Soboleva & Charlop-Powers, 2017; West et al., 2020; Larson et al., 2022), although not yet quantitatively. Although the current state of reference databases makes eDNA more suitable for vertebrates than invertebrate taxa, ongoing efforts to create high quality barcode reference datasets for marine invertebrates will resolve this problem (Leray et al., 2019).
Because of the spatial and temporal factors influencing dispersal and degradation of DNA in the marine environment, eDNA metabarcoding is less well suited for tracking highly migratory species across large ocean areas (e.g., mapping Humpback whale or Cuvier's beaked whales occurrence across the California Current) as the required sampling effort would be prohibitive (Andruszkiewicz et al., 2019; Pinfield et al., 2019; West et al., 2020; Monuki, Barber & Gold, 2021). Likewise, eDNA metabarcoding is not yet appropriate for comparisons of relative abundance (Beng & Corlett, 2020) between environments as is often needed for habitat restoration and no-take zone monitoring efforts (Gold et al., 2021b).
We also highlight the value of the development and application of eDNA metabarcoding in conjunction with marine resource managers as done here (Mosher et al., 2020). Key to the success of this project was a clear outline of the project and monitoring objective, continued and open communication between stakeholders including numerous presentations and workshops to clarify objectives, jargon, and design features, and involvement of resource managers at all phases of the study including design, field collection, laboratory analysis, bioinformatics, interpretation, and writing (Mosher et al., 2020). Although such approaches are not without challenges, such collaborative and integrated efforts dramatically improved the utility and understanding of eDNA metabarcoding for monitoring biodiversity within the Ports of Los Angeles and Long Beach.
Importantly, while there are applications where eDNA can be useful in isolation, it should not be viewed as a wholesale replacement for traditional methods. There will always be intrinsic value in visual surveys and "boots on the ground" surveys, particularly for resource management decisions with substantial costs and consequences (Keller et al., 2022). However, given the power of eDNA, it should be at least be viewed as an important complementary tool to expand the taxonomic and temporal scope of monitoring activities as only eDNA currently provides a cost-effective approach for monitoring important marine ecosystems at high resolution and frequency, critical to understanding how anthropogenic stressors are impacting marine ecosystems during times of unprecedented global change. Therefore, eDNA metabarcoding is well suited to serve as a readily deployable early warning system to inform targeted and consequential management actions (Jerde et al., 2011). Ultimately, with sufficient validation, eDNA methods can provide important complementary biodiversity insights for state and federal biomonitoring efforts required under environmental statutes (NEPA, CEQA, CWA, etc.), improving the capacity and accuracy needed by management agencies to achieve their important ecological mandates.