An evolving computational platform for biological mass spectrometry: workflows, statistics and data mining with MASSyPup64
Department of Biotechnology and Biochemistry, CINVESTAV Unidad Irapuato

,

Mexico
Published

Accepted

Received
Academic Editor
Subject Areas

Keywords

Bioinformatics

,

Computational mass spectrometry

,

Workflow decay

,

Metabolomics

,

Workflow management systems

,

Data Mining

,

Proteomics

,

Model building

,

Association analyses

,

Random forest trees
Copyright

©

2015

Winkler

Licence

This is an open access article distributed under the terms of the Creative Commons Attribution License, which permits unrestricted use, distribution, reproduction and adaptation in any medium and for any purpose provided that it is properly attributed. For attribution, the original author(s), title, publication source (PeerJ) and either DOI or URL of the article must be cited.
Cite this article

2015

.

An evolving computational platform for biological mass spectrometry: workflows, statistics and data mining with MASSyPup64

.

PeerJ

3

:

e1401

https://doi.org/10.7717/peerj.1401
Abstract
In biological mass spectrometry, crude instrumental data need to be converted into meaningful theoretical models. Several data processing and data evaluation steps are required to come to the final results. These operations are often difficult to reproduce, because of too specific computing platforms. This effect, known as 'workflow decay', can be diminished by using a standardized informatic infrastructure. Thus, we compiled an integrated platform, which contains ready-to-use tools and workflows for mass spectrometry data analysis. Apart from general unit operations, such as peak picking and identification of proteins and metabolites, we put a strong emphasis on the statistical validation of results and Data Mining. MASSyPup64 includes e.g., the OpenMS/TOPPAS framework, the Trans-Proteomic-Pipeline programs, the ProteoWizard tools, X!Tandem, Comet and SpiderMass. The statistical computing language R is installed with packages for MS data analyses, such as XCMS/metaXCMS and MetabR. The R package Rattle provides a user-friendly access to multiple Data Mining methods. Further, we added the non-conventional spreadsheet program teapot for editing large data sets and a command line tool for transposing large matrices. Individual programs, console commands and modules can be integrated using the Workflow Management System (WMS) taverna. We explain the useful combination of the tools by practical examples: (1) A workflow for protein identification and validation, with subsequent Association Analysis of peptides, (2) Cluster analysis and Data Mining in targeted Metabolomics, and (3) Raw data processing, Data Mining and identification of metabolites in untargeted Metabolomics. Association Analyses reveal relationships between variables across different sample sets. We present its application for finding co-occurring peptides, which can be used for target proteomics, the discovery of alternative biomarkers and protein–protein interactions. Data Mining derived models displayed a higher robustness and accuracy for classifying sample groups in targeted Metabolomics than cluster analyses. Random Forest models do not only provide predictive models, which can be deployed for new data sets, but also the variable importance. We demonstrate that the later is especially useful for tracking down significant signals and affected pathways in untargeted Metabolomics. Thus, Random Forest modeling supports the unbiased search for relevant biological features in Metabolomics. Our results clearly manifest the importance of Data Mining methods to disclose non-obvious information in biological mass spectrometry . The application of a Workflow Management System and the integration of all required programs and data in a consistent platform makes the presented data analyses strategies reproducible for non-expert users. The simple remastering process and the Open Source licenses of MASSyPup64 (http://www.bioprocess.org/massypup/) enable the continuous improvement of the system.
Introduction
Mass spectrometry provides qualitative and quantitative data about molecules. Since complex mixtures can be analyzed with high sensitivity and selectivity, mass spectrometry plays a central role in high-throughput biology (Jemal, 2000; Nilsson et al., 2010). Sequencing technologies have revolutionized the so-called '-omics' sciences on the level of nucleic acids, genomics and transcriptomics (Sanger & Coulson, 1975; Wang, Gerstein & Snyder, 2009). But the study of the actual state of proteins and metabolites, which reflect the physiological condition of an organism, still relies mainly on mass spectrometry data.
In proteomics, a combination of biochemical and instrumental techniques is used to obtain comprehensive, quantitative information about the expression, modification and degradation of proteins at a certain physiological state (Wilkins et al., 1996; Anderson & Anderson, 1998). Although gel electrophoresis, immuno-precipitation and other separation strategies are used as first focusing steps, the identification of proteins usually relies on mass spectrometry methods (Shevchenko et al., 2006).
Metabolomics refers to the inventory of metabolites of an organism or tissue. The metabolome may be seen as an endpoint (Ernest et al., 2012), which derives from biochemical processes that depend on genomic and environmental factors. Therefore, the study of metabolic phenotypes allows both, the accurate classification of genotypes (Montero-Vargas et al., 2013; McClure, Chavarria & Espinoza, 2015; Musah et al., 2015) as well as an evaluation of the physiological state of an organism (García-Flores et al., 2012; García-Flores et al., 2015).
General mass spectrometry data processing workflow
The data analysis of mass spectrometry experiments all follow the same logic, although the composition of the samples, the analytical question and the data format and quality might vary. A general workflow in biological mass spectrometry is given in Fig. 1 and consists of the following steps: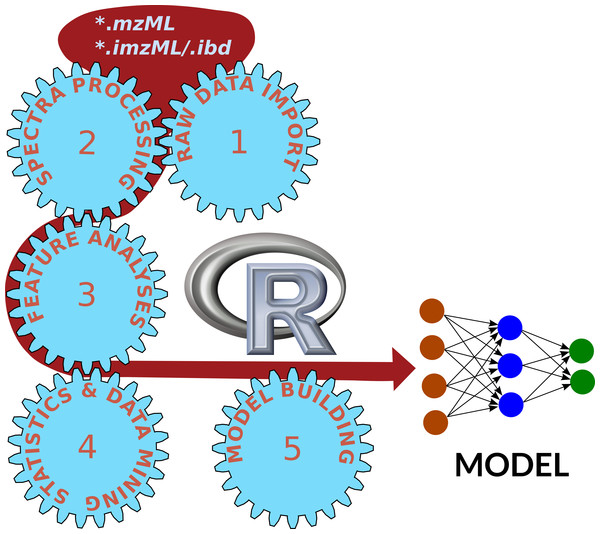 Raw data import
First of all, the raw data need to be converted into a format which is readable for the following data analysis programs. This step is not trivial, since the different manufacturers of mass spectrometers use a variety of proprietary data formats. Currently, the recommended standard by the Human Proteome Organization (HUPO) Proteomics Standards Initiative working group for mass spectrometry standards (PSI-MS) is mzML (Martens et al., 2011). Therefore, most MS data analysis programs are able to read and process this format. The ProteoWizard tools (http://proteowizard.sourceforge.net) allow the conversion of vendor-specific files to mzML archives (Chambers et al., 2012; Kessner et al., 2008). Since format-specific libraries are required, it is recommend to execute the conversion to mzML files directly on the control computer of the mass spectrometer. Alternatively, the ProteoWizard software can be installed with the vendor-libraries on a Windows computer. The ProteoWizard tools without licensed and Windows-specific libraries are available on MASSyPup64 for further pre-processing of MS data files.
Spectra processing
Spectra are collected either in 'profile' mode or in 'centroid' mode. Profile spectra still contain the shape of peaks and thus may provide additional information about the measured compounds. However, the size of the data archives might be considerable, especially for high resolution measurements. In contrast, centroid spectra only consist of mass-to-charge (m/z) values and their intensity. In many cases, it is advised to convert profile spectra to centroid spectra, to reduce computing effort.
Typical operations of spectra processing include a baseline substraction, smoothing, normalization, and peak picking. On MASSyPup64, various programs are available for these tasks, such as: msconvert (Chambers et al., 2012), OpenMS/TOPPAS (Sturm et al., 2008) and R/MALDIquant (Gibb & Strimmer, 2012).
Some MS programs, such as Comet (Eng et al., 2015; Eng, Jahan & Hoopmann, 2013), X!Tandem (Craig & Beavis, 2004) and XCMS (Benton et al., 2008; Smith et al., 2006) do not require a prior external spectra processing, but can use raw mzML data as input.
Feature analyses
The mass spectrometry signals need to be transformed into chemical information. Therefore, 'features' have to be identified, which are e.g., defined by their m/z value and retention time. Usually the features display certain variations between samples, due to measurement tolerances. Those are corrected by an alignment of the feature maps, which finally allows to compare the abundance of features in different samples.
Different strategies permit the quantification of features: Label-free quantification, the evaluation of different ion transitions (fragments of a molecule in so-called Multiple-Reaction-Monitoring, MRM) or the use of defined tags.
The identification of molecules is desirable for most bioanalytical projects. For the identification of peptides and proteins, various search programs are available, which can be used or separately or in combination (Shteynberg et al., 2013). Identifying metabolites is still more challenging, although various databases, such as MassBank (http://www.massbank.jp/, (Horai et al., 2010)) and METLIN (https://metlin.scripps.edu/, (Smith et al., 2005)) as well as search algorithms have been published. The de-novo determination of chemical formulas from MS data is difficult, even with data from high-resolution instruments (Kind & Fiehn, 2006). Kind & Fiehn (2007) presented Seven Golden Rules (7GR) for the heuristic filtering of possible chemical formulas. The 7GR software was recently re-implemented for better usability and enriched with several functions. The respective program SpiderMass enables the construction of a custom data base with expected compounds for a certain biological context, which increases the probability of correctly identified metabolites (Winkler, 2015).
Statistics and Data Mining
Biological systems often exhibit notable variances, also measurement errors and wrong assignments of molecules are possible. Thus, usually biological and technical replicates are analyzed and the results are subjected to statistical analyses. More recently, Data Mining strategies are employed to unveil non-obvious information.
Different approaches for Statistics and Data Mining are presented below, as well as their practical application to proteomics and metabolomics data sets.
Integration and interpretation
In a last step, the information obtained has to be interpreted within a biological context. Changes of protein concentrations can indicate the involvement of physiological processes. Metabolic information can lead to information about pathways which are affected in certain conditions. Often, the identification of marker molecules is pursued, with the purpose to employ them later, e.g., for the early detection of diseases.
Statistics and Data Mining
The American Statistical Association describes Statistics as "the science of learning from data, and of measuring, controlling, and communicating uncertainty; and it thereby provides the navigation essential for controlling the course of scientific and societal advances" (http://www.amstat.org/, Davidian & Louis (2012)). Accepting this broad definition, Data Mining (DM) is a sub-discipline of Statistics.
Data Mining enhances 'classic' Statistics methods with machine learning ('artificial intelligence') algorithms and computer science. Data Mining supports the understanding of complex systems, which contain wealth of data with interacting variables. An important aspect of DM is the development of models, which represent the data in a structured form and support the extraction of information and creation of knowledge (Williams, 1987; Williams, 1988; Williams, 2011).
Creation of models can be distinguished into descriptive and predictive (Fig. 2).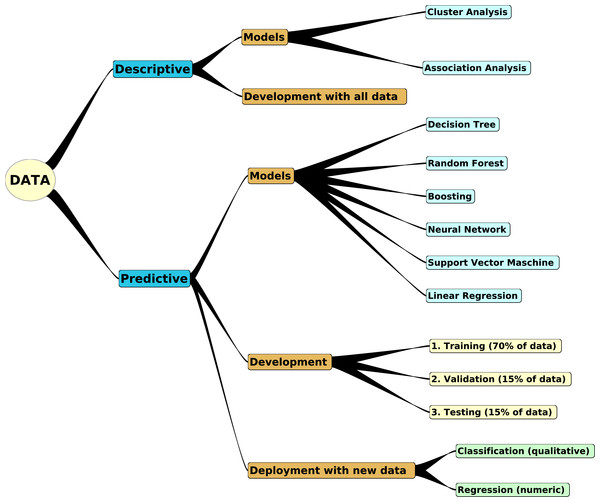 Aim of this study
Data Mining strategies promise high potential for the analysis of biological mass spectrometry data, but there is still scarce use of it in current MS based Omics studies. On the other side, there is already a rich variety of excellent software for mass spectrometry data processing software (http://www.ms-utils.org/), and also for statistics and Data Mining available (Williams, 2011; Gibb & Strimmer, 2012; Luca Belmonte & Nicolini, 2013; Williams, 2009).
Thus, we compiled a computational platform for the high-throughput data analysis in proteomics and metabolomics, which facilitates the rapid set-up of workflows and the subsequent Data Mining. MASSyPup64 (http://www.bioprocess.org/massypup) is a 64-bit live system, which can be run directly from external media. Open Source licenses of the software and the remastering utility provided on Fatdog64 promote the further development and the adjustment to the needs of a laboratory.
Based on real datasets from proteomics and targeted and untargeted metabolomics we demonstrate the creation of efficient data processing workflows. Further, we stress out the opportunity to discover non-obvious biological knowledge by Data Mining methods in biological mass spectrometry.
Methods
Operating system
The original MASSyPup distribution was built on a 32-bit platform and contains multiple programs for analyzing mass spectrometry data Winkler (2014). The new MASSyPup64 is much more focused on the high-throughput processing of 'big data' and the subsequent Data Mining. MASSyPup64 is bootable on Windows (including with EFI 'secure boot') and Linux PCs.
As starting point, the 64-bit Linux distribution Fatdog64 was chosen (http://distro.ibiblio.org/fatdog/web/). The system is preferably installed on DVD or USB media. Data from all available local drives are accessible for analysis.
The mass spectrometry programs, special libraries and additional tools were compiled, if necessary and installed in the directory branch of /usr/local. Most programs can be started directly from a console window.
For Python (https://www.python.org/), versions 2 and 3 are installed. The default Python 2 is called by python, version 3 by python3.
Fatdog64 contains already a remastering tool with Graphical User Interface. Since the MASSyPup64 version already occupies several Gigabytes, it is recommendable to choose the "small initrd" option.
The current release of MASSyPup64, as well as FNAs (Frequently Needed Answers) and a list of currently installed software can be found on the project homepage (http://www.bioprocess.org/massypup/). All components are Open Source software, which permits the free distribution and modification of the system.
Workflow management systems
The ideal Workflow Management System (WMS) should be visual, modular and easy to understand. The facile integration of external commands and the development of new functions should be possible. Further, the WMS should allow to analyze data, which are stored outside the running platform, i.e., without uploading the data to the WMS. The last requirement is important, since mass spectrometry projects often exceed various Gigabytes of data volume and thus copying or moving them is inconvenient.
After trying various options, two WMS were installed on MASSyPup64:
TOPPAS

Taverna
The Trans-Proteomic-Pipeline 4.8.0 was compiled and installed on MASSyPup64, but without configuring the hosting server. Consequently, the TPP tools are available for being employed in workflows, but the web-interface is not running. Below, a workflow emulating the TPP for protein identification and validation is demonstrated.
Statistics and Data Mining
For statistical analyses, Data Mining and graphics, we compiled and installed an 'R' software environment (https://www.r-project.org/). A large scientific community is contributing to this powerful programming language (The R Journal, http://journal.r-project.org/).
Above mentioned XCMS/XCMS2/metaXCMS (Smith et al., 2006; Benton et al., 2008; Tautenhahn et al., 2011; Patti, Tautenhahn & Siuzdak, 2012) packages were installed, as well as MALDIquant/MALDIquantForeign for spectra processing (Gibb & Strimmer, 2012) and MSI.R for evaluating Mass Spectrometry Imaging (MSI) data (Gamboa-Becerra et al., 2015).
For the linear model analysis of metabolomic data, we included MetabR (http://metabr.r-forge.r-project.org/), which provides a Graphical User Interface (GUI) and can be used for both, statistical data evaluation and data preparation for Mining.
Rattle—the R Analytical Tool To Learn Easily—represents a sophisticated and free environment for Data Mining (http://rattle.togaware.com/, Williams, 2011; Williams, 2009). The GUI facilitates the loading, visualization and exploration of data, especially for beginners without profound R knowledge. Rattle also supports the export of models in PMML standard format and was installed on MASSyPup64 with all suggested packages (including database connectors, ggobi http://www.ggobi.org/, etc.).
Special tools for large data set editing and shaping
Standard spreadsheet software such as Excel, LibreOffice Calc or Gnumeric become very sluggish, if it comes to the editing of large tables. With R, huge tables can be handled and various of GNU programs (http://www.gnu.org/manual/blurbs.html), such as grep, sed, wc, .. can be used to edit big data files. But the import and manipulation of data is not always very practical with those tools. Therefore, some special programs for data manipulation were included into the MASSyPup64 distribution.
Spreadsheet program teapot
The non-traditional 'Table Editor And Planner, Or: Teapot!' was originally developed by Michael Haardt and Jörg Walter and is currently hosted at SYNTAX-K http://www.syntax-k.de/projekte/teapot/. For best performance and usability, Teapot was re-compiled and statically linked with the FLTK GUI toolkit (http://www.fltk.org).
Large matrix transposing
Frequently, it is necessary to transpose a data matrix before loading it into another program. This can be efficiently done with the command 'transpose' (version 2.0 by Dr. Alex Sheppard, http://www.das-computer.co.uk). The C program was modified and re-compiled to change the default maximum matrix size to 100,000 × 100,000.
Conclusions
The presented examples from proteomics and metabolomics demonstrate the high potential of integrating Workflow Management Systems with Data Mining tools and helper programs into a single data analysis platform. The ready-to-use combination of software packages and the availability of data on the live system facilitates the repetition of the experiments and prevents workflow decay.
Data Mining strategies enhance the knowledge generation from biological mass spectrometry data. Predictive models can be readily deployed for future decision making, e.g., in clinical diagnostics. The Graphical User Interfaces (GUIs) of MetabR and Rattle enable the easy application of advanced Statistics and Data Mining for biological mass spectrometry data.
Association Analyses reveal relations between variables and can be used to search for interactions, which are present in low frequency, but with high confidentiality, e.g., in the search for co-occurring peptides or related proteins.
The Random Forest Tree models demonstrate high robustness and accuracy for the classification between experimental groups from metabolomics data. The variable importance supports the discovery and ranking of significant metabolites and pathways.
Data Mining paves the way for a deeper understanding of biological phenomena by a more profound analysis of mass spectrometry data. MASSyPup64 provides a stable and evolving platform for this challenging task.