A new genus and species of frog from the Kem Kem (Morocco), the second neobatrachian from Cretaceous Africa
1
Département Origine et Evolution, UMR 7207, Centre de recherche en Paléontologie, CNR/Sorbonne Université/MNHN, Muséum national d'Histoire naturelle

,

Paris

,

France
2
Department of Natural History, Florida Museum of Natural History, University of Florida

,

Gainesville

,

FL

,

United States of America
Published

Accepted

Received
Academic Editor
Subject Areas

Keywords

Anura

,

Cretaceous

,

Africa

,

Phylogeny

,

Neobatrachia

,

Taxonomy

,

Tomography
Copyright

©

2022

Lemierre Lemierre and Blackburn

Licence

This is an open access article distributed under the terms of the Creative Commons Attribution License, which permits unrestricted use, distribution, reproduction and adaptation in any medium and for any purpose provided that it is properly attributed. For attribution, the original author(s), title, publication source (PeerJ) and either DOI or URL of the article must be cited.
Cite this article

2022

.

A new genus and species of frog from the Kem Kem (Morocco), the second neobatrachian from Cretaceous Africa

.

PeerJ

10

:

e13699

https://doi.org/10.7717/peerj.13699
Abstract
Neobatrachia, a clade representing the majority of extant anuran diversity, is thought to have emerged and diversified during the Cretaceous. Most of the early diversification of neobatrachians occurred in southern Gondwana, especially the regions that are today South America and Africa. Whereas five extinct neobatrachians have been described from the Cretaceous of South America in the last decade, only one is known from Africa. This difference in the known extinct diversity is linked to the lack of well-preserved specimens, understudy of fragmentary remains, and lack of known Cretaceous sites in Africa. Study of fragmentary anuran remains from Africa could allow for the identification of previously unknown neobatrachians, allowing for a better understanding of their early diversification. We reanalysed several previously described anuran specimens from the well-known Kem Kem beds, including using CT-scanning. Through our osteological study, we determined that several cranial bones and vertebrae represent a new hyperossified taxon for which we provide a formal description. Comparison to other hyperossified anurans revealed similarities and affinity of this new taxon with the neobatrachians Beelzebufo (extinct) and Ceratophrys (extant). Phylogenetic analyses supported this affinity, placing the new taxon within Neobatrachia in an unresolved clade of Ceratophryidae. This taxon is the oldest neobatrachian from Africa, and reveals that neobatrachians were already widespread throughout southern Gondwana during the earliest Late Cretaceous.
Introduction
The Cretaceous is a key period in anuran evolution and diversification including the emergence of major extant clades such as Neobatrachia and Pipidae (Frazão, Da Silva & Russo, 2015; Feng et al., 2017). The breakup of the Western Gondwana palaeocontinent during the Late Jurassic and Early Cretaceous (McLoughlin, 2001; Blakey, 2008)—leading to the creation of the Central and Southern Atlantic Oceans—may have contributed to the early diversification of the Neobatrachia, just as it likely did for the Pipidae (Frazão, Da Silva & Russo, 2015; Feng et al., 2017). Several neobatrachian taxa have been described in the last decade from the Cretaceous beds of South America (Báez, Moura & Gómez, 2009; Báez et al., 2012; Báez & Gómez, 2018; Agnolin et al., 2020), contributing to a better understanding of early diversification of the Neobatrachia. Unfortunately, the fossil record of Neobatrachia is scarce for the Cretaceous of Africa and includes only a single described taxon: Beelzebufo ampinga (Evans, Jones & Krause, 2008) from the Cretaceous of Madagascar (Evans et al., 2014). However, the lack of both study and sampling is not limited to either African Cretaceous outgroups or extinct Neobatrachia. In general, there are few well-preserved and identifiable anuran fossils in Africa, with numerous sites yielding only few and fragmentary remains (e.g., De Broin et al., 1974; Báez & Werner, 1996; Rage, 2008; Gardner & Rage, 2016) that are not easily incorporated into phylogenetic analyses. This contrasts with South American neobatrachians, several of which are known from well-preserved and mostly articulated specimens preserving much or all of the skeleton (Báez et al., 2012). In Africa, only a handful of sites contain enough fragmentary fossils referred to the same taxon to allow for comparisons to other frogs and inclusion in phylogenetic analyses (Evans, Jones & Krause, 2008; Evans et al., 2014). These few sites are critical to filling the gap in the fossil record of Neobatrachia and central to understanding their early diversification in Africa.
The Kem Kem beds of Morocco (Cretaceous, 100–95 Ma; Ibrahim et al., 2020) are known for their rich terrestrial vertebrate fauna with numerous dinosaurs, fishes, sharks, turtles, and crocodiles (Zouhri, 2017). This fauna has been studied extensively in recent decades (Ibrahim et al., 2020) but there is only a single study of its amphibians. Rage & Dutheil (2008) provided evidence for three different anurans, including one pipid that they described as Oumtkoutia anae based on a neurocranium, as well as two indeterminate non-pipid anurans based on postcranial remains (Rage & Dutheil, 2008). They attributed several cranial fragments to an undescribed species (mainly based on relative size of the cranial and postcranial elements) with an ornamented and hyperossified skull, one of the earliest known from the Cretaceous of Africa. A decade ago, Agnolin (2012) described a neobatrachian taxon (Calyptocephalellidae) from the Late Cretaceous of Argentina and reviewed several Gondwanan anurans with hyperossified skulls. In that study, Agnolin (2012: 156) included Kem Kem fossils which he referred to Calyptocephalellidae based on cranial and postcranial characters. Because several subsequent studies (Báez & Gómez, 2018; Muzzopappa et al., 2020) highlighted anatomical and analytical errors in Agnolin (2012), attribution of the Kem Kem fossils to the Calyptocephallelidae is questionable. Because Agnolin (2012) considered all of the "indeterminate" anuran remains from the Kem Kem Formation to be a single taxon in his study, several characters supporting the affiliation of these fossils with the Neobatrachia are based on postcranial elements that are not clearly referable to the hyperossified cranial elements. Further, because Agnolin (2012) did not include the Kem Kem fossils in his phylogenetic analysis, their relationships were never formally tested. Revaluation of the anatomy and phylogenetic affinities of this hyperossified Kem Kem frog may be important for deciphering the early diversification of neobatrachians during the Lower Late Cretaceous of Gondwana and filling a notable gap in the fossil record of African anurans.
Here, we use microcomputed tomographic scans (MicroCT scans) to provide new information about the anatomy of the hyperossified Kem Kem frog. These new data allow for a more complete anatomical study of this taxon, comparisons to other Cretaceous anurans, and a phylogenetic analysis to estimate its relationships. We describe this material as a new genus and discuss its importance for understanding neobatrachian diversification in Gondwana during the Cretaceous.
Geological context
The specimens were collected in 1995 during an expedition organized by the University of Chicago and the Service géologique du Maroc at four different localities near Taouz and Oum Tkout (OT1c, TD1, TZ8a1 and TZ8a2 from Dutheil, 1999) from the Kem Kem beds (Ettachfini & Andreu, 2004; Cavin et al., 2010). The term "Kem Kem beds" (Sereno et al., 1996) refers to a large escarpment extending across southeastern Morocco, near the Morocco-Algerian border (Ibrahim et al., 2020: figs. 1A and 1C), with numerous exposures along its length. More recently, these beds have been referred to as the Kem Kem group (Ibrahim et al., 2020), containing two formations: the Gara Sbaa and the Douira Formations. The anuran specimens discussed here were recovered from layers that can be correlated to the Douira Formation of the Kem Kem group (upper part of the Kem Kem; Ibrahim et al., 2020). The Douira Formation (as well as the Gara Sbaa Formation) has been correlated to the Bahariya Formation in Egypt (Sereno et al., 1996; Cavin et al., 2010), which is dated to the Early Cenomanian (Cavin et al., 2010). The Kem Kem group is topped by marine sediments correlated to the Cenomanian-Turonian transition (Cavin et al., 2010). Other analyses have confirmed the Cenomanian age (Ibrahim et al., 2020) and considered the Kem Kem group a single continuous deposit sequence from 100 to 95 Ma. The boundary between the Gara Sbaa and the Douira Formations is dated to 96 Ma and linked to the Mid-Cenomanian Event (Ibrahim et al., 2020). The Douira Formation—and the anuran specimens discussed here—are thus dated to the middle Cenomanian, approximately 96 to 95 Ma (Ibrahim et al., 2020).
The Douira Formation contains strata that show a marine influence that increases over time. The deposits in the lower part of the formation, composed of sandstones and mudstones, are consistent with a river delta, whereas the deposits in the upper part, composed of interbedded mudstone with claystone, are characteristic of coastal and sabkha environments (see Ibrahim et al., 2020 for a complete description). There is no indication of whether the materials came from either lower or upper part of the Douria Formation.
Material and Methods
The anuran fossils are curated in the vertebrate palaeontology research collection of the University of Chicago. We generated MicroCT scans at the University of Florida's Nanoscale Research Facility using a Phoenix v—tome—x M (GE Measurement & Control Solutions, Boston, MA, USA). Voltage and current were customized for each specimen to balance resolution and intensity contrast; scanning parameters are included in the metadata associated with the scans on MorphoSource. The X-ray images were converted into tomogram slices using GE's reconstruction software datos—x (see Table S1 in Data S1). Each stack of slices produced was imported in the 3D reconstruction software Mimics 21.0 (Materialise, Leuven, Belgium); before importation, slices were cropped to remove empty spaces. To further decrease the data size, the slices were converted from 16 bits to 8 bits. The resulting slices have an image resolution of 1,580 × 2,144 pixels and a voxel size of 5.7 µm for the volume size. 3D models were produced by segmenting each element using the 'thresholding' function (using the contrast on greyscale images). A 3D model of the endocast was produced by segmenting each element using the "add" function. We used the same voxel resolution of 5.7 µm, with a smoothing factor of 3 for one iteration, to homogenize the model resulting from the segmentation. Data produced by segmentation were exported in the software 3matic 9.0 as separate files (see Table S1 in Data S1).
The electronic version of this article in Portable Document Format (PDF) will represent a published work according to the International Commission on Zoological Nomenclature (ICZN), and hence the new names contained in the electronic version are effectively published under that Code from the electronic edition alone. This published work and the nomenclatural acts it contains have been registered in ZooBank, the online registration system for the ICZN. The ZooBank LSIDs (Life Science Identifiers) can be resolved and the associated information viewed through any standard web browser by appending the LSID to the prefix http://zoobank.org/. The LSID for this publication is: urn:lsid:zoobank.org:pub:DCACD333-53AA-4A6D-A0F0-9F9C180F0DDC. The online version of this work is archived and available from the following digital repositories: PeerJ, PubMed Central SCIE, and CLOCKSS.
Phylogenetic analyses
Our data matrix includes 88 taxa and 150 morphological characters (62 cranial and 75 postcranial characters, 12 from the hyobranchial apparatus, and one from soft-tissues) and is derived from that of Lemierre et al. (2021; see Appendices S1, S2, S3). We added two extinct hyperossified neobatrachian taxa (the new taxon described below from the Kem Kem, and Hungarobatrachus szukacsi) to test their affinities. Hungarobatrachus szukacsi (Szentesi & Venczel, 2010) has recently been included in a reduced phylogenetic analysis (Venczel, Szentesi & Gardner, 2021) and is considered a neobatrachian. It is the oldest neobatrachian outside of Gondwana and essential to understand the diversification of the clade during the Cretaceous. These new taxa were scored from observation on 3D mesh files created for this study based on segmenting newly generated MicroCT scans (see above) and from literature (Szentesi & Venczel, 2010; Venczel, Szentesi & Gardner, 2021).
All analyses were performed using TNT v.1.5 (Goloboff & Catalano, 2016). All analyses were conducted with cline (also called multi-state) characters ordered (characters 3, 9, 10, 14, 26, 34, 51, 52, 68, 93, 112, 121, 124, 125 and 126). Cline characters were ordered as several studies (Rineau et al., 2015; Rineau, Bagils & Laurin, 2018) showed that analyses using ordered morphocline characters outperformed analyses using unordered characters, even when the ordering scheme is wrong (Rineau, Bagils & Laurin, 2018). Analyses consisted of heuristic searches with 1,000 random addition sequences of taxa, followed by tree bisection reconnection (TBR) branch swapping, withholding 10 trees per repetition. The final trees were rooted using Ascaphus Stejneger 1899 (Ascaphidae, Anura) and a strict consensus was created. Node supports were evaluated using Bremer support and standard nonparametric bootstrapping, with searches of 1,000 replicates and collapsing groups below 5% frequency.
Because the phylogeny resulting from the above analysis is strongly at odds with relationships inferred from those inferred with molecular genetic data, we performed an additional analysis using a constraint tree reflecting a consensus of recent molecular phylogenetic analyses. This included constraining the backbone of the tree to reflect early divergences in anuran evolution, as well as large-scale patterns of relationships within the two major clades of Neobatrachia (Hyloidea, Ranoidea). Within Hyloidea, we constrained four clades: Calyptocephalellidae, Neoaustrarana (Feng et al., 2017; Streicher et al., 2018), the genus Telmatobius Wiegmann, 1834 as monophyletic, and a clade representing all other hyloids. Within Ranoidea, we constrained three clades: Afrobatrachia, Microhylidae, and Natatanura. We did not constrain the placement of any extinct taxa and we also left relationships within constraint clades (e.g., Pelobatoidea, Myobatrachoidea, Natatanura) as polytomies so that relationships within them could be inferred by our morphological data. This constraint tree (available in the Supplemental Materials) was generated by hand and represents a broad-scale consensus of phylogenetic relationships presented in recent phylogenomic analyses for most frog families (Feng et al., 2017: fig. 1; Hime et al., 2021: fig. 1) and those specific to hyloids (Streicher et al., 2018: fig. 6) and ranoids (Yuan et al., 2018: fig. 2).
The anatomical terminology used herein is based on Roček (1981), Sanchiz (1998), and Biton et al. (2016) for cranial features, Sanchiz (1998) for postcranial ones, Gómez & Turazzini (2021) for humerus anatomy, and Gómez & Turazzini (2016) for ilium anatomy. Anatomical terminology for cranial nerves follows Gaupp (1896).
Results
We obtained 60 MPTs (most parsimonious trees) of 1362 steps (CI = 0.139; RI = 0.418) with the analysis performed under equal weight with cline characters ordered. The strict consensus (Fig. 7) shows large polytomies, and the monophyly of the Neobatrachia is not recovered. This seems related to the uncertainties regarding the position of Arariphrynus placidoi, and the lack of characters scored for Cretadhefdaa and Hungarobatrachus szukacsi (13 and 11% of characters scored, respectively). Cretadhefdaa is recovered within a clade containing Uberabatrachus carvalhoi Baéz et al. 2012 and the Ceratophryidae. This clade is supported by three synapomorphies, all of which are character states found in other groups of frogs: (1) a position of articulation of lower jaw and skull at the level of occiput (character 61: 0 >1); (2) cotyle of the atlas widely separated (76: 1 >2) and (3) angle between iliac shaft and ventral acetabular expansion obtuse (125: 1 >2). Cretadhefdaa is placed within this clade in a polytomy with the Ceratophryidae. This clade is supported by five synapomorphies mainly related to hyperossified cranial characters (see Appendix S4).
When excluding Arariphrynus, we obtained 10 trees of 1,355 steps. The strict consensus (CI = 0.174; RI = 0.556; Fig. 8) shows a trichotomy with Pelobatoidae, Heleophryne Sclater 1898, and the remaining Neobatrachia. The 'Neobatrachia' (the clade exclusive of Heleophryne) is supported by a five synapomorphies: (1) otic ramus of the squamosal short, overlapping only the most lateral portion of the crista parotica (9: 0 >1); (2) absence of process or crest on the anterior margin of the scapula (114: 3 >0); (3) configuration of the postaxial carpals as ulnare free, 3 + 4 + 5 (119: 0 >2); (4) well developed posterodorsal expansion of the ischium (131: 0 >1) and (5) horizontal pupil shape (143: 0 >2). Among the Neobatrachia, we recovered a large hyperossified clade, supported by six synapomorphies (see Appendix S4). Hungarobatrachus is within a poorly supported trichotomy with Eurycephalella and Calyptocephalella Strand 1928, for which there are three synapomorphies: (1) contact between lamella alaris of the squamosal and frontoparietals on the dorsal surface of the otic capsule (8: 0 >2); (2) anterior ramus of the pterygoid not reaching planum antorbitale (12: 0 >1) and (3) postaxial carpal with ulnare and 3 free (119: 2 >1). Cretadhefdaa is recovered within a large polytomy with extant Ceratophryidae, poorly supported by four synapomorphies (see Appendix S4).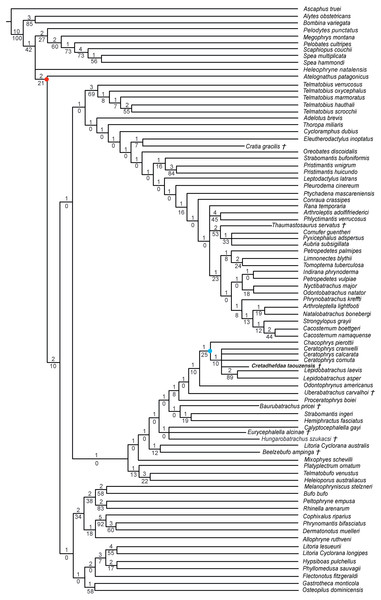 In analyses using a topological constraint (and excluding Arariphrynus placidoi), we obtained 190 trees, with a score of 1,395 steps. The strict consensus (CI = 0. 126, RI = 0. 247; Fig. 9) shows a monophyletic Neobatrachia, Ranoidea, and Hyloidea, but all of the monophyly of each was enforced in the constraint tree. Within Hyloidea, most taxa are placed within a large unresolved clade (Fig. 9). Cretadhefdaa is recovered in a large polytomy within Hyloidea as are Baurubatrachus, Beelzebufo, Cratia (Báez, Moura & Gómez, 2009), Eurycephalella, Hungarobatrachus, and Uberabatrachus. The only extinct taxon to be recovered elsewhere in the phylogeny is Thaumastosaurus, which is recovered in a clade of Ranoidea with Aubria Boulenger 1917, Cornufer Tschudi 1838, and Pyxicephalus Tschudi 1838.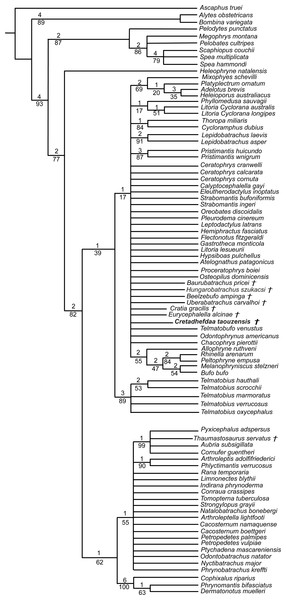 Discussion
Phylogenetic analyses
The poor resolution of the topology obtained when performing phylogenetic analysis under equal weights is not surprising. Hungarobatrachus szukacsi has only 16 scored characters within the dataset, none of which are clear neobatrachian synapomorphies, and the skeleton of Arariphrynus is very incomplete leading to few scored characters, especially those for the pectoral girdle and vertebrae (51 scored characters in total; see Báez, Moura & Gómez, 2009). In addition, most of the scored cranial characters for Hungarobatrachus and Cretadhefdaa are linked to hyperossification, a recurrent feature in anuran evolution (see above) that likely obscures the phylogenetic relationships of Cretadhefdaa.
The phylogenetic positions of Cretadhefdaa and Hungarobatrachus are similar to several hyperossified extinct Cretaceous taxa by being close to either the Ceratophryidae or Calyptocephalellidae. Recent analyses (Báez & Gómez, 2018) have highlighted that convergence due to hyperossification likely plays a role in the position recovered for other hyperossified extinct neobatrachian taxa. This could influence the position of Cretadhefdaa as well. Nevertheless, the combination of characters of Cretadhefdaa confirms its assignment to Neobatrachia. In addition, one character mentioned in the description of the braincase, the presence of a series of recesses in posterodorsal region of the braincase, deserves attention. In addition to Cretadhefdaa, a similar (but not clearly homologous) morphology has only been identified in Beelzebufo and in the Ceratophryidae (except in Chacophrys Reig and Limeses 1963). To our knowledge, this character has not been used in phylogenetic analyses (e.g., Gómez & Turazzini, 2021). However, the two extant taxa possessing these recesses are closely related (Ceratophrys and Lepidobatrachus Budgett, 1899), and the extinct Beelzebufo has been proposed as a stem member of the Ceratophryidae (Báez & Gómez, 2018; Lemierre et al., 2021). Interestingly, Cretadhefdaa is recovered in a more crownward position within Ceratophryidae than Beelzebufo, even in other analyses (Báez & Gómez, 2018; Lemierre et al., 2021). It is necessary to test the phylogenetic significance of this character to confirm this hypothesis, which is beyond the scope of this paper. When using a topological constraint based on recent phylogenomic analyses, most extinct taxa—including Cretadhefdaa—included in the analysis were recovered as part of Hyloidea, though as part of a large polytomy. In conclusion, our phylogenetic analyses point to Cretadhefdaa being within the Neobatrachia, even if most of the synapomorphies diagnostic of this clade are not scored, and several analyses support a hyloid affinity.
Paleobiogeographical implications
Neobatrachians are known in the fossil record during the Late Cretaceous from three main locations: Madagascar (Maastrichtian; Evans et al., 2014), Europe (Campanian; Venczel, Szentesi & Gardner, 2021), and South America (Maastrichtian; Báez & Gómez, 2018). The South American fossil record is of particular importance with numerous taxa known from articulated specimens (Báez, Moura & Gómez, 2009; Báez & Gómez, 2018; Agnolin et al., 2020; Moura et al., 2021). In contrast, only fragmentary remains of two taxa have been recovered from Madagascar and Europe (Evans, Jones & Krause, 2008; Evans et al., 2014; Venczel, Szentesi & Gardner, 2021). There are other reports of neobatrachians from the Cretaceous (Báez & Werner, 1996; Prasad & Rage, 2004; Rage, 1984; Rage et al., 2020) but the attribution of these to the Neobatrachia remains uncertain because diagnostic elements are often not preserved and these other fossils have not been included in phylogenetic analyses. Because Cretadhefdaa is from the Mid-Cenomanian, it is the oldest neobatrachian of Africa.
The oldest occurrence of the Neobatrachia is from the Brazilian Crato Formation (Leal & Brito, 2006; Báez, Moura & Gómez, 2009; Agnolin et al., 2020; Moura et al., 2021), which preserves extinct anurans from the Aptian (Early Cretaceous). However, Cretadhefdaa is still the oldest occurrence of Neobatrachia outside of South America. The Neobatrachia began to diversify during the earliest Cretaceous, including an early split into two major lineages, Hyloidea and Ranoidea, each of which was largely restricted to a portion of western Gondwana, respectively, South America and Africa (Frazão, Da Silva & Russo, 2015; Feng et al., 2017). Time-calibrated molecular phylogenetic analyses (e.g., Feng et al., 2017) suggest that by 96–95 Ma (i.e., the period from which Cretadhefdaa was recovered), the Neobatrachia was already separated into a number of lineages that are restricted today to specific biogeographic regions. These include the Myobatrachidae of Australia, the hyloids of South America, the Microhylidae (widespread today across the tropics), the Afrobatrachia of sub-Saharan Africa, the natatanuran ranoids, and the lineage leading to the Sooglossidae and Nasikabatrachidae that are today restricted, respectively, to the Seychelles Islands and the Western Ghats of India. There remains ample opportunity for both additional sampling and study of neobatrachian fossils from Gondwanan landmasses that could add new insights into the early evolution and biogeography of these major extant frog lineages that diversified in the Early Cretaceous.
The current absence of Ranoidea from the Cretaceous fossil record is puzzling. Except for undescribed and unillustrated material that was attributed to Ranoidea two decades ago (Báez & Werner, 1996), there are surprisingly few ranoid fossils especially in comparison to the hyloid fossils discovered in South America, Europe, and Africa. Their absence could be due to several factors. The first and most obvious is the lack of anuran specimens from the fossil record of Africa, due both to a lack of targeted collecting and little academic research on existing material. One example that highlights this problem is the Pyxicephalidae, a clade of ranoids endemic to Africa (Channing & Rödel, 2019) and for which time-calibrated molecular phylogenetic analyses suggest a divergence from other natatanurans around 60 Ma (Early Palaeocene). Yet, the oldest occurrence of this family is Thaumastosaurus from the Middle-Late Eocene of Europe, whereas the earliest African fossil is from only 5 Ma (Matthews et al., 2015; Lemierre et al., 2021). The large gap in the fossil record of this family is found in many other families of Ranoidea, and many clades with an African origin completely lack a fossil record. Another bias could be that the vast majority of Ranoidea are not hyperossified anurans, including many small-sized species, and thus less likely to be preserved as intact and diagnosable fossils. In addition, numerous synapomorphies of Ranoidea are for postcranial elements, such as the vertebrae and the pectoral girdle, that are less likely to be identified and/or preserved (Scott, 2005; Frost et al., 2006). A final bias is simply that there has been sustained interest from South American paleontologists in the fossil record of anurans from countries such as Bolivia, Brazil, and Argentina, whereas there have been exceedingly few African paleontologists dedicated to studying anurans.
Conclusion
Our study confirms the report of Rage & Dutheil (2008) that at least three anuran taxa are present in the Kem Kem beds of Morocco. The newly described Cretadhefdaa taouzensis can be attributed to the Neobatrachia, making it both the oldest occurrence of the clade outside of South America and only the second occurrence in the Cretaceous of Africa. Several postcranial bones also point to an affinity with the Neobatrachia but cannot be associated definitively with either Cretadhefdaa or another taxon. The presence of a neobatrachian in the Kem Kem in the Cenomanian demonstrates that neobatrachians were already widespread on Gondwana during the earliest Late Cretaceous.
Supplemental Information
A new genus and species of frog from the Kem Kem (Morocco), the second neobatrachian from Cretaceous Africa Supplemental Data 1
Nexus file containing the matrix used for all analyses
List of CT-scan and 3D models of UCRC-PV94 98, 101, 103, 105